Tender and juicy Lemon Garlic Roast Chicken with crispy, golden and flavourful skin!
A Skillet (or Pan) Roast Chicken recipe with so much flavour and easy to find ingredients! Garlic, onions, lemons, olive oil, fresh herbs and a splash of white wine (optional) create the most amazing pan juices loaded with incredible flavour! No dry chicken over here. You'll be so surprised at how moist the meat is!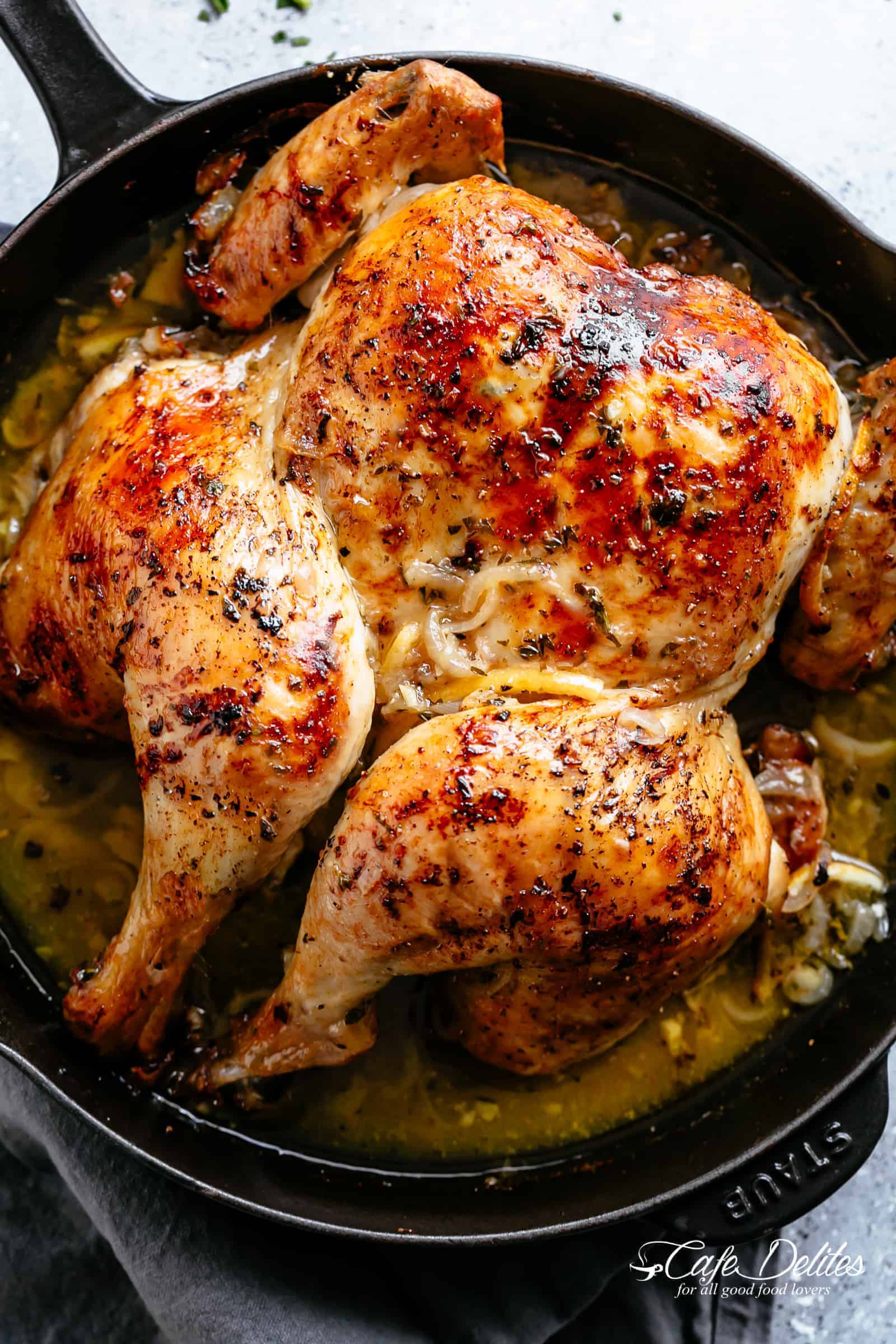 THE BEST ROAST CHICKEN RECIPE
You have all loved this Garlic Herb Butter Roast Chicken recipe so much it was time to give you another one! Lemon juice and garlic marry into the subtle hint of white wine to kick up flavours that rival ANY restaurant. The chicken turns out juicy on the inside and crispy on the outside with THE perfect golden skin!
The pan juice alone is worth a million dollars!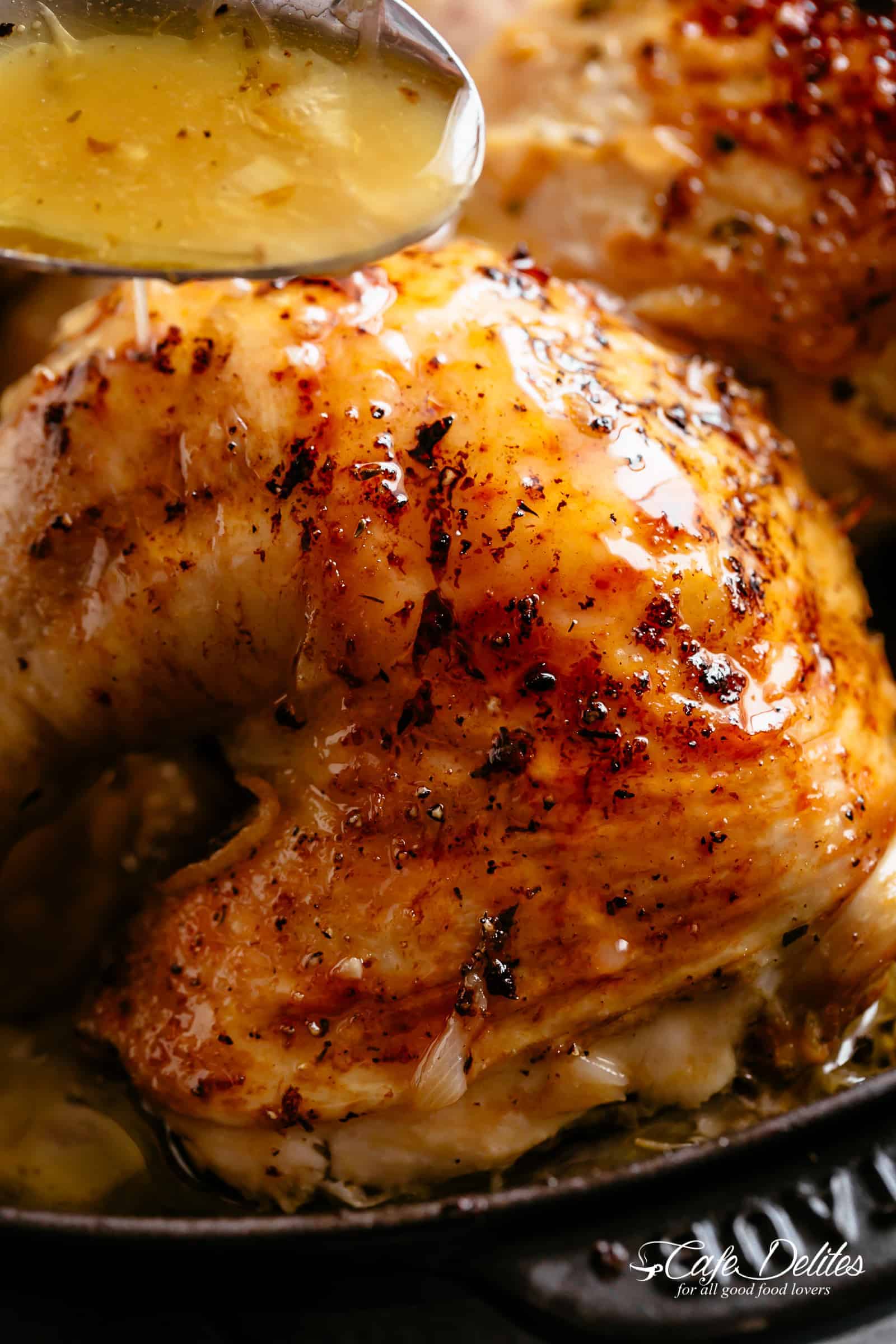 HOW TO ROAST CHICKEN IN A PAN OR SKILLET
This is not a regular old chicken recipe drizzled with a little oil, sprinkled with a sad amount of salt and pepper and roasted until golden. Nope.
This is a mouth-watering, mind-blowing incredible roast chicken recipe with a simple to make garlic-herb mixture used to slather flavour ALL over your chicken, including under the skin for optimal taste and juiciness. The chicken gets roasted on top of lemon slices, onion slices AND garlic slice to infuse even MORE insane flavour through the chicken.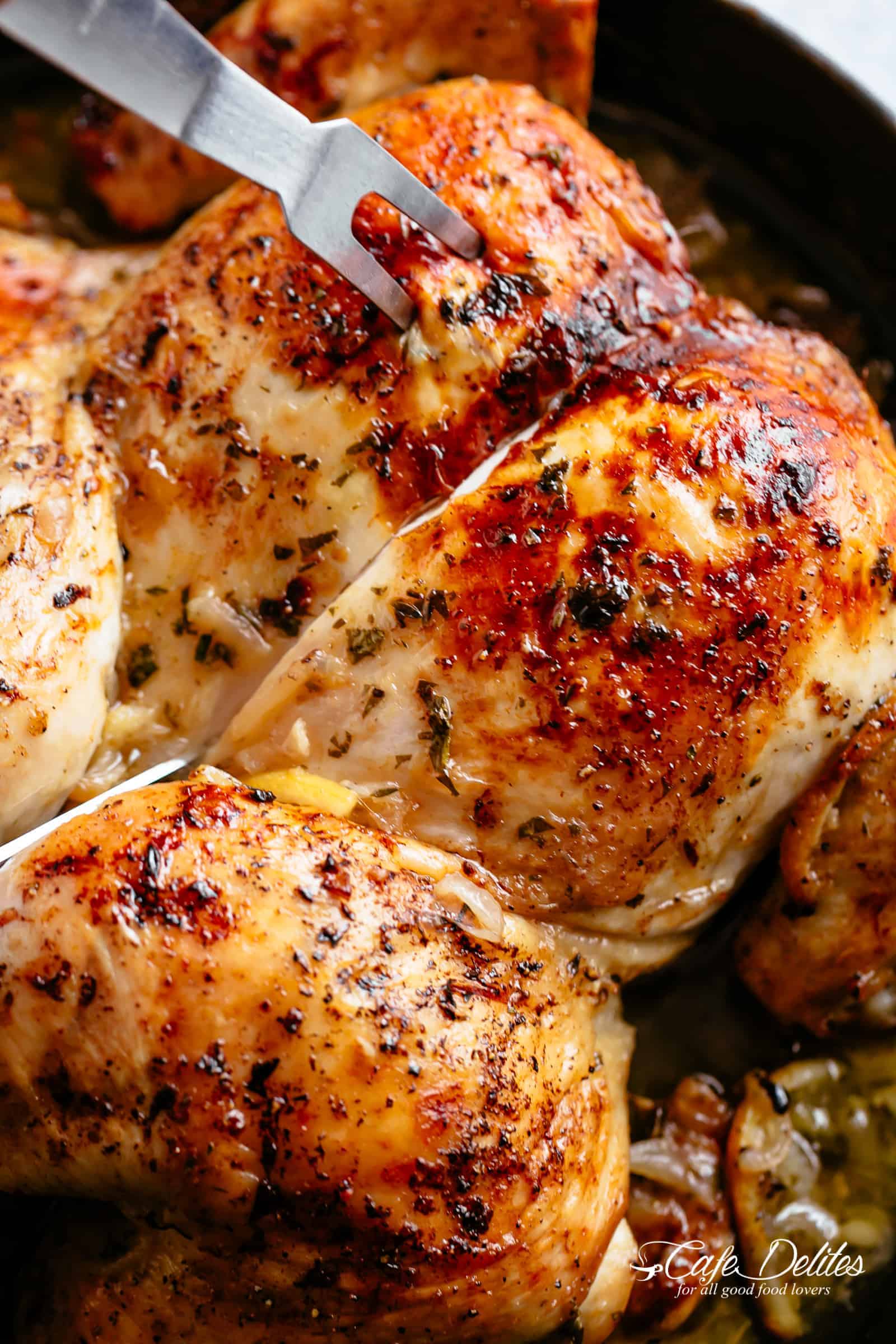 Herbs
We use fresh herbs in this recipe: Thyme, Rosemary and Parsley. You can leave out the ones you don't necessarily like or substitute them with other herbs, like Oregano, Basil, Dill or Tarragon.
WHITE WINE OPTIONS:
You can use white wine OR chicken broth/stock. If using wine, any dry white wine works with this roast chicken. I always use a good quality dry white wine as opposed to a cheap boxed wine, for example. A $15-$20 bottle usually provides the best flavour. You can choose a:
Pinot Gris (my favourite)
Sauv Blanc
Chardonnay
Don't be tempted to use a sweeter wine, as they generally alter the taste of the pan juices.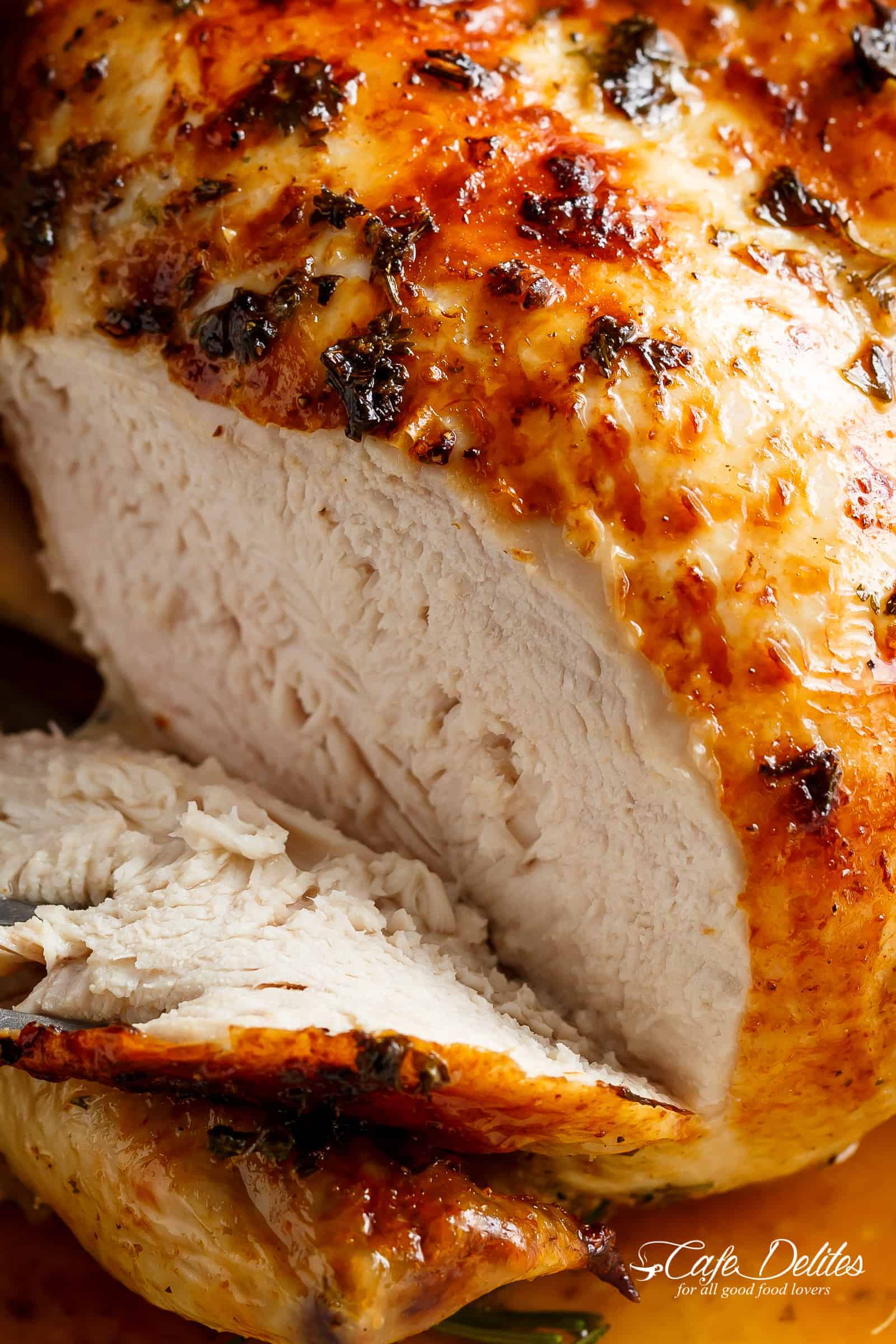 HOW TO BUTTERFLY (SPATCHCOCK) A CHICKEN
Using kitchen scissors, cut down either side of chicken's backbone. Turn over and place chicken breast side up, then press down on breastbone to flatten.
HOW LONG TO ROAST CHICKEN
This roast chicken recipe is different in that we use a butterflied (or spatchcocked) chicken to create a uniform thickness so it cooks quicker and evenly. Butterflying a whole chicken helps reduce cooking time, meaning you can have a roast chicken on the dinner table within a fraction of the time!
Take your chicken out of the refrigerator 20-30 minutes before roasting to shave off another 5-10 minutes cook time!
Roast at 450°F (or 230°C) for 45-55 minutes, depending on the size of your chook, until the internal temperature of the thickest part of breast reads 165 degrees F (75°C) and juices run clear.
Broil for an extra 5 minutes or so until you get a beautiful golden crisp skin.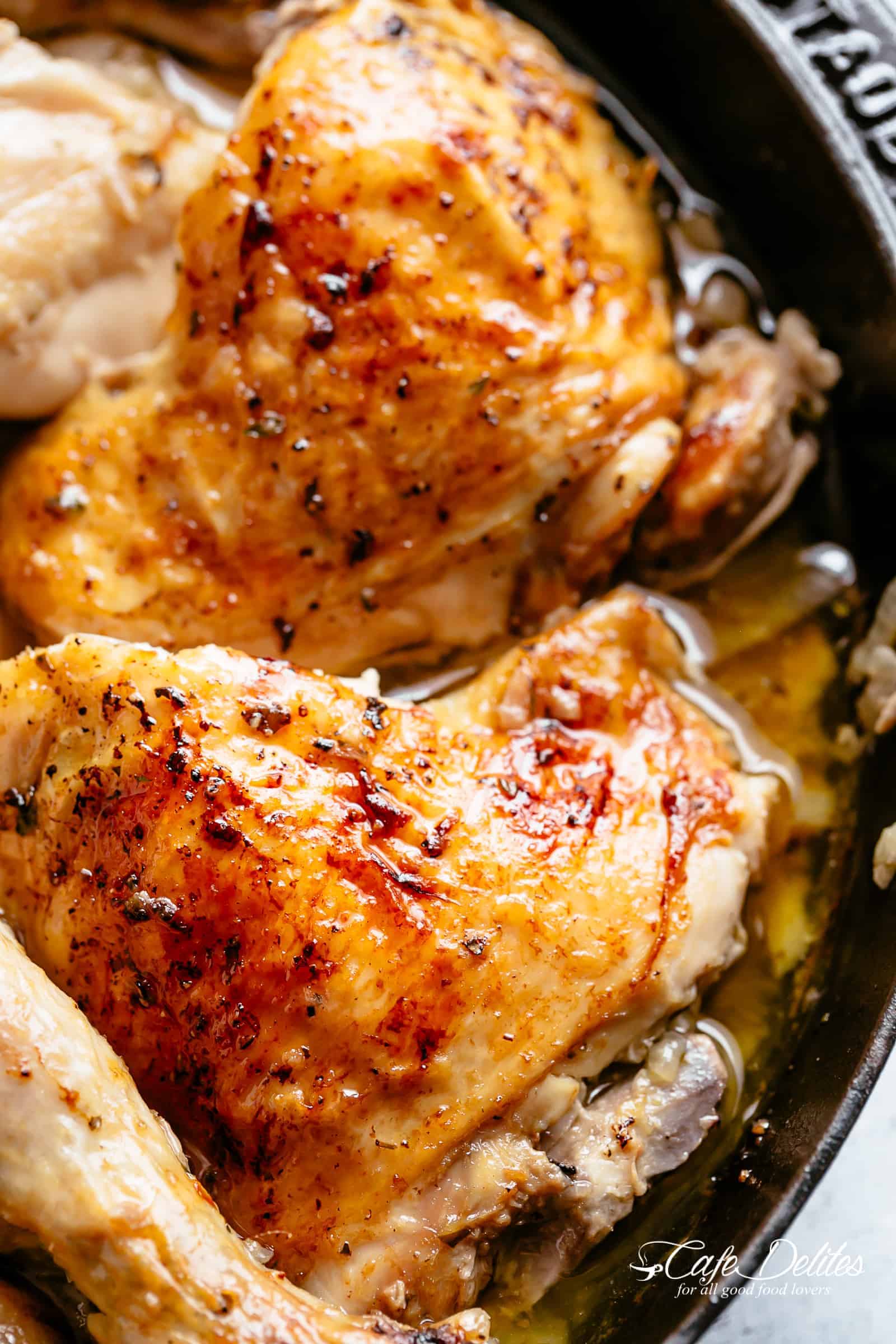 LOOKING FOR MORE ROAST CHICKEN RECIPES? TRY THESE!
Garlic Herb Butter Roast Chicken
Butterflied Portuguese BBQ Nandos Chicken
Roasted Asian Glazed Chicken Thighs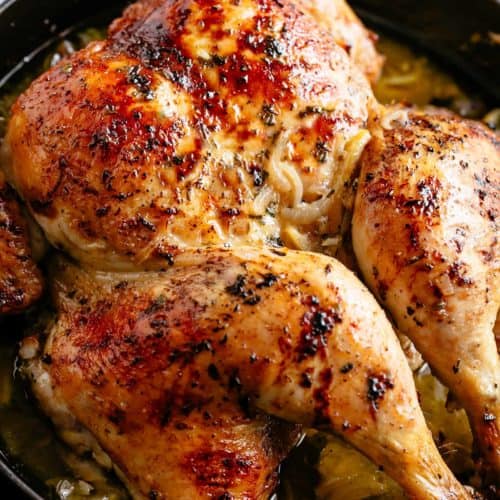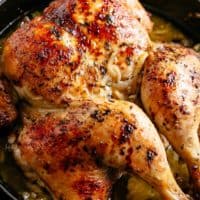 Lemon Garlic Roast Chicken
Tender and juicy Lemon Garlic Roast Chicken with crispy, rich and flavourful skin, so much flavour and easy to find ingredients! Garlic, onions, lemons, olive oil, fresh herbs and a splash of white wine (optional) make this one amazing roast chicken recipe! You'll be so surprised at how moist the meat is!
PRINT
SAVE
go to your favorites
Ingredients
1/2

cup

olive oil

4

cloves

garlic

minced

1

tablespoon

fresh parsley,

finely chopped

2

teaspoons

fresh thyme leaves

finely chopped

1

teaspoon

fresh rosemary

finely chopped

4

teaspoons

salt

divided

3/4

teaspoon

freshly ground black pepper

adjust to your taste

1

lemon

halved and sliced 1/4 inch thick (see note)

1

onion

halved and sliced 1/4-inch-thick

3

large garlic cloves

thinly sliced

4-5

pound

whole chicken

backbone removed and butterflied

1/2

cup

dry white wine

(such as Pinot Grigio) -- or low sodium chicken broth/stock

Juice of 1 lemon
Instructions
Preheat the oven to 450°F (230°C). Thoroughly pat chicken dry all over with paper towel.

Combine the oil, minced garlic, parsley, thyme, rosemary, 3 teaspoons salt, and pepper in a small bowl. Set aside.

Arrange the lemon slices, onion slices and garlic slices in the base of a 12-inch cast-iron skillet (or oven-proof pan). Place the chicken, skin-side down, on top of the lemon/onion slices. Pour over half of the oil/herbs and rub all over the meat. Turn the chicken over (skin-side up) and pour over remaining oil/herb mixture, rubbing the oil into the meat under the skin as well. Pour the wine and lemon juice into the base of the pan.

Season chicken skin with remaining salt.

Roast for 45-55, basting half way through cooking time, until juices run clear when chicken thigh is pierced with a skewer.

Baste again, then broil for a further 5-10 minutes until golden.

Remove the chicken from the oven, cover skillet tightly with foil and allow to stand for 10 minutes before serving, allowing the juices to recirculate through the meat.

Cut the chicken into quarters or eighths, sprinkle with a little extra salt and pepper. Serve, drizzled with pan juices and cooked onions/garlic.
Nutrition
Calories:
379
kcal
|
Carbohydrates:
4
g
|
Protein:
20
g
|
Fat:
29
g
|
Saturated Fat:
6
g
|
Cholesterol:
81
mg
|
Sodium:
341
mg
|
Potassium:
265
mg
|
Sugar:
1
g
|
Vitamin A:
175
IU
|
Vitamin C:
11.6
mg
|
Calcium:
27
mg
|
Iron:
1.3
mg