Garlic and Lime Barbecue Chicken Salad
Excuse me Melbourne, but why you gotta be so hot? This salad was all we needed on this 40  degrees ºC (or 104 °F) heat wave day. Barbecue sauce smothered chicken with garlic and a hint of lime, and juicy grilled pineapple so refreshing in this bowl of fresh and crunchy and creamy perfection all in one. It doesn't get better than this!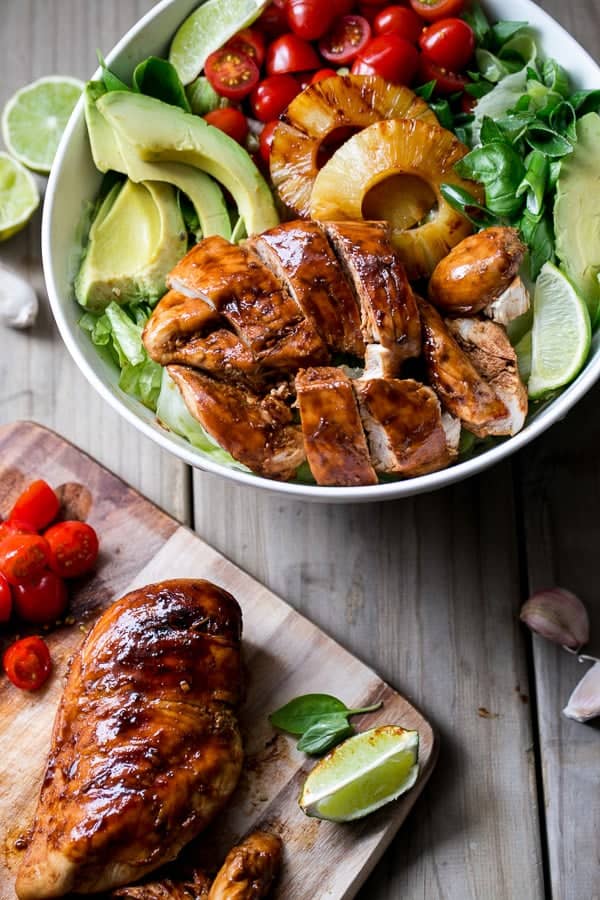 It was one of those days I didn't want to turn anything on other than the cool air conditioner. No stove. No oven. Nada.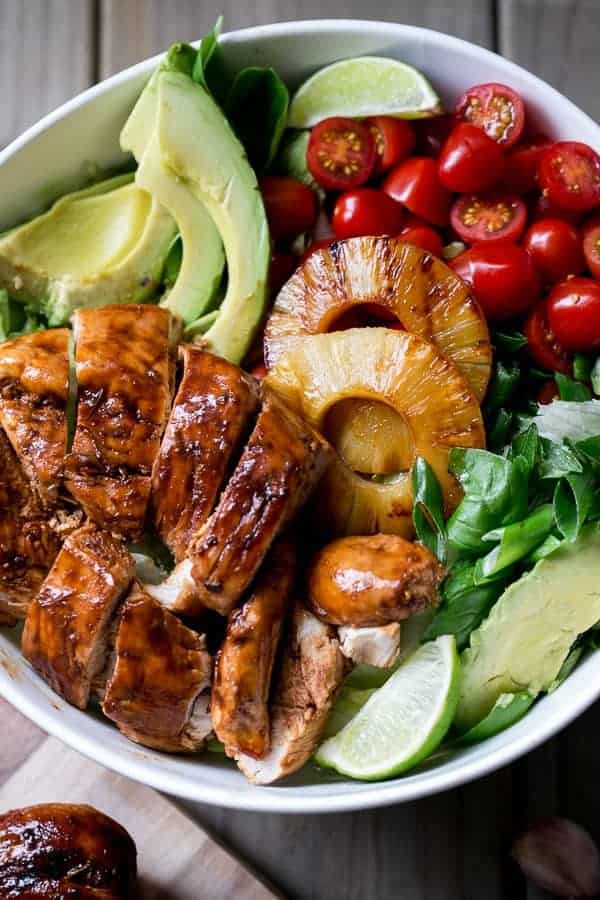 But when hunger calls…. you gotta do what you gotta do. I mean, I had to come up with something that didn't take too long on the stove and heat up the house, while trying to cool it down with the full blast hard working air conditioner.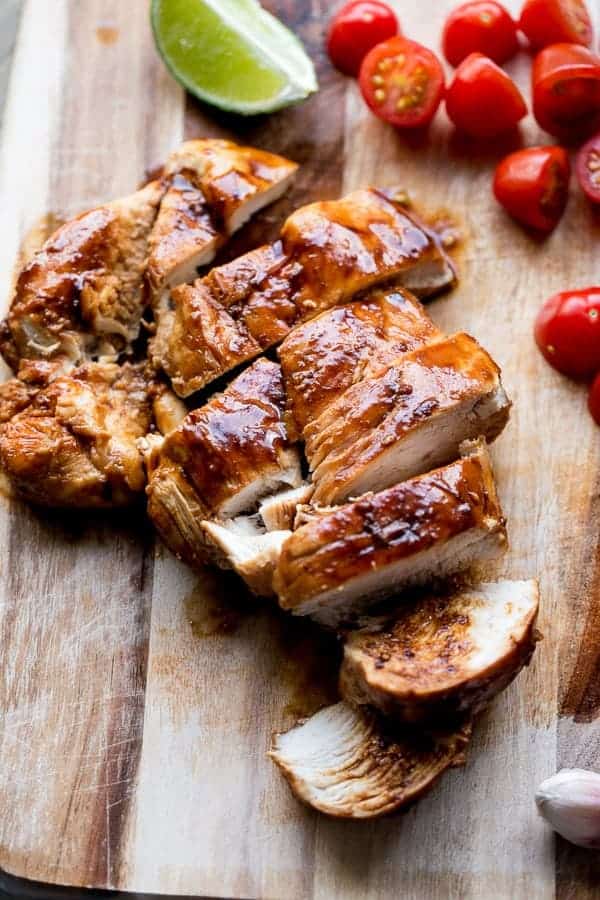 And this was it. This was absolutely perfect.
Because we were all craving a barbecue chicken and pineapple pizza….so I kinda killed that with this salad. Not just because of the bipolar heat wave we seem to be having, but just.because.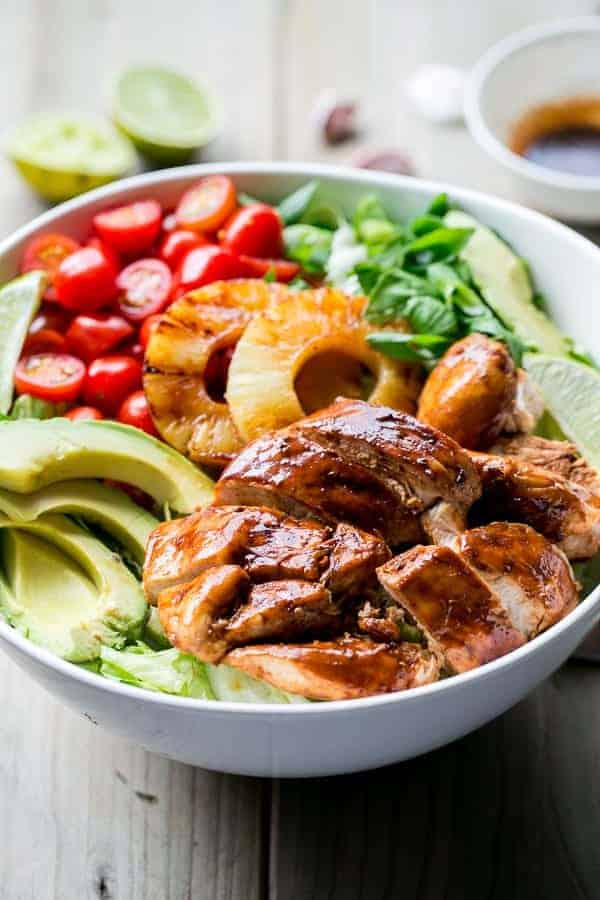 As usual, raiding my refrigerator (and standing in front of it for as long as I possibly could before it started screaming at me), I grabbed whatever I could find and created the best marinade I think I've ever created. No, seriously.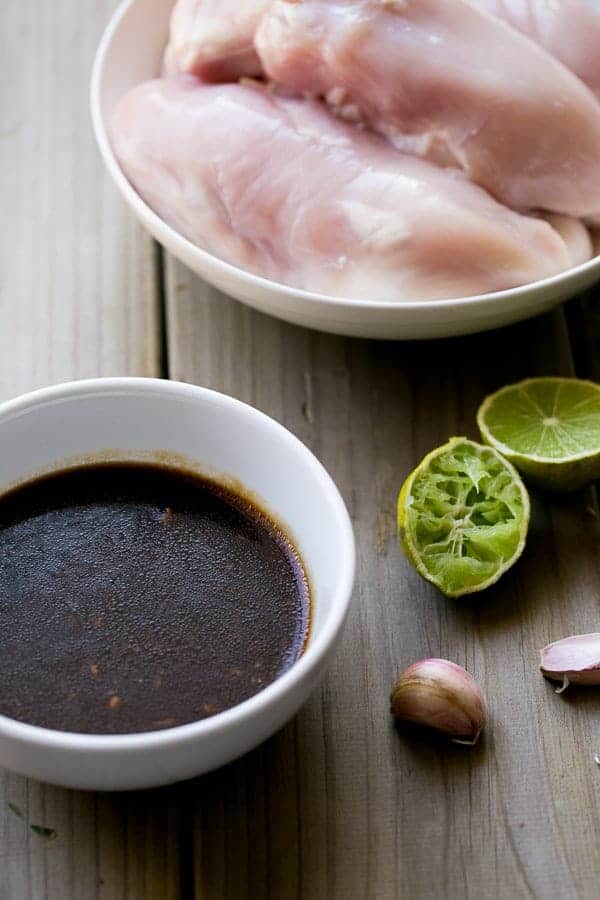 Barbecue sauce, garlic, lime, a splash of soy, a hint of worcestershire, and some other — ummm — stuff, plus the dipping and licking of fingers (totally for taste testing purposes only), this sauce was absolutely perfect. The right amount of saltiness with the perfect amount of sweetness, and a perfect hint of lime with garlic. Because garlic can set anything off in the right direction.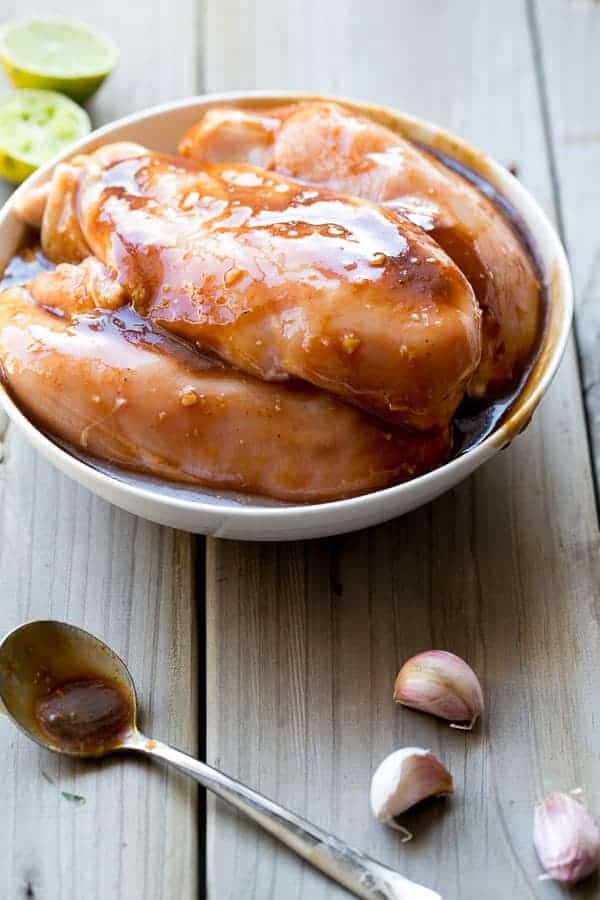 I gotta admit. We saved some extra pineapple for the last hit of refreshing sweetness. The caramelisation taking place while grilling those pineapples release such a sweet aroma through my kitchen that it was hard to save it for the salad. Really.hard.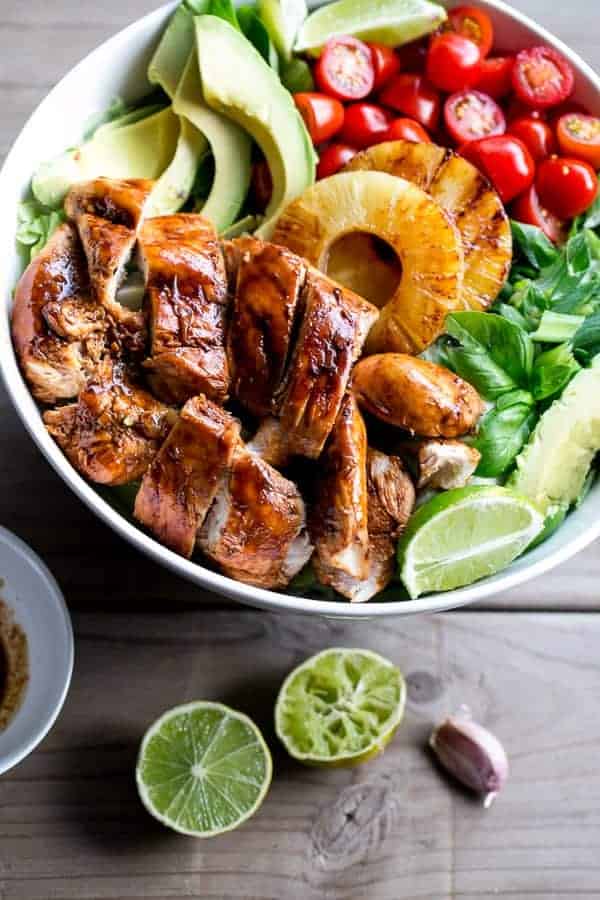 The chicken breast….so tender and juicy. I know, I know….juicy is probably the last word on the planet to describe chicken…but I have no other words.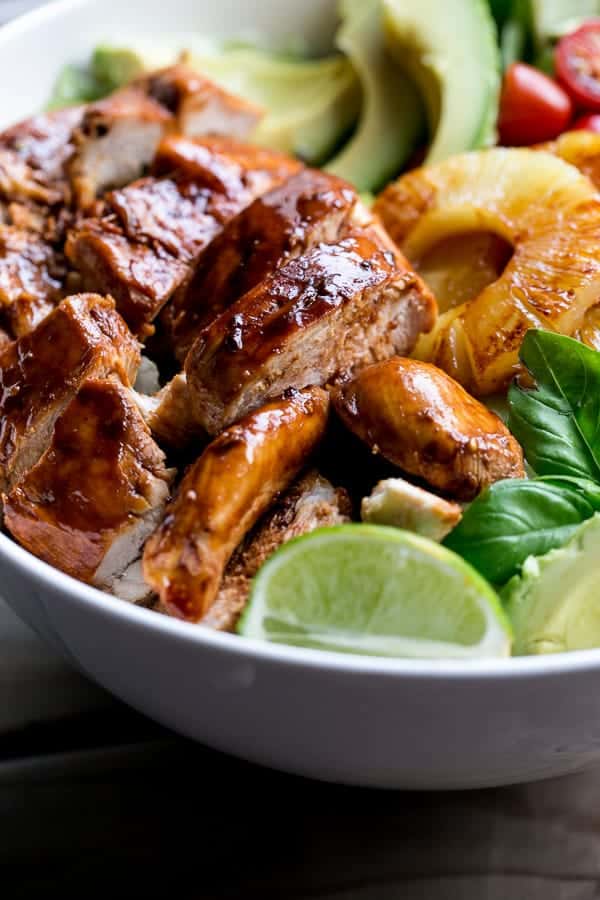 And the creamy avocado completed this bowl in the most incredibly creamy way.
So, we forked and forked and things got a little crazy. It went something like this:
Chicken
Pineapple
Avocado
Tomato
Dip in extra barbecued chicken juices
Repeat
All drizzled with the extra sauce from the pan. Whatafinale.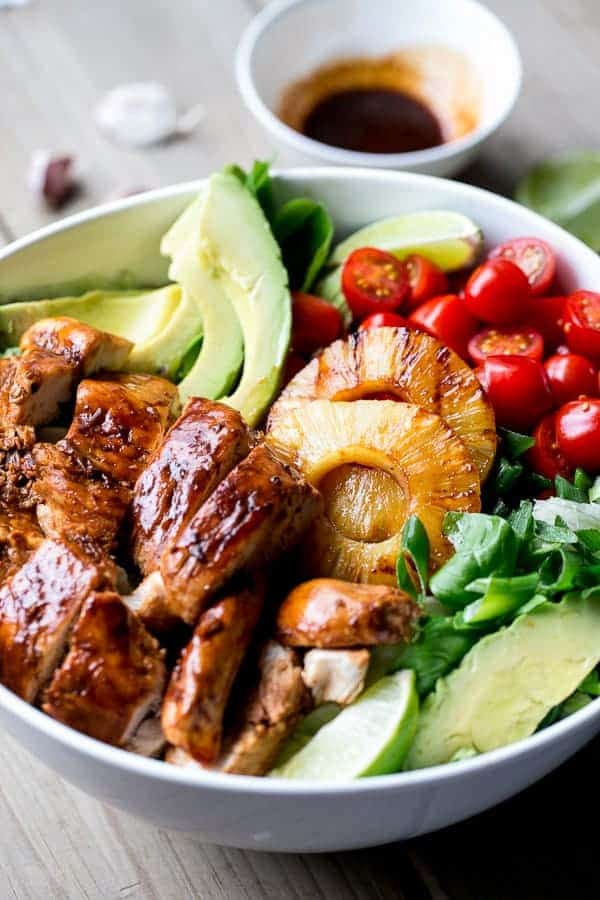 And not just a summer salad… This would be the kind of salad perfect for warming anyone up on a cold night while dreaming of malibu beaches and tropical cocktails.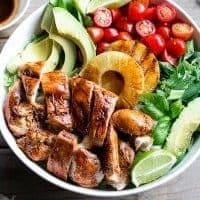 Ingredients
Chicken:
7-8

tablespoons

barbecue sauce

(adjust to your tastes)

1

tablespoon

olive oil

2

tablespoons

soy sauce

2

tablespoons

worcestershire sauce

1

teaspoon

vegetable stock powder

(I use Vegeta)

1 1/2

teaspoons

minced garlic

(or 2 cloves garlic, minced)

1/2

lime

, juiced

500

g

| lbs whole skinless chicken breast fillets
Salad:
8

cups

mixed salad leaves

(or lettuce of choice)

1

cup

grape tomatoes

, halved

2

green onions

, sliced

1

avocado

, sliced

1/4

cup

basil leaves

Sprinkle of salt

8

slices

pineapple

, canned in natural juice

Lime wedges to serve
Instructions
Chicken:
In a wide shallow bowl, whisk together the barbecue sauce, olive oil, soy sauce, worcestershire sauce, stock powder, garlic and lime juice. Add the chicken breasts to the marinade and coat chicken evenly.

Heat a large nonstick grilling pan/skillet over medium heat. Add a drizzle of oil to the pan and add the chicken with the marinade and sear on both sides. Cover the pan and cook chicken, turning after every two minutes or so, until browned on both sides and cooked through. Remove, allow to rest and keep warm. Reserve the remaining juices/sauce left over from the chicken in the pan into a separate small bowl.

Drizzle a small amount of oil onto the same pan, and grill pineapple rings on both sides until caramelised (about 4 minutes each side).


Prepare salad:
Combine all salad ingredients into a large bowl and toss them until mixed through. Sprinkle salt over the top (adjust to your tastes), and toss again. Place the cooked chicken on top along with the pineapple rings, tomatoes, green onions, avocado and basil. Drizzle reserved juices from the pan over the salad with extra olive oil (if needed)..
Nutrition
Calories:
362
kcal
|
Carbohydrates:
34
g
|
Protein:
33
g
|
Fat:
13
g
|
Fiber:
7
g