Move over boring salads…this Pesto Grilled Chicken Avocado Salad is here and will become your new favourite meal-in-a-salad!
With another one of my USE THE DRESSING AS A MARINADE type of deal, grilled chicken fillets sit on top of this loaded salad, filled with cucumber pieces, sweet and juicy grape tomatoes, red onion slices, and crumbled up feta cheese! Plus added avocados — because WHO doesn't love avocados? Especially in this Pesto Grilled Chicken Avocado Salad!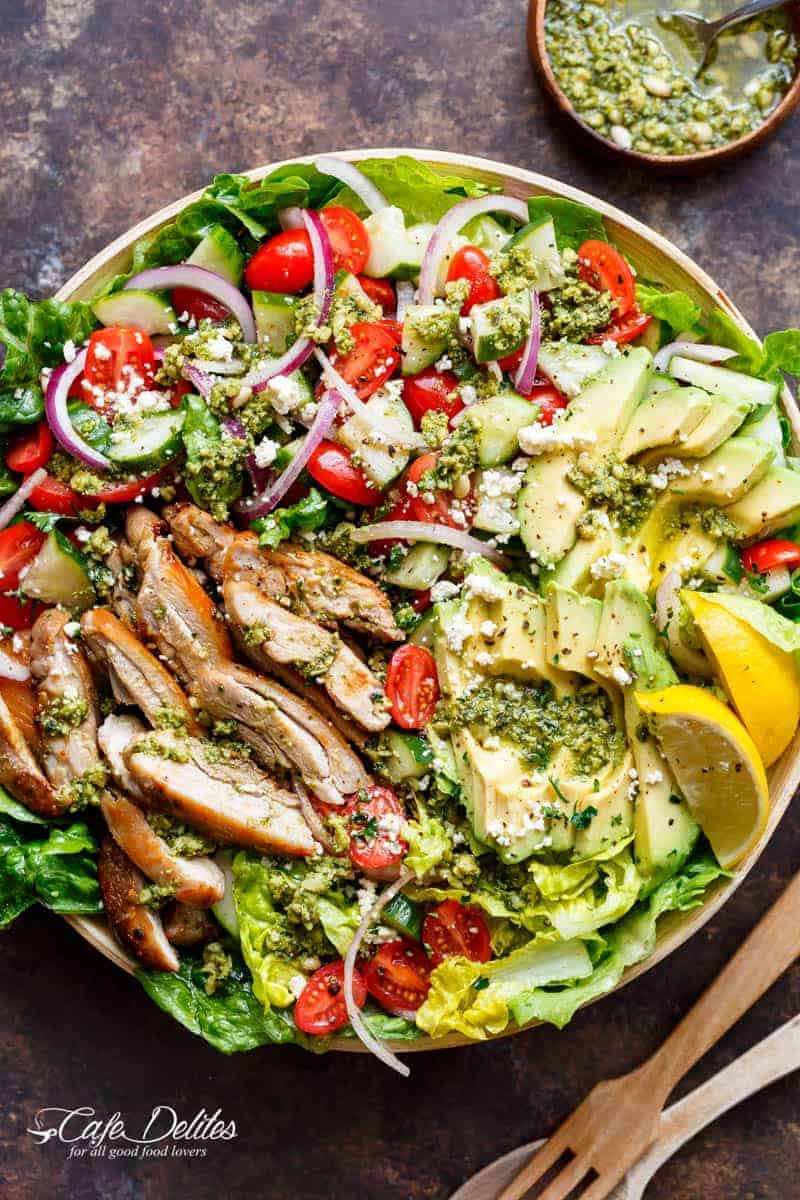 People, let me tell you about my week. Not only have I had paper work coming out of my ears and have had to count figures and numbers on my fingers more than I'd like to care to admit; throw in one panic attack (okay, so a few), along with moments I forget to BREATHE (because breathing is an oversight when you start a company, am I right?), and add that we have now expanded Entice Films to 8 (YES, EIGHT — I counted ON MY FINGERS) team members, WHO all need daily lunches (more like we need to feed them with the overflowing food busting out of my little kitchen), MY LIFE IS OFFICIALLY HECTIC! Oh, and a recipe book deal. YES! A CAFE DELITES RECIPE BOOK DEAL!
BUT THAT'S NOT ALL. We are now videoing blogger baking videos. BAKING. Do you understand what this means? This means, GOODBYE DIET, NO WILL POWER, drowning in a never-ending ocean of cookies/brownies/pastries/cakes/slices/pies (oh, the PIES), and everything else dessert you can imagine.
Start a food blog, they said. It'll be fun, THEY SAID.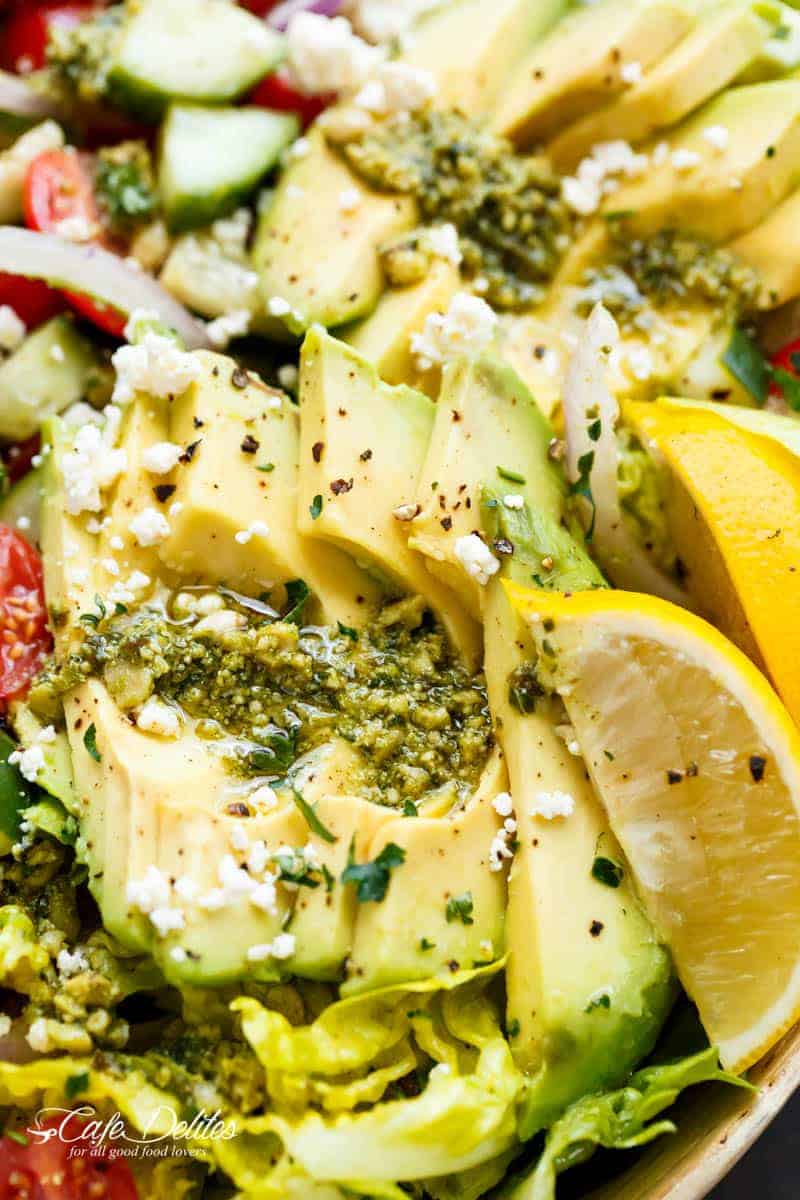 So, the moral of this long-winded story is we all NEEDED a salad, like we need oxygen. It was one of those moments we'd had enough. Enough sugar. Enough butter. Just enough. (Well, until tomorrow.)
That's where this salad comes in.  Ohhhhh the greens! The fresh crisp lettuce and the burst-in-your-mouth tomatoes! I have never been more excited in my LIFE to move a tray of cinnamon rolls to the side and eat a salad. Clearly, there is something wrong with me.
The Pesto dressing though? That's the ish. I added some olive oil, garlic, lemon juice to an already delicious basil pesto I made on my blog a while ago, and remade again earlier this week for absolutely no reason other than I've been craving pesto, and this salad came to be born.
Now, as with all of my recipes, I give you the option of using either store bought OR homemade pesto. The choice is always yours.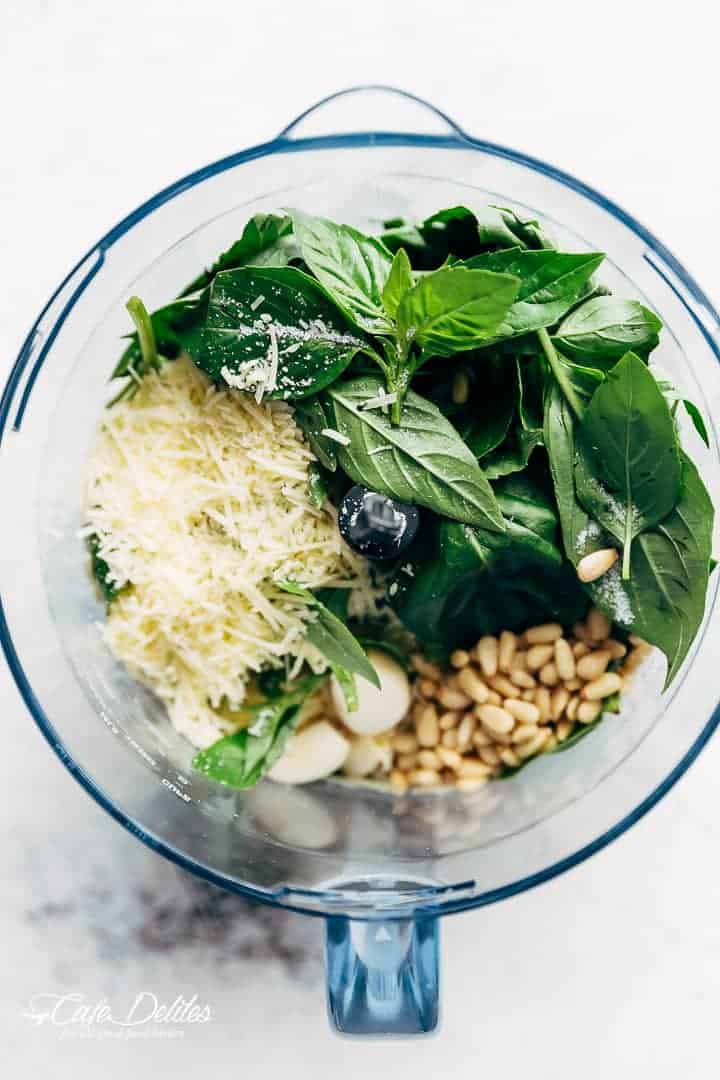 Ahhhh, GREEN, parmesan, basil pesto goodness.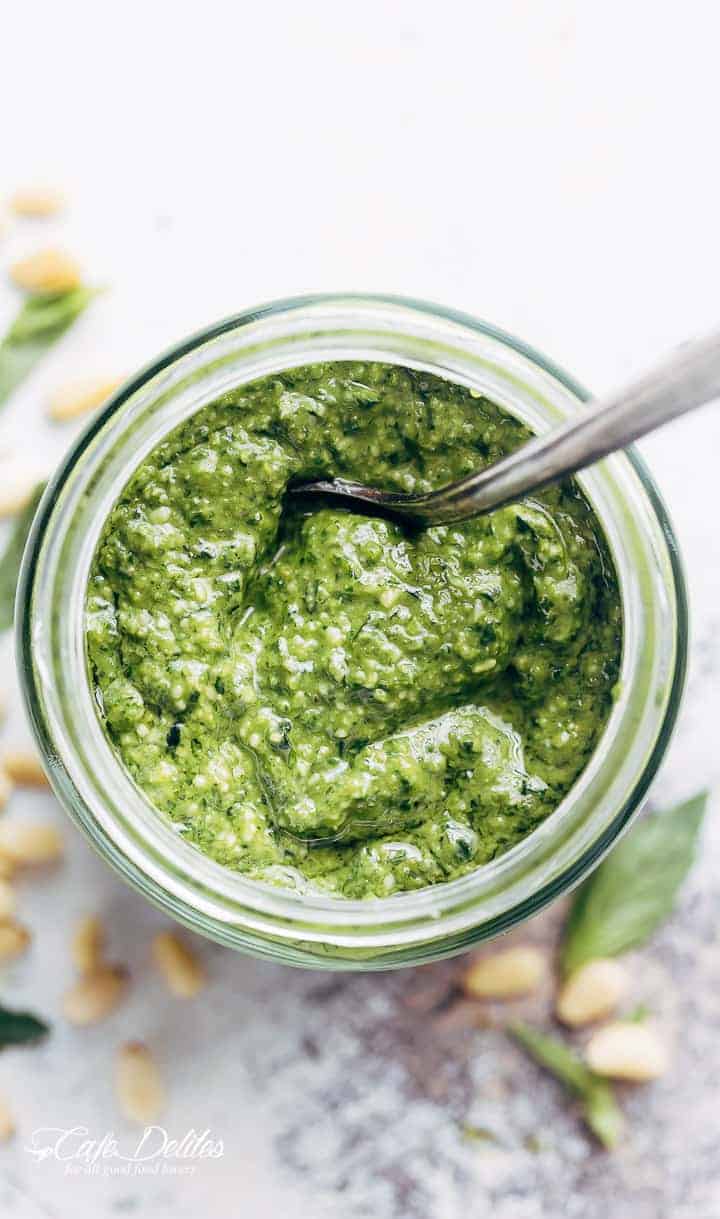 You will never regret the day you take your bowl of boring lettuce, and turn it into a Pesto Grilled Chicken Avocado Salad. Believe me.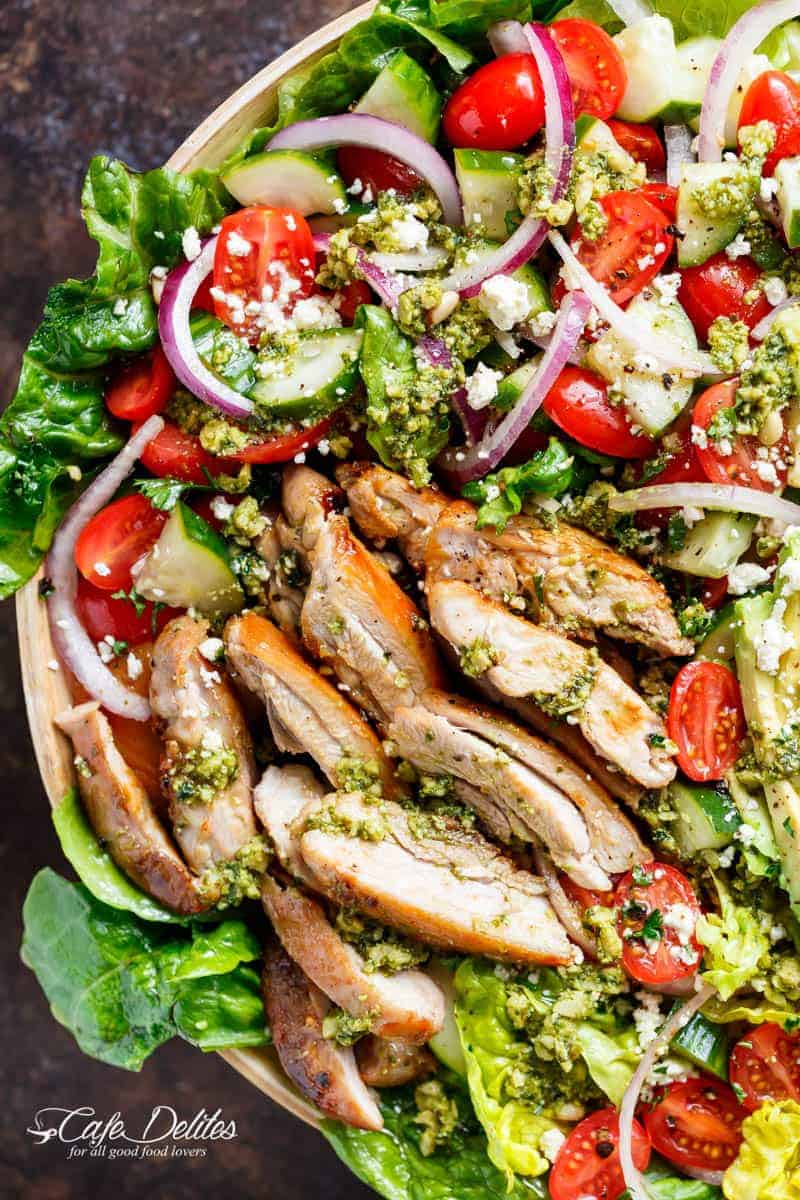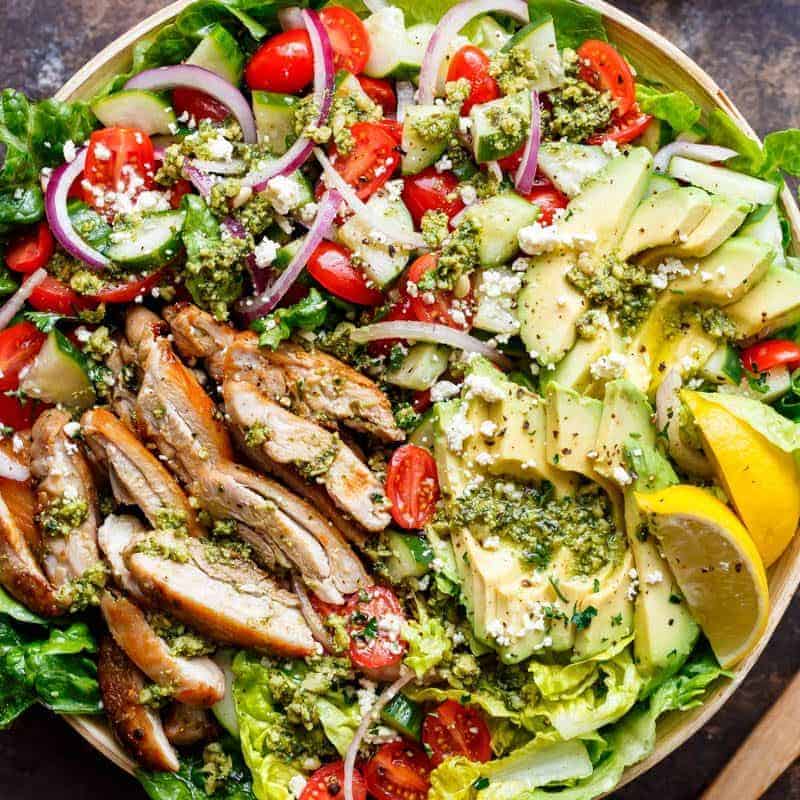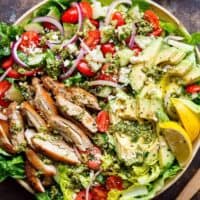 Pesto Grilled Chicken Avocado Salad
Move over boring salads...this Pesto Grilled Chicken Avocado Salad will become your new favourite salad, using a pesto dressing to double as a marinade!
PRINT
SAVE
go to your favorites
Ingredients
Dressing:
1/3

cup

olive oil

2

tablespoons

basil pesto,

(homemade or store bought)

2

tablespoons

lemon juice,

(adjust to your tastes)

1-2

tablespoons

water,

(optional -- for a thinner consistency)

2

teaspoons

garlic,

minced

1

teaspoon

salt

cracked pepper,

to taste

4

(1 pound or 500g) skinless, boneless chicken thigh fillets (or chicken breasts)
Salad:
4

cups

Romaine,

or Cos lettuce leaves, washed and dried

1

large cucumber,

diced

1

cup

grape (or cherry) tomatoes,

diced

1/2

red onion,

sliced

1

avocado,

sliced

1/2

cup

crumbled feta

Lemon wedges,

to serve

2

tablespoons

extra pesto,

to serve

2

tablespoons

fresh chopped basil or parsley,

to garnish
Instructions
Whisk together all of the dressing ingredients in a large jug. Pour out half of the dressing into a large, shallow dish. Refrigerate the remaining UNTOUCHED marinade to use as a dressing later.

Add the chicken to the marinade in the bowl; marinade chicken for 15-30 minutes (or up to two hours in the refrigerator if time allows). While waiting for the chicken, prepare all of the salad ingredients and mix in a large salad bowl.

Once chicken is ready, heat 1 tablespoon of oil in a grill pan or a grill plate over medium-high heat. Grill chicken on both sides until browned and completely cooked through.

Allow chicken to rest for 5 minutes; slice and arrange over salad. Drizzle salad with the remaining UNTOUCHED dressing. Serve with lemon wedges, extra basil pesto AND chopped basil or parsley, to garnish.
Notes
I recommend adding a couple tablespoons of oil to the extra pesto when serving your salad, before tossing! This of course depends on the thickness of your pesto. We like ours runnier for easier drizzling. You could also mix it with water to cut down on fat or calories, if you wish!
Use this homemade basil pesto recipe or store bought pesto!
Nutrition
Serving:
360
g
|
Calories:
346
kcal
|
Carbohydrates:
11
g
|
Protein:
6
g
|
Fat:
31
g
|
Saturated Fat:
6
g
|
Cholesterol:
17
mg
|
Sodium:
944
mg
|
Potassium:
601
mg
|
Fiber:
5
g
|
Sugar:
4
g
|
Vitamin A:
5105
IU
|
Vitamin C:
18.2
mg
|
Calcium:
162
mg
|
Iron:
1.4
mg