Fresh, homemade basil pesto can be used as an easy marinade for grilled and roast meats OR stirred through a big bowl of pasta or zucchini noodles for a quick dinner solution!
Pesto can be placed with any of your favourite savoury meals to give it a nice, fresh kick! Better than any store bought pesto, with a flavour-packed punch with only 5 ingredients and a food processor.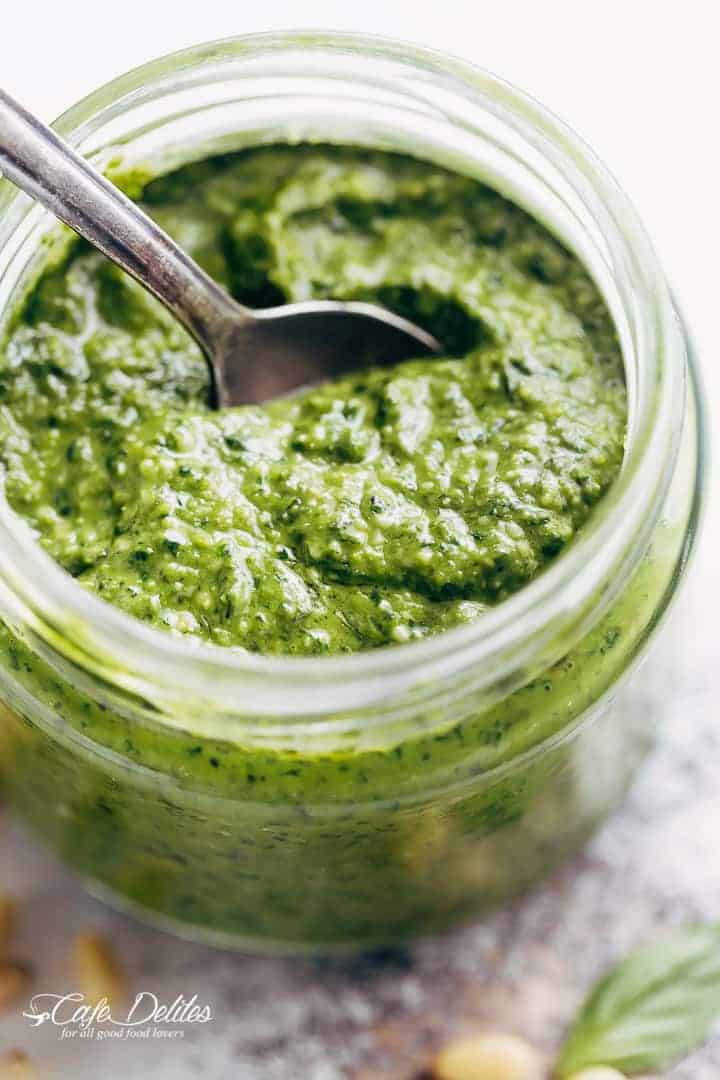 PESTO RECIPE
Many, many years ago, there once lived an extremely lazy young girl that would only buy and consume bottled pesto. Fast forward to current day, and the now older (and I'd like to think wiser), young woman has turned into a fresh-food snob and would never think to buy pesto from a bottle ever again.
Pesto is so unbelievably easy to make, I can guarantee you that when you try this, you too will become a pesto snob, holding your head high when passing the condiment section in the supermarket and vow to never buy store bought again. Nothing beats the COLOUR and FLAVOUR from freshly made. We eat it with anything. On toast (yes, on toast!), in sandwiches, on spaghetti or zucchini noodles, and even smothered all over chicken or other meats (fish is damn good too).
HOW TO MAKE PESTO
Start by lightly toasting your pine nuts in a skillet or pan. If you can, really try not to skimp on this part. It enhances the flavour and tastes way better than plain old pine nuts.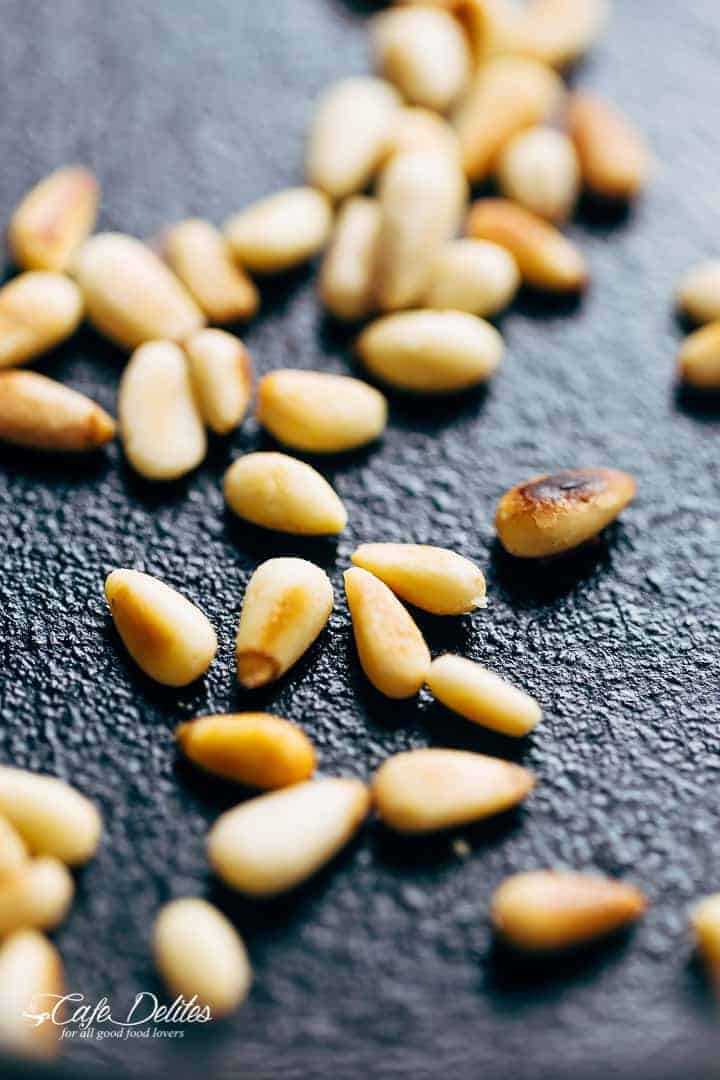 Throw them with everything else into a food processor (except for the olive oil), and process until chopped. I use a mini food processor like this one, because I find it to works better and processes better for the amount of ingredients used in this recipe.
THEN, add your oil in a nice, thin stream until emulsified……and the most perfect condiment you've ever seen will appear before your very eyes.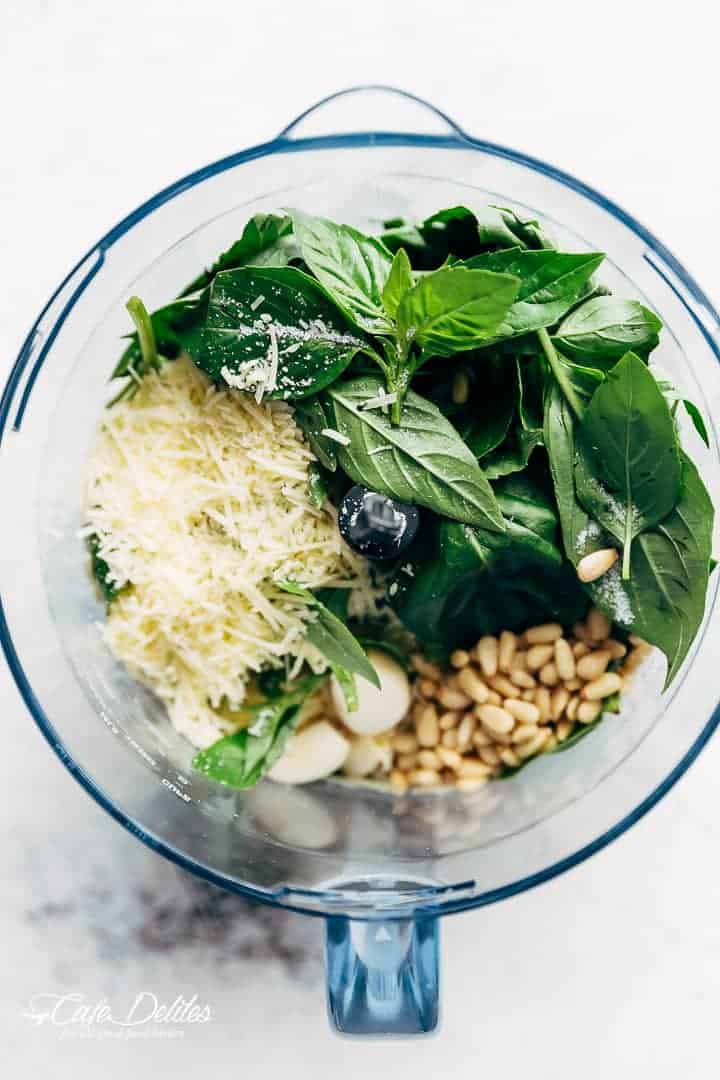 So perfect!

WHAT IS PESTO USED FOR?
Regularly used as a pasta sauce, PESTO is extremely versatile and has many other uses.
A sauce for any meat or fish.
Add it into an Alfredo sauce.
Spoon it over roasted vegetables.
Spread into a sandwich or grilled cheese.
Drizzle over gilled or baked chicken.
Use it as an appetizer and spread onto crostini or crusty garlic bread.
Serve as a dip!
Mix it through a salad to use as dressing (like our Pesto Grilled Chicken Avocado Salad).
A pizza topping!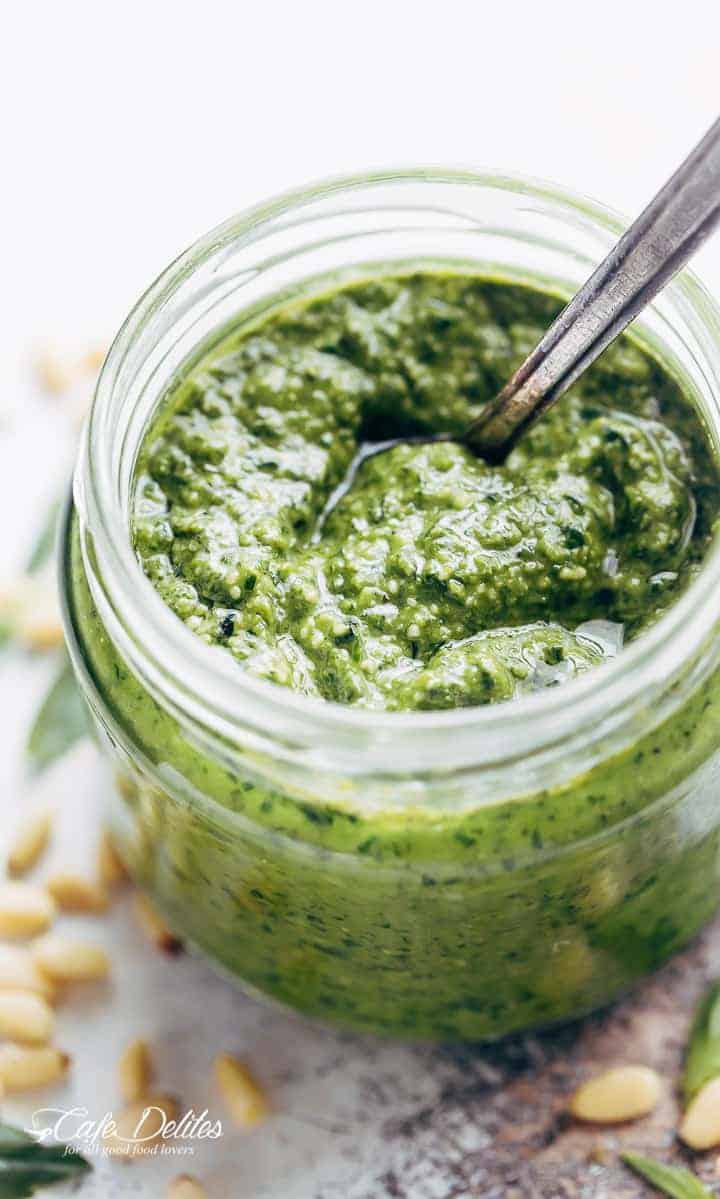 STORAGE
Any leftover pesto can be stored in an air tight jar and refrigerated for one week. Alternatively, freeze in a small plastic container for up to 3 months.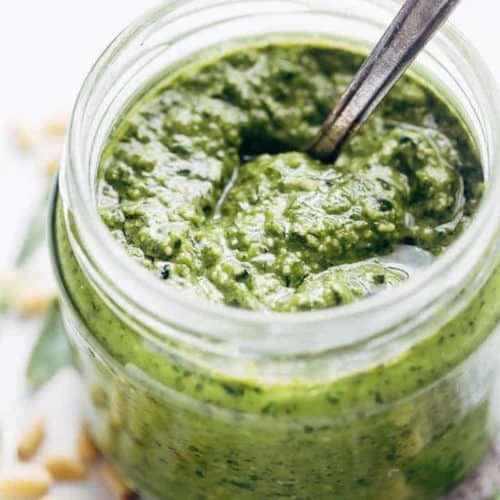 Basil Pesto
Fresh, homemade basil pesto is way better than any store bought pesto, with a flavour-packed punch!
Recipe makes 11 ounces (300g) -- about 1 1/2 cups pesto.
PRINT
SAVE
go to your favorites
Ingredients
1/4

cup

pine nuts,

lightly toasted

2

cups

basil leaves,

washed and packed

2

cloves

garlic,

peeled

1/3

cup

fresh shredded parmesan cheese

1/3

cup

olive oil

salt to taste
Instructions
Heat a skillet (or pan) over medium-high heat; toast pine nuts until golden, tossing occasionally in the pan. Add the pine nuts to the bowl of your along with the basil, garlic and parmesan cheese; pulse until finely chopped (scrape down the sides of the food processor if needed).

With the processor running, gradually add the olive oil in a thin stream until the pesto comes together and is well combined. (Scrape down the sides of the food processor again, if needed). Season with salt to your taste.
Notes
Storage: Any leftover pesto can be stored in an air tight jar and refrigerated for one week. Alternatively, freeze in a small plastic container for up to 3 months (option: freeze in lightly greased ice cube trays for smaller portions, and thaw the amounts required when needed).
Nutritional Label: Based on 2 tablespoons of pesto per serve