The most perfect, creamy Egg Salad with the best dressing will tick all of your egg salad loving boxes!
A perfect Egg Salad is usually so hard to come by, either to sweet, too tart or too dry. However, THIS egg salad is something truly special and starts you off in the right direction with a few tips to get your eggs perfectly boiled every time!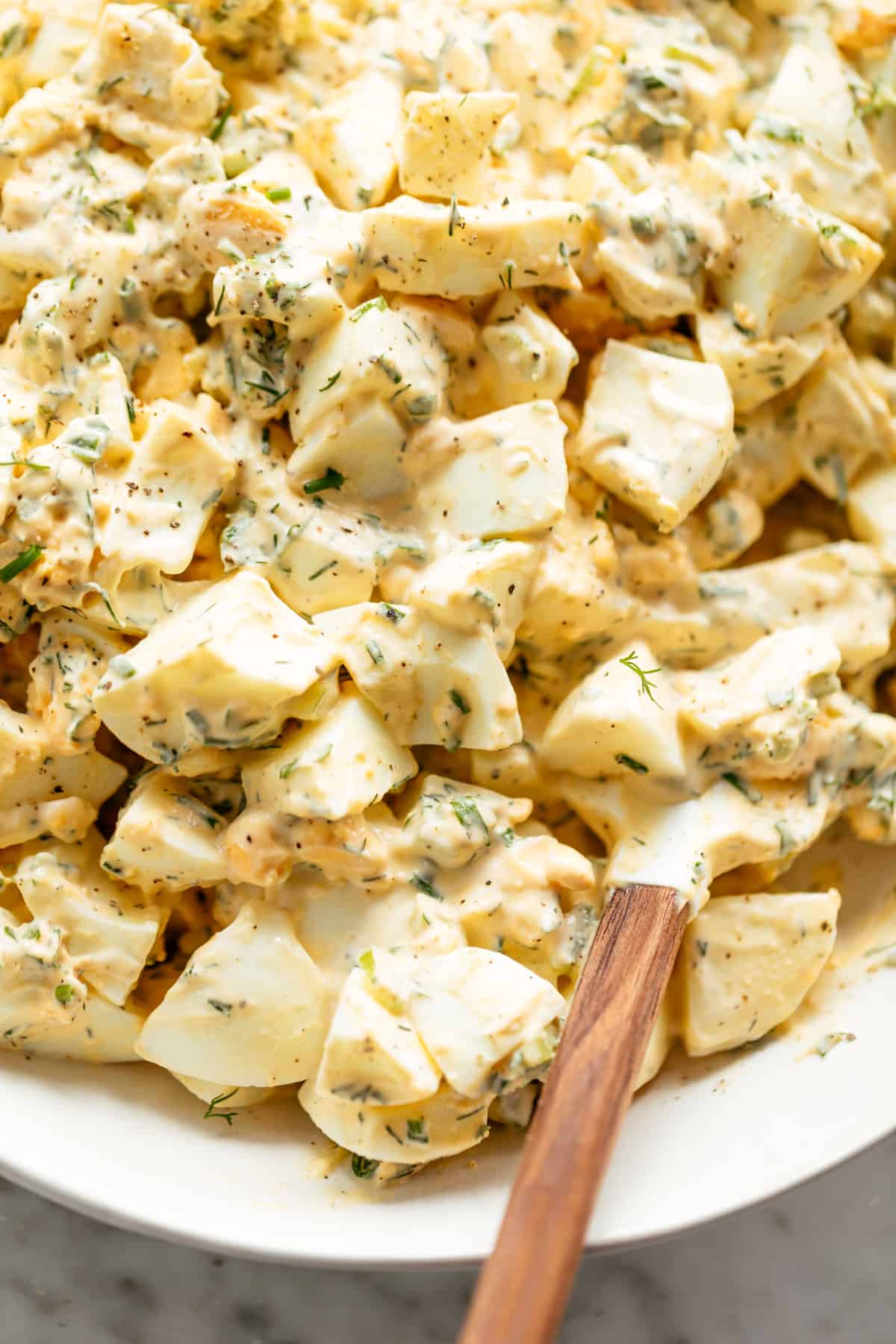 EGG SALAD
Ahhhh, egg salad. One of those salads you can truly make your own. Add in tinned tuna, crispy bacon or rotisserie chicken for a heartier salad, or leave it as it is for the best accompaniment to your bbq, Sunday roast, or grilled steaks.
(See how to perfectly boil eggs after the recipe below.)
HOW TO CUT EGGS FOR EGG SALAD
You want a chunky-ish egg salad to give you great texture in every bite. Halve them lengthwise, then cut each half into two or three pieces.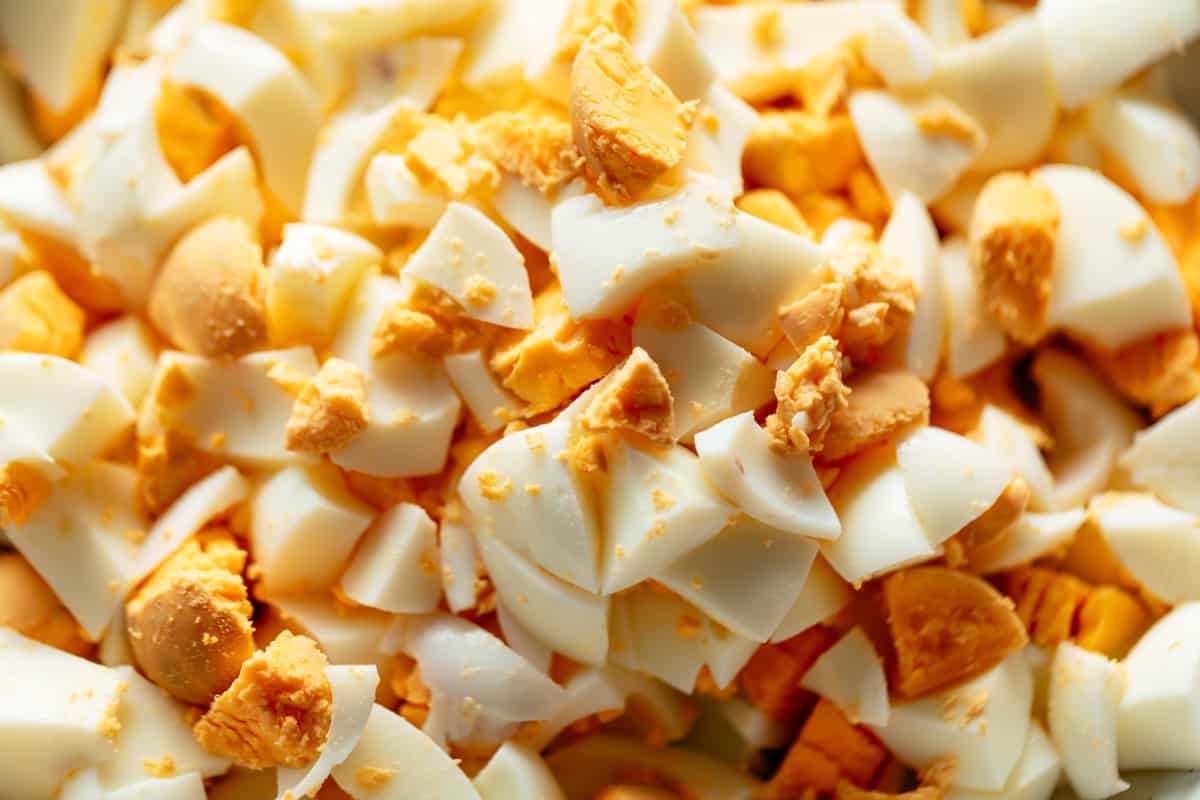 THE DRESSING
The mayo dressing alone is incredible with the perfect balance of flavours: fresh dill, chives and parsley; a kick of Dijon, a hint of horseradish cream and crispy celery to give you texture.
I suggest using whole egg mayo or Japanese mayo for the BEST flavour, as most other types of mayonnaise contain a lot of sugar, giving you a sweet dressing.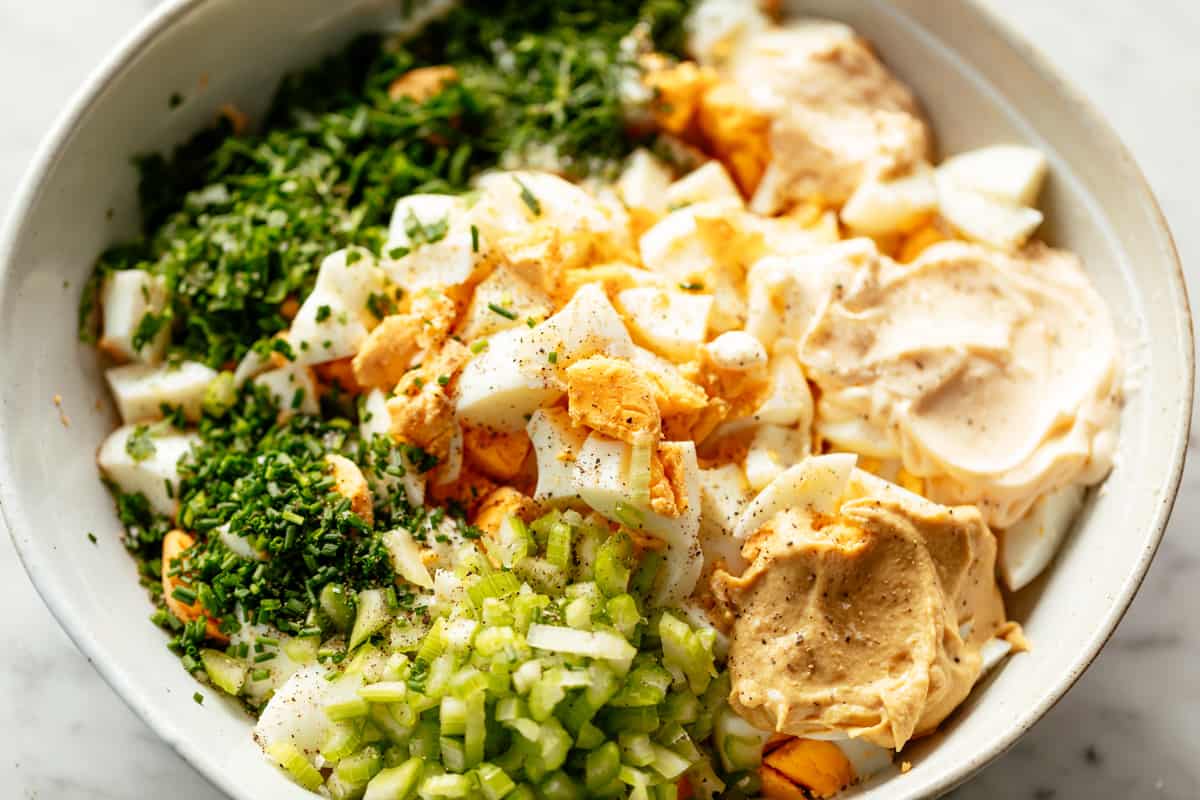 The most perfect egg salad with fresh herbs!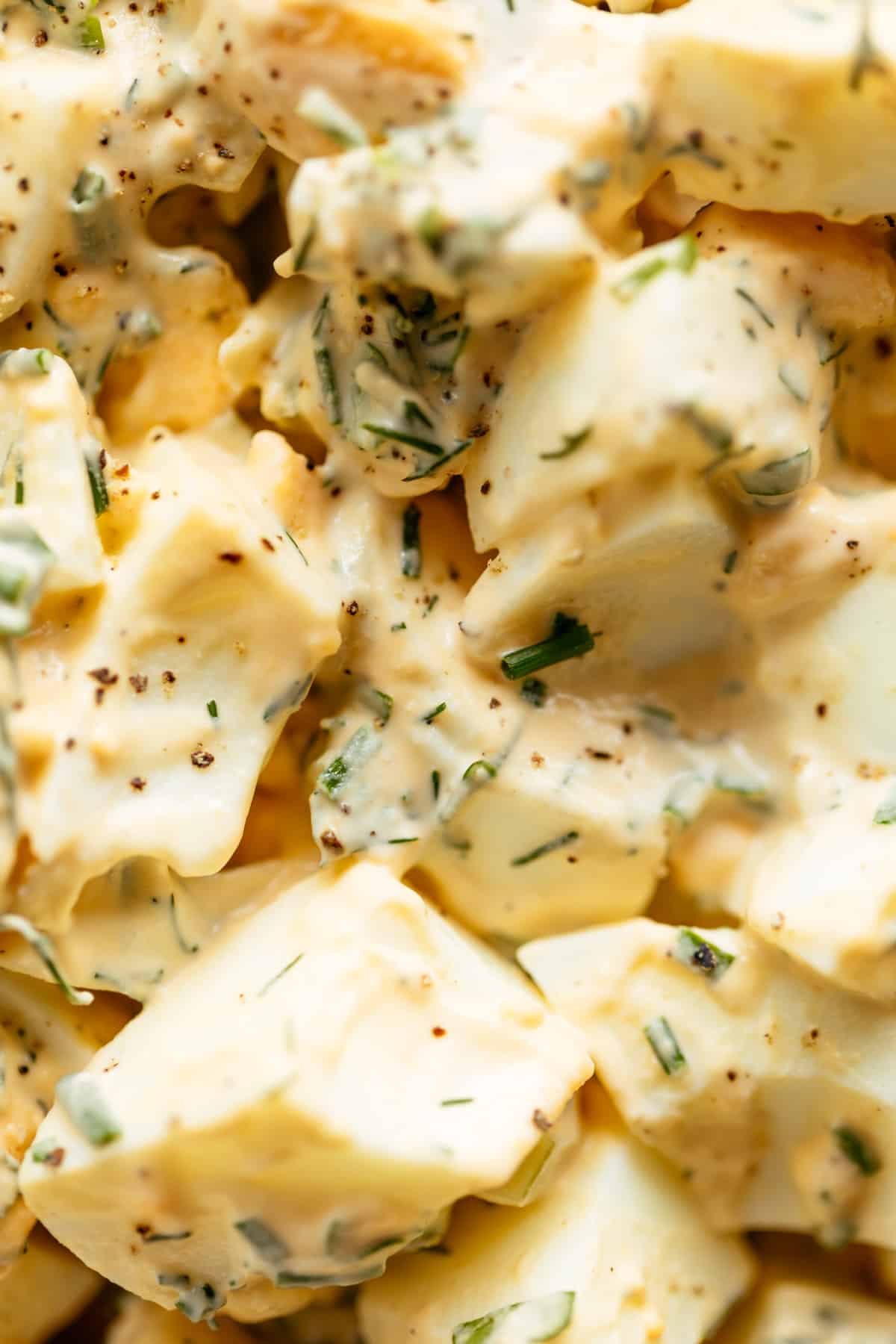 WHAT DOES EGG SALAD GO WITH?
The ultimate Sunday barbecue or picnic side dish, you can serve our egg salad on toasted bagels, English muffins, or sandwich it with thick sliced bread. Or keep it low carb and stuff it into Romaine lettuce leaves.
There are so many different foods you can serve this with. Think burgers, hot dogs, sandwiches or sliders, etc.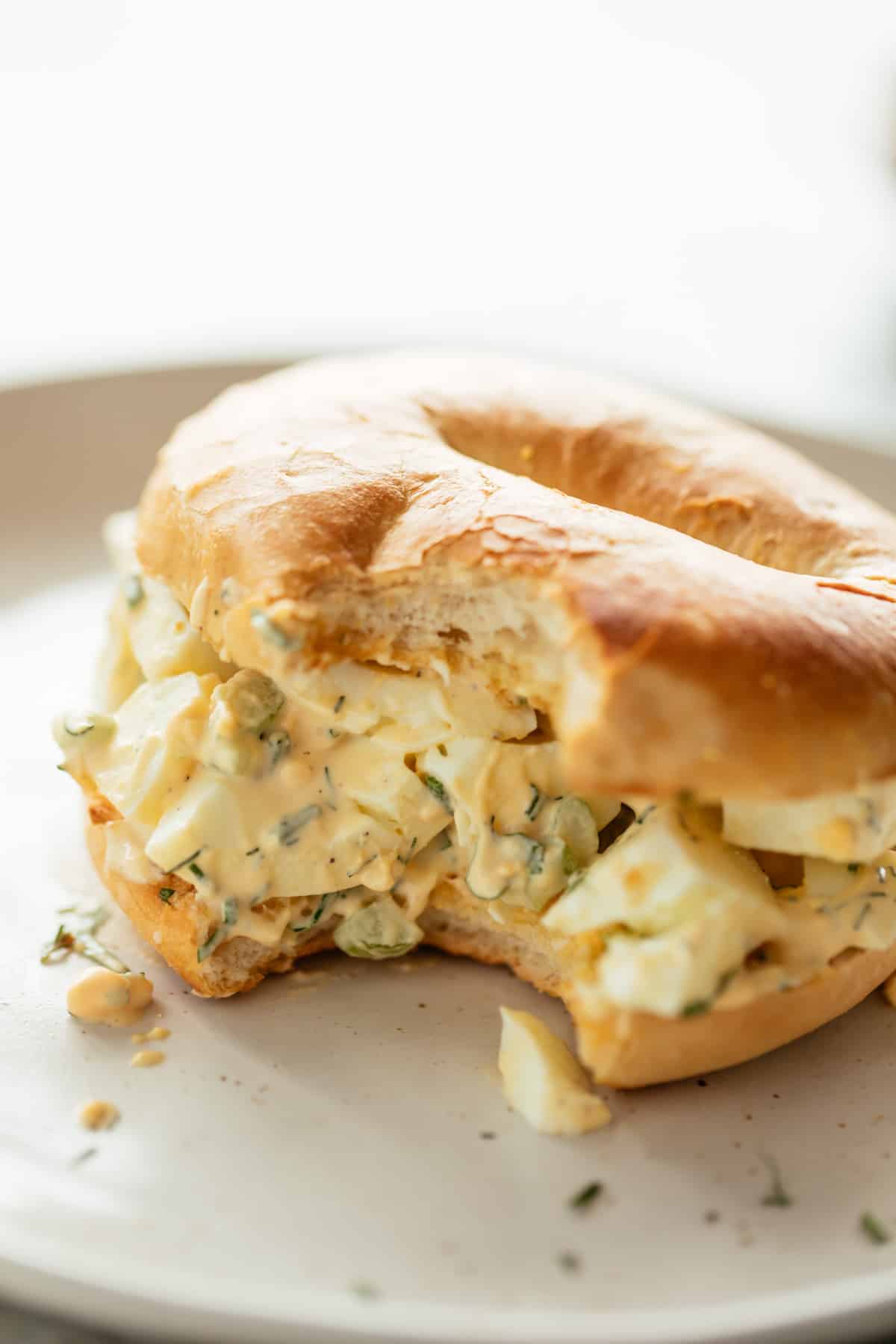 MORE EGG RECIPES
Classic Deviled Eggs
Cheesy Scrambled Eggs in Avocado
Eggs In Tomato Sauce with Sausage (Shakshuka)
Breakfast Egg Muffins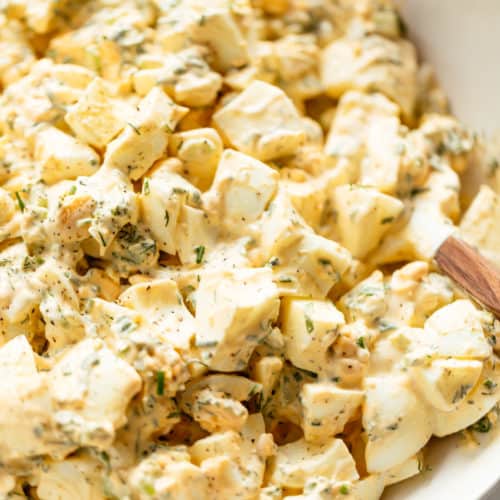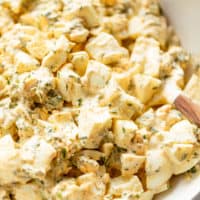 The Perfect Egg Salad
The most perfect, creamy Egg Salad with the best dressing will tick all of your egg salad loving boxes! Serve up a special egg salad with a delicious mayo dressing filled with fresh dill, chives, Dijon mustard and creamy horseradish!
PRINT
SAVE
go to your favorites
Ingredients
12

large

eggs

1

teaspoon

salt

1/4

teaspoon

fresh cracked black pepper

1/4

cup

finely chopped celery,

(or dill pickles)

1/3

cup

whole egg mayonnaise,

or Japanese mayo

2

tablespoons

Dijon mustard

1

tablespoon

horseradish

3

tablespoons

fresh dill,

finely chopped

2

tablespoons

fresh chives,

finely chopped

1

tablespoon

fresh parsley,

finely chopped

Pinch of paprika
Instructions
Carefully add eggs to a large pot. Fill pot to cover eggs with cold water at least 1-inch above eggs.

Bring to a rapid boil over medium heat. Let boil for 1 minute, then cover with lid and remove from heat. Let the eggs stand in the hot water for 10-12 minutes. DO NOT LIFT OR REMOVE LID.

Transfer eggs to a bowl filled with cold water and let cool for about 5 minutes.

Peel eggs and chop into quarters.

Transfer chopped eggs to a medium-sized serving bowl. Season with salt and pepper.

Gently fold in mayonnaise, Dijon mustard, horseradish, celery, chopped herbs and a pinch of paprika. Taste test and adjust seasonings, if needed.
Nutrition
Calories:
157
kcal
|
Carbohydrates:
3
g
|
Protein:
13
g
|
Fat:
9
g
|
Saturated Fat:
3
g
|
Fiber:
1
g
|
Sugar:
2
g
HOW TO BOIL AN EGG
Place eggs in pot and cover them with cool water by at least 1-inch (2 1/2 cm). Make sure your pot is large enough that they fit comfortably in one layer.
Bring to a rapid boil over medium-high heat and let boil for 1 minute.
Cover with a lid and immediately remove pot from the heat.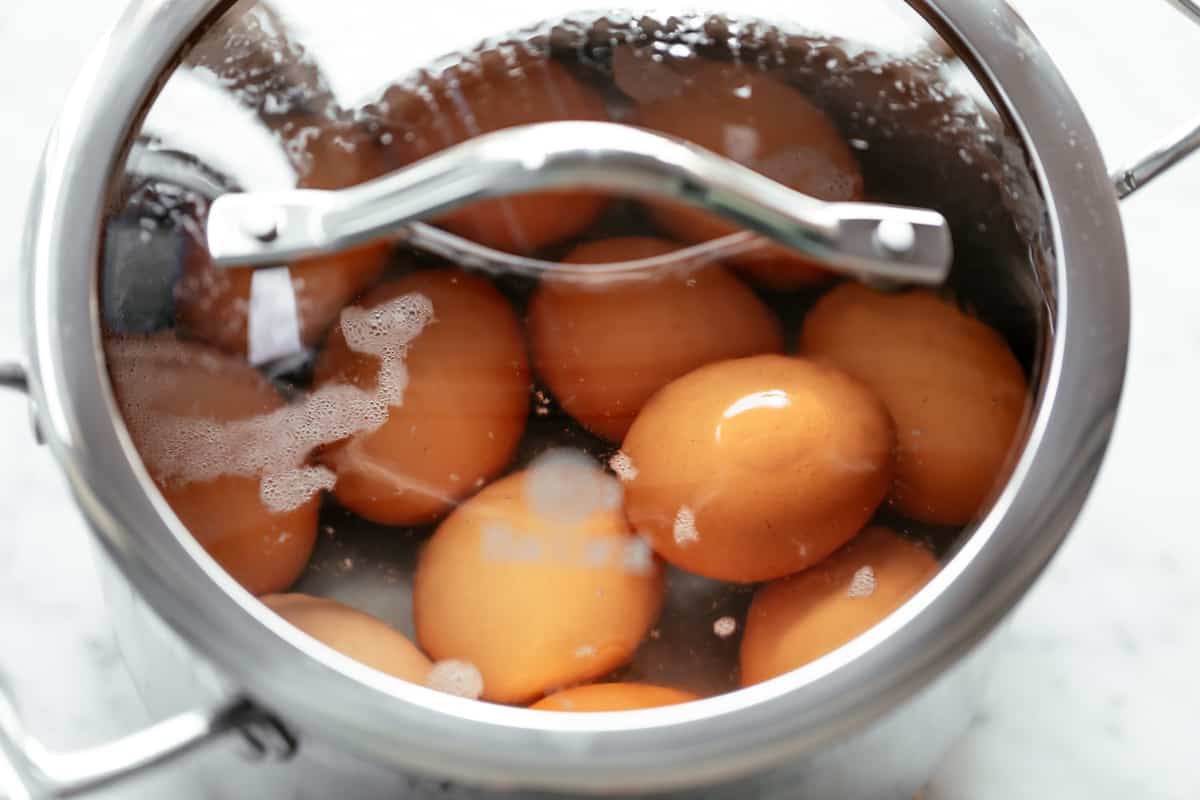 Do not lift the lid. Set your timer for your preferred boiled eggs.
HOW LONG DOES IT TAKE TO BOIL EGGS
Runny yolk: 5-6 minutes
Soft Boiled (soft yolk): 6-8 minutes
Medium Boiled (hard yolk around the outside, semi-soft in the middle): 8-10 minutes
Hard Boiled (solid cooked yolk): 10-12 minutes
(For this egg salad, I recommend a time of 10-12 minutes. Check one egg to make sure it's done to your liking. If not, let the other eggs continue 'cooking' in the hot water.)
Meanwhile, fill a large bowl with cold water.
Once your eggs have reached your desired doneness, remove the eggs from the hot water with a slotted spoon or tongs. Carefully immerse eggs into the cold water and let cool for at least 5 minutes.
Tap each egg gently against a hard surface, carefully roll the egg in the palms of your hands or on your kitchen bench to crack the shell in a few places, then peel. You can dip the egg into the cold water while peeling so the shell slides off easily.
Rinse in fresh cold running water to remove any remaining shell pieces and pat dry with paper towel.