The BEST Quick and Easy Creamy Chicken Recipes on Cafe Delites! All made FAST without compromising on flavour!
All of the chicken recipes in this round up have been made time and time again around the world by so many readers over the last two years since starting Cafe Delites. The BEST creamy chicken recipes chosen by you! Collecting all of your favourites in one place along with your comments and feedback — not only on this site but all over our social media channels like Facebook and Instagram!
Click on the image or link provided to go straight to the recipe!
---
1. Creamy Lemon Parmesan Chicken Piccata
"I don't normally take the time to leave comments, that being said I had to for this. It was delicious. The whole family loved this including seven year old twins who have opposite tastes on everything. Thank you so much for publishing this recipe! Five stars from me…" — Laura
2. Chicken Thighs With Creamy Mushroom Garlic Sauce
"I made this last night and HOLY CRAP! So delicious! I will definitely be making again and again and again. Thanks for the great recipe!" — Brianne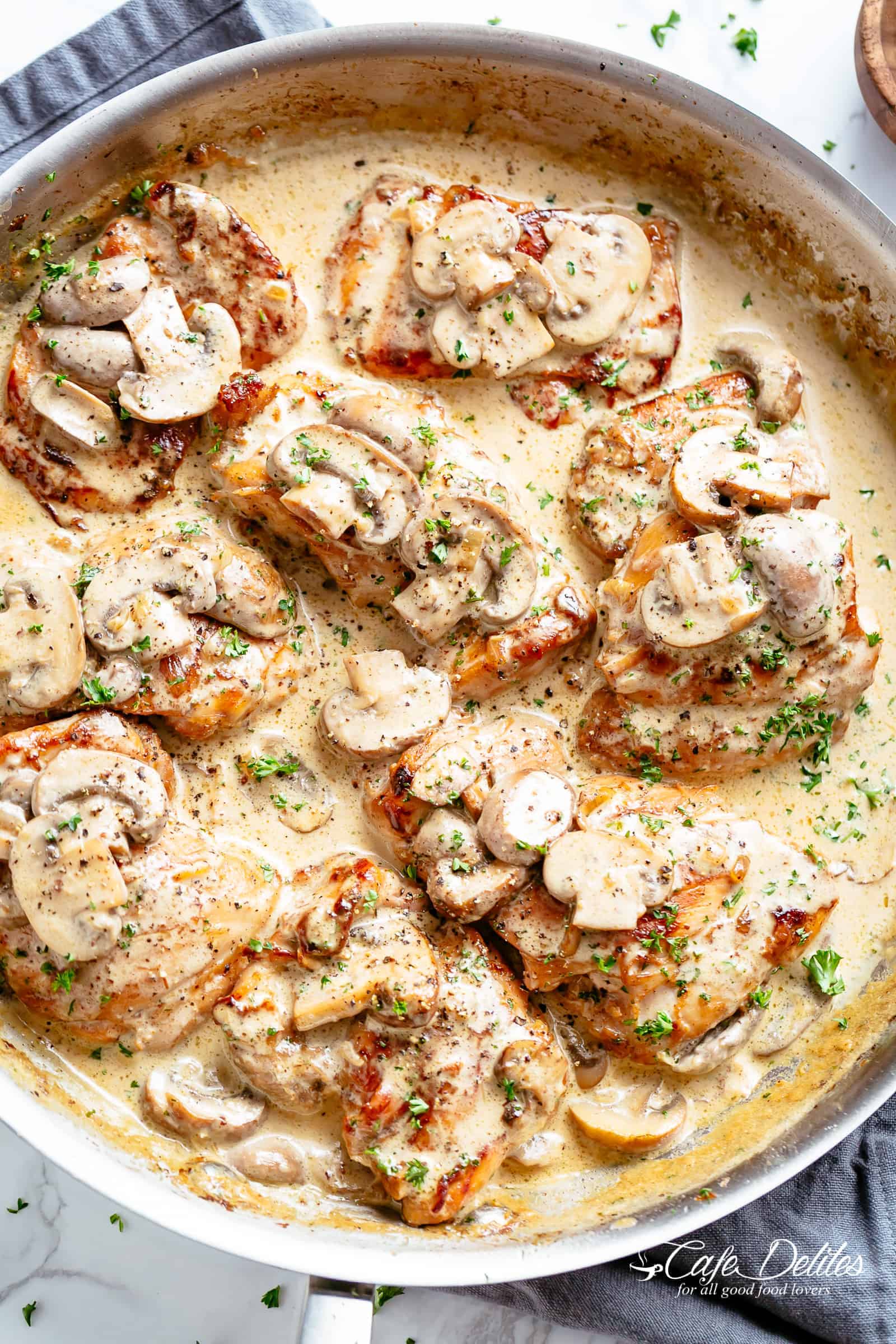 3. Creamy Sun Dried Tomato Parmesan Chicken
"Thank you for your amazing recipes Karina. I used to have trouble getting my son to visit with his very busy work schedule but as soon as I tell him i'm making a dish like this he makes the time to visit. I also have to make more and freeze it for him so he can take them to work to eat in his lunch hour (he's the envy of his work colleagues who believe his dad is a master chef and want him to take them food in). Thank you once again for some amazing recipes, you are a godsend to this old fart who found his kitchen later on in life." — Neil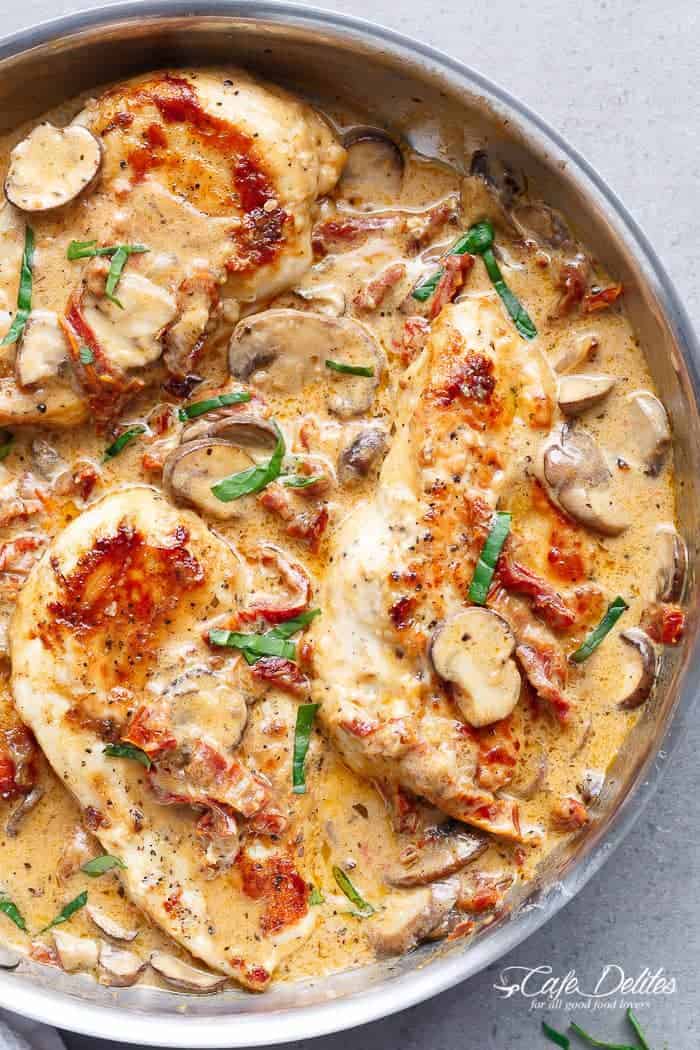 4. Spinach Artichoke Stuffed Chicken
"I am by no means an experienced cook I never had to cook at all until the last few months after being separated, but being the father of 2 teenage sons that love to eat I had no choice but to figure it out. I made this recipe last night and it was amazing and got 2 thumbs up from my boys, They devoured this dish. Thank you for making the directions so simple and easy to follow..The more I cook using your recipes the more comfortable cooking, it no longer feels like a dangerous science experiment It also feels great to be able to cook nice meals that are healthy choices for the kids and myself!!!" — Ken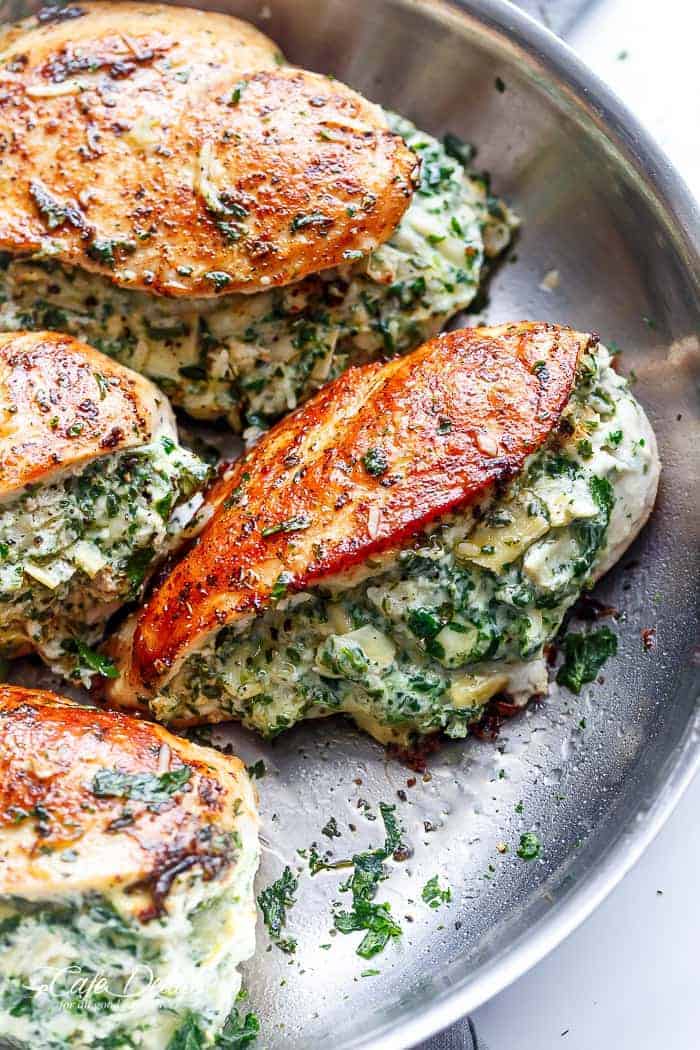 "Totally blown away by this recipe. I would even say it is restaurant quality. Loved by all, next time I'll have to double the recipe from everyone wanting seconds. Yummy." — Judith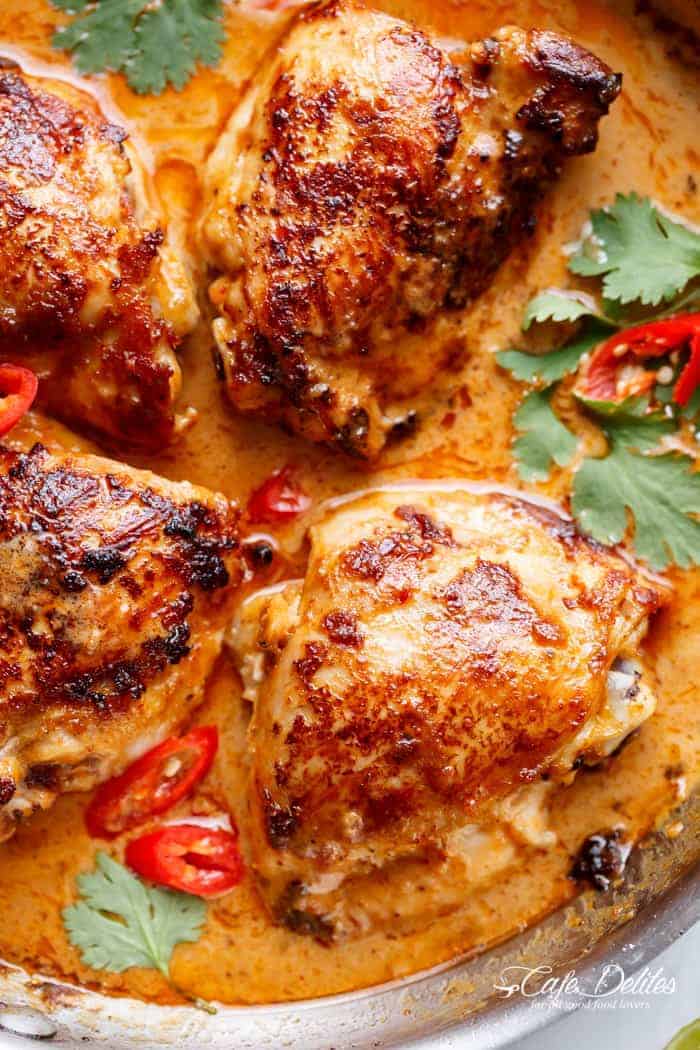 6. Parmesan Carbonara Chicken (No Egg)
"Absolutely delicious! I cooked this for dinner yesterday and everyone enjoyed it. My daughter is a food lover and is always excited to know what is on the menu for our family dinner. She kept telling me that the chicken was delicious and that it was her best dinner. After she finished her meal, she licked the plate clean and left not one bit of that creamy sauce. My husband enjoyed it as well and asked for more….This is a keeper!" — Sandra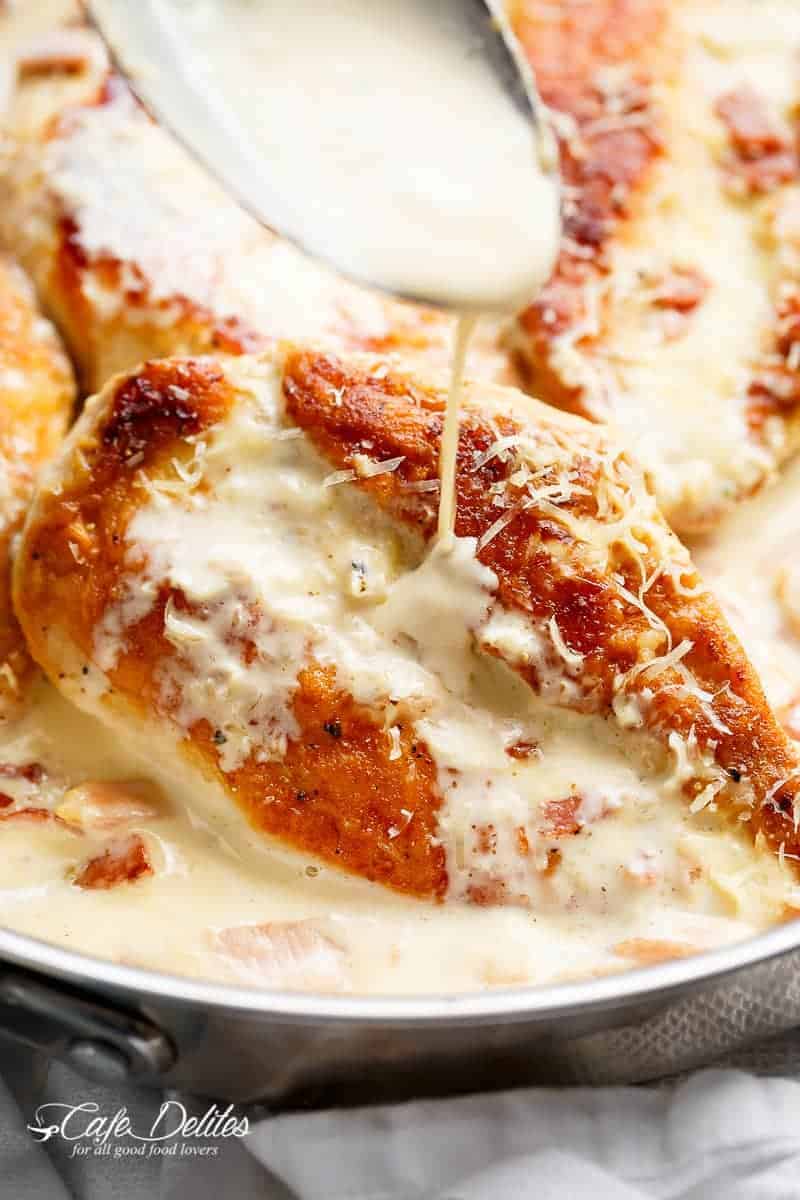 "I made this recipe and it was the most delicious chicken dinner I have ever had. That is not an exaggeration. I have made Julia Child's recipes with wine and cream which was delicious, and I will honestly say that the sauce in this recipe was better than Julia Child's white sauce. I think the bacon had a tremendous push to it, and the mushrooms and chicken broth topped it off. As far as my taste goes, this was how much I loved this recipe. The next day after I cooked this chicken dinner, I went back to the store and got ingredients to make some more of the sauce and I froze the sauce in increments for other dinners. I didn't change anything to this recipe but instead of using milk or cream I used half-and-half." — Cheryl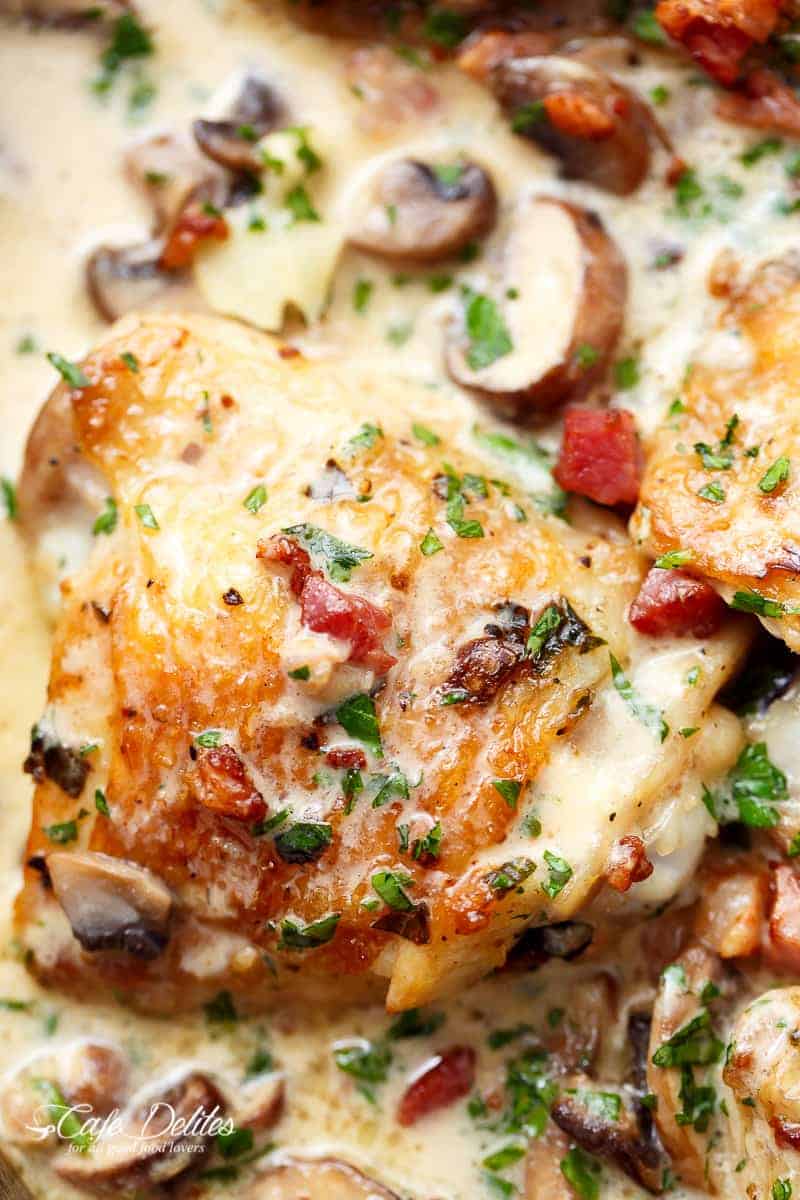 8. Quick & Easy Creamy Herb Chicken
"Holy cow! This recipe was SO good! I made this for my family last night and it came out amazing! I love that it was a recipe I already had the ingredients for and it only took like 30 min. It was good with mashed potatoes, but I could also see it going great with pasta! Thank you! Two thumbs up!" — Sommer
"I made this tonight and my husband said it was 'bomb'! The recipe is very easy to follow and it's hard to mess up, measurements don't have to be exact. Prior to using this recipe my Marsala sauce use to consist of Marsala cooking wine and corn starch to thicken..But this recipe is so much better! The cream really elevated it. I'll be keeping this dish in rotation." — Alexis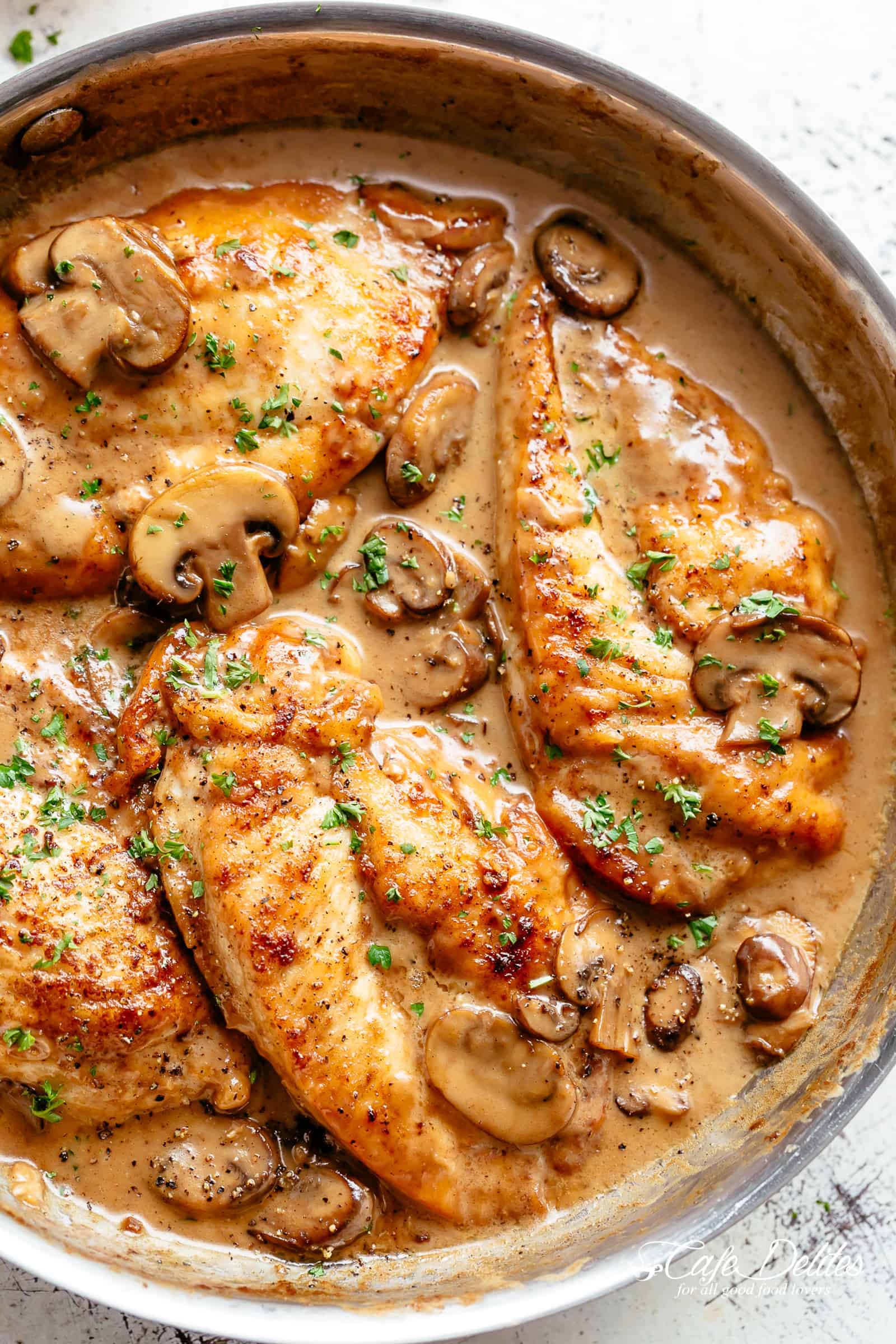 10. Honey Mustard Chicken With Crispy Bacon
"Whenever I see a recipe I'm interested in cooking, I always scan the comments to see the thoughts of someone who actually made the dish. If I can't find any, I usually move on, because I absolutely HATE it when I go out to get the ingredients for a new recipe and spend the time making it, only to have it be a flop. With this recipe, I decided to take the risk and make it anyway, because the pictures just looked so good. I was NOT disappointed. This dish was easy enough and positively delicious. My very picky boyfriend absolutely loved it and wanted the recipe (I'm not giving it to him because I have always wanted to have a "secret" recipe that he loved, haha). Thank you for this amazing chicken dish. We ate the entire pan! He already has big plans for us to make this again and make sandwiches out of the chicken on big brioche buns. =)" — Lindsey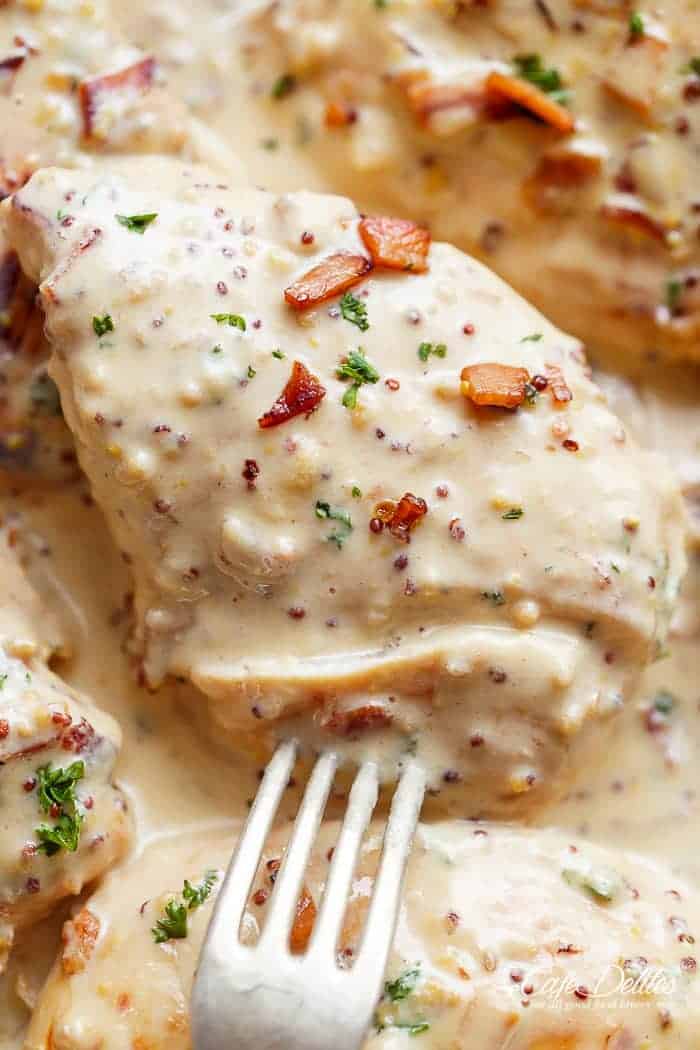 Out of all of the chicken recipes on our site, I hope you and your family and loved ones LOVE these Creamy Chicken Recipes just as much as we do!
A quick note: Thank YOU! Without you, Cafe Delites wouldn't exist. Every morning I sit and read through all of your comments, and although I may not get a chance to reply to them all (and sometimes I get distracted and forget with my post chemo brain, I'm sorry!), please know that you mean so much to me. I pinch myself daily that this is my job and I get to do something I love so much, interact with some incredible people, and share what I love to do with YOU. BUT! I especially love when you come back to tell me about a recipe….wherever you choose to keep in touch! Please keep your comments coming! I appreciate every.single.one.
Karina X