Deliciously Creamy Butternut Squash Soup is so rich in flavour and always a hit!
Easy homemade butternut squash soup is naturally thick and creamy, perfect for the season when squash is available in abundance. Full of butternut flavour, this soup is perfect for when you're craving a warm and creamy bowl of comfort.
I first shared this soup recipe years ago with our pumpkin soup, offering butternut squash as an option, but thought why not repost it in its own post.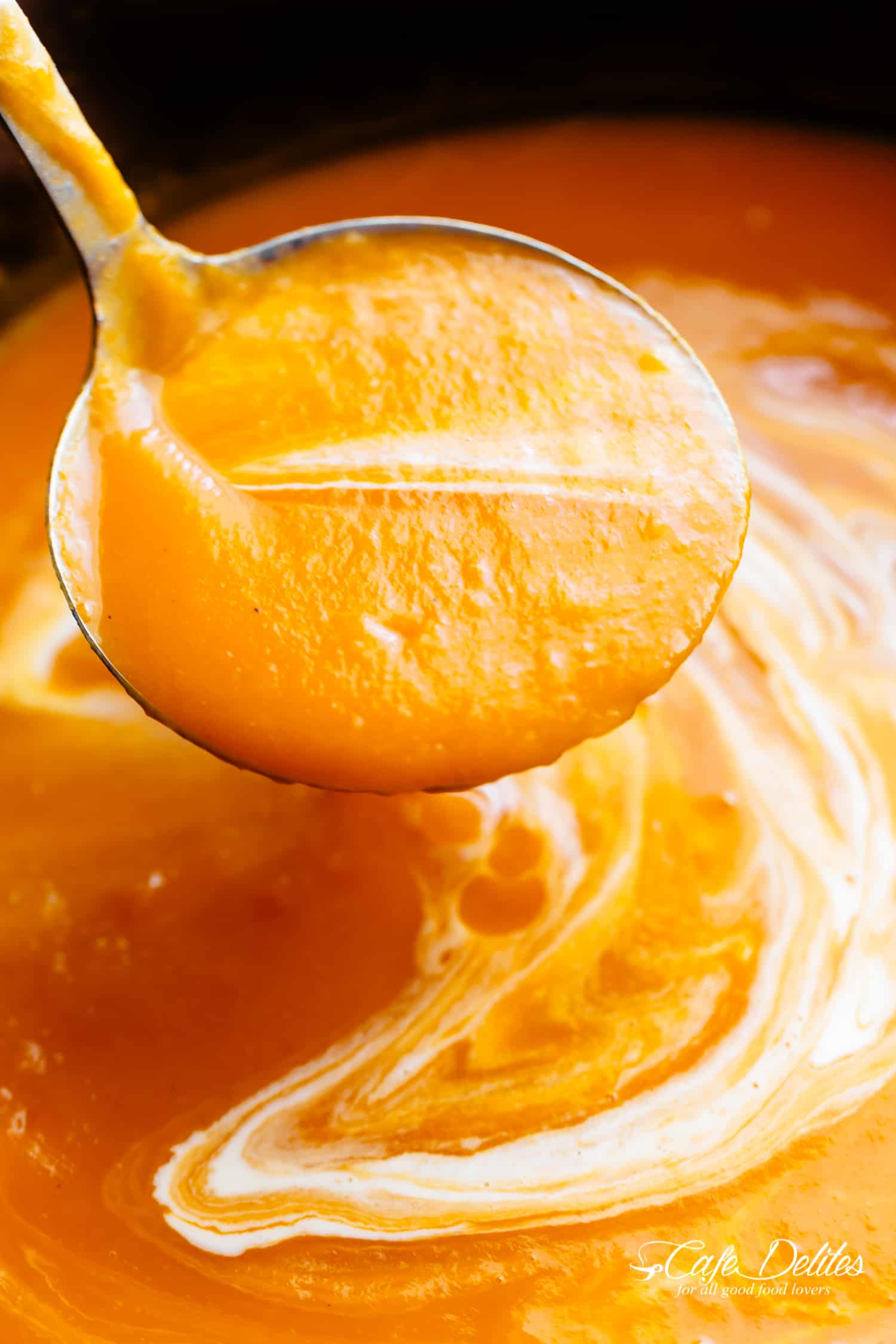 BUTTERNUT SQUASH SOUP
A super creamy butternut squash soup recipe with the option of roasting your squash is pure comfort in a bowl. Make it fresh the day of serving; make it ahead OR make it for weekly meal preps!
If you're starting to round up your Thanksgiving meal ideas, why not add soup to your growing list. Sweet potato casserole, green bean casserole and creamy mashed potatoes with crispy skin turkey are perfect to follow a soup appetizer!
Or make it to go with Meatloaf or Oven Fried Chicken!
BUTTERNUT SQUASH SOUP RECIPE INGREDIENTS:
As with all of our soup recipes, the ingredients list for our Butternut Soup are kept to a minimum so the rich and creamy flavour of squash comes shining through with every mouthful.
Butternut squash — whole squash for roasting OR fresh, pre-cubed/diced squash for a fast boil soup are both fine to use.
Onion and garlic — essential in this soup. The savoury aspect of onion and garlic pairs so well with the sweetness of squash.
Carrot — adds a little extra sweetness and natural flavour that deliciously compliments squash.
Chicken stock — or beef! You can also use vegetable broth/stock and make it vegetarian.
Chicken bouillon cubes — adds even more depth of savoury flavour.
Half and half or heavy/thickened cream: we love drizzling cream into each bowl just before serving. A little goes a long way!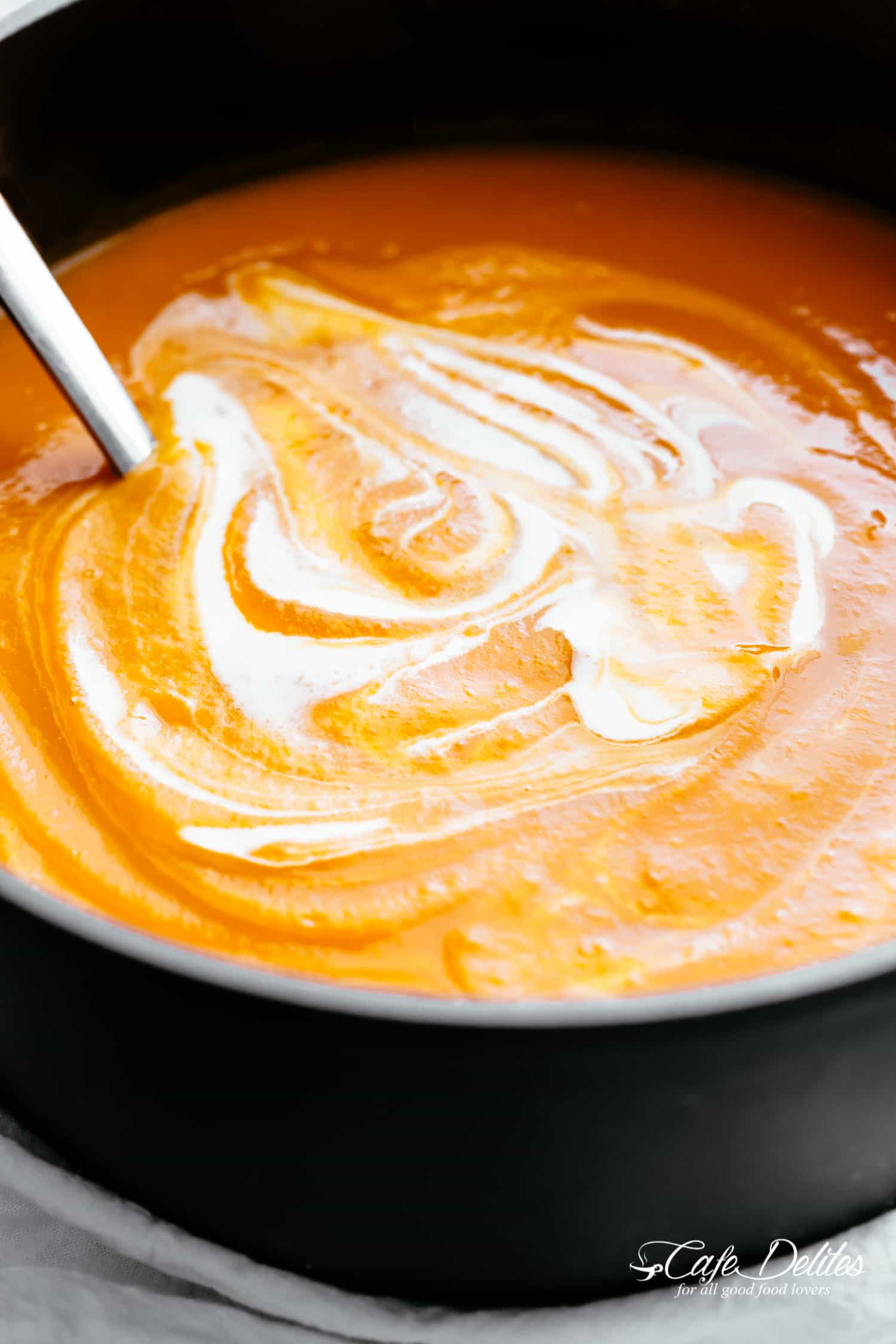 TO ROAST OR BOIL?
ROASTED BUTTERNUT SQUASH SOUP
If you have the time and crave an incredible caramelised flavour, go with roasting. The best part of roasting a whole squash is saving time peeling and chopping. Once the squash is roasted, all you need to do is spoon the flesh right out of the skin. EASY!
Using a whole butternut squash, halved lengthwise before cooking, ensures you get the best flavour.
SIMMERED
Great for when you're in a rush and need soup NOW. You can definitely boil this soup and still get an amazing bowl and butternut taste.
HOW TO MAKE BUTTERNUT SQUASH SOUP
ROASTED:
Drizzle squash, carrots, onions and garlic with olive oil and season with salt and pepper.
Roast in a preheated oven for about 45 minutes, then allow to cool enough before continuing.
Scoop out the flesh and get to blending!
SIMMERED:
Throw all ingredients (except for your cream) into a pot and let the stove do the work for you.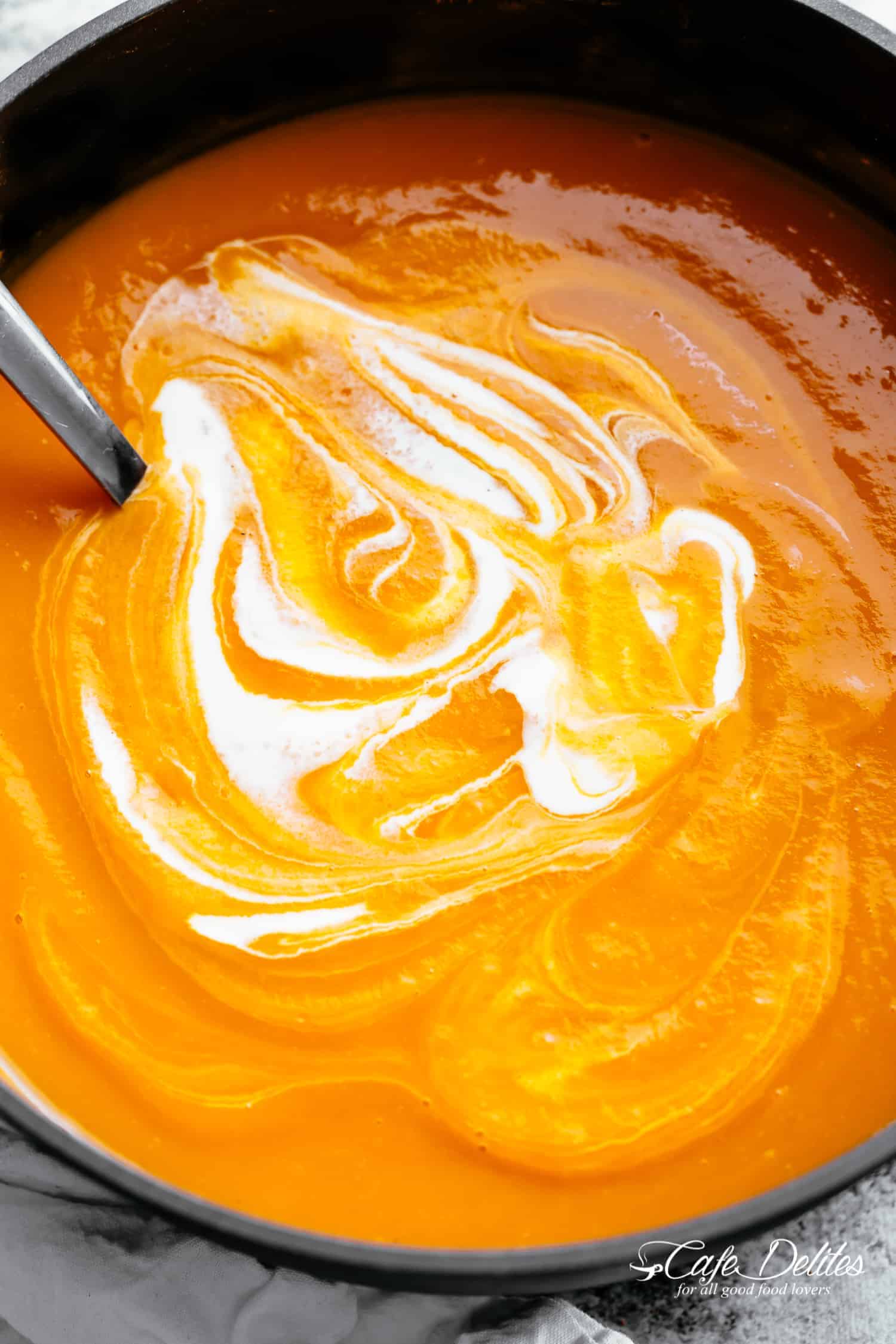 HOW TO FIND A RIPE BUTTERNUT SQUASH
A few things can tell you about the ripeness of squash. The darker the shade of colour on the outside, the better and sweeter on the inside. Look for squash without green patches or blemishes. Ideally, a mat skinned squash is best.
SPICES TO ADD TO BUTTERNUT SOUP
We prefer our soup without spices, but you can add any or all of the following if you wish!
Nutmeg
Cinnamon
Honey
Brown sugar (a personal preference)
BLENDING OPTIONS
There are two options in this recipe:
Transfer all cooked ingredients into a blender. Blend in batches of two or three (depending on the size of your blender). Pour out each batch into a large pot as you go, then bring the soup to a gentle simmer to warm it through.
OR
Throw all of the ingredients into a large pot and blend using a stick/immersion blender!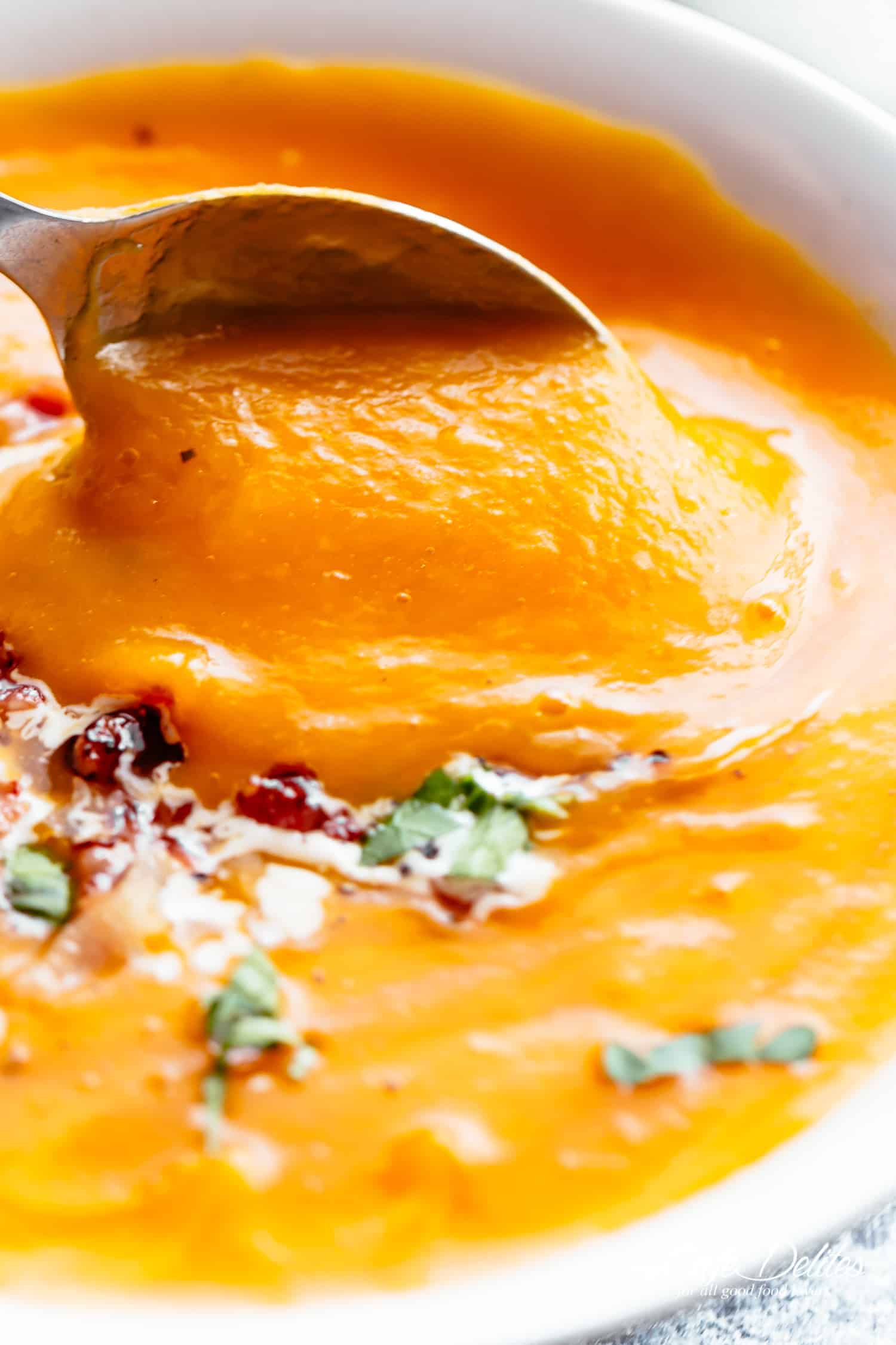 Top with crispy bacon pieces, chopped sage or parsley, and ENJOY!
Looking for more soup recipes? TRY THESE!
Creamy Roasted Tomato Basil Soup
Lentil Soup
Easy Broccoli Cheese Soup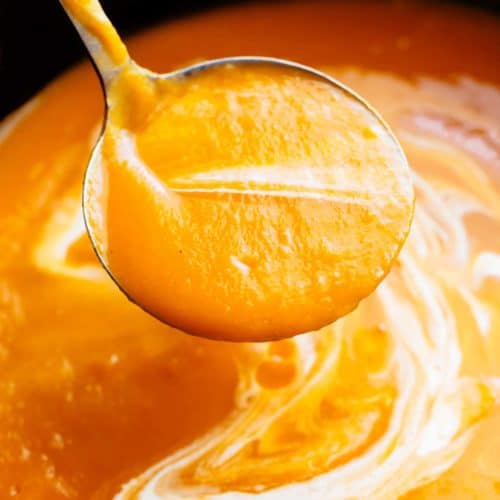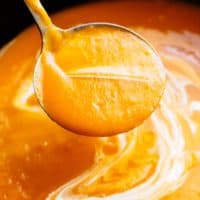 Butternut Squash Soup
Deliciously easy Butternut Squash Soup is so rich in butternut flavour. Naturally thick and creamy, perfect for the season and always a hit! This recipe is perfect for when you're craving homemade butternut squash soup.
PRINT
SAVE
go to your favorites
Ingredients
3

pounds

(1 1/2 kg) whole butternut squash

halved lengthwise and seeds removed

2

carrots

peeled and diced

1/4

cup

olive oil

(for roasting option)

2

teaspoons

salt

1

teaspoon

cracked black pepper

to taste

1

large

onion

cut into wedges

6

cloves

garlic

minced or grated

3-4

cups

low sodium chicken stock

(or broth) -- use veggie broth or stock for a vegetarian option.

2

beef or chicken bouillon cubes

crumbled -- use vegetable stock powder for vegetarian option.

1/2

cup

half and half

(or heavy cream)
Instructions
ROASTED BUTTERNUT SQUASH SOUP:
Preheat the oven to 400°F (200°C). Lightly grease a large baking pan.

Place squash on the pan, cut-side up (skin-side down). Arrange onion, garlic and carrots around the pan.

Drizzle ingredients with the oil and season with salt and pepper. Rub seasonings all over each veggie and inside the squash.

Flip squash cut-side down and rub any of the oil/seasonings left on the pan over the skin.

Roast until squash is fork tender and completely cooked through (about 50-55 minutes).

Allow to cool slightly (about 10 minutes). When cool enough to touch, scoop the flesh out of the skin.
BLENDER:
Place roasted veggies, 3 cups of stock and bouillon cubes into a blender. (You may need to work in batches of two or three depending on the size of your blender.) Blend until smooth.

Be careful with the steam that may lift out from the centre of the lid.

Transfer soup into a pot and warm over medium heat to serve. (Check thickness and add remaining stock, if needed, to thin It out.)
FOR STICK/IMMERSION BLENDER:
Place roasted veggies, 3 cups of stock and bouillon into a large pot over medium heat. Use an immersion blender and blend until smooth. Warm up over medium heat, if needed.
TO SERVE:
Stir in the half and half or cream. Add in any preferred spices (pinch of ground cinnamon or nutmeg). Adjust salt and pepper, if needed.
Notes
FOR FAST BOIL:
Place all ingredients, except cream and oil, in a large pot or saucepan.

Bring to a simmer over medium heat until vegetables are tender.

Take off heat. Blend until smooth.

Add the cream and stir through.

Add any salt, pepper or spices if desired.
Cooled leftover soup can be stored in air tight containers. Refrigerate for up to 3 days, or freeze for up to 3 months.
Nutrition
Calories:
179
kcal
|
Carbohydrates:
32
g
|
Protein:
6
g
|
Fat:
4
g
|
Saturated Fat:
1
g
|
Cholesterol:
3
mg
|
Sodium:
744
mg
|
Potassium:
682
mg
|
Fiber:
5
g
|
Sugar:
6
g
|
Vitamin A:
24130
IU
|
Vitamin C:
50.9
mg
|
Calcium:
126
mg
|
Iron:
2.1
mg