A Classic Lentil Soup recipe to warm your soul! Hearty and filling, this lentil soup is pure comfort in a bowl! Only 2 fat grams per serve!
Naturally thick and loaded with veggies, this lentil soup is so simple to make! Just dump ingredients into a pot and let the stove do the cooking for you!
Well, here we are again. Another new year, another resolution, and a warm and filling recipe to help us on our way. Because sometimes a classic recipe is all we need to fulfil our hearts and take us back to when things were simple and life was less complicated.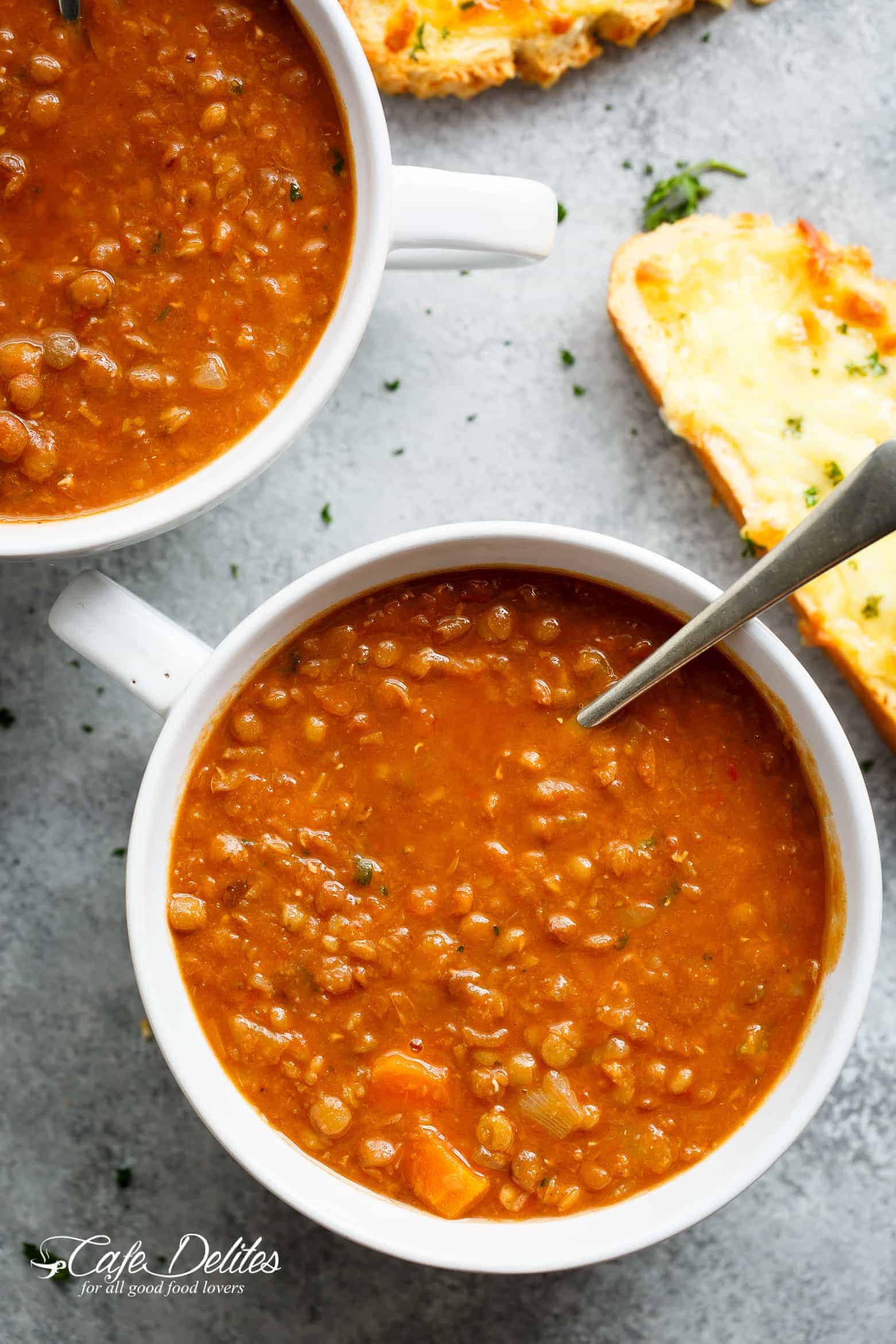 LENTIL SOUP
This is THE lentil soup I grew up with. My mother would make this for us at least once a week, and she would add anything to it: pork, chicken or beef. Personally, the pork version is the one I crave til today, but for now, I'm keeping this lentil soup simple and leaving the meat/chicken/pork part up to you! And I'm not kidding when I say this soup is filling. I mean, FILLING. Fully loaded, you don't need to serve this with anything else!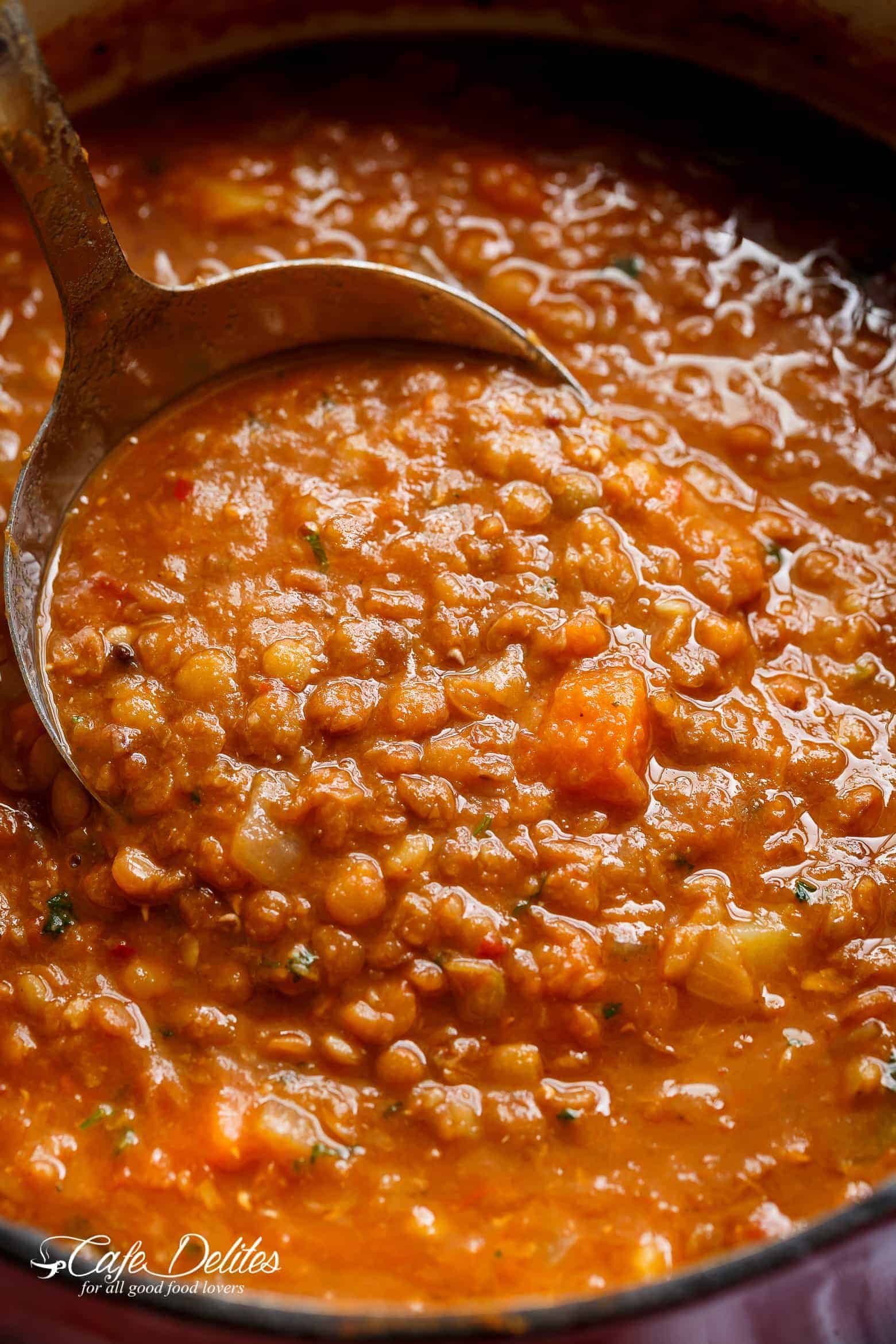 HOW TO MAKE LENTIL SOUP
One of the easiest soups you will ever make, guaranteed!
Cook your onion, garlic, carrot and celery.
Throw in lentils.
Add in tomatoes and potatoes.
Mix through remaining ingredients.
Simmer.
ADDING MEAT
You can most certainly add it in, like we did here in this Warm Chicken and Pumpkin Lentil Stew! When it comes to poultry in this soup, I prefer the darker meats such as thighs, as breasts tend to dry out. You can of course use breasts if you prefer!
These are my suggestions only, using 1 pound (or 500 grams) for boneless, and 2 pounds (1 kilo) for bone in meats:
Skinless bone-in chicken thighs
Diced chicken thigh fillets
Skinless chicken drumsticks or drumettes (you can either leave bones in once they have cooked in the soup, or remove them and shred the meat back into the soup).
Pork chops (bone-in ) — my favourite. Once they are cooked in the soup, remove the bones and shred the pork, then mix the meat through the soup. DELICIOUS.
Pulled pork (use this Carnitas recipe. Once pork is cooked, just add it into the soup.)
Bacon
Ground beef
Chuck steak cut into 1-inch pieces
All of these options can be added after step 1 in this recipe. Allow the meat to brown, then add in the lentils and continue the recipe from there!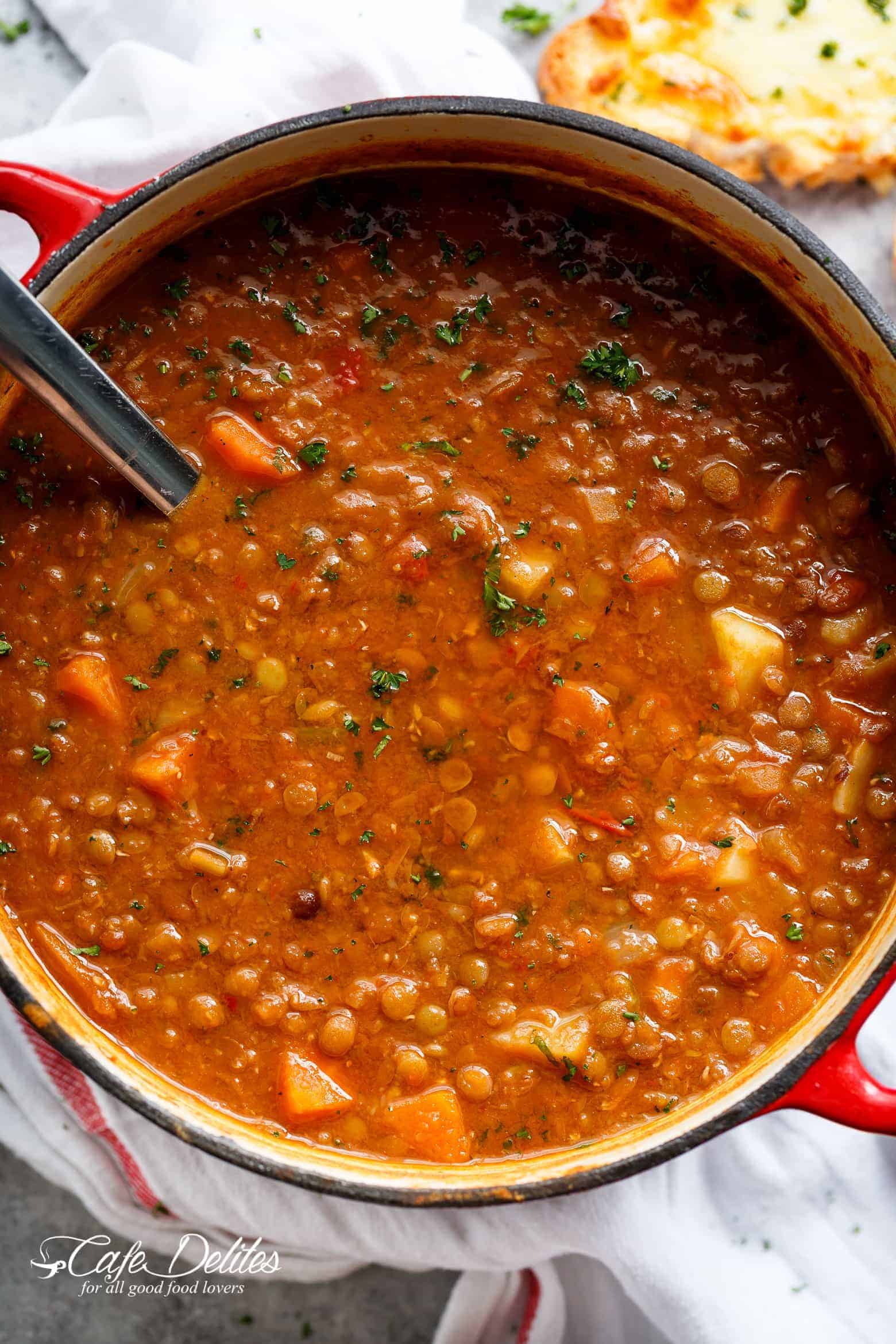 DO I HAVE TO SOAK LENTILS?
NO! Personally, I love the texture of this soup made from scratch. Lentil soup is delicious when the lentils are simmered from scratch in all of those flavours and develop a nice, creamy texture from the beans into the soup. You don't need to pre soak them!
However, like this 10-Minute White Bean Parmesan Spinach Soup where we use canned beans as a time saving solution, you can use canned lentils if that's all you have on hand. If using canned, add them in during the last 5 minutes of cooking. They don't need long as they are pre-cooked.
Then of course, dip some bread into it like there's no tomorrow. I made a batch of these Individual Garlic Breads to serve with ours!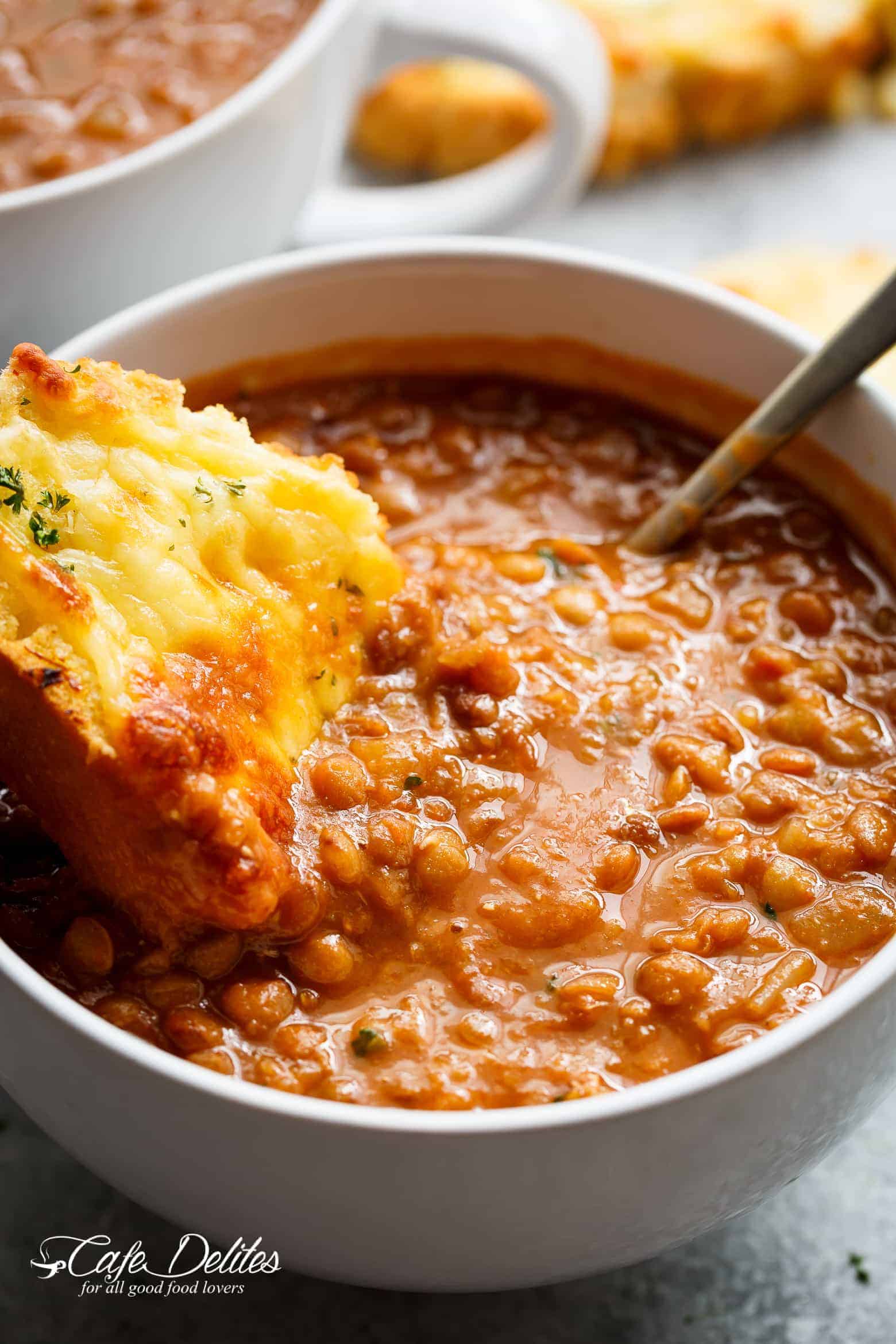 LOOKING FOR MORE SOUP? TRY THESE!
Chicken Noodle Soup
Creamy Roasted Tomato Basil Soup
Easy Broccoli Cheese Soup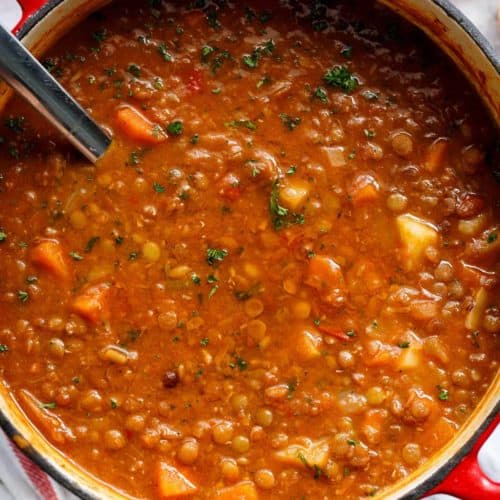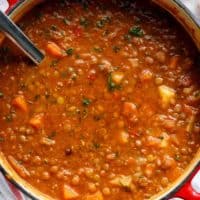 Best Lentil Soup
A classic hearty and filling lentil soup recipe to warm your soul! Pure comfort in a bowl. Naturally thick and loaded with healthy veggies, a simple soup to make! Just dump ingredients into a pot and let the stove do the cooking for you!
PRINT
SAVE
go to your favorites
Ingredients
1

tablespoon

olive oil

1

yellow onion,

chopped

4

cloves

garlic,

minced

1

large

carrot,

chopped

1

stalk

celery,

chopped (just over 1/2 cup)

2

cups

(13-14 ounces or 375-400 grams) dried green or brown lentils,

3

large

tomatoes (or 4 small tomatoes),

diced

2

medium-sized

potatoes diced into 1-inch pieces,

(Yukon gold if possible)

2

quarts (litres)

or 8 cups low sodium chicken stock (or broth),

divided

2

teaspoons

vegetable stock powder (such as Vegeta)

or beef/chicken bullion powder

2

teaspoons

paprika

sweet or mild (or 1 teaspoon smoky)

1

teaspoon

ground cumin

1

tablespoon

fresh chopped thyme

(optional)

1/4

cup

fresh parsley,

plus extra to garnish

Salt and pepper,

to taste
Instructions
Heat oil in a large saucepan or pot over low-medium heat. Cook onion until transparent. Then add the garlic and cook until fragrant (one minute). Add the carrot and celery and cook until softened (about 8 minutes).

(If adding any meats, do so now and brown before continuing next step.)

Mix the lentils through the flavours in the pot, allowing them to cook for a couple of minutes, while stirring occasionally (add in 1 tablespoon of extra oil if needed).

Add in the tomatoes and cook until soft, then add the potatoes and allow them to cook for further 4-5 minutes.

Mix through all remaining ingredients except the salt and pepper. Increase heat; bring to a simmer while stirring occasionally to prevent sticking to the bottom.

When the soup has been simmering for 2-3 minutes, reduce heat down to low, cover with a lid allow simmer for 40-50 minutes, while occasionally stirring, until lentils and potatoes are soft.

To thicken soup, use a potato masher, pressing down 3 or 4 times through the soup until reaching your desired thickness or consistency. (You can also use a stick blender: 2-3 quick pulses.)

Season with salt and pepper, to your tastes. Garnish with a little extra parsley (if you wish) and serve with garlic bread!
Nutrition
Calories:
238
kcal
|
Carbohydrates:
38
g
|
Protein:
13
g
|
Fat:
2
g
|
Sodium:
120
mg
|
Potassium:
846
mg
|
Fiber:
16
g
|
Sugar:
3
g
|
Vitamin A:
2030
IU
|
Vitamin C:
19.8
mg
|
Calcium:
62
mg
|
Iron:
5.7
mg