Want just one piece of garlic bread? Individual Garlic Cheese Breads are quick to make and can be served with just about anything!
Posting due to popular demand! If you have seen this Roasted Tomato Basil Soup video and wondered where the recipe is for the Garlic Cheese Breads served at the end, well here it is! I know its taken forever. You know, life and all that.
HOMEMADE GARLIC BREAD
This is a garlic bread recipe I used to make for myself when I was home with two sleeping babies and no time to make lunch in between. No, this is NOT an ideal lunch… don't hate me. But being a new mum, tired as hell and HUNGRY, a warm piece of soft garlic bread is all I ever wanted to soothe my soul before another round of teething babies started. Of course, putting cheese on it made these slices all the more amazing.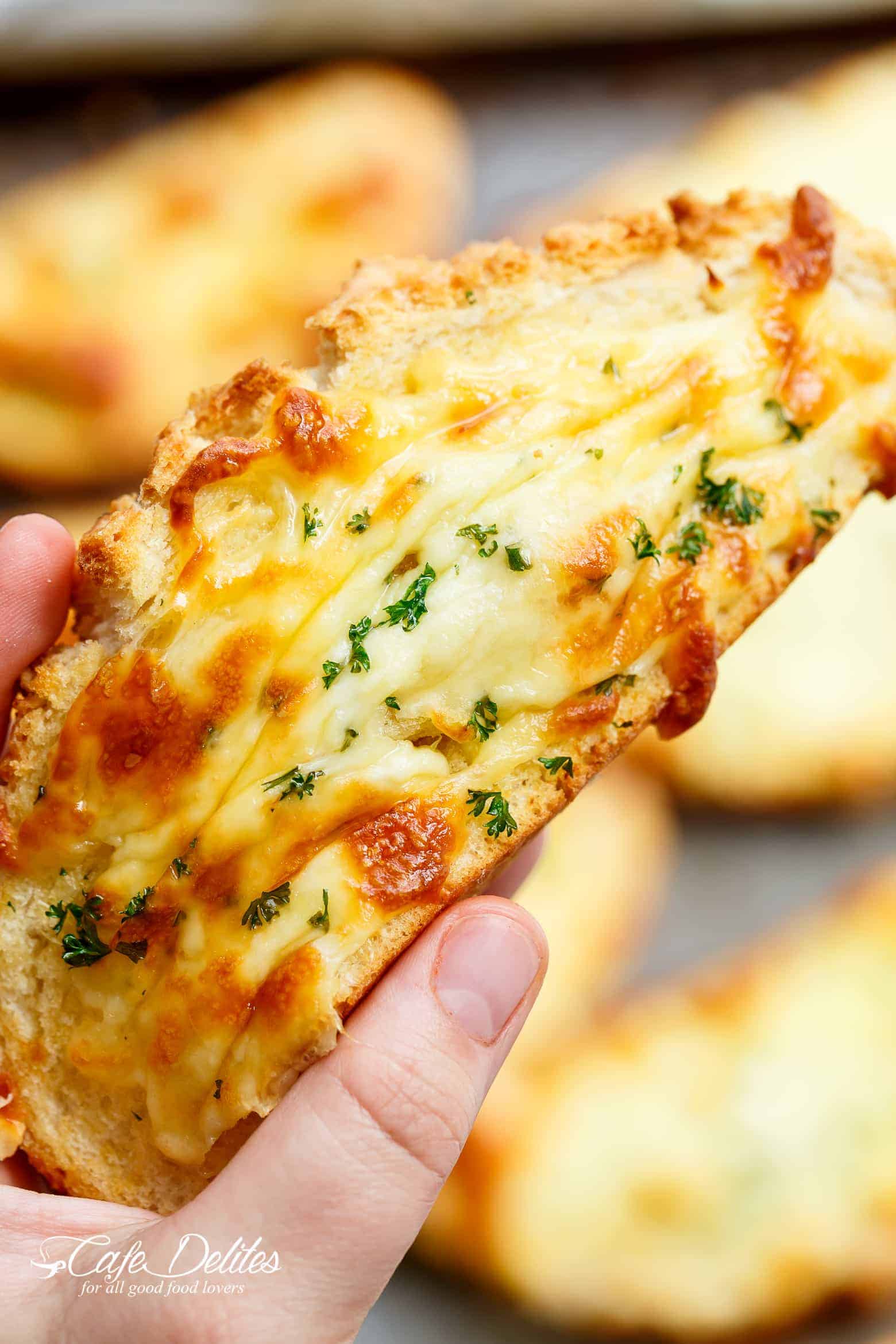 I must admit, I have been hesitant to post this Garlic Cheese Breads recipe since a recipe to me is something more a little more involved, but with the overwhelming response this video has received on Facebook, I realise I should have posted this, like, yesterday.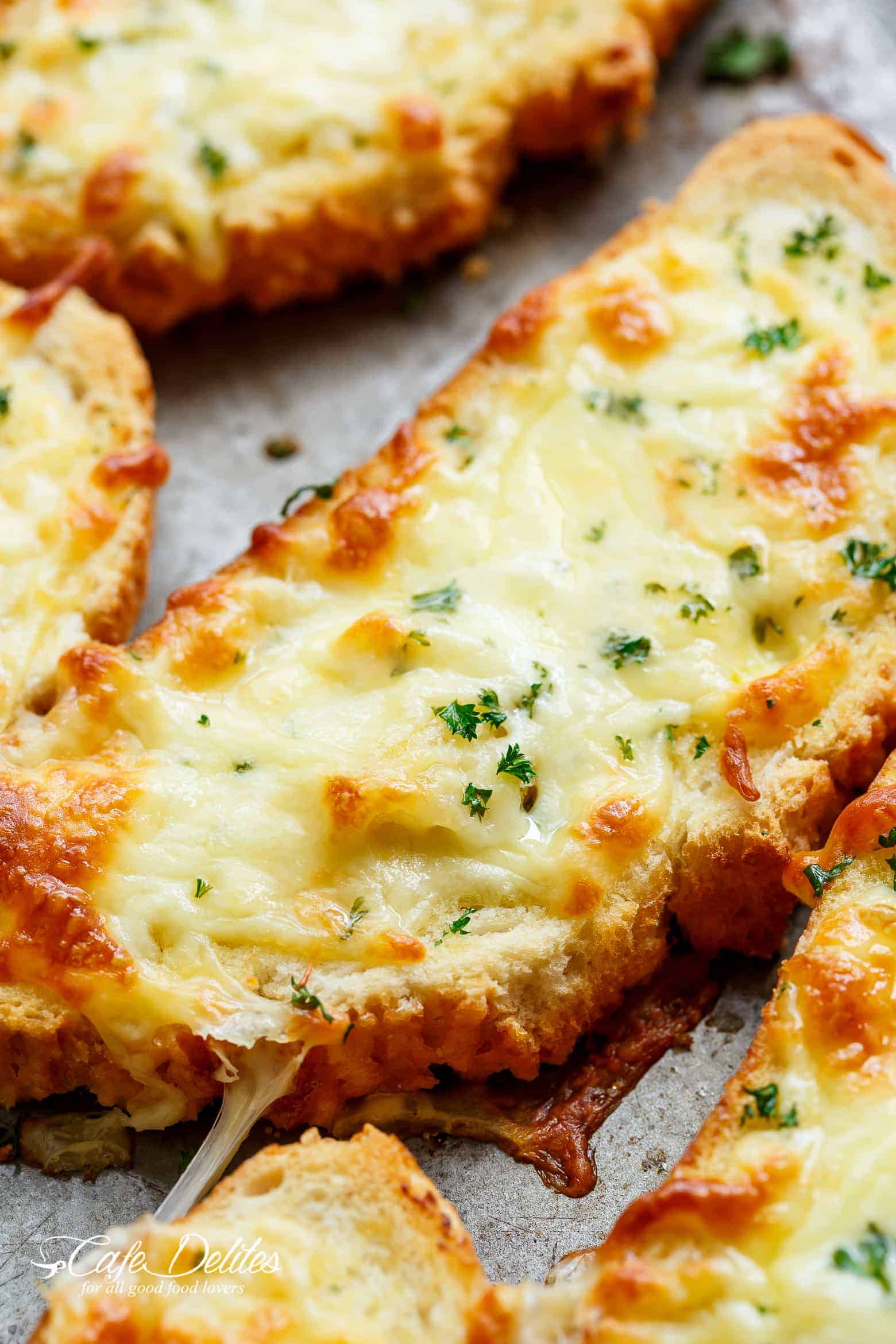 How to make Individual Garlic Cheese Breads
This is a single serve recipe, but you can make it for more than one person.
I always have a fresh loaf of bread in the freezer with pieces of baking or parchment paper placed in between each slice so I can go in and grab one. Just defrost the morning you are going to use it.
I LOVE tiger vienna or sourdough. You use use any bread you have on hand. I've even used sandwich bread. JUST AS GOOD.
I use unsalted butter, then proceed to add my own quantity of salt to my tastes. It's usually just a small sprinkle. I have tried to use salted butter in the past, and it was way too salty for me. However, you may use it if you wish.
I've suggested 1/2 a clove of garlic in the recipe as it is single serve for one piece. If you LOVE garlic, however, use 1 clove instead.
I use a combo of mozzarella and FRESH parmesan. I don't use the powdery parmesan found in those green containers. If that's all you have, you are more than welcome to try it! I prefer fresh.
If you're looking for a Cheesy Garlic Bread recipe to feed more than one, use this recipe!
SERVING IDEAS
Chicken Cacciatore
10-Minute White Bean Parmesan Spinach Soup
One Pot Ravioli in a Creamy Tomato Beef Sauce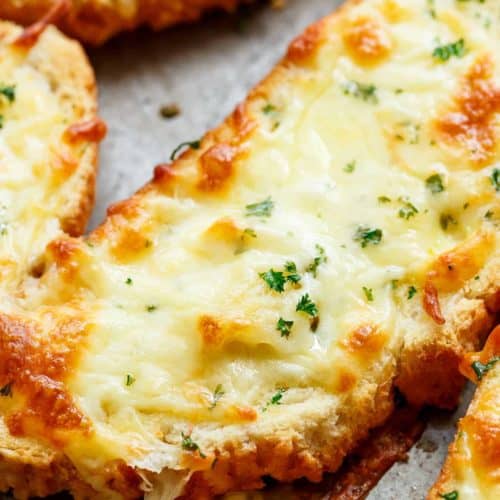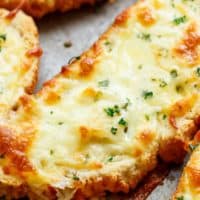 Ingredients
1

slice

bread

(I use a slice from a Vienna or Sourdough loaf, but any bread is fine to use)

1-2

teaspoons

unsalted butter

more or less, depending on the size of your slice)

1/2

clove

garlic*

peeled and minced (or 1/2 teaspoon minced garlic)

A

pinch

of salt

(to your tastes)

1/3

teaspoon

fresh chopped parsley

1 1/2

tablespoons

grated mozzarella cheese

1/2

tablespoon

parmesan cheese (freshly grated)
Instructions
Arrange oven shelf to about 8 inches away from heat element. Preheat broiler.

Spray a small baking sheet/tray with cooking oil spray. Place bread on the tray and spread all over with butter, then spread on the minced garlic. Sprinkle evenly with salt, parsley, mozzarella cheese and parmesan cheese.

Broil for 3-5 minutes, or until Cheese has melted.
Notes
*1/2 a clove pf garlic is a good start, although sometimes I will put on 1 clove minced garlic, depending on what mood I'm in ? Adjust to your tastes