3 Ingredient Barbecue Soy Chicken Drumsticks
Barbecue sauce mixed with Soy is like a shortcut to Teriyaki without any effort. Welcome to lazy persons chicken drumsticks 101…but with so much flavour you'd think the sauce alone was made up of 22 ingredients. Except the sauce only contains 3. Yes! I'm serious. (Not including the chicken). And no I'm not pulling your drumstick!
No marinading. No simmering. No effort. You're welcome.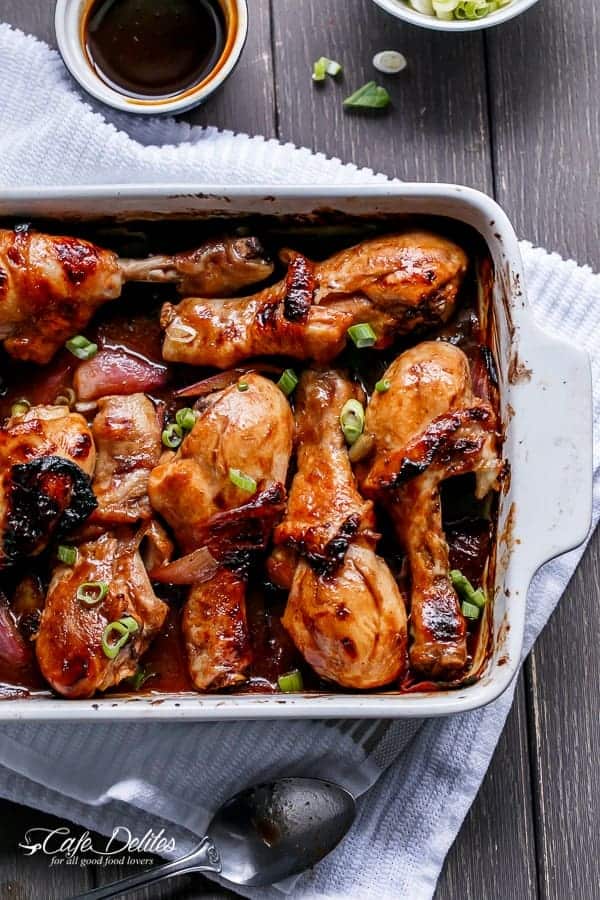 How was this created? Like I said…lazy persons shortcut. Lazy — which would be me — was one day craving Teriyaki like a crazy mad woman with plenty of drumsticks and nothing to put on them. So I just threw what I thought would work all over them….and smothered them in sauce and garlic….because barbecue sauce is just a man-made god send given to anything related to chickens. Right? Yeah.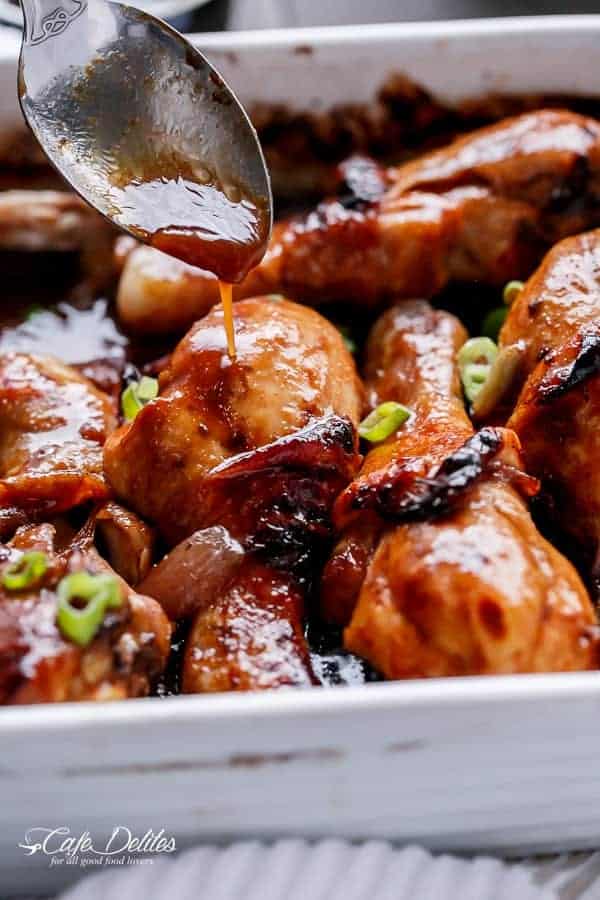 When these drumsticks came out of the oven…all juicy and crispy and falling apart; I couldn't believe my taste buds. Like, a Teriyaki party going on in my mouth and no one's invited but me and my own personal satisfaction.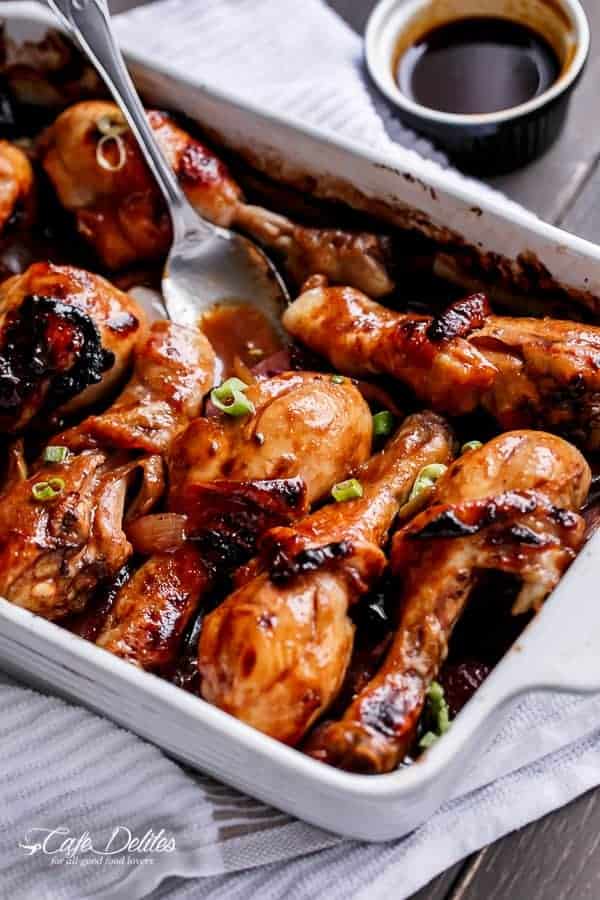 So…of course this recipe needs to be shared. I mean, I'd feel completely selfish keeping this to myself.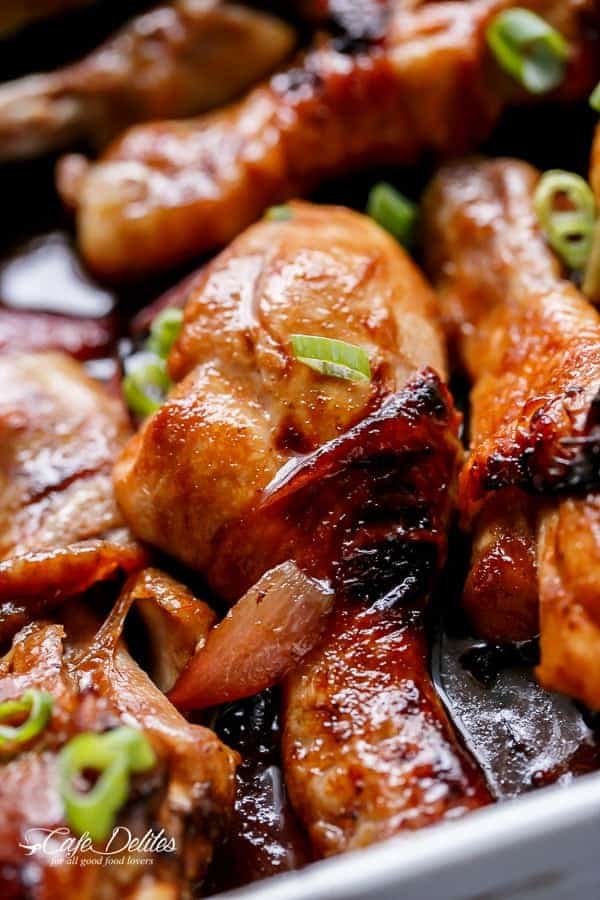 The recipe includes garlic and sesame oil for extra added flavour BUT these are optional, as the 3 ingredient sauce is incredible as it is!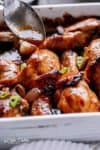 3 Ingredient Barbecue Soy Chicken Drumsticks
Barbecue Soy Chicken Drumsticks are so quick & simple to make with only 3 ingredients...including the chicken! A shortcut to Teriyaki, this recipe is a hit!
Weight Watchers: 9pp per serve! (2 drumsticks and extra sauce from the pan to drizzle)
Ingredients
8

chicken drumsticks

, washed and pat-dry with paper towels

1/2

cup

barbecue sauce

1/4

cup

low sodium soy sauce

2

tablespoons

rice wine vinegar

Drizzle of sesame oil

(optional)

2

teaspoons

garlic powder

(optional)

4

whole garlic cloves

, smashed with a blunt side of a knife (optional: adds extra flavour)
Instructions
Preheat oven to 220C | 430F. Throw your prepared chicken drumsticks into a baking dish. Pour in the sauces and vinegar. Add a drizzle of sesame oil if using) over the chicken, and add the garlic powder. Rub the sauces into the chicken until evenly coated. Add the garlic cloves around and under the chicken drumsticks. Sprinkle with salt to taste (about 1 teaspoon).

Cover with foil and bake in the oven for about 30 minutes or until cooked through. Change your oven settings to grill/broil on medium heat; remove foil and allow chicken to grill/broil until golden browned. Turn the drumsticks and allow to brown on the other sides. Remove and serve over rice, mashed potatoes or steamed vegetables!
Nutrition Facts
3 Ingredient Barbecue Soy Chicken Drumsticks
Amount Per Serving (0 g)
Calories 378
Calories from Fat 115
% Daily Value*
Total Fat 12.8g 20%
Total Carbohydrates 25.8g 9%
Protein 32.6g 65%
* Percent Daily Values are based on a 2000 calorie diet.