This is not just any salad. Well, definitely not for the faint hearted. A Thai Chicken Meatball Salad full of Thai-inspired flavours, both healthy and filling and perfect for lunch or dinner.
Cucumber ribbons, julienned carrot, mint leaves, cilantro (or coriander) and sweet, juicy grape tomatoes on a bed of mixed salad leaves are just the beginning.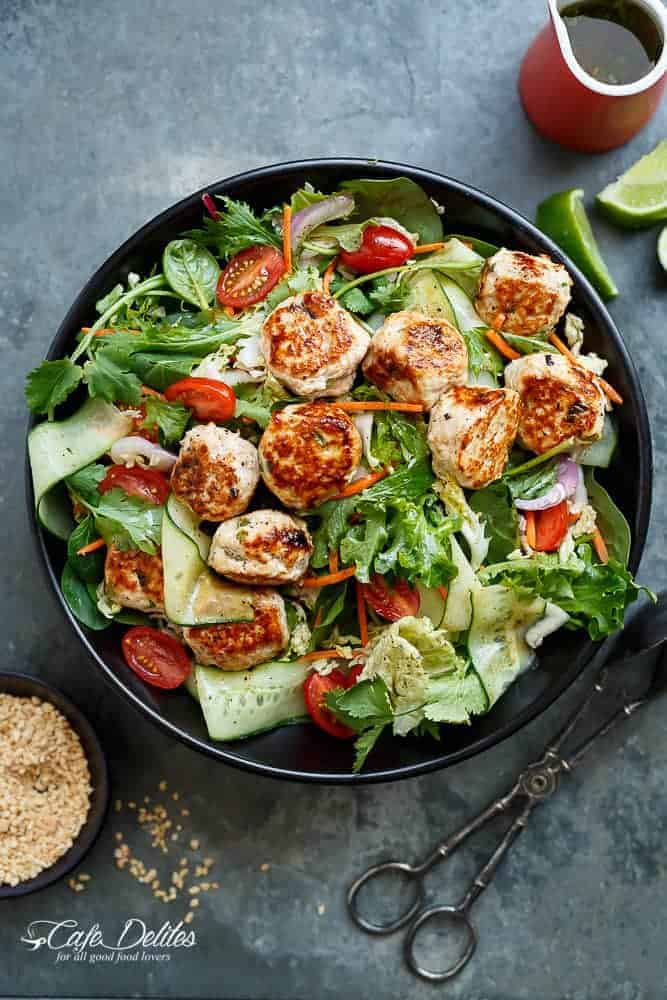 It's not just the juicy meatballs that are addictive and packed full of Thai-inspired flavours; it's the dressing that wins hands down. Every single taste bud is awakened with the variety of different ingredients and flavours.
Lemongrass, coconut sugar, garlic and sweet chilli are just a few of the flavours in this addictive dressing. I've even used this dressing over pan fried chicken!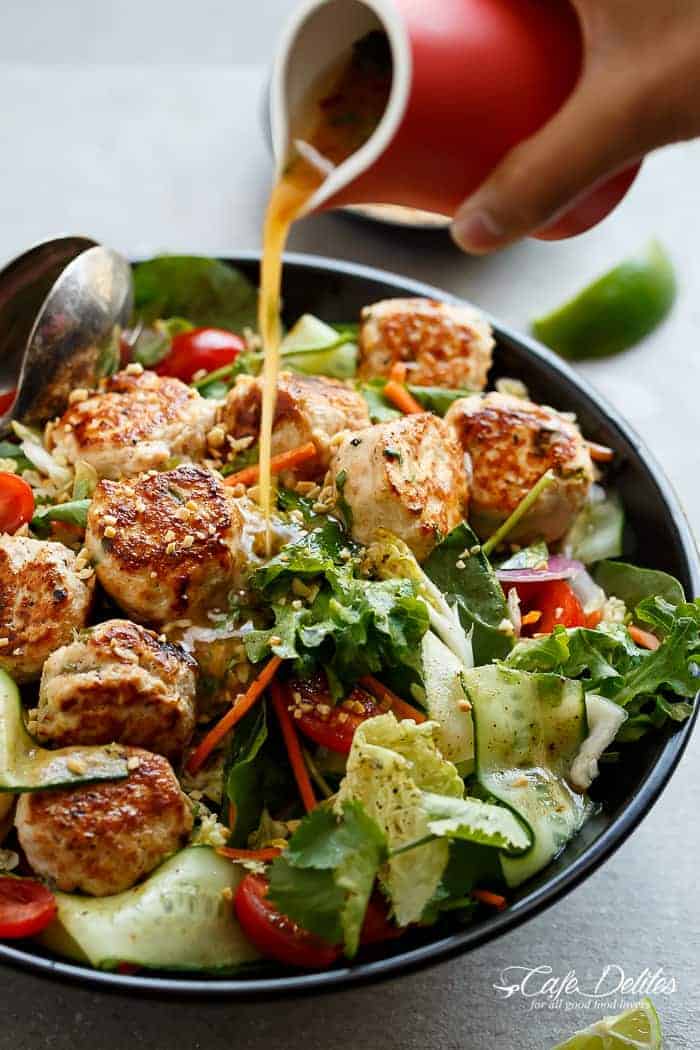 Top with crushed peanuts or skip them all together, this salad is perfect either way!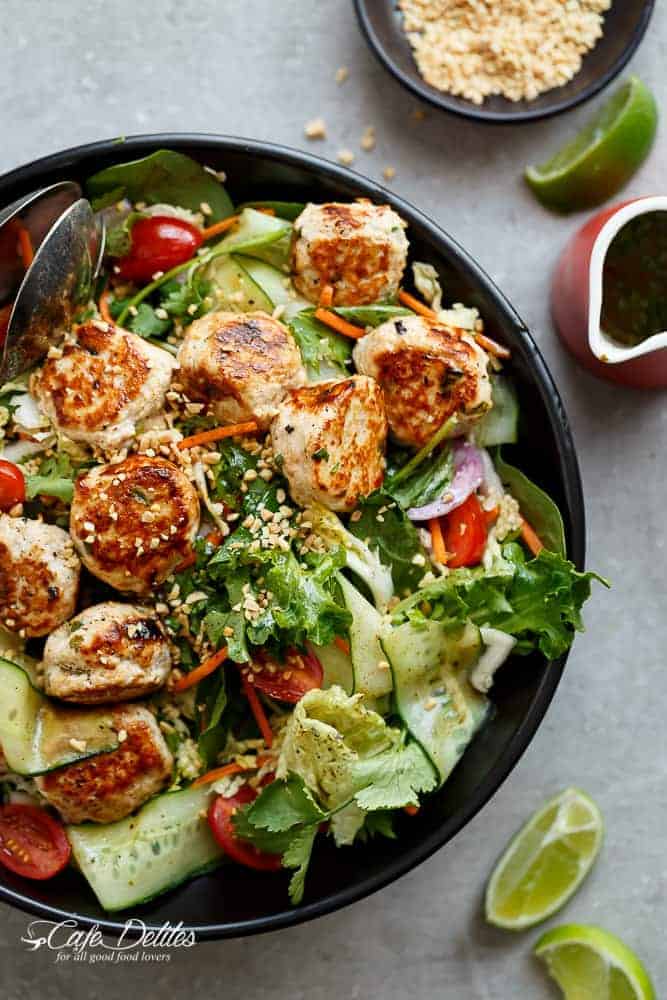 The more salads I post on Cafe Delites, the more I come to see how much you love them. The Grilled Chilli Lime Chicken Fajita Salad is going nuts at the moment, as is the Skinny Chicken And Avocado Caesar Salad, which is a good thing. It gives me more of an excuse to keep creating beautiful salads! If you have any favourite combinations you'd like me to recreate, please comment below or send me a message. I love hearing from you!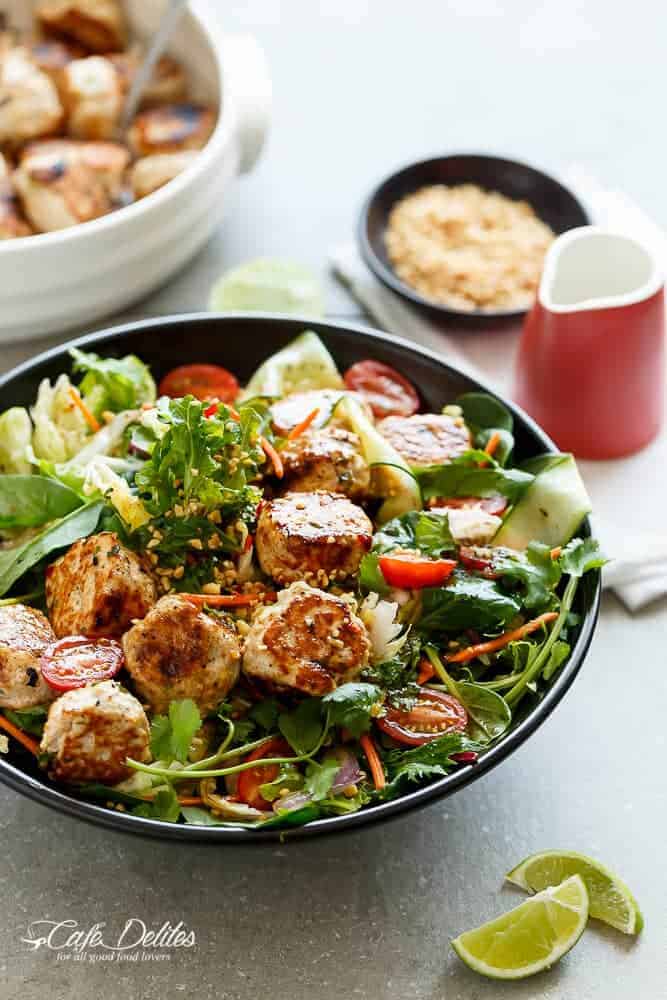 BUT! This is the second last recipe I've created for the Best Recipes team! You can find the recipe by clicking on this line! Thank you for supporting the teams that support this blog.
If you'd like to see any of the other recipes I've developed for Best Recipes, they are linked below:
1/ Nutella Stuffed Deep Dish Gingerbread Cookie
2/ Garlic Prawn (Shrimp) Salad Wonton Cups
3/ Butter Cake with Kahlua Chocolate Cream Frosting
The last recipe will be posted next week!
In the meantime, I hope you try and enjoy this recipe here!