Grilled Chilli Lime Chicken Fajita Salad with a dressing that doubles as a marinade! A genius way of keeping ALL of the incredible flavours in this salad!
This salad has so much flavour happening, you don't know where to start. Creamy avocado slices, grilled red and yellow capsicums/peppers, or the succulent chicken pieces. Fajita territory went down in this kitchen. Yeah, it did…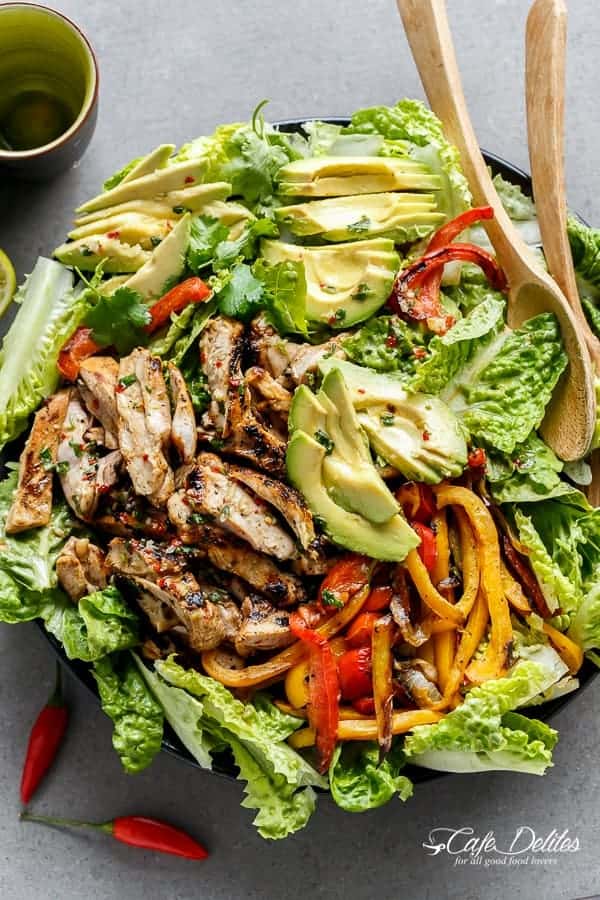 The challenge was on over here to make something Tex-Mex or with Mexican inspired flavours. But I'm over Tacos, (I know, don't get me started on the sin this sentence is committing right now), and I'm over winter food.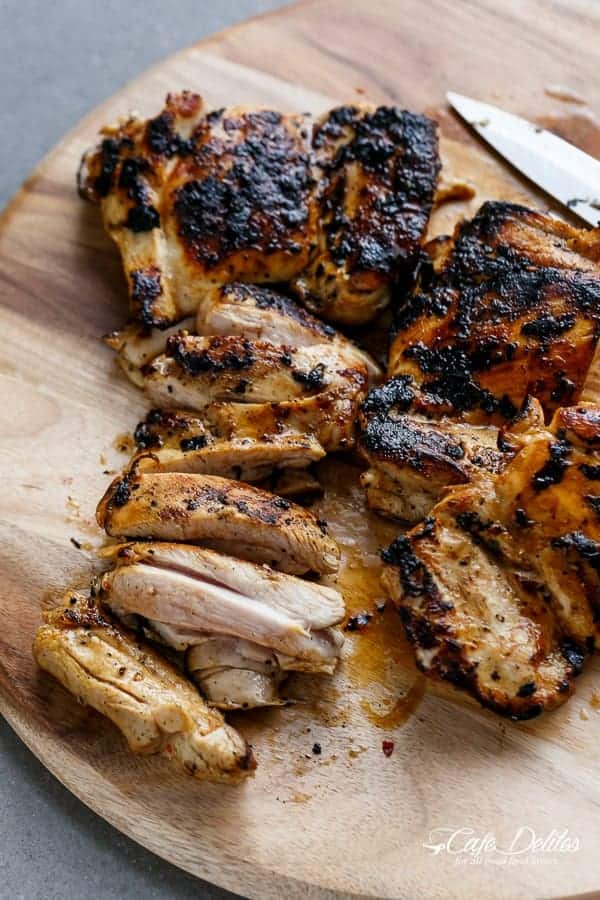 Long story short, I wanted a salad. And if you've been following me for a while, you know by now that I don't do rabbit salads, AKA starvation salads. I load them up with so much food there's no chance of starving anything.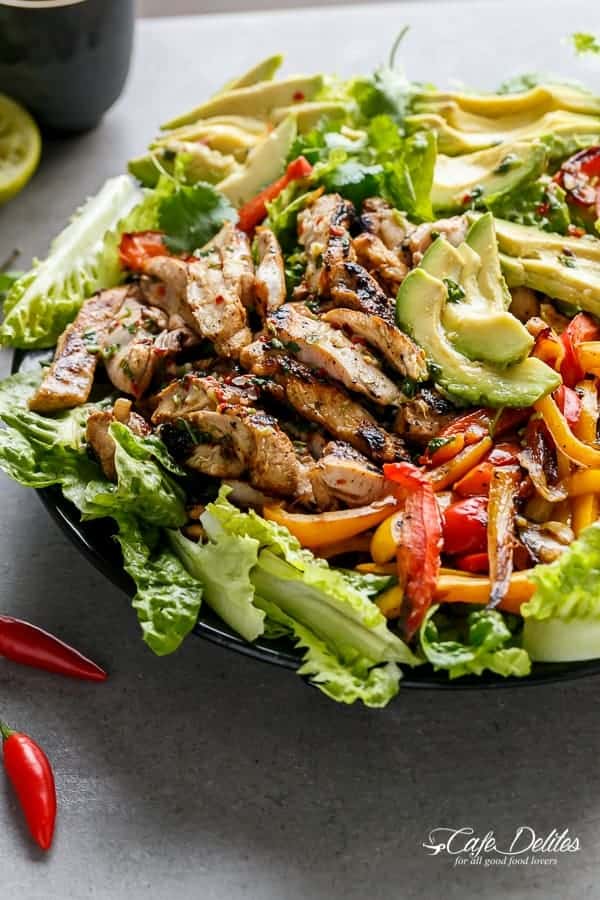 Which brings me to my next point. Chargrilled chicken. Even more…chicken thighs. You can use breast for this, but thighs are so juicy and tender and 100% suit this salad. Especially drowned in this marinade that doubles as a dressing. I didn't want a dressing to come along and destroy the flavour the marinade had perfectly created in the chicken, so I made more of it. Then halved it.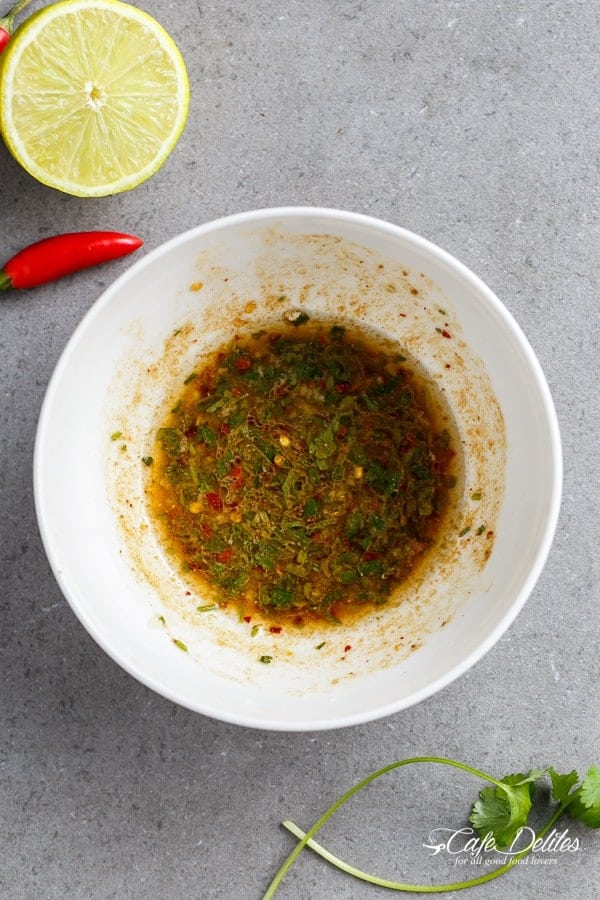 Red chilli flakes…freshly squeezed lime juice…coriander (sub it out if you don't like it, but man it's good in this), garlic…cumin… so many flavours that dance together and create a steamy love affair on your tongue.
Basically, once you've made the marinade, divided it in half and reserve one half to use as a dressing. Use the remaining as a marinade! Marinade for however long you have. I've done this for two hours; I've tried this overnight; and when I didn't have the time to soak anything, I mixed, dipped and grilled without marinading. It all works.
The fresh, untouched half is used as your dressing in this Grilled Chilli Lime Chicken Fajita Salad.
And in less than 20 minutes, you have a loaded up salad, fresh and full of flavour. Just like the Balsamic Chicken Salad With Lemon Quinoa, or the Skinny Chicken and Avocado Caesar Salad, this Grilled Chilli Lime Chicken Fajita Salad is a meal in itself and packed with flavour!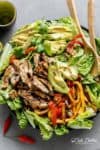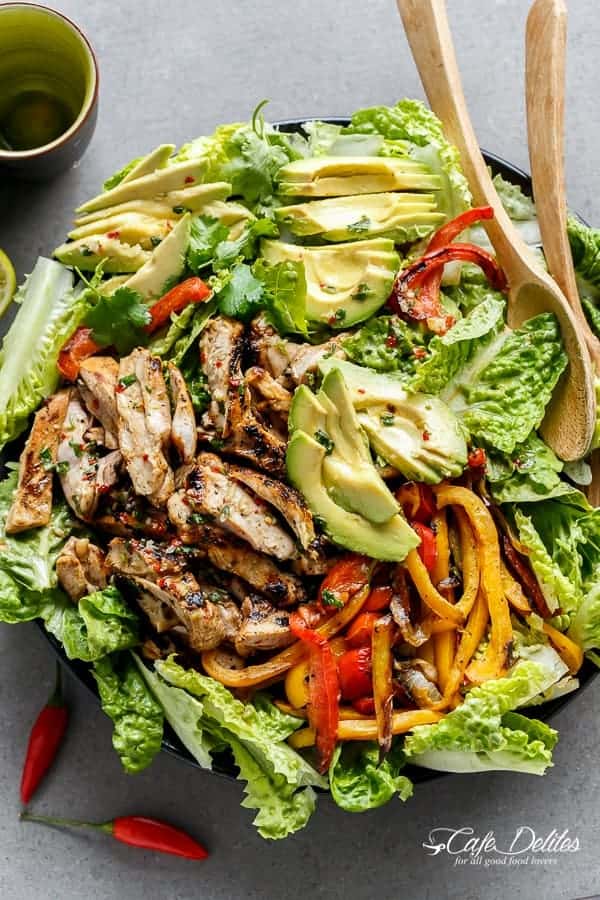 Grilled Chilli Lime Chicken Fajita Salad
Tender and juicy chicken thighs grilled in a chilli lime marinade that doubles as a dressing! Creamy avocado slices, grilled red and yellow peppers, and succulent chicken pieces.
ORIGINAL RECIPE BY KARINA, CAFEDELITES ©
Ingredients
Marinade/Dressing:
3

tablespoons

olive oil

100

ml

(just over 1/3 cup) freshly squeezed lime juice

2

tablespoons

fresh chopped cilantro

2

cloves

garlic

, crushed

1

teaspoon

brown sugar

3/4

teaspoon

red chilli flakes

(adjust to your preference of spice)

1/2

teaspoon

ground Cumin

1

teaspoon

salt
Salad:
4

chicken thigh fillets

, skin removed (no bone)

1/2

yellow bell pepper

, deseeded and sliced

1/2

red bell pepper

, deseeded and sliced

1/2

an onion

, sliced

5

cups

Romaine

(or cos) lettuce leaves, washed and dried

2

avocados

, sliced

Extra cilantro leaves to garnish

Sour cream

(optional) to serve
Instructions
Whisk marinade ingredients together to combine. Pour half the marinade into a shallow dish to marinade the chicken fillets for two hours if time allows. Refrigerate the reserved untouched marinade to use as a dressing.

Heat about one teaspoon of oil in a grill pan or skillet over medium-high heat and grill chicken fillets on each side until golden, crispy and cooked through. (Grill in batches to prevent excess water being released.) Once chicken is cooked, set aside and allow to rest.

Wipe pan over with paper towel; drizzle with another teaspoon of oil and fry pepper and onion strips until cooked to your liking.

Slice chicken into strips and prepare salad with leaves, avocado slices, peppers, onion strips and chicken. Drizzle with remaining marinade/dressing and serve with (optional) extra cilantro leaves and sour cream.