Spicy Shrimp Fajitas with a kick of flavour in each bite!
Why go out for a Mexican dinner when you can make succulent Spicy Shrimp Fajitas right a home in less time! Cooked with a blend of savory and spicy seasonings in a sizzling hot pan adds new flavours and textures to shrimp! Stuff them into soft warm tortillas with toppings for a customizable meal!
Shrimp Fajitas
Hi there! I'm Jessica Gavin, a Certified Culinary Scientist and cookbook author. I love to teach the science behind better cooking with my readers on JessicaGavin.com. I'm so thrilled that Karina has given me the opportunity to share this recipe with you on her insanely mouth-watering website!
This Shrimp Fajitas recipe is a crowd-pleasing meal when you're short on time but looking for maximum flavor. The shrimp is generously seasoned with bold savory spices and in a tequila lime marinade. Add a generous amount of the fajita mix and toppings to a warm tortilla and you've got a portable meal ready to be devoured!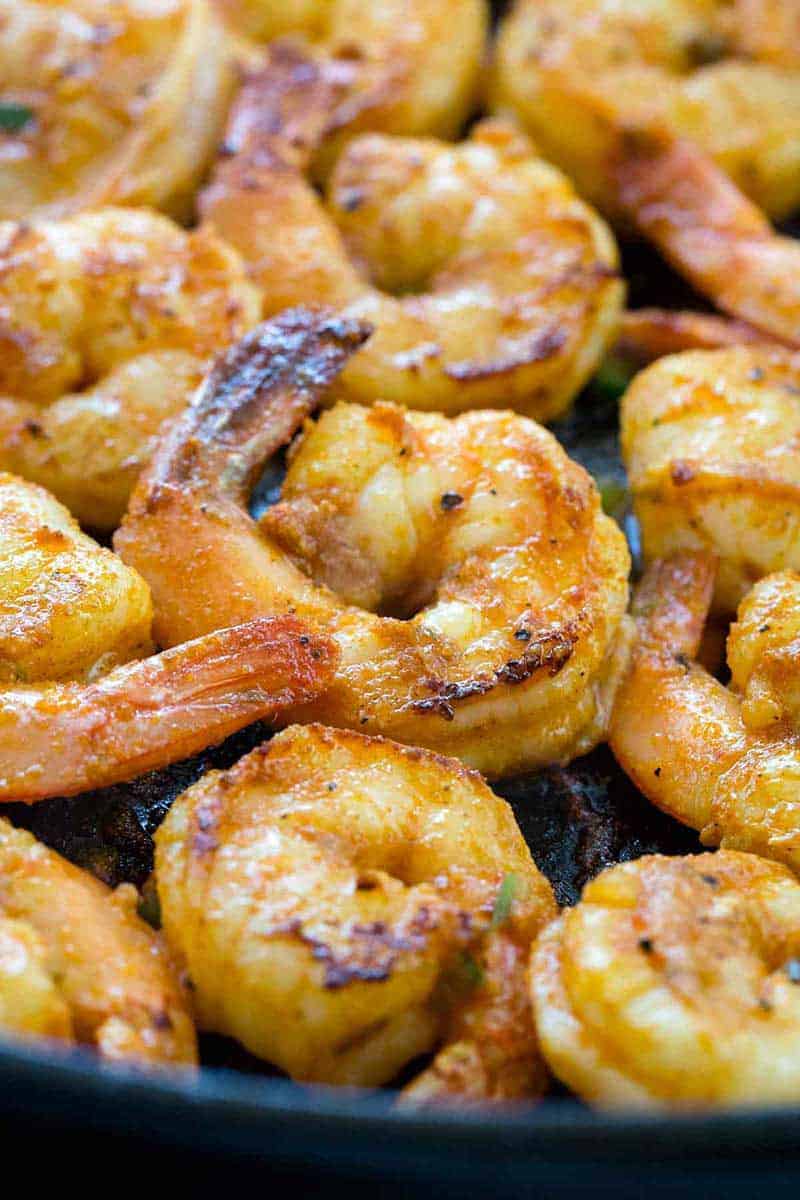 How to Make Shrimp Fajitas
Shrimp fajitas are really easy to make, with just a few stirs and chops for preparation, the cooking process is really quick.
Season the Shrimp – When it comes to adding instant flavor, dried seasoning is my go-to. A blend of smoked paprika, cumin, garlic powder, onion powder, salt, and pepper gives an earthy layer of seasoning to the surface of the shrimp. Some chopped jalapenos add a spicy element to the fajitas.
Marinade – Allowing the shrimp to marinate in the seasonings, oil, lime juice, and tequila allows certain flavors to infuse more deeply into the seafood. Adding in some alcohol also improves flavor perception by bonding to both the fat and water in the marinade, intensifying the taste. Win, win!
Prep and Cook – Have all of the shrimp and vegetables cut and ready to go and next to the stove when you are ready to cook. Use a hot pan and oil with a high smoke point to make the fajitas. It will only take a few minutes to cook the shrimp and vegetables!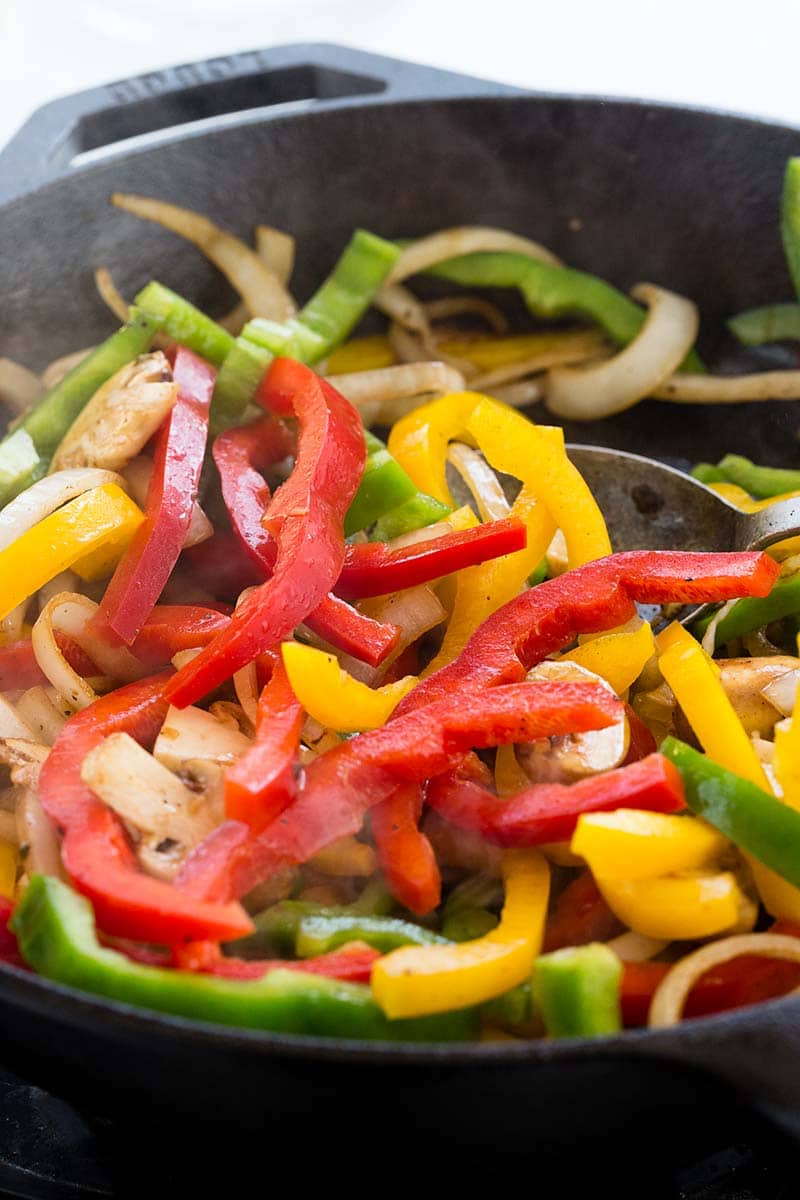 The shrimp is sauteed first so that a nice caramelized crust develops on the surface and the dried seasoning get to bloom in the oil for a boost of aroma.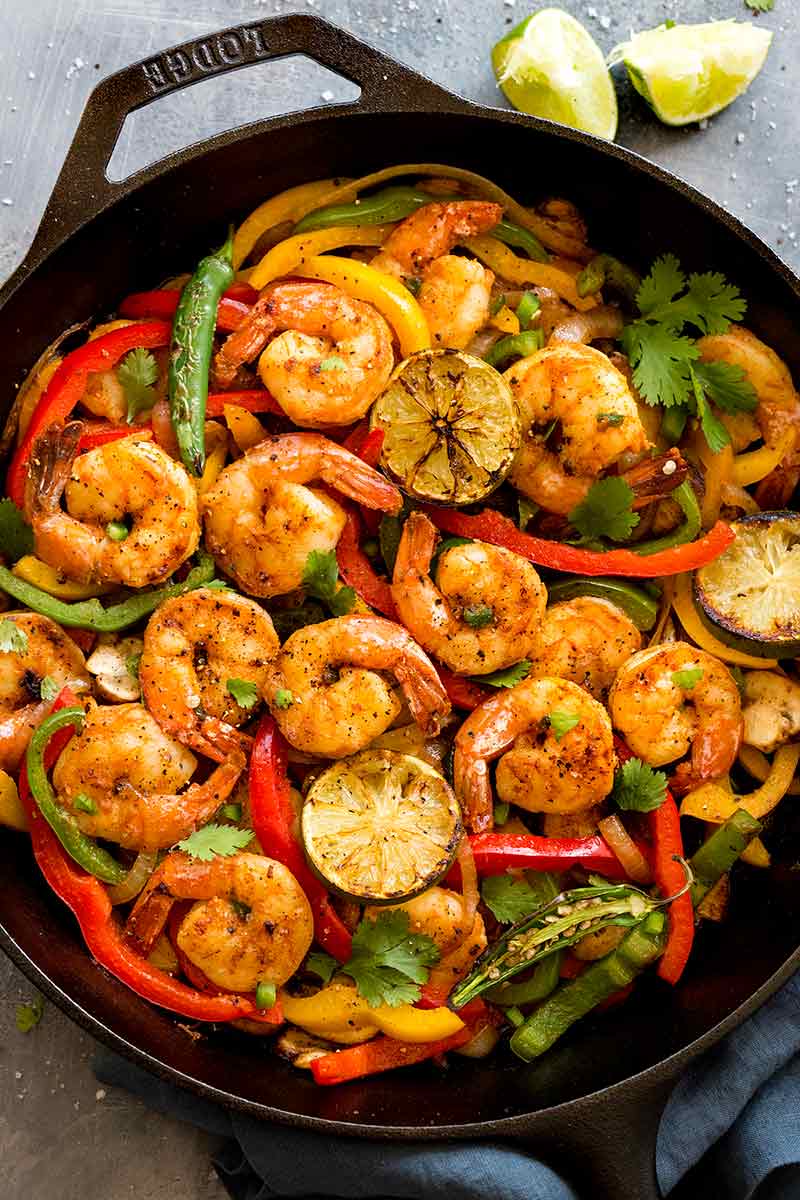 Fillings
The vegetables are sauteed and layered in with garlic, mushrooms, onions, and peppers until crisp and tender. The shrimp is added back to the pan just cooking long enough to warm, but not overcook.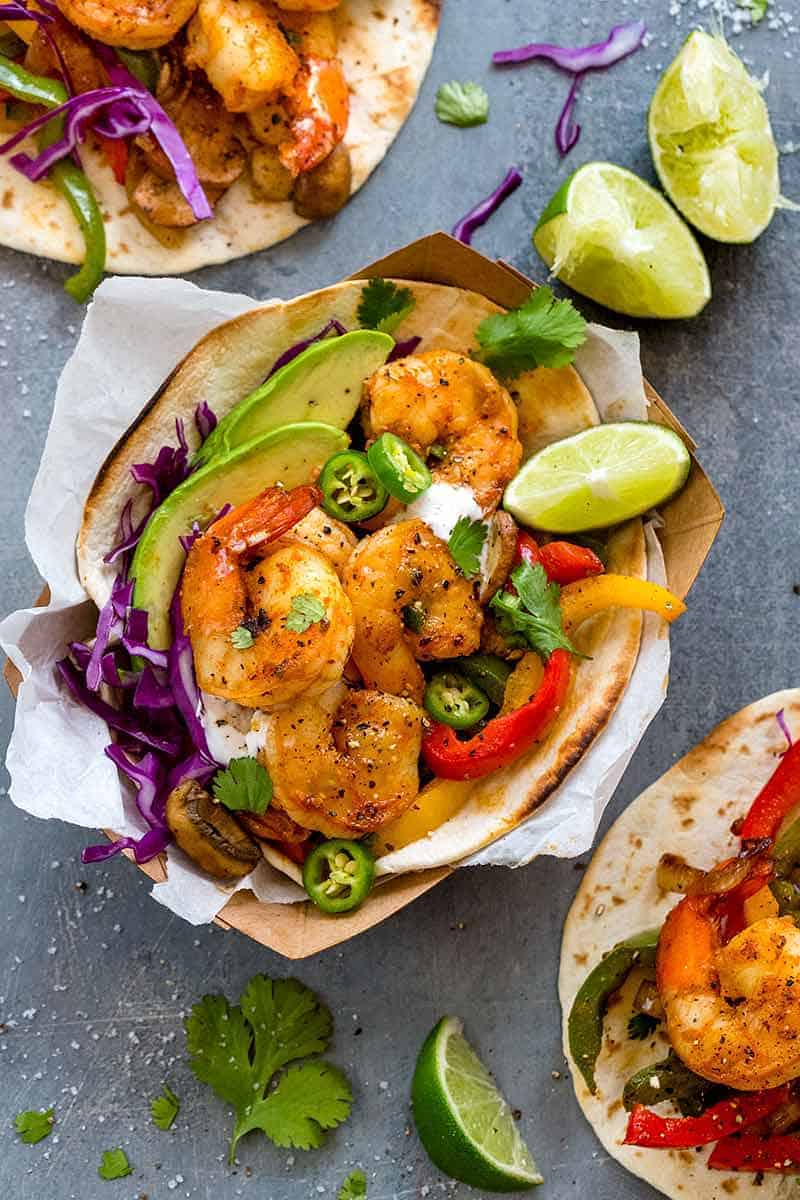 Toppings
My favorite thing about making spicy shrimp fajitas is the toppings! Everyone gets to build their own taco. Sour cream, avocado slices, sliced jalapeno, cilantro, cabbage and lime wedges are some tasty options. Serve the fajitas with a healthy side like Mexican spiced vegetable quinoa.
Looking for more Fajita recipes? Try these!
Best Chicken Fajitas | Chili Lime Steak Fajitas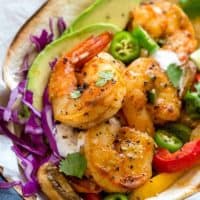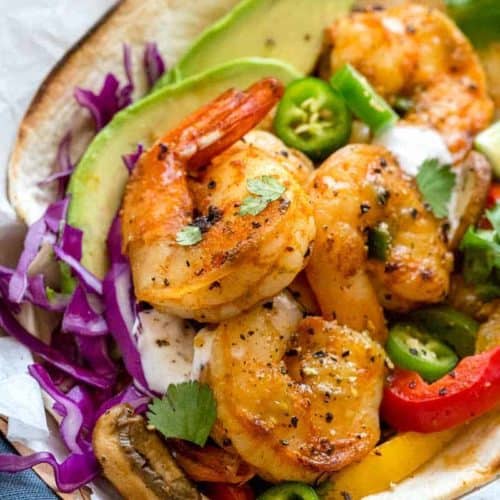 Ingredients
1

pound

shrimp

16/20, peeled and deveined

1

teaspoon

smoked paprika

¾

teaspoon

cumin

½

teaspoon

each garlic powder and onion powder

Salt and pepper

to taste (about 1/2 teaspoon)

¼

teaspoon

chili powder

2

teaspoons

lime juice and zest

2

tablespoons

tequila or rum

(optional)

1

tablespoon

minced jalapeno

¼

cup

olive oil

divided

2

teaspoons

minced garlic

1

medium

white onion

(2 cups) ¼-inch thick slices

3

bell peppers

(4 cups), ¼-inch thick slices

6

ounces

brown mushrooms

¼-inch thick slices

¼

cup

cilantro leaves

for garnish

8

flour tortillas

or corn tortillas

lime wedges

to serve
Instructions
In a large bowl combine shrimp, smoked paprika, cumin, garlic powder, onion powder, salt, chili powder, pepper, lime juice, lime zest, tequila, minced jalapeno and 1 tablespoon olive oil. Set aside.

Heat a large skillet over medium-high heat. Once hot add 1 tablespoon oil. When the oil just beginning to smoke add the shrimp in one layer in the pan.

Cook shrimp for 2 minutes, flip and cook 1 minute on the other side. Remove from hot pan to a clean plate.

Heat 1 tablespoon of oil in the pan, once hot add the garlic and onion and saute for 1 minute. Add mushroom and saute 1 minute, then add 1 tablespoon oil to the pan. When hot, add the bell peppers and stir occasionally -- about 2 minutes.

Add shrimp back to the pan, cook stirring for 1 minute to warm the seafood. Season fajitas with more salt and pepper as desired. Garnish with cilantro.

Serve spicy shrimp fajitas hot with warmed tortillas and lime wedges.