Nutella Brownie Oatmeal
A simple cake-like brownie-like oatmeal porridge to start your morning that tastes like Nutella — without the guilt!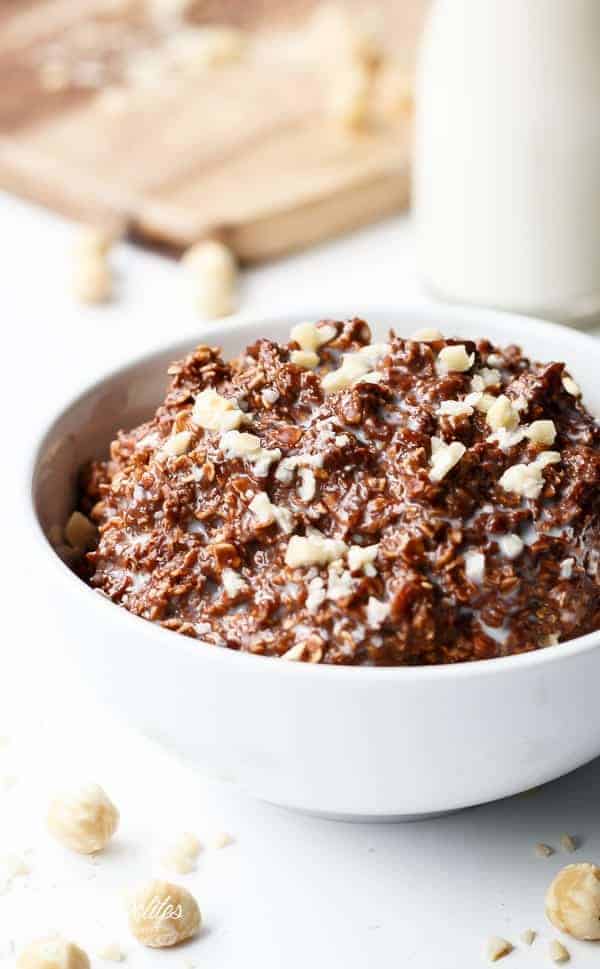 Wow. Just wow.
So, this is the healthy version. But! If you don't care much about calories and you're looking for a REAL Nutella guilty pleasure for breakfast (or dessert), THIS Nutella Hot Chocolate Oatmeal will make ALL of your dreams come true. Pure Nutella.
But! Back to this. Let me start by saying, I heart Nutella. Actually, I heart chocolate. Chocolate is my savings grace. But Nutella. Well, it's Nutella. If I could eat Nutella straight up out of the jar every single day for the rest of my life, I'd be one happy Nutella smeared addict…I mean…person.
But as life has it, and my typically slow metabolism, seems to lead the way, I can't do it. I can't full fill my dreams of spooning with Nutella. Sorry. I meant spooning Nutella out of the jar. My bad.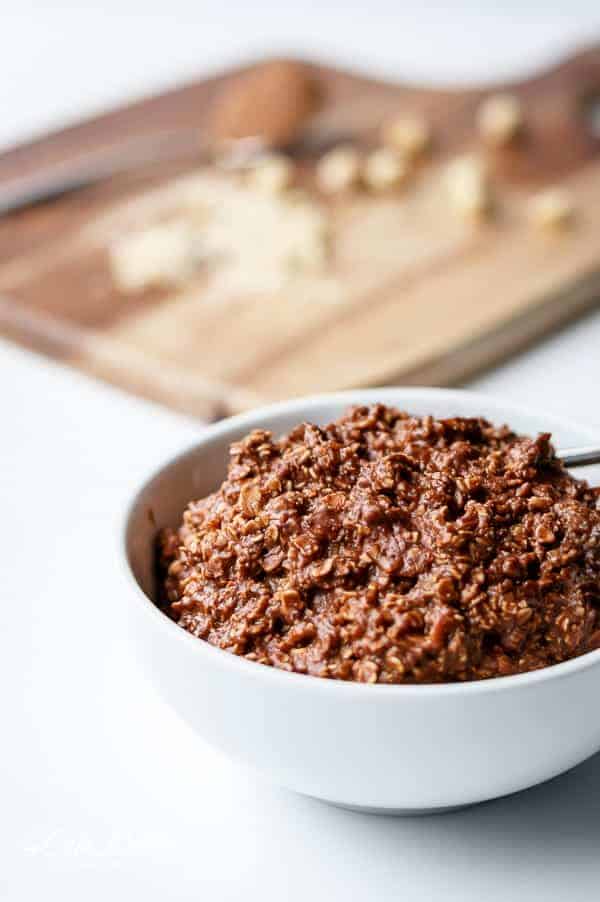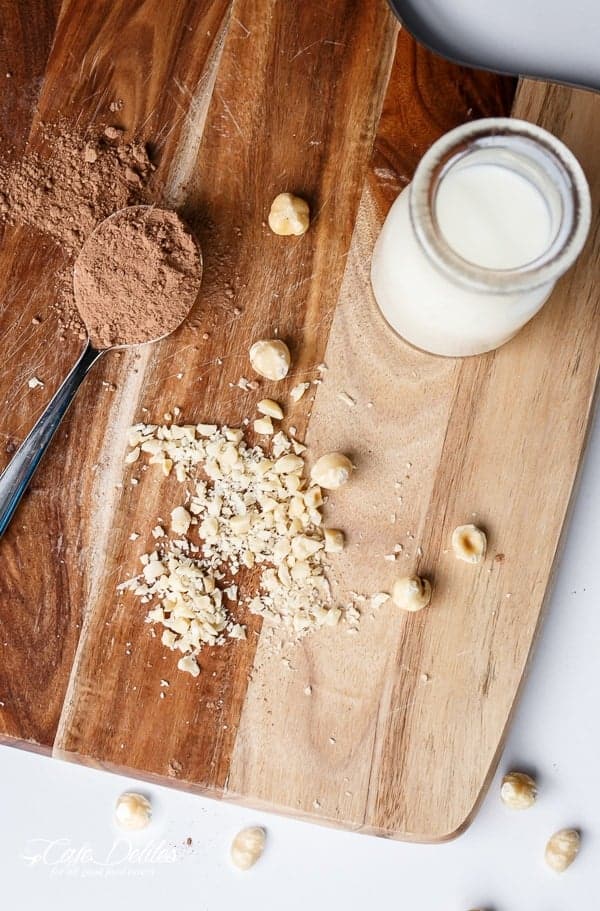 My hips, my butt and my thighs would hate me. So, I need to work around those gifts that God gave me, and come up with something so close to Nutella, it tricks even my un-trickable taste buds into thinking they're getting Nutella…
Stand down Mr Metabolism and keep your pants on. Because these oats filled every tiny little glimpse of Nutella…without hurting my fat.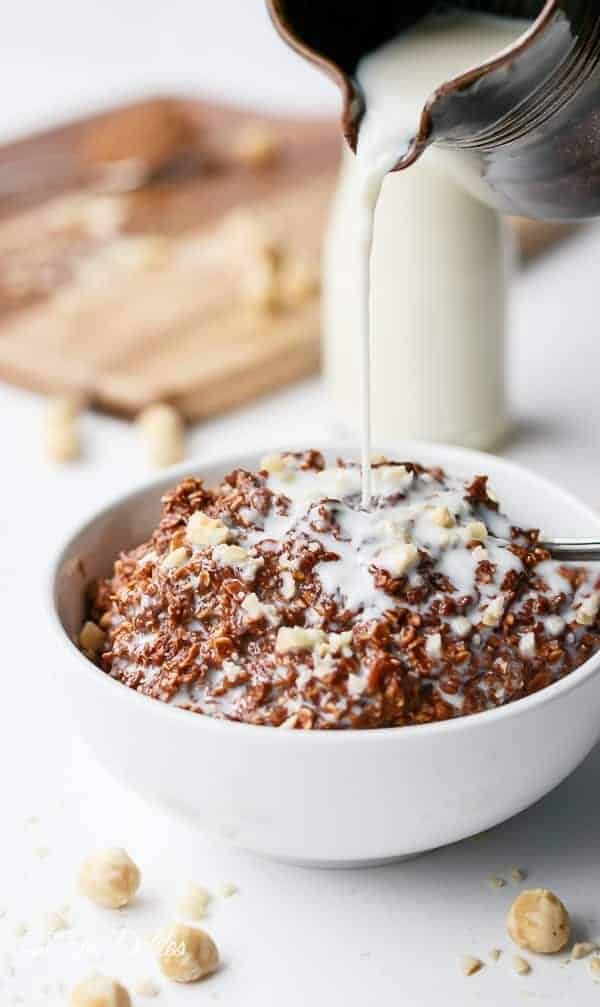 With only 4 ingredients, simple oats were transformed into a Nutella lovers paradise.
And denying these oats too much milk at first, well, I only have one word. Cake. Yup. Sticky and fudge-y Nutella cake. Or Nutella brownies even. I was gonna go with it…but then I could only imagine how far a drizzle of milk would take this oatmeal into a creamy fountain of Nutella cream.
Taking my recipe for Blueberry Brownie Batter Oatmeal, and adding an Organic Hazelnut Extract proved to be the success I had in my head.
So, this was breakfast…or it could be dessert because hey, if it's Nutella, it's really suitable for any time of the day, am I right?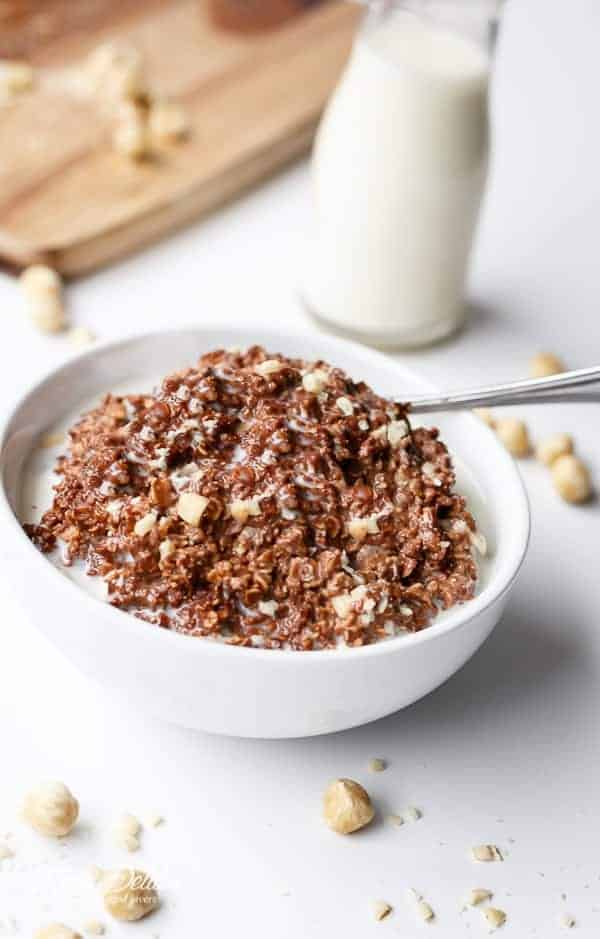 And with two options of cake-like and brownie-like oatmeal; or the fountain of creamy Nutella, for half the sugar and fat content of the real deal-eeo, you really can't go wrong!
For the real and not pretend Nutella oatmeal version, don't forget to check out this NUTELLA HOT CHOCOLATE OATMEAL RECIPE. Made with extra decadent Nutella Hot Chocolate. You're welcome.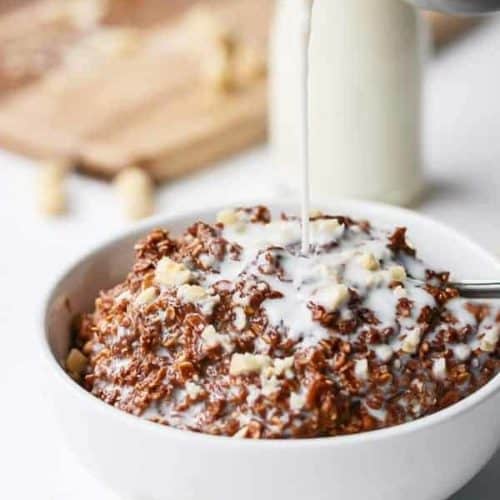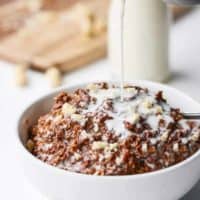 Ingredients
Oatmeal
1/2

cup

(about 50g | 1.7oz) quick oats (rolled oats are fine)

1

heaping tablespoon

(7g) unsweetened cocoa powder

1

tablespoon

natural sweetener/sugar of choice

2

teaspoons

organic hazelnut extract

(adjust to your tastes)

1/2

cup

unsweetened almond milk

1/4

cup

extra unsweetened almond milk: for extra cream-y-ness

(optional)
Topping:
1/2

tablespoon

(2 whole) crushed hazelnuts
Instructions
Place all ingredients into a saucepan. Bring to the boil, lower heat and simmer gently until all the liquid has absorbed. Add the extra milk if needed.

Alternatively, cook in a microwave for 1:30 minutes. Stir and microwave again for a further 30 seconds until cooked through.

Top with crushed hazelnuts and extra milk if needed
Nutrition
Calories:
263
kcal
|
Carbohydrates:
38
g
|
Protein:
8
g
|
Fat:
9
g
|
Saturated Fat:
1
g
|
Fiber:
9
g