Mini Pancakes Cereal are crispy on the outside, soft in the centres and so versatile you can serve them with anything you want!
If there ever was a way to enjoy pancakes, this is it! Mini Pancakes Cereal is the ultimate new trend to hit the internet (thank you Tik Tok)!
Using our best fluffy pancakes mix, you can easily whip them up in less than 5 minutes for breakfast, brunch, or a cool dessert with a scoop of ice cream and lashings of chocolate fudge sauce. Whatever toppings you choose, whether it be maple syrup, berries, chocolate chips, banana slices or honey… you can't go wrong!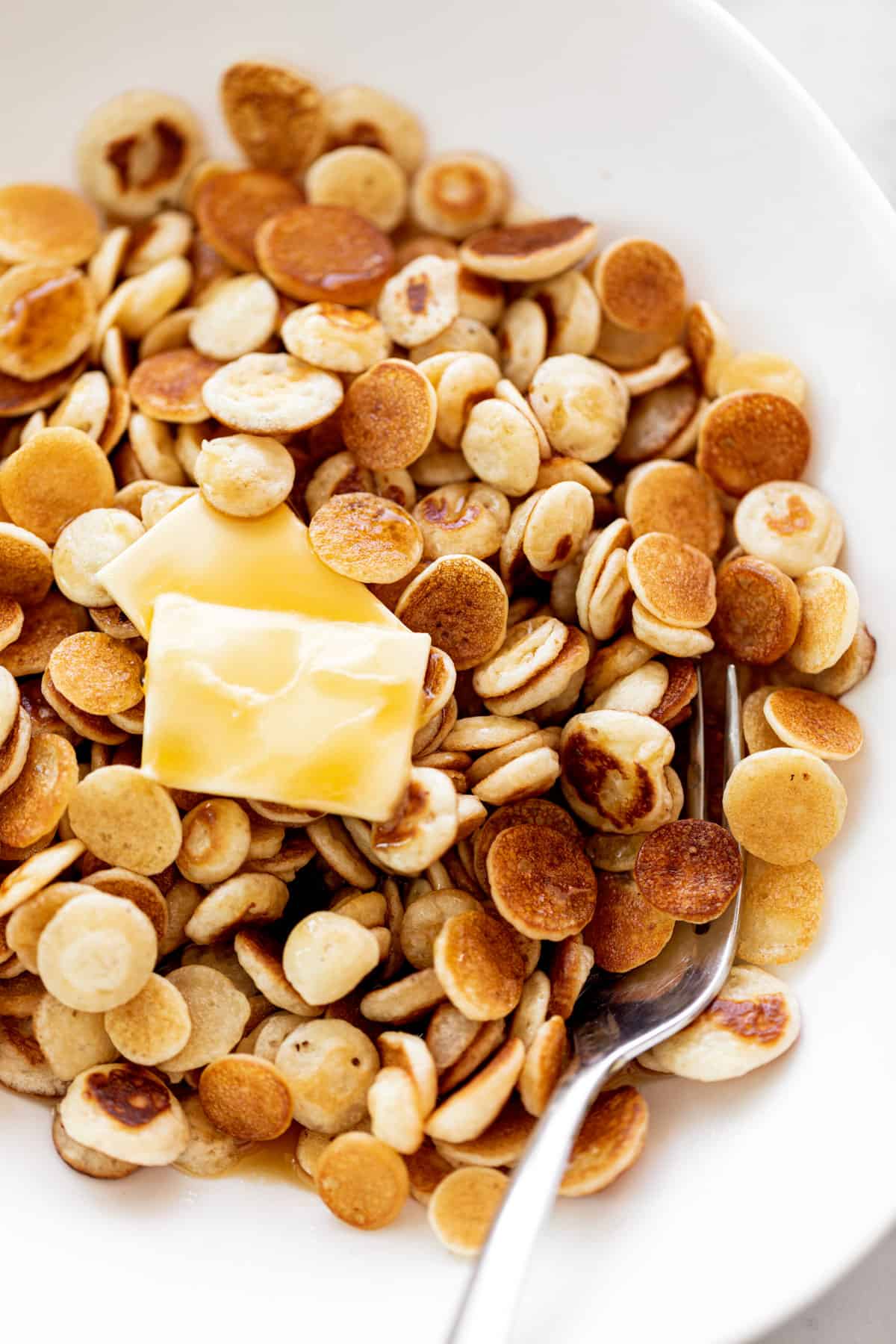 MINI PANCAKES CEREAL
What are mini pancakes cereal? They are little pieces of heaven, that's what. Fluffy, crispy miniature-sized pancakes served in a bowl just as you would serve regular cereal, only BETTER, because pancakes. You can also add milk instead of syrup for a real cereal experience, BUT they do get soggy.
The only down side to making them is that they are a bit time consuming, but every effort and minute spent is so worth it.
Since you loved creating the first Tik Tok trend Dalgona Whipped Coffee with us… well, here we go again!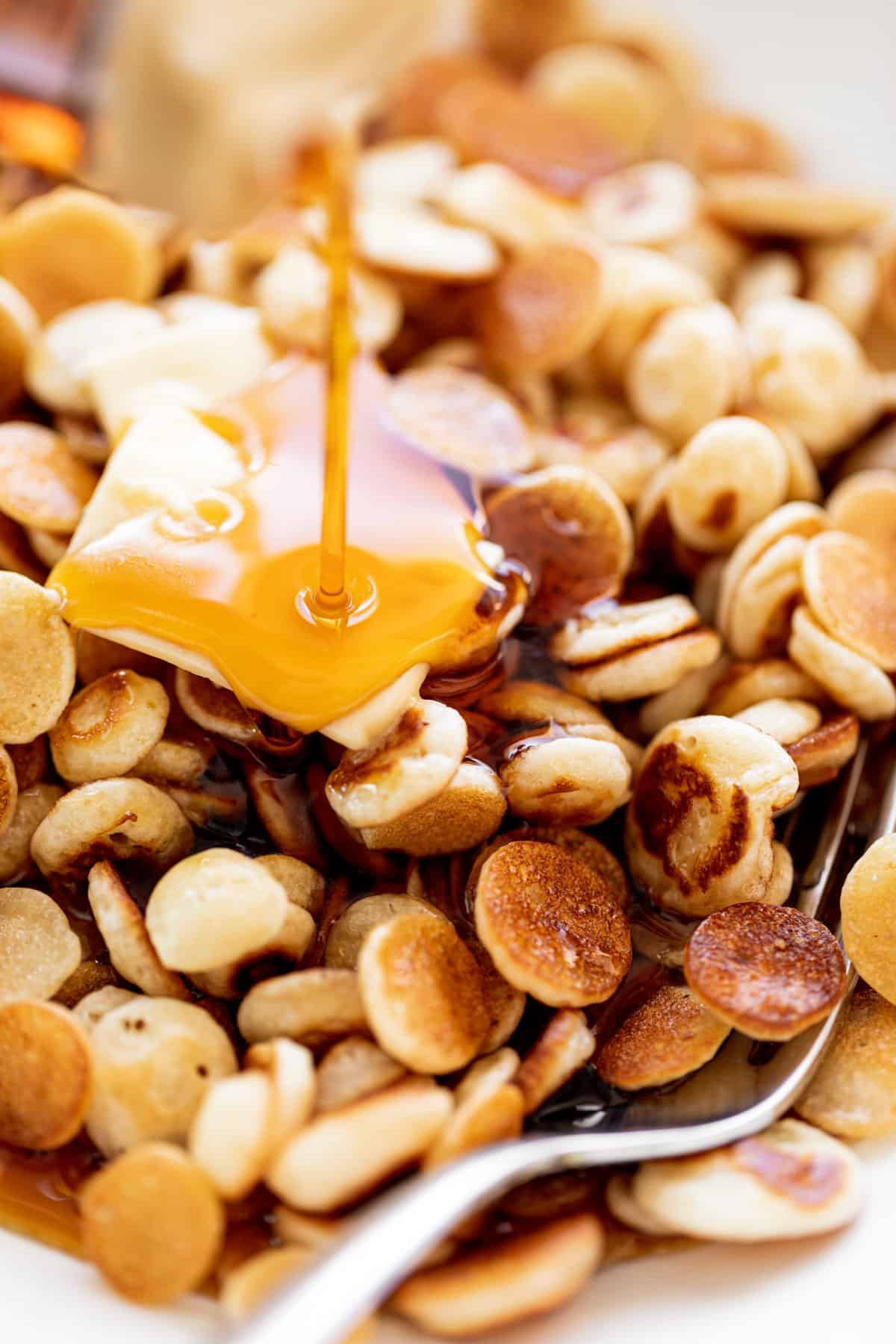 BEST PANCAKE MIX
For this mini pancakes cereal recipe, you can use our very own reader favourite recipe. You can also use your very own pancake mix, or use store-bought. Personally, I think our fresh, homemade recipe is the best for these!
Our recipe uses simple, basic ingredients like all purpose flour, butter, milk, an egg, pure vanilla extract, sugar and pinch of salt.
IF for any reason your batter turns out a little too thick, make sure to thin it out with just a tablespoon or two of milk.
You don't want a runny batter!
What you DO want is a thick batter that is easily pourable in consistency. If it's too runny, you won't get your mini pancakes to keep their shape. The flour to milk ratio is important here.
HOW TO SHAPE MINI PANCAKES
The easiest way to make mini pancakes is with a sauce or condiment squeeze bottle. If you have an empty tomato ketchup bottle, use that too! Just be sure to clean and sterilise them in boiling water, then air them out before adding any batter into them.
You can also use a ziplock bag: snip a bottom corner on an angle to make a small hole for piping (just big enough to squeeze the pancake batter out easily), OR a piping bag. And if you have none of those, a teaspoon works too.
Heat a nonstick pan or griddle over medium-high heat. Let your pancake batter sit for about 5 minutes while your pan is heating up to release the gluten in the four and let the ingredients marry into each other.
You want to start with a perfectly hot pan to get those golden, crispy edges.
Pour your pancake batter into the bottle or ziplock/piping bag. Lightly squeeze batter out onto your greased pan, making sure they're not touching one another. Keep your nozzle in the middle of each mini pancake while squeezing the batter out to get nicely rounded shapes.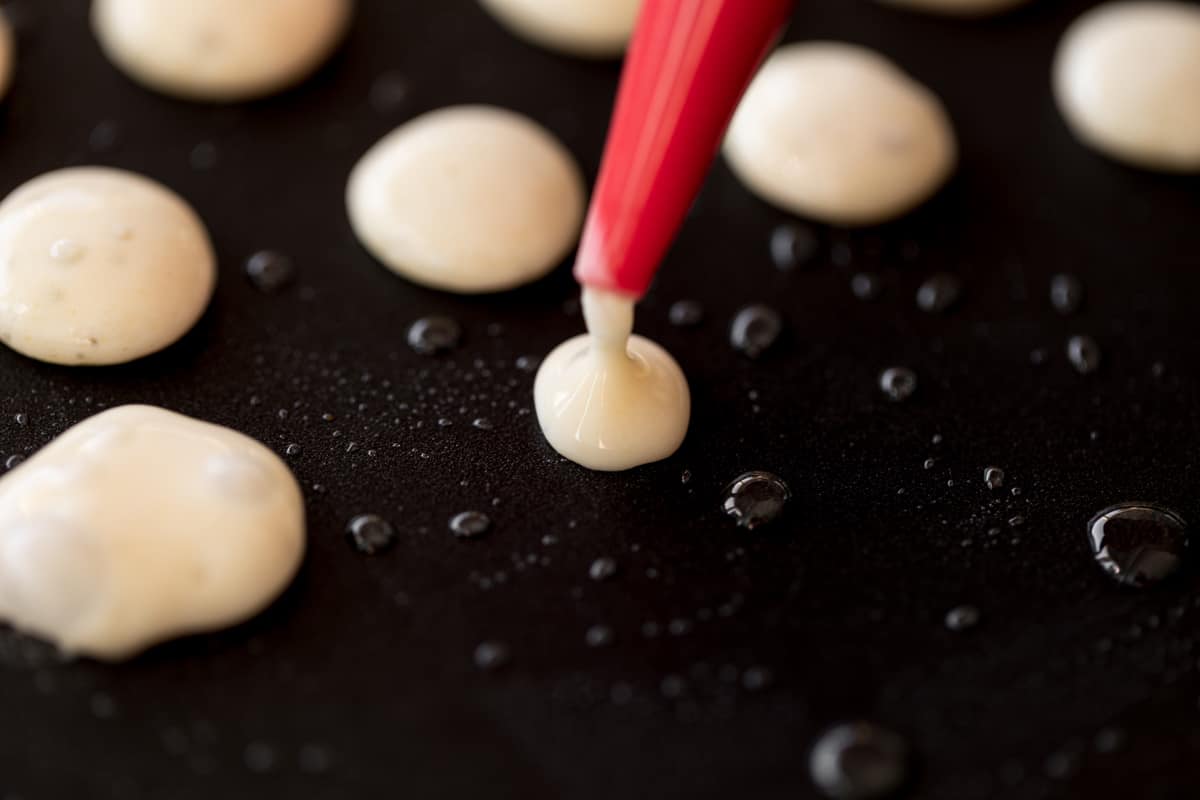 DOES SIZE MATTER?
For crispier pancakes, the smaller you pipe them, the better (aim for 1/2-inch or just over 1cm). The larger the pancake, the fluffier and softer they get (about 1-inch or 2.5-cm).
Cook until they start to bubble on top. You should be able to lift the edges of each mini pancake with a spatula after about 1-2 minutes. Check that the undersides are golden and flip with a spatula. (If they are cooking too fast, reduce the heat down to medium. Just remember to increase the heat back up to medium-high before the next batch go in!)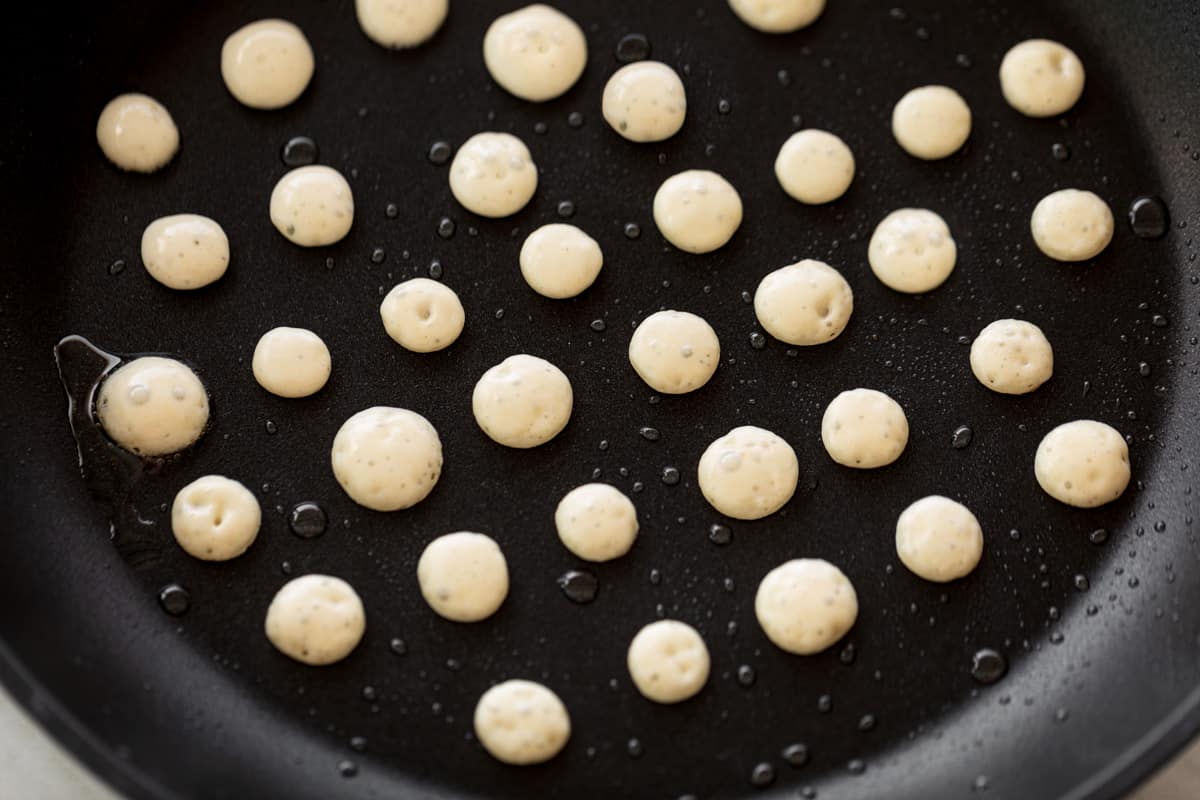 Continue cooking the underside for a further minute, then take off the heat and transfer your mini pancakes to a serving bowl. DON'T cover them or they will go soft!
DONE!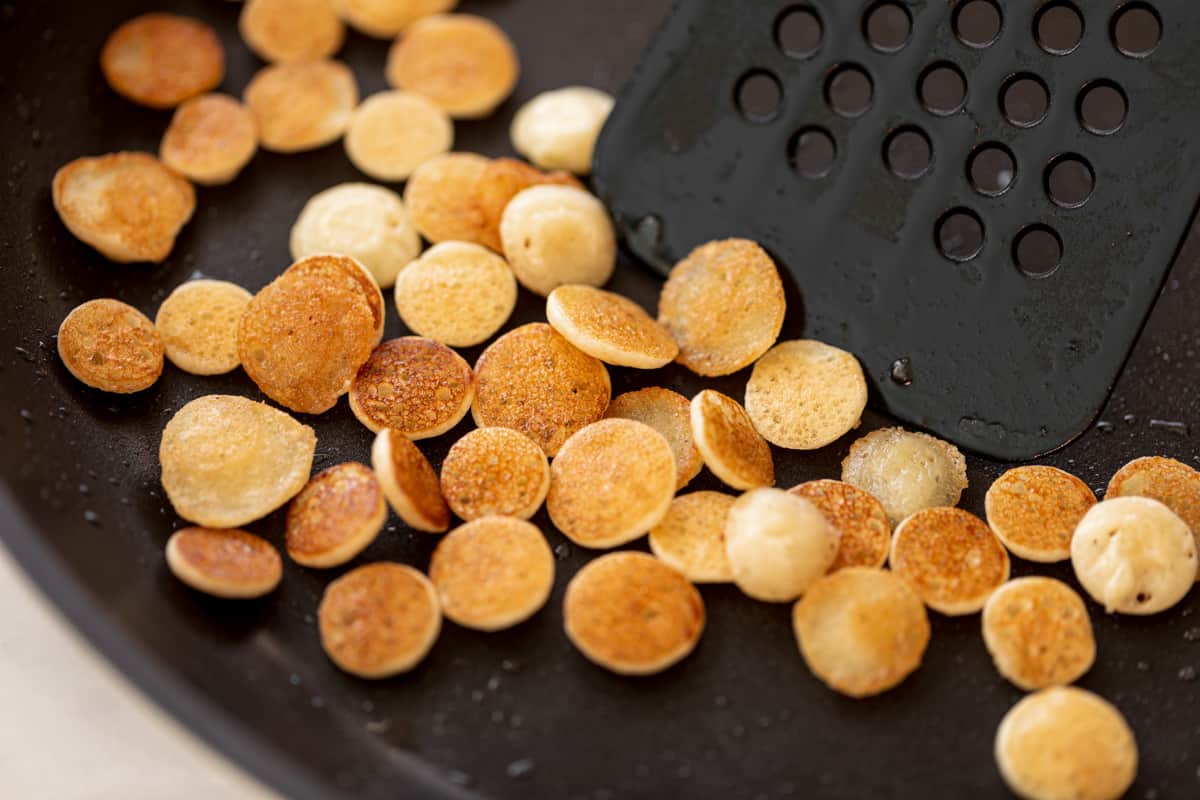 Eat mini pancakes with a fork or spoon… with milk or syrup, or enjoy them as they are.
Let me know if you try our version of mini pancakes cereal in the comment section below, and please share what YOU did differently!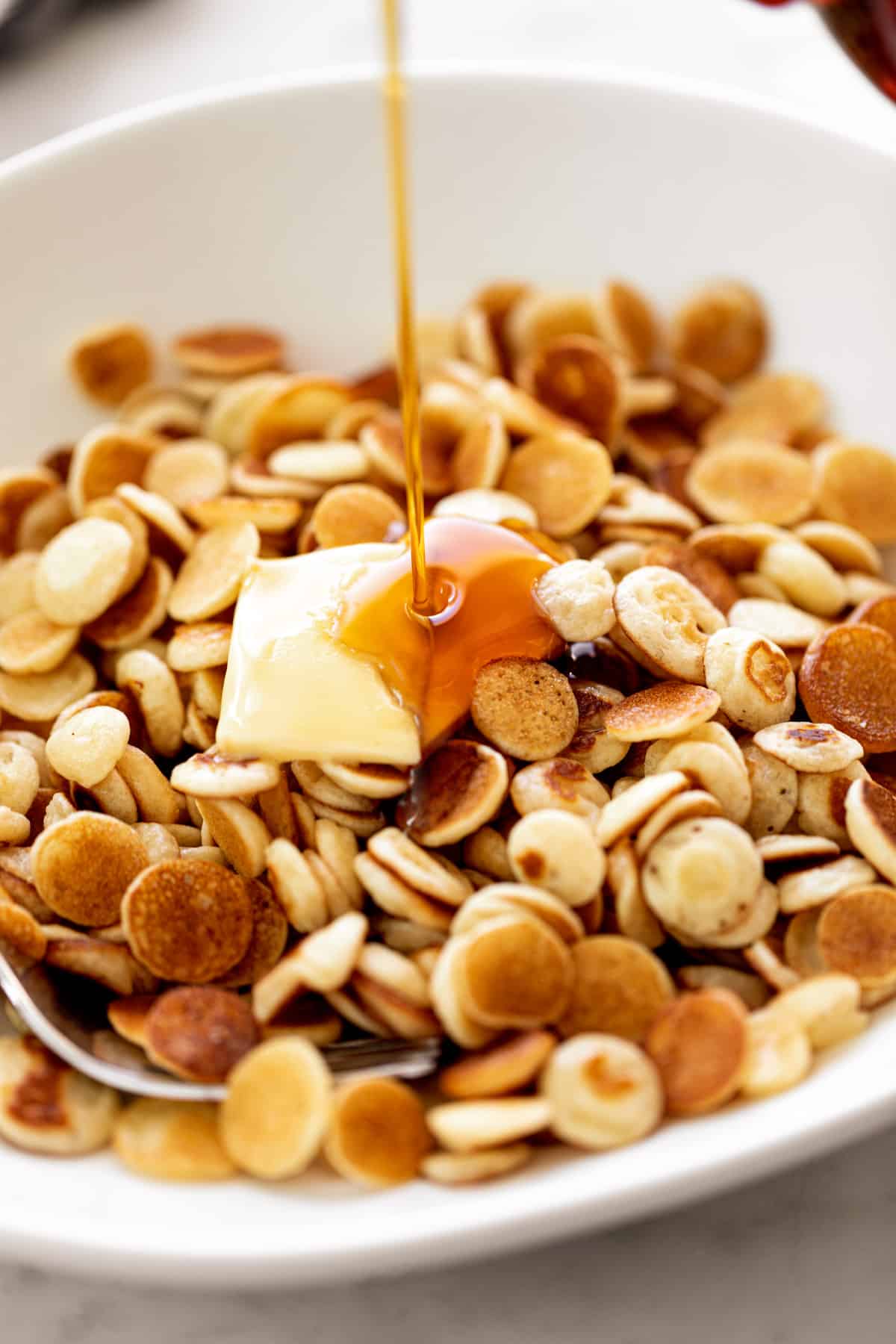 MORE PANCAKE RECIPES
Super Fluffy Blueberry Pancakes
Buttermilk Pancakes
Zebra Marble Pancakes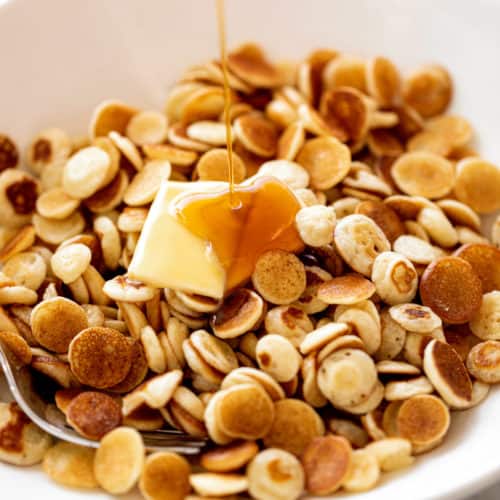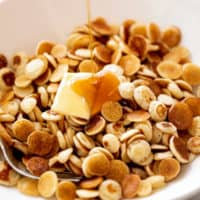 Mini Pancake Cereal
A fun twist on pancakes! Mini pancakes cereal is a great breakfast idea for kids AND adults. Crispy, delicious, you will love this fun way to eat pancakes!
PRINT
SAVE
go to your favorites
Ingredients
1

cup

all purpose | plain flour,

(140g | 4.9oz)

2

tablespoons

granulated sugar or sweetener,

(40g | 1.4oz)

2

teaspoons

baking powder

1/2

teaspoon

salt

3/4

cup

milk,

(190ml, plus more as needed)

2

tablespoons

melted butter,

(40g | 1.4oz)

1

teaspoon

pure vanilla extract

1

large

egg
Instructions
Combine together the flour, sugar (or sweetener), baking powder and salt in a large-sized bowl. Make a well in the centre and add the milk, slightly cooled melted butter, vanilla and egg.

Use a wire whisk to whisk the wet ingredients together first before slowly folding them into the dry ingredients. Mix together until smooth and lump-free. Add 1-2 extra tablespoons of milk if needed to just slightly thin out the batter. You don't want to it too runny.

Let your pancake batter sit for about 5 minutes while heating a nonstick pan or griddle over medium-high heat. Lightly grease with a little butter or cooking oil (see notes).

Pour pancake batter into a squeezable condiment/sauce bottle. (Alternatively, use a ziplock bag: cut a tiny hole on an angle in the bottom corner of the bag to pipe out the batter.)

Squeeze small dots of batter onto HOT greased pan. Cook until the tops form bubbles and look set/dry. Flip with a spatula and cook until golden on the undersides, about a further 1-2 minutes. Repeat with remaining batter, lightly greasing your pan between each batch.

Serve with maple syrup, honey, fruit, ice cream, frozen yoghurt, or enjoy plain!
Notes
FOR CRISPY EDGES: Greasing your pan with oil works best if you're looking for looking for golden, crisp, fried edges. When using oil, just make sure you're only using a small amount between batches, say about 1-2 teaspoons of oil. You definitely don't want to deep fry them or use too much oil as they will burn fast. FOR SOFTER PANCAKES: Lightly grease your pan with butter. They come out softer and buttery, like miniature cakes.
Nutrition
Calories:
156
kcal
|
Carbohydrates:
22
g
|
Protein:
3
g
|
Fat:
5
g
|
Saturated Fat:
3
g
|
Cholesterol:
27
mg
|
Sodium:
152
mg
|
Potassium:
208
mg
|
Sugar:
6
g
|
Vitamin A:
195
IU
|
Calcium:
104
mg
|
Iron:
1.1
mg