Double Chocolate Brownie Pancakes
Also known as Birthday Cake for breakfast. Chocolate on chocolate makes for the best breakfast on earth. And brownies!
It was my birthday yesterday, and all I wanted was an excuse to eat super fluffy chocolate brownie cake for breakfast without a baking time, drizzled some more with extra chocolate sauce. I mean, who wouldn't?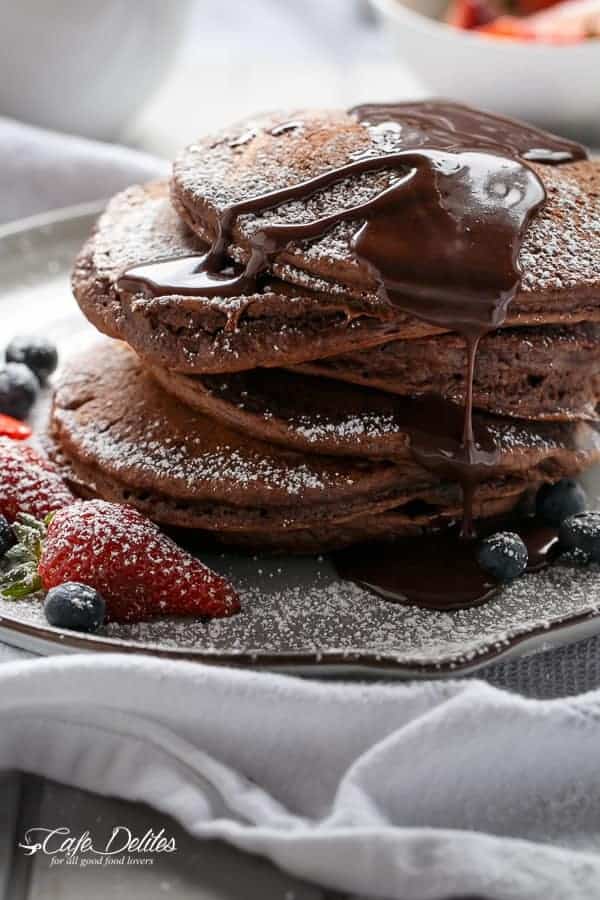 The best part of these is that they provide a 'eat-while-you-cook' (if you're anything like me)' type of situation before they have a chance to hit the plates.
And nothing beats the steam coming off of them as they come out of the pan. The chocolate smells that fill your kitchen can compete with any chocolate bakery. It's Cocoa haven. Yes, that's what I said: haven.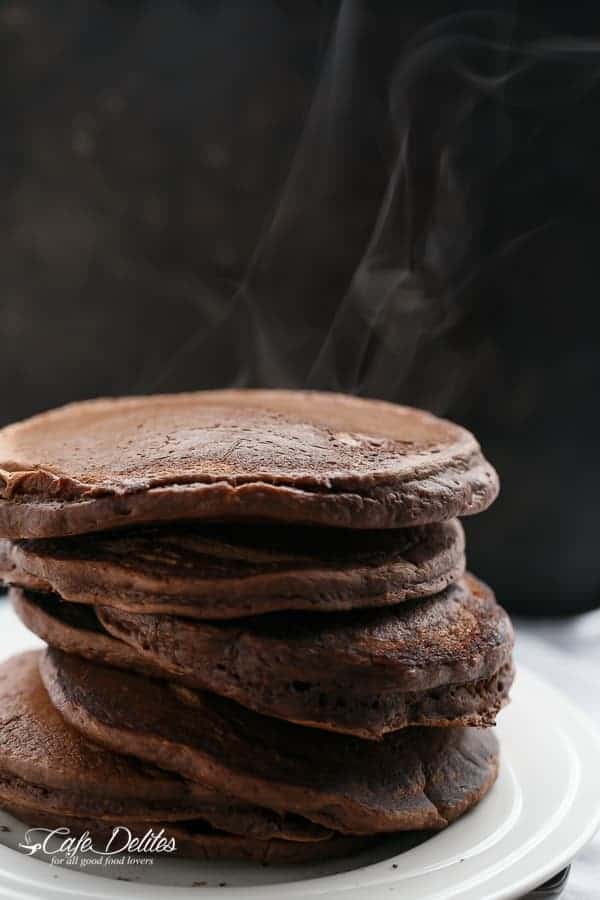 And to make them healthy — I served them with fresh berries.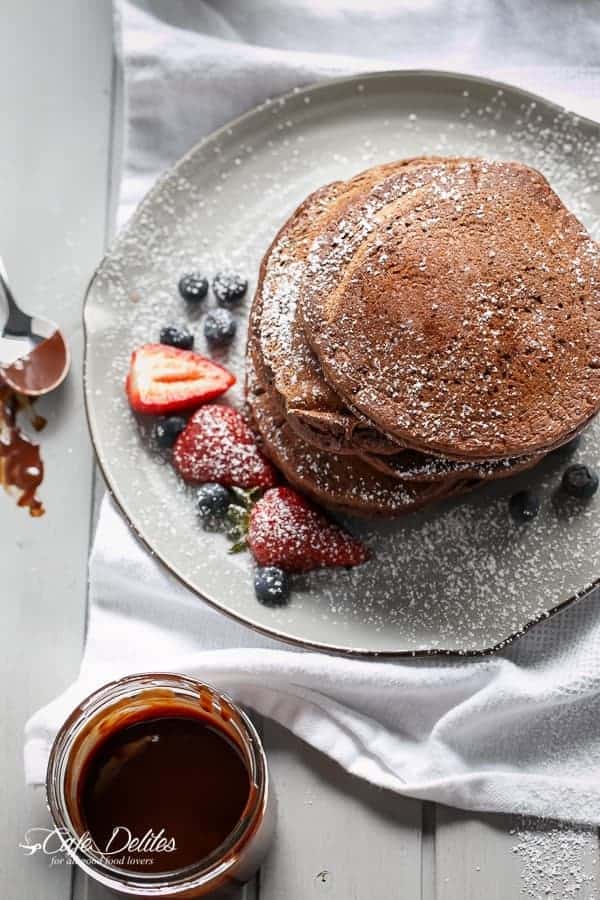 See? I can be healthy.
Now…as with all chocolate batters..it doesn't look — um — pleasant. Or dark enough.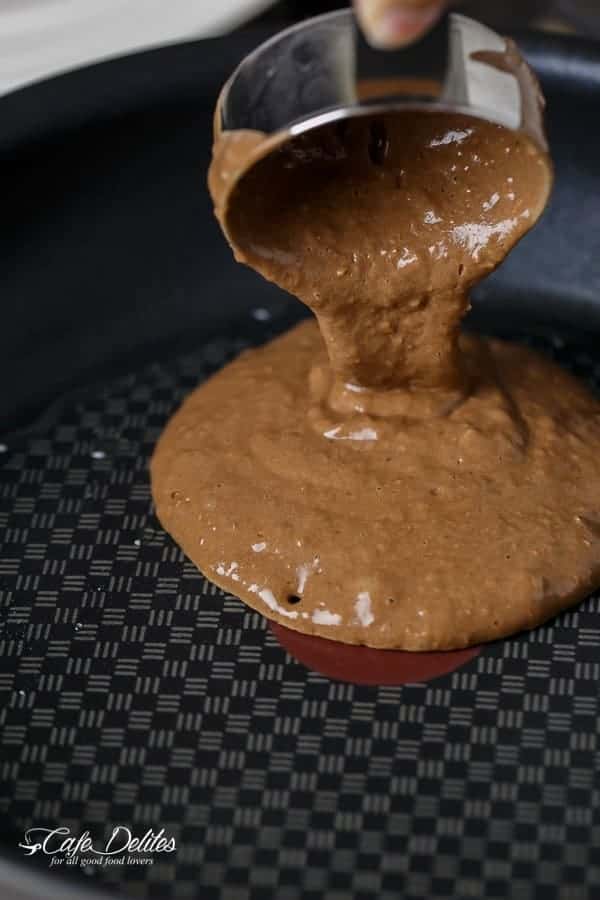 But they do darken on arrival to your plates.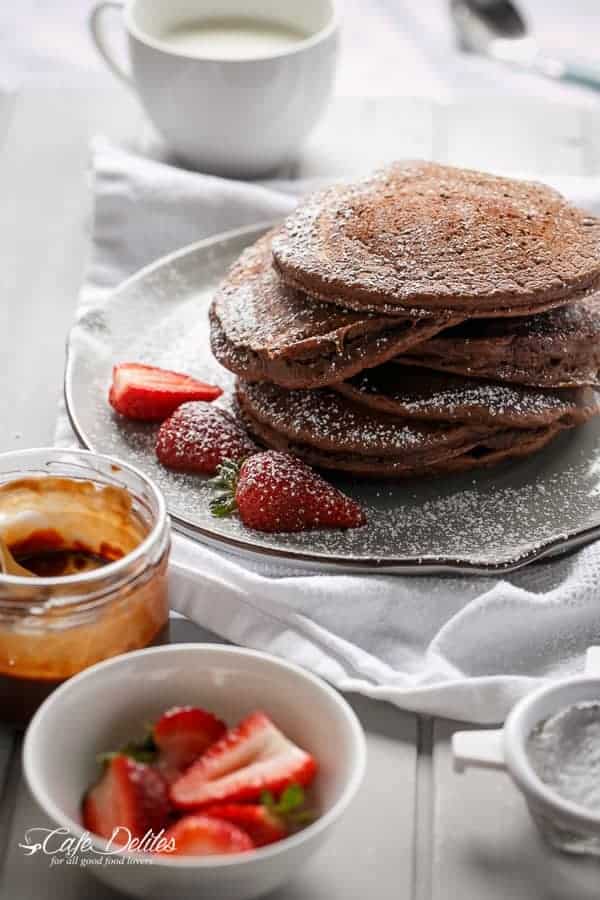 And then there's that ganache-slash-sauce happening and drizzling all over the top…..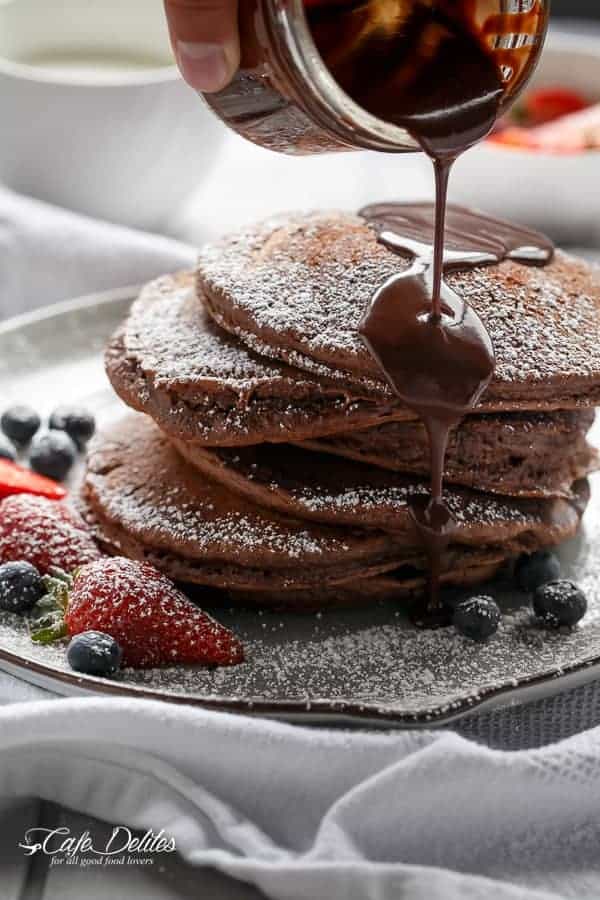 And all over the sides……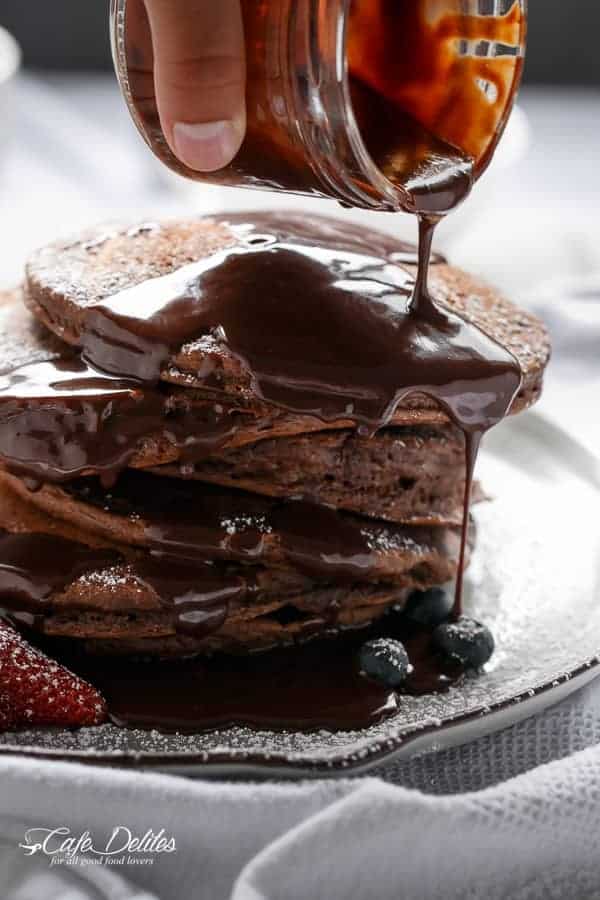 ….to the front. That's how we do it over here….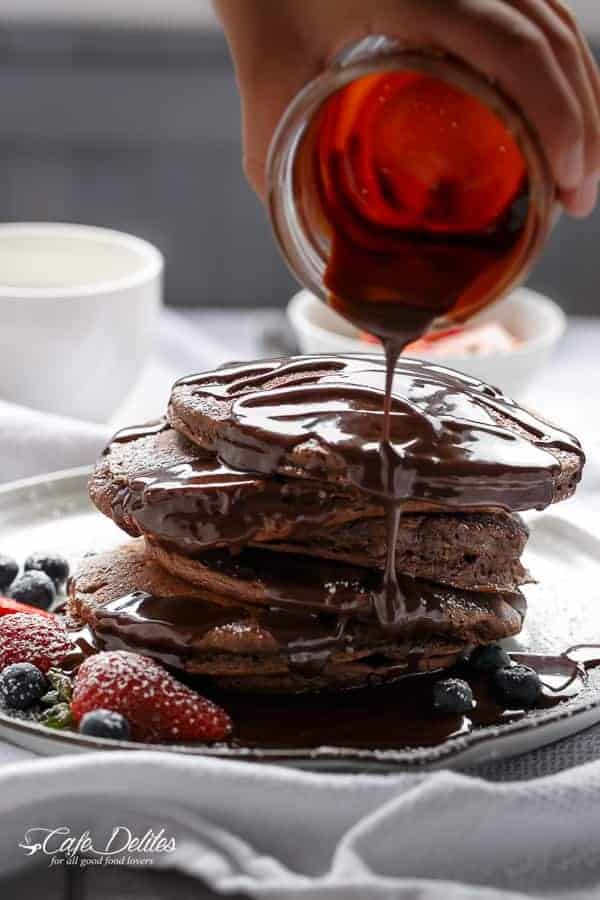 ….creating a river of creamy chocolate and absorbing into the very centre of these brownie-cakes for breakfast, like something out of Willy Wonka's Paradise.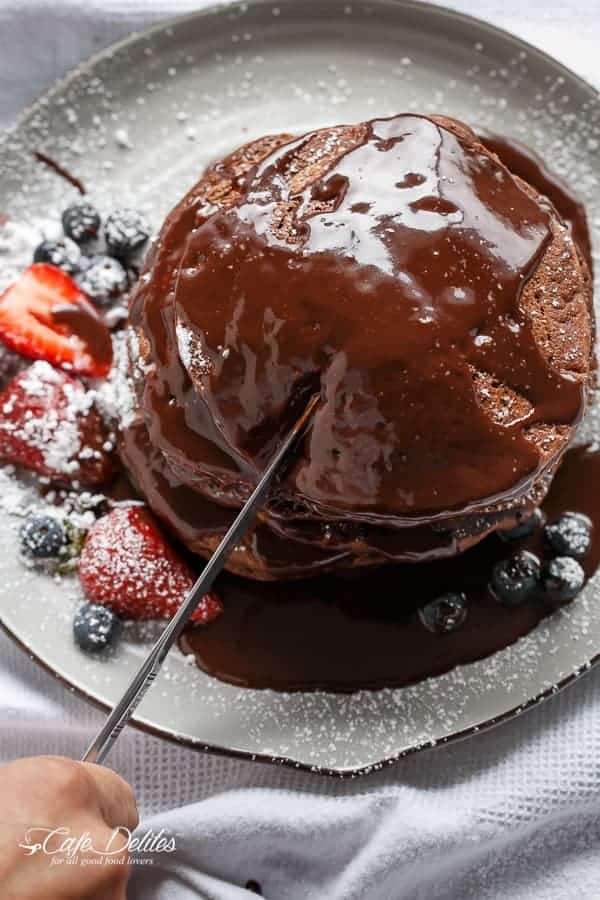 Only, it's right on your plate. A chocolate lovers dream….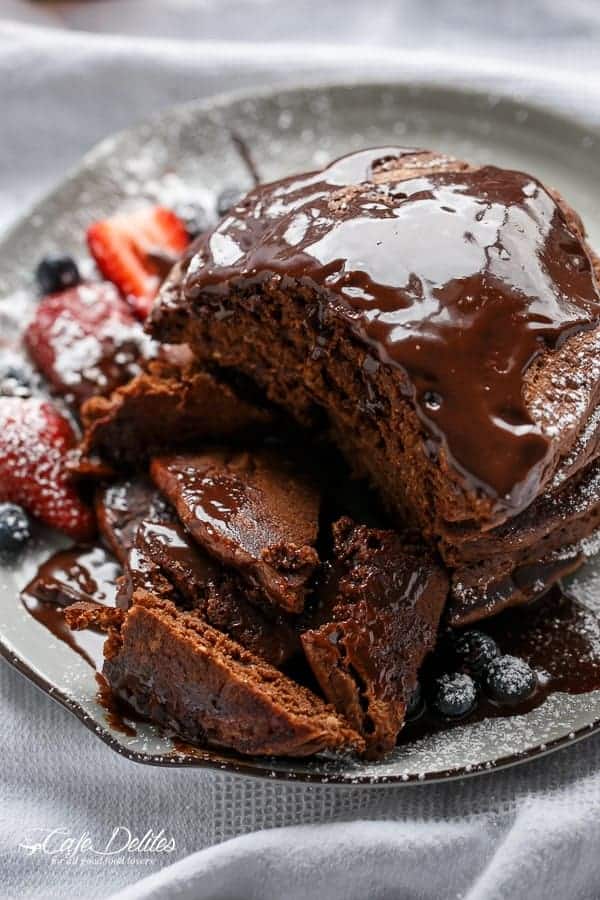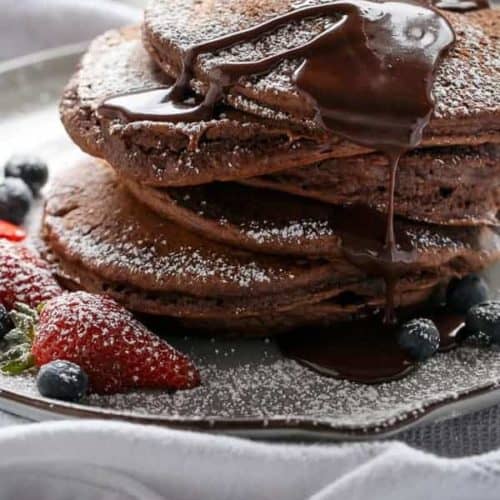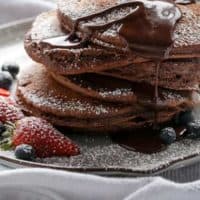 Double Chocolate Brownie Pancakes
Super fluffy chocolate brownie cake for breakfast without a baking time that you can eat while you fry! Drizzled with a chocolate sauce/ganache! Who's coming for breakfast?
Weight Watchers:
Pancakes: 3pp per pancake (or 7pp for two pancakes)
Ganache: 3pp per serve
PRINT
SAVE
go to your favorites
Ingredients
1

cup

self raising flour

(or plain/all purpose or spelt flour/s are fine)

1/2

cup

wholemeal | whole wheat flour

1/2

cup

unsweetened cocoa powder

3

tablespoons

cup raw sugar

(or your natural sweetener of choice)

1

teaspoon

baking powder

(2 teaspoons if using plain/all purpose flour/s)

(1/2 teaspoon baking soda if using plain/all purpose flour/s)

Pinch of salt

4

tablespoons

light butter

, melted (or oil of choice)

2

teaspoons

pure vanilla extract

1 1/2

cups

low fat/skim milk

(or almond milk)

1/4

cup

dark or milk chocolate chips
Chocolate Ganache:
1/2

cup

chocolate chips of choice

(I used dark chocolate)

3

tablespoons

low fat/skim milk

(or almond milk)
Instructions
Pancakes:
Combine the flour, cocoa powder, sugar (or sweetener), baking powder (and baking soda if using) and salt together in a mixing bowl. Pour in the butter (or oil), vanilla and milk. Whisk until combined. Fold through chocolate chips.

Heat a nonstick pan over low-medium heat with cooking oil spray. Pour 1/4 cup of batter per pancake into the pan and cook until the surface starts to bubble and the bottom is set. Flip and cook until done. Repeat with remaining batter.
Ganache:
Melt the chocolate in a microwave or over stove top (use your preferred method). Stir with a fork until lump free and evenly melted. Add the milk and whisk until smooth, combined and a creamy sauce has formed.

To serve, dust with a little icing or confectioners sugar, and drizzle with the chocolate ganache.
Notes
Nutrition for Ganache:
61 Calories | 3.8g Fat | 7.1g Carbs | 0.6g Protein
Nutrition
Calories:
124
kcal
|
Carbohydrates:
18
g
|
Protein:
3.8
g
|
Fat:
4.6
g
|
Fiber:
1.5
g