Jam (Jelly) Donut Pancakes
Ever have a crazy hard-core Jam (Jelly) Donut craving that you just need a hit of Donut on your tongue? If not…then this would be an awkward moment. If you answered yes, however, then we can be friends. (Wait. Donut? Or Doughnut? Don't judge me)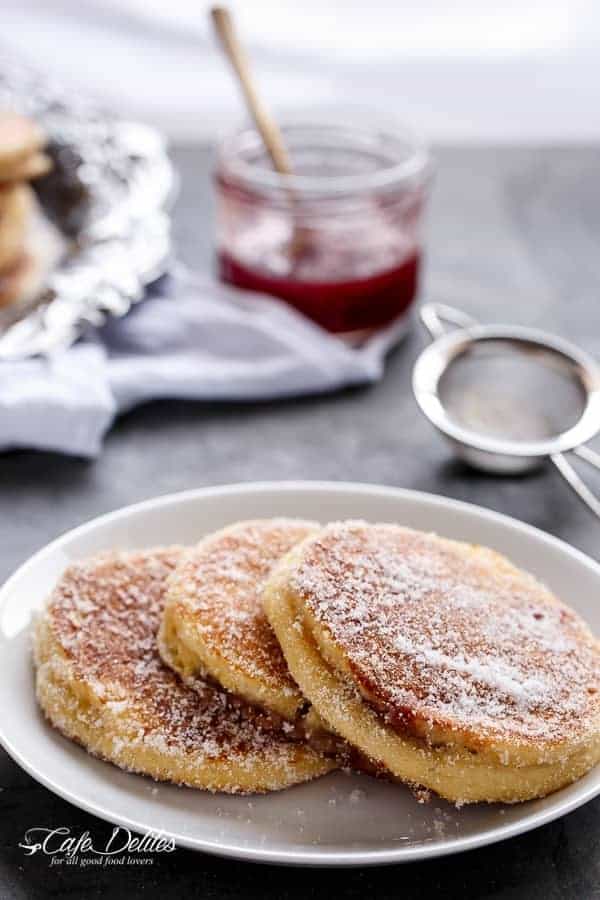 The only problem with donuts is all the effort that goes into making donuts. I mean, steaming; yeasting; chilling; waiting; frying; 36 degree body burns from oil spitting; not usually an issue making them in normal people hours…..but it does present a 'sort of issue' first thing in the morning when donuts are normally frowned upon at breakfast time.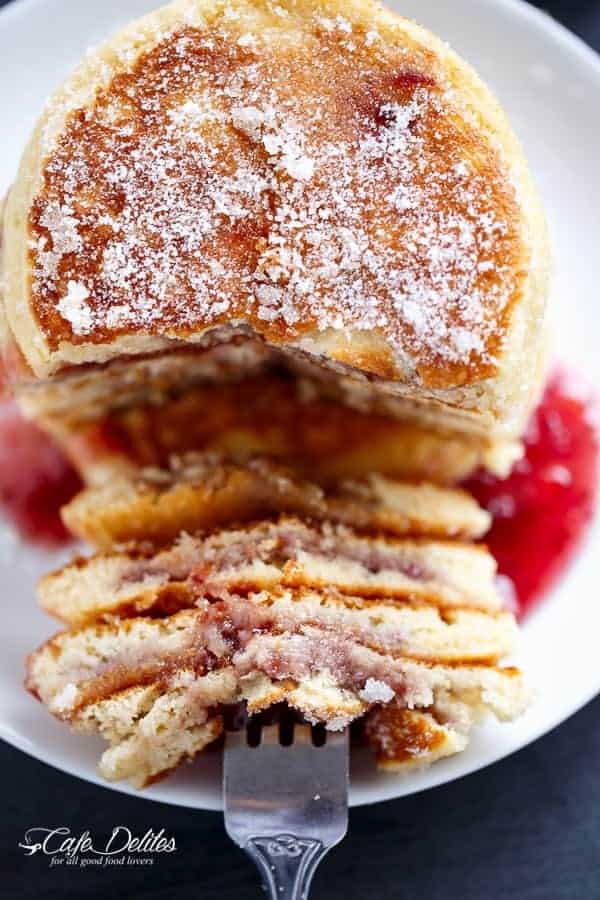 Don't get me wrong. Donuts are welcome anytime in my casa. Just to — you know, clear the air….and:
1. Get you guys on the same page.
2. Keep it real.
3. Clear my throat. Ahem.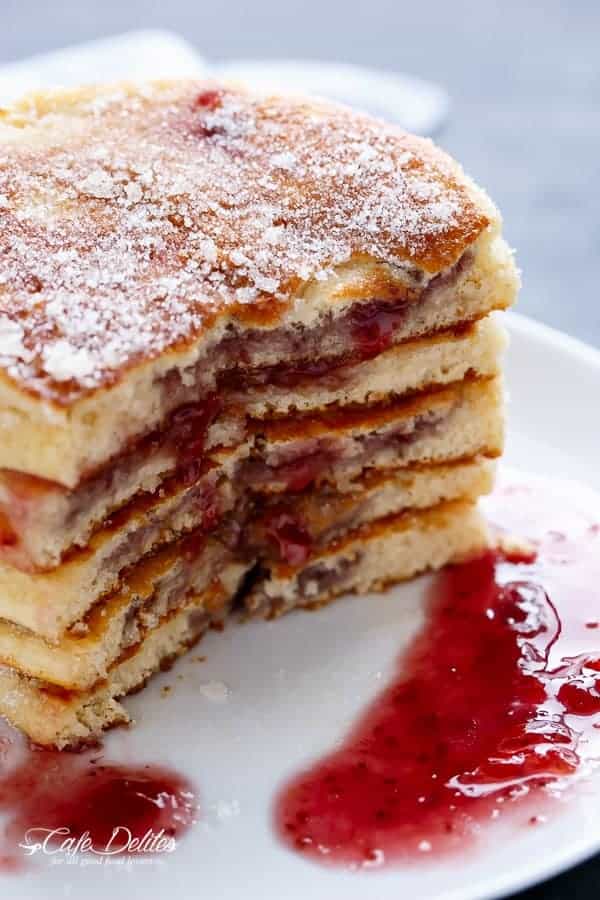 The thing is….these donut pancakes hit every craving possible. Fluffy donuts filled with whatever flavour Jam (or Jelly for my American amigos) your heart desires. Blueberry…Fig…Strawberry…Blackberry. Or even take a hint form the Nutella Stuffed Cinnamon Sugar Donut Pancakes from a while back. The possibilities? Endless. The end result? Priceless.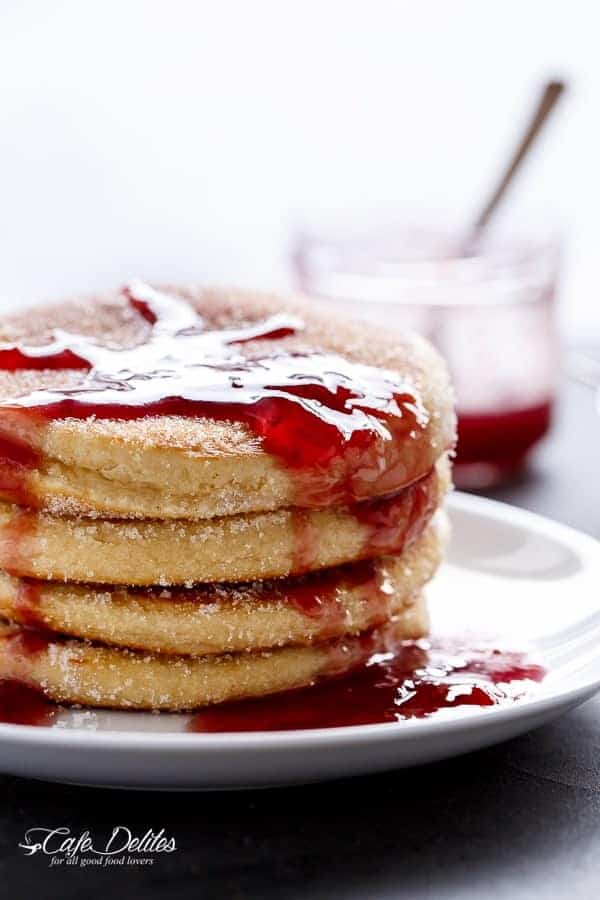 The difference with these? I changed the batter to make them even more Donut-ty than the previous ones. And then of course dusting them (ok…so coating them like a mad-woman) in caster sugar (or powdered sugar), instead of Cinnamon Sugar.
But when coating them…be gentle. because I may have got a little too over excited and jam burst out every where. Which I didn't mind licking-up-off-the-bench. I meant cleaning. Cleaning…is what I meant.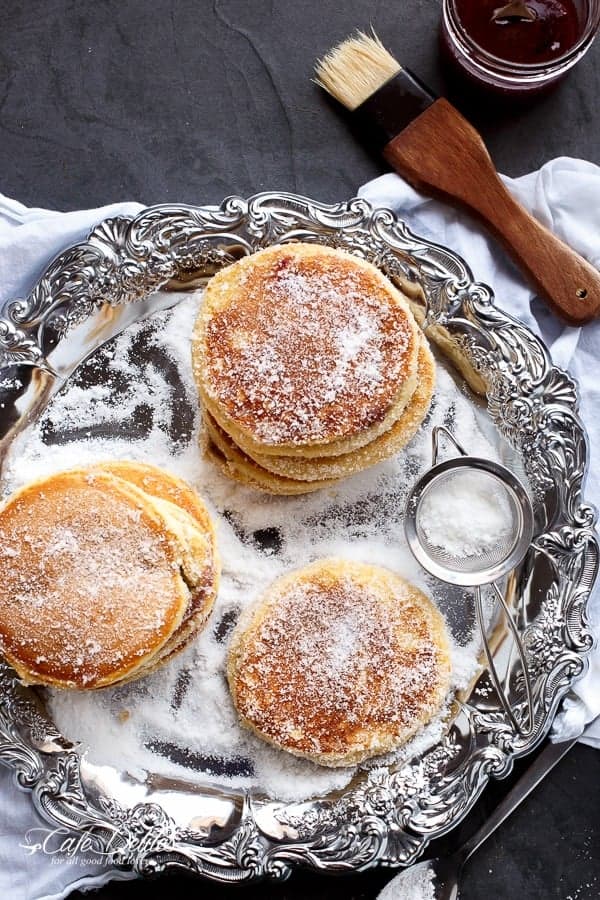 If I'm going to continue keeping it real….well…. these fulfilled every part of my soul.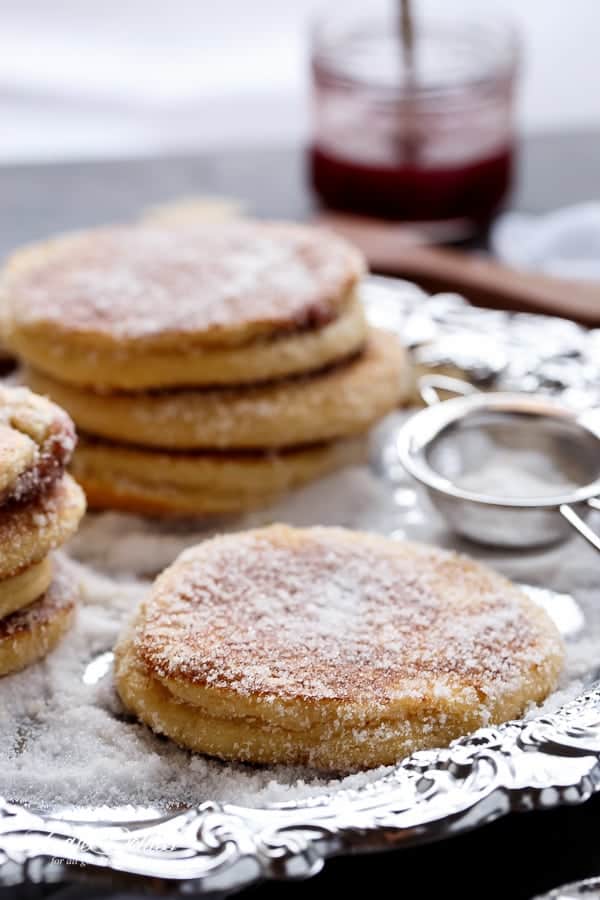 So much so that I played around with a little extra jam; turned it into syrup; and drizzled it all over my pancakes. Because why not?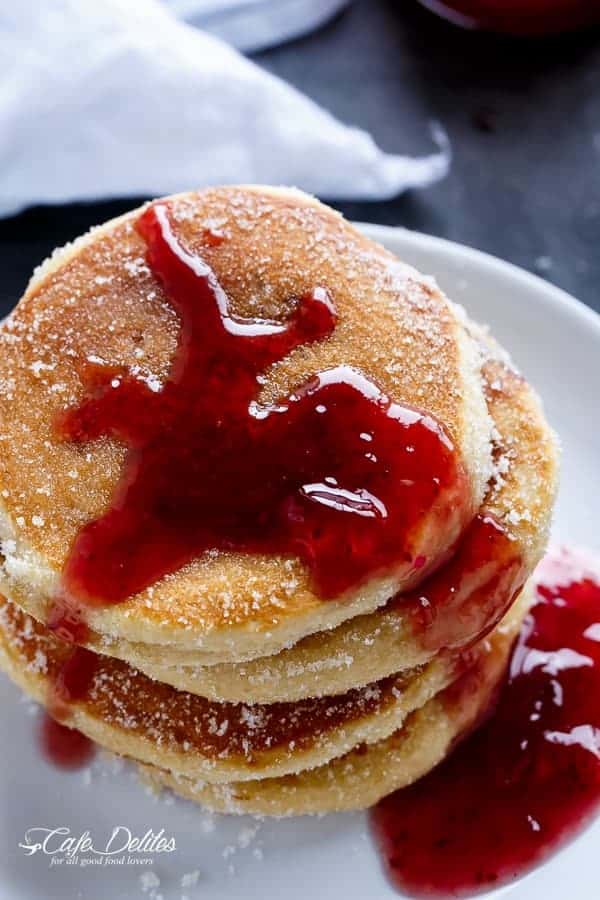 And then…..slicing them all open I was hoping for jam berry ooze. And did I get it. It's just donut heaven. In a pancake. First thing in the morning. We can totally high five right about now.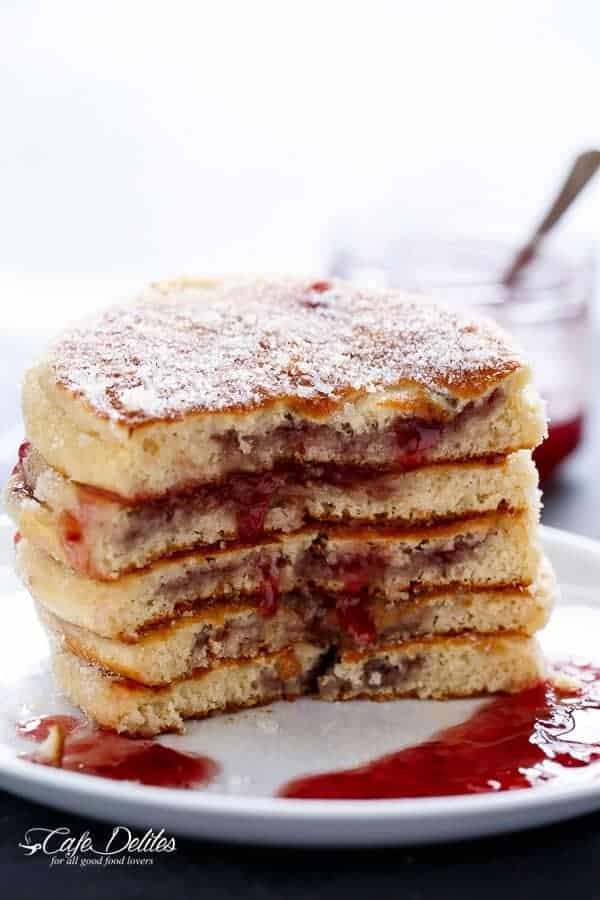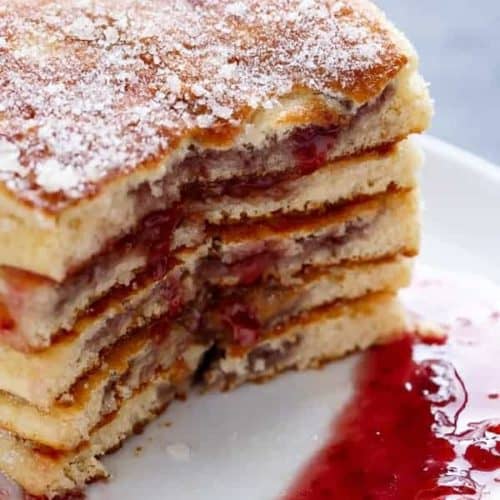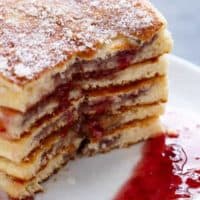 Jam(Jelly) Donut Pancakes
Jam filled Donut Pancakes are the ultimate donuts allowed at breakfast!
Weight Watchers: 3pp per pancake!
PRINT
SAVE
go to your favorites
Ingredients
Pancakes:
1

cup

flour

(plain, all purpose or light spelt flour/s)

1

tablespoon

baking powder

(yes, that much! Helps them rise like donuts!)

1/4

teaspoon

salt

2

tablespoons

light butter of choice

, melted and cooled slightly (or coconut oil)

1

egg

1

tablespoon

vanilla extract

3/4

cup

+ 2 tablespoons low fat/skim milk or almond milk

10

teaspoons

Jam of choice

(I used Raspberry)

1/4

cup

caster sugar
Jam Syrup:
4

tablespoons

Jam

3

tablespoons

boiled water
Instructions
Combine together flour, baking powder and salt in a large-sized bowl. Make a well in the centre and add the melted butter/oil, egg, vanilla and milk. Slowly whisk well until smooth. Set aside.

Heat a

nontick pan or griddle

over low-medium heat and wipe over with a little butter or oil on a paper towel to lightly grease pan. Pour less than ¼ cup of batter onto the pan and spread out gently with the back of your spoon/ladle into a round shape. Spoon 1 teaspoon of Jam onto the centre of the batter and then gently pour a little pancake batter evenly over the top to cover the jam completely. (You can gently seal it with the back of your spoon to ensure no jam touches the pan, or your jam can burn or stick).

When the underside is golden, gently flip with a spatula and cook until golden. Repeat with remaining batter and jam.

Prepare a wide shallow dish with the sugar and immediately place each pancake onto the sugar while they're still warm. Evenly coat both sides and place onto a serving dish. (Optional: Melt 1 tablespoon butter to brush onto the pancakes before coating in the sugar to help the sugar stick better).
Make the Jam Syrup;
Combine the jam and water in a serving jug, and whisk until a syrup forms.
To serve:
Drizzle the jam syrup over the top to serve!
Nutrition
Calories:
98.7
kcal
|
Carbohydrates:
18.2
g
|
Protein:
3.3
g
|
Fat:
2.3
g
|
Fiber:
0.4
g