Buttermilk Pancakes are deliciously buttery and fluffy with golden, crisp edges and an irresistible buttermilk flavour.
With some tips and tricks to help you get a steaming stack of incredible tasting pancakes, you can now quench your pancake craving whenever it hits with Buttermilk Pancakes. Light, soft and fluffy with the perfect balance of sweet, salty and tang; you may not even want them smothered in syrup! Wait….

BUTTERMILK PANCAKES
After publishing our family pancake recipe, many readers have asked time and time again: Can I add buttermilk to these? Will they still turn out thick and fluffy? With some slight adjustments, I'm sharing with you all how to make the most perfect buttermilk pancakes!
There's no need to rely on pancake mix when whipping up a special weekend breakfast. And there's no need to go anywhere when you can have pancakes on the table in no time at all. Once you master these, you'll be making buttermilk pancakes all the time!
CAN YOU USE BUTTERMILK INSTEAD OF MILK FOR PANCAKES?
Not only does buttermilk provide a tangy flavour in pancakes, it helps activate the baking soda and/or baking powder in the batter, making it light and fluffy even before it hits the heat of your pan!
The acid in buttermilk that helps break down gluten, developing soft, moist and tender Buttermilk Pancakes.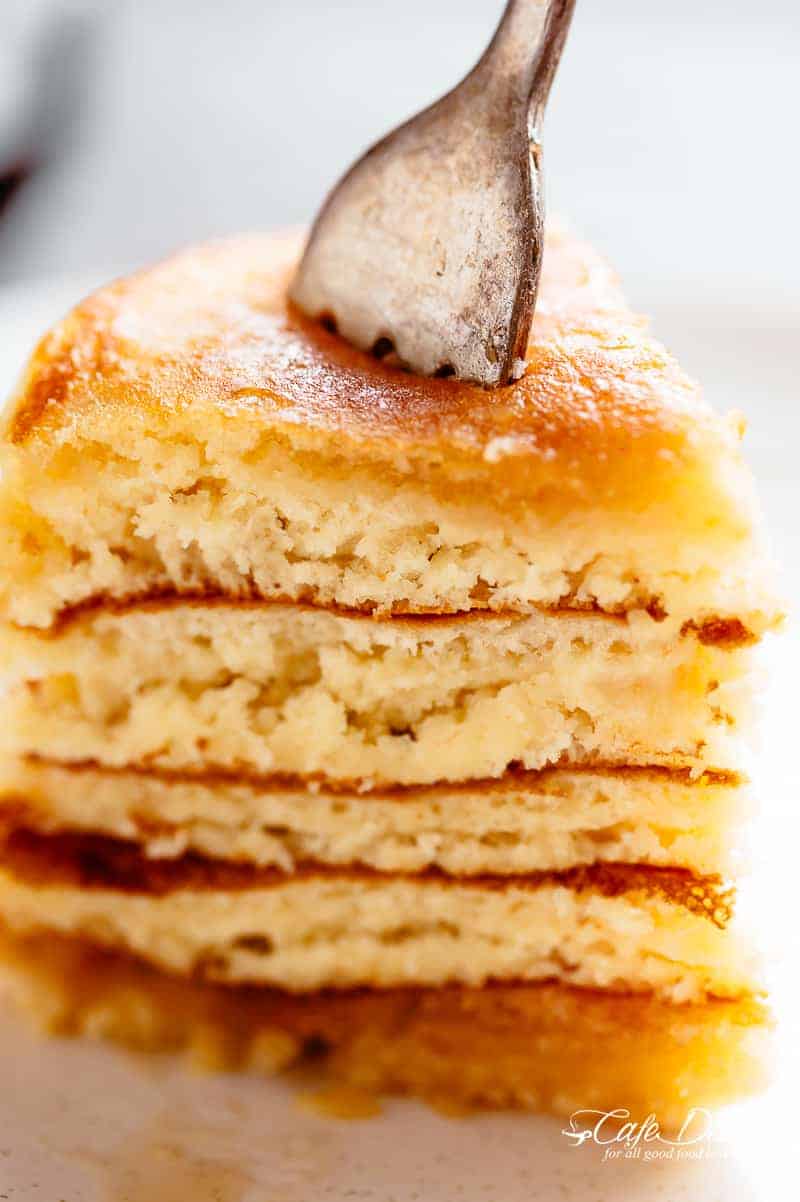 PERECT BUTTERMILK PANCAKE BATTER
It all starts with your batter: Too thick and they will be gluggy and undercooked on the inside. Too runny, and your buttermilk pancakes will spread out and won't fluff up. I like to test the batter with my spoon or ladle, lifting it gently above the rim of the bowl. It has to be thick BUT able to run slowly and nicely off of the spoon.
The less the you mix the batter, the thicker and fluffier they will be. A couple of lumps is okay! They will usually dissolve when you give your batter some time to rest.
See below? No lumps!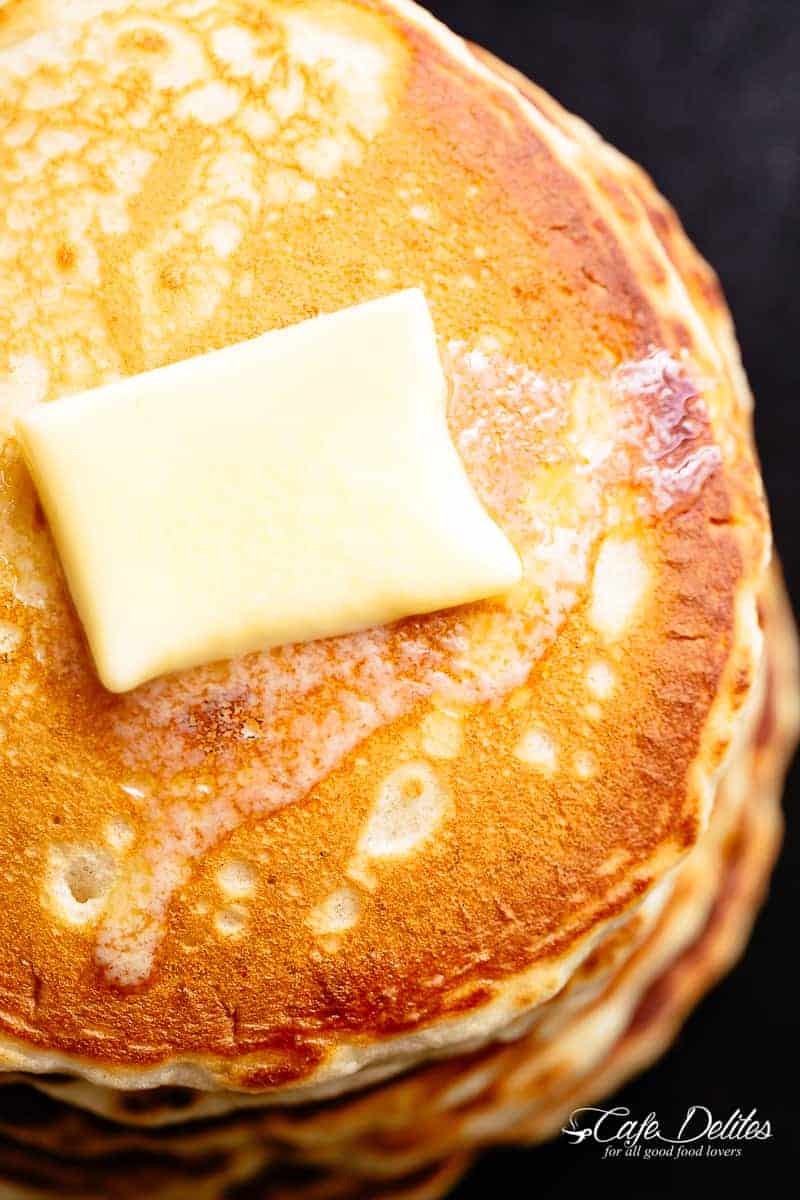 DOES PANCAKE BATTER NEET TO REST?
For the perfect fluffy stack…yes. Do you ever find the when you start frying up pancakes straight after mixing the batter, the first couple of pancakes come out thin or flat. But as you make more, they start to fatten up? That happens because you're allowing the batter to rest while cooking up your first lot pancakes without even realising. Insert wink.
Letting the batter rest for about 10 minutes while you heat up your griddle or skillet allows the butter to set and the ingredients to marry into each other. The butter creates steam when they hit the heat which evaporates and creates air (which you'll notice as bubbles) = perfect buttermilk pancakes.
HOW DO YOU MAKE FLUFFY BUTTERMILK PANCAKES?
Preheat your good quality, non stick pan or griddle on medium heat first. Once it's hot, lower the heat down to low-medium heat. Wait about two minutes. This part is crucial and worth it. Lightly grease the pan with a small amount of butter (yes, even on non stick pans), and wipe away any excess butter with a sheet of paper towel.
Use a 1/3 cup measuring cup to pour your batter so you get perfect, evenly sized pancakes. Start pouring from the middle, then continue pouring slowly in a circular motion so that the batter spreads into perfect round shapes.
Allow your buttermilk pancakes to cook properly! Don't rush them on high heat, or flip them too early. Let that under-side cook to a beautiful golden brown colour, and when bubbles start forming on top and around the surface (batter side), they are ready to flip.
How to get that flip perfected without creating lopsided pancakes? Grab a good, plastic spatula and slide it underneath the pancake. Use your WRIST to gently flip them instead of using your whole arm. You'll know what I mean when you're in front of your pan ready to flip. THIS makes a HUGE difference.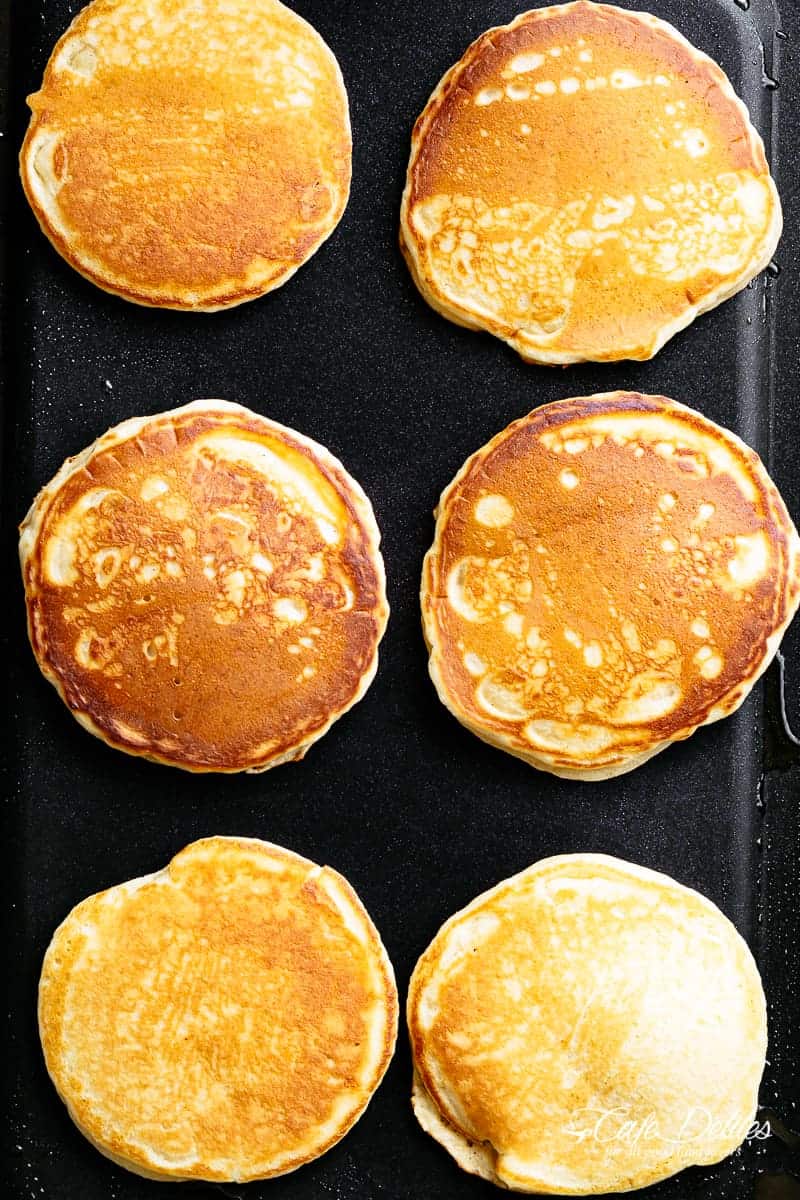 WHAT CAN I USE INSTEAD OF BUTTERMILK?
If you don't like buttermilk, you can always use regular milk, like we did in this recipe here.
HOW TO MAKE YOUR OWN BUTTERMILK
If you don't have buttermilk on hand, you can make your own. All you need for 2 cups of buttermilk is 2 cups regular milk mixed with 1 1/2 tablespoons of white vinegar or lemon juice. Let it sit out at room temperature for about ten minutes, usually while you're getting all of your ingredients together.
This homemade mixture may not get as creamy as store bought buttermilk, but it will do what it's meant to do in the batter.
Buttermilk pancakes hitting your kitchen soon…I HOPE!
LOOKING FOR MORE PANCAKE RECIPES? TRY THESE!
Easy 3-Ingredient Pancakes
Zebra Marble Pancakes
Jam (Jelly) Donut Pancakes
Chocolate Chip Banana Bread Pancakes
Cappuccino Pancakes
Orange Poppy Seed Pancakes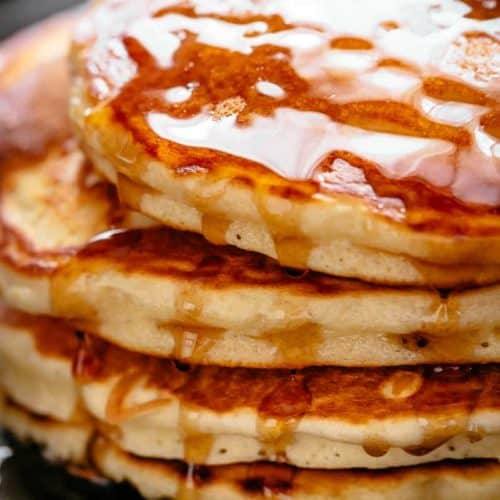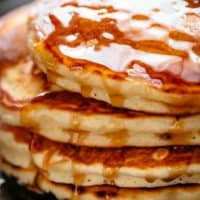 Buttermilk Pancakes
Buttermilk Pancakes are deliciously buttery and fluffy with golden, crisp edges! With some tips and tricks to help you get a steaming stack of incredible tasting pancakes, you can now quench your pancake craving whenever it hits. Weekends will never be the same again!
PRINT
SAVE
go to your favorites
Ingredients
2

cups

all purpose

(or plain flour)

1/2

cup

granulated sugar

2

teaspoons

baking powder

1

teaspoon

baking soda

1/2

teaspoon

salt

1 1/2

cups

buttermilk

(plus up to 1/4 cup extra if needed)

1/3

cup

unsalted butter,

melted

2

teaspoons

pure vanilla extract

2

large

eggs
Instructions
Combine together the flour, sugar (or sweetener), baking powder, baking soda and salt in a large-sized bowl. Make a well in the centre and add the buttermilk, slightly cooled melted butter, vanilla and egg.

Use a wire whisk to whisk the wet ingredients together first before slowly folding them into the dry ingredients. Mix together until smooth (there may be a couple of lumps but that's okay).

(The batter will be thick and creamy in consistency. If you find the batter too thick -- doesn't pour off the ladle or out of the measuring cup smoothly -- fold a couple tablespoons of extra milk into the batter at a time until reaching desired consistency).

Set the batter aside for a good 10 minutes to let rest and settle the ingredients into each other while heating up your pan or griddle.

Heat a nonstick pan or griddle over low-medium heat and wipe over with a little butter to lightly grease pan. Pour 1/3 cup of batter onto the pan and spread out gently into a round shape with the back of your ladle or measuring cup.

When the underside is golden and bubbles begin to appear on the surface, flip with a spatula and cook until golden. Repeat with remaining batter.

Serve with honey, maple syrup, fruit, ice cream or frozen yoghurt, or enjoy plain!
Notes
Nutritional Information has been calculated per pancake.
Nutrition
Calories:
186
kcal
|
Carbohydrates:
26
g
|
Protein:
4
g
|
Fat:
7
g
|
Saturated Fat:
4
g
|
Cholesterol:
47
mg
|
Sodium:
233
mg
|
Potassium:
141
mg
|
Sugar:
9
g
|
Vitamin A:
250
IU
|
Calcium:
73
mg
|
Iron:
1.2
mg