These Easy 3-Ingredient Pancakes is our ritual weekend pancake recipe. Fluffy and super soft with the added bonus of no oil or butter!
There are so many ways to convert these 3-ingredient pancakes with whatever you like! With this pancake base, you can't go wrong…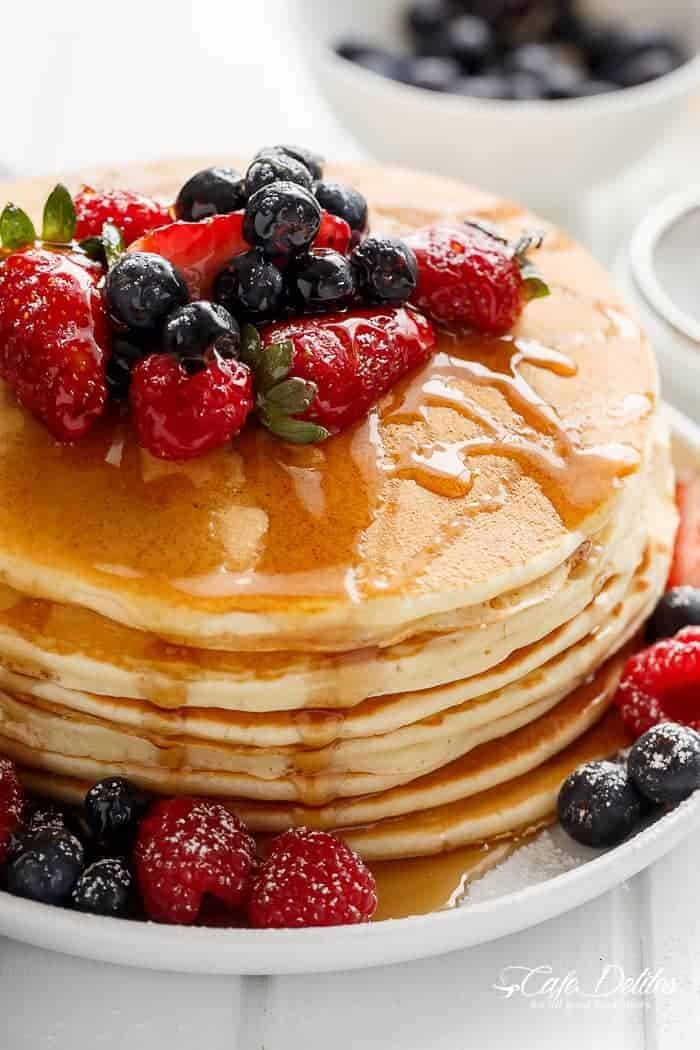 With so many pancake recipes on-line, most of them consist of over 8 ingredients and 82 steps, there's no need. Especially when you're in a rush to feed a mad crowd of people — teenagers or any child under 12 included. They don't care about vanilla extract or buttermilk or chilling batters or whatever. They just want pancakes….YESTERDAY.
Being school holidays right now, these are my go-to pancakes for my kids. They're ready, steaming hot on the table before my kids are.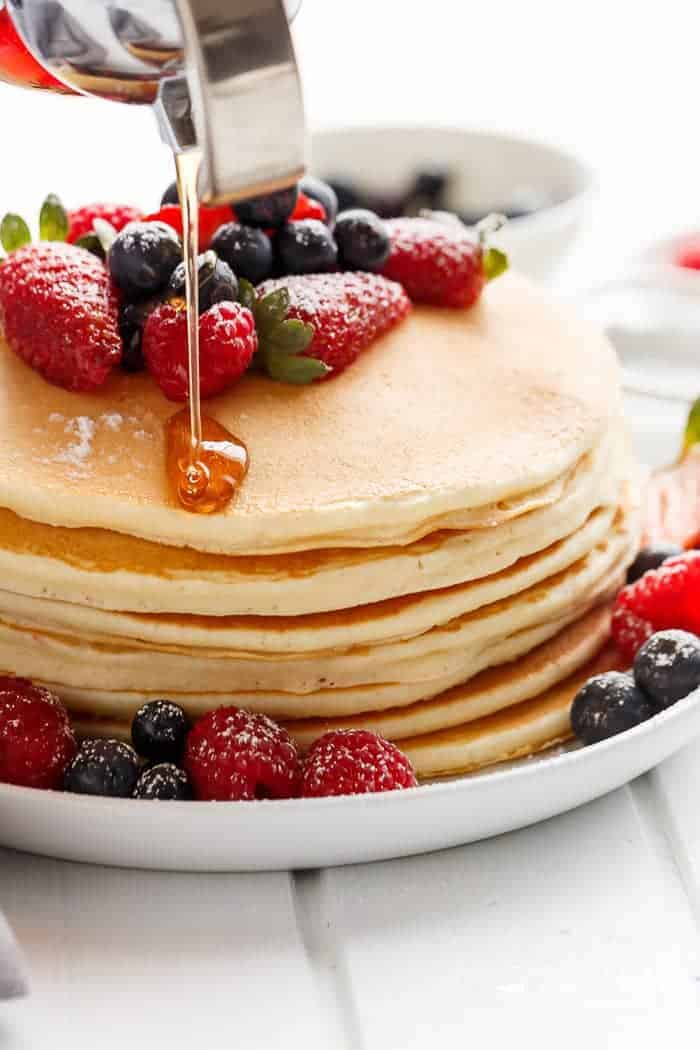 No complicated steps. No beaters. No separating eggs and beating egg whites for fluffier pancakes. No sifting flour with a cloud of flour dust flying all over your bench tops. Just one bowl. One spoon. And about 2 minutes mixing 3-ingredients together.
Pour in your favourite add-ins just before frying…and good morning to you.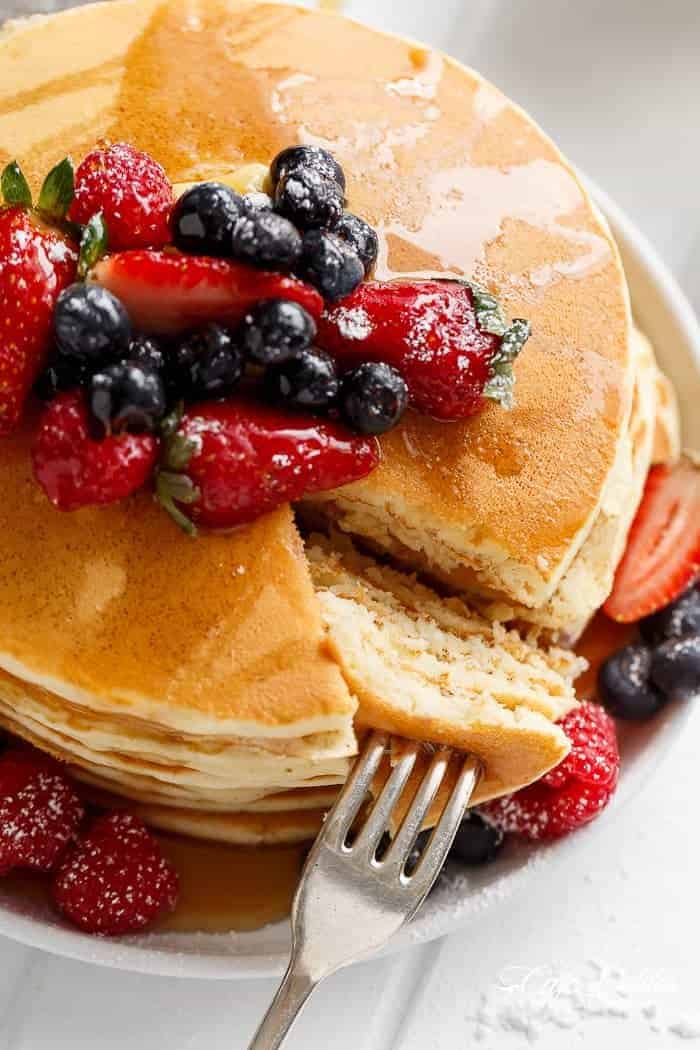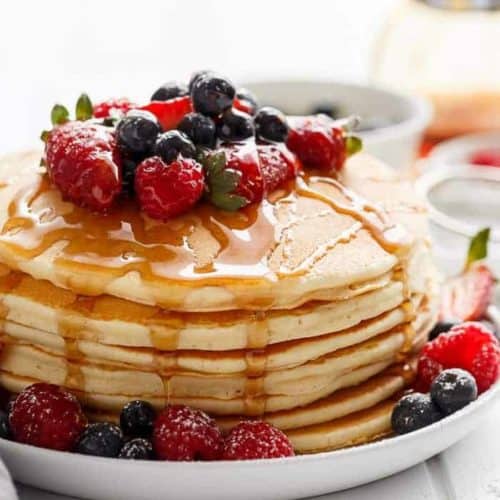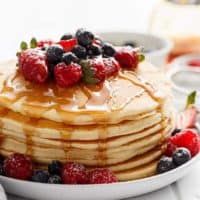 Ingredients
Pancakes:
2

large eggs

2

cups

250ml milk

(skim, low fat or full fat)

2 1/4

cups

white self raising flour*
Instructions
Whisk the eggs and milk together to combine. Add in the flour, and beat until the batter is smooth and lump free. Add in any option add-ins you like here.

Heat a nonstick pan over low-medium heat with cooking oil spray. Wipe over excess; pour about 1/3 cup of batter per pancake. Cook pancakes for 1 to 2 minutes, or until bubbles appear on the surface and the bases are golden brown. Flip and cook until golden; transfer to a warmed plate; repeat with remaining batter (spraying/greasing pan between ever second or third pancake if needed).

Serve immediately with yoghurt, ice cream, whipped cream, maple syrup, berries, or any other toppings you like.
Notes
Optional Add-ins:
*2-4 teaspoons sugar
*2 teaspoons baking powder (for extra fluffiness)
*1 teaspoon pure vanilla extract
*Pinch of salt
*1/3 cup chocolate chips
*1/2 cup blueberries or raspberries
*Substitute with plain or all purpose flour if you don't have self raising. Add 1 tablespoon of baking powder when adding the four and whisk until smooth. You can also use whole wheat or wholemeal flour.