Honey Mustard Chicken, Avocado + Bacon Salad, with a crazy good 5 ingredient dressing that doubles as a marinade!
Refreshing, sweet and savoury all at the same time?! I love it and I know for a fact that you would too! Honey Mustard Chicken, Avocado + Bacon Salad… Such amazing combinations in a bowl!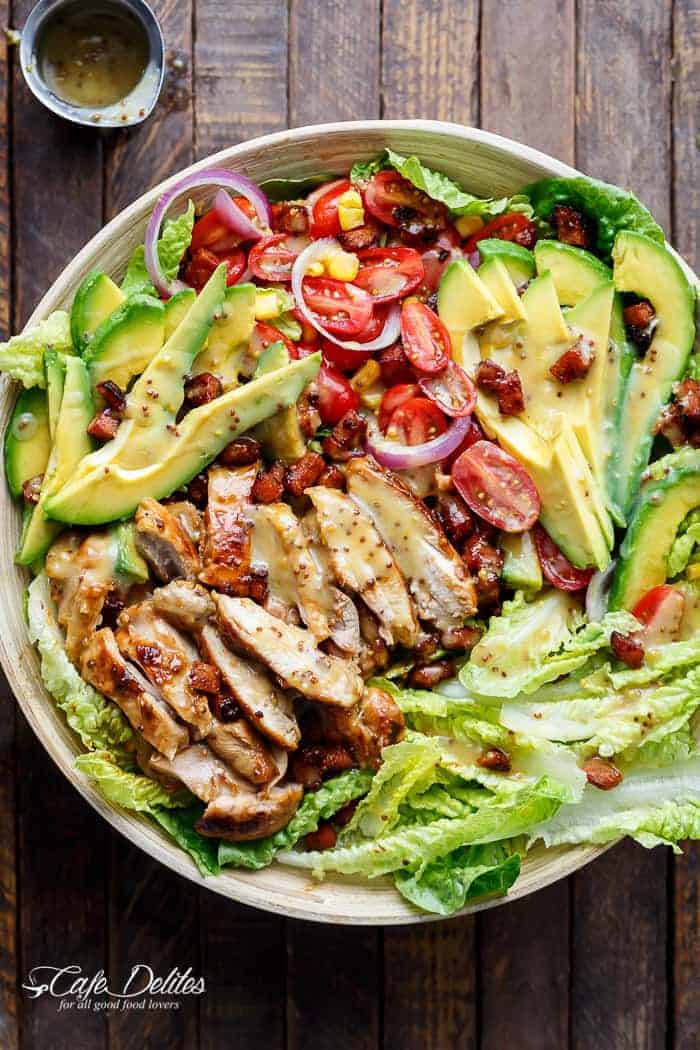 PLUS. A hint of garlic. Crispy bacon…. Creamy avocado slices…. Tomatoes…. Slices of red onion. This is THE ultimate in salads. Because BACON and CHICKEN and AVOCADO in the SAME SENTENCE as HONEY MUSTARD. YES.
Being a number one fan of honey mustard everything, I gave up enjoying honey mustard dressing on salads because of all of the mayo and calories normally sneaking their way into them. Then, this morning happened. Waking up with the strongest honey mustard craving (weird, right?), I smacked myself upside the head when I remembered, um, HELLO, food blogger, remember? Which means, don't-give-up-anything-just-find-a-way-to-make-it-yourself, type of thing.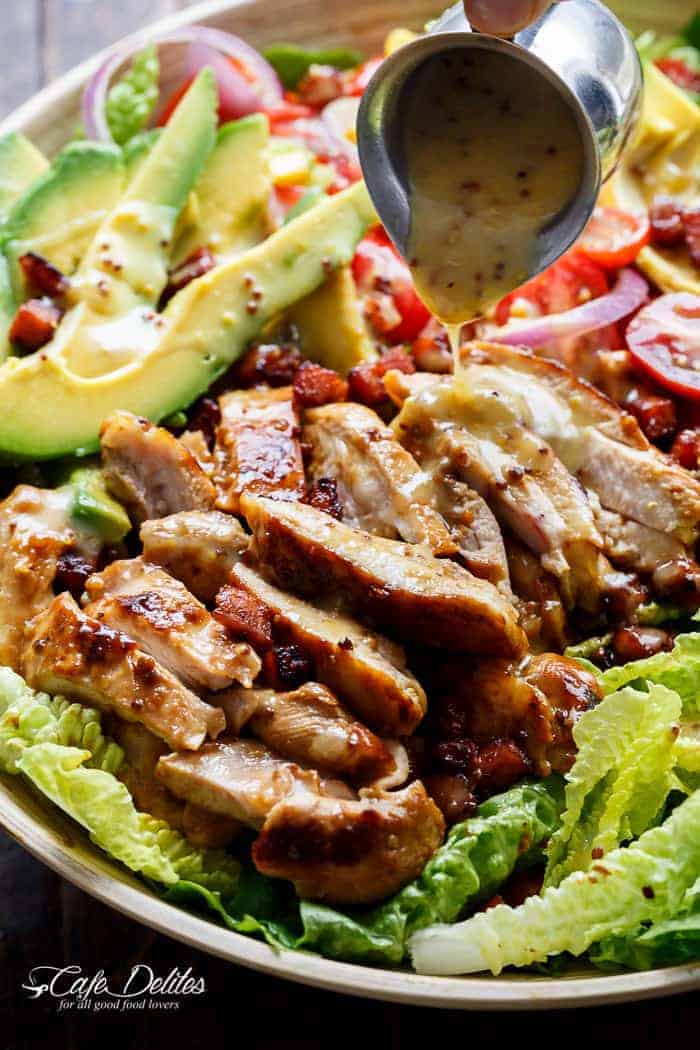 And this dressing? THIS DRESSING. So creamy and sweet and tangy. So bad I made it again and again and again and again. I couldn't believe something so simple could lead to something so sinful — yet, not. In my truest form, I didn't want to taint the marinade with a different tasting dressing, so I left it and may the mustard gods help me.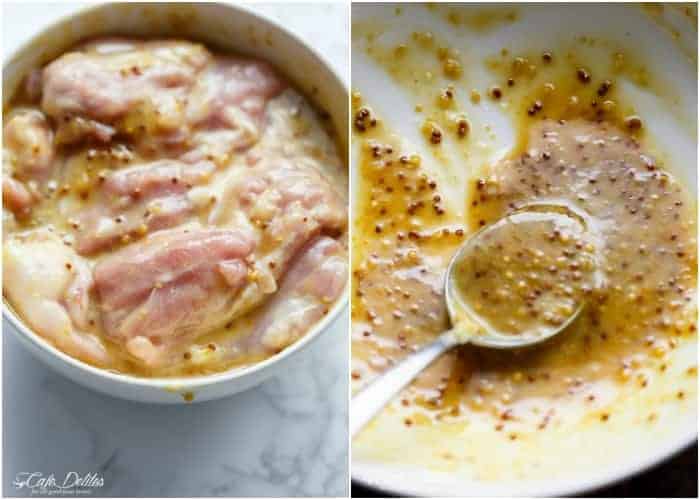 Then….in less than 15 minutes, I was greeted with caramelised, tender honey mustard chicken thighs. In those 15 minutes, I washed and prepped the salad, taking my sweet ass time while smelling these incredible smells coming out of my kitchen, impatiently hopping from one foot to the other, watching this chicken sizzle and the sauce it was smothered in bubbling around it and thickening into a beautiful syrup.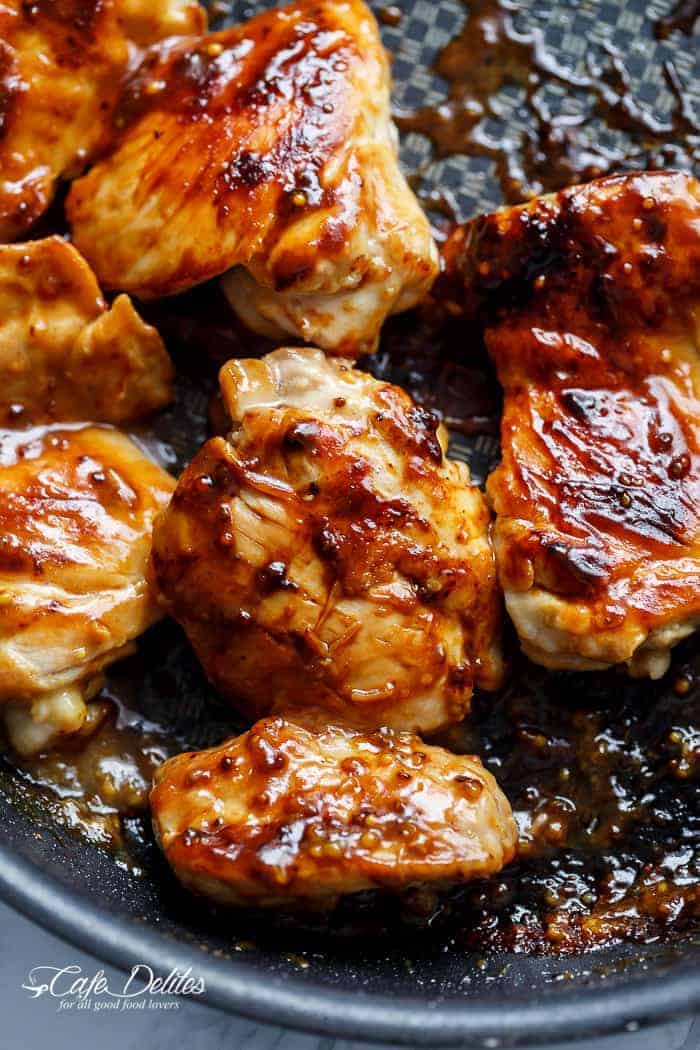 I may have then proceeded to smack myself again, not believing I've denied myself of this for SO LONG you guys. Feel free to virtually slap me.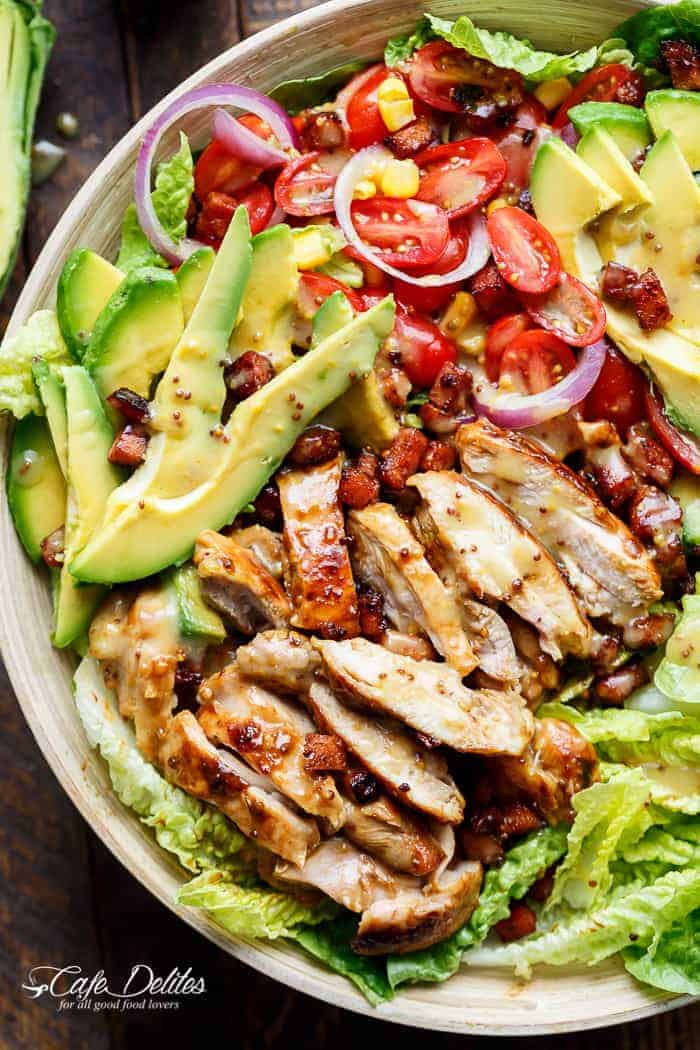 Come to think of it, the Skinny Chicken and Avocado Caesar Salad is pretty much up there with this one.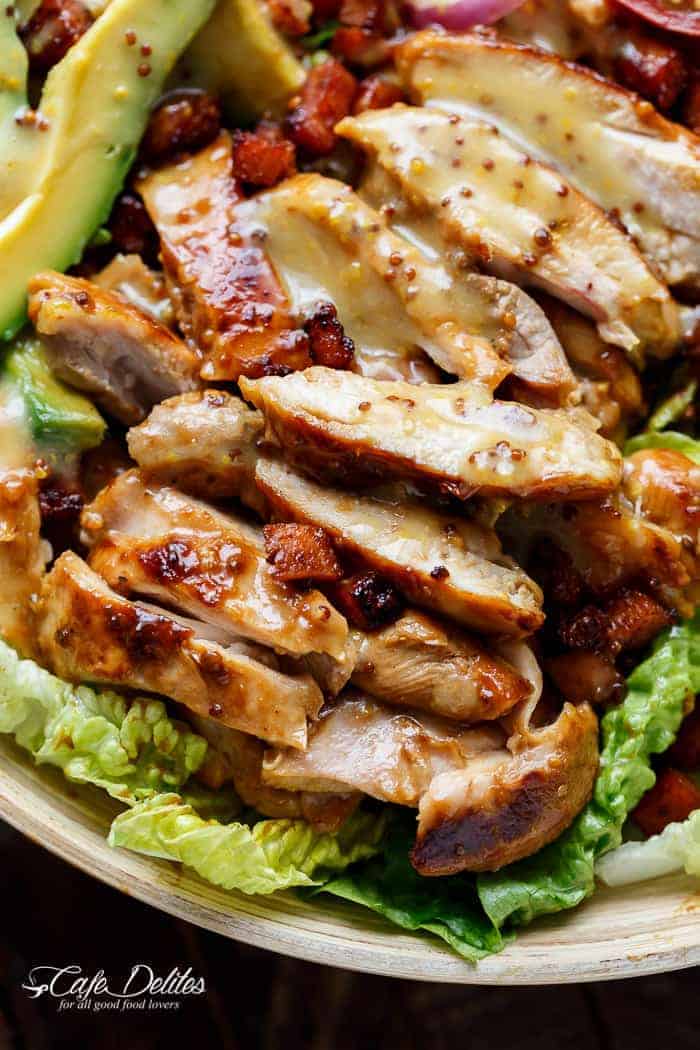 WATCH HOW WE MAKE THIS HONEY MUSTARD CHICKEN, AVOCADO + BACON SALAD RIGHT HERE!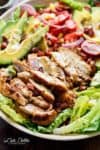 Honey Mustard Chicken Bacon + Avocado Salad
Honey Mustard Chicken, Avocado + Bacon Salad, with a crazy good 5 ingredient Honey Mustard dressing withOUT mayonnaise or yogurt!
ORIGINAL RECIPE BY KARINA, CAFEDELITES ©
Ingredients
Dressing / Marinade:
1/3

cup

honey

3

tablespoons

whole grain mustard

2

tablespoons

smooth and mild Dijon mustard

2

tablespoons

olive oil

1-2

tablespoons

Apple cider vinegar (or white vinegar),

(OPTIONAL -- to cut through the sweetness)

1

teaspoon

minced garlic

Salt to season

4

skinless and boneless chicken thighs or chicken breasts
For Salad:
1/4

cup

diced bacon

, trimmed of rind and fat

4

cups

Romaine lettuce leaves

, washed

1

cup

sliced grape or cherry tomatoes

1

large avocado

, pitted and sliced

1/4

cup

corn kernels

1/4

of a red onion

, sliced
Instructions
Whisk marinade / dressing ingredients together to combine. Pour half the marinade into a shallow dish to marinade the chicken fillets for two hours if time allows. Refrigerate the reserved untouched marinade to use as a dressing.

Heat a nonstick pan (or grill pan or skillet) over medium heat with about a teaspoon of oil and sear / grill chicken fillets on each side until golden, crispy and cooked through. (Grill in batches to prevent excess water being released.) Once chicken is cooked, set aside and allow to rest.

Wipe pan over with paper towel; drizzle with another teaspoon of oil and fry the bacon until crispy.

Slice chicken into strips and prepare salad with leaves, tomatoes, avocado slices, corn, onion strips and chicken.

Whisk 2 tablespoons of water into the remaining untouched marinade / dressing and drizzle over the salad. Sprinkle the bacon over the top and season with a little extra salt and cracked pepper (optional).
Nutrition Facts
Honey Mustard Chicken Bacon + Avocado Salad
Amount Per Serving
Calories 410
Calories from Fat 180
% Daily Value*
Total Fat 20g 31%
Cholesterol 108mg 36%
Sodium 357mg 15%
Potassium 782mg 22%
Total Carbohydrates 34g 11%
Protein 25g 50%
* Percent Daily Values are based on a 2000 calorie diet.
More Salads To Try!
Pesto Grilled Chicken Avocado Salad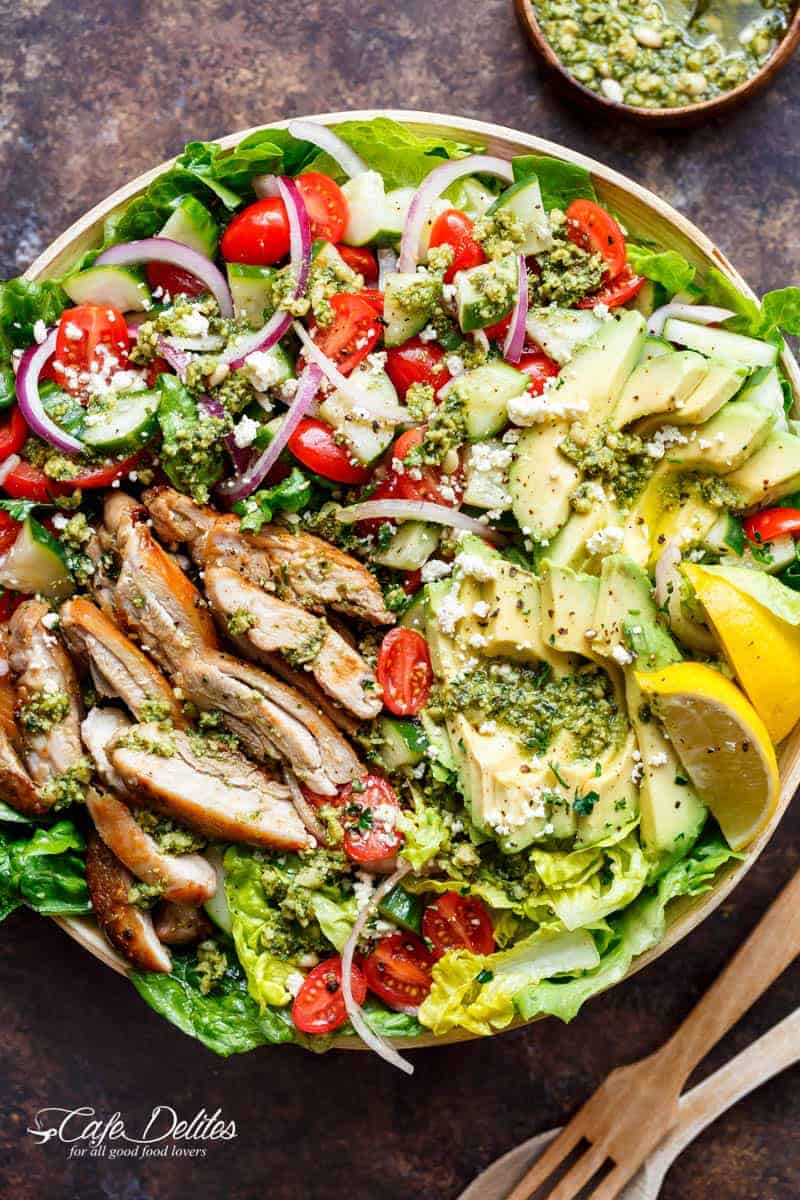 Grilled Chicken Cobb Caesar Salad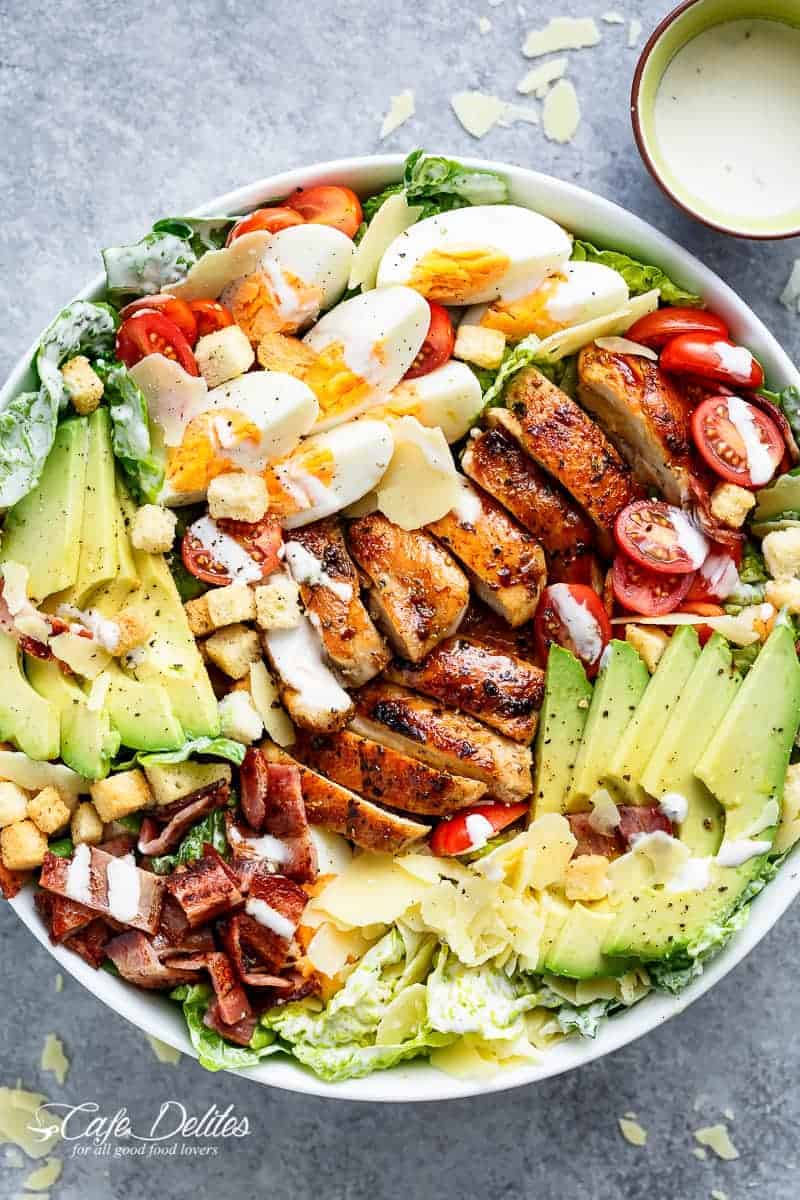 Grilled Chili Lime Chicken Fajita Salad