Churro Ice Cream Bowls (Cups) to feed that inner Churro craving. Crispy on the outside, soft on the inside, and exactly how a Churro should be.
Without deep frying, and still crispy? YES! With a no-fail method before baking, no one can tell the difference between these and store bought. The exception is these may taste better than store bought. The perfect dessert recipe…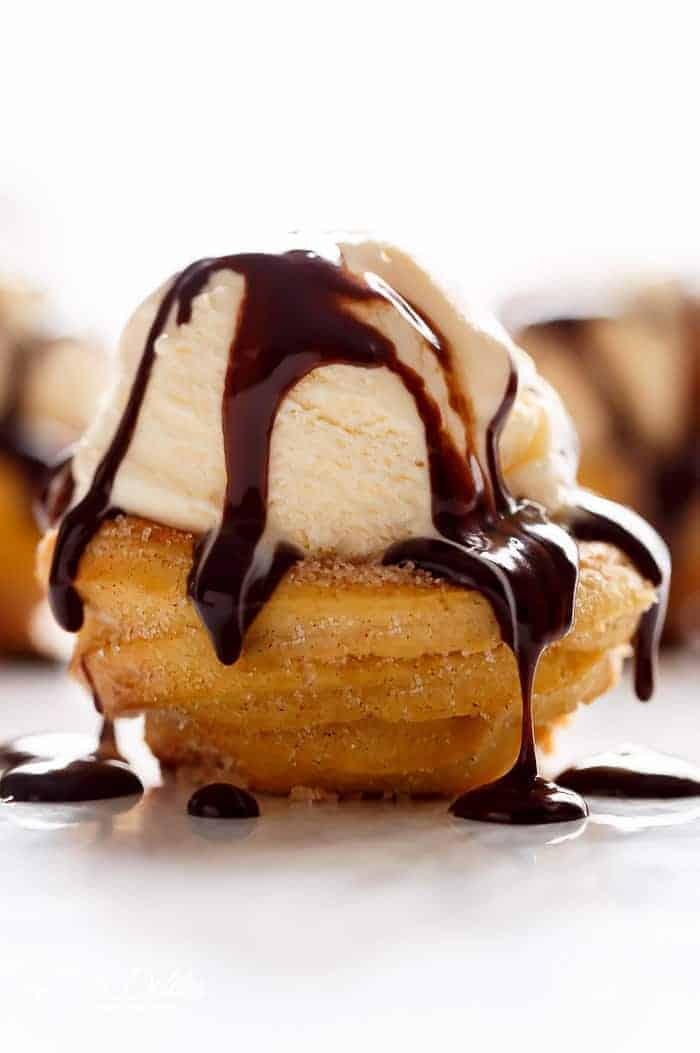 An epic bowl shape for ice cream and…. ice cream. Ahhhh Churros. How I've missed thee.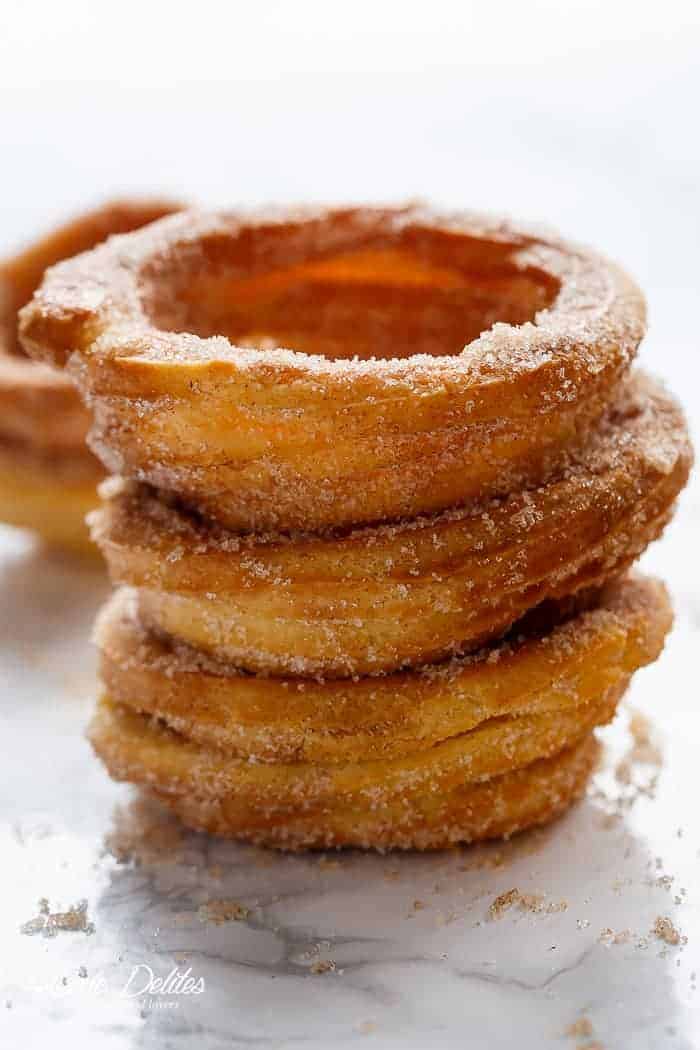 I've made these into a video on my YouTube channel to help you along!
These may look ultra intimidating, but they are actually simple to make with an upside down muffin tin, using the cups to mould your Churro Bowls! I used to let dough intimidate me somewhat. Now? No chance. I'd pretty much do anything for a Churro. Possibly even sell my soul. Churro French Toasts, Churro Ice Cream Sandwiches, Red Velvet Churros, Nutella Churro Donut Holes, Churro Lava Cakes…. I think I may have a problem.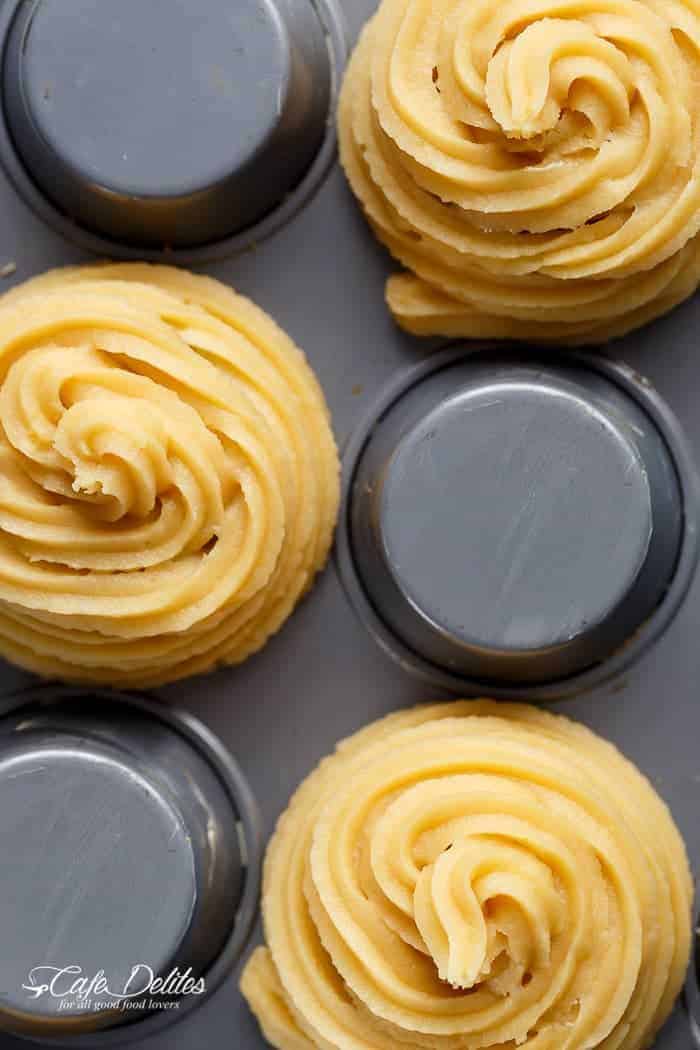 So much of a problem that I've made this recipe with two epic options for you:
1/ Using a standard muffin tin for larger bowls that will fit 2…maybe 3 scoops of ice cream if you're a champion at squashing them in
OR
2/ A MINI bowl using a mini muffing tin, for a snack size ice cream bowl.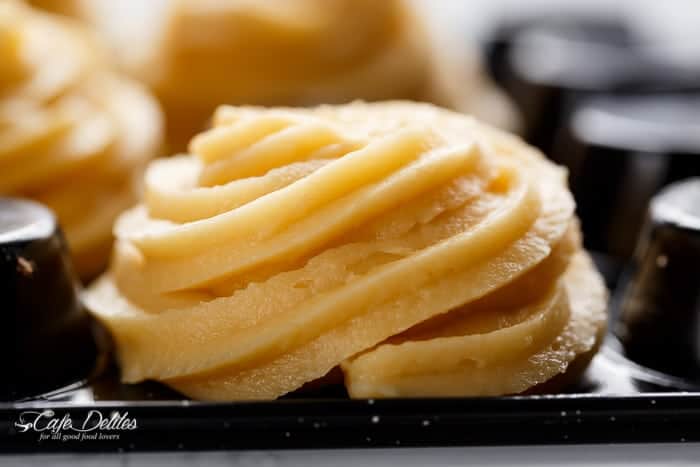 The batter I used is a similar one I've used before with the Red Velvet Churros, and after making those and seeing how easy it is, it's becoming an addiction. Crispy, crunchy Churro Ice Cream Bowls that melt in your mouth, coated in traditional cinnamon sugar, with the taste of an authentic Churro.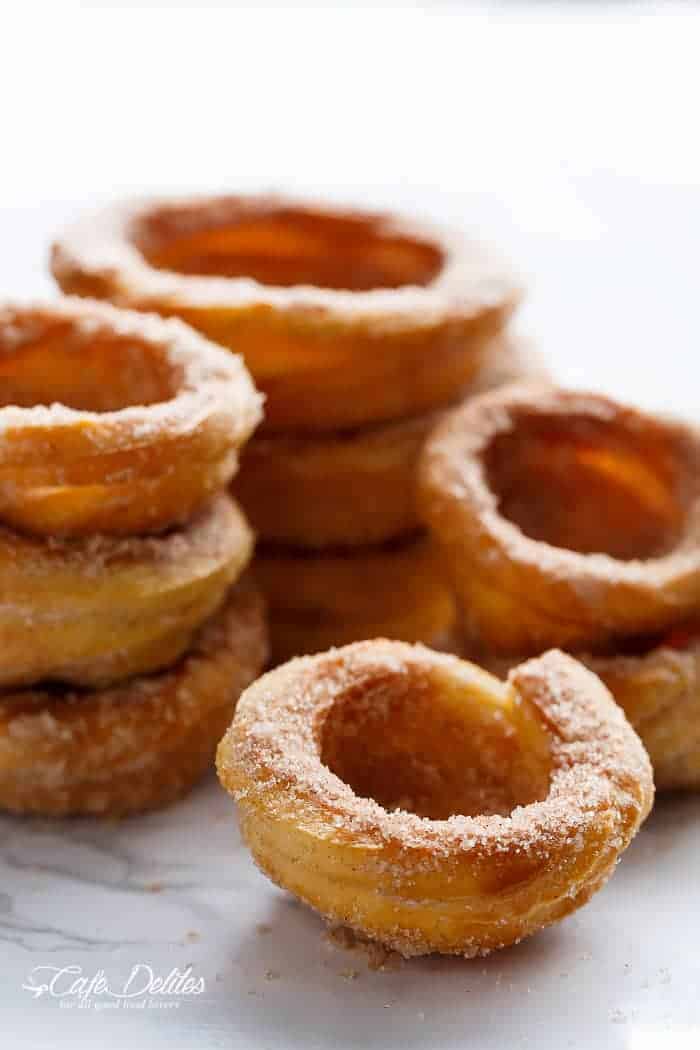 I was so enthralled in creating a video and baking these three times to get the batter perfect (which took allllll dayyyyyy by the way), that I only noticed at 10:30 pm I'd been walking around with dried batter on my head that looked like a dandruff explosion situation. This is after I'd been to the supermarket; picked up my kids form school, and no one thought to tell me I looked like I'd been in my own hunger games. Butter splattered t-shirt. Chocolate fudge smeared on my face. The good thing is I received a free cappuccino passing my favourite cafe. The bad part is I received a free cappuccino from my favourite cafe. I must have had the face of a desperate, poor woman, when really I was just looking for ice cream.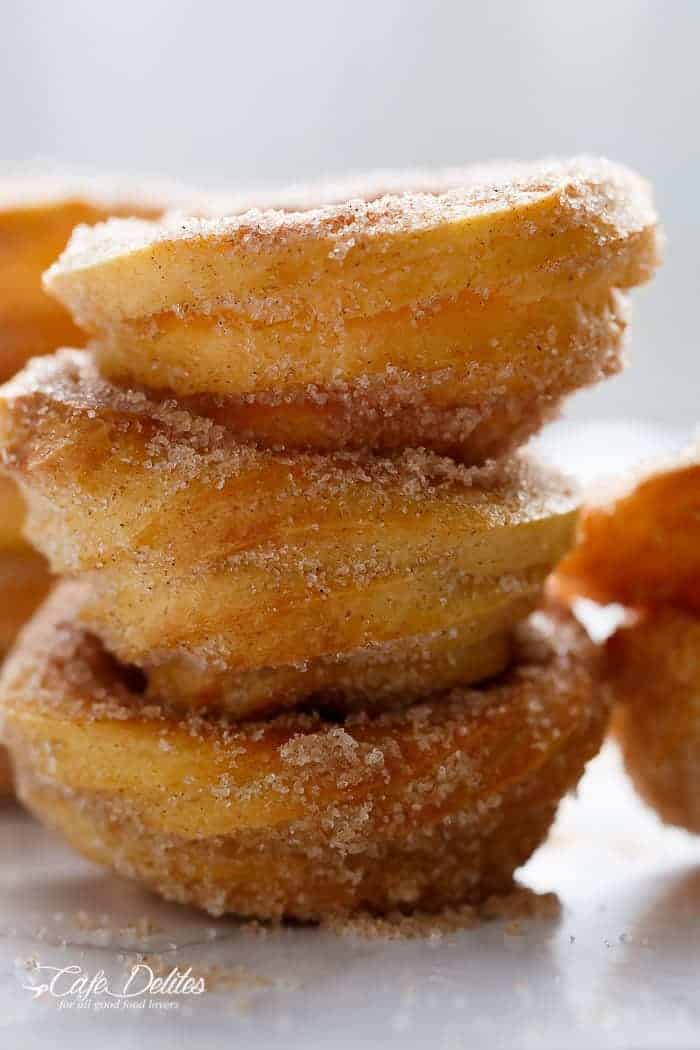 Ice cream. That brings me to my next point. Fill these with ice cream…..
(The mini ones are cute ↓ ↓ ↓)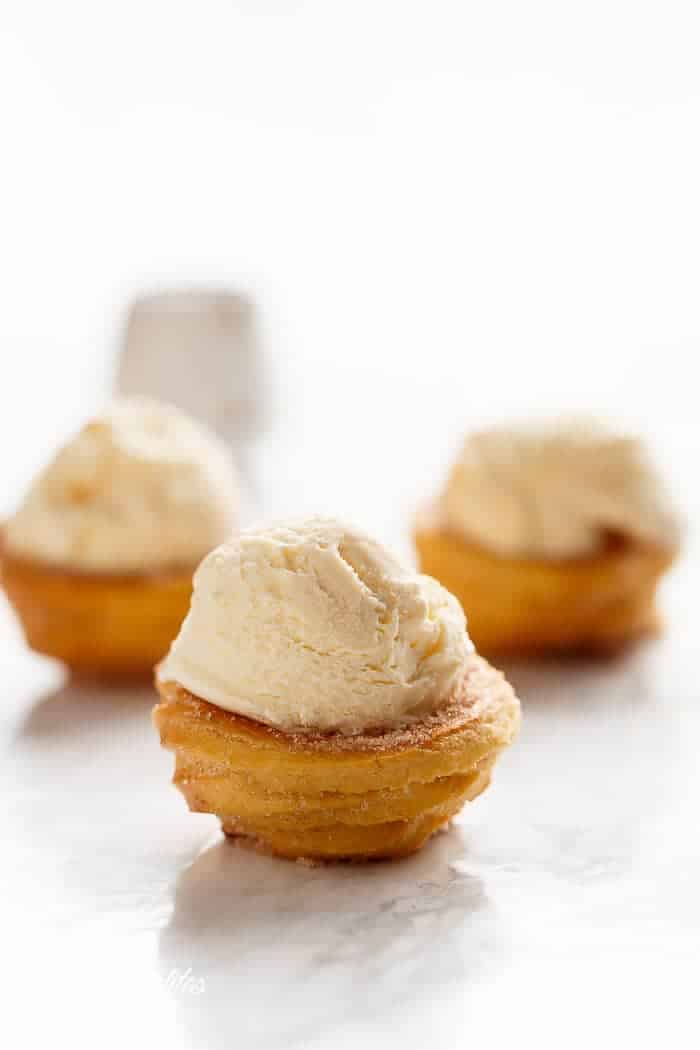 Drizzle with Hot Fudge Sauce….
(But the bigger ones are better ?)  ↓ ↓ ↓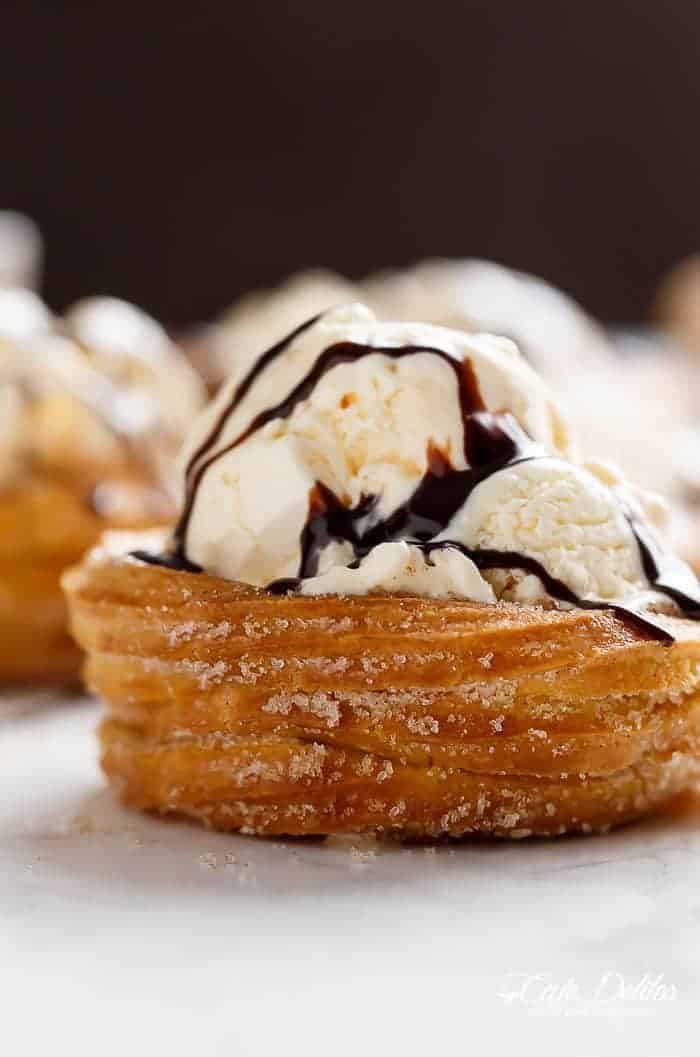 And try not to pass out from the ultimate taste explosion about to take place. These Churro Ice Cream bowls are also perfect and just in time for Cinco De Mayo.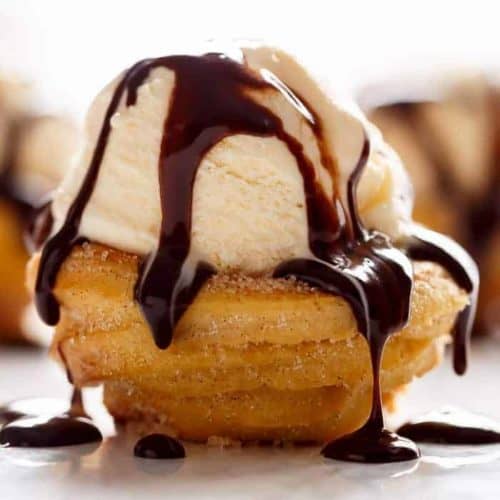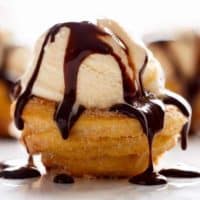 Churro Ice Cream Bowls (Cups)
Churro Ice Cream Bowls! Crispy on the outside, soft on the inside, and exactly how a Churro should be...but without deep frying!
PRINT
SAVE
go to your favorites
Serves:
6
STANDARD Size Bowls or 8 MINI Bowls
Ingredients
CHURRO CUPS
4

oz.

butter,

(125g or 1/2 cup)

1

cup

+ 2 tablespoons water

(280ml)

2

tablespoons

white granulated sugar

1

teaspoon

pure vanilla extract

1/2

teaspoon

ground cinnamon

1/2

teaspoon

salt

1 1/4

cups

all-purpose flour

2

large

eggs,

at room temperature
COATING
1/2

cup

sugar

1/2

teaspoon

ground cinnamon
Instructions
Preheat the oven to 225°C | 440°F. Turn your muffin tin (standard-sized muffin tin or mini muffin tin) upside down with the open holes facing down and the cups facing up. Lightly grease cups and the area around the cups thoroughly with butter. (I find butter works better than cooking oil spray.) Set aside.

Melt the butter in a medium-sized saucepan. Add in the water, sugar, vanilla, cinnamon and salt; bring to a simmer for 5 minutes while mixing occasionally. Add in the flour, stirring with a large wooden spoon until well blended and forms a ball.

Take off heat and allow to cool for 5 minutes, or until just warm to the touch. Add one egg, quickly beating until completely incorporated (it will look like it's not coming together, but keep beating)! Add in the second egg and repeat the process until a dough forms.

Scoop dough into a strong double lined pastry bag with a large open star tip nozzle (I used Wilton 1M). Starting from the bottom, pipe the dough around every second cup to form bowls (leave one empty cup between each bowl to allow the churro pastry to expand). Lightly press each layer together to close up any gaps.

Spray each bowl lightly with cooking oil spray for CRISPY CHURROS! Don't skip this part.
For the STANDARD BOWLS:
Bake for 35-40 minutes OR until golden and crispy to the touch.
For the MINI BOWLS:
Bake for 35 minutes OR until golden and crispy to the touch. Allow to cool slightly before removing.

Fill a shallow bowl with cinnamon sugar; coat each bowl evenly (they may need a light spray of oil to allow the sugar to stick) and serve with ice cream, fruit salad, fudge sauce or whatever else you can think of.
Notes
*White, granulated sugar works best and yields crispier Churro Bowls
**You must use a good quality double sided piping bag! When piping, divide the dough in half inside the piping bag with your fingers and pipe a little at a time. The dough is quite thick so you will need to be careful with this part to ensure you don't burst the piping bag.
***Make sure you use a non-stick pan OR they WILL stick!