Usually, I can't stand when people say: This is the BEST recipe EVER! BUT! Holy Churro THESE are the BEST homemade, baked Churros I've ever baked/tried. And they're only 36 calories EACH! OR 2 Smart Points! Even though these Red Velvet Churros are oven baked, they still have that unmistakable crispy exterior with that Churro crunch!
The subtle chocolate sweetness of red velvet on the soft inside! Can't get any better than this!
I've been testing what seems like a million different baked Churro recipes. Either they've come out hollow, they're TOO eggy and soft, and they're NOT like Churros. And when you want Churros, dang it you need REAL Churros, like, yesterday!
In comes these in true Red Velvet form, because Valentine's Day is about to come in all its glory.
Plus, we were so excited with the texture of them that we somehow ended up dipping them in a bowl full of melted Nutella. I mean, if you're going to have Churros, real Churros, then you have to do it in style. Especially on Valentine's Day.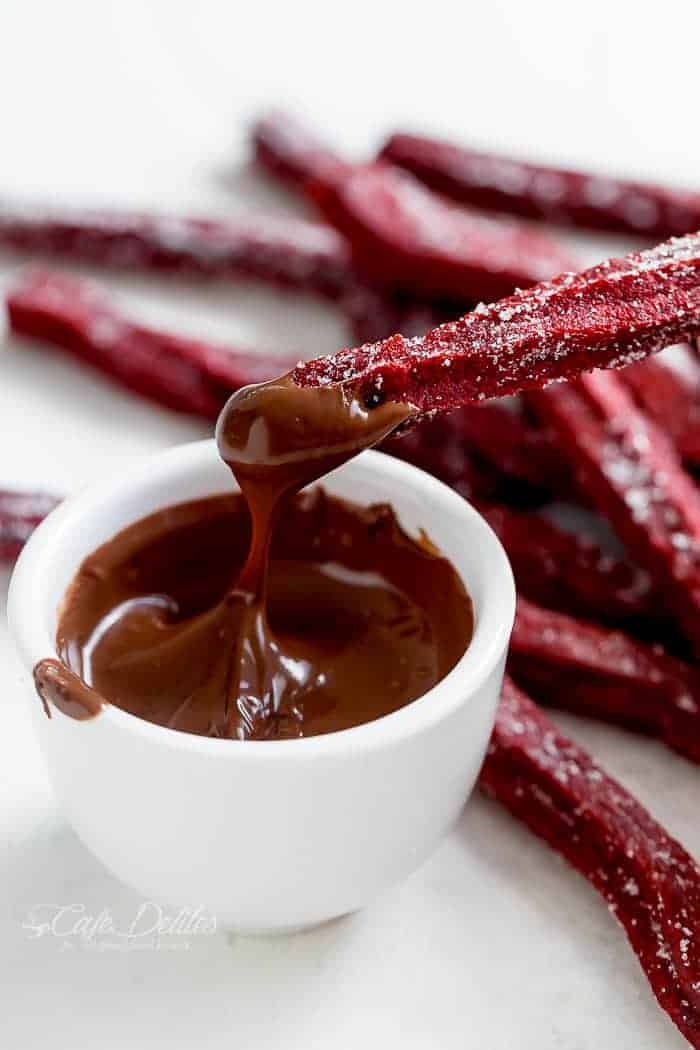 I know I've been guilty of creating Churro-like recipes, like those Nutella Stuffed Churro Donut Holes, or the Churro French Toast Ice Cream Sandwiches. Then there were those Churro Lava Cakes (oh man) and the Churro Skillet Cookie. I may need to go to an addiction anonymous group. BUT! It was time I made the real thing, not another imitation creation.
Do you see this centre? It's dense and cake-y all in one…just like store-bought Churros. BUT! They're not fried! Hallelujah praise the Churro kings!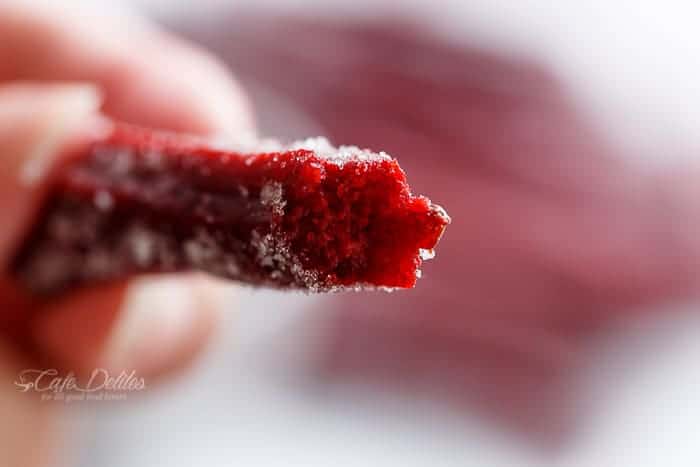 Serve these to your other half OR bake them and eat them all by yourself. I won't tell a soul.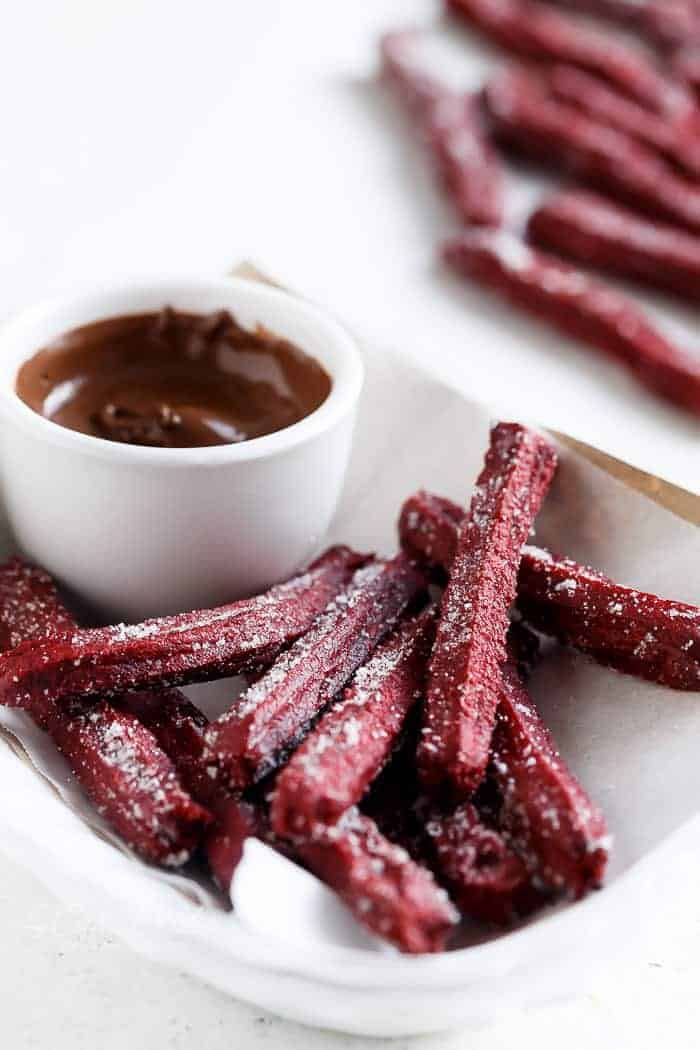 PLUS! I made you another video! These Red Velvet Churros are on my YouTube Channel!
Watch how to make them here:
The only annoying part of finally….FINALLY…nailing the perfect baked Churro recipe after breaking endless amounts of piping bags and causing traumatising stab wounds on just about every finger (thanks to those star tip nozzles), is that they were all finished — demolished —  while I was busy working on these photos.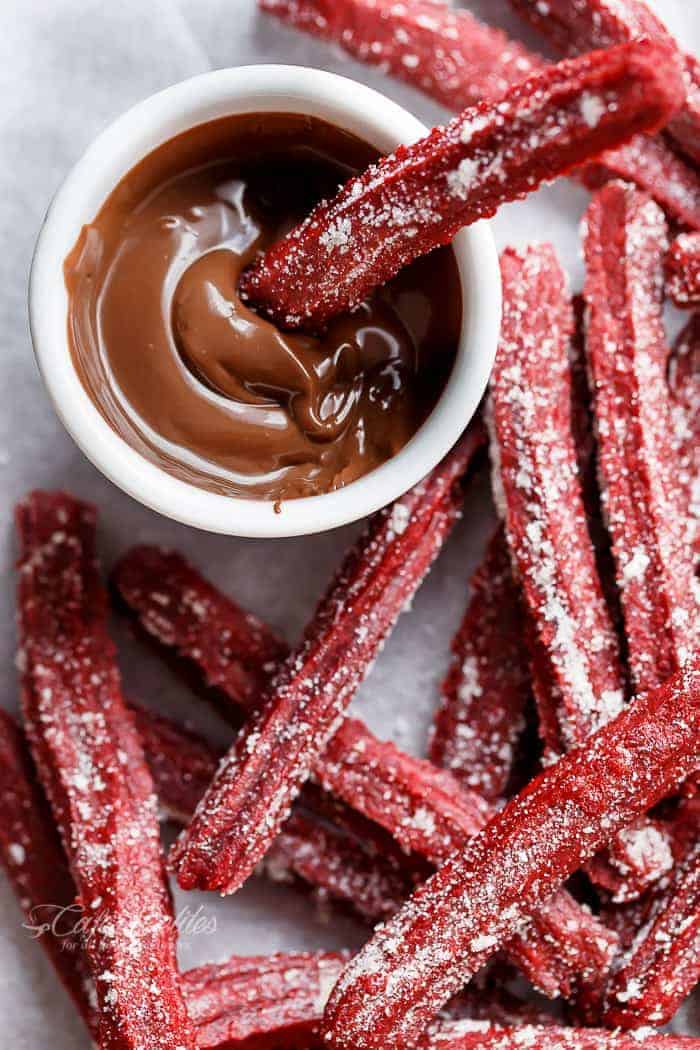 I had two. TWO Churros. Insert eye-roll emoji. No, no. Devesation emoji.
Looks like I'll be baking them again mañana. Because since when is two enough (no, not a question).
And even though my piping skills are that of a 5 year old, they still look good and pass the Churro checklist. My point being, if I can do it, anyone can do it.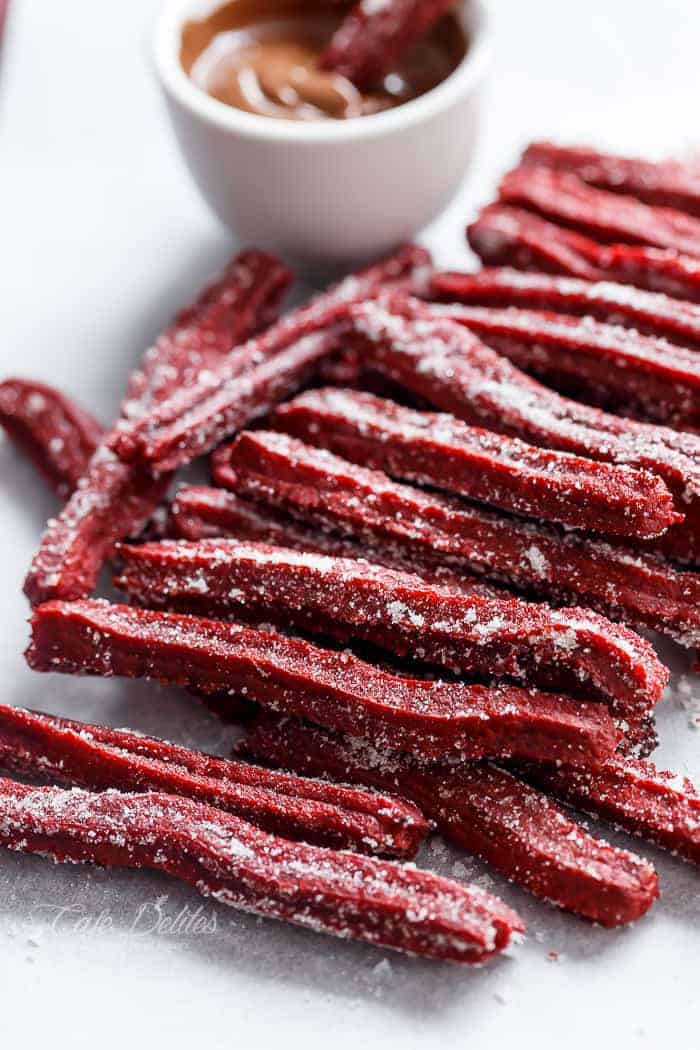 If you're looking for a last minute Valentine's Day cheat or treat, look no further. Impress him/her or yourself with these!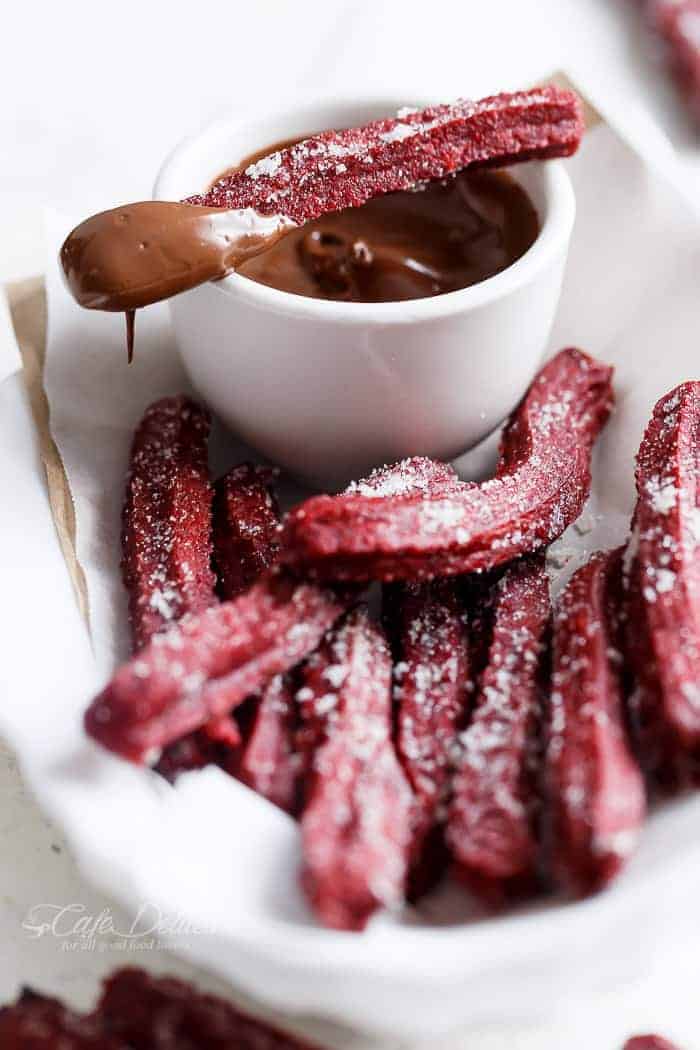 Looking for more Red Velvet options? Well, the Red Velvet French Toasts are a good place to start, as is the Red Velvet Cookie Dough Frozen Yogurt OR those Red Velvet Marble Waffles!

LIKE WHAT YOU SEE? SUBSCRIBE TO CAFE DELITES NEWSLETTER FOR FREE AND RECEIVE NEW RECIPE NOTIFICATIONS DELIVERED INTO YOUR INBOX!
FOLLOW CAFE DELITES ON FACEBOOK, INSTAGRAM, PINTEREST AND TWITTER FOR ALL OF THE LATEST CONTENT, RECIPES AND UPDATES.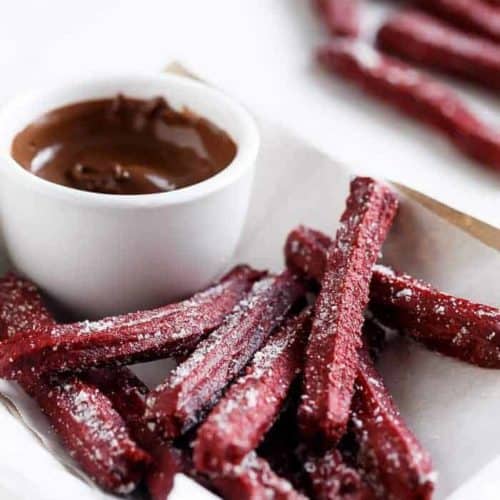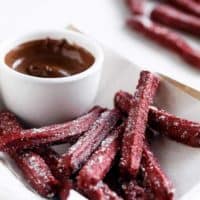 The Best Red Velvet Churros (Baked)
Just like real Churros, now you can make them at home with a Red Velvet Twist!
Weight Watchers Smart Points: 2!
PRINT
SAVE
go to your favorites
Ingredients
1

cup

all-purpose flour

2

teaspoons

unsweetened cocoa powder

1/3

cup

reduced-fat butter

2

tablespoons

olive oil

1

cup

water

1/4

cup

brown sugar

2

teaspoons

red food colouring

(or 1 tablespoons beetroot juice)

1/2

teaspoon

salt

1

teaspoon

pure vanilla extract

1

large egg

, at room temperature

1/4

cup

caster sugar
Instructions
Preheat the oven to 200°C | 390°F. Line a baking sheet with parchment (baking) paper and set aside.

In a medium-sized bowl, whisk together the flour and cocoa powder. Set aside.

In a medium saucepan, melt the butter and oil together. Add the water, brown sugar, food colouring and salt; bring to a boil for 5 minutes, mixing occasionally. Add the flour/cocoa powder mixture to the liquid, stirring with large wooden spoon until well blended.

Take off heat and allow to cool for 10 minutes, or until just warm to the touch. Add the vanilla and egg and quickly beat until completely incorporated (it will look like it's not coming together, but keep beating)!

Spoon dough into a strong

double lined pastry bag

with a

large star tip nozzle

(or use a

cookie press

). Squeeze dough onto prepared baking sheet in 4-inch (10 cm) length strips, with 1-inch (about 2cm) between each churro to allow to expand. Bake for 10 minutes or until crispy to the touch. Reduce oven temperature down to 176°C | 350°F, and bake for an additional 7-10 minutes to allow the centres to set. Remove from the oven and coat in sugar immediately.

Serve with Nutella or chocolate of choice!
Notes
*You must use a good quality double sided piping bag or a cookie press! Use a large star nozzle if you can. When piping, divide the dough in half inside the piping bag with your fingers and pipe a little at a time. The dough is quite thick so you will need to be careful with this part to ensure you don't burst your piping bag.
Nutrition
Calories:
36.5
kcal
|
Carbohydrates:
4.4
g
|
Protein:
0.5
g
|
Fat:
2
g
|
Saturated Fat:
0.4
g