Red Velvet Marble Waffles or Valentine's Day Waffles made healthier and filling thanks to the addition of Greek Yogurt… Only 186 calories per waffle OR WW 6 Smart Points! Whatever you want to call these and whoever you want to share them with! These are absolutely incredible!
Drizzled in melted chocolate and topped with a scoop of vanilla bean ice cream, these red velvet marble waffles were gone before I could reach for half a waffle.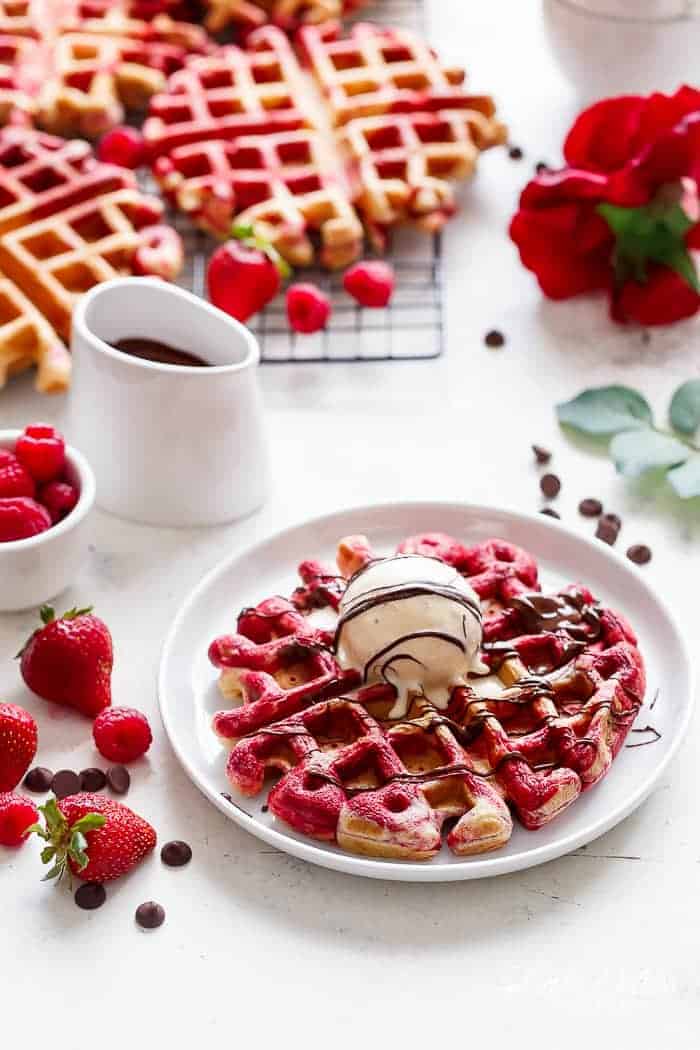 Yep. Valentine's Day came early over here. I know a few people that are planning out menus and avenues and possible proposals for the 'big day'…while I'm over here still wrapping my head around saying 2016 instead of 2015. What.just.happened?
Easy to make with the choice of two options to make a crazy beautiful marble effect! Option number one is the EASIEST method to beautiful marble waffles and shown in the video below; combining both batters into the one jug. Option number two is drizzling 1/4 cup of the red velvet batter onto your waffle iron first in a zig-zag formation; then top with 1/4 cup of the vanilla batter (or, if your waffle maker requires more batter, simply divide the amount required in half amongst the two batters). Swirl the batter with a plastic spatula (or plastic knife) before closing the lid to cook them! It sounds more complicated than it actually is. I promise.
These are better explained in a video…so I made you another one!
I decided to show the first option in the video because I found that yielded the best, most beautiful marble effect. I also tried to swirl the batter together in a pouring jug or bowl before cooking, and they ended up PINK! Pink is great if that's what you're going for…but my husband prides himself on quality good marble.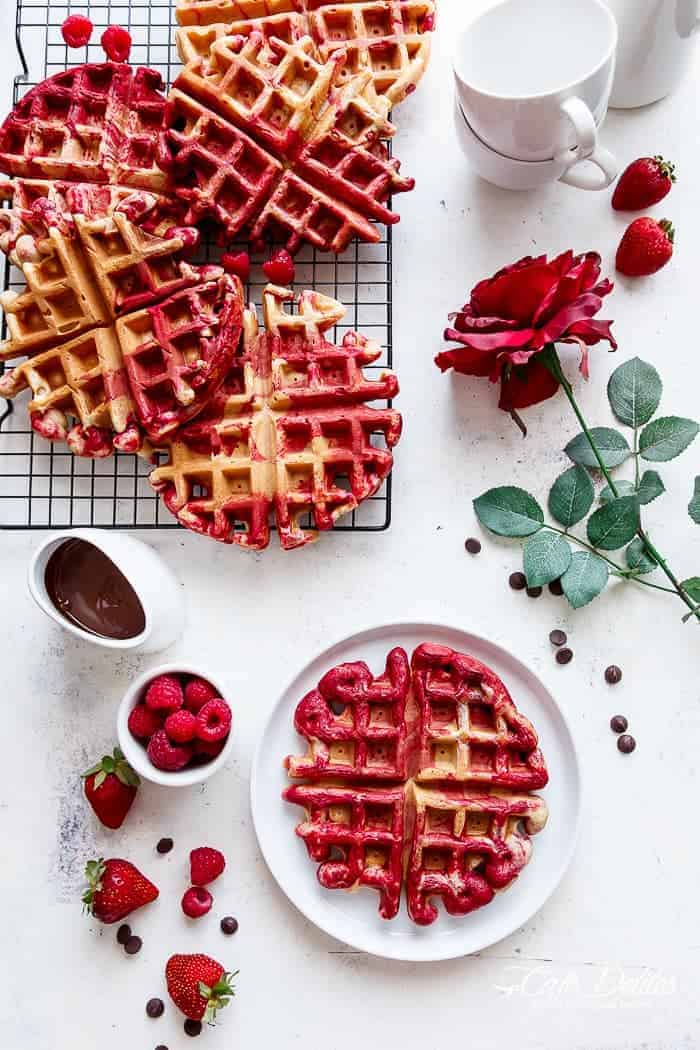 Aside from the Red Velvet French Toast stuffed with Vanilla Bean Cheesecake or those Strawberries and Cream Crepes with Orange Liqueur I made last Valentine's Day, I thought these would be a fun way to begin Cupid's day for those of us with kids. For those of us that share the day with little humans…and little romance.
BUT! These did surprise my husband who gifted me with a wink and a kiss upon handing him the plate. So, yeah, not just for families with kids. I left him impressed and speechless.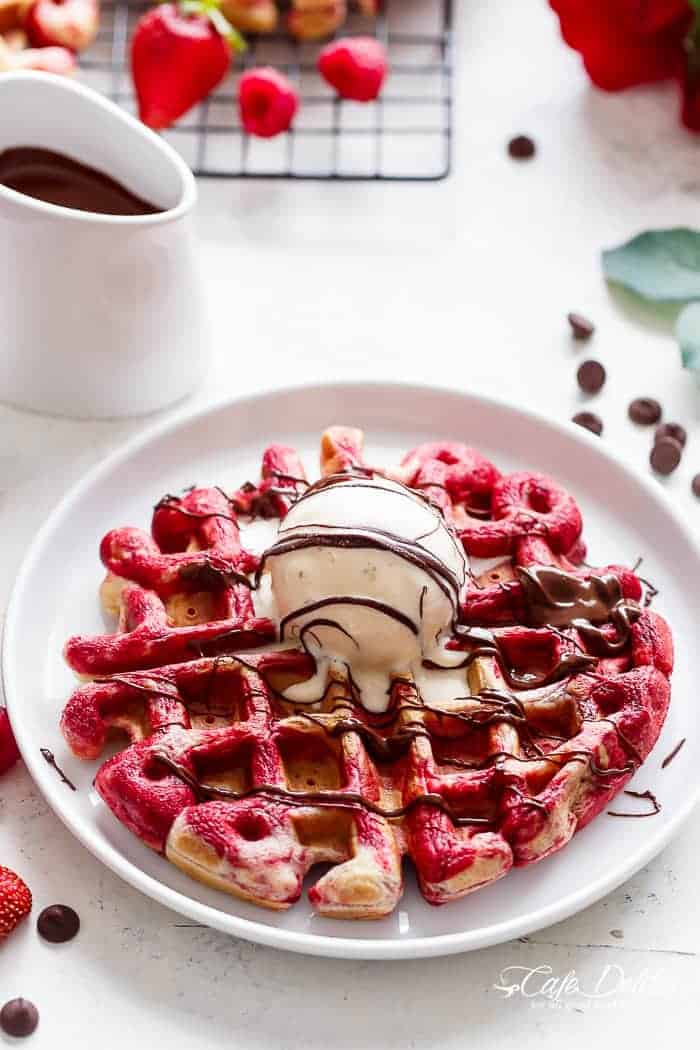 You could either top these with that Creamy Vanilla Bean Cheesecake Topping from those French Toasts I mentioned before OR double dose the red velvet with this Red Velvet Frozen Yogurt instead of plain vanilla ice cream. Either way, it's a win-win waffle situation!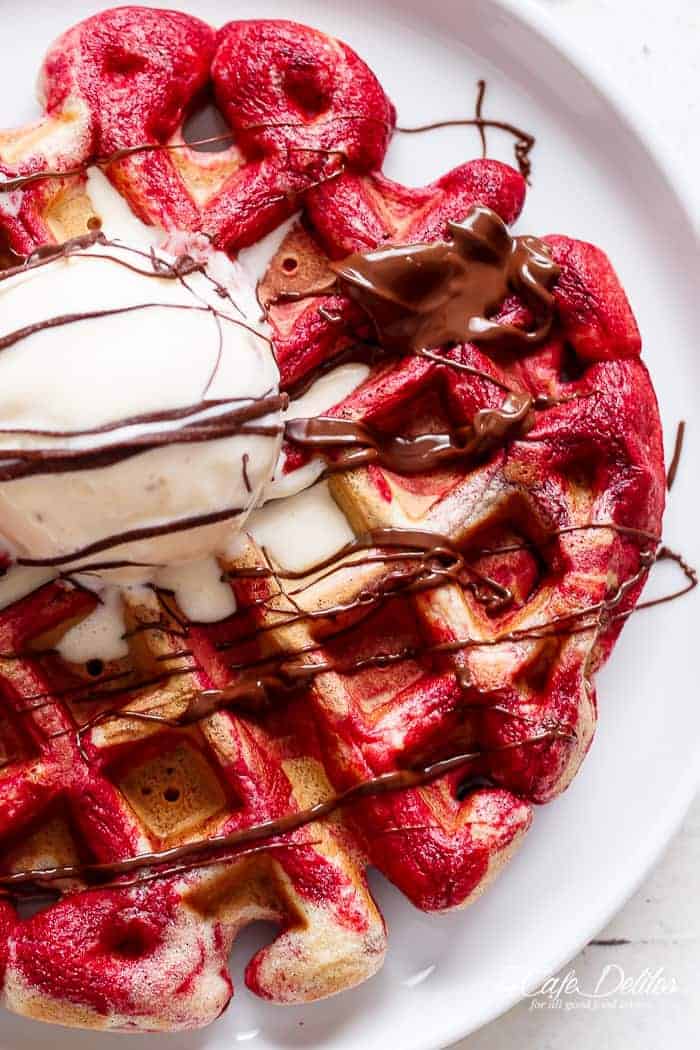 In any case. Impress your significant other with these Marble Red Velvet Waffles + Chocolate. Because, red velvet and chocolate. Amiright?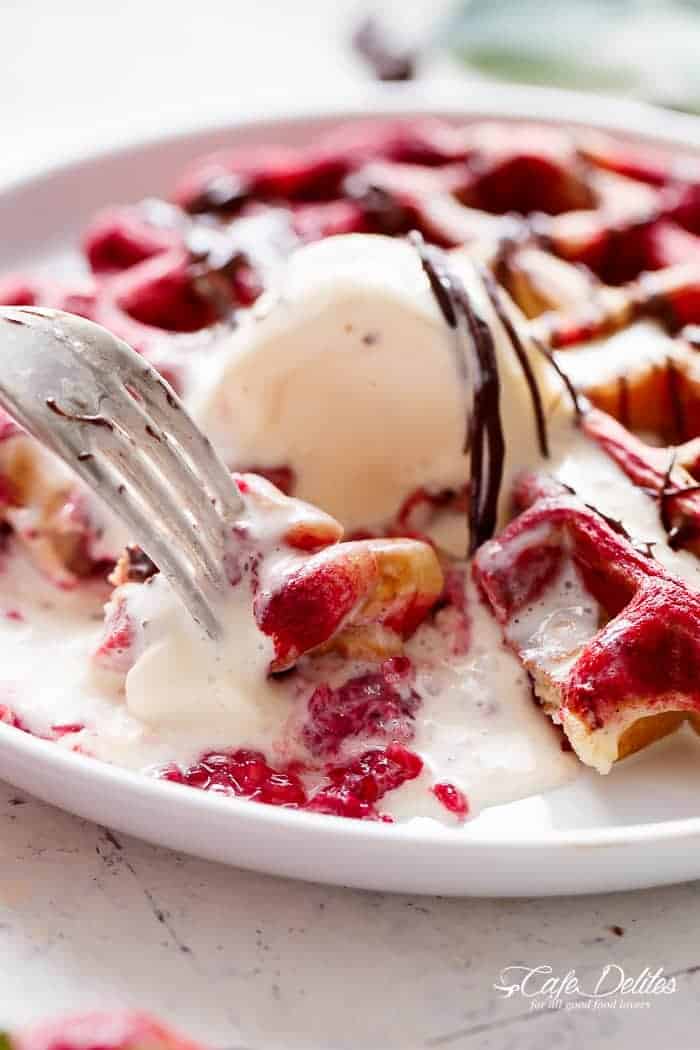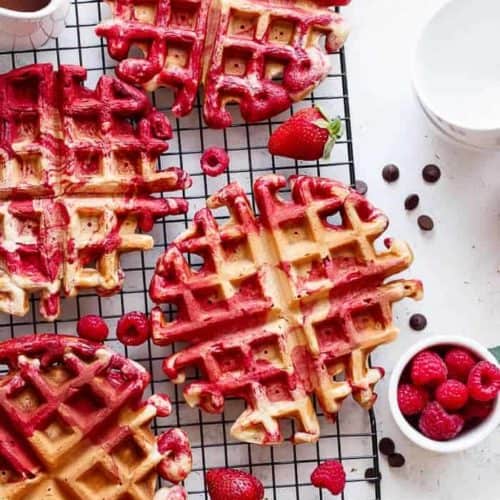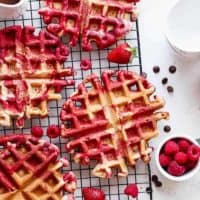 Red Velvet Marbled Waffles
Red Velvet Marbled Waffles made healthier and filling with the extra protein provided by Greek Yogurt! Drizzle in melted chocolate and top with ice cream for extra indulgence!
Weight Watchers Smart Points: 6 per waffle!
PRINT
SAVE
go to your favorites
Serves:
6
-8 waffles (depending on your waffle maker)
Ingredients
2

large eggs

1 1/2

cup

unsweetened almond milk*

1/2

cup

plain non-fat Greek yogurt**

2

cups

all purpose/plain flour

1 1/2

tablespoons

baking powder

1/4

teaspoon

salt

4

tablespoons

brown or coconut sugar

2

tablespoons

melted butter

, reduced fat

3

teaspoons

unsweetened cocoa powder

2

teaspoons

red colouring OR 2 tablespoons beetroot juice

(from tinned beetroots)!

2

teaspoons

vanilla bean paste

(or pure vanilla extract)
Instructions
Preheat your waffle maker following manufacturers instructions. Whisk the eggs, milk and greek yogurt together until well combined in a medium-sized jug or bowl.

In a separate bowl, combine the flour, baking powder, salt and sugar together, mixing until combined. Whisk the melted butter into the liquid mixture, and pour the wet ingredients into the dry ingredients. Lightly whisk again until combined and creamy (most of the lumps should disappear, but if some remain in the batter it's ok).

Pour half of the batter into a bowl (or back into the jug to save dishes). Add the cocoa powder and red colouring to one of the batters; mixing until well incorporated. Add the vanilla bean paste to the remaining batter.

Pour both batters into a medium-sized pouring jug at the same time if you can (you may need a helping hand with this step). If you can't do this, simply keep them separated and ready for cooking.

Spray your waffle maker with a small amount of cooking oil spray (or grease how you normally would) and pour out 1/2 cup of batter out per waffle (or cook waffle batter amounts according to manufacturer's instructions). If you have TWO separate batters, simply pour 1/4 cup of 'red velvet' batter onto waffle iron in a zig-zag pattern, then pour 1/4 cup of the 'vanilla' batter over the top, swirling with a plastic spatula to create a marble effect before closing the lid. Once cooked, place onto a cooling rack to keep them crispy before cooking your next waffle.

Serve with ice cream, berries and a drizzle of melted chocolate (or syrup or whipped cream or powdered sugar if desired).
Notes
*I used unsweetened almond milk to lower calorie and fat count, but you can substitute with low fat/skim or full fat milk if you wish
**Full fat yogurt may be used in place of non fat
Nutrition
Calories:
186
kcal
|
Carbohydrates:
28.7
g
|
Protein:
6
g
|
Fat:
5.6
g
|
Fiber:
1.1
g
|
Sugar:
5.7
g