Nutella Stuffed Deep Dish Churro Skillet Cookie (Pizookie). With a warm Nutella Sauce.
The mother of all deep dish cookies. The Holy Grail. I don't think Beyonce could even handle this.
A Churro flavoured Nutella Stuffed Deep Dish Skillet Cookie baked to golden perfection with a sweet Cinnamon Sugar top. And as far as I've researched and searched…the only one of it's kind! Yep…that's right! An original Cafe Delites recipe and idea!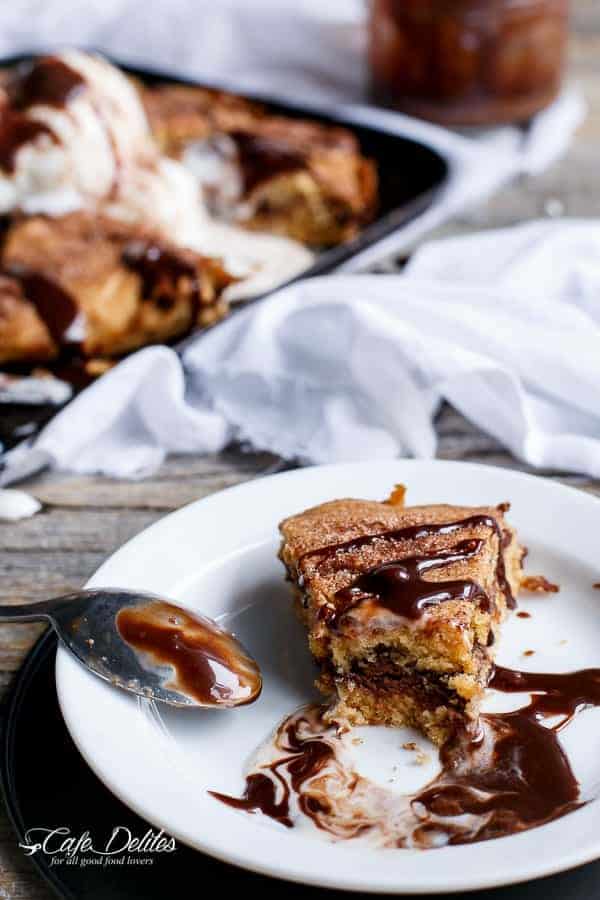 Are you ready? Because, despite the fact that this cookie is sitting right here next to me beside my keyboard; and the Cookie – Churro – Nutella – aromas are making me all light headed; I still can't handle this.
With and without toppings.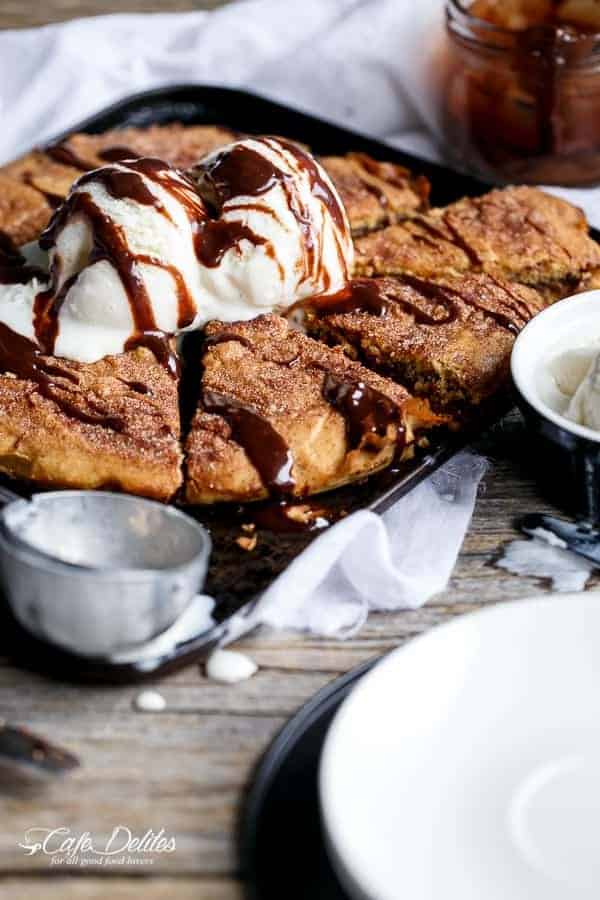 Before reaching the unanimous decision (with the voices in my head) about making the mother of all mother of all of the sexiest skillet cookies ever invented, two things were clear to me — you guys love sugar and donuts and Churros and cookies and Nutella possibly more than me. How do I know? Because the most viewed recipes on Cafe Delites for the past 3 months are my Churro recipes and my Nutella recipes. And my Skillet Cookies? Crazy!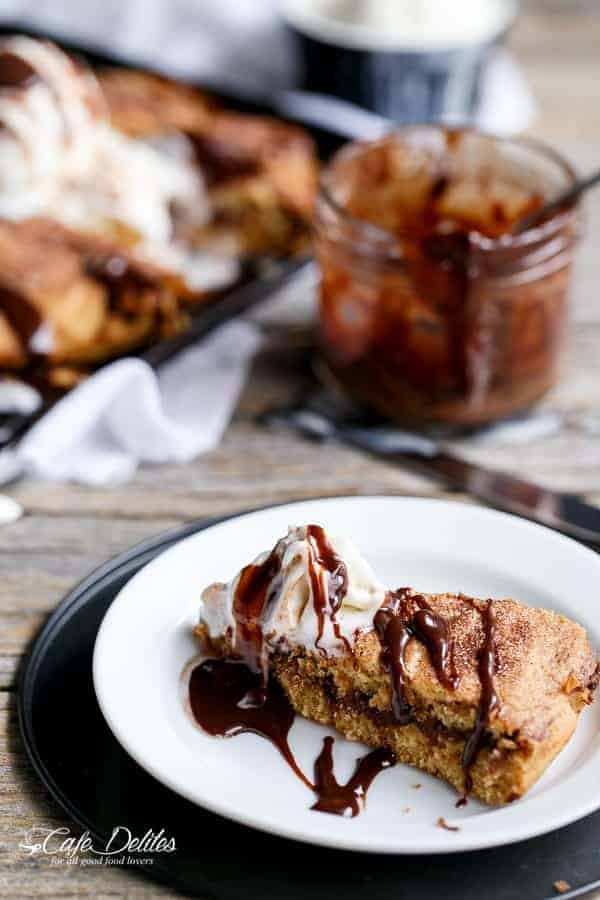 No matter how many healthy salads and recipes I throw out here…Churros and Nutella keep pushing all my buttons and hitting the top of my charts.
But that's ok. It just meant this had to happen. It was inevitable.
So, how to get the Churro happening in this Cast Iron Skillet Pan? Well, I sprinkled some cinnamon sugar over the base of the pan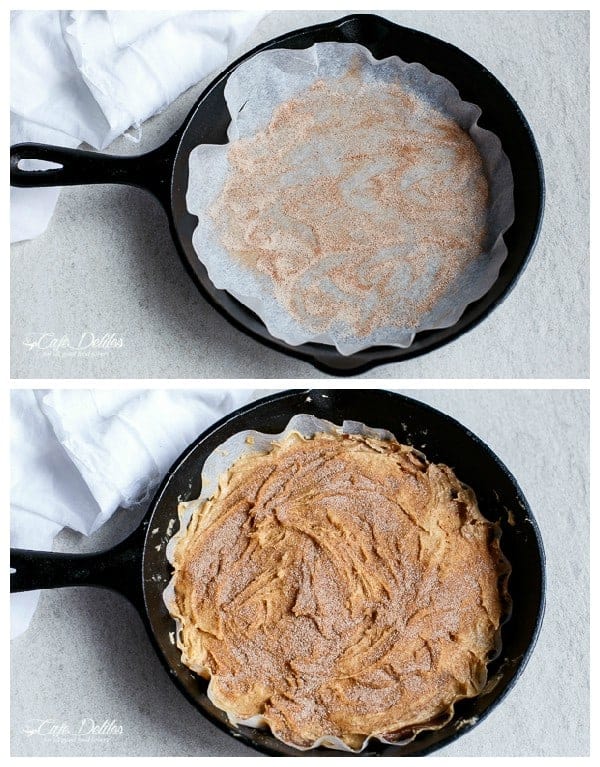 Then sprinkled some more over the top of the cookie dough after stuffing it with Nutella (of course) — to make sure the Churro flavours would be all around this thing. (The step-by-step pictures of the Nutella stuffing process can be found over on the Nutella Stuffed Deep Dish Chocolate Chip Skillet Cookie post). And then…broke all my nails watching it turn a beautiful golden colour from the ovens glass door.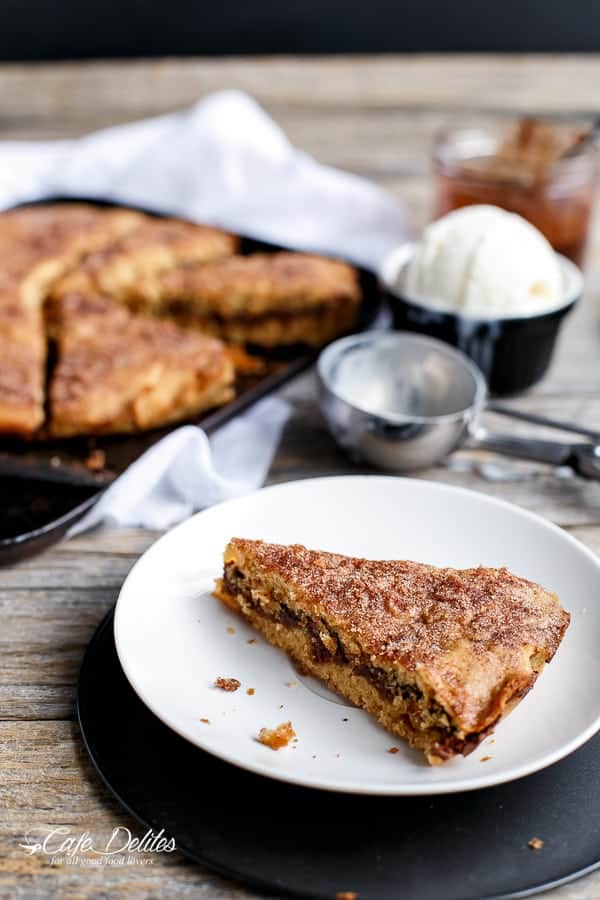 The Churro flavours all over this cookie are insane as it is. Then stuffing it with Nutella? Even more insane. (or you can stuff it with Hazelnut cacao spread for a healthier option. If you want).
Do you seeeee the cinnamon sugar crust over the top ↑ up there? Far.out.
But then going a little bit further..like I usually do…some bootylicious Nutella Fudge Sauce happened to drizzle all over it. Because why not (not a question). Because we only live once. And because we deserve a treat — once.in.a.while.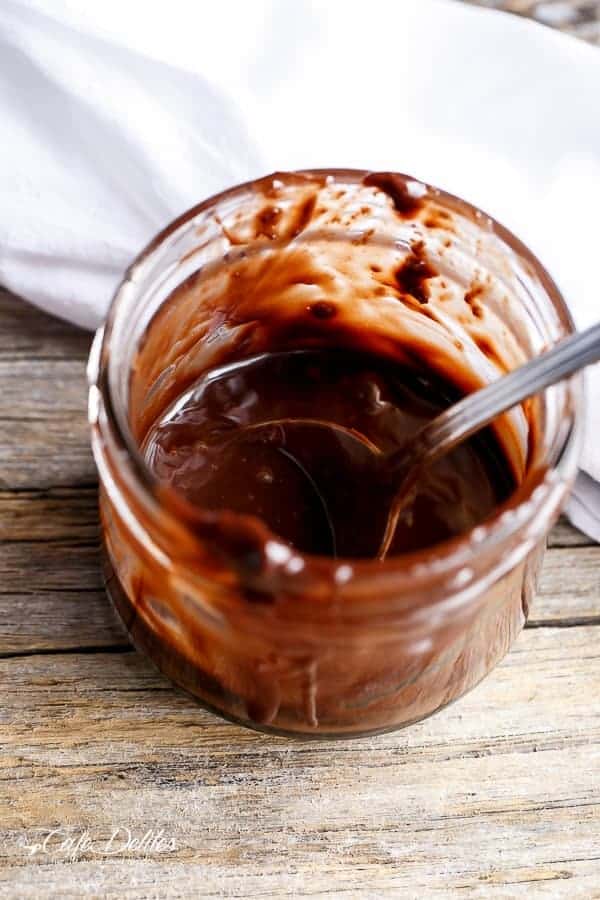 Deep Dish Churro Cookie serving 101: take a piece of the cookie pie….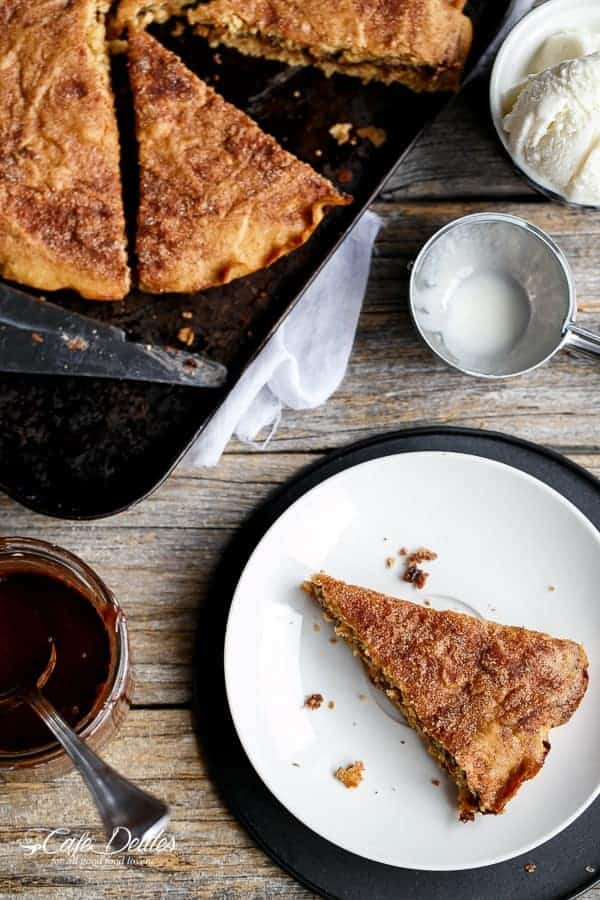 Scoop some ice cream on it…
Drizzle with this freaking amazing hot fudge sauce. Like so….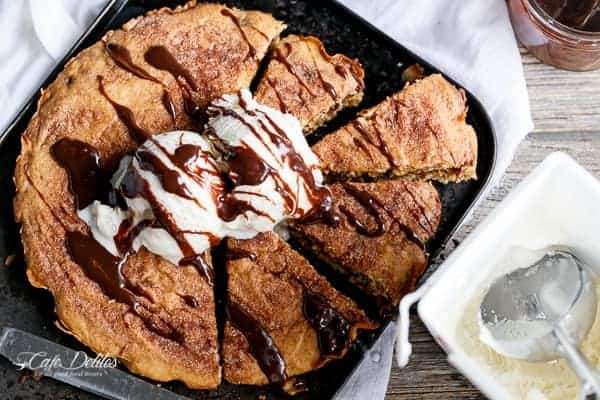 Serve it to all of your guests first. Yes, don't look at me like that.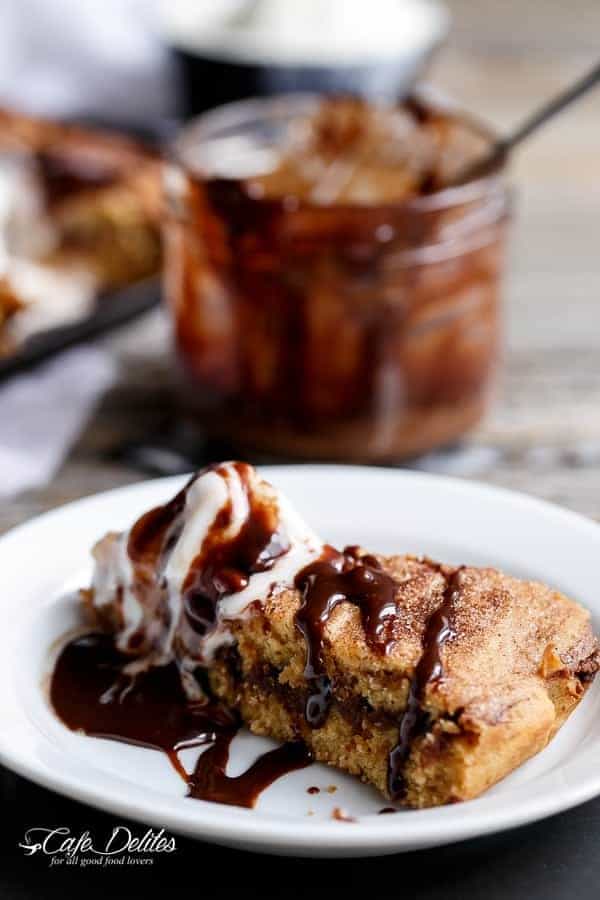 Take an iPhone photo too…just because this is a special moment between you and your Churro Skillet Cookie.
Then…enjoy every single mouthful.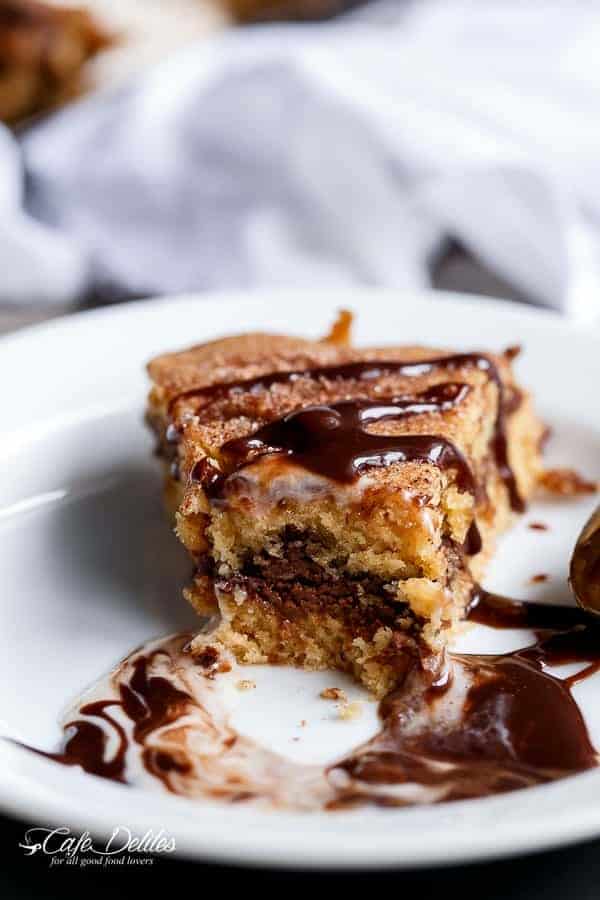 The End.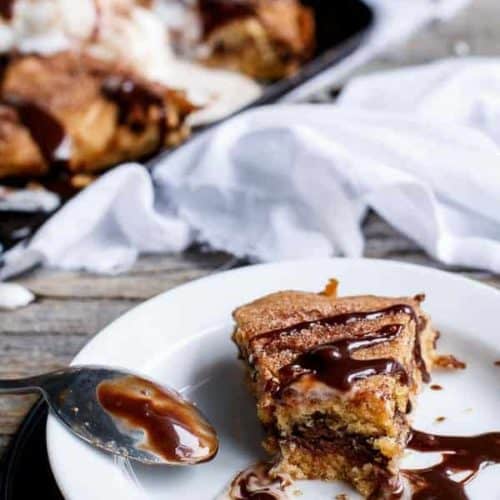 Nutella Stuffed Deep Dish Churro Skillet Cookie (Pizookie)
A Churro flavoured Nutella Stuffed Deep Dish Skillet Cookie baked to golden perfection with a sweet Cinnamon Sugar top.

Weight Watchers: 4pp for 1 slice (or 7pp for 2 slices)
PRINT
SAVE
go to your favorites
Ingredients
1/2

cup

light butter

, softened (or your spread of choice)

1/2

cup

light brown sugar

(or muscavado)

1/3

cup

natural sweetener/sugar of choice

1

tablespoon

vanilla extract

1

egg

1

cup

flour

(plain, all purpose or light spelt)

1/2

teaspoon

baking soda

1/3

teaspoon

salt

2/3

cup

nutella

, melted and divided (or any hazelnut cacao spread)

2

tablespoons

cinnamon sugar

, divided

2

tablespoons

low fat milk

(or almond milk)*
Instructions
In a large bowl, combine the butter, brown sugar, sweetener/sugar and vanilla, and whisk until light and creamy. Add the egg and whisk again until combined.

In another bowl, mix together the flour, baking soda and salt. Stir into the batter and mix until combined well. Sprinkle half of the cinnamon sugar onto the base of the pan. Spoon 1/2 the cookie dough into the pan and evenly spread into a layer.

Melt the nutella in the microwave for 30 seconds OR in a heat-proof dish over a pot of boiling water until a thinner consistency.

Pour 1/3 cup of the melted nutella over the cookie dough in the skillet evenly to 1-inch of the edges. Top with remaining cookie dough, smoothing the layer with the back of a metal spoon (and your fingers if you need to). Sprinkle with remaining cinnamon sugar

Bake in preheated oven for 25-30 minutes. Cool for about 10 minutes before serving.

Combine the remaining warmed Nutella in a bowl with the milk, and stir until it's combined and a 'fudge sauce' has been made. Serve with ice cream; frozen yogurt; berries; fruit; and drizzle over the sauce.
Notes
*I used parchment paper to prevent the cinnamon sugar from sticking. You don't have to use it though if your skillet is well seasoned.
**Spreading the cooking dough over the cinnamon sugar onto the parchment paper is quite tricky. Hold one side of the parchment paper down while spreading it out, or omit the parchment paper, as mentioned above. COPYRIGHT ©2015. All rights reserved. All images & content are copyright protected. Please do not use my images without prior permission. If you want to republish this recipe, please ask my permission and provide a link back to this post for the original recipe.
Nutrition
Calories:
116
kcal
|
Carbohydrates:
16.1
g
|
Protein:
3.5
g
|
Fat:
5.8
g