Ferrero Rocher Deep Dish Skillet Brownie Cookie
Fudgy on the inside; crispy on the outside; a deep dish brownie/cookie full of crushed hazelnuts; then stuffed with melted Nutella, hazelnut wafers and whole hazelnuts to recreate the best chocolates invented. The Ferrero Rocher.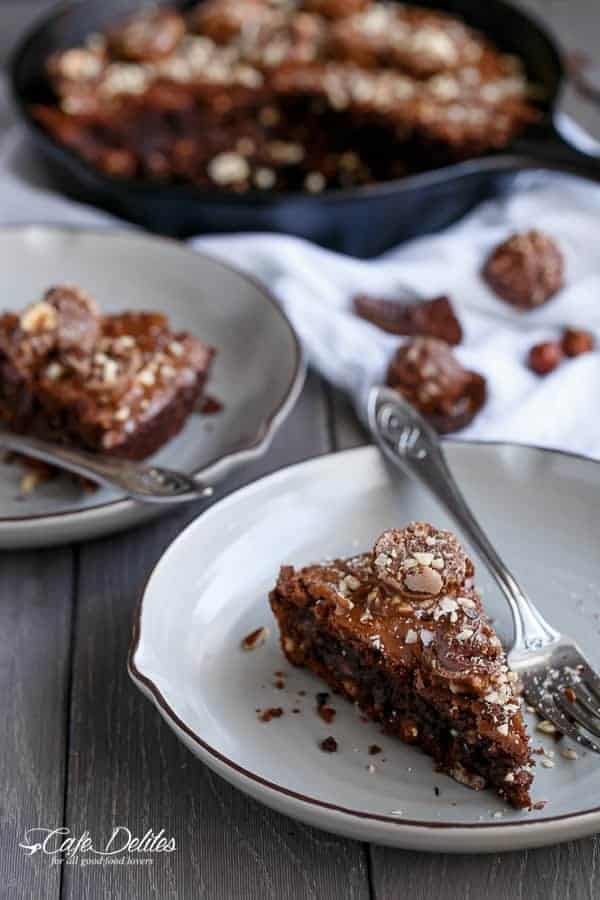 Have you ever wanted to pull off something that it's everything you love all into one, smushing stuff together to fulfil a craving? Because that's what this is.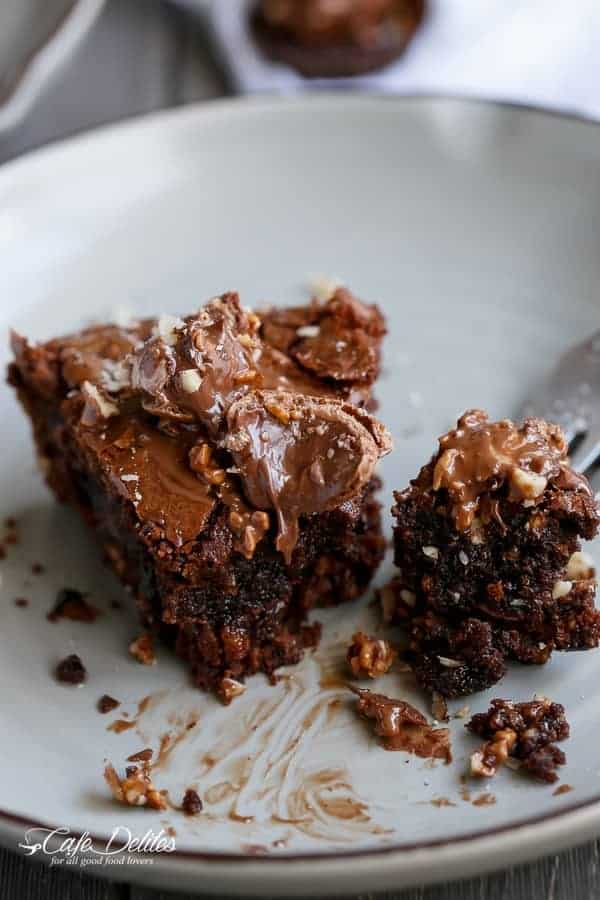 When chocolate goes on sale in my supermarket, I know not to take my kids, because flying chocolate speeding past my head and crash landing into the trolley is what happens.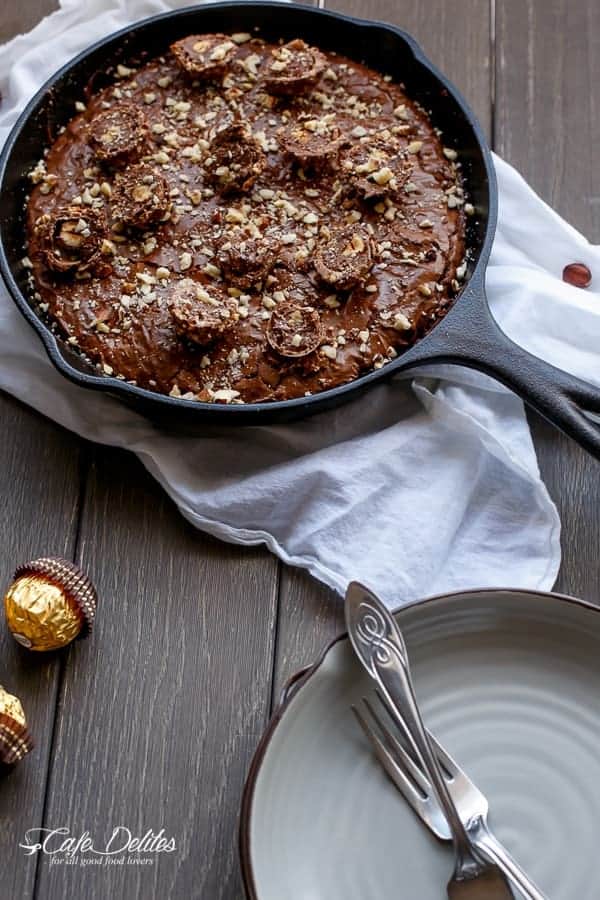 And on this fine day, I accidentally forgot to bring my kids with me…again. Because Ferrero Rochers were waiting. And this is the one chocolate they throw out of the trolley when I'm throwing them in.
It's ok. I don't understand my kids either.
Something about the Hazelnuts inside the chocolate. I don't know, I tend to tune out when they complain about it…because hello! Don't talk bad about Ferreros's. Okay children?
So, this is what this is. Ready?
It's Brownie batter and cookie batter mixed. Sort of. I tried mixing two of my recipe together to create this batter. And by tried, I mean I made this three times just to be sure it's not a fail. And the three times….well let's just say my entire neighbourhood is loving me right now.
Adding crushed hazelnuts into this crazy thing to channel our inner Ferrero worked like a charm. Crunchy hazelnut pieces in a fudgy brownie with a crunchy cookie top? I'm in.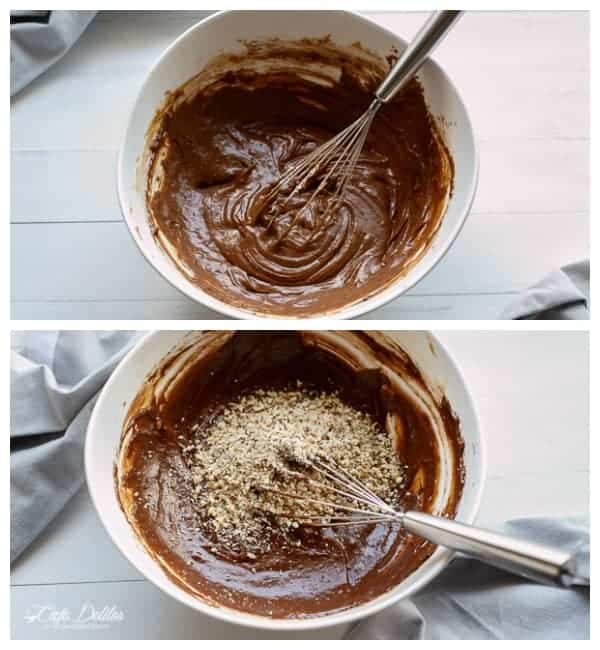 Then of course, I had to break open a Ferrero Rocher and restrain myself from licking the Nutella oozing out onto my fingers, to properly observe it. I've never really done that before, and let tell you…it's a thing of beauty.
So, mimicking this candy from the angels (I'm sure of it), I added some melted Nutella, some finely sliced hazelnut wafers, and some whole roasted hazelnuts.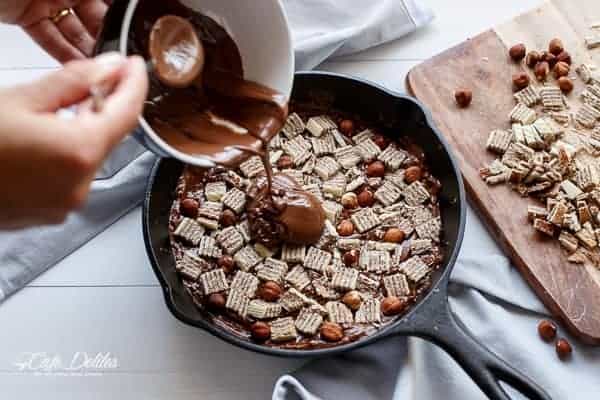 Then…I closed it off with more chocolate Brownie/Cookie batter, and prayed this would work…the first time. The other times was more like slapping things in and on and around and shoving the pan in the oven so fast because I couldn'tt wait for the chocolatey hazelnut aromas to come out of my kitchen.
And this is why I say Brownie/Cookie. A flakey, thin Brownie top that somehow sets into a beautiful cookie; all the while maintaining a gooey and fudgy Brownie Nutella centre.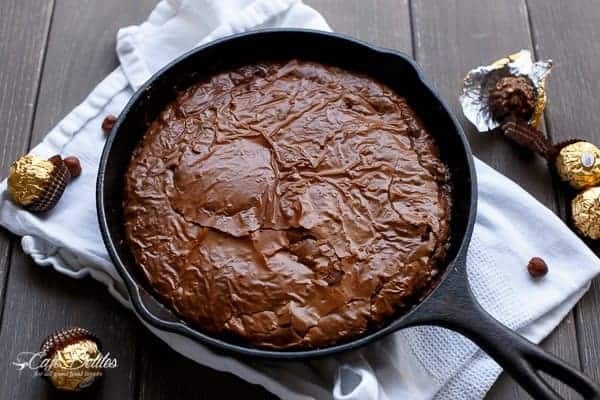 Toping it with extra hazelnuts and Ferrero's… I can't help but think this would make so many people happy that Easter is coming up.
Because Easter is a Frenemy. Friend: because chocolate Enemy: because way too much chocolate.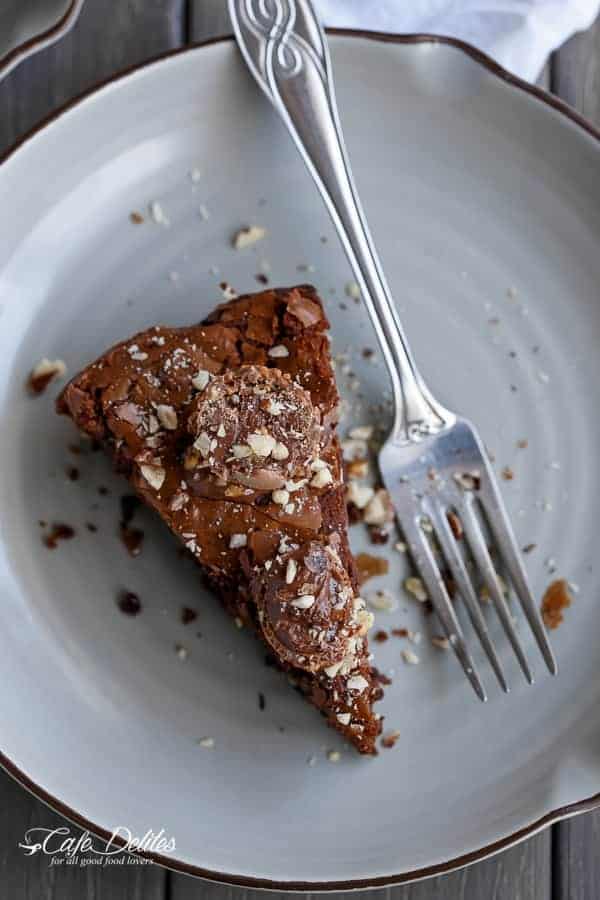 And if you have people around you not exactly a fan of Ferrero's? More power to you.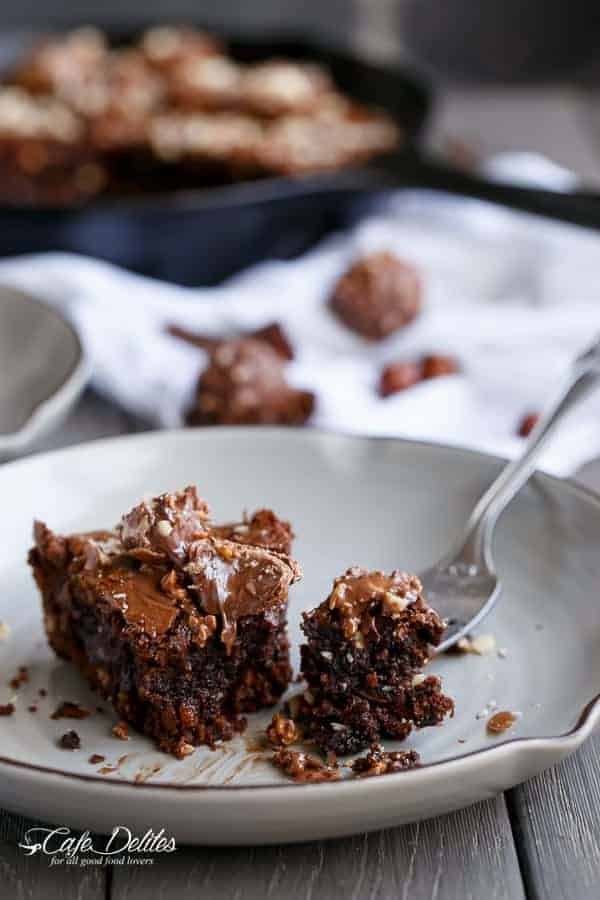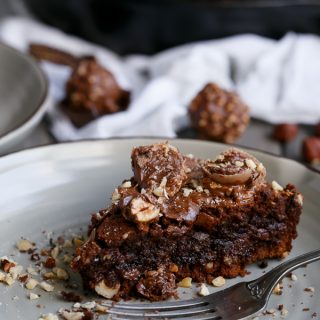 Ferrero Rocher Deep Dish Skillet Brownie Cookie
Fudgy on the inside; crispy on the outside; a deep dish brownie/cookie full of crushed hazelnuts; then stuffed with melted Nutella, hazelnut wafers and whole hazelnuts to recreate the Ferrero Rocher.
Weight Watchers: 6pp per slice (including topping)
PRINT RECIPE
SAVE RECIPE
go to your favorites
Ingredients
Skillet Brownie Cookie:
2/3

cup

light butter

1/3

cup

(55g | 2oz) dark/semi-sweet chocolate chips/melts or squares

1

cup

brown sugar

, packed

2

large eggs

2/3

cup

plain or all-purpose flour

(or light spelt flour works)

1/4

cup

unsweetened cocoa powder

1/4

teaspoon

salt

1/4

cup

crushed hazelnuts

40

g

| 1 1/2oz hazelnut wafers

, chopped thinly

1/4

cup

whole hazelnuts

1/3

cup

nutella

, melted
Additional for Topping:
2

tablespoons

(extra) crushed hazelnuts

6

Ferrero Rochers

, halved
Instructions
Preheat oven to 175c | 350° F. Lightly grease a 9" cast iron skillet (or pie dish) with butter/oil, wipe over excess and set aside.

Combine the butter and chocolate in your cast iron pan/skillet, and melt over low heat. Allow to cool slightly and pour the mixture into a heat proof bowl. Add the sugar and whisk until light and creamy. Add the eggs - one at a time - whisking between each egg, until combined.

Add the flour, cocoa powder and salt, mixing with a wooden spoon until just combined. Fold in the crushed hazelnuts; pour 1/2 the cookie dough into the prepared pan.

Melt the nutella in the microwave for 30 seconds OR in a heat-proof dish over a pot of boiling water until it reaches a thinner consistency.

Pour the nutella over the cookie dough in the skillet evenly to 1-inch of the edges. Sprinkle the wafers and whole hazelnuts over the dough. Top with remaining cookie dough, smoothing the layer with the back of a metal spoon.

Bake in preheated oven for 25-30 minutes (for a gooey cookie). Or for a set cookie, leave it in the oven for 10 minutes longer. Cool for about 10 minutes. Top with (optional) extra rushed hazelnuts and Ferrero Rochers.
Nutrition
Nutrition Facts
Ferrero Rocher Deep Dish Skillet Brownie Cookie
Amount Per Serving
Calories 203
Calories from Fat 92
% Daily Value*
Fat 10.2g16%
Carbohydrates 24.5g8%
Protein 5.2g10%
* Percent Daily Values are based on a 2000 calorie diet.