Easy Homemade Belgian Waffles recipe guarantees perfect, fluffy waffles every time!
Crispy and golden on the outside; light and fluffy on the inside… you will love making Authentic Belgian Waffles for breakfast every chance you get. Or save them for special occasions and impress your guests with an incredible breakfast!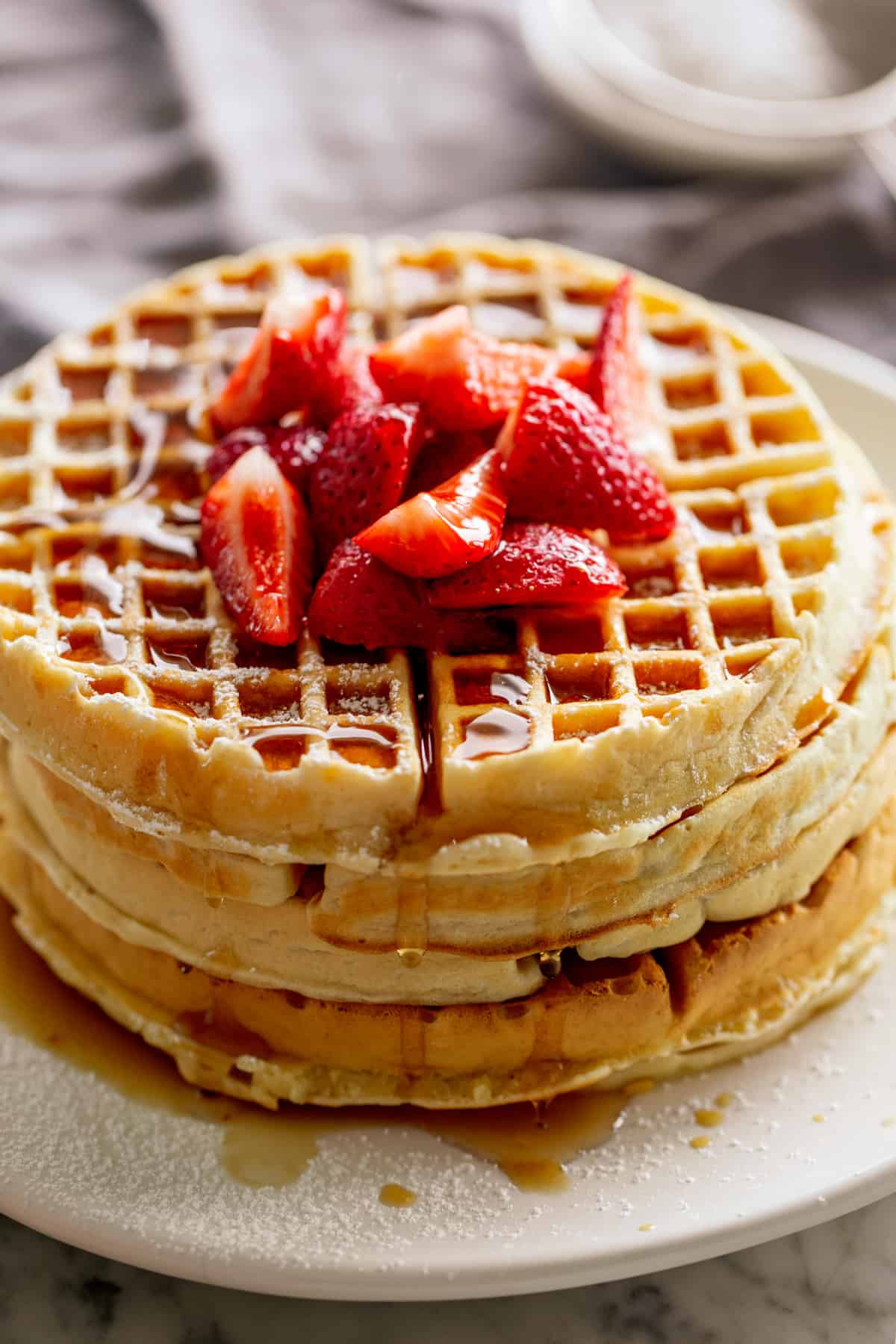 WAFFLES
A popular breakfast or brunch option right up there with super fluffy pancakes, waffles are a versatile household favourite the entire family gets excited for. Have them in the morning, early lunch or as a breakfast-for-dinner option! Because who doesn't love cutting into them only to see melted butter and syrup oozing out of those perfect syrup-holding pockets?
Forget ordering your next serve of waffles at a restaurant or cafe when you can make hot and fresh waffles right at home!
BELGIAN WAFFLES
Belgian waffles are known and loved for their airy and fluffy reputation, whereas regular waffles can often be too thin, soft or soggy.
The secret ingredient we use is a touch of cornstarch (or cornflour), making our waffles so crispy on the outside, while beaten egg whites folded into the waffle batter makes them light as a feather on the inside.
This makes the best Belgian waffle mix!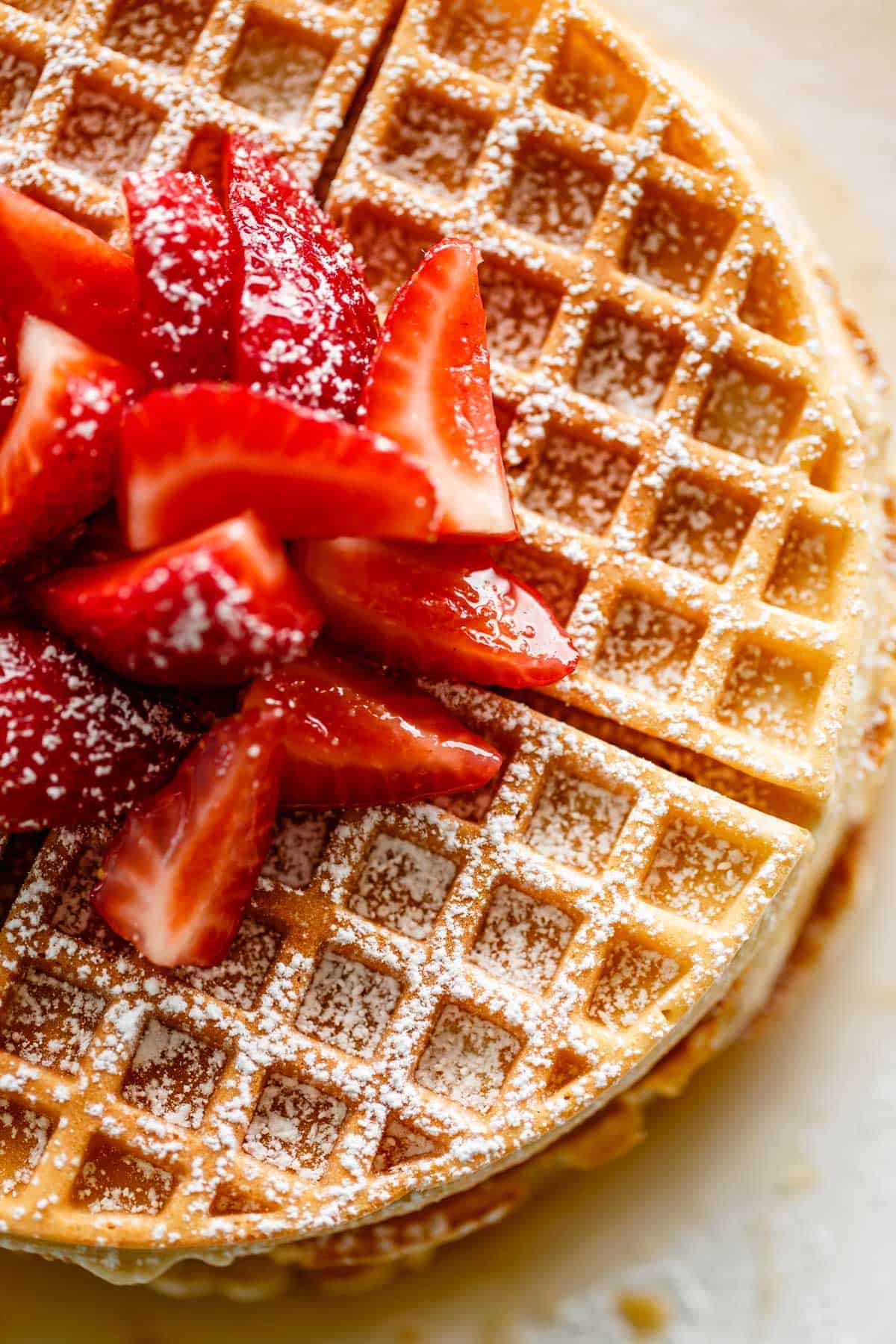 WHAT IS THE DIFFERENCE BETWEEN BELGIAN WAFFLES AND REGULAR WAFFLES?
When compared with regular waffles, Belgian waffles are made differently. Traditionally, the batter includes yeast as a leavening agent to make the waffles thick and fluffy, however, recipes substituting yeast for baking powder have recently become the more popular option. This could be as a result of baking powder being more readily available in a regular household kitchen.
Belgian waffles are cooked in waffle irons with deeper grids, creating bigger and deeper pockets.
We've broken down our recipe for Belgian waffles in easy to follow steps to guarantee you get the best results.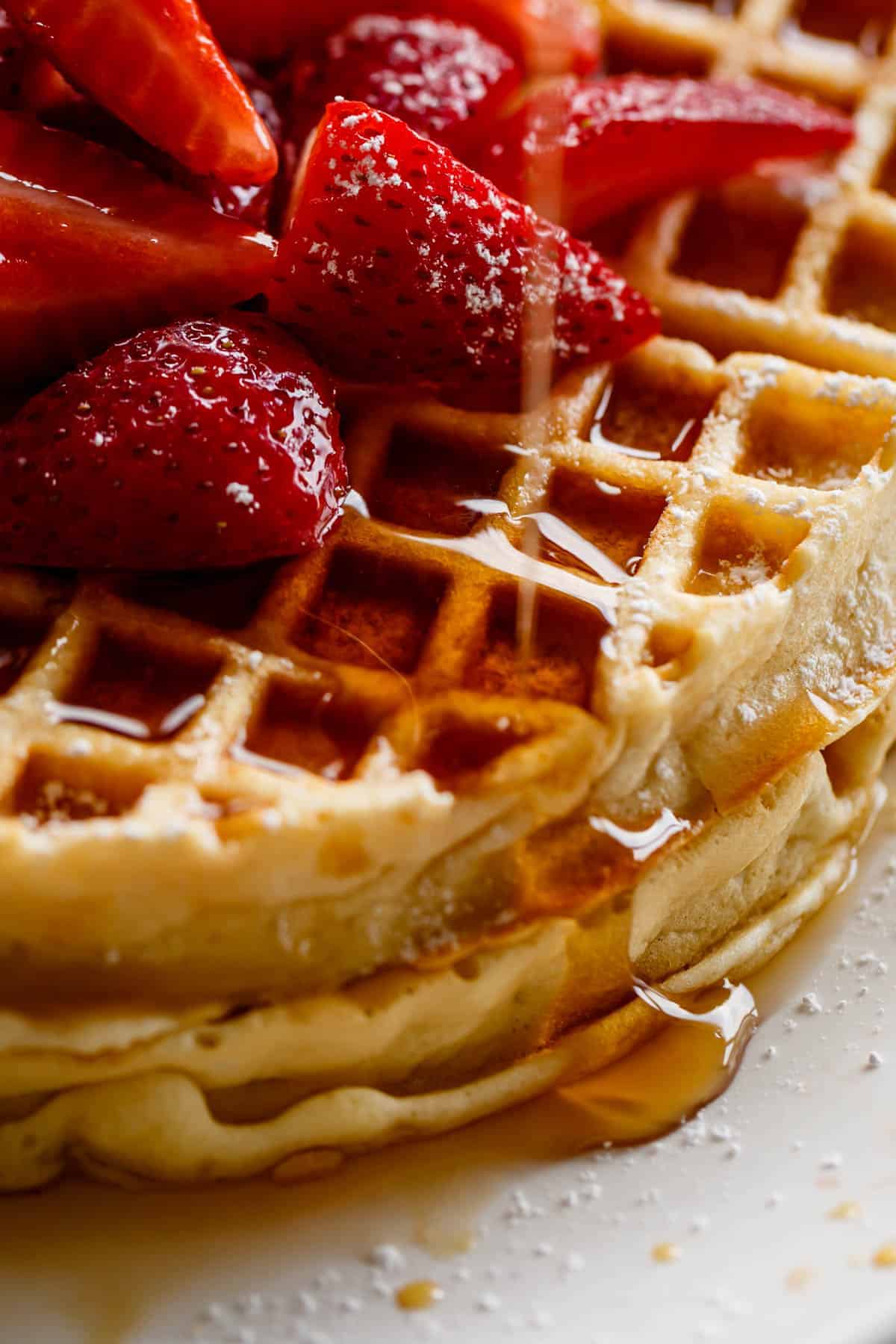 HOW TO MAKE BELGIAN WAFFLES
Grab THRE bowls to work with.
FIRST BOWL: Whisk together dry ingredients.
SECOND BOWL: Separate egg whites into bowl two.
THIRD BOWL: place egg yolks into bowl three.
Mix all of your wet ingredients together with the yolks in bowl two, (not including the egg whites).
Beat your egg whites in bowl three until stiff peaks form.
Use a spatula to gently fold your egg whites into the waffle batter.
It's ok if the batter has some lumps; it's important not to over-mix.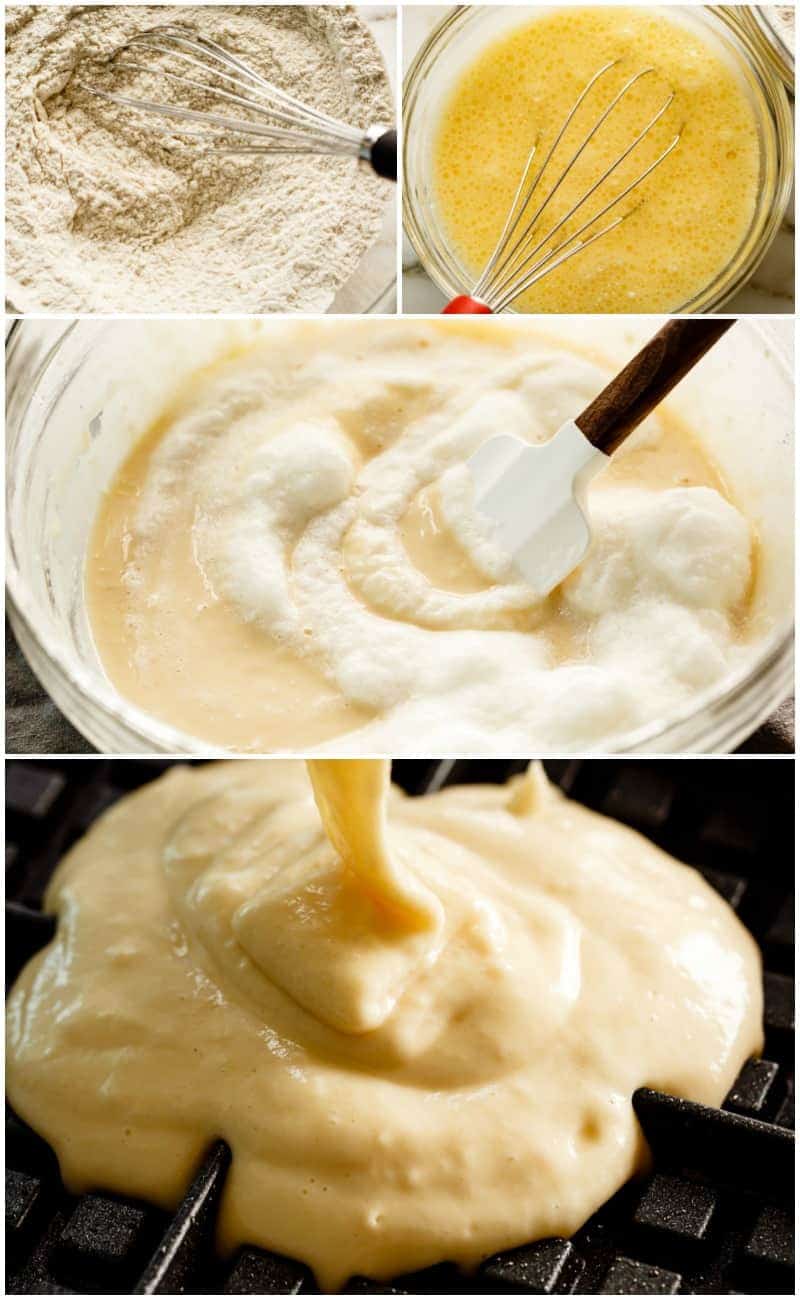 COOK BELGIAN WAFFLES
Preheat your waffle iron and get it hot before starting (refer to your user manual). Lightly greasing it with nonstick cooking oil spray is what we have found to be better than butter or oil. Do not use olive oil as we have found it to get tacky and sticky half way through cooking. Not ideal.
We normally pour 2/3 cup-3/4 cup of waffle batter into a hot waffle iron and cook according to manufacturer's directions. Keep in mind that this batter fluffs up A LOT while cooking.
CRISPY WAFFLE TRICK AFTER COOKING
Transferring them to a plate straight after cooking can result in your waffles going soft as the steam gets trapped underneath them.
For this reason, we place waffles on cooling racks for a couple of minutes before serving to keep them nice and crisp!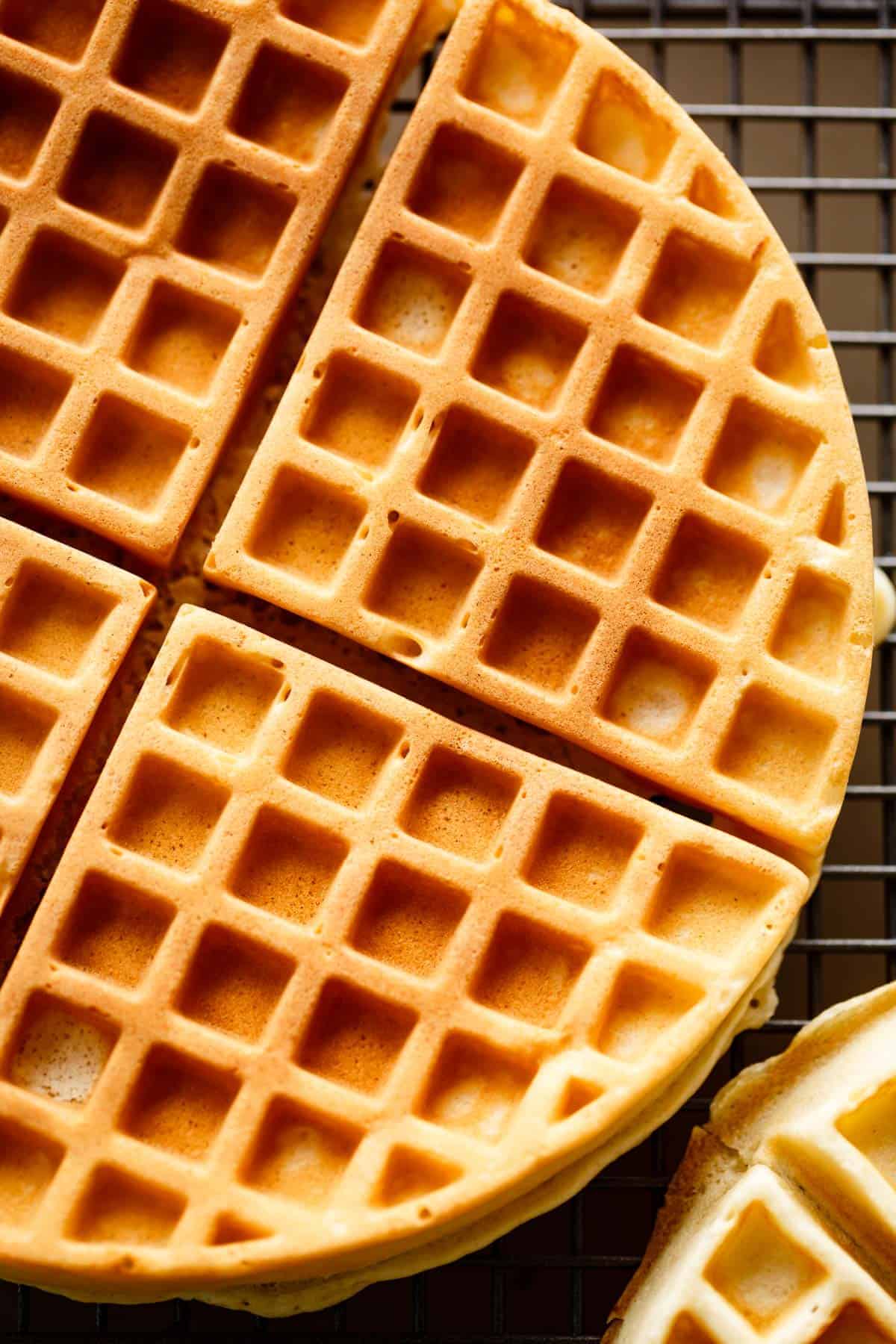 WHAT TO SERVE WITH BELGIAN WAFFLES:
Serve Belgian waffles with powdered sugar, maple syrup, honey, fruit salad or sliced fruit, ice cream, whipped cream, Nutella, fruit conserves, or whatever your heart desires! The options are limitless.
Our Belgian waffles make the perfect, hearty breakfast on their own! Having said that, you can totally serve them alongside some savoury dishes like scrambled eggs, bacon, sausage links, baked beans, or even steak!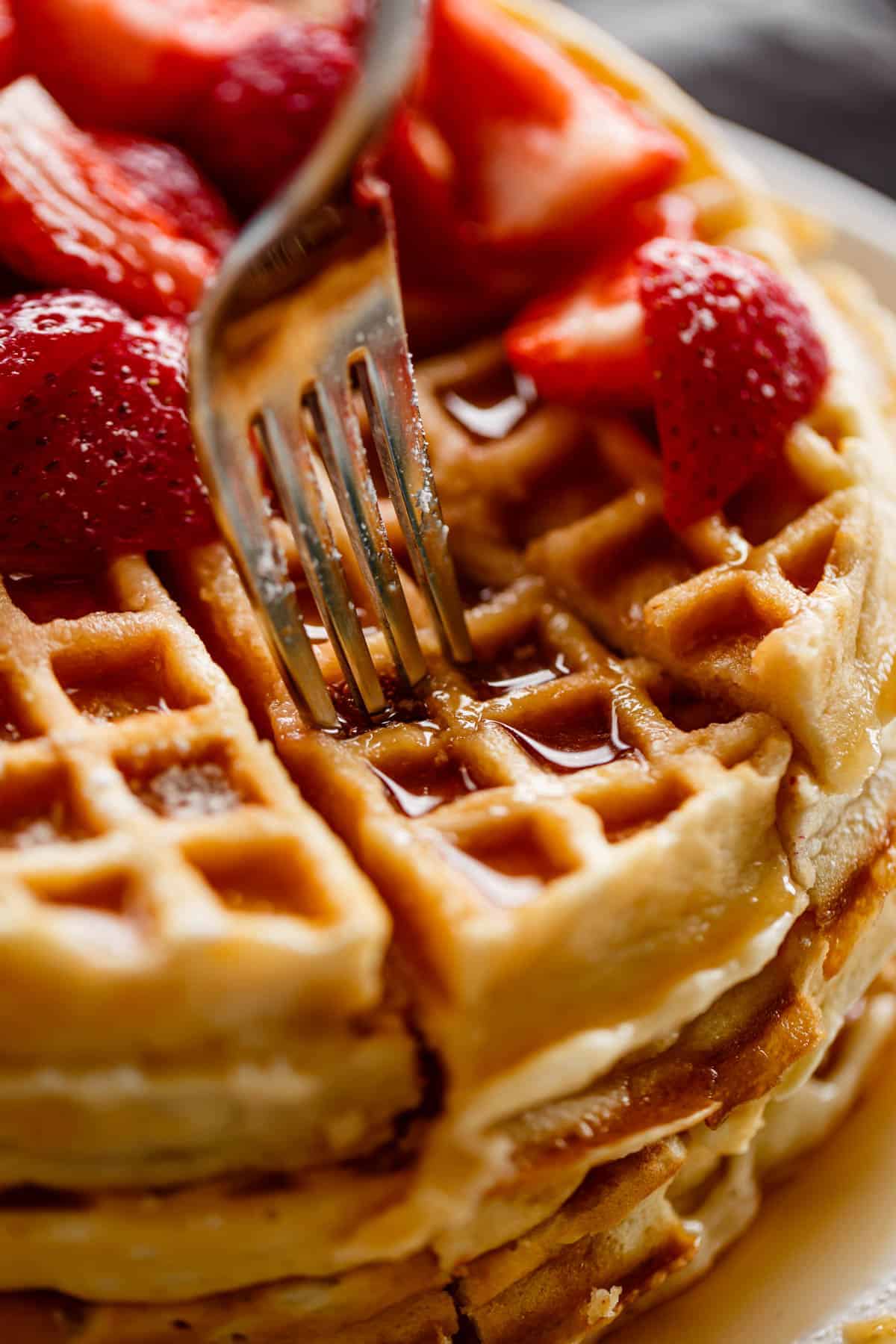 MORE WAFFLE RECIPES
Dark Chocolate Cake Waffles
Red Velvet Marble Waffles
Coconut Cream Pie Waffles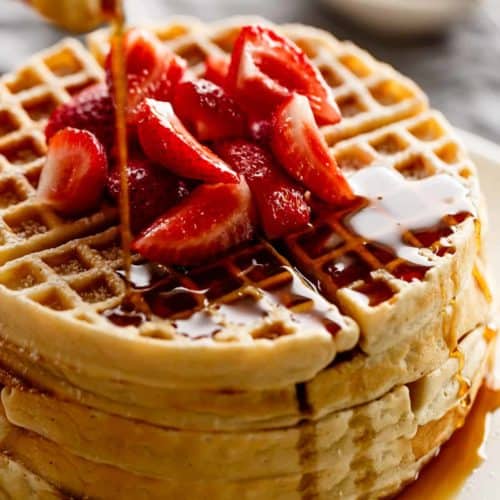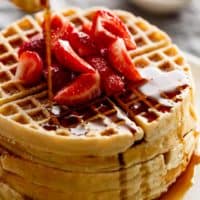 Belgian Waffle Recipe
Homemade Belgian Waffles are easy to make and guarantee perfect, fluffy waffles every time! Crispy and golden on the outside, light and fluffy on the inside, you will love making Authentic Belgian Waffles for breakfast or brunch!
PRINT
SAVE
go to your favorites
Ingredients
2

cups

flour,

(all purpose or plain)

2

tablespoons

cornstarch (cornflour)

4

teaspoons

baking powder,

(aluminium-free)

1/3

cup

white granulated sugar

1/2

teaspoon

salt

1

teaspoon

ground cinnamon

1/4

teaspoon

ground nutmeg

2

large

eggs,

separated

1/2

cup

vegetable oil,

2

cups

milk

2

teaspoons

pure vanilla extract
Instructions
Lightly grease your waffle iron plates with nonstick cooking oil spray. Preheat waffle iron following manufacturer's instructions.

In a large bowl, whisk together flour, cornstach, baking powder, sugar, salt, cinnamon and nutmeg. Set aside.

Grab a medium-sized bowl and beat the egg whites with a hand beater until stiff peaks form. Set aside.

In a third bowl, mix the egg yolks with the oil, milk and vanilla extract. Pour the egg yolk mixture into the dry ingredients and mix well to combine.

Gently fold in the egg whites, being careful not to overbeat the batter.

Pour 3/4 cup* batter into the hot waffle iron and cook according to manufacturer's directions. (We cook ours on medium-brown setting.)

Place cooked waffle on a cooling rack to keep it crisp and repeat with remaining batter.

Best served hot with butter, maple syrup or honey, powdered sugar, fruit conserves, chocolate syrup, ice cream, fruit, or any of your favourite toppings.
Notes
My waffle iron requires 3/4 cup of batter per waffle. Yours might need more or less. Please refer to your manual.
Nutrition
Calories:
261
kcal
|
Carbohydrates:
29
g
|
Protein:
6
g
|
Fat:
14
g
|
Saturated Fat:
10
g
|
Cholesterol:
47
mg
|
Sodium:
156
mg
|
Potassium:
268
mg
|
Fiber:
1
g
|
Sugar:
8
g
|
Vitamin A:
140
IU
|
Calcium:
137
mg
|
Iron:
1
mg