3-Ingredient Double Chocolate Mousse (Low Carb, Egg Free and Dairy Free)
My latest obsession is this healthier 3-Ingredient Double Chocolate Mousse in minutes. For all of my sweet-tooth readers out there, you are going to love this recipe! No eggs and no dairy! Just 3 ingredients to thick, creamy and rich chocolate mousse that happens to be low carb and real really good for you.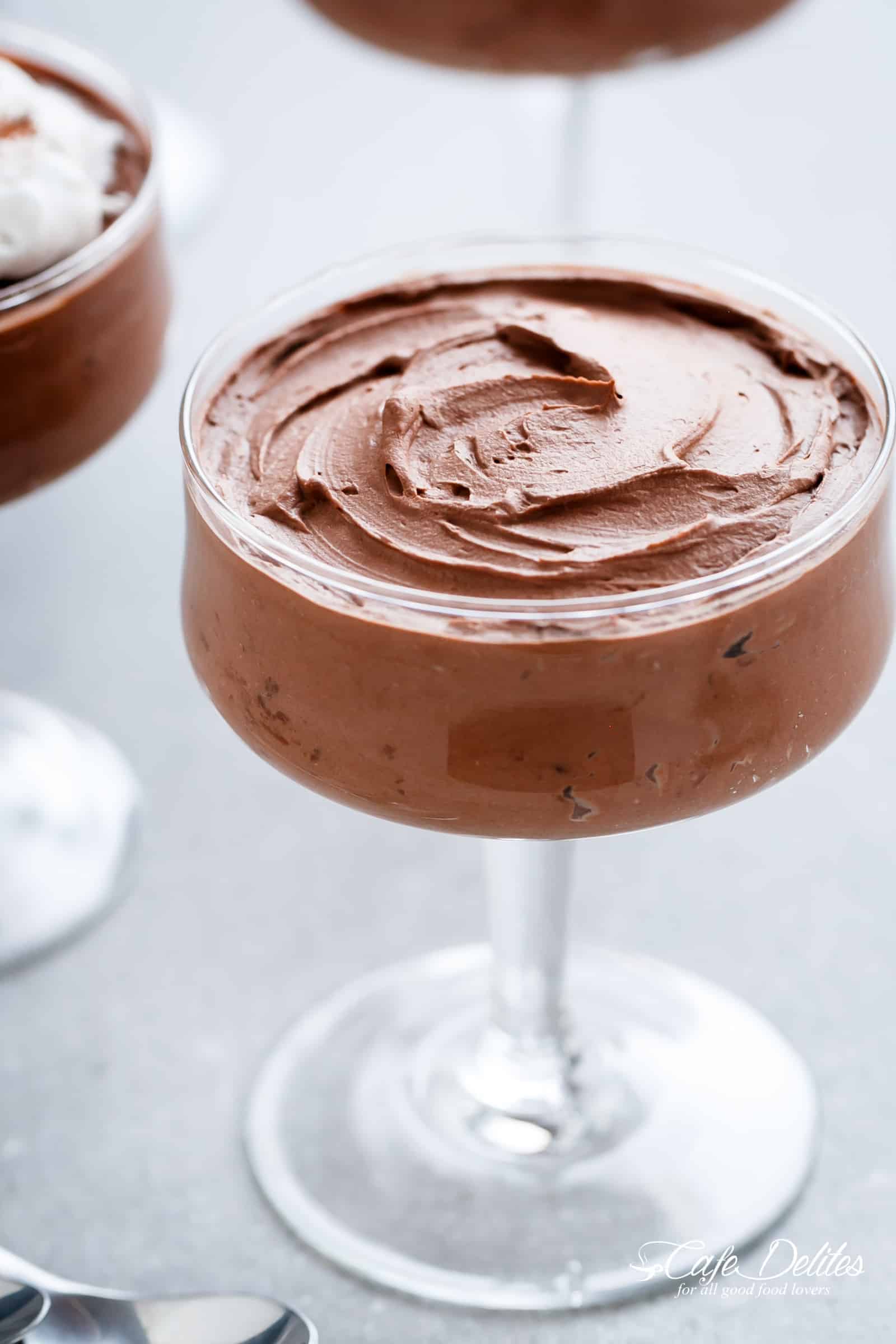 Chocolate Mousse
So, what's the big secret? It's no secret really, but it is a secret weapon that has the low carb, Paleo and clean eating world going mad. And most recently….me too.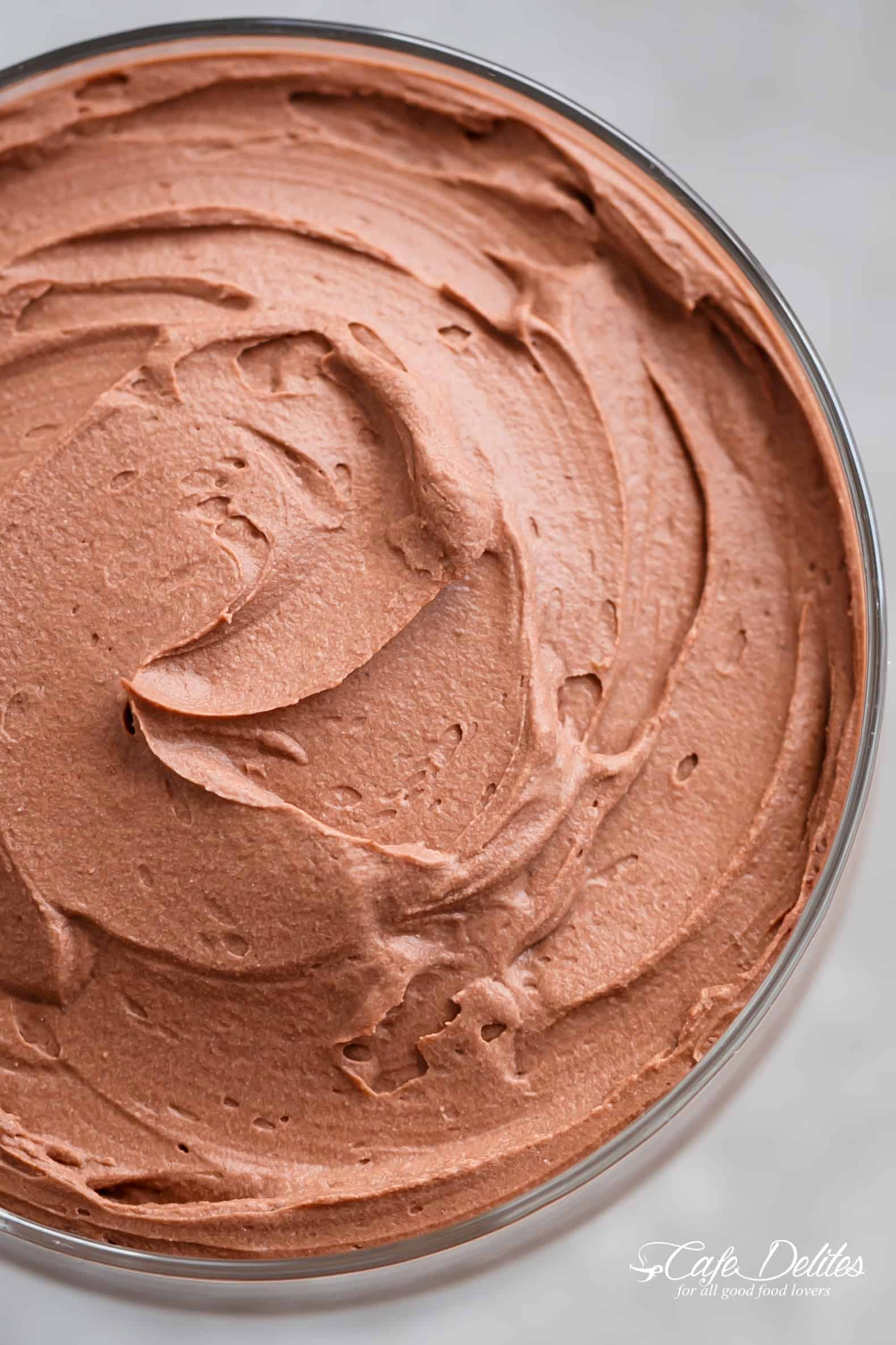 How To Make Low Carb Chocolate Mousse
First thing you're going to need is cans of Coconut cream chilled overnight. Aaaaahhhh coconut cream — which has apparently become my latest obsession. The BEST coconut cream to use is Thai Kitchen brand or coconut cream from Trader Joe's.
To keep this low carb, you're going to need to sweeten it with a GOOD quality natural sweetener. I use Natvia Icing Sugar or Swerve Confectioners Sugar. Do not use honey or maple syrup, as these ingredients still contain sugar. (If not worried about carbs or sugar content, you CAN use powdered or confectioners sugar.)
I also use some chocolate in this, again sugar free like Lily's. If you're not worried about carbs or sugar, go ahead and use something like Lindt 70%.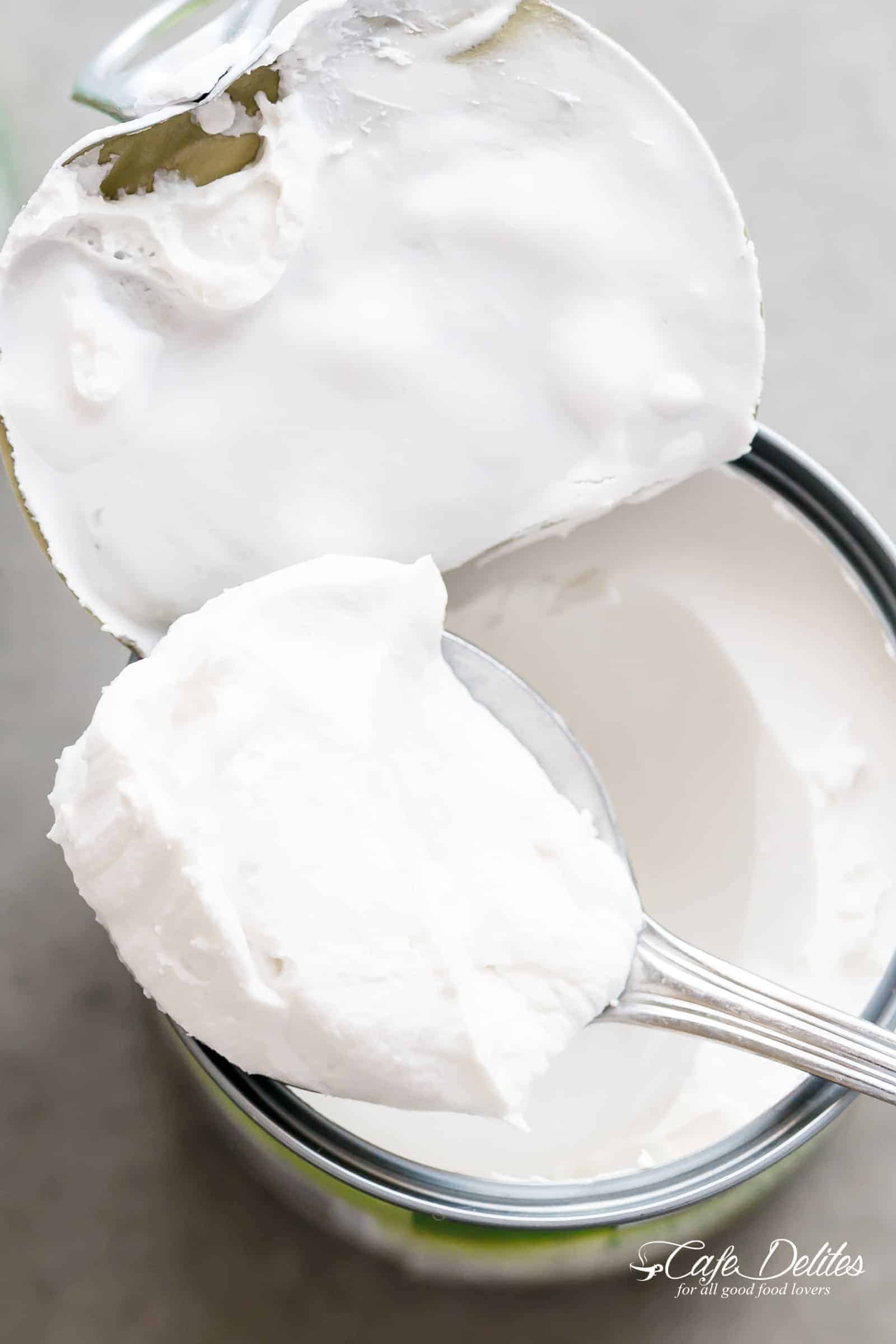 COCONUT CREAM
Refrigerated coconut cream is the saviour of many low carb desserts, acting as whipped cream or pudding with the added health benefits of 'good for you fats.' In fact, I posted a how to make coconut whipped cream right here.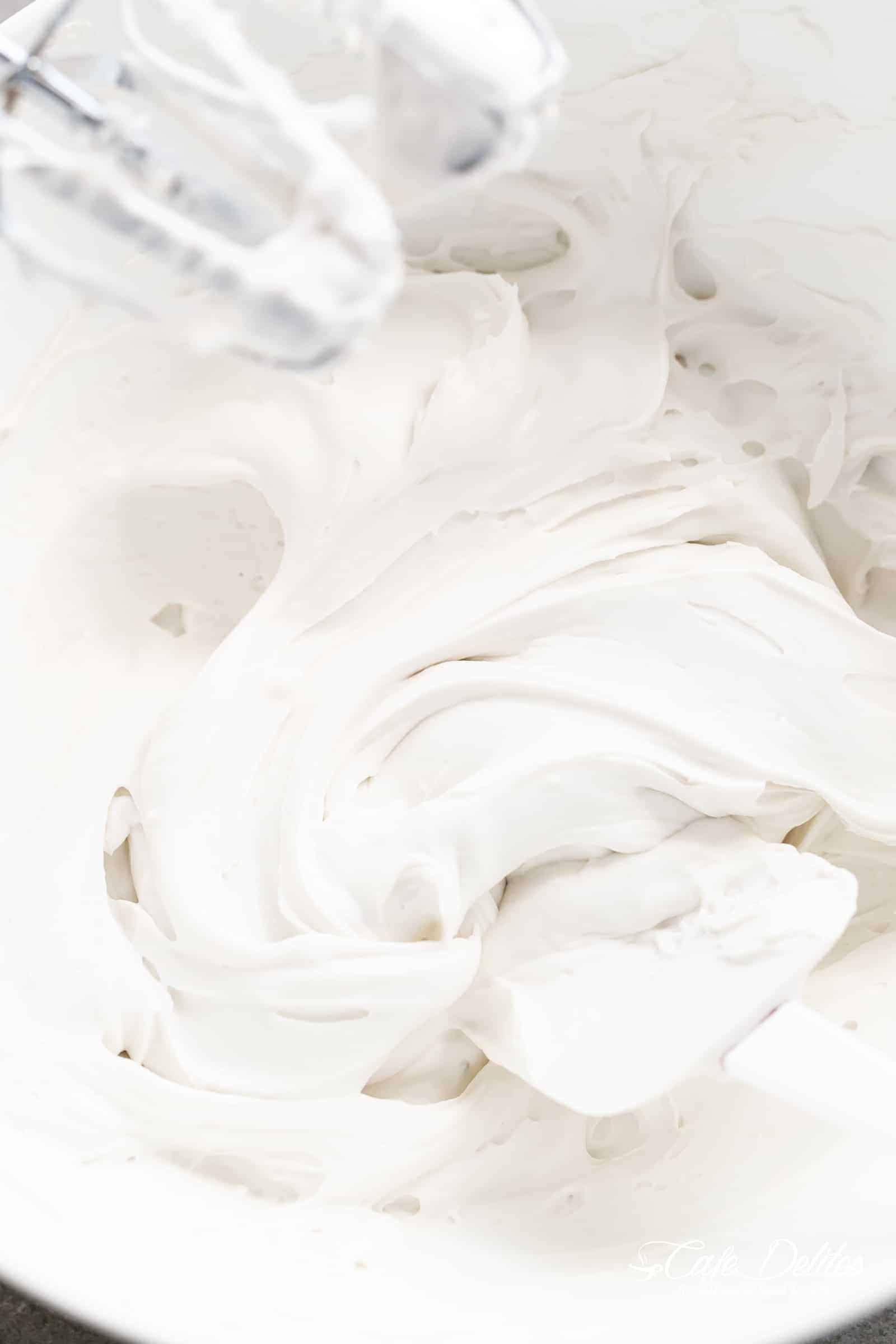 Eating plain whipped coconut cream out of a bowl screams for chocolate fix. Eyeing off the cocoa powder in my kitchen…remembering back to the good old days when it was cool to mix cocoa powder with yogurt to get that type of fix…I accidentally on purpose spilled some into my bowl to test it out and see what it would become and got this here result. Something I honestly never thought to try, instead holding my nose up high being the 'real food only' snob I was. Until a couple months ago… and so happy I did.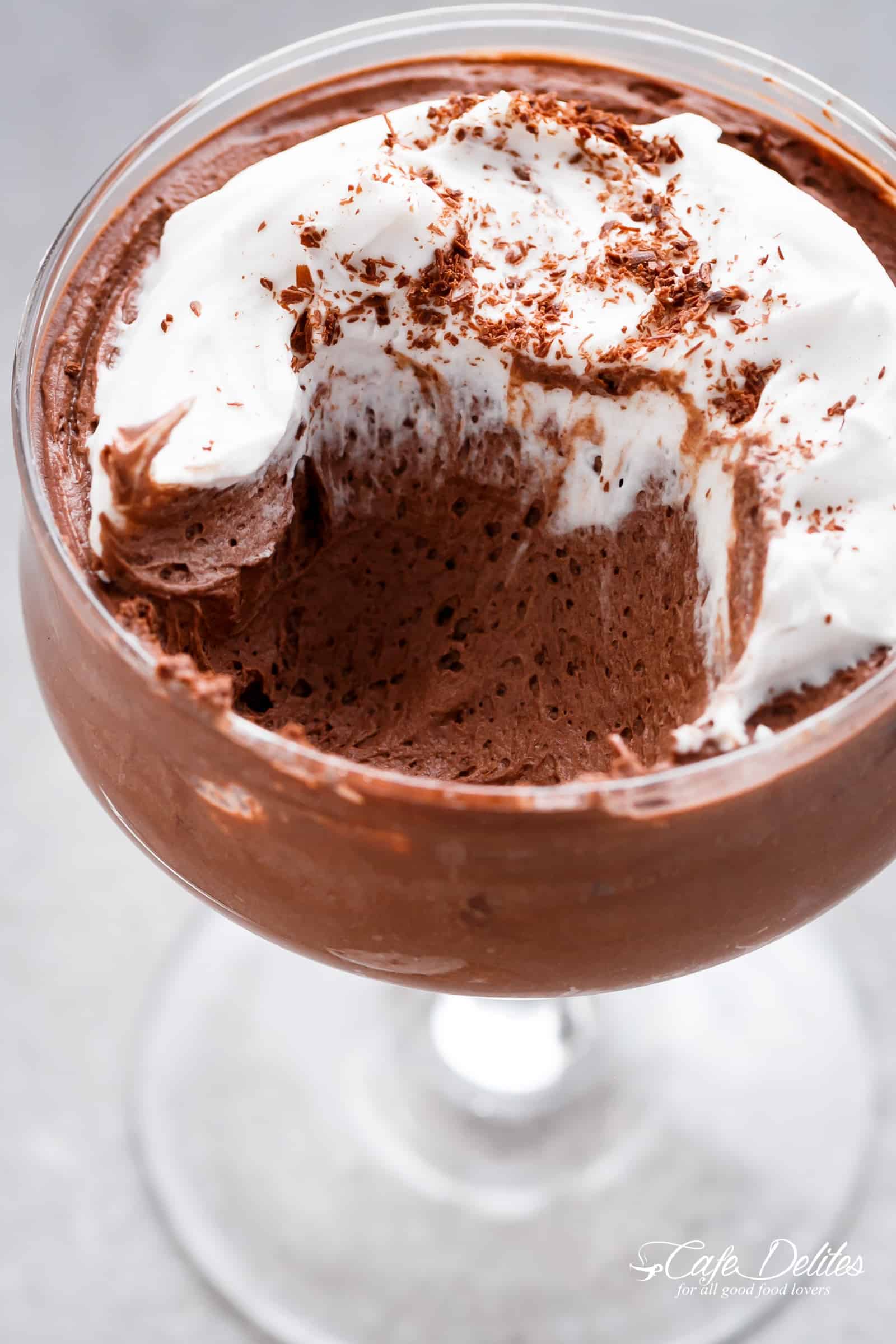 OPTIONAL ADD IN
I'm sure there have been many foodies before me to have done this but I had to share this one. Because not only is it whipped-and-so-thick-and-creamy-and-rich-that-your-mouth-waters-while-eating-this-thing…you then get the crunch of shaved dark chocolate in every mouthful.
Using chocolate is completely OPTIONAL! For those on a Keto diet, or a strict low carb high fat diet, I recommend using a SUGAR FREE dark chocolate.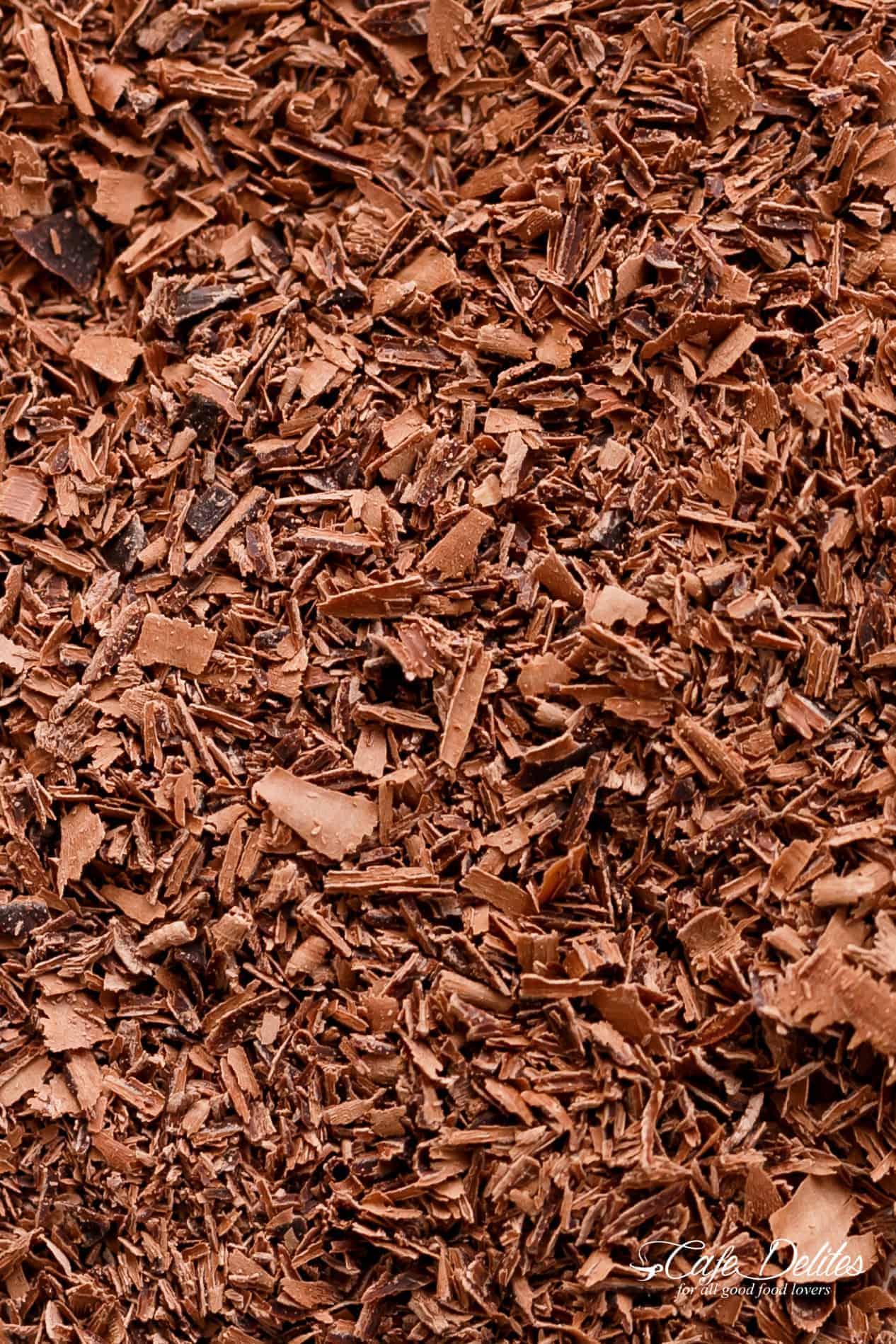 If you make this 3-Ingredient Double Chocolate Mousse, I recommend you absolutely have to reserve some already whipped coconut cream for the topping. Then sprinkle with more chocolate and mentally prepare yourself for the richest and most decadent dessert that's no longer low in fat (because high fat is better for you, until they decide other wise), but full of beautiful silky smooth chocolate.
Layers on layers on layers…
*ORIGINALLY PUBLISHED SEPTEMBER 2nd, 2015*
WATCH HOW WE MAKE 3-Ingredient Double Chocolate Mousse RIGHT HERE!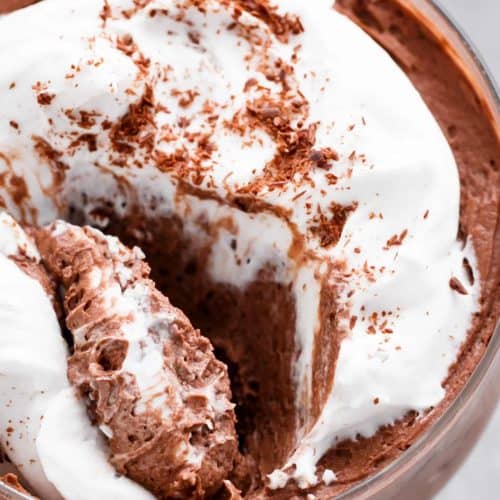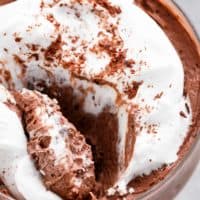 3-Ingredient Chocolate Mousse (Low Carb)
Rich Chocolate Mousse in minutes! No eggs. No dairy. And only 3 ingredients to thick, creamy and rich chocolate mousse that happens to be low carb and real really good for you.

Weight Watchers: 5pp per serve (out of 8 serves)
PRINT
SAVE
go to your favorites
Ingredients
2

x 400ml

(13.7oz) cans full fat coconut cream or coconut milk *See Notes

2

tablespoons

confectioners sweetener

(or confectioners | icing sugar if not counting carbs)

3

tablespoons

unsweetened cocoa powder

pinch of salt

(optional! About 1/4 teaspoon. Adjust to your tastes)

20

g

| 2 squares 70% chocolate

, shaved (optional for extra richness -- or sugar free chocolate chips)

extra shaved chocolate to garnish
Instructions
Place sealed cans of coconut cream (or milk) in the refrigerator overnight. Without shaking the cans, open carefully and scoop out the thick cream sitting at the top above the water. Transfer the thick hard cream to a bowl and discard all of the liquid left in the bottom of the cans (or reserve to add into smoothies later).

Add the sweetener (or sugar if using) and beat on high using a hand mixer (or whisk) until thick and creamy (about 1-2 minutes). Reserve about 4 tablespoons of the plain 'whipped cream' to use as a topping to serve with and set aside.

Fold the cocoa powder and salt through the cream and beat (or whisk) again until smooth, well combined and thick. Fold through the shaved chocolate if using). Depending on the coconut milk you use, a mousse will form almost immediately once the cocoa powder is mixed through. If not, refrigerate until set and ready to serve, or serve immediately. Dollop the 'plain whipped cream' over the mousse and sprinkle with shaved chocolate (if using).
Notes
*I found coconut cream worked the best, but you can use coconut milk. Do not try to use light or reduced fat. You need the fat content in both the cream and/or milk to make the cream successfully or it may not work.
Nutrition
Calories:
334
kcal
|
Carbohydrates:
5
g
|
Protein:
3
g
|
Fat:
31
g
|
Saturated Fat:
28
g
|
Sodium:
4
mg
|
Potassium:
353
mg
|
Fiber:
2
g
|
Vitamin C:
2.8
mg
|
Calcium:
13
mg
|
Iron:
2.5
mg