Since it's the weekend, I'm going to stay true to us all and share this Low Fat Chocolate Mug Cake recipe with you INCLUDING another video. For 138 calories and 3 Weight Watchers Smart Points without chocolate chips OR 219 calories and 6 Smart Points including them, it depends on what you're wanting at the time: if fits your diet plan, or if you just don't really care and aren't counting. 😏 Because when you want cake? You want cake! 
Over the years, I've fallen victim to dry, dense, chewy and rubbery mug cakes, Mug cakes that taste like an egg omelette made out of rubber. Cakes so dense it's hard to put a spoon in. Just. Disasters.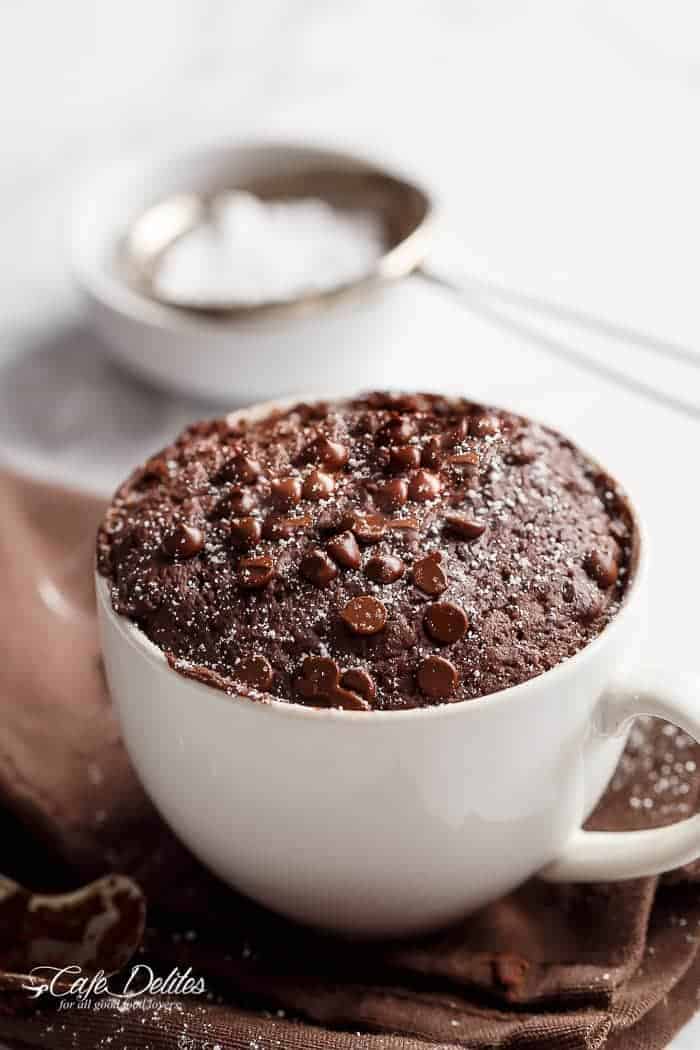 Until this mug cake came along; stole my beating heart and took my breath away. Chocolate seems to have that effect on me, and I'm sure on you too, since you're here with me — by my side — committing a non-crime on our diets, together. In fact,, it's been included in my diet — maybe every third day or so for about a year now — for breakfast. Why? Because it's less in points and calories than a bowl of medium-sized, mediocre flavoured, cardboard textured cereal.
Dipping your spoon into this cake is met with a soft, buttery, rich and fluffy moment.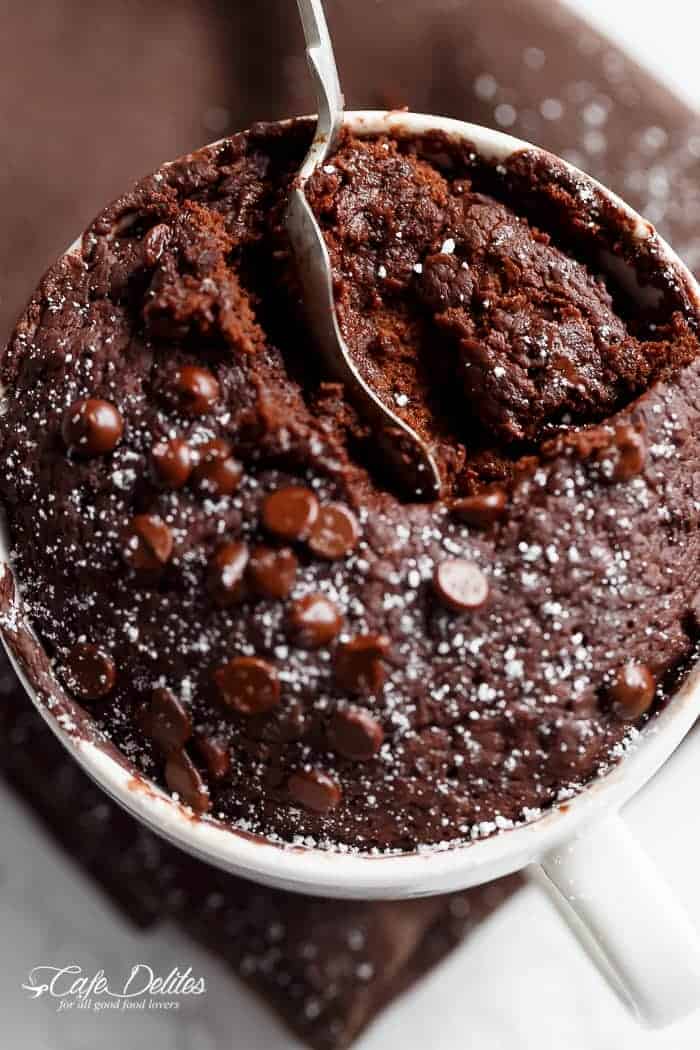 The ONLY dilemma you may have, is deciding what to eat it with. Plain is just as amazing as drowning in ice cream to frozen yogurt.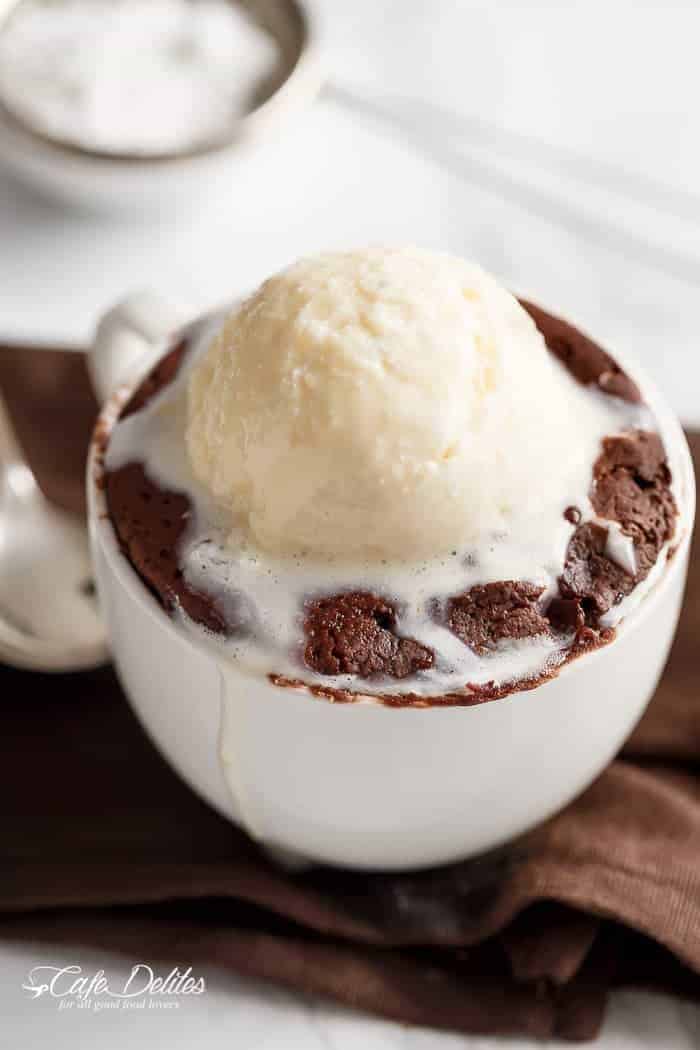 Only minimal ingredients are needed for this cake, and it's so easy, here's another video:
Unsweetened cocoa powder, flour, baking powder, milk, melted butter, chocolate chips (of COURSE)…and a microwave safe mug. Typical cake ingredients, but not your typical cake baking. Sometimes we don't have an hour to stand by the oven and cross our fingers something will rise to the occasion and full-fill our every need and desire when it's ready. No. I don't have time for those simple pleasures. I do, however, have time to wait around my microwave for a minute.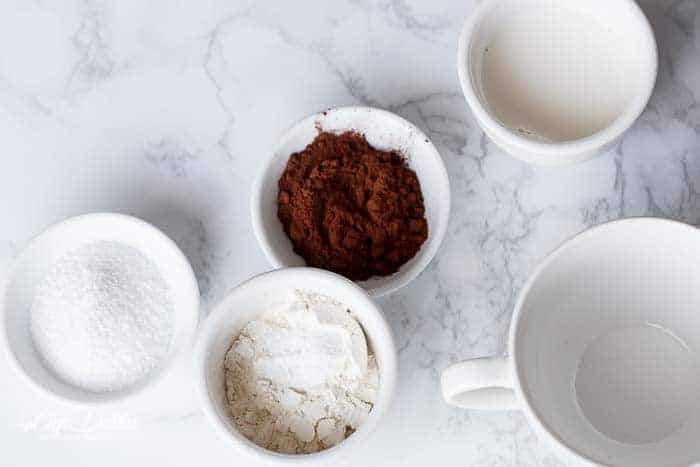 All 12 times making this, it took me about a minute to get it all together…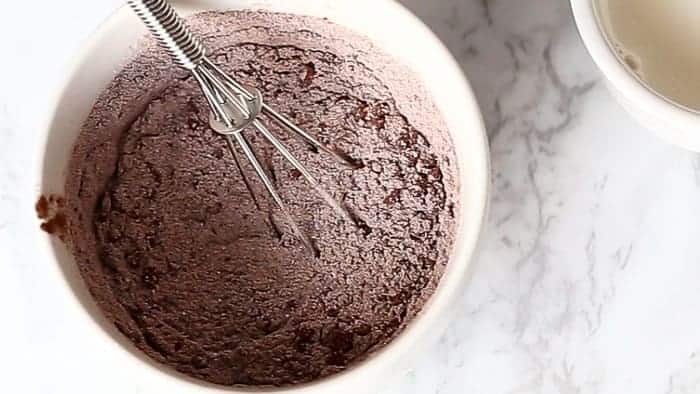 Including whisking a cake batter and taste testing more than three times JUST TO MAKE SURE I liked it. You understand, right?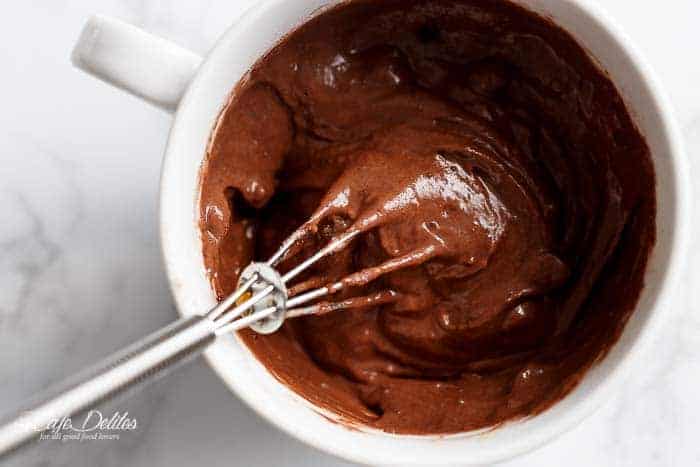 And out comes a thing of beauty with a perfect soft top. So perfect, I cradled it every single time I made it, proud and smug, before sinking my spoon in and feeling that soft, moist cake softness.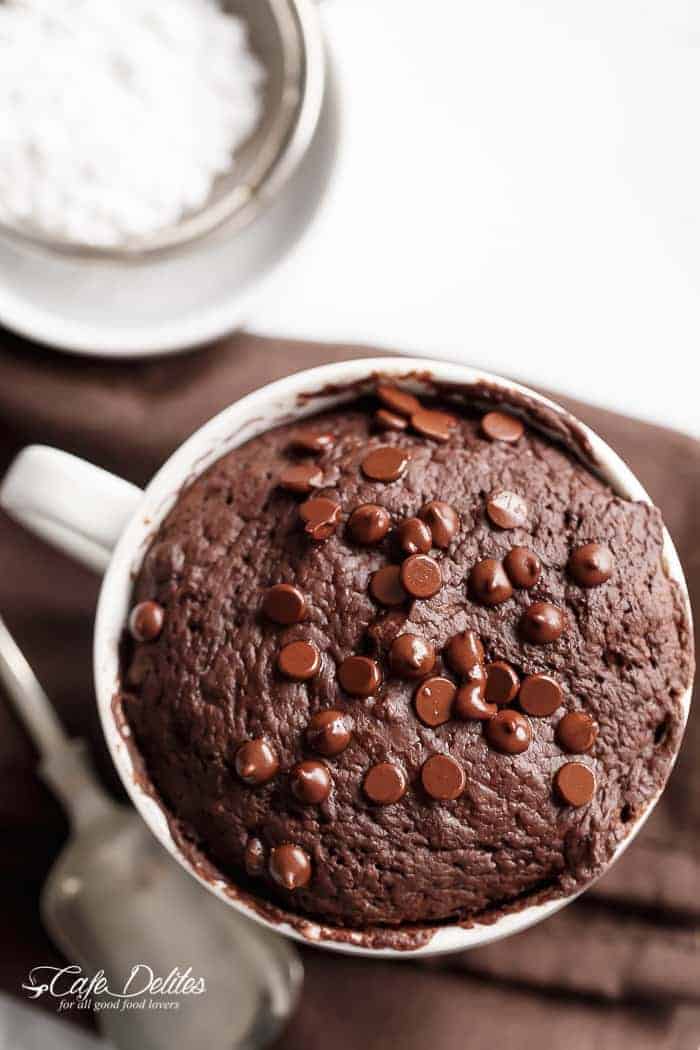 For breakfast. As a snack. For dessert. Whatever. When it's low cal, it doesn't really matter, right?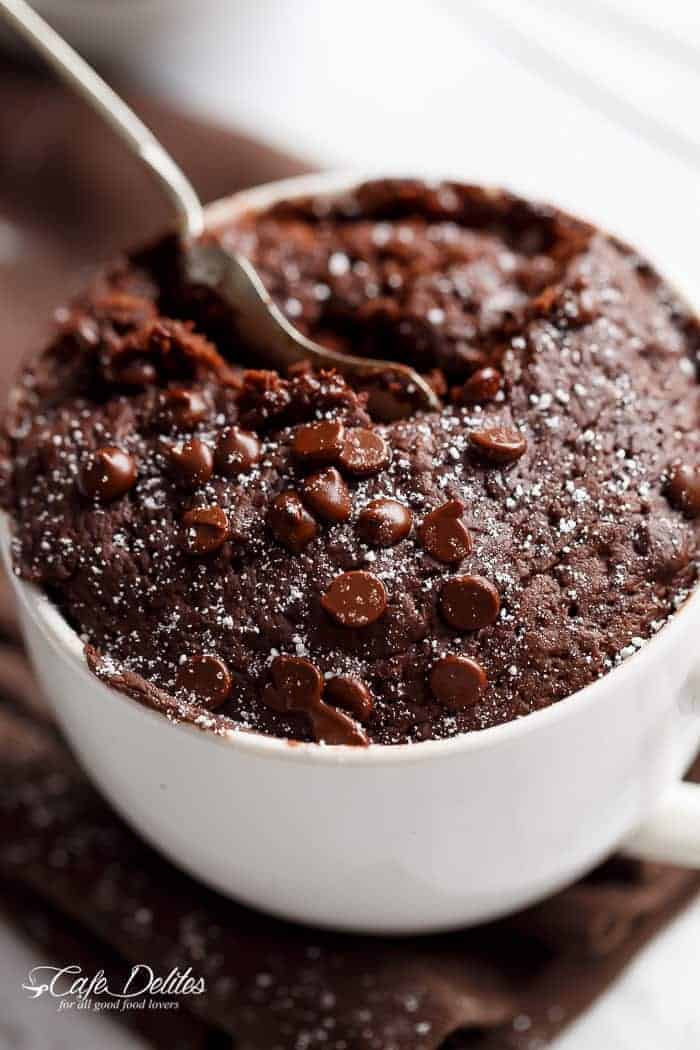 I mean….look into THAT centre👇👇. Excuse me while I go make another one.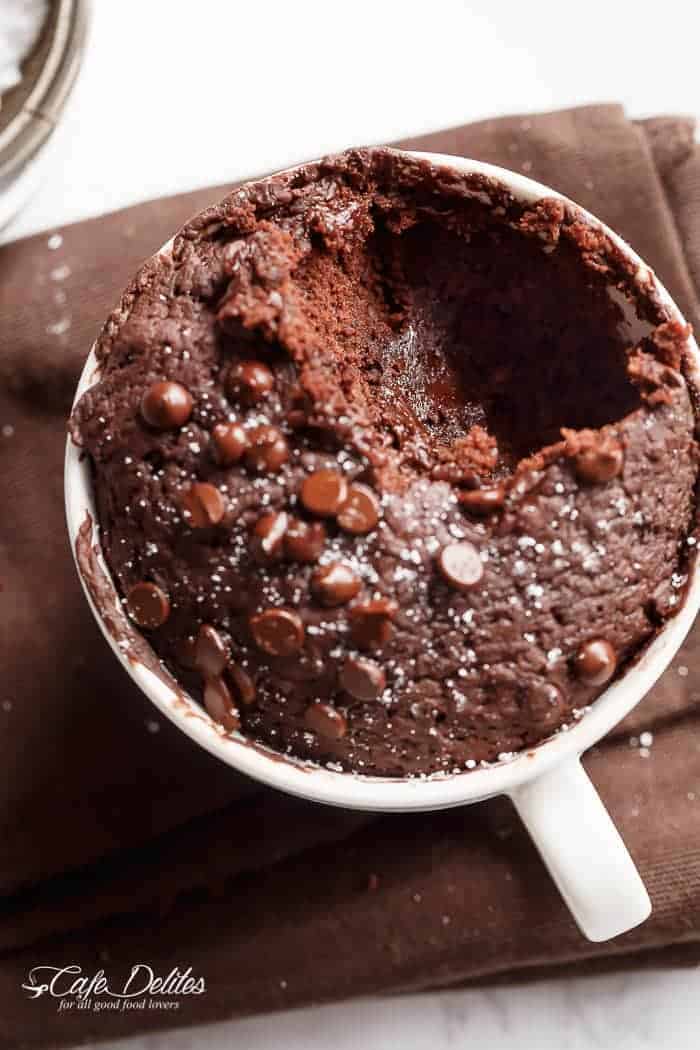 REMEMBER TO SUBSCRIBE TO CAFE DELITES NEWSLETTER FOR FREE AND RECEIVE FRESH RECIPE NOTIFICATIONS DELIVERED INTO YOUR INBOX!
If you try a recipe, please use the hashtag #cafedelites on INSTAGRAM for a chance to be featured!
FOLLOW CAFE DELITES ON FACEBOOK, INSTAGRAM, PINTEREST AND TWITTER FOR ALL OF THE LATEST CONTENT, RECIPES AND UPDATES.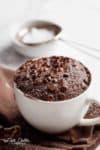 Low Fat Chocolate Mug Cake
Weight Watchers Smart Points: 3 without chocolate chips | 6 with chocolate chips
Ingredients
2

tablespoons

(1 oz | 30 g) self raising flour

1

tablespoon

natural granulated sweetener to keep calorie count low

(if white, raw or coconut sugar, and counting your calories, remember to add this in)

2

level teaspoons unsweetened cocoa powder for a mild chocolate cake OR 1 tablespoon for a darker

, richer chocolate cake

1/4

teaspoon

baking powder

pinch of salt

1

teaspoon

reduced fat butter

, melted (or coconut oil)

2

tablespoons

(40ml) unsweetened almond milk (or skim milk for an extra point) *2 1/2 tablespoons of milk if using 1 tablespoon cocoa powder

1/8

teaspoon

pure vanilla extract

3/4

tablespoon

mini chocolate chips of choice

(milk or dark), divided *optional (See Notes)
Instructions
Grab a 1/2-cup capacity mug and spray with cooking oil spray. Into the mug, add in the flour, sweetener (or sugar), cocoa powder, baking powder and salt. Whisk to combine. To that, add your melted butter, milk and vanilla.

(Optional): Fold in 1/2 tablespoon of chocolate chips. Mix them through. Top with the remaining chocolate chips.
Minute Microwave Method:
Bake in your microwave on 'Quick' or High' setting for 40 seconds. Open the door and gently touch the top with your finger tip. If it's still a little underdone in the middle, bake for another 10 seconds until cooked through (not too long, as the cake will continue cooking in the mug once it's removed).
Oven Baked Version:
Preheat oven to 180°C | 350°F. Spray a 1/2-cup capacity ramekin with cooking oil spray. Prepare as above and bake in the oven for around 15 minutes, or until a toothpick inserted into the centre comes out clean. (For a fudgier cake, check it after 11 minutes with a toothpick and it should come out slightly dirty, but not with a lot of cake batter attached.)

Serve with fruit, icing sugar, ice cream, or whipped cream! Personally, I like this cake on its own.
Recipe Notes
*Adding the chocolate chips makes this 219 calories |5g Protein | 8g Fat | 33g Carbs | 3g Fiber |
Adapted from
Eating Well Living Thin
and
Taste
Nutrition Facts
Low Fat Chocolate Mug Cake
Amount Per Serving (1 g)
Calories 138
Calories from Fat 36
% Daily Value*
Total Fat 4g 6%
Total Carbohydrates 24g 8%
Protein 4g 8%
* Percent Daily Values are based on a 2000 calorie diet.