Steak & Cheesy Bacon Potato Hash Foil Packs are arriving just in time for your 4th of July celebrations!
Cook 'em on the BBQ, stove top OR oven! Two favourites cooked in ONE PACK means NO pans to wash up! Cheesy potato hash –> tender-juicy-charred steak –> grilled OR cooked how ever you like in garlic butter for the ULTIMATE flavour combination! And if thats's not enough, it all gets topped with bacon. CRISPY BACON. I'm so excited to share these extremely versatile Steak & Cheesy Bacon Potato Hash Foil Packs!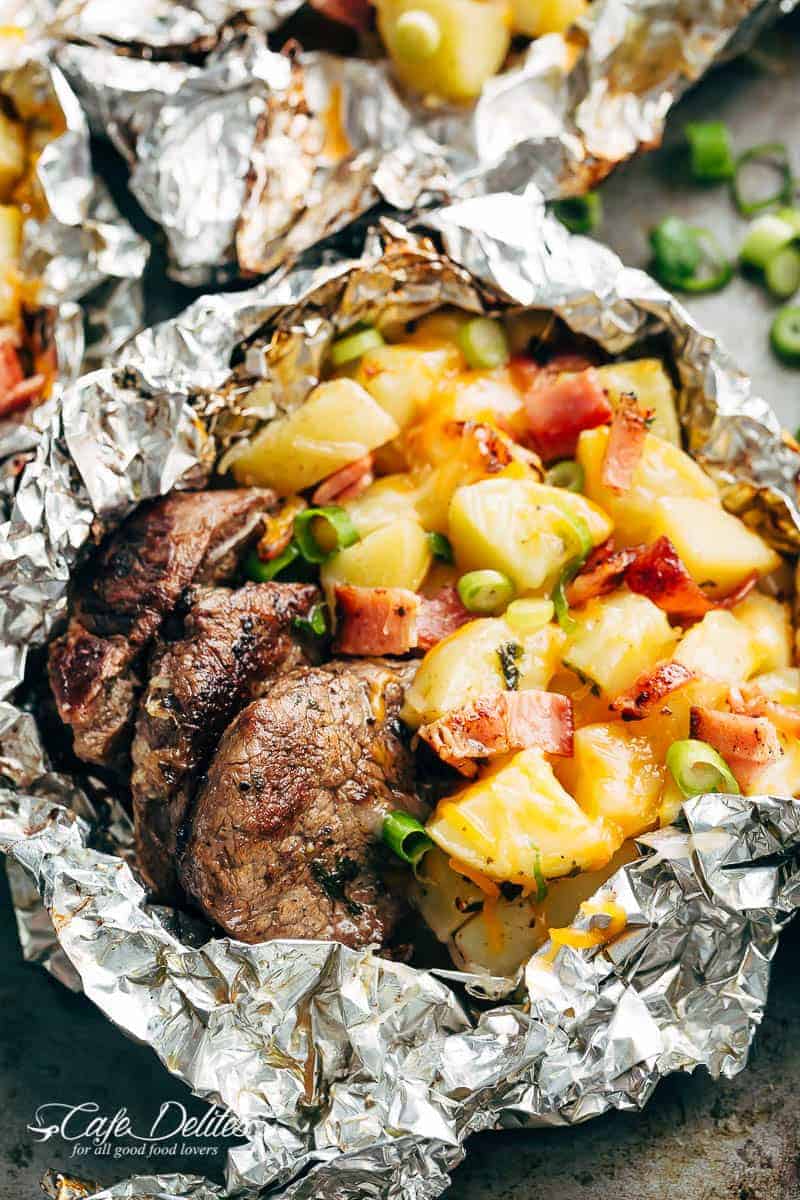 The last time I gave you guys cheesy potato hash was in this CHEESY BACON AND EGG HASH recipe. It seems my diet has gone out the window, through the clouds way into outer space somewhere, lost in an abyss, or should I say a black hole filled with carbs and incredible tasting stuff. I mean….these packs! There was heavy breathing involved by all of us eating them a couple weeks ago. The problem is I've been so busy training team members that life has been so super chaotic. There has been NO TIME to post! Like, ANYTHING. But that's changing this week, I hope.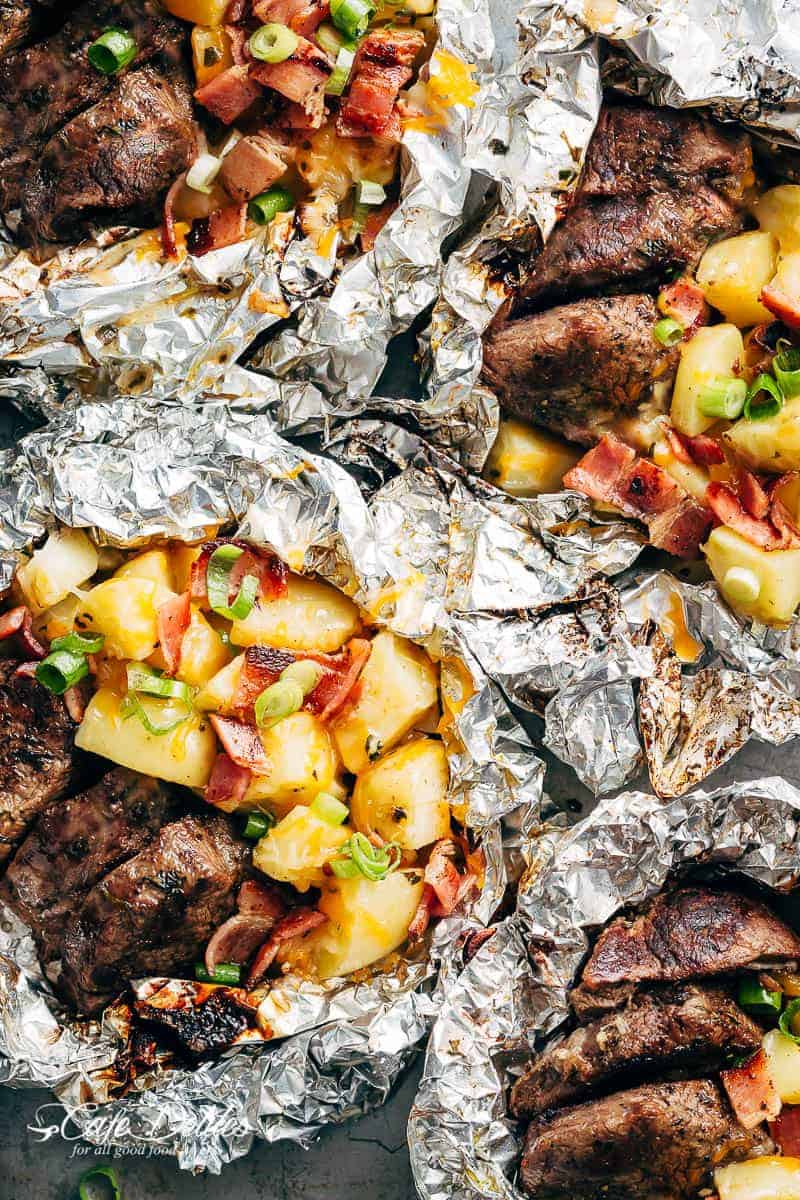 As I mentioned, these packs can be cooked anywhere. I do recommend grilling, but what if you don't have a grill? No worries! Get your skillets out and cook them on your stove top! During testing, we used a cast iron skillet, got it really hot before placing two packs in it at a time. Cover the skillet and you won't believe it when they're done. PLUS the bonus of NO WASHING PANS!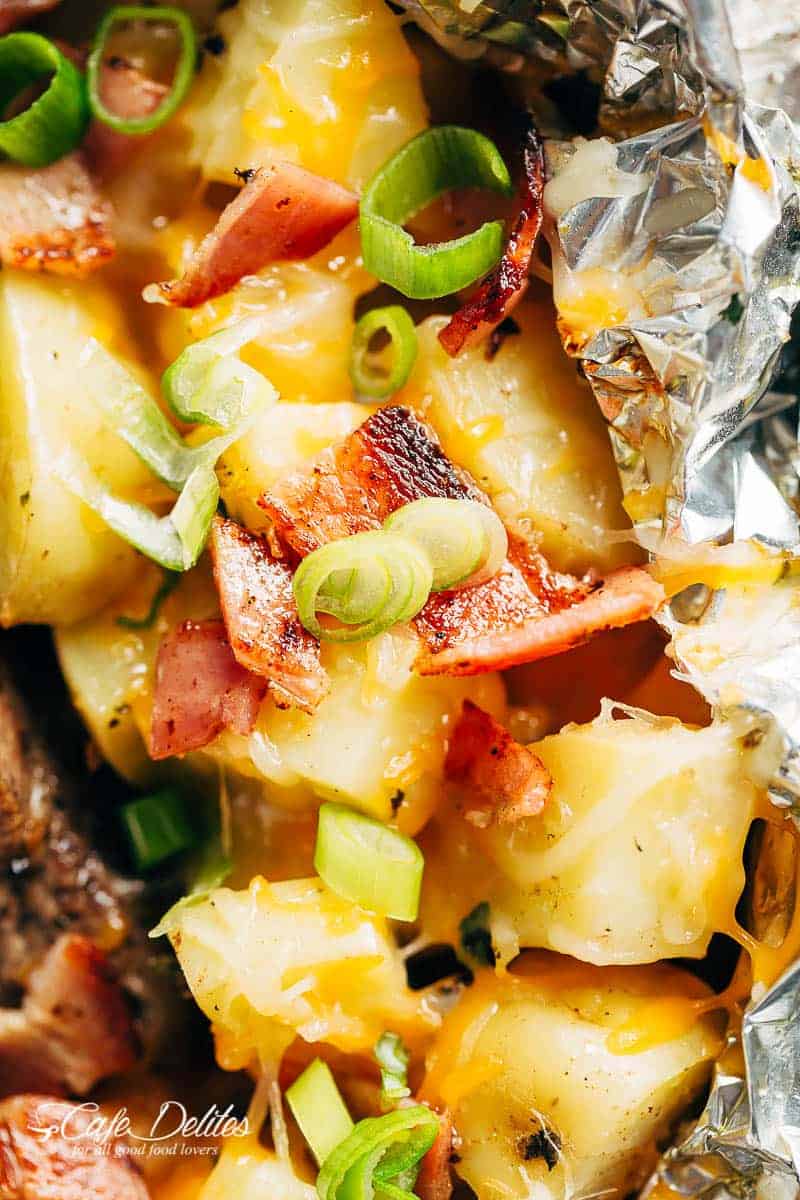 If you don't have a skillet, a stove top OR a grill?! Well, I'm hoping you have an oven. NOT a microwave oven (please don't do that). Throw them on a baking sheet, chuck them in the oven, and let the oven do all the cooking for you.
As stated in the recipe, I've also catered for medium-rare lovers and well-done preferrers. Personally, give me a juicy steak with charred edges and I'm your new best friend. However, my husband? He gags at the sight of 'blood' as he calls it (what I call juice). Mmm. Juicy steak.
Topping the potato with bacon is optional. We fried ours on a seperate heavy duty based foil sheet on both the bbq AND skillet to keep with the no washing pans thing. Right? Because that's totally a thing now.
Pictured below 👇 is what you will do for NON DRY STILL JUICY well-done steak pieces 👇 You're going to slice it into 1-inch rounds.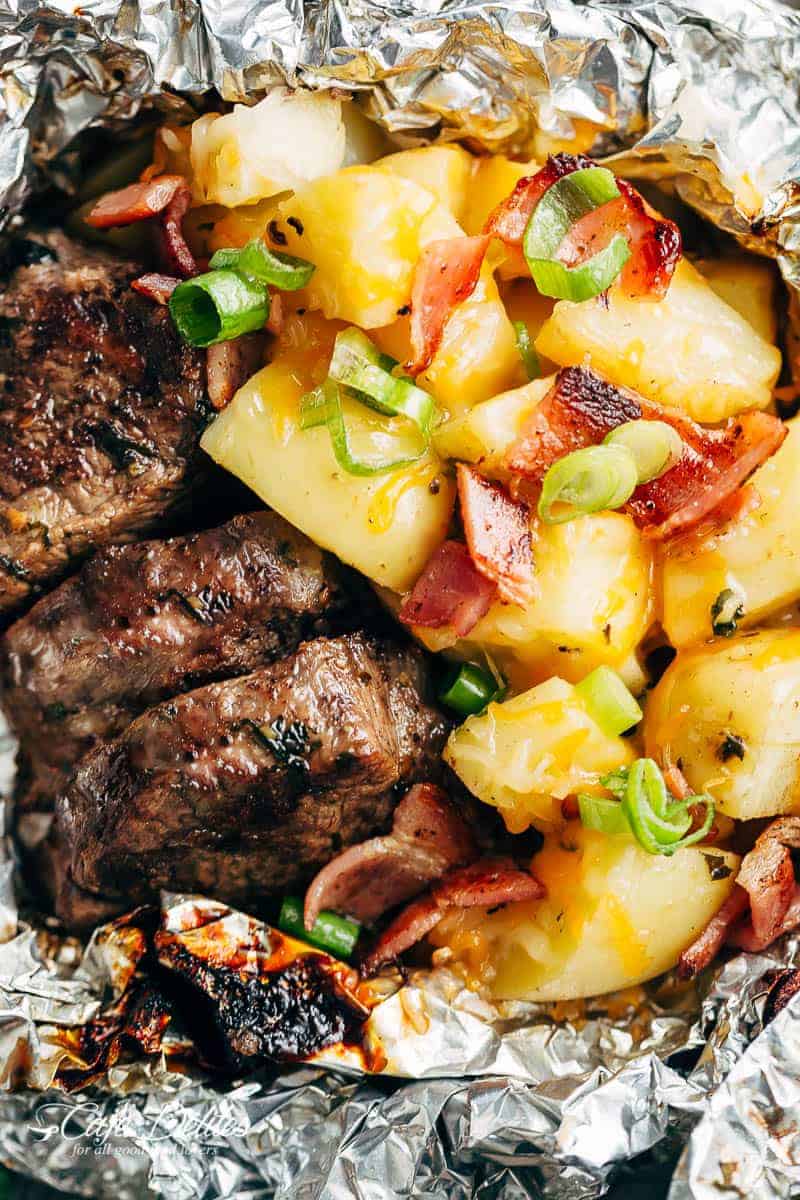 This picture down here👇 is what you will do for a beautiful piece of medium-rare, juicy steak 👇. Leave it as a whole piece in it's foil pack.
If you try these Steak & Cheesy Bacon Potato Hash Foil Packs, PLEASE let me know what you think!