Strawberry Cheesecake Crepes
Fusing together a creamy cheesecake filling with juicy fresh strawberries and fluffy vanilla flavoured crepes, I'll take this wake-up call any day.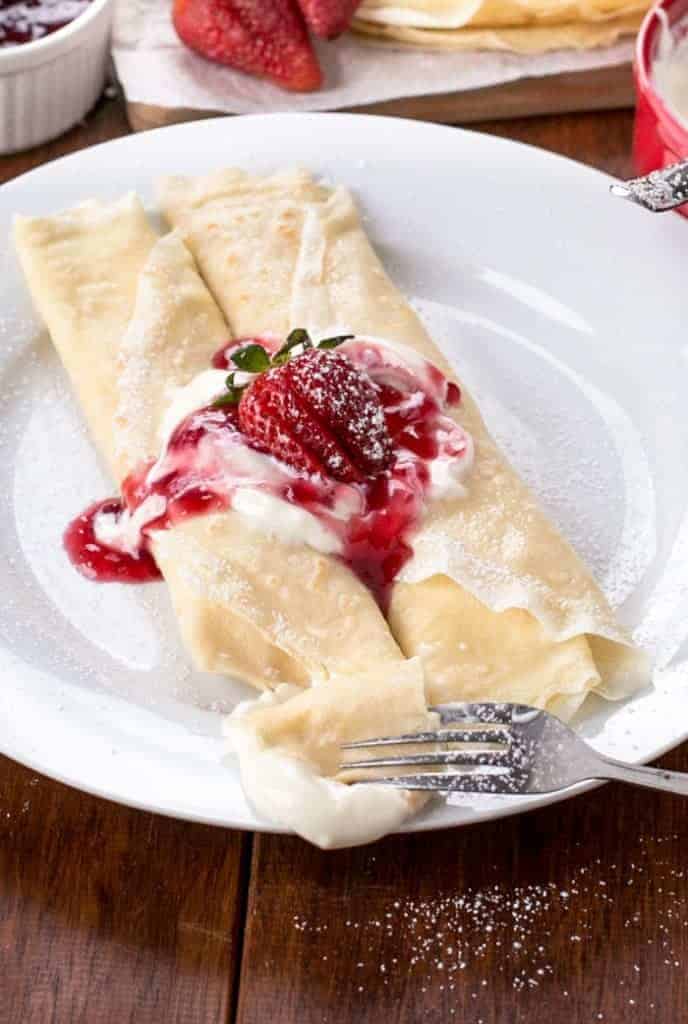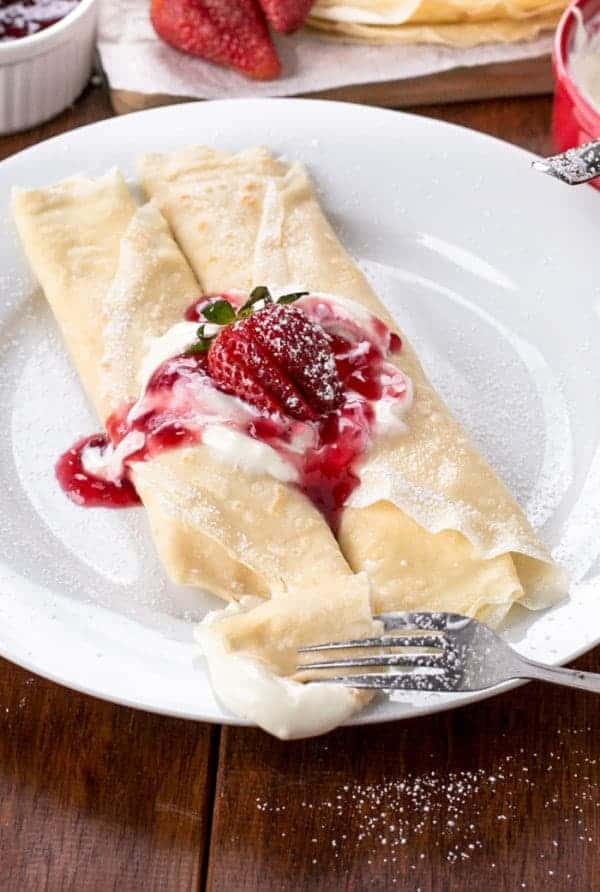 The beauty of this batter. This batter…Lemme tell ya. Not only is it just amaze balls, it's suitable for those 'cooking half the batter today and refrigerating the rest for tomorrow' moments. Which is perfect for us.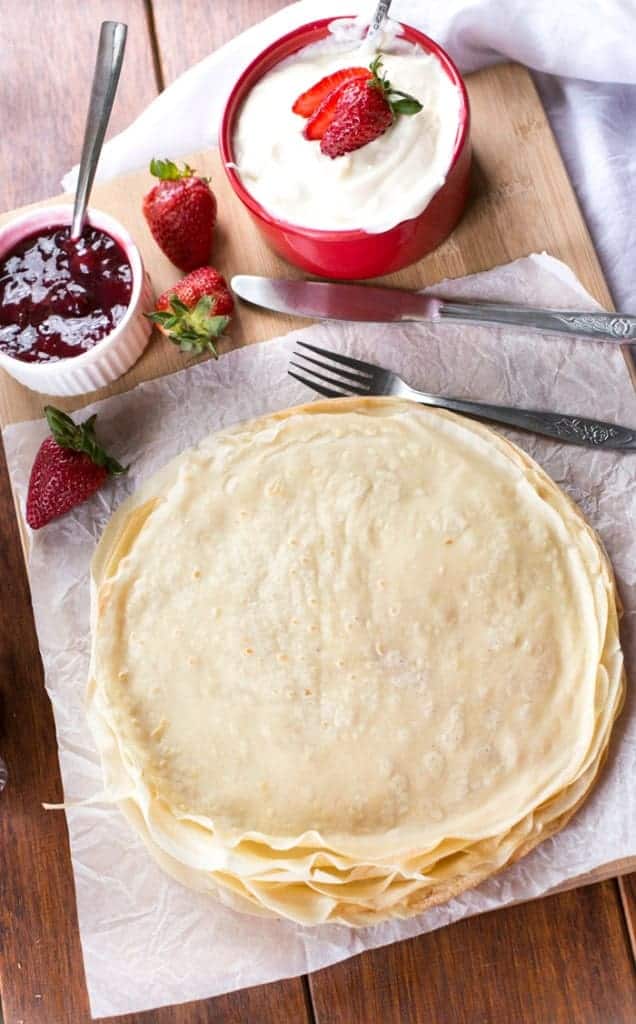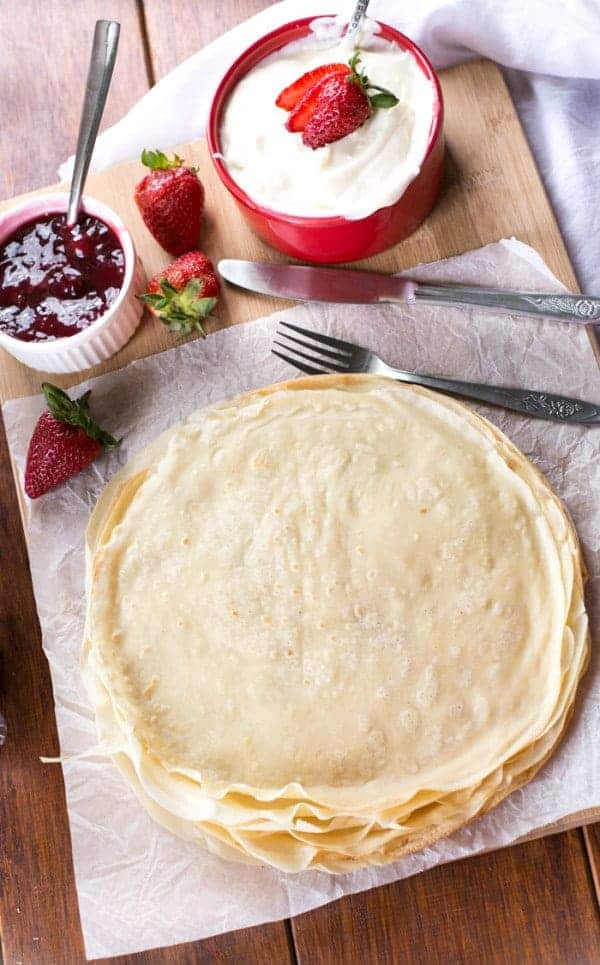 Or…make the whole batch and freeze a few crepes for an emergency situation. There's always that: I'm so hungry I could eat a whole packet of biscuits plus ice cream plus anything else I can find emergency moments…but freezing these crepes ahead of time is like genius. Like calling '911' or '000' for that emergency hangry feeding session. You know what I mean?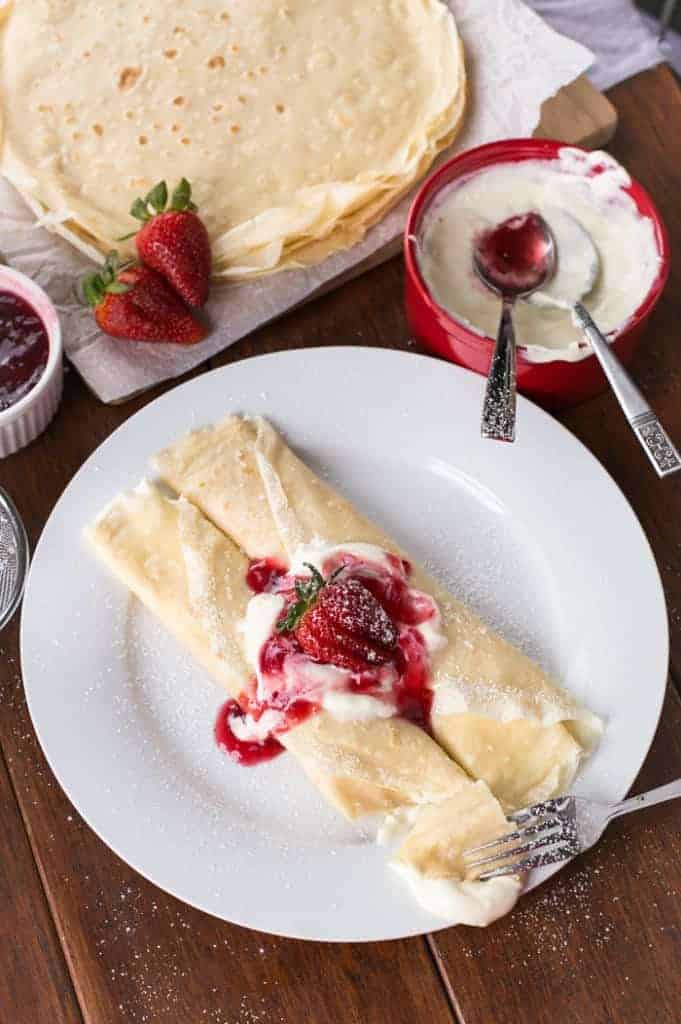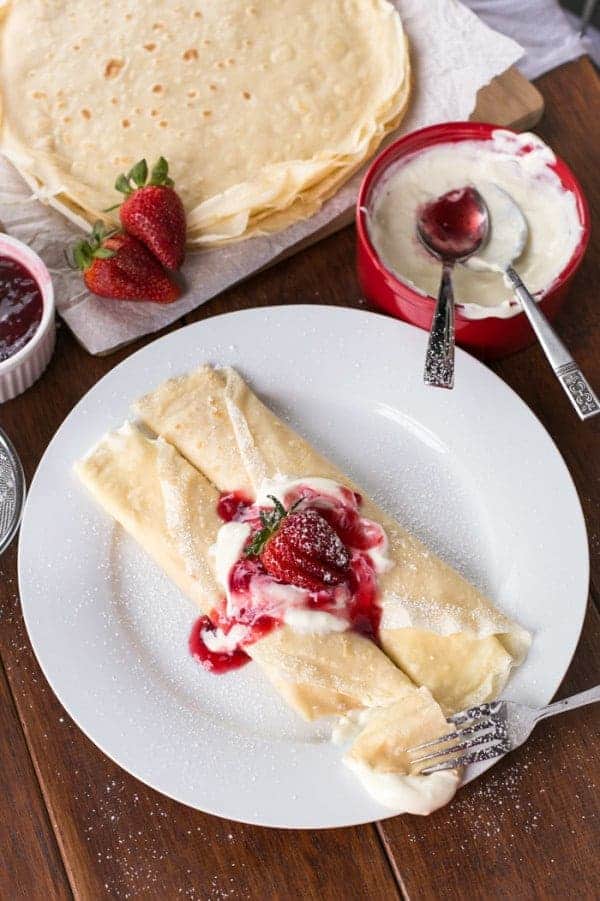 I woke up craving cheesecake. I know I'm weird, but hey, at least my weirdness helps me whip up these extremely crazy creations. Actually, truth be told, I was craving my Strawberries and Cream French Toasts… Remember those? Yeah. I do too. The taste of them was so incredibly creamy, their memory is still lingering in my frontal lobe and my taste buds.
But! We were out of bread…! My whole world as I knew it was about to come crashing down.
BUT! As I was reaching for my boring old cereal…tears streaming down my face (ok…over dramatising…just a little) I saw it. I saw all my packs of flour just sitting there, all sad and lonely, begging to be opened and played with. So who am I to say no?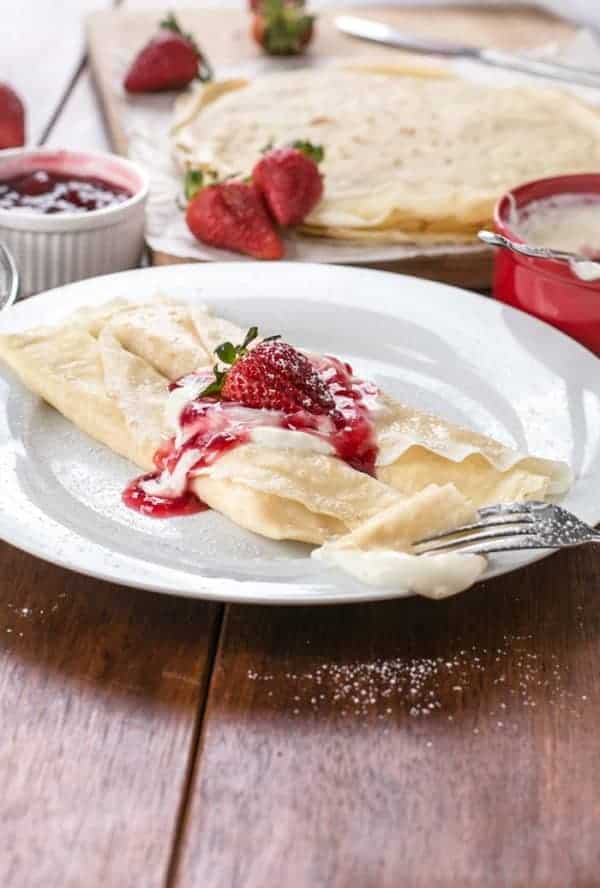 Then I had a knew dilemma. Didn't want pancakes.
Didn't want muffins.
And my mum had just been to a strawberry farm the day before and had left me with punnets and punnets of juicy organic strawberries…which as it so happens, were also calling my name.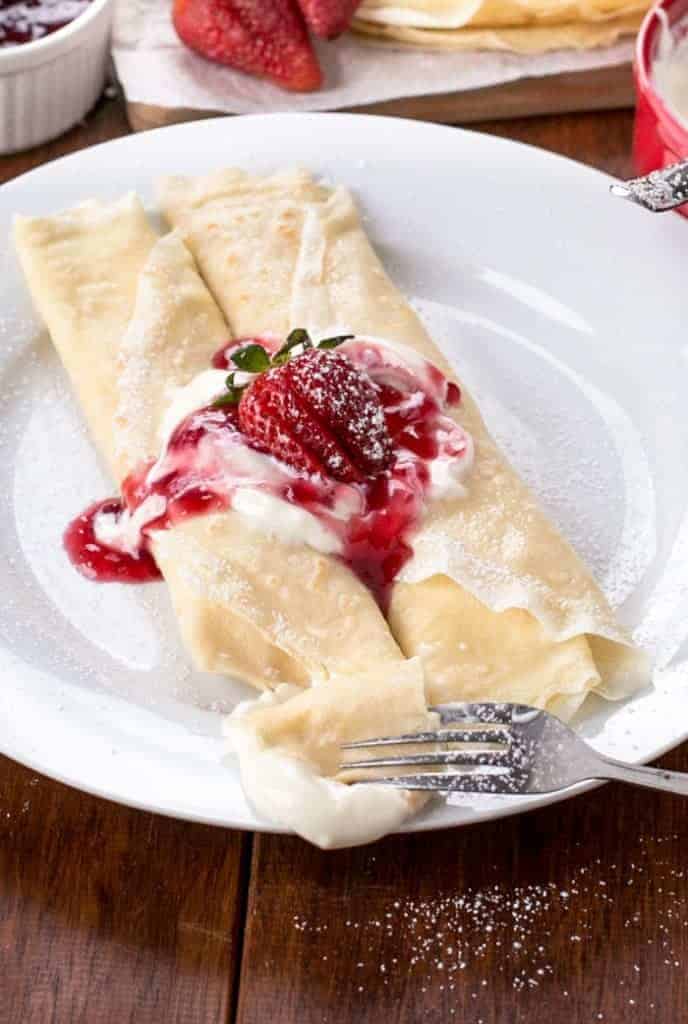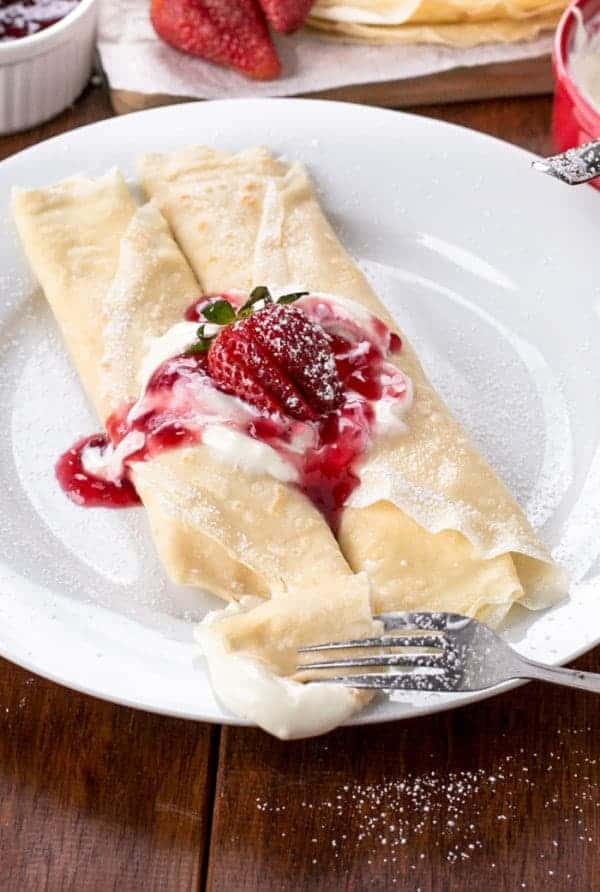 Kariiiinaaaaaa….Kariiiiiinaaaahhhhh
Am I the only one that speaks to food? I promise, I don't need medication. Best creation ever known to man! Whoever invented crepes is a genius. I big-time 'I could hug him/her' genius!
Spongy crepes. Fluffy crepes. Oh sweet Crepes…how you complete me.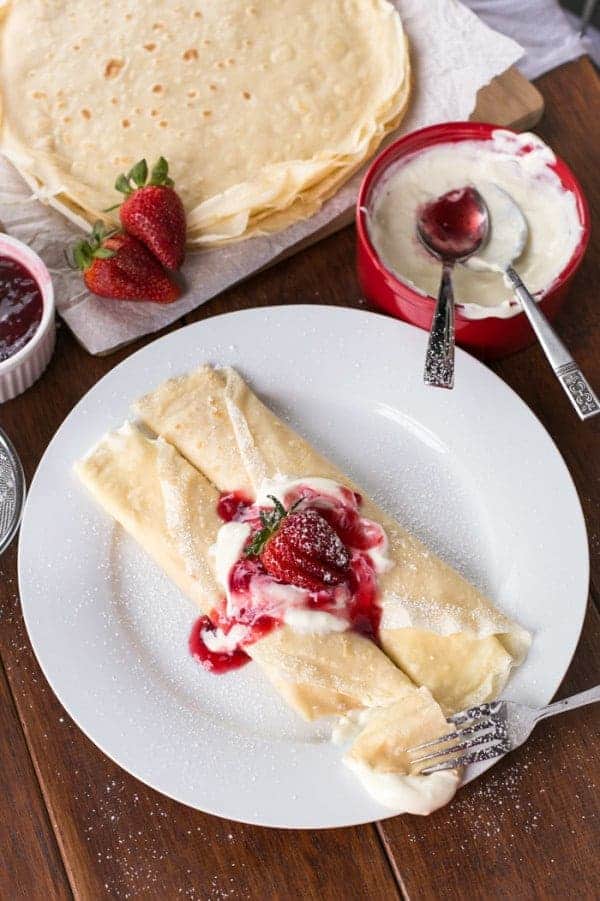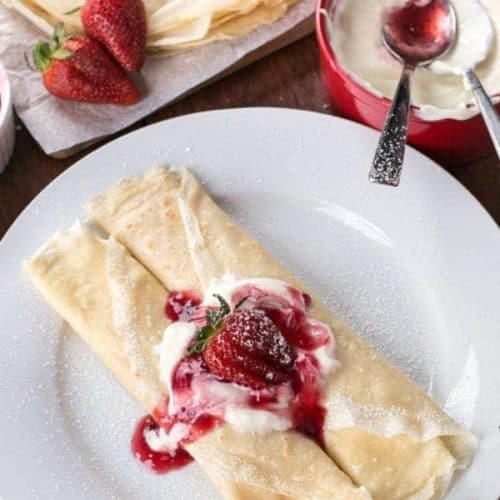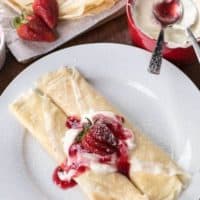 Strawberry Cheesecake Crepes
Weight Watchers (Per Crepe calculated with sweetener and light butter -- including filling): 2pp
PRINT
SAVE
go to your favorites
Ingredients
Crepes
1

cup

liquid egg whites

(or 4 large eggs)

1 1/2

cups

unsweetened almond milk

1/2

cup

water

1/4

cup

(60g | 2oz) light butter (or coconut oil), melted

1/4

teaspoon

salt

1/4

cup

natural sweetener or sugar of choice

2

cups

flour

(I used spelt, but plain or all purpose flour(s) are fine)

Coking oil spray
Filling:
1

package

(250g | 8oz) low fat/fat free cream cheese, softened

1

cup

(250g | 8oz) low fat vanilla greek yoghurt

1/4

cups

natural sweetener or sugar of choice

1

tablespoon

lemon juice

1/2

teaspoon

vanilla extract

4

cups

fresh strawberries

, sliced, divided
Instructions
Crepes:
In a large bowl, whisk the egg whites (or eggs), milk, water, butter and salt until lump free. Add in the flour and whisk again until smooth.

Spray a medium-sized nonstick pan with cooking oil and wipe over with a paper towel

Pour 1/4 cup of batter per crepe onto the center of pan, while swirling and lifting the pan

to evenly coat the entire pan base.

Cook until the crepe is set and the edges begin to change to a gold colour

Gently peel the edges away from the pan (I use my fingers but a spatula will do the trick) and flip to cook the underside for a further 20-30 seconds

When cooked through, remove onto a separate plate, and repeat entire process with remaining batter: (cooking spray, wipe over, pour 1/4 cup batter per crepe, etc)

While Crepes are frying, prepare cheesecake filling:

Cheesecake Filling:
Combine cream cheese, yoghurt, sweetener/sugar, lemon juice, and vanilla until smooth.

Slice the strawberries ready for serving (mix the strawberries through the cream cheese mixture, or serve separately onto serving plates)

Spoon 2 heaping tablespoons of cheesecake onto the centre of each crepe, and serve with extra strawberries. Optional: top with strawberry jam/conserve and dust with icing sugar for extra decadence
Nutrition
Calories:
109
kcal
|
Carbohydrates:
11
g
|
Protein:
5.3
g
|
Fat:
3
g
|
Fiber:
2
g
|
Sugar:
2.2
g