One-Pot Creamy Mushroom Chicken Pasta is Lightened Up and a carb lovers dream! All cooked in ONE POT with NO heavy cream and HALF the fat of regular creamy pastas!
Seared chicken strips are mixed through a super creamy pasta, cooked in the one pot with white wine, garlic, mushrooms AND parmesan cheese! The entire family will LOVE this One-Pot Creamy Mushroom Chicken Pasta!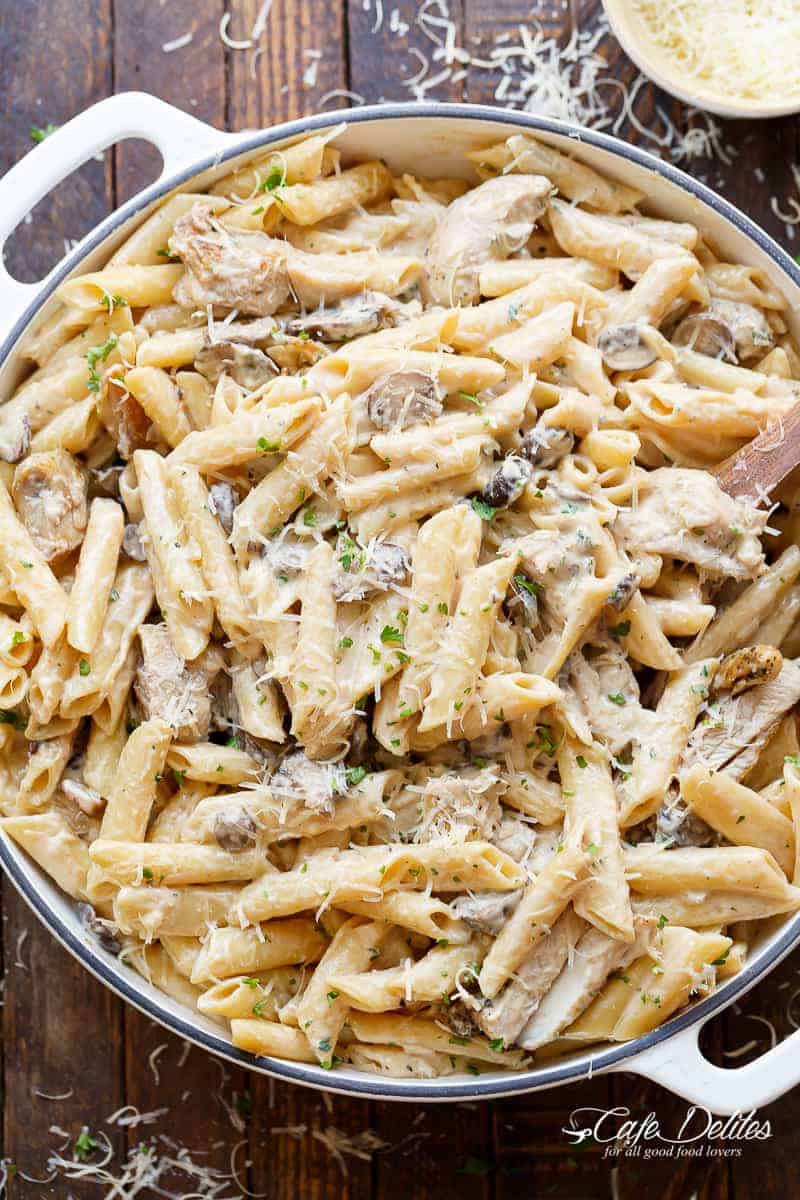 This recipe has been tried and tested FOUR times before posting it for you all! The perfect creamy sauce > pasta > flavour ratio! Lightening it up just enough without sacrificing flavour and jean sizes.
My entire family were shocked this pasta came out of my kitchen without using any heavy cream, because it is perfectly decadent and rich, thanks to an age-old secret diet ingredient used in kitchens all over the world.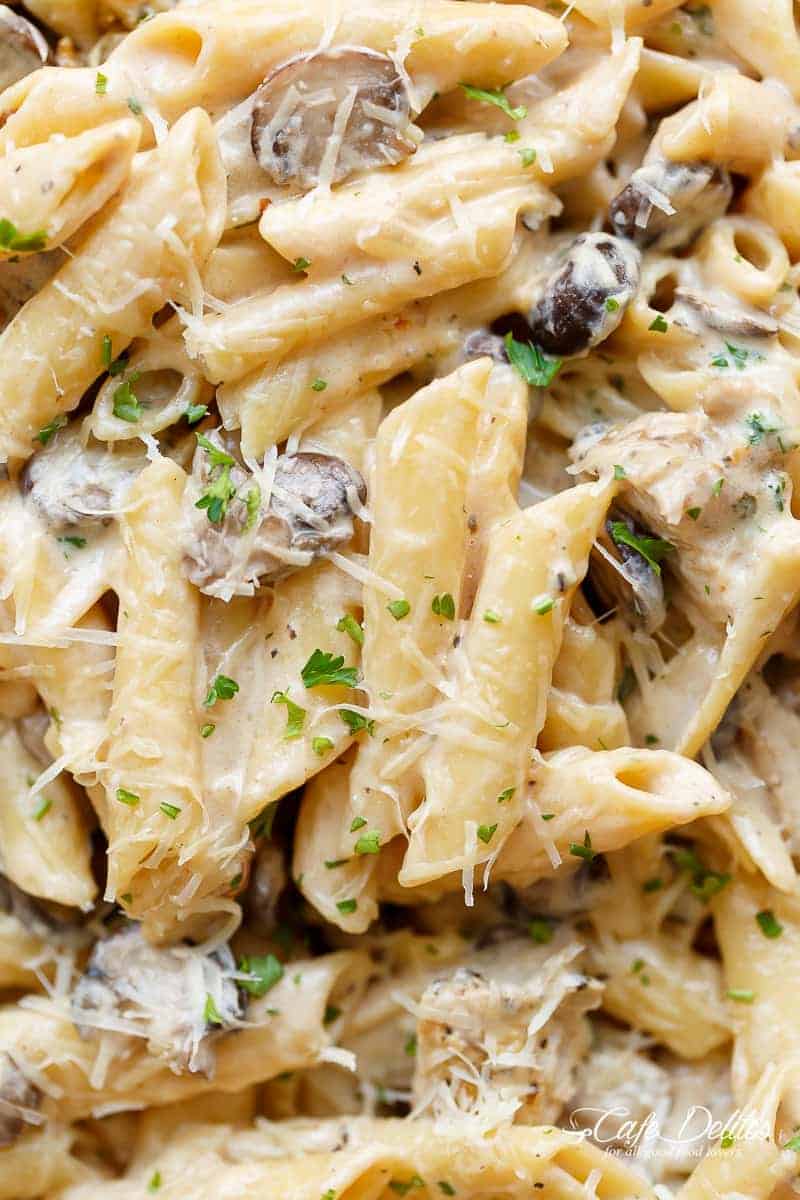 You guys loved this Slow Cooker Creamy Tortellini Soup so much, messaging me your appreciation of all the creaminess in that soup with half the fat, that I had to make THIS recipe right here using the same ingredient! So, what is it?
Evaporated milk. Yep. That's it. No secret, really, but getting the quantity of broth, evaporated milk and pasta right is THE biggest deal for a one pot recipe like this one!
After sharing this Skinny One Pot Chicken Bacon Fettuccine Alfredo, many of you have been writing in asking if you could use evaporated milk in that recipe. With some testing, and some more testing, I wanted to go with these flavours instead. Creamy chicken and mushroom based sauces are a family favourite in this house, and I usually make this recipe every week for my kids with thickened cream. I'm so glad I can give them something different with less fat.
Also, YOU will be blown away by how good this is!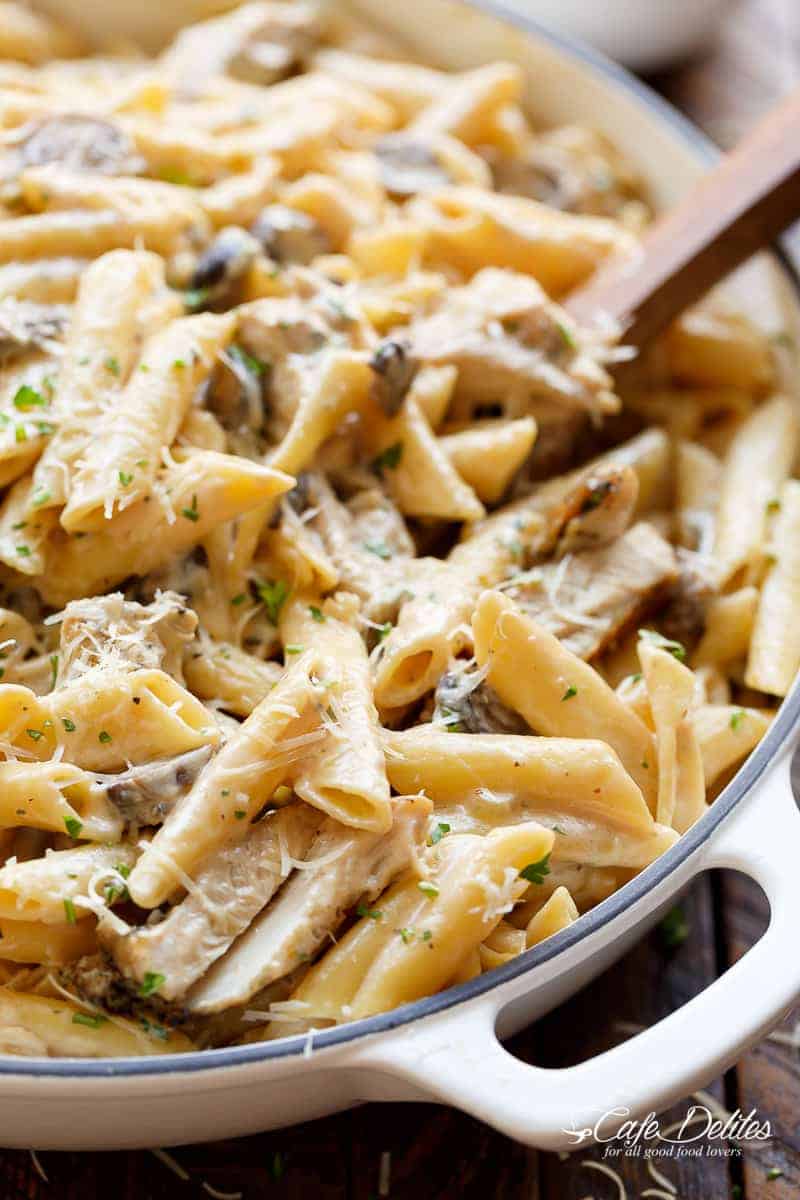 Some Tips:
Using evaporated milk ensures a creamy result with half of the fat of normal creamy pasta recipes. You can substitute with half and half or a reduced fat cooking cream if you wish! If calories are not an issue, you can use heavy cream or thickened cream.
I sear the chicken thighs first to enjoy the crispy texture through the creamy pasta. You're more than welcome to leave the chicken thighs in the pot, and continue cooking on from Step 2.
Using freshly grated parmesan cheese enhances the flavour in the sauce.
REMEMBER TO SUBSCRIBE TO CAFE DELITES NEWSLETTER FOR FREE AND RECEIVE FRESH RECIPE NOTIFICATIONS DELIVERED INTO YOUR INBOX!
If you try a recipe, please use the hashtag #cafedelites on INSTAGRAM for a chance to be featured!
FOLLOW CAFE DELITES ON FACEBOOK | INSTAGRAM | PINTEREST | TWITTER FOR ALL OF THE LATEST CONTENT, RECIPES AND UPDATES.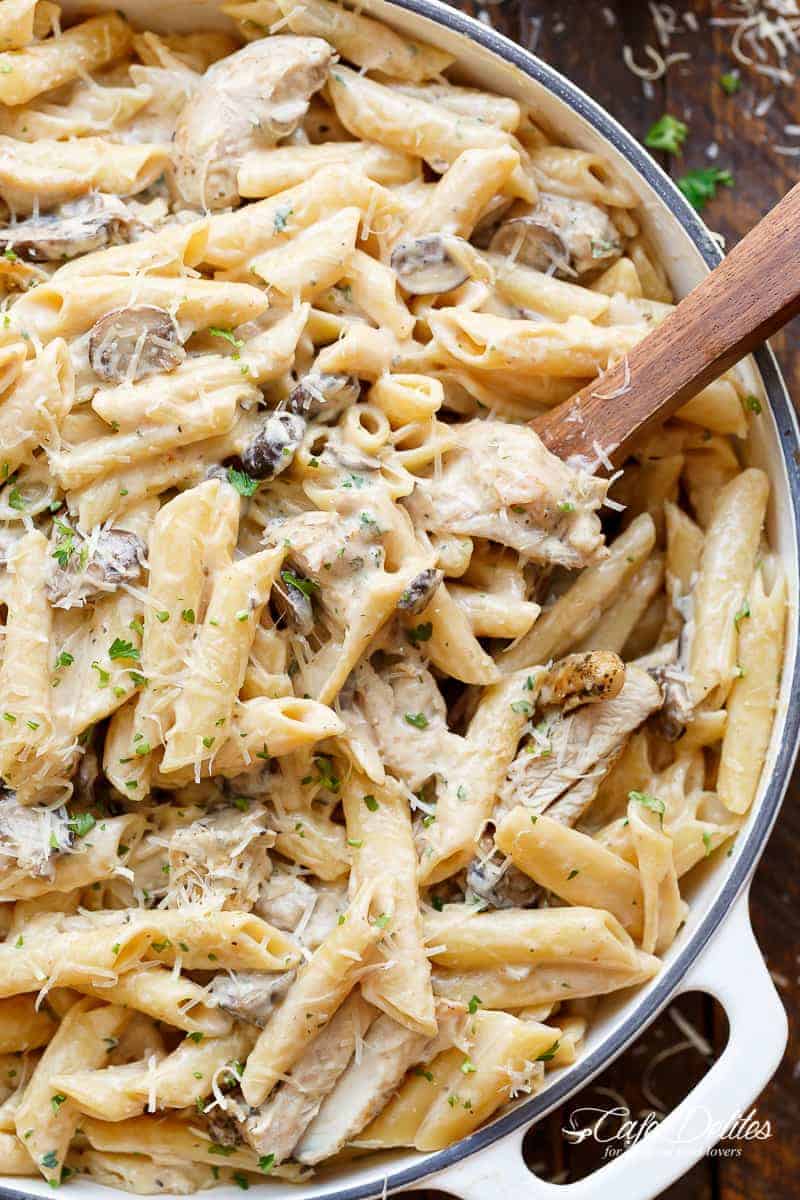 0