A thick and lightened up Creamy Parmesan Herb Chicken Mushroom with a kick of garlic is your new favourite dinner recipe! With a NO heavy cream — or ANY cream — at ALL option!
Crispy skinned chicken simmered in a beautifully thick and creamy sauce, using NO cream in a creamy sauce with a mixture of herbs, a good kick of garlic and parmesan; simple ingredients for maximum taste. Creamy Parmesan Herb Chicken Mushroom with so many flavours in the one pan.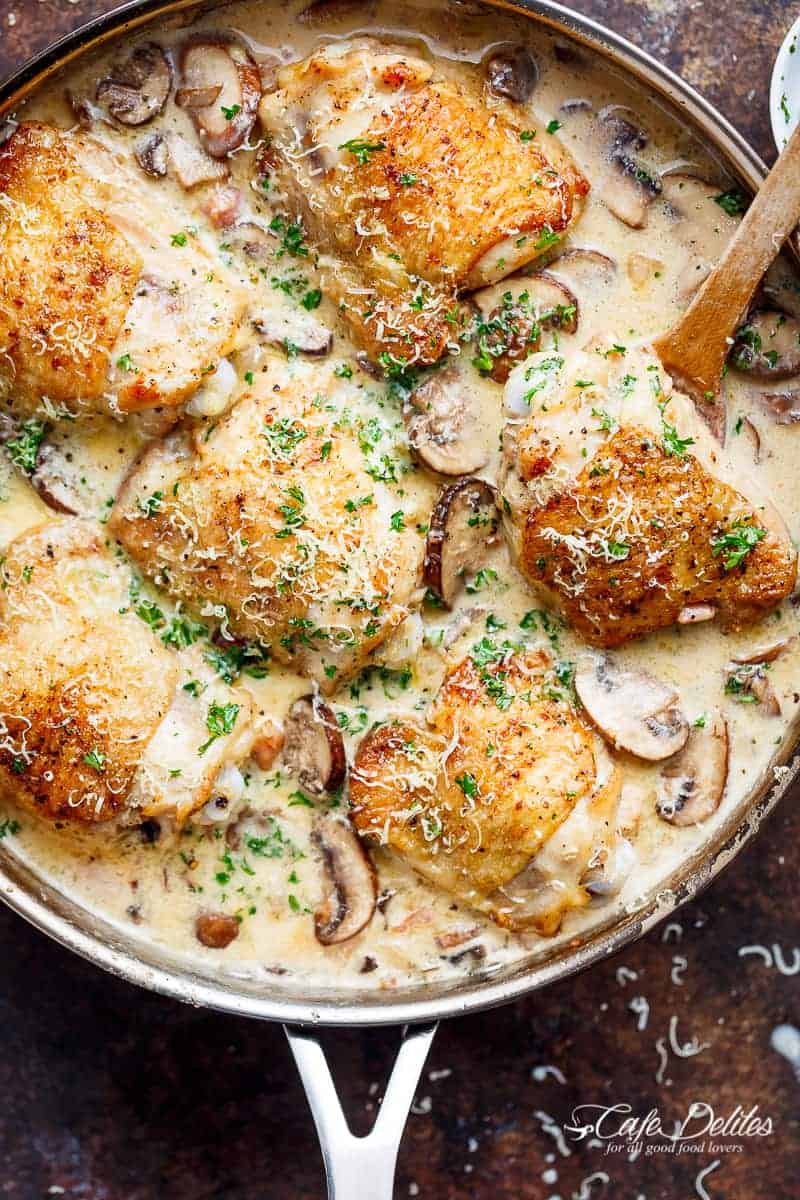 Chicken Thighs
This is the first recipe I'm sharing with you all for 2017. A low fat alternative without depriving us of any flavours.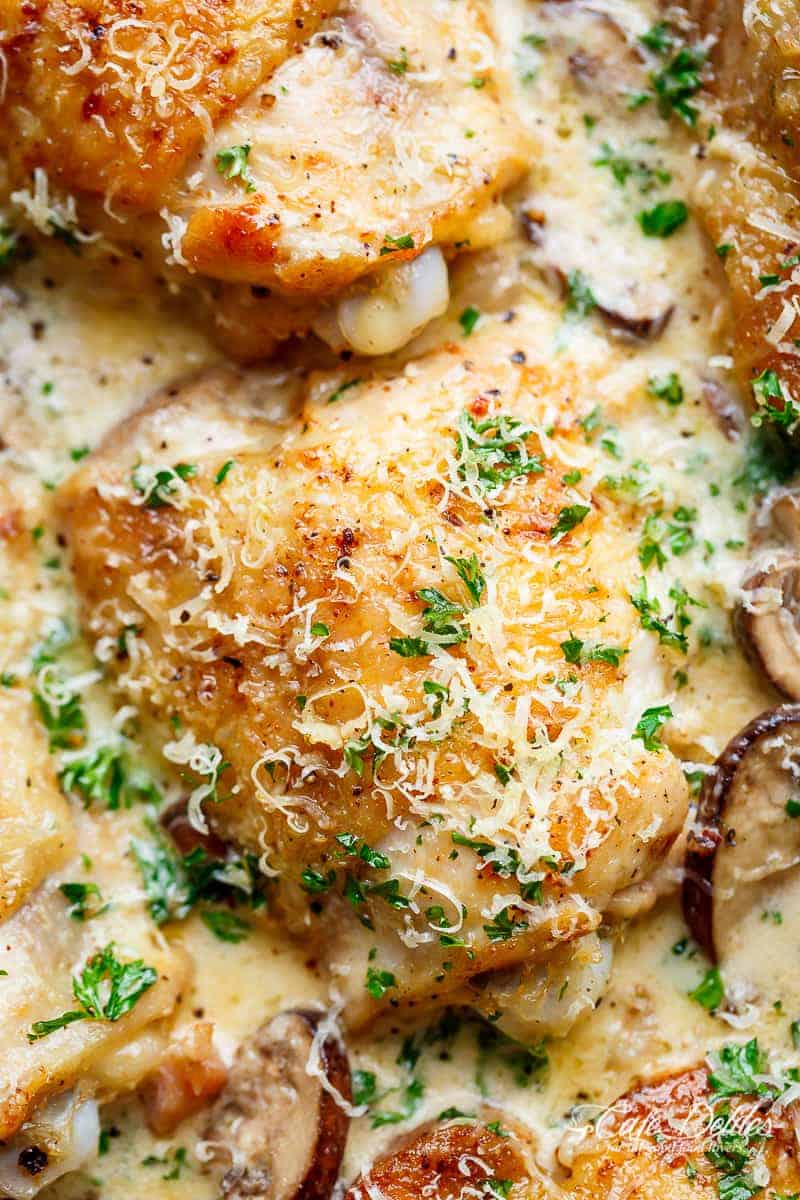 This chicken was SO GOOD, I had to make it a second time right after everyone had eaten, because they ALL wanted  MORE. And since then, we've made it at least once a week since I first introduced the family to all of these flavours (back in October, 2016). It seems totally unfair I've been holding onto this for so long without sharing it. Truth be told, I didn't think the photos were good enough to share them. Well, must've had rocks in my head.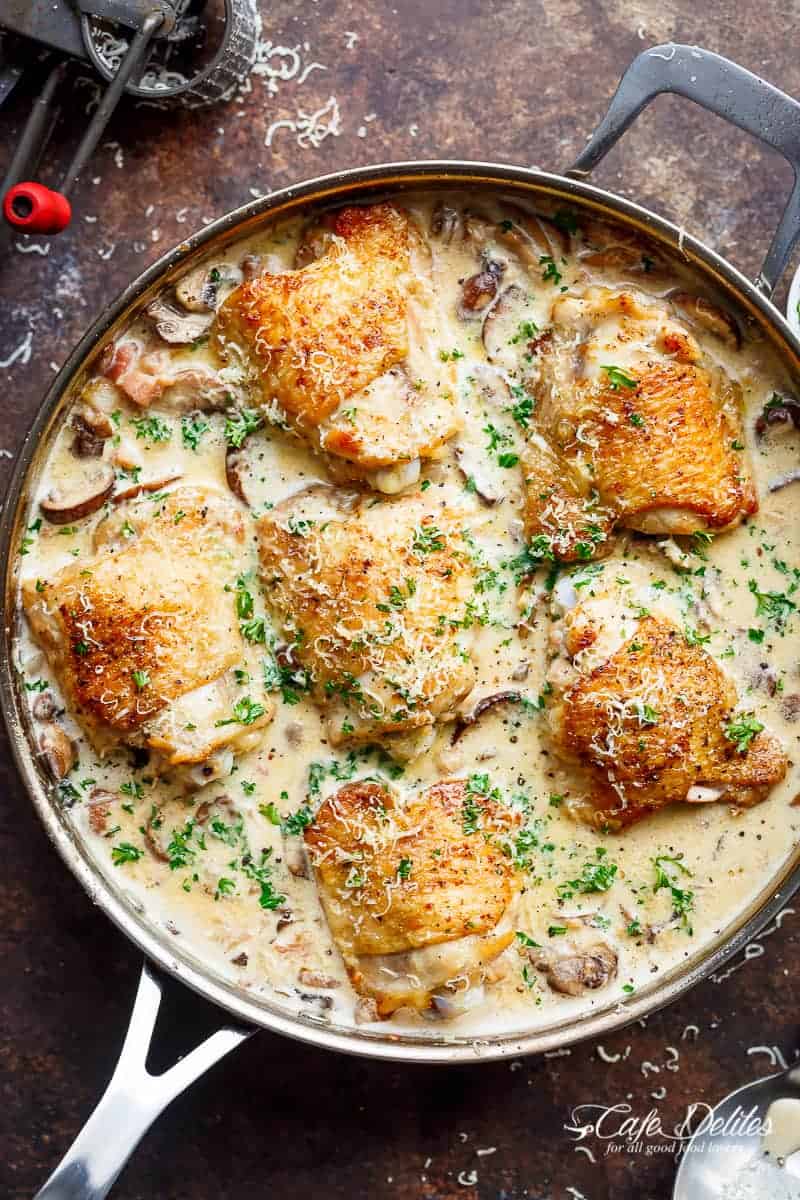 As with all of my chicken thigh recipes, you start this one off by searing them first to get the skin nice and crisp. After that; make your sauce and finish it all off in the oven until the chicken is completely cooked through. Of course, if you want to use chicken breasts you CAN do so without baking. Just continue simmering them in the sauce until they are completely cooked through.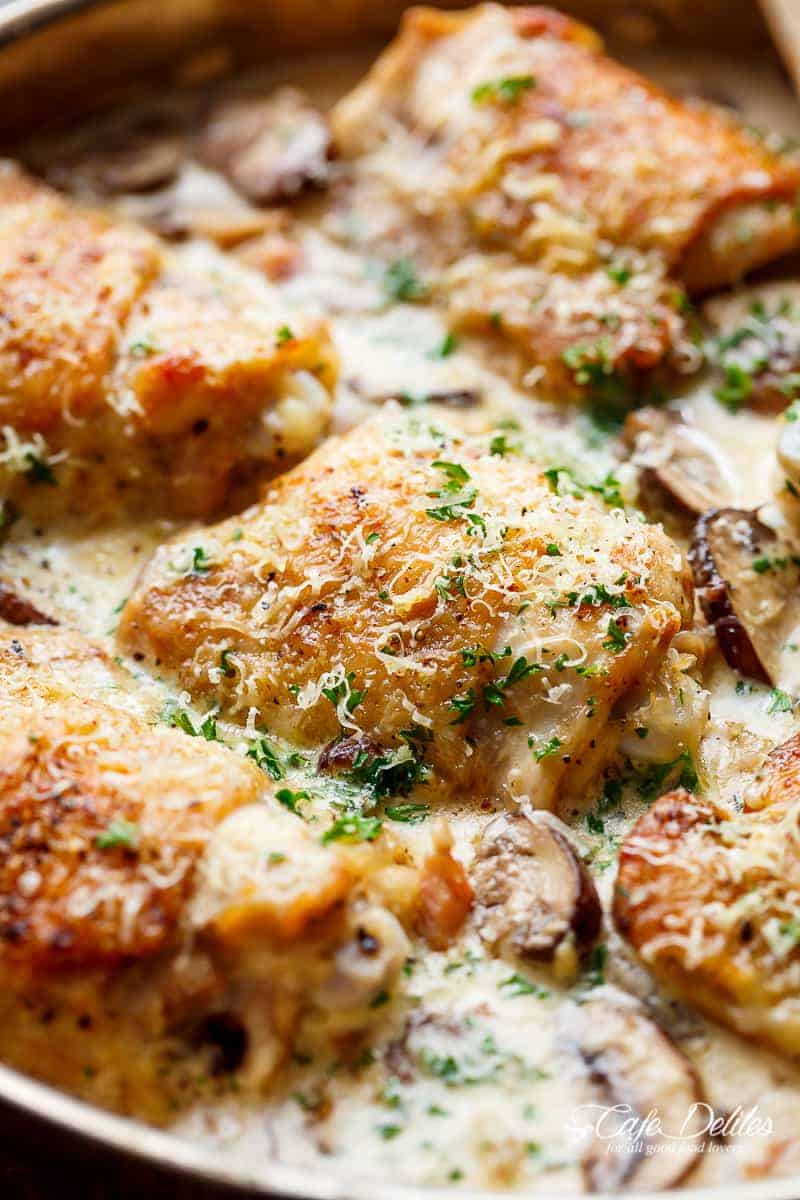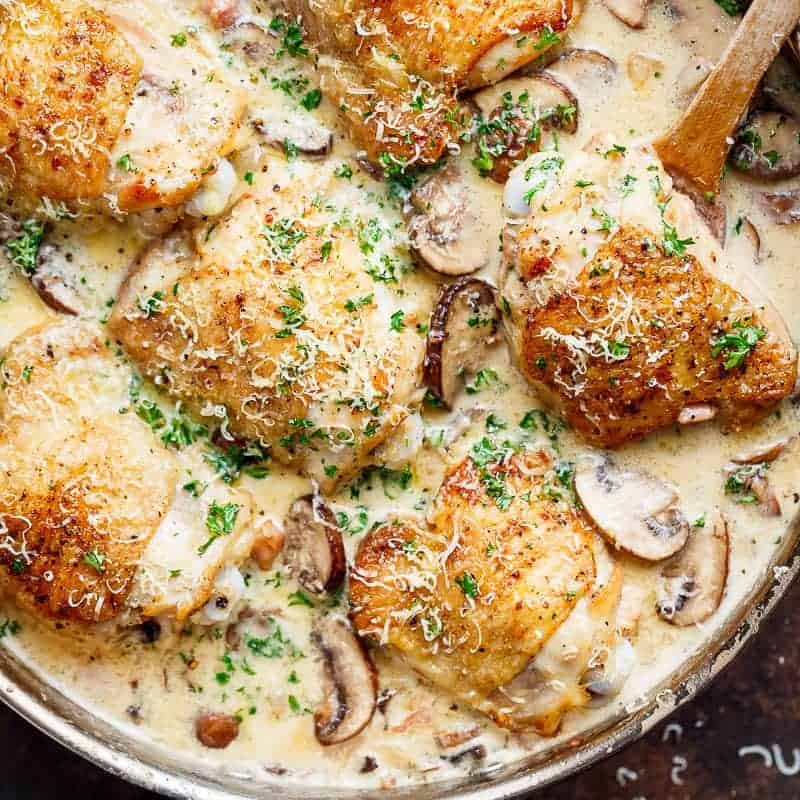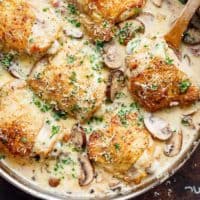 Creamy Parmesan Herb Chicken Mushroom
A thick and lightened up Creamy Parmesan Garlic Herb Chicken Mushroom with a kick of garlic is your new favourite dinner recipe! With the option of NO heavy cream at ALL!
PRINT
SAVE
go to your favorites
Ingredients
FOR THE CHICKEN:
6

chicken thighs

(skin on or off, bone in or out)*

2-3

teaspoons

garlic powder

Salt and pepper
FOR THE SAUCE:
1

tablespoon

minced garlic

400

g

(14 oz) cups sliced mushrooms

(1½ cups)

1

teaspoons

dried basil

1

teaspoons

dried oregano

2

teaspoons

fresh chopped parsley

1½

cups

evaporated milk***

(half and half or cream if using: see notes)

1

teaspoon

chicken bullion powder

(or stock powder)

Salt and pepper

to taste

1

tablespoon

cornstarch

(cornflour) mixed with 2 tablespoons of extra 2% milk****

3/4

cup

fresh grated Parmesan cheese

, divided

1/4

cup

fresh chopped parsley

(EXTRA), to serve
OPTIONAL ADD IN:
2

cups

spinach

2

cups

broccoli florets,

lightly steamed
Instructions
Preheat oven to 200°C | 400°F.

Season chicken with garlic powder, salt and pepper.

Heat cooking oil spray in a large, non stick and oven-proof skillet over medium-high heat until hot. Sear chicken thighs until golden and crispy on each side (about 3-4 minutes each side).

Transfer chicken to the oven and roast until completely cooked through, (about 25-30 minutes).

Once chicken is done, transfer to a warm plate and set aside. Drain some of the excess fat from the skillet, reserving 2 tablespoons for added flavour.

Return skillet to the stove over medium-high heat and sauté the garlic in the pan juices until fragrant (about 1 minute). Add the mushrooms, herbs and 2 teaspoons of parsley and fry until mushrooms begin to soften.

Reduce heat to low-medium heat, add the milk (or cream) and bring to a gentle simmer, stirring occasionally, and being careful not to boil. Add in the bullion powder and season with salt and pepper to your taste.

Pour the milk/cornstarch mixture to the centre of the pan, and continue to simmer while quickly stirring the mixture through until the sauce thickens.

Add 1/2 cup of parmesan cheese; allow sauce to simmer for a further minute until cheese melts through the sauce. Add the chicken back into the pan and allow to simmer for 1-2 minutes in the cream to take on the flavours. Taste test and add extra salt or pepper, if desired.

At this point, add in the optional add-ins, if desired. Allow spinach to wilt (if using).

Sprinkle with the remaining 1/4 cup of parsley and 1/4 cup parmesan cheese.

Serve with steamed rice, over steamed vegetables or pasta.
Notes
*To substitute chicken breasts for thighs, there is no need to continue to bake them in the oven. After adding the breasts back into the pan, continue simmering in the sauce until completely cooked through.
**If you don't have to oregano and dried basil leaves, use 2 teaspoons Italian herbs.
***For DAIRY FREE OPTIONS: Substitute evaporated milk with almond, coconut or rice milk.
SIDE NOTE: Alternatively, replace the evaporated milk with half and half, heavy cream, thickened cream or a reduced fat cooking cream. If using any of the creams suggested, do not add the cornstarch mixture. You won't need it.
****For a gluten free option, find GLUTEN FREE Cornstarch where available
PLEASE NOTE: Due to some readers having difficulty with this recipe, I have retested it and found the original recipe posted works fine, as it has for many other readers. However, I have modified the recipe since posting for a better outcome for future readers! ENJOY!