Creamy Zuppa Toscana recipe, full of crumbled sausage, crispy bacon and tender potatoes in a creamy broth! Make this Olive Garden Soup right at home!
This recipe is adapted from one of your favourite Olive Garden soups — Zuppa Toscana. The entire family gets behind this one, craving more than just one bowl. Low carb option included.
We've added a couple of extra ingredients to make it EVEN BETTER than the original!

ZUPPA TOSCANA
Comfort food in a bowl. From the mild (or hot) flavours of Italian sausage, crispy flavourful of bacon pieces, hearty chunks of tender potatoes, a creamy splash of cream, this is the soup to make on a cold and miserable day/night when you have unlimited garlic bread lying around.
While Zuppa Toscana translates to "Tuscan soup," this is not a traditional soup from the region. Much like a Garlic Butter Tuscan Shrimp, Salmon or Chicken, this soup was made famous by Olive Garden restaurant chains around the Unites states.
If you've loved our Creamy Tortellini soup, you will love this one! All done in one pot with some tricks to keep your sausage and bacon nice and crispy, with the added flavour from cooking with drippings.
ZUPPA TOSCANA RECIPE
What makes our Zuppa Toscana recipe different? We added in dry white wine (which is optional and can be left out if you prefer), which makes this soup even better! Of course, if you're hesitant and would rather stick to the classic, you can leave it out which won't effect the final taste.
Our recipe also includes an option to thicken it right at the end with a cornstarch slurry (cornstarch mixed with a little heavy cream or half and half).

WHAT GOES IN THIS SOUP
You don't need much at all to make this Zuppa Toscana soup recipe, which is surprising since it contains so much flavour.
Browned, crumbled Italian sausage provides all of the seasoning.
Crisped bacon gives you a mouthwatering flavour and texture.
1/4-inch sliced potatoes cook down into the broth to create a thick and chunky soup that goes so well with the spice coming through. Hearty and satisfying.
Fennel and chili flakes provide a little something extra.
Kale provides delicious texture in every bite.
Heavy cream (thickened cream, evaporated milk of half and half) adds an irresistible richness to the broth.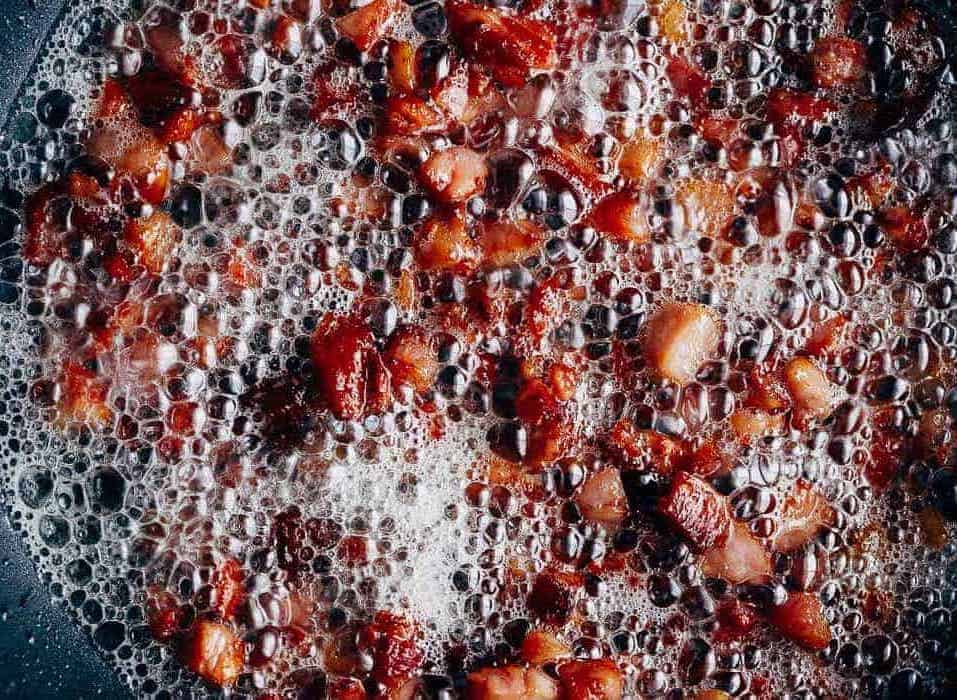 HOW TO MAKE ZUPPA TOSCANA
You're going to start by removing the sausage casings using a pair of kitchen scissors or a knife. Grab a heavy based pot, cast iron or Dutch oven to cook in. When browning the sausage meat, break it up with the tip of your wooden spoon.
Once it's browned drain it from as much oil as you can and transfer it to a plate lined with paper towel. Leave some drippings in the pot to fry your bacon in. then transfer the bacon to the same plate with the sausage. This is what keeps your meats nice and crispy for adding in later when the Zuppa Toscana is near done.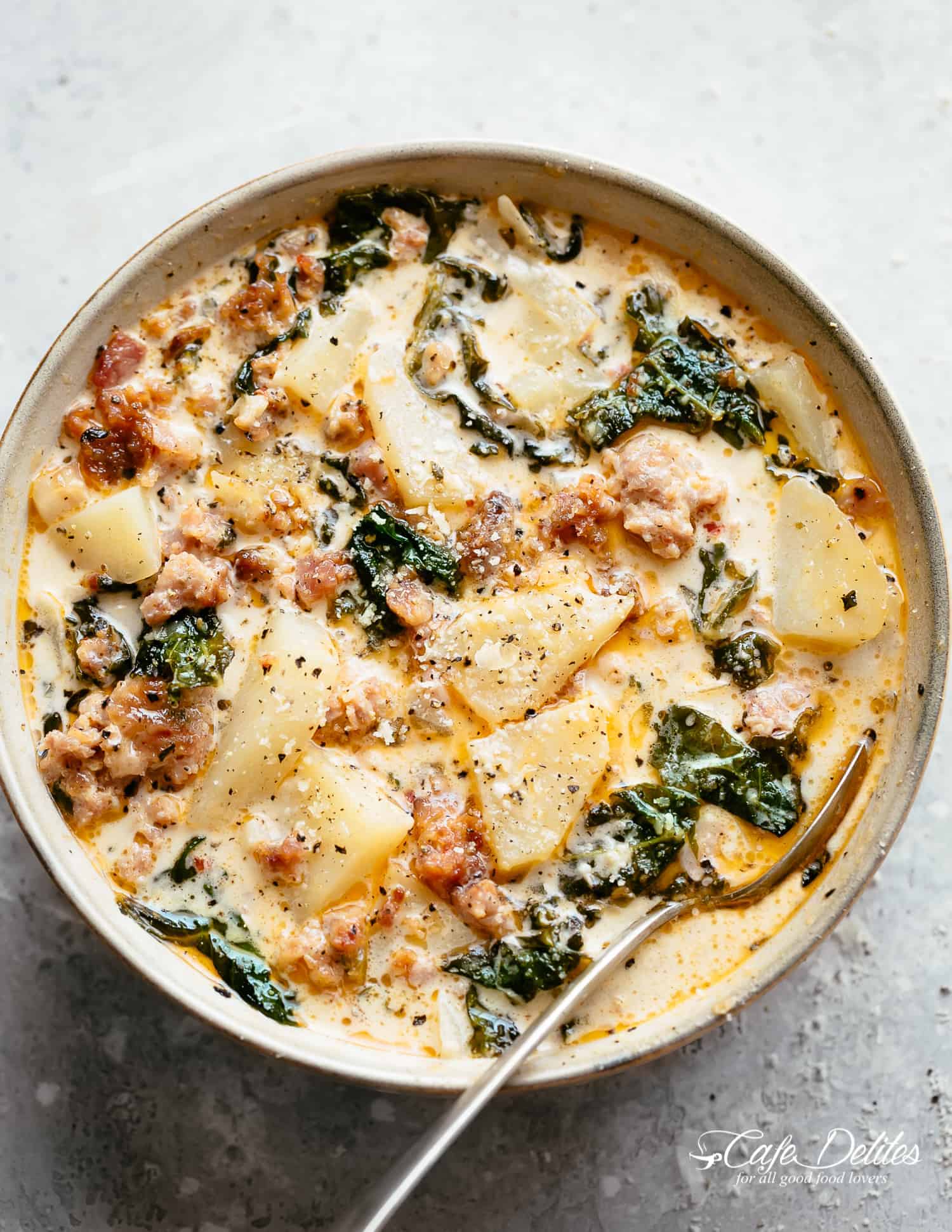 Sautéing the onion and garlic in some of those bacon/sausage drippings left in the pan is where the flavours really start to develop. Adding the wine at this point creates another layer of flavour.
You can use chicken broth or stock seasoned with crushed bouillon (or any stock powder), fennel seeds (ground or whole) and chili flakes. Chili flakes are optional, depending on your heat preference and how spicy the sausages are.
The potatoes are boiled in the broth until JUST fork tender (about 10 minutes). Then the cream is stirred in with the cooked sausage, crispy bacon and kale. We add in 3/4 of the meat mixture, leaving the last amount to sprinkle over each bowl of soup when serving this Zuppa Toscana.
Serve with parmesan cheese and a nice glass of chilled wine!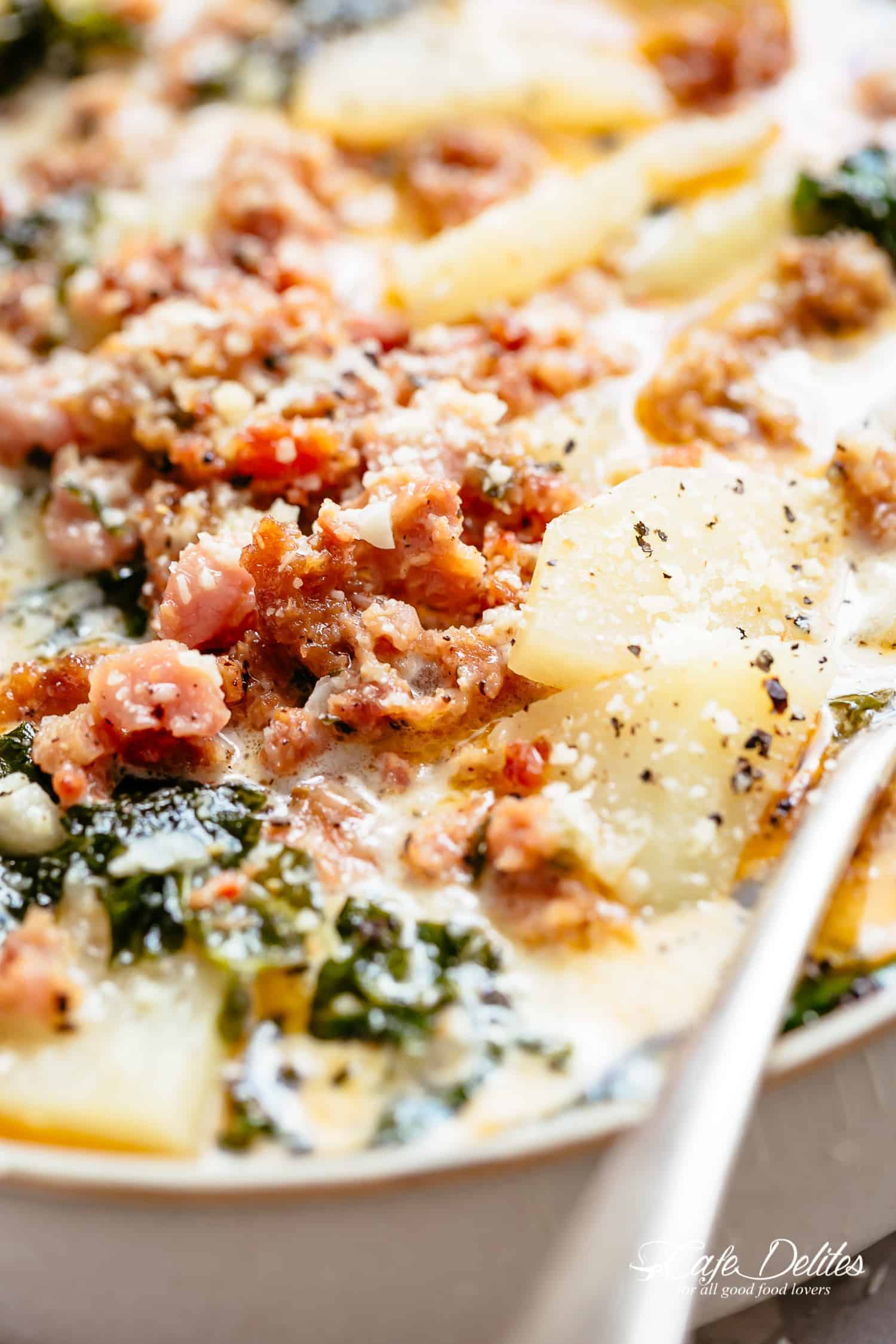 Love Olive Garden Recipes? Try these adaptions!
Pasta e Fagioli
Creamy Tuscan Chicken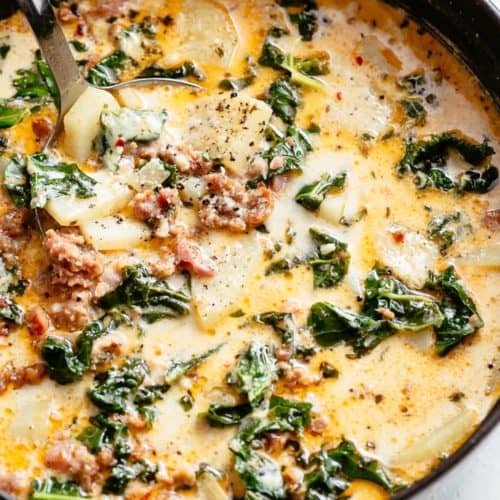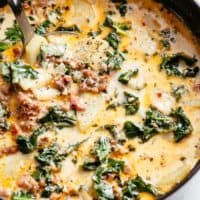 Zuppa Toscana
Creamy Zuppa Toscana recipe, full of crumbled sausage, crispy bacon and tender potatoes in a creamy broth! Make this Olive Garden Soup right at home. Low carb option included!
PRINT
SAVE
go to your favorites
Ingredients
1

tablespoon

olive oil

1

pound

mild Italian Sausage

casings removed

4

oz

(125 g) diced bacon

1

large onion

chopped

6

cloves

garlic

minced

1/2

cup

dry white wine

optional

1 1/2

quarts

(1.5 litres) low-sodium chicken broth

5

Russet potatoes

scrubbed, rinsed and sliced into 1/4-inch slices*

1

cube

beef bouillon

crushed

1/2

teaspoon

salt

1/4

teaspoon

cracked black pepper

1

teaspoon

ground fennel

1

teaspoon

red chili flakes

optional — adjust to your taste

1 1/2

cups

half and half or heavy/thickened cream

3

cups

chopped kale

hard stems removed (substitute with baby spinach leaves or Swiss chard)

Fresh shredded parmesan cheese

for serving

1

tablespoon

cornstarch (optional -- for a thicker soup)

SEE NOTES
Instructions
Fry the sausage in a heavy based pot or Dutch oven over medium-high heat while breaking up the meat with the end of your wooden spoon. When browned, and cooked through (about 10 minutes), drain most of the oil, leaving about 1 teaspoon of drippings in the pot. Transfer sausage meat to a plate.

Cook the bacon in the same pot/Dutch oven over medium heat until crispy (about 10 minutes). Drain, leaving about 2 teaspoons of drippings in the pot. Transfer cooked bacon to the plate with the sausage meat.

Sauté onions in the pot and cook until soft and translucent (about 5 minutes). Add the garlic and cook for 1 minute, until fragrant.

OPTIONAL: Add the wine and let reduce to half (about 2 minutes).

Increase heat to high, pour in the chicken broth and bring to a boil. Season broth with crushed bouillon, salt, pepper, fennel and chili flakes. Add the potatoes and boil until fork tender (about 10 minutes).

Reduce heat to medium. Stir in the heavy cream, cooked sausage, bacon and kale. Let simmer for 2 minutes, until kale leaves have softened.
Notes
*For low carb option, replace potatoes with 1 head of cauliflower, chopped.
Cut potatoes into even pieces to ensure even cooking.
Chicken, turkey or beef sausages can be used.
Pancetta can be used instead of bacon.
For a thicker soup, mix cornstarch together with 2 tablespoons of cream. Mix well until free from lumps and add it in along with the cream. Give it a good stir while the soup is boiling until thickened. Then add in the cooked sausage, bacon and kale. Continue on with the recipe.
Nutrition
Calories:
473
kcal
|
Carbohydrates:
39
g
|
Protein:
19
g
|
Fat:
26
g
|
Saturated Fat:
10
g
|
Cholesterol:
59
mg
|
Sodium:
576
mg
|
Potassium:
981
mg
|
Fiber:
2
g
|
Sugar:
2
g
|
Vitamin A:
3580
IU
|
Vitamin C:
52.6
mg
|
Calcium:
150
mg
|
Iron:
3.3
mg