Low Carb Browned Butter Chocolate Chip Skillet Cookie! Browned butter cookie? Hello! BROWNED BUTTER COOKIE! Why haven't I done this before? This one takes the SKILLET! Its crispy, buttery edges with a sweet and fudgy cookie dough centre hands down can beat the cookie ass out of any other ordinary skillet cookie. And I've made a few.
That's what it's called. What it should be called: Healthified – Low Carb – Dairy Free  – Gluten Free – Vegan Optional – LCHF indulgent – Chocolate Chip Skillet Cookie. But that would be a record breaking title and I don't have time (or the room) for that. Ok. I'ma try and calm myself down as I type or I'll get way to ahead of myself and you will all be suggesting I go on some sort of medication for the insane.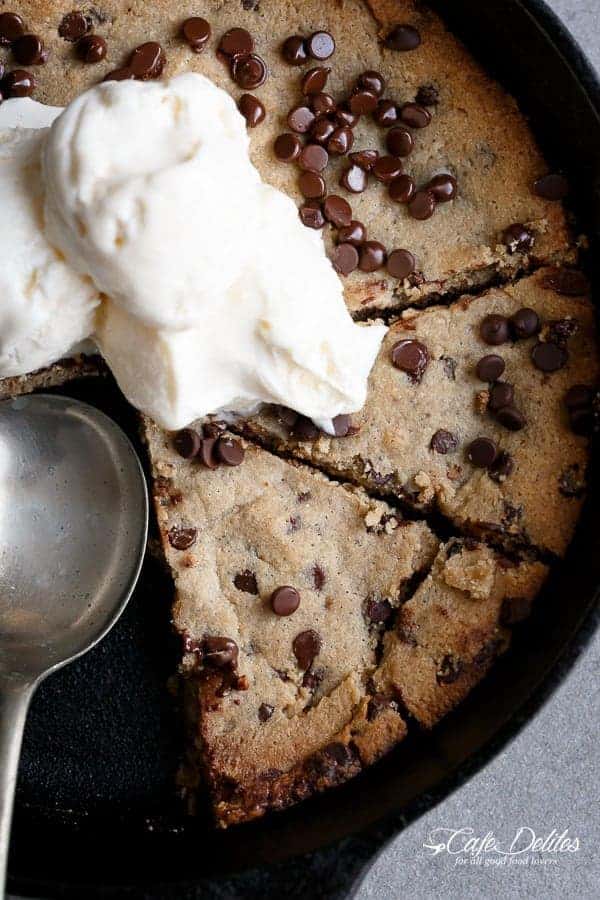 This idea has been swimming around in my head for so long now to give you guys a browned butter skillet cookie….however, I've recently started eating healthier and while trying to get my head around just being healthy…I didn't have a clue how to integrate 'healthy' back into my blog. . I know…shock horror. This has been my first-world dilemma for the last 3 weeks now.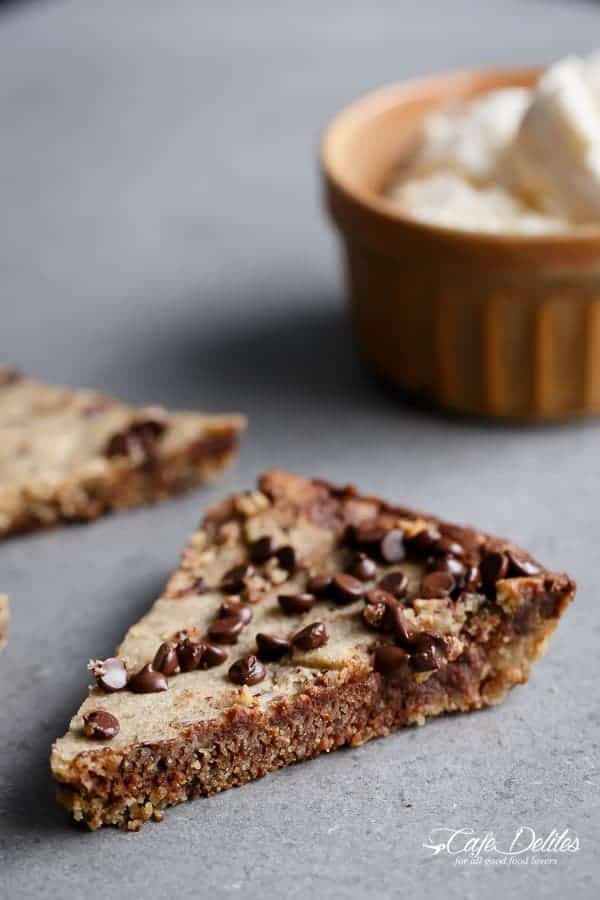 MY LATEST VIDEOS
MY LATEST VIDEOS
If you've been following me for a while now… you will already know how this blog started. Healthy. And somewhere along the lines, I got majorly distracted and lost my way. Well. I'm back. Can I get an Amen? Um. Never mind.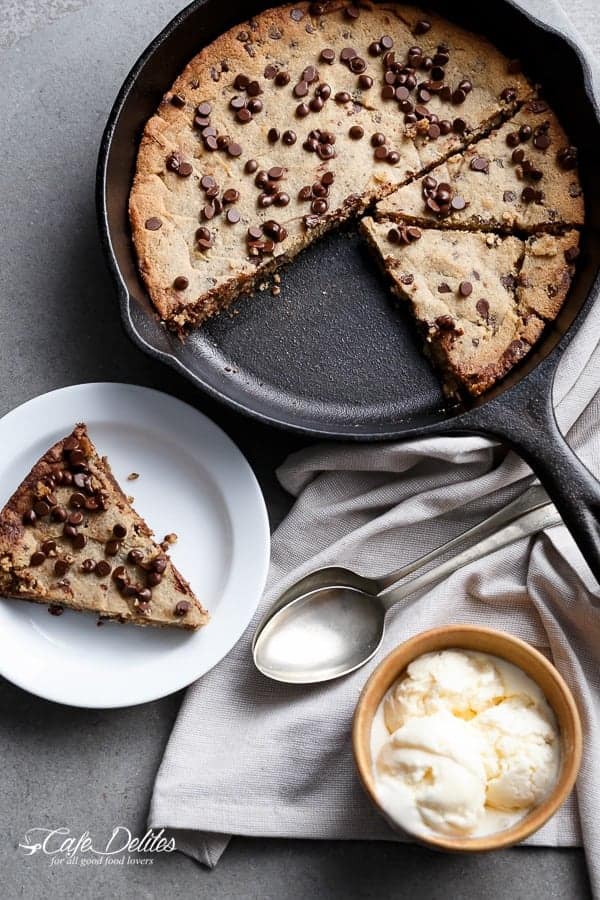 As you've probably guessed with my last recipe, (those kick ass Low Carb Zucchini Brownies ), I have removed my beloved carbs out of my diet: sugar, white flour, breads, rice and pastas. Why, you may ask? Because my body was hating me. Tiredness; fatigue and lethargy were a daily occurrence. My doctors had tested me inside and out, back to front for everything they could think of. All tests came back clear.
What's wrong with me?
As usual, I took my health into my own hands and began extensively researching the effects of carbs and sugars on health. Trialling what I'd learnt, I quietly cut them out three weeks ago, and sure enough dropped 4.5 kgs (9 lbs) effortlessly by upping healthy fats and protein in my diet. No more reduced fat or light ingredients hitting my fridge. After living a life of low fat everything…that first shop was HARD!
I now have so much energy that I'm awake at 4:30 a.m twiddling my fingers and bored out of my brain. This is a good thing. I'd rather have energy than fall asleep during the day dragging my feet around to try and function.
I know maybe some of you guys will desperately want to lecture me about carbs being our friends, and natural sugars like dates and honey and maple syrup can be included into my diet. I tried that. I still get the crash and burn from a blood sugar drop. Remember…they may be natural sugars, but they are STILL sugars. While I appreciate all opinions, I hope you can appreciate that different things work for different people. This just happens to work for me, and I hope you're still with me at the end of my first ever long-winded personal post.
Having said that, I will still be posting the occasional pasta, rice and carby foods! Lucky for you guys my family aren't doing this with me, so it's kind of a win-win. I guess there'll be a good mix of recipes for all sorts of people. Good, huh?
Anyway…back to this cookie! Just because we go low carb doesn't mean we can't enjoy indulgence…right? I mean…you guys know me by now. I can't live on salads and meat forever. I.need.cookies. And cakes. And cheesecakes.
And what a cookie to kick off this low carb thing. Holy cow! I think I prefer this one to the popular Nutella Stuffed Deep Dish Chocolate Chip Skillet Cookie. Yes. I'm serious.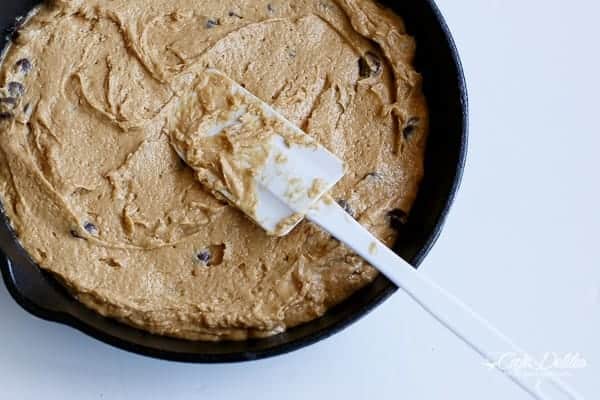 The cookie dough! Oh this cookie dough. After mixing it up and getting the texture right, I began eating it out of the bowl…so much that I had to make another one. True story.  It's thick and creamy with the nutty flavour of browned buttery richnesssss. A slightly different cookie dough texture than my other skillet cookies… this one is pressed it down into your already brown buttered pan…  Exciting stuff.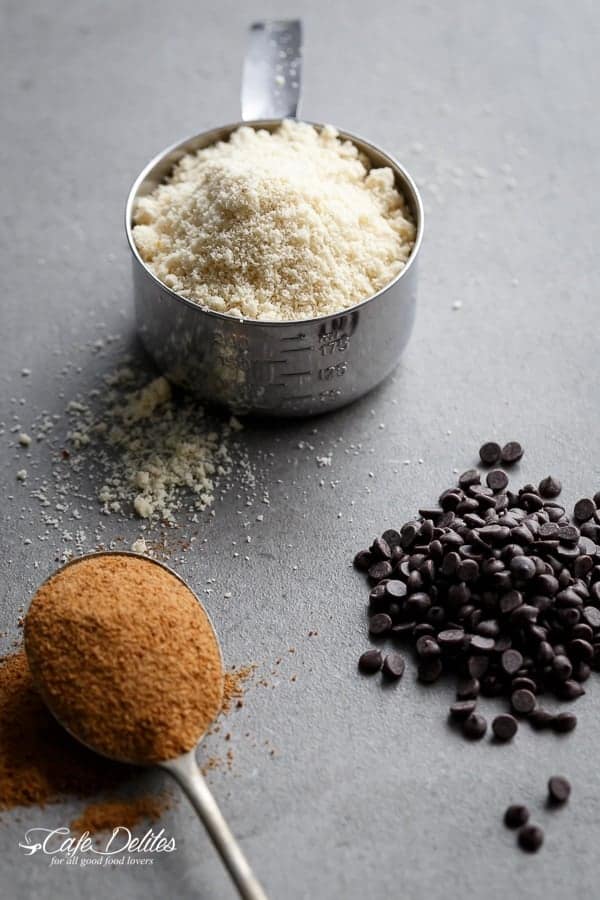 This cookie is made with easy to find ingredients, or perhaps ingredients you already have in your cupboards. Almond flour (or finely ground almond meal with no skins), coconut sugar and sugar free chocolate chips. You can also use Enjoy Life Chocolate Chips for a dairy free alternative…or just add in your fave chocolate chips and live life on the edge.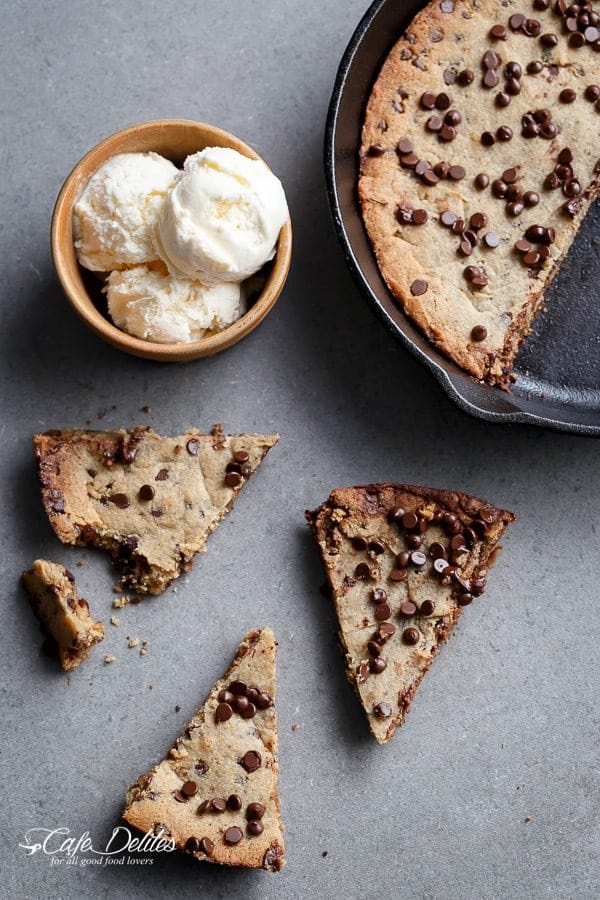 Low carb skillet cookies. Yes, this is real life.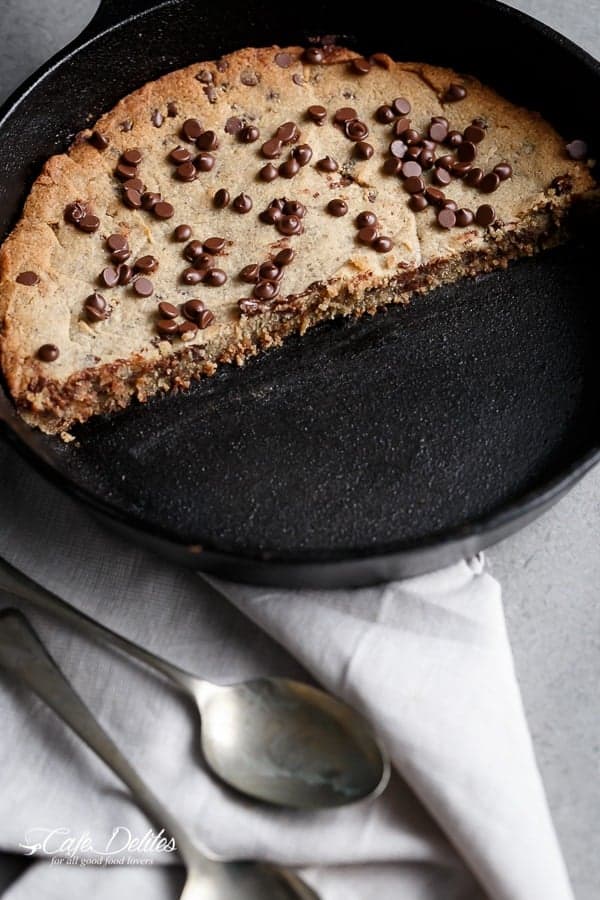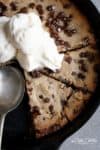 Low Carb Browned Butter Chocolate Chip Skillet Cookie
Weight Watchers: 5pp per slice (points can be reduced if using reduced fat butter/spread)
Ingredients
1/2

cup

butter

(or your spread of choice)

1

large egg*

1

teaspoon

pure vanilla extract

2

tablespoons

coconut sugar

(or brown sugar)

1/4

cup

natural granulated sweetener

(Swerve Granular or Natvia Baking Blend)**

2

cups

almond flour***

1/2

teaspoon

sea salt

1/2

cup

sugar free chocolate chips

(Lily's Dark Chocolate Premium but you can use Enjoy Life chocolate chips for a dairy free option)
Instructions
Preheat oven to 176C | 350F. Heat the butter in a 9-inch cast iron skillet over high heat until bubbling. Reduce heat down to low; cover pan (optional but prevents butter spitting everywhere), and continue to cook while stirring occasionally until the butter begins to brown. (Be careful when lifting the lid off the pan as the butter may spit.) Once browned, remove from heat and allow to cool for about 5 minutes.

While butter is cooling, whisk together the egg and vanilla extract. Add the sugar and sweetener and whisk again until combined. Add the butter once it has cooled and mix well.

Sift in the almond flour (press any lumps gently over the sieve to sift quicker); add the salt and half the chocolate chips; mix through gently until the batter is well combined and creamy. It will be a little thicker than cookie dough. Spoon batter into skillet; top with remaining chocolate chips.

Bake for 25-30 minutes or until set on the top when pressed lightly and a toothpick inserted into the centre of the cookie comes out clean.

Serve with No Sugar ice cream or frozen yogurt and enjoy!
Recipe Notes
*Replace egg with 1 flax egg for Vegan substitute
**Natural sweetener can be subbed with more coconut sugar or normal white sugar if you like. Just remember to add the carb and sugar content to the nutritional stats if counting them.
***Almond flour can be substituted for 1 1/2 cups light spelt flour, plain white or all purpose flour/s.
If you don't have a cast iron skillet, you can brown the butter in a normal pan and use a pie dish to bake the cookie.
Nutrition Facts
Low Carb Browned Butter Chocolate Chip Skillet Cookie
Amount Per Serving
Calories 186
Calories from Fat 153
% Daily Value*
Total Fat 17g 26%
Cholesterol 33mg 11%
Sodium 173mg 7%
Potassium 5mg 0%
Total Carbohydrates 7g 2%
Protein 4g 8%
* Percent Daily Values are based on a 2000 calorie diet.