Nutella Stuffed Reese's Peanut Butter Chocolate Chip Skillet Cookie
Um. So I did it again. The gooey-est deep dish cookie that exists on my blog. And there are a few. Why? Because it's a way to get a cookie fix..without scooping cookies into small balls and squishing them down with a fork. This is just throw in a skillet. Done. Plus, the added gooey bonus it…well, a bonus!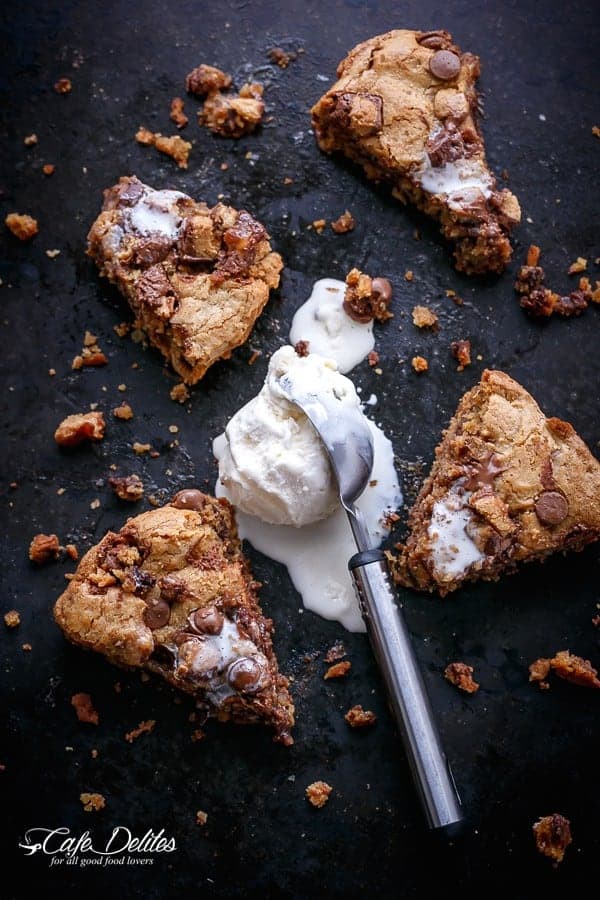 Combining two recipes together to make this, this one sits right up there on top of my list of favourites.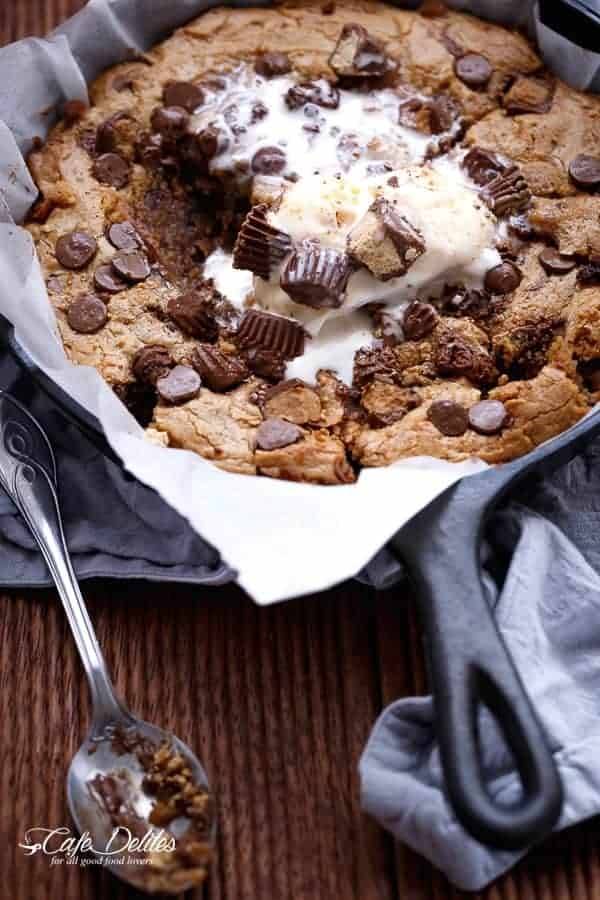 The Nutella Stuffed Deep Dish Chocolate Chip Skillet Cookie got a make over. A Peanut Butter Deep Dish Cookie make over.So mouth-wateringly cookie dough gooey on the inside — and crispy, semi-salty and peanut buttery on the outside… A flavour explosion so perfectly filled with warm and melty chocolate chips. I saw heaven.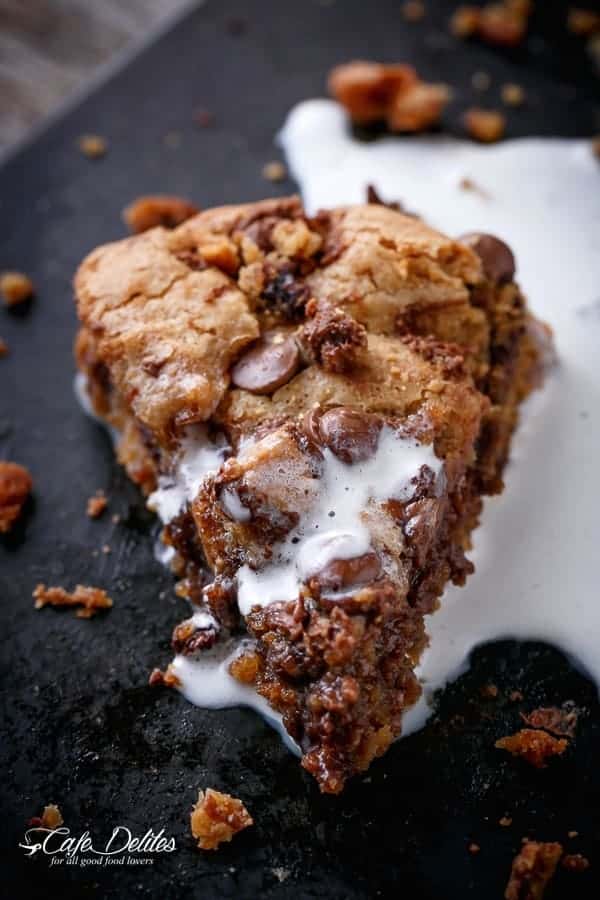 The Easter Bunny has nothing on me. And I mean…who doesn't love Reese's anyway?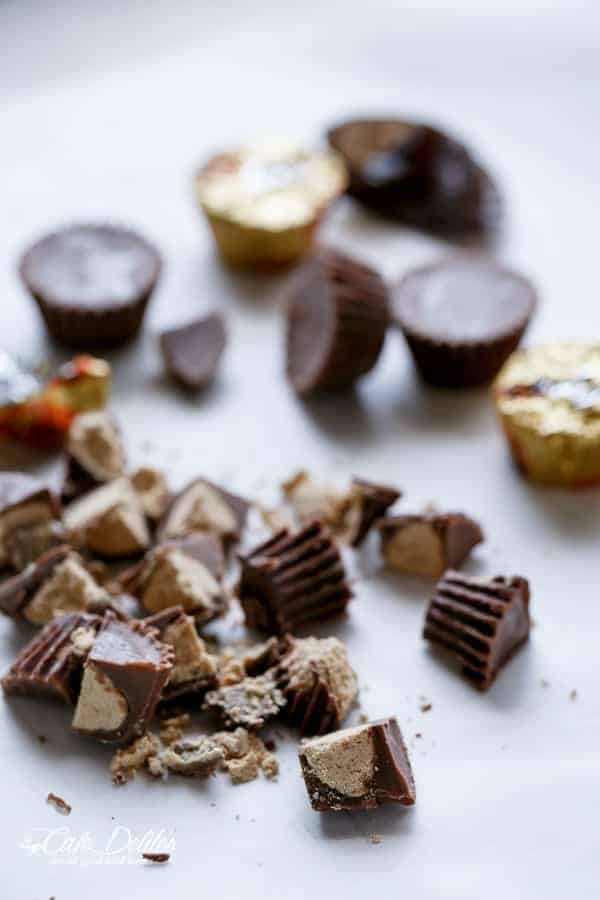 I dreamt of this cookie for so long….for a whole 5 minutes in fact, before doing something about it.
And the whole entire time it was in the oven, filling my kitchen with Peanut Butter smells and tantalising me with the incredible hint of Chocolate Hazelnut, I skipped around the oven door bursting like a kid on Easter morning just waiting for it to be done.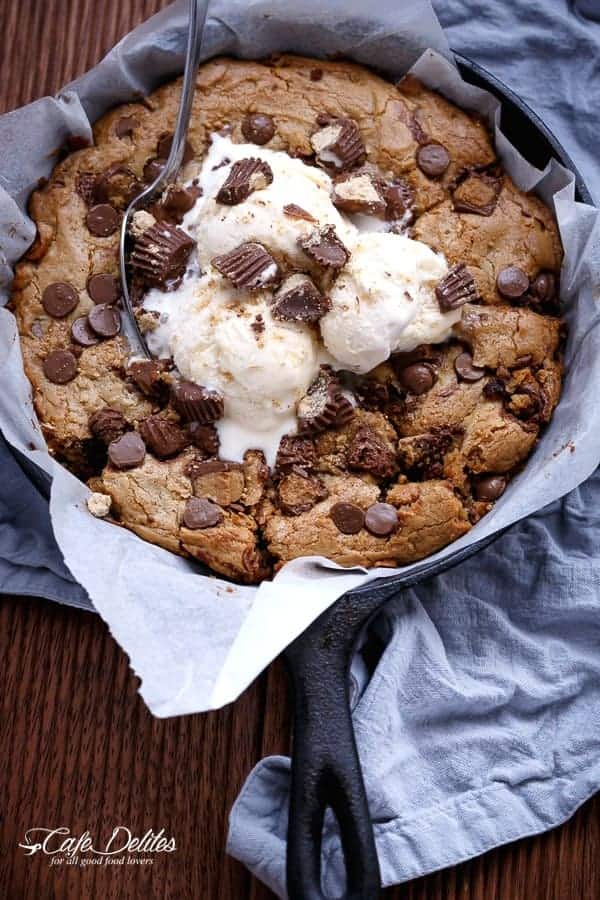 I'm not gonna lie to you. I may have opened the open door about 50 times…plus a million. I know…a baking no-no. But geeeeezzzzzz how do you not?
And so….to make it worse (or better depending on the glass half full – half empty scenario), we added extra ice cream and a small-ish dusting of chopped up Reese's all over it, which began melting into a river of sweet milky cream. Hands down…the best cookie on this blog.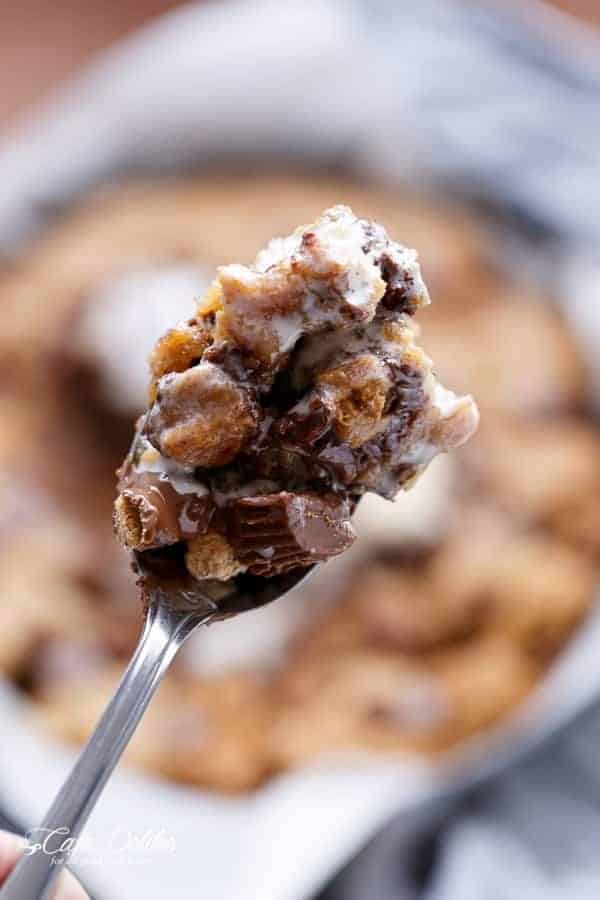 Now…if you're not into peanut butter…almond butter works fine (I tried it. I promise I did); or any other nut butter.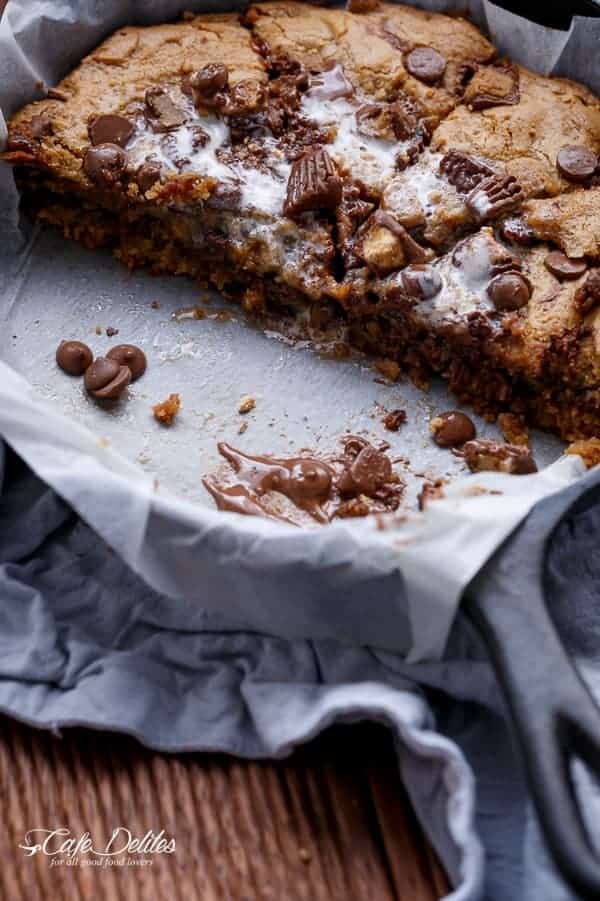 And if you're allergic to nut butters? The Nutella Stuffed Cookie on its own is a great alternative.
I couldn't get any closer on an in-your-face-plant shot without it looking like a pile of dough, but can you see the doughy-ness?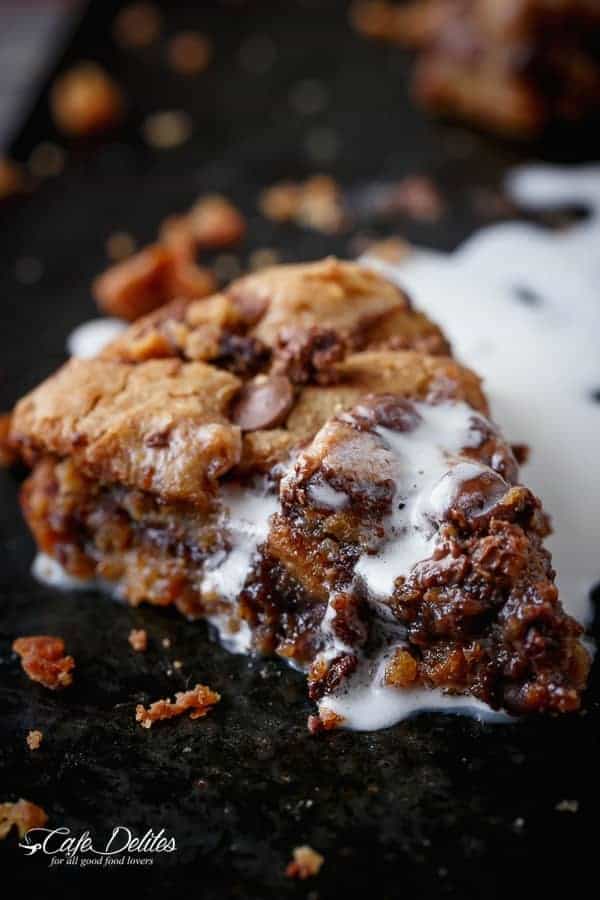 Deep Dish Cookie Party at my place. Who's coming? The milk and ice cream is on me… Cookie Dough magic.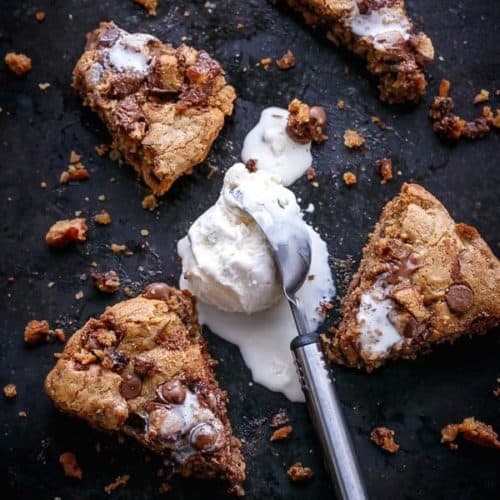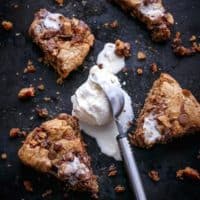 Nutella Stuffed Reese's Peanut Butter Chocolate Chip Skillet Cookie
A mouth-wateringly cookie dough gooey on the inside pie-- while crispy, semi-salty and peanut buttery on the outside... A flavour explain so perfect filled with warm Nutella and melty chocolate chips.
Weight Watchers: 4pp per slice!
PRINT
SAVE
go to your favorites
Ingredients
1/2

cup

light butter

, melted

1/2

cup

peanut butter

(natural, full fat or reduced fat)

1/2

cup

brown sugar

1/2

cup

sugar or natural sweetener of choice

1

tablespoon

vanilla extract

1

egg

1

cup

flour

(plain, all purpose or light spelt flour/s are fine to use)

1/4

teaspoon

salt

(if your peanut butter is unsalted)

1/3

cup

milk

(or dark) chocolate chips

1/3

cup

Nutella

, melted

8

mini Reese's cups

, quartered
Instructions
Preheat oven to 175c | 350° F. Line a 9-inch cast iron skillet or pie dish with baking/parchment paper and set aside.

In a large bowl, combine the butter, peanut butter, sugars and vanilla. Whisk well until creamy. Add the egg and whisk again until combined.

Add in the flour, (salt if using) and 1/4 cup of the chocolate chips. Mix the batter until just combined. Spoon 2/3 of the batter into the pan; pour the Nutella over the base layer, and top with remaining cookie dough batter.

Sprinkle with the remaining chocolate chips and and the Reese's cups.

Bake in preheated oven for 25-30 minutes for gooey on the inside cookie pie; or cover with foil after 30 minutes and bake for a further 10 minutes until set to your liking.

Serve with ice cream and extra Reese's cups.
Nutrition
Calories:
163
kcal
|
Carbohydrates:
24
g
|
Protein:
3.3
g
|
Fat:
5.3
g