An easy to make Hollandaise sauce to serve over poached eggs, fried eggs or a breakfast casserole!
There's no need to be intimidated making a deliciously creamy Hollandaise Sauce in minutes! Get out your blender for this recipe. It doesn't get any easier!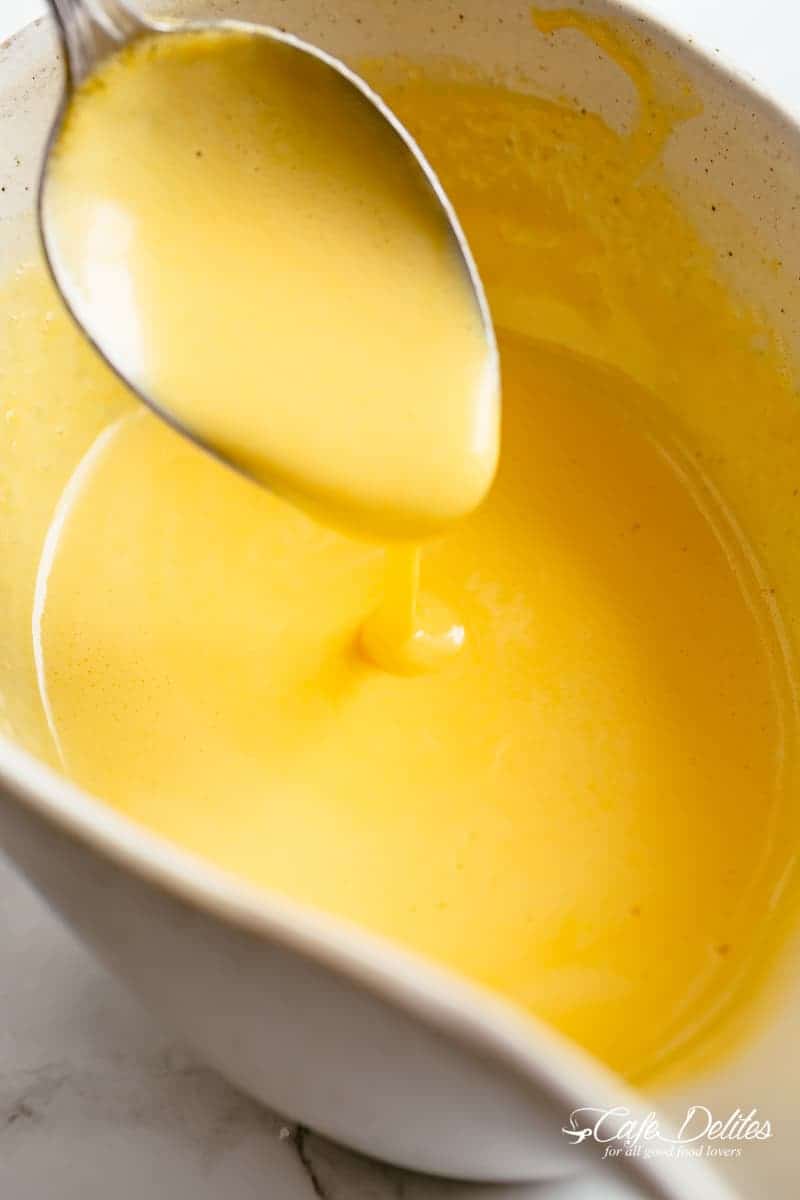 HOLLANDAISE SAUCE
The first time making Hollandaise sauce can be a daunting experience. Double boilers, whisking and working in fear that something is going to go wrong and the sauce will separate.
However, not with this sauce! Push your fears to the side…this hollandaise sauce recipe is ready in just a few simple steps and a handful of ingredients! You will feel like a gourmet chef pouring out the best hollandaise sauce all over a breakfast casserole, salmon, steamed greens, asparagus, poached eggs, egg muffins or a frittata in less than 5 minutes.
Blender hollandaise is so easy even I can do it!
HOW TO MAKE HOLLANDAISE SAUCE
A good hollandaise usually depends on a whisk and good biceps. Because of my lack of bicep power, a blender comes in handy. You won't believe how easy it is when reading the recipe: combine yolks, lemon juice and seasonings in a blender + stream in hot melted butter = thick and creamy hollandaise sauce.
The friction of the blender blades along with the hot butter will heat the egg while blending.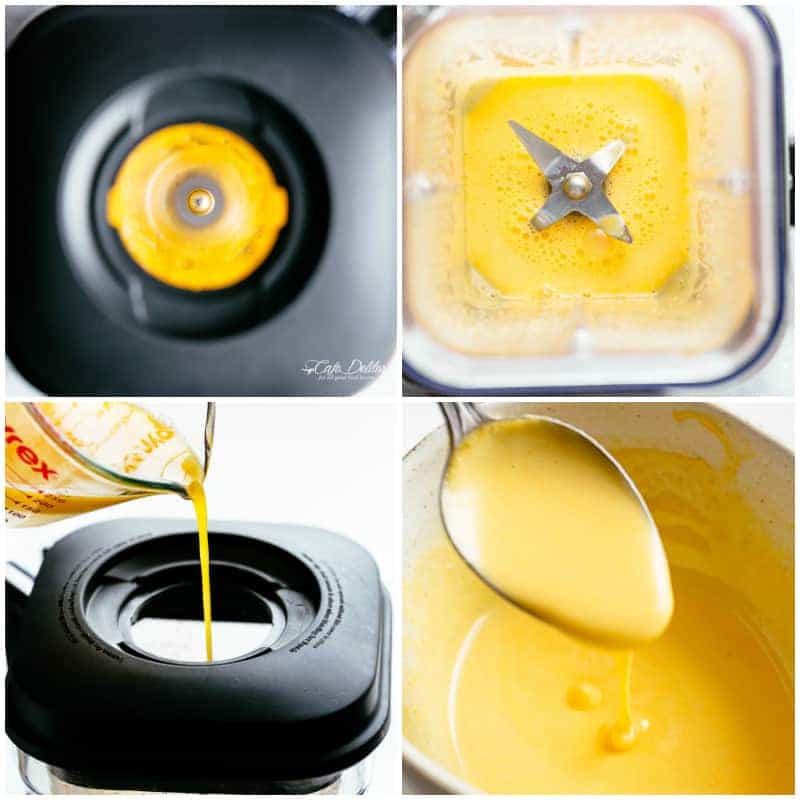 Use your machine with confidence!
HOT BUTTER
Depending on how thick or thin you prefer your hollandaise sauce to be, use as much or as little butter as you like. If you're unsure, you can start with 3/4 cup of hot melted butter (6 oz/190g). Pour in 1/4 cup first, let it blend for 3 seconds, then continue on with another 1/4 cup.
As you start to blend in the butter, it will thicken straight away. A little more butter will transform it to the consistency of mayo. A little more butter will turn it into a pourable, silky smooth sauce.
Stop the blender after each addition to check the consistency as you go.
This hollandaise sauce is so quick to make, make sure it's the last thing you prepare for your meal to serve it fresh and warm.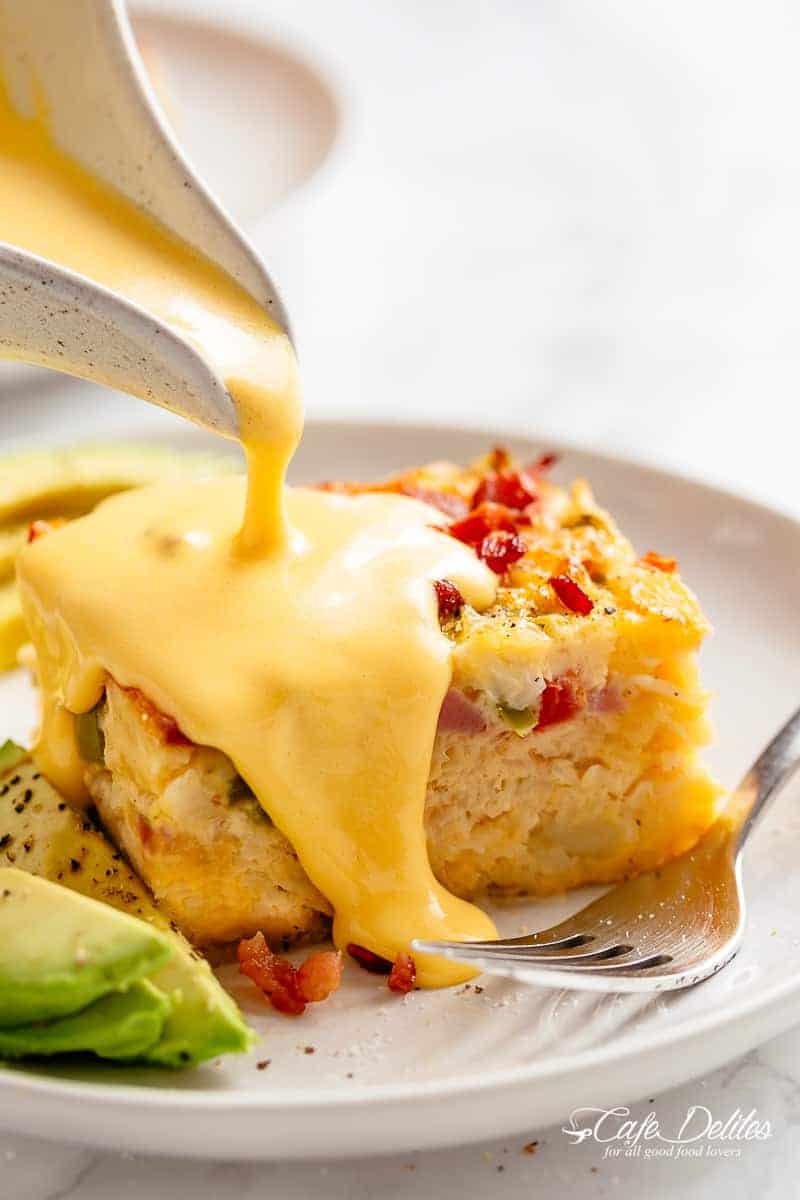 TIPS
If for any reason your sauce has not thickened (usually happens if your butter was not hot enough when streaming it into the yolks), you can heat it in the microwave it for 5 seconds at a time, whisking between heating, until thick to your liking. Be careful not to leave it too long in the microwave as the eggs will cook in the butter and scramble.
Hollandaise sauce fresh out of the blender will thicken up ever so slightly as it sits at room temperature.
Need more breakfast ideas? Try these!
Cheesy Bacon And Egg Hash (Breakfast Skillet)
Sheet Pan Full Breakfast With Garlic Butter Mushrooms
Sweet Potato Hash Brown Breakfast Casserole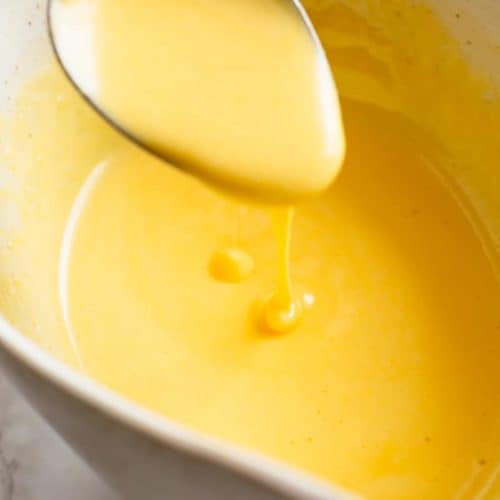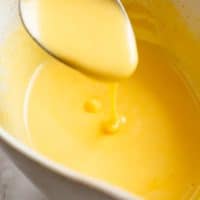 Hollandaise Sauce
Deliciously creamy hollandaise sauce made with egg yolks, butter, lemon juice, salt and pepper! If you love a good hollandaise sauce, you will love how easy this is!
PRINT
SAVE
go to your favorites
Serves:
4
- 6 serves (makes about 1 cup of sauce)
Ingredients
3

large

egg yolks

1/4

teaspoon

salt

Pinch

of

cracked black pepper

1

tablespoon

fresh lemon juice*

(adjust to your taste preference)

1/2

cup

unsalted butter

(4 oz | 125 g)
Instructions
Combine eggs yolks, salt, pepper and lemon juice in a blender jug.

Microwave the butter in a microwave safe bowl in 20 second increments until completely melted and hot to the touch.




Alternatively: Melt the butter in a small saucepan until beginning to foam.




Cover the blender with a lid and blend the yolk mixture at high speed for 3 seconds.

With the blender still running, uncover (or take out the middle plastic piece from the lid) and slowly pour the hot melted butter in a thin stream.

The sauce will begin to thicken with half of the butter blended in.

Taste test and season with a little extra salt and pepper, if needed.
Notes
*Substitute lemon juice for white vinegar.
The friction of the blender blades along with the hot butter will somewhat cook the egg during emulsion. Consume with caution. To reduce a risk of salmonella or other food-related illnesses, use good quality, fresh, refrigerated eggs.
Nutrition
Calories:
245
kcal
|
Protein:
2
g
|
Fat:
26
g
|
Saturated Fat:
15
g
|
Cholesterol:
199
mg
|
Sodium:
154
mg
|
Potassium:
13
mg
|
Vitamin A:
895
IU
|
Vitamin C:
1.5
mg
|
Calcium:
23
mg
|
Iron:
0.3
mg