Creamy Tuscan Scallops are oh so rich and creamy. Crispy, seared, melt-in-your-mouth juicy scallops in a buttery cream sauce filled with garlic, spinach, sun dried tomatoes and parmesan cheese!
The entire family loves this easy to make Scallops recipe. Cheaper than going out to a restaurant and just as good as chef made scallops, you will love our Creamy Tuscan Scallops! Serve with pasta or buttery mashed cauliflower for a KETO meal.
Nothing melts in your mouth quite like tender-crisp and buttery scallops. The creamy sauce is to die for!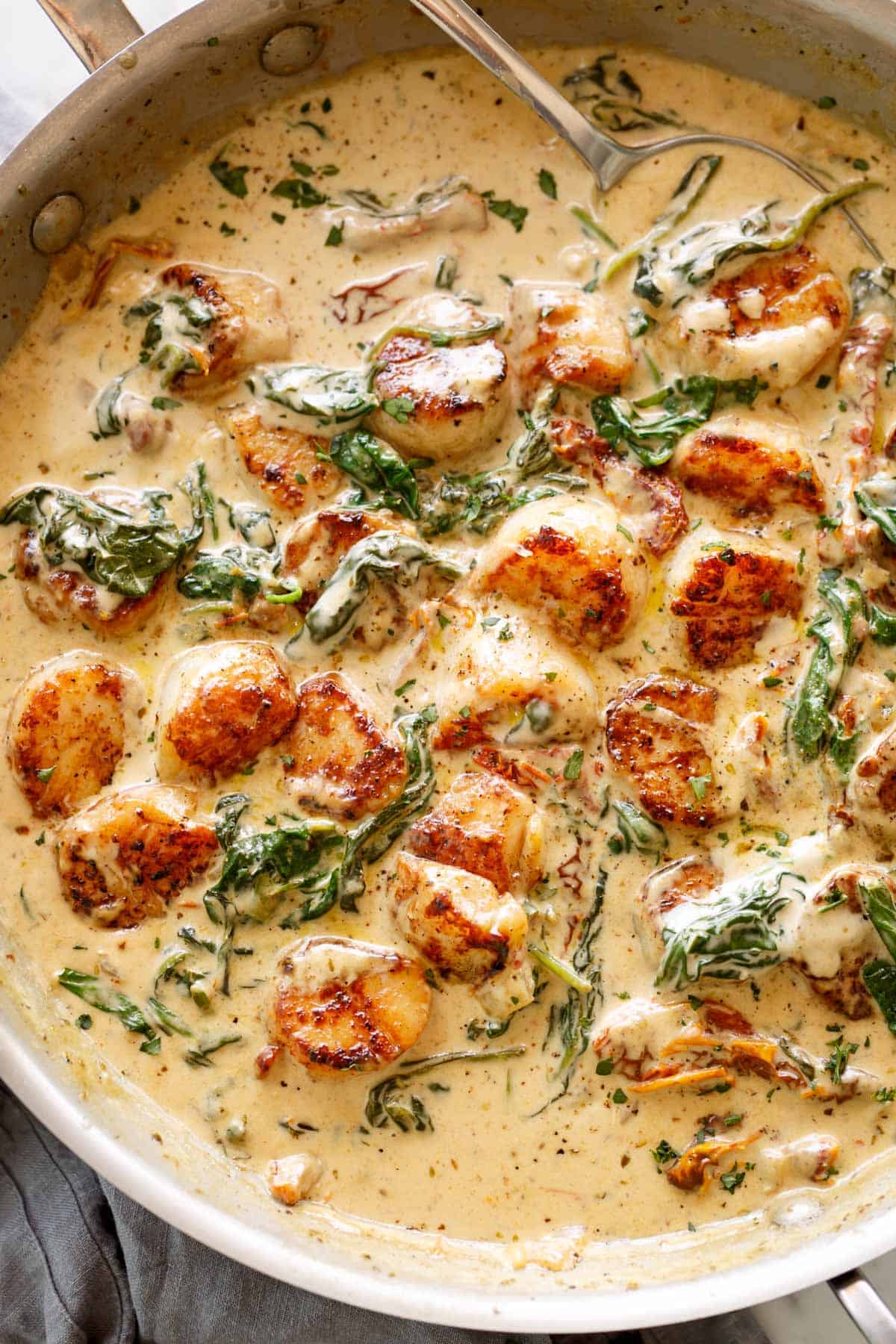 SCALLOPS
What a recipe! You have all been writing in telling us how much you love our Creamy Garlic Butter Tuscan Shrimp and our Creamy Garlic Butter Tuscan Salmon. Well, this recipe is just one of the many ways we love our scallops!
Most people are extremely intimidated to cook scallops, especially because of their high price tag. Something you don't want to spend so much money on only to have it go completely wrong. But that's also the beautiful thing about scallops. They are a luxury and a feeling of fine dining washes over you when you have a bowl full of Creamy Tuscan Scallops with a glass of your favourite wine in hand.
Plus, I had to share this one with you in time for Christmas and New Years Eve menu plans!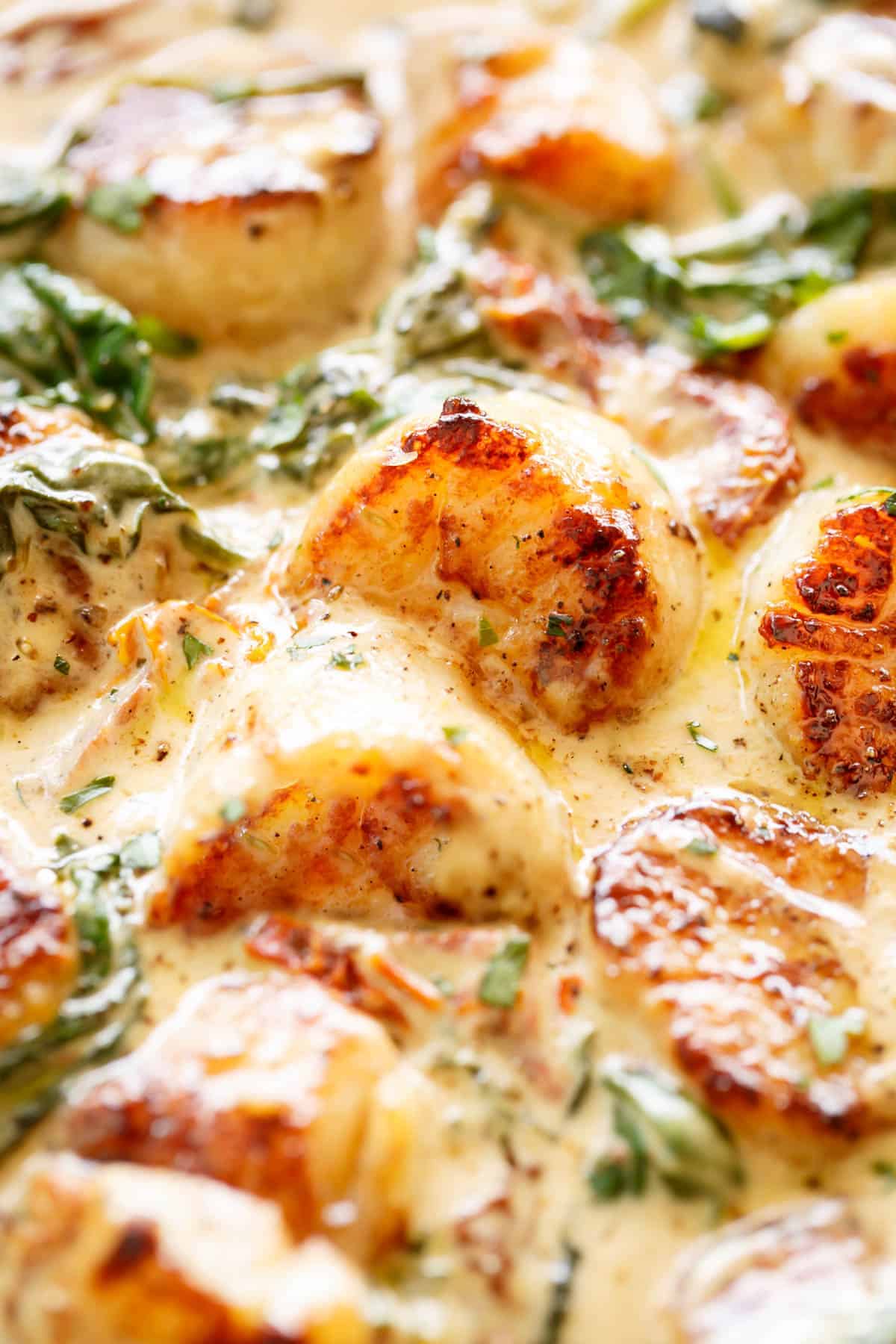 WHAT SCALLOPS TO USE
Try to find scallops without the bright orange or coral coloured crescent-shaped part still attached (or roe). The orange part can be a little bitter, however some people do like this part of the scallop. It's personal preference. If you can only find them with the roe attached, you can pull it off and discard it. If you have bought whole scallops, you will need to remove that and the muscle that attaches the scallop to the shell. For this reason, we buy frozen wild caught scallops without the roe.
THAW SCALLOPS
Thaw scallops in a bowl of cold water for about 10-20 minutes until thawed completely.
Alternatively, thaw them in a bowl overnight in the refrigerator.
If your scallops are still frozen in the centres, arrange them on a paper towel-lined baking sheet and let them thaw out on your kitchen bench 15 minutes before cooking.
Make sure to thoroughly pat them dry with a couple more sheets of paper towel to absorb all the liquid before searing. If too much liquid is left in scallops, they will release too much water while cooking and simmer in your pan instead of sear.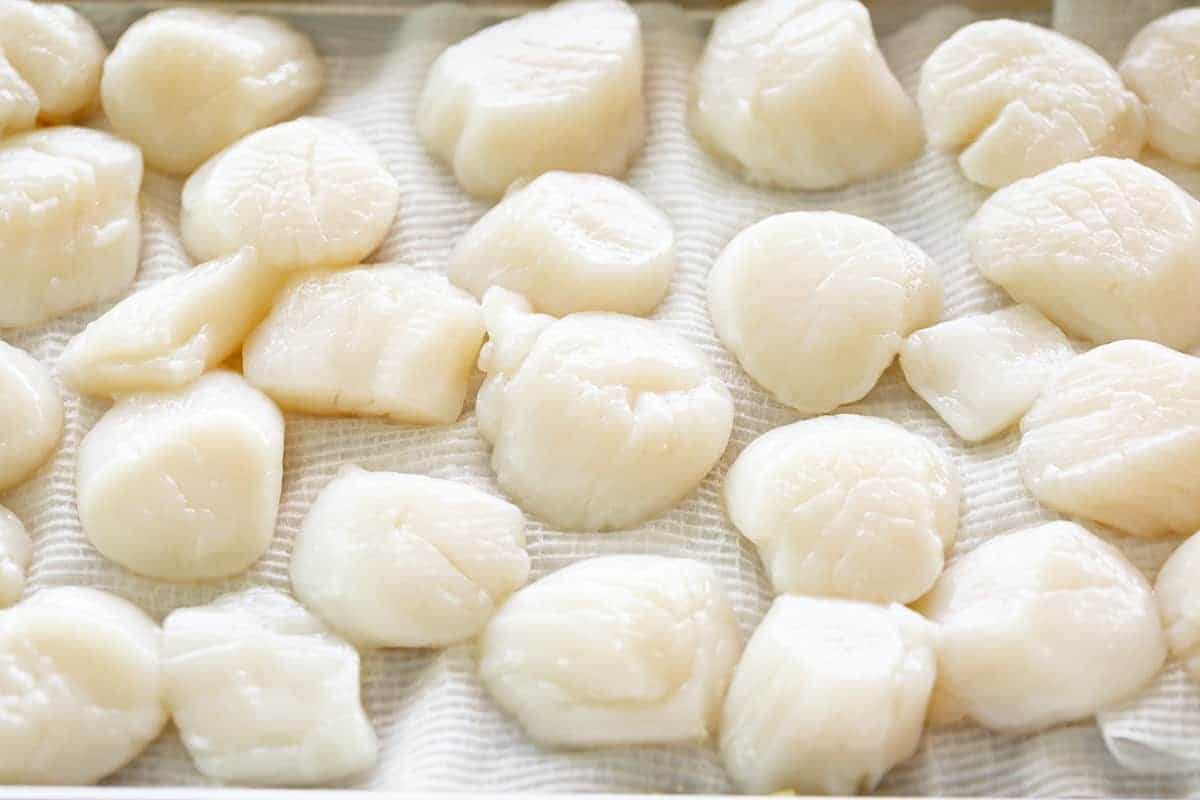 HOW TO COOK CREAMY TUSCAN SCALLOPS
Once they're thawed, dried and ready to go, you're going to sear them first in a hot pan.
Heat an oiled skillet or pan until it's sizzling. Key step right here. You want them to sizzle and crisp to a golden colour on the outside.
The first scallop should sizzle as soon as it hits the oil. If it doesn't, wait and let the pan continue heating before adding any more.
Use a large pan to avoid over crowding, or cook in batches to make sure they are at least 1-inch apart.
Sear them without moving them for about 2-3 minutes on each side.
Both sides of a scallop should be seared to a perfect golden-brown 'crust' with the sides opaque all the way through. They should be firm to the touch, but still slightly soft with a little bounce to them.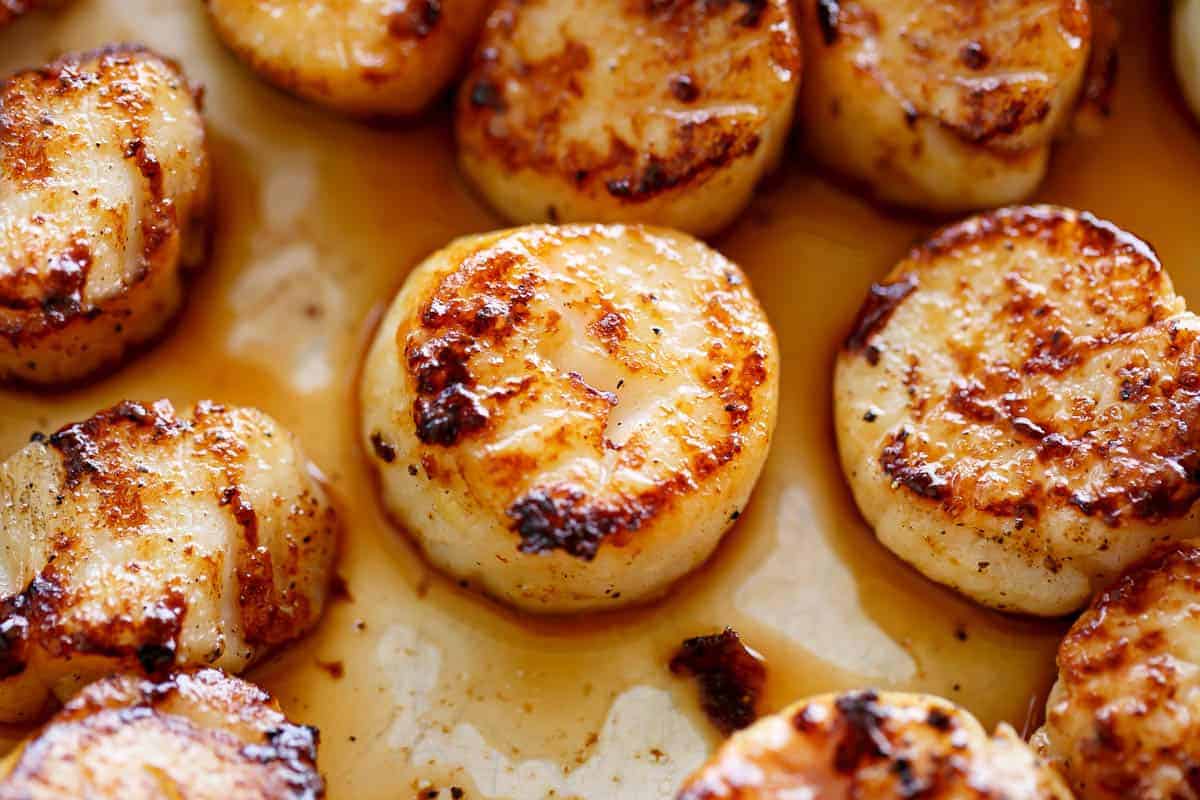 TUSCAN CREAM SAUCE FOR SCALLOPS
THIS is the pièce de résistance! Onion gets sautéed in butter until soft; garlic follows close behind, then a splash of white wine is poured in and reduced. If you don't want to use white wine, you can replace it with chicken broth or stock.
Make sure you start scraping any browned bits off of the bottom of the pan left over from your scallops. THIS is where all of your flavour lies.
Sun dried tomatoes release so much flavour into the sauce, while cream, wilted spinach leaves and herbs add to the mix. Add parmesan cheese to melt through the sauce to finish it off and you have a winning scallops recipe right here!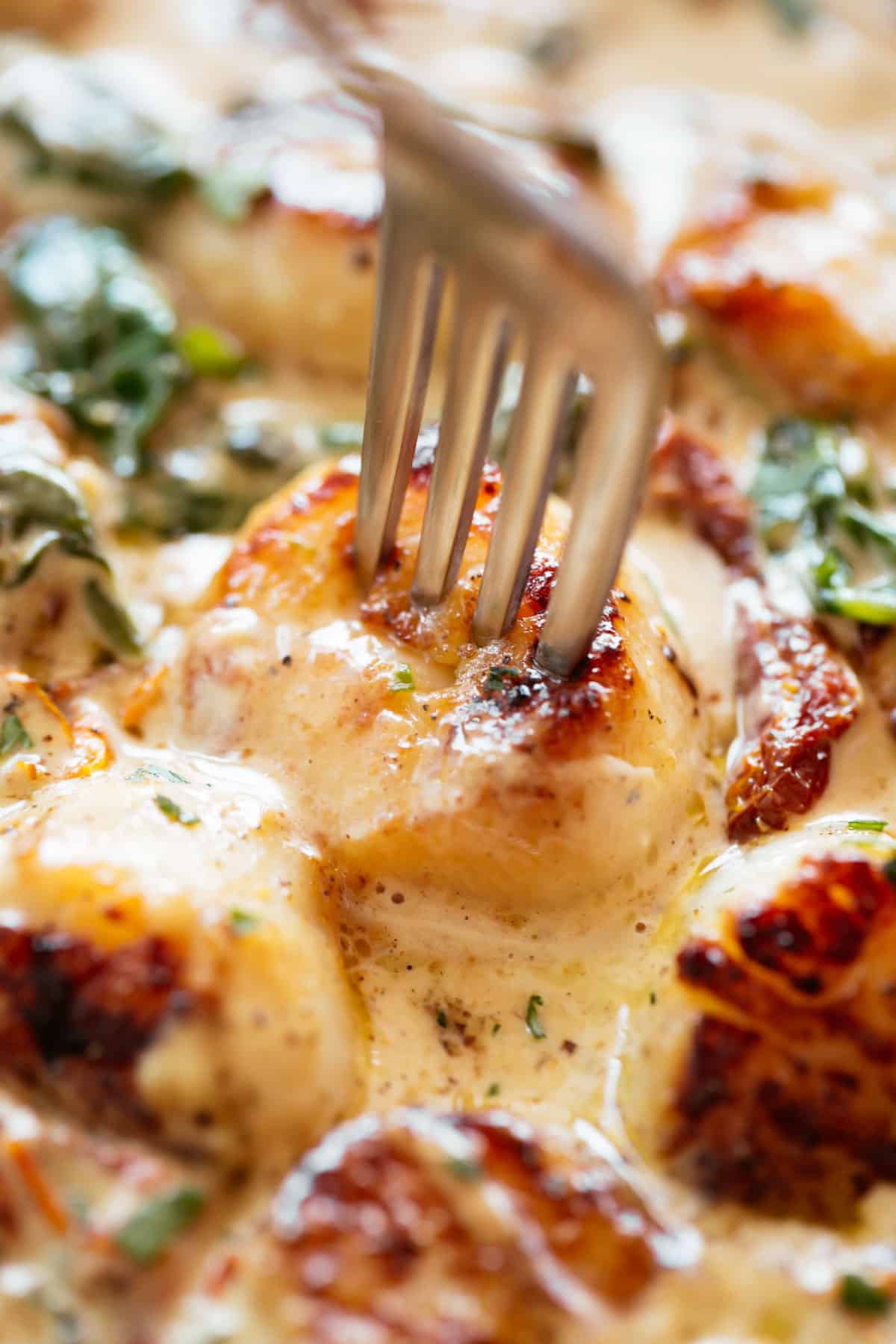 BEST SIDES
Serve our Creamy Tuscan Scallops over low carb favourites, like zoodles, cauliflower rice, spaghetti squash, or any of your favourite veggies.
For a carb loaded meal, think mashed potatoes, pasta, rice, garlic bread to soak up that cream!
WHAT WINE GOES WELL WITH THIS RECIPE?
A light Chardonnay or Pinot Gris. For a sweeter wine, Riesling or a Sparkling Moscato.
Scallop Recipes
If you love this recipe, you may love our Creamy Garlic Scallops and our Lemon Butter Scallops!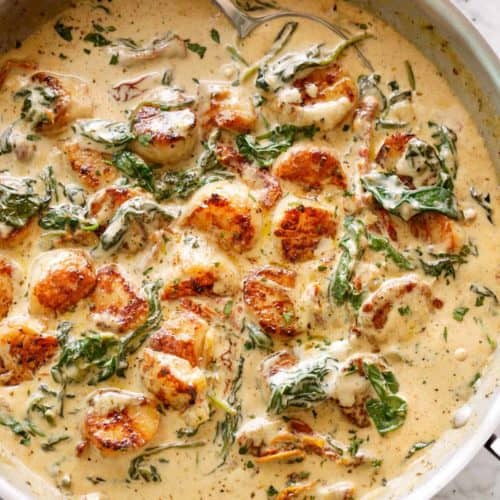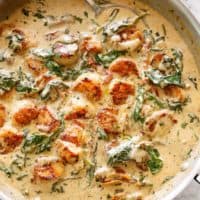 Creamy Garlic Butter Tuscan Scallops
Creamy Garlic Butter Tuscan Scallops coated in a light and creamy sauce filled with garlic, sun dried tomatoes and spinach! Packed with incredible flavours!
PRINT
SAVE
go to your favorites
Ingredients
28

oz

(800 g) scallops

2

tablespoons

salted butter

4

cloves

garlic,

finely diced

1

small yellow onion,

diced

1/2

cup

white wine

(OPTIONAL)

5

oz

(150 g) jarred sun dried tomato strips in oil, drained

(reserve 1 teaspoon of the jarred oil for cooking)

1 3/4

cups

heavy cream (or half and half)

SEE NOTES

Salt and pepper,

to taste

3

cups

baby spinach leaves,

washed

1/2

cup

fresh grated Parmesan cheese

2

teaspoons

dried Italian herbs

1

tablespoon

fresh parsley,

chopped
Instructions
Thoroughly pat scallops dry with paper towels.

Heat olive oil in a large pan or skillet over medium-high heat until hot and sizzling. Add the scallops in a single layer without over crowding the pan (work in batches if needed). 

Season with salt and pepper to taste and fry for 2-3 minutes on one side (until a golden crust forms underneath), then flip and fry again for 2 minutes until crisp, lightly browned and cooked through (opaque). Remove from skillet and transfer to a plate.

Melt butter in the pan. Sauté onion until soft (about 4 minutes). Add in the garlic and sauté until frangrant (30 seconds). Pour in the white wine (if using), and allow to reduce to half, while scraping any bits off of the bottom of the pan. Add the sun dried tomatoes and cook for 1-2 minutes to release their flavours.

Reduce heat to low-medium heat, add the heavy cream (or half and half) and bring to a gentle simmer, while stirring occasionally. Season with salt and pepper to your taste.

Add in the spinach leaves and allow to wilt in the sauce, then add in the parmesan cheese. Allow sauce to simmer for a further minute until cheese melts through the sauce.

Stir in herbs through; take pan off the heat and add the scallops with their juices into the pan. Mix through slightly before serving.

Serve over pasta, rice, zoodles, caulfilower mash, cauliflower rice or steamed veg.

Enjoy!
Notes
Half and half is an American product, made from equal parts light cream and milk. Feel free to use half light cream and half 2% milk (or full fat if not worried about calories and fat counts), in place of half and half. Alternatively, use light cream or reduced fat cream. If serving with pasta: add in pasta cooked al dente along with 1/4 cup of reserved pasta water into the pan of shrimp once they are cooked. Gently mix through the sauce until combined. Serve immediately.
Nutrition
Calories:
516
kcal
|
Carbohydrates:
36
g
|
Protein:
38
g
|
Fat:
24
g
|
Saturated Fat:
14
g