A quintessential Thanksgiving recipe — the perfect Homemade Cranberry Sauce to pour all over your Roast Turkey!
Making your own cranberry sauce from scratch is so easy, and you can make it days ahead. With only THREE ingredients plus optional flavour suggestions… you'll never want to buy store-bought again!
I can't have a good Thanksgiving or Christmas without an incredible homemade Cranberry Sauce recipe! This is what my readers have been screaming at me through emails.
You asked — we delivered!

Cranberry Sauce
A classic sauce made from fresh or frozen cranberries, commonly served as a side with Thanksgiving dinner that seems to be forgotten about or preferred by many to grab a can from the store. However, homemade just doesn't compare to anything in a jar or can.
Cranberries are tart and scream the need for sugar to balance out the sourness. The tartness never really disappears, which makes it the perfect sweet/tart sauce to serve with Turkey.
Some love it, some hate it. Others swear by it, believing wholeheartedly that this is the perfect sauce for a holiday meal!
How To Make Cranberry Sauce
Just like making jelly or jam, our sauce is done in only a few easy steps:
Cook all ingredients together in a small pot
Season with salt, fresh cracked black pepper, and/or a pinch of ground cinnamon if you wish.
For our recipe, we throw in a few whole cranberries right at the end once the sauce is nearly done. If you love the bursts of fruit, you will love this method!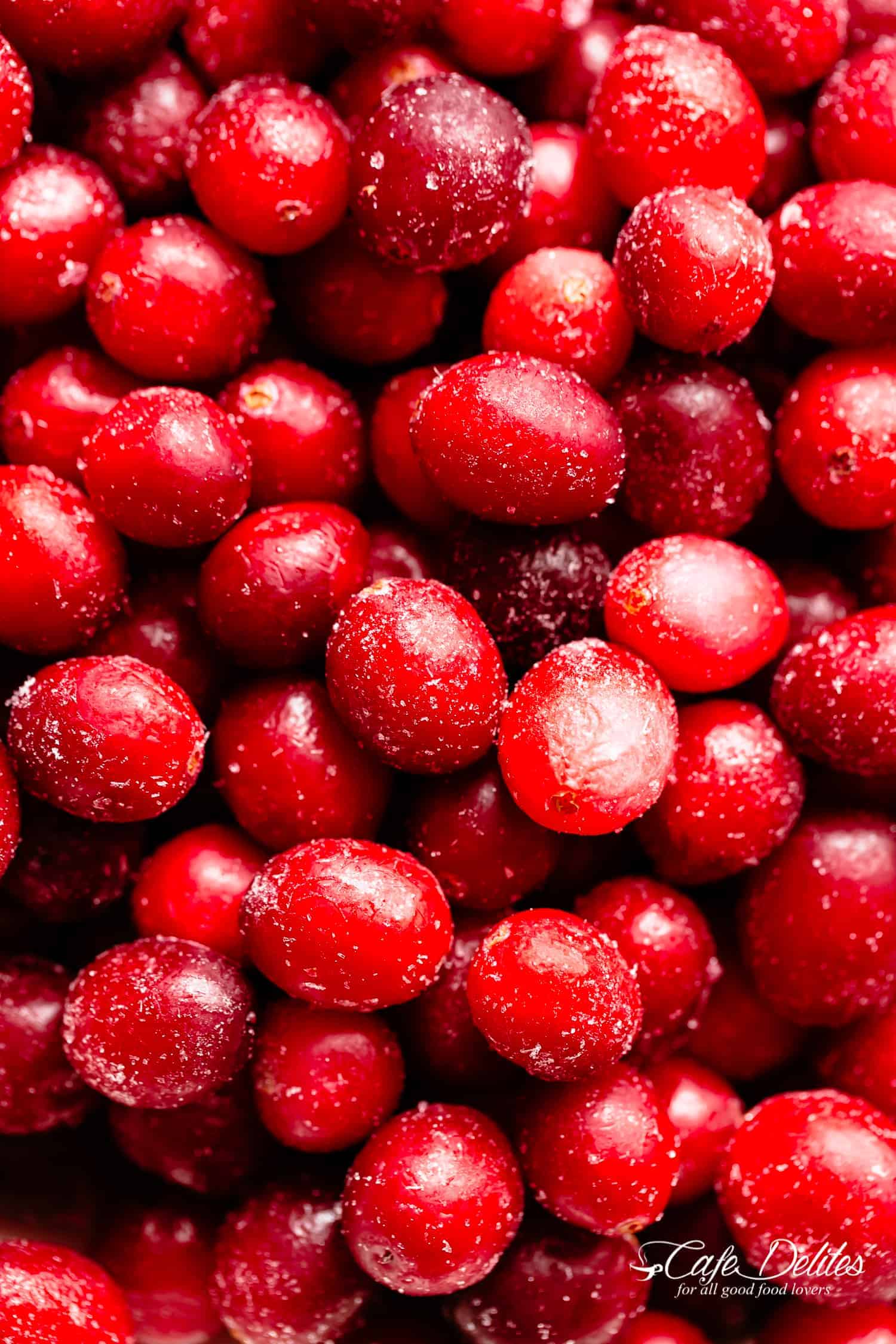 What Do I Need To Make Cranberry Sauce?
Our recipe is quick to throw together, easy and uses only a handful of ingredients:
Cranberries — use fresh or frozen
Brown sugar — or white granulated sugar. I find brown sugar creates the best flavour.
Orange juice — sub out the juice for water if you don't like citrus flavours
Orange peel or lemon zest — both are optional but provide an even better flavour that pairs so well with cranberries. You could also add in 1-2 tablespoons of orange juice instead of using strips of peel or zest.
A pinch of salt and pepper
Optional add in's: Pecans, cinnamon (ground or stick), nutmeg, all spice or finely chopped rosemary.

Is cranberry sauce supposed to be hot or cold?
Either! Some prefer to have it served fresh and warm, straight out of the pot, while others need it completely cooled down to enjoy the flavours. Personally, we prefer cooled sauce.
How long does homemade cranberry sauce last?
If stored in airtight jars or containers, sauce can be refrigerated for up to 10 days.
Can I make it ahead?
Typically served chilled, our recipe can be made up to 3 days ahead. You may find the flavour has settled after two days, which makes it the perfect recipe to get started on ahead of time.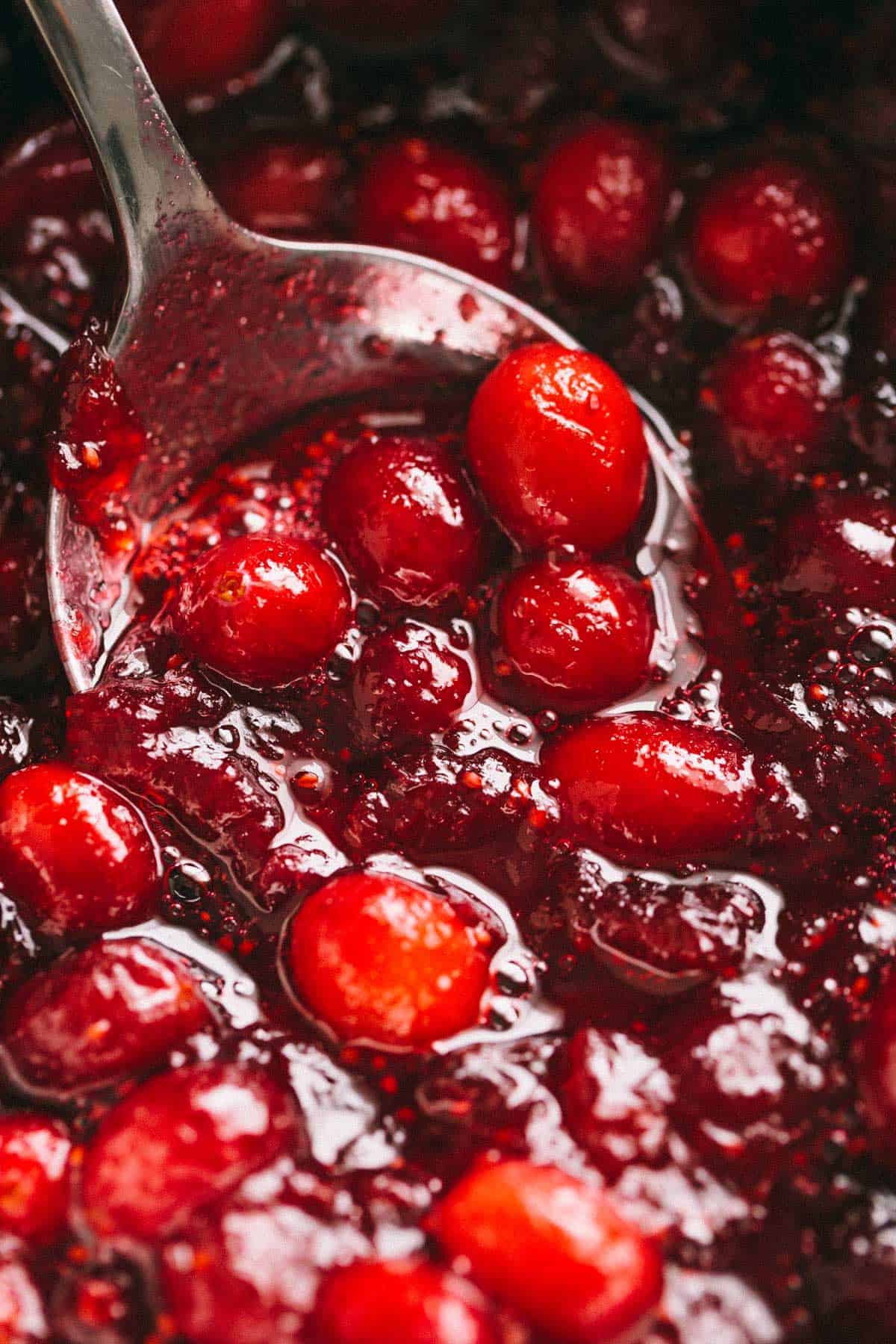 Looking for more Thanksgiving recipes? Try these!
Sweet Potato Casserole
Sausage Stuffing
Roasted Carrots
Mashed Potatoes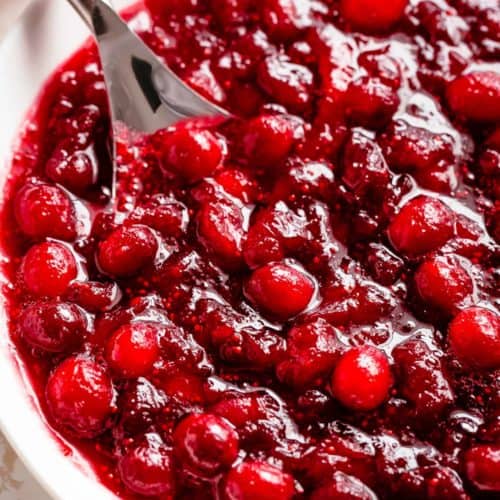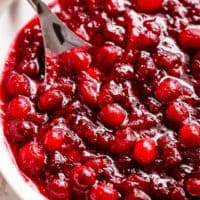 Cranberry Sauce
A quintessential Thanksgiving recipe is the perfect Homemade Cranberry Sauce to pour all over your Turkey! Make your own sauce from scratch!
PRINT
SAVE
go to your favorites
Ingredients
12

ounces

(340 g) frozen or fresh cranberries

3/4

cup

brown sugar

1/2

cup

(125 ml) orange juice

1

strip orange rind or 1/2 teaspoon lemon zest

(optional for added citrus flavour)
Instructions
Transfer 1/2 cup of cranberries a small bowl, set aside.

Cook remaining ingredients in a saucepan over low heat, while stirring occasionally, until the sugar dissolves and the cranberries are soft (about 10 minutes).

Increase the heat to medium and cook until the cranberries burst (a further 10 minutes).

Reduce heat to low and stir in the reserved cranberries. Add in a couple tablespoons of extra water, if needed.

Season with salt and pepper to taste.

Serve warm or cool.
Notes
Optional add in's: Pecans, cinnamon, nutmeg, raisins, finely chopped rosemary. Please note: Sauce will thicken while cooling.
Nutrition
Calories:
94
kcal
|
Carbohydrates:
24
g
|
Sodium:
1
mg
|
Potassium:
28
mg
|
Fiber:
1
g
|
Sugar:
21
g
|
Vitamin A:
25
IU
|
Vitamin C:
6.2
mg
|
Calcium:
5
mg
|
Iron:
0.1
mg