Classic Deviled Eggs are a timeless appetizer! Serve at parties or gatherings with optional add-ins to make them even tastier!
Deviled Eggs use easy to find ingredients you may already have on hand in your kitchen pantry! This popular, classic appetizer includes a mixture of egg yolks from boiled eggs, mayo, Dijon mustard and a light dusting of paprika. We've included a few different add-ins to make your deviled eggs stand out from the crowd!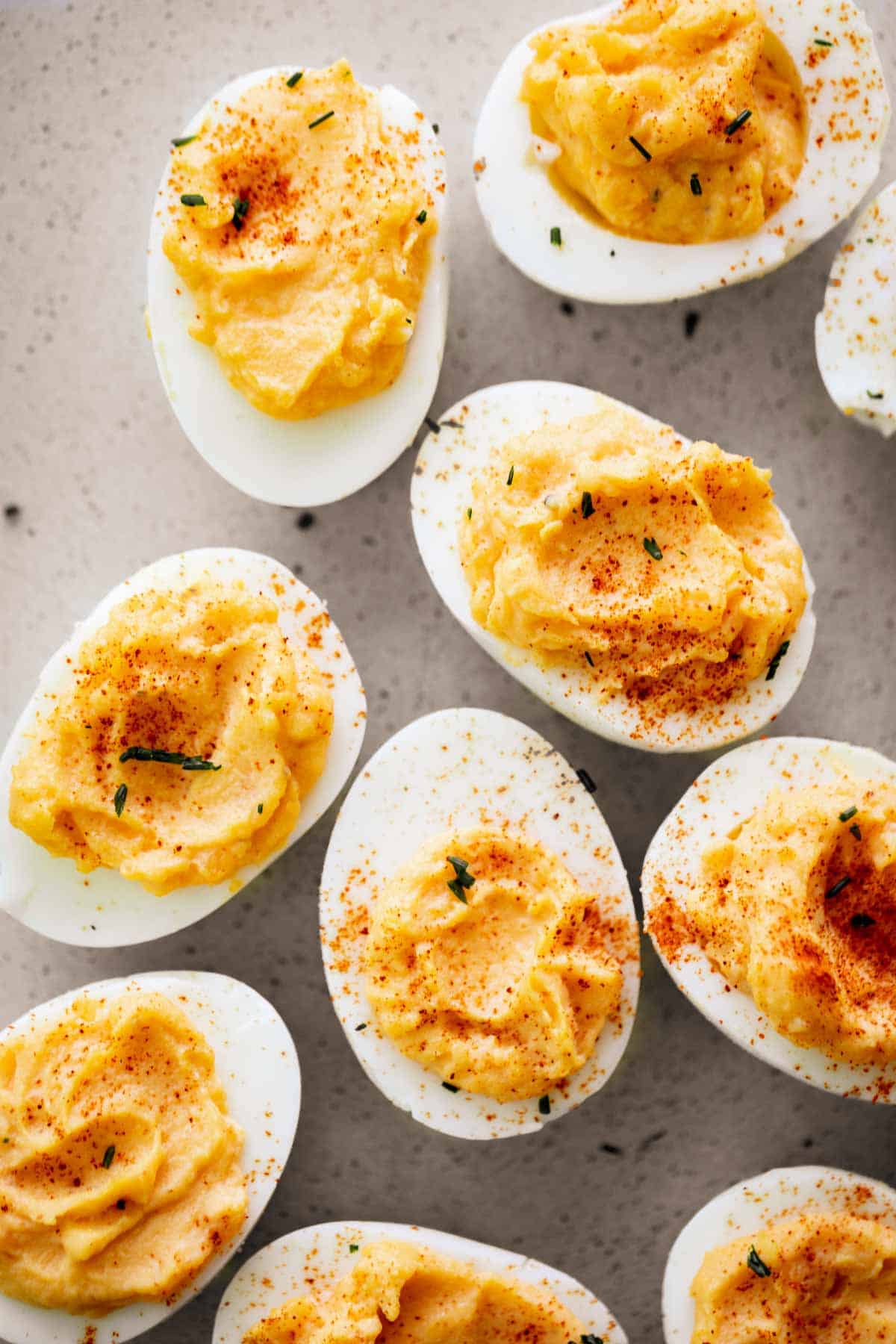 DEVILED EGGS
Simple and easy, deviled eggs are not just a great appetizer — enjoy them as a deliciously creamy side dish OR snack! You just can't go wrong with a classic.
HOW TO MAKE DEVILED EGGS
Another recipe so simple it doesn't really need one, BUT to make your deviled eggs experience easier, here we are!
HALVE boiled eggs lengthwise, and scoop out the yolks into a bowl.  Arrange your egg whites onto your serving dish.
MIX the yolks following the recipe recipe below with mayo, Dijon and seasonings until creamy. It's ok if there are some lumps of yolk.
FILL the egg whites with the yolk mixture and voila, so easy! Garnish and serve.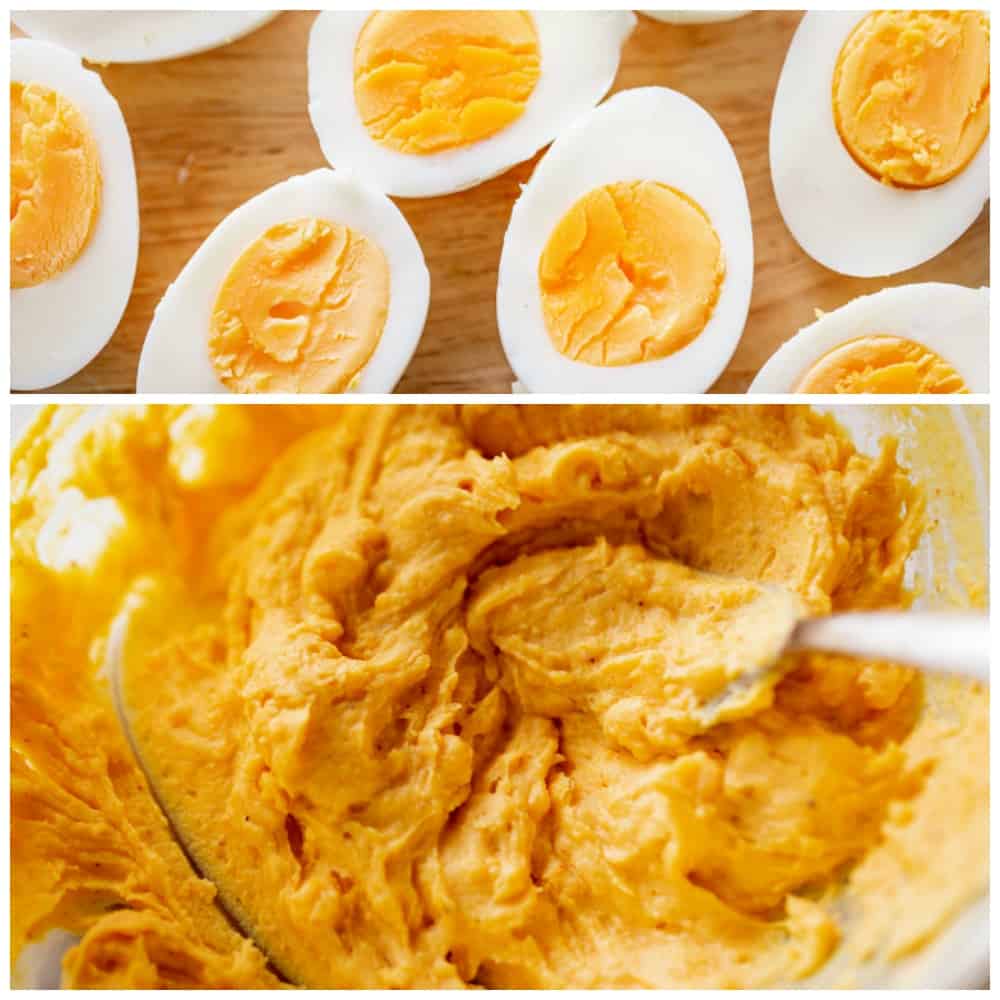 THE BEST WAY TO BOIL EGGS
A fool-proof way of boiling eggs is to place your eggs into a pot. Cover with cold water and bring to a boil over medium-high heat. Turn off heat, cover and leave them in the pot on the stove for a good 12-15 minutes. This is to ensure you don't over boil them, creating rubbery textured eggs.
Drain and rinse under cold water, then peel each one. The peel should pretty much slide off at this point. You can also add eggs to an ice bath to stop the cooking process.
Place onto a plate, loosely cover and let cool in the refrigerator for about 10 minutes. It's easier to work with cold yolks compared to warm.
TOPPING IDEAS
Top your deviled eggs with any of the following to make them even better!
Diced bacon
Shredded cheddar cheese
Sliced pickles
Sriracha
Finely chopped salami
Ranch dressing

TO MAKE-AHEAD
To save time, make them ahead for serving in time for your easter dinner. They can be made up to 2 days ahead, just be sure to fill them with the yolk mixture right before serving.
Another option is to fill them up to 12 hours before you need them and store them in the refrigerator in an airtight container to prevent a crust forming on the top.
EGG RECIPES
Egg Muffins 3 Ways (Meal Prep)
Cheesy Scrambled Eggs in Avocado
Eggs In Tomato Sauce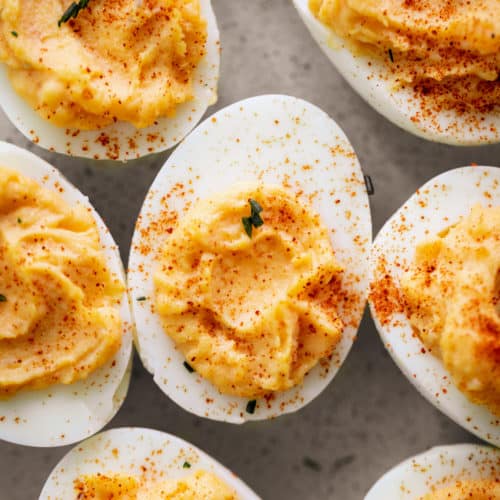 CLASSIC DEVILED EGGS
Classic Deviled Eggs -- the timeless classic appetizer to serve at parties or gatherings. Our recipe includes optional add-ins to make them even better!
PRINT
SAVE
go to your favorites
Ingredients
6

large eggs

rinsed in water

3

tablespoons

mayonnaise

1

teaspoon

Dijon mustard

Tabasco sauce

to taste

Salt and cracked black pepper

to taste

1

tablespoon

fresh chopped chives

plus more to garnish

Paprika

to garnish
Instructions
Carefully place eggs in a small pot. Cover with cold water and bring to a boil over medium-high heat.

Turn off heat, cover and let sit for 10-12 minutes on the stove top.

Drain eggs, rinsing under cold water. Peel each and place onto a plate. Loosely cover and let cool in the refrigerator, for about 15 minutes.

Slice hard boiled eggs in half lengthwise. Carefully scoop out the yolks with a spoon and place yolks in a bowl. Arrange egg white halves onto a serving plate and set aside.

Mash the yolks with a fork. Add in mayonnaise, dijon mustard, Tabasco, salt, pepper and chives. Mix well to combine. Taste test and adjust seasoning, if required.

Fill each egg white halve with about 2 teaspoons of the yolk mix. Dust lightly with paprika. Garnish with remaining chopped chives and serve cold.
Notes
OPTIONAL ADD-INS
1-2 teaspoons pickle juice from the jar
1-2 teaspoons sweet pickle relish
1-2 teaspoons ranch dressing
1/2 teaspoon creamy horseradish sauce
TOPPINGS
Top your deviled eggs with any of the following to make them even better!
Diced bacon
Shredded cheddar cheese
Sliced pickles
Sriracha
Finely chopped salami
Ranch dressing
Nutrition
Calories:
56
kcal
|
Carbohydrates:
1
g
|
Protein:
3
g
|
Fat:
5
g
|
Saturated Fat:
1
g