Warm Sweet Chilli Chicken, Haloumi and Avocado Salad with Lime Dressing
Why hello low carb lovers warm salad from a small piece of cheesy paradise.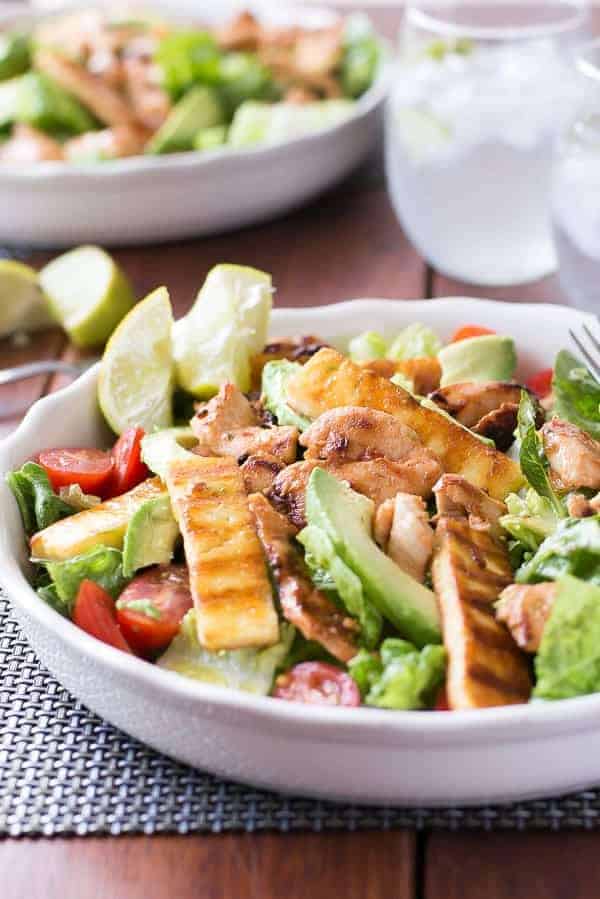 I absolutely love loading my salads. If I ever had to go on a low carb type of diet, (which I don't think I'd survive), I would definitely pick bowls that look like this to eat.
Especially if it has to be a meal of some sort. I cannot…I repeat cannot live on rabbit salads of lonely lettuce leaves and grated carrot. Maybe as a side dish yes! But as a meal alone? Ohhh….no way in this lifetime. And believe me, I've tried.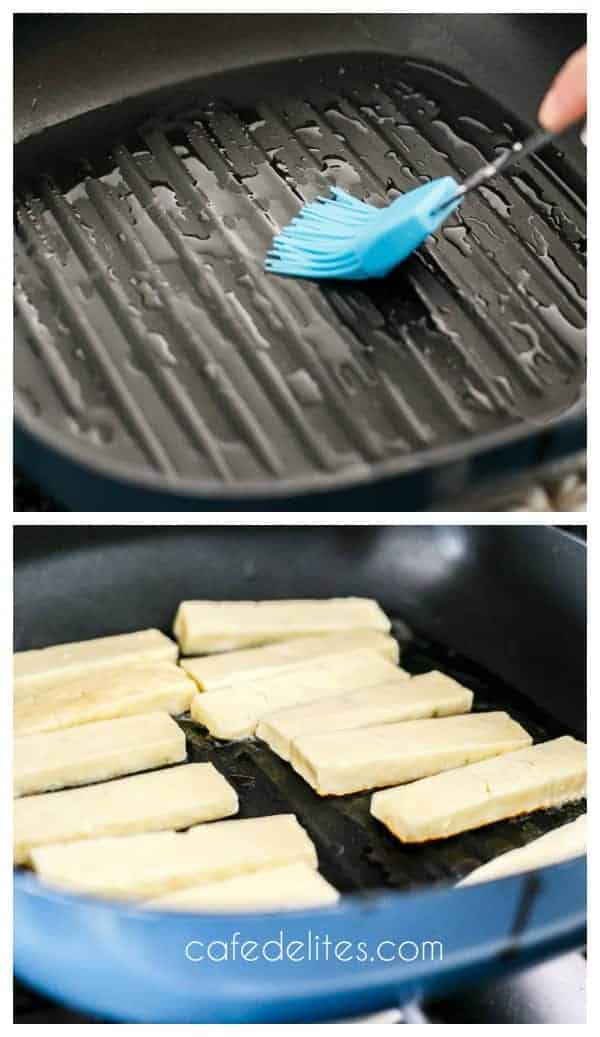 And this salad as a meal stops your stomach from growling like an angry starving lion and instead feeds you and nourishes you with all the good stuff you need to keep from attacking someone out of a pure and savage 'hangry' rage.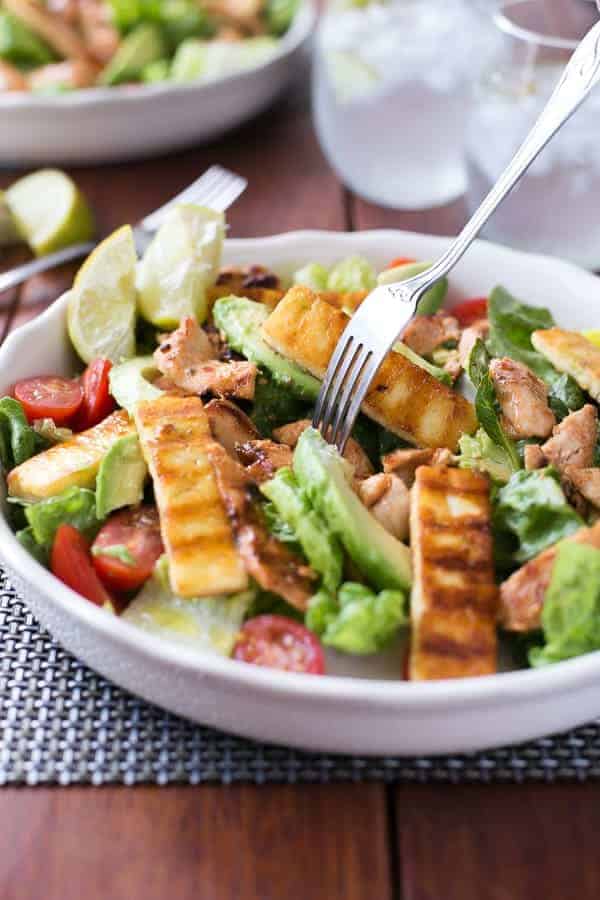 My first 'cooking Haloumi' attempt, or experiment, came after trying Haloumi for the very first time at a Greek restaurant. I never looked back. Absolutely no regrets and no shame stuffing my face with roughly 2 plates full of Haloumi. Or 3. I kinda lost count.
So now, my favourite sound at the moment is Haloumi frying off in a pan. It takes every ounce of willpower to not touch the steaming hot cheese in the pan. So crisp and golden, you just want to swipe it out of the and eat it without waiting for it to cool off. Because who has time to wait around anyway?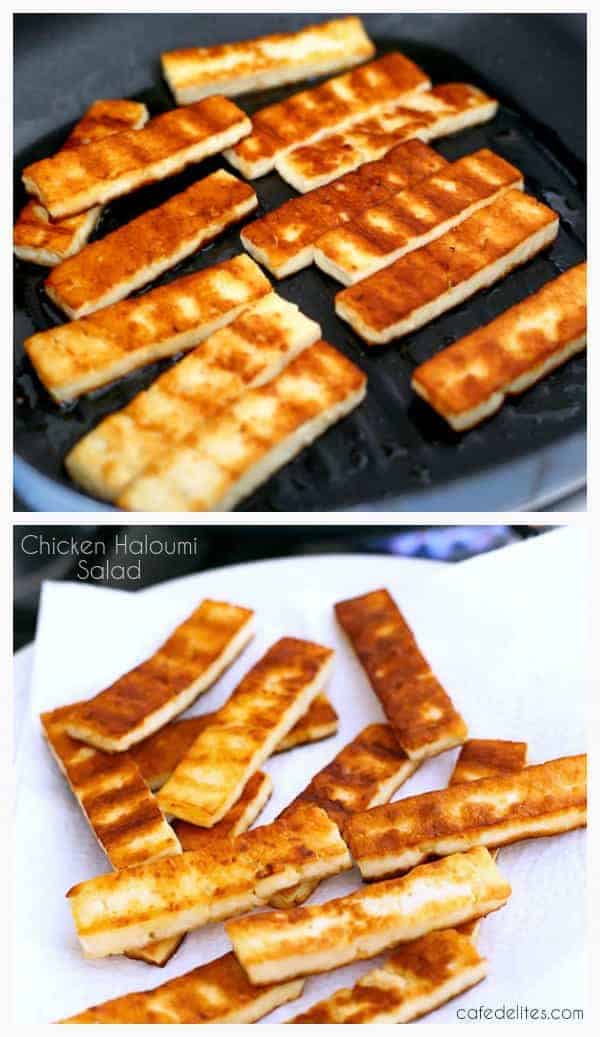 Anyway, a few months ago I experimented a little, and came up with a salad that knocked my socks off. Pan Fried Chicken Haloumi Salad. A full-on-crazy-salad moment with pan-fried capsicums/bell peppers and red onions, and so much flavour going on I cried from joy. Joy that I loaded my salad with Haloumi and other good stuff, and joy that I was full after having a salad. See? I can be healthy. I could live off Blondies and Brownies. Oh, I could, but I don't.
And after creating that salad, I knew I had to do it again.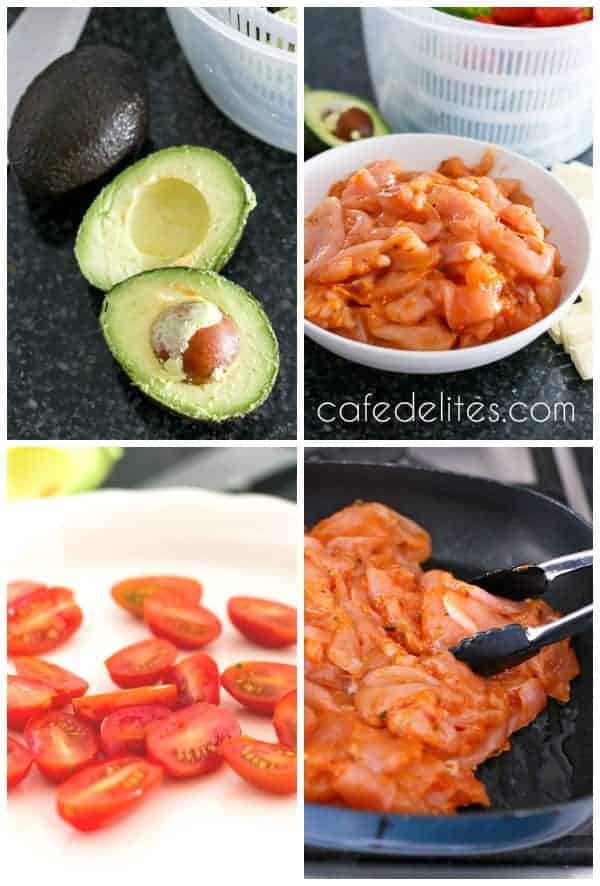 Marinading the chicken in a sweet chilli sauce marinade took this salad to a whole other level through the roof, burning the roof, and dancing on top of the roof until there was no more roof. The combination is crazy.
And after cooking up those Sweet Chilli and Sour Cream Chicken Burgers last week, we were craving sum-more!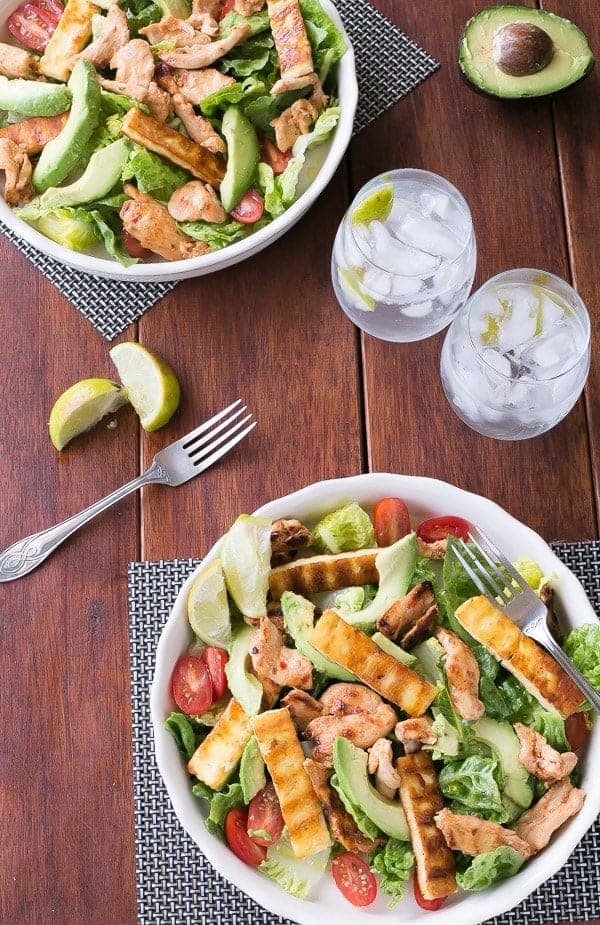 Sweet and tender chicken pieces, only mildly spicy, with the creamy avocado that kinda puts the fire out like a natural extinguisher, which then marries those juicy grape tomatoes that have their own sweetness, and the tang of lime juice so subtle it's perfect. And then…that golden melt-in-your-mouth-cheese. I don't know which is the star of this salad. The chicken? Or the cheese? Summer nights. Cool drinks. Warm salads. Like the best combination, ever.
Don't ya wish your salads were hot like mine. Don't yaaaahhh…..
Don't ya baby, don't yaaahhhh……..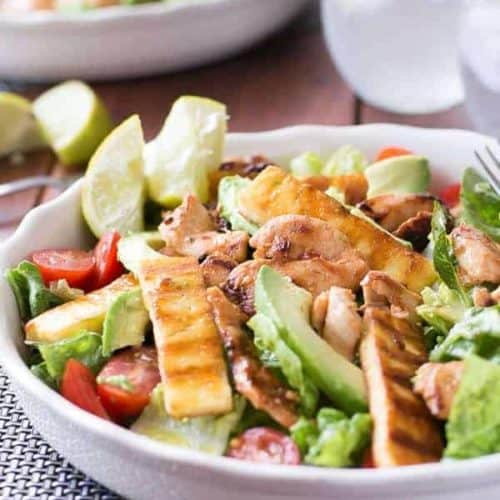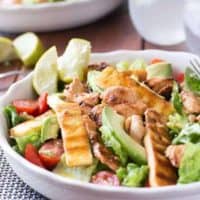 Chicken, Haloumi and Avocado Salad with Lime Dressing
A loaded salad filled with fresh crunchy lettuce, creamy avocado slices, juicy grape tomatoes and tender chicken marinaded in sweet chilli and lime marinade, dressed in a lime salad dressing.
<strong>Weight Watchers:</strong> 7pp per serve
PRINT
SAVE
go to your favorites
Ingredients
Chicken Marinade
500

g

| 1lbs chicken breast or chicken tenderloins

, sliced

2

cloves

garlic

, minced (or 2 teaspoons minced garlic)

2

teaspoons

vegetable stock powder

1/4

cup

| 4 tablespoons sweet chilli sauce

(sugar free is fine)

2

tablespoons

freshly squeezed lime juice

salt to season
Salad
180

g

(1.8oz) packet organic Haloumi cheese (salt reduced), cut into strips

1

punnet grape or cherry tomatoes

, halved

2

bunches baby cos salad

, washed and shredded

1

avocado

, sliced

Salt to season
Dressing:
2

tablespoons

garlic olive oil

2

tablespoons

lime juice

1/2

tablespoon

brown sugar

salt to season

Lime wedges

(to serve)
Instructions
Whisk all chicken marinade ingredients together in a bowl until combined. Add chicken and set aside for 1-2 hours in the refrigerator (or over night for extra flavour). Alternatively, cook without marinading.

In a large

frying pan

/

skillet

, fry the marinaded chicken until browned and cooked through. Set aside and keep warm. In a separate

smaller pan

, fry the haloumi cheese until golden on both sides (about 1 - 2 minutes each side). While cheese is cooking, combine salad dressing ingredients in a small bowl or jug until combined. Serve chicken and Haloumi over prepared salad leaves, tomatoes and avocado slices, and drizzle with the salad dressing.
Nutrition
Serving:
1
g
|
Calories:
291
kcal
|
Carbohydrates:
15.6
g
|
Protein:
29
g
|
Fat:
12.4
g
|
Fiber:
4.8
g