Grilled Chimichurri Chicken Avocado Salad is another meal in a salad! Using authentic chimichurri as a dressing that doubles as a marinade keeps all of the incredible flavours of chimichurri in this bowl!
Ahhhhh…..Chimichurri. After making a batch of this Authentic Chimuchurri with my dad and grilling chicken thighs with it, I KNEW a new SALAD was about to be born on Cafe Delites! And this Chimichurri Chicken Avocado Salad deserves a DRUM ROLL…..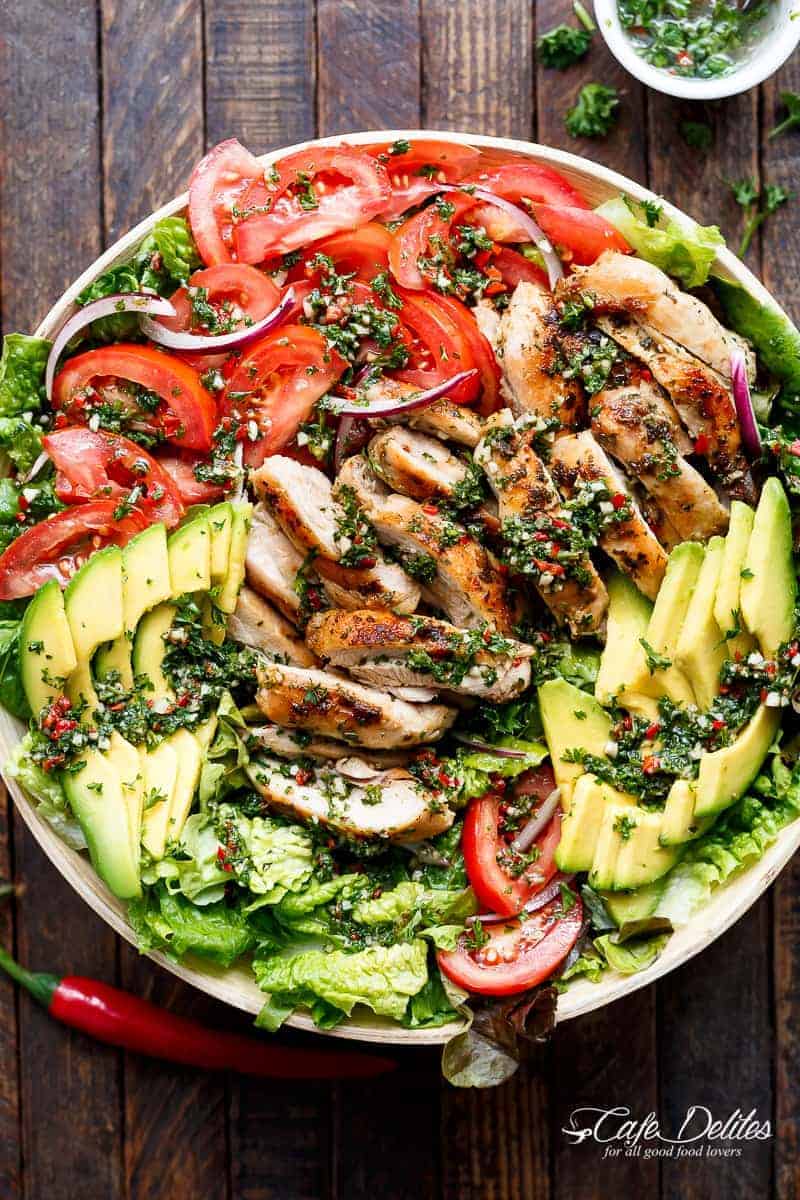 With minimal ingredients in the salad itself, the chimichurri is the star of this recipe. Sliced tomatoes and red onion make for a typical Uruguayan or Argentine salad, and with the addition of avocados, this salad will be your main meal and keep you full until you need it to!
It's been so long since I've posted a 'meal in a salad' recipe, and this one came to me like a steam train full of parsley, garlic and sabor Uruguayo (Uruguayan Flavours). Why….WHY has it taken me so long to post something from my own culture? I don't know. But it's about time I did, and what better way to start than with this salad!
To make this salad, you are going to check out this latest Authentic Chimichurri post. Then, you're going to proceed to make it… (obviously, right)?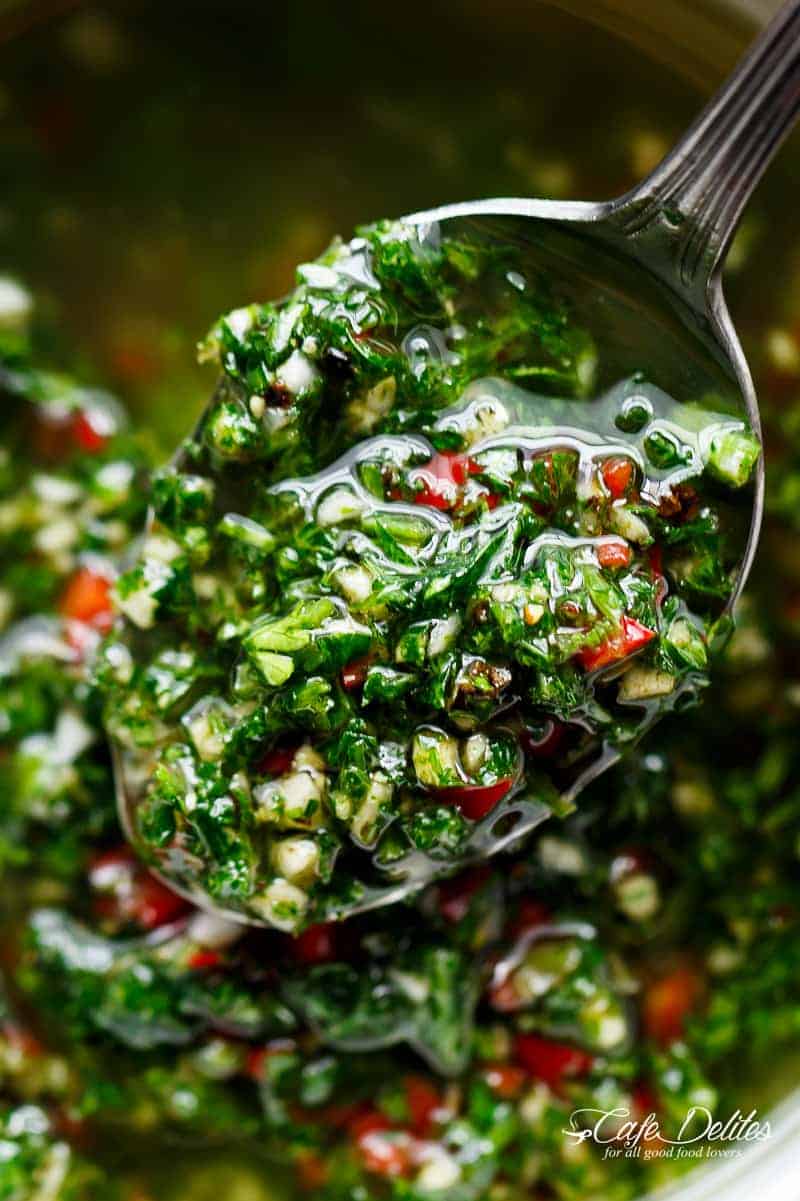 THEN, you're going to use some of it to coat or marinade your chicken thighs (or breasts). We normally don't marinade our meats with chimichurri, but for this recipe, I went against our chimichurri rules and did it anyway. It's ALL about FLAVOUR!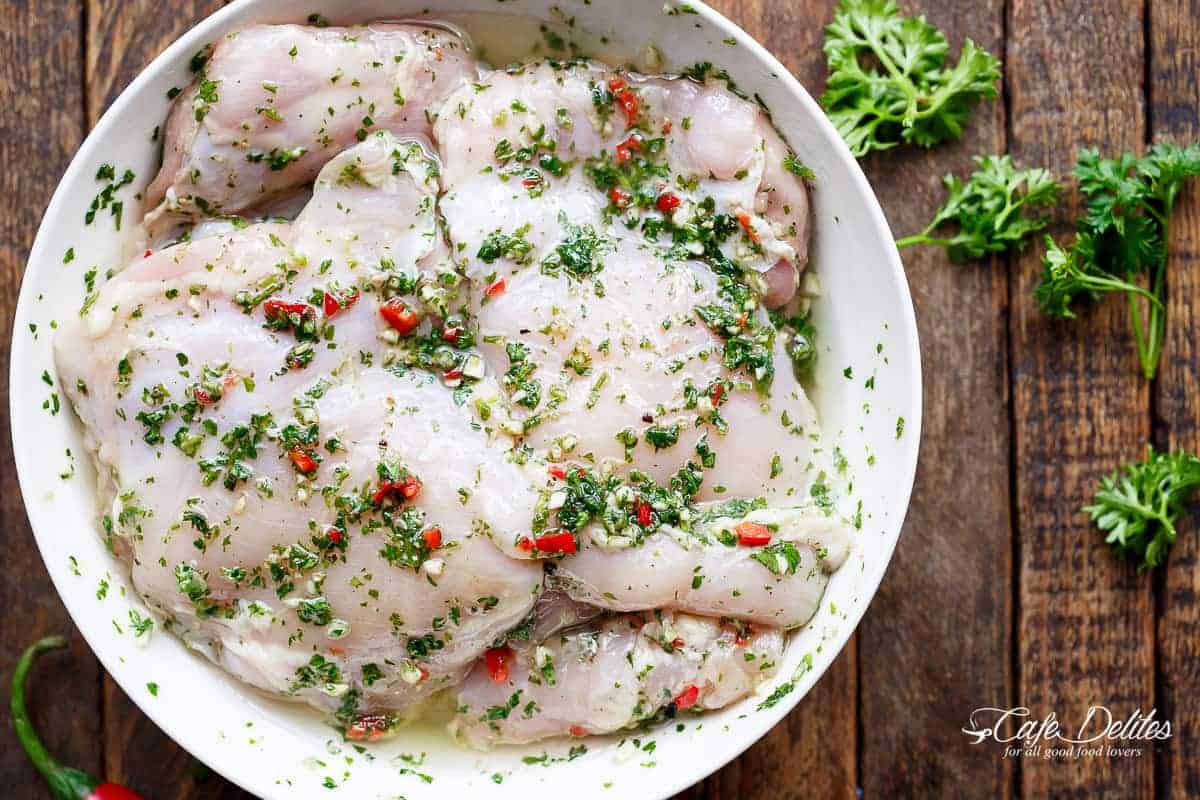 Fire up your grills or skillets because it's THE TIME TO DO IT! Baste your chicken in a little extra chimichurri to keep the flavour profile going, and prepare for a mind-blown type situation.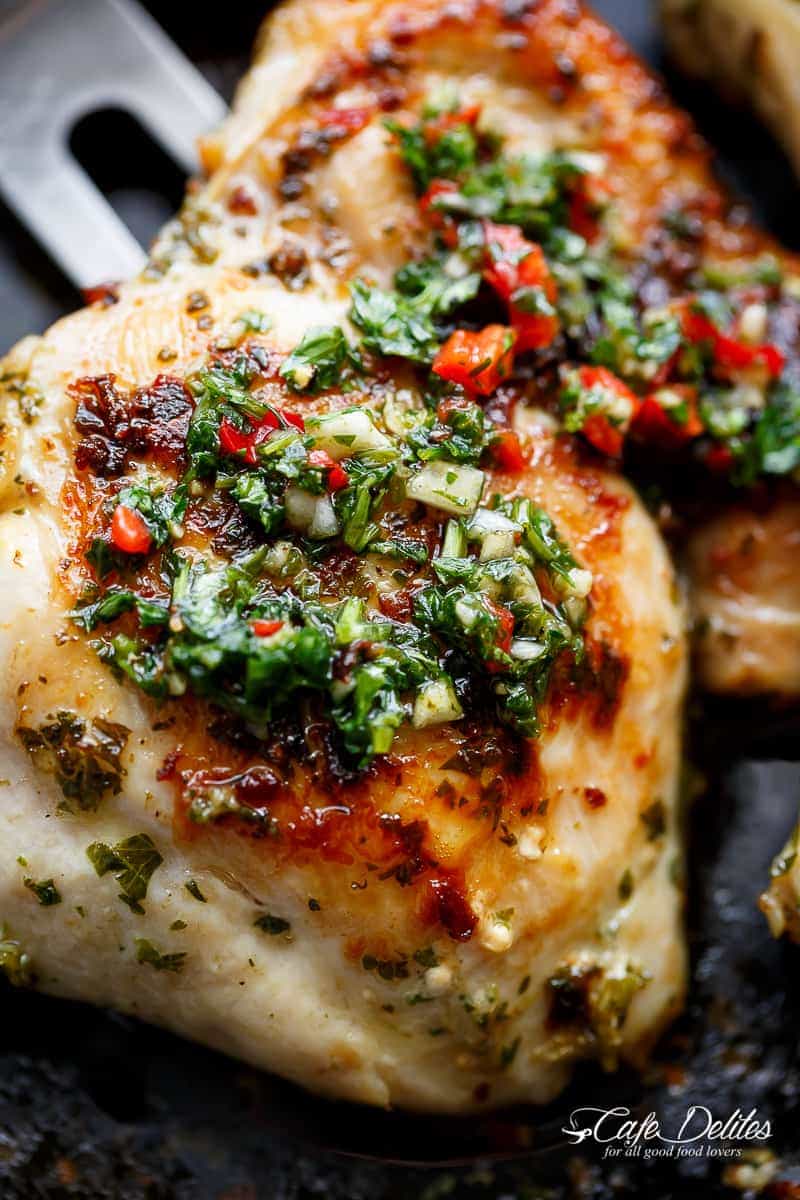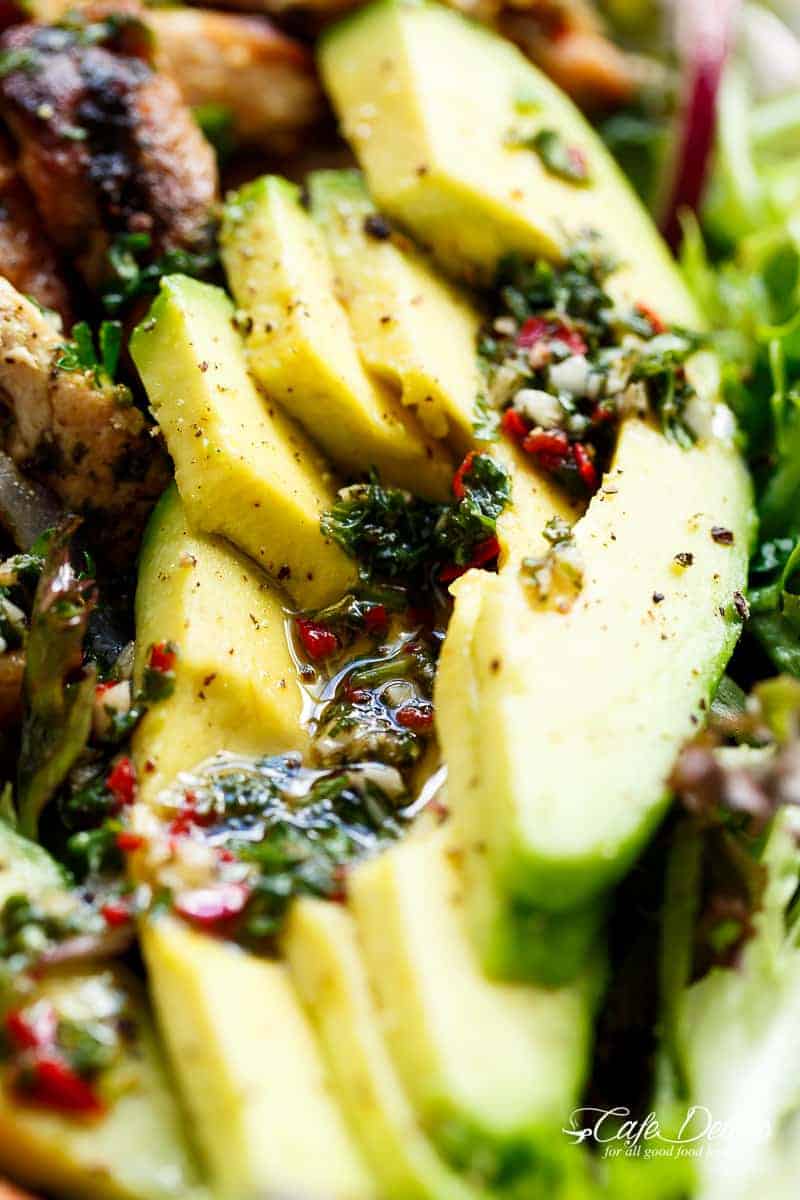 THEN, use the remaining as a dressing! Chimichurri has never been better! Chimichurri Chicken Avocado Salad for the win!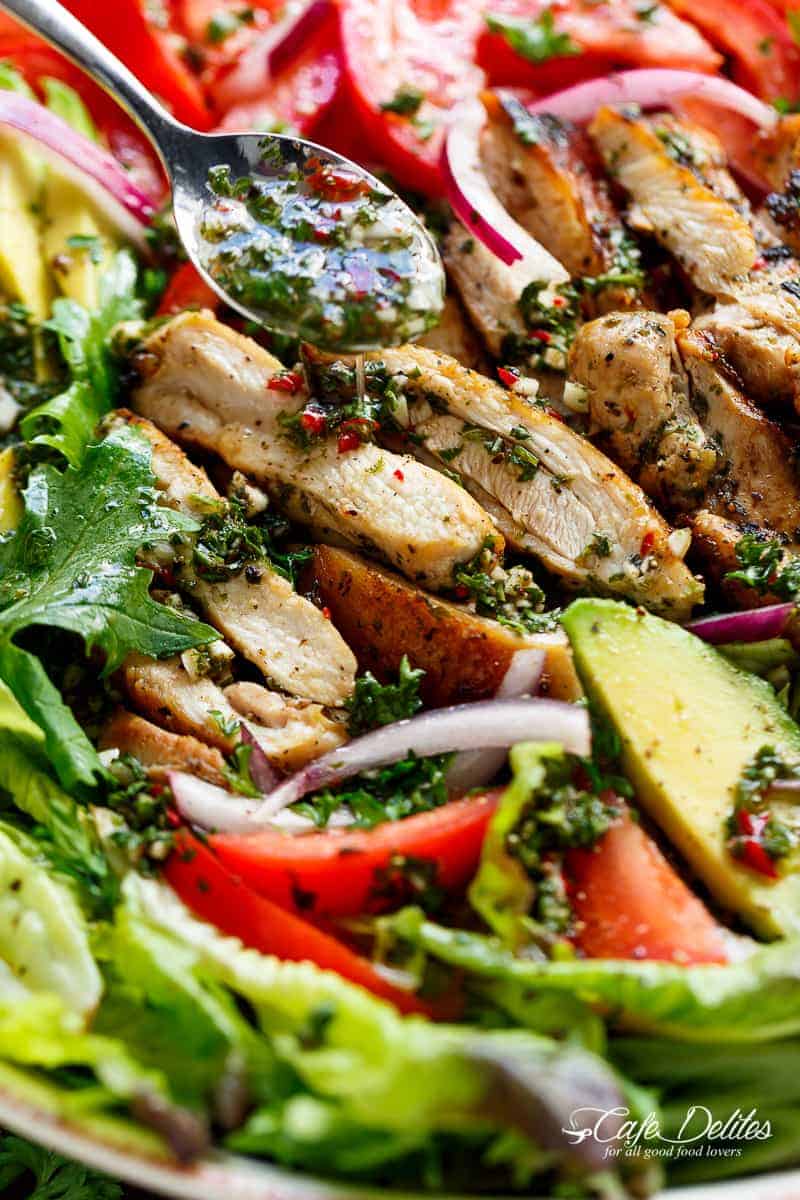 REMEMBER TO SUBSCRIBE TO CAFE DELITES NEWSLETTER FOR FREE AND RECEIVE FRESH RECIPE NOTIFICATIONS DELIVERED INTO YOUR INBOX!
If you try a recipe, please use the hashtag #cafedelites on INSTAGRAM for a chance to be featured!
FOLLOW CAFE DELITES ON FACEBOOK | INSTAGRAM | PINTEREST | TWITTER FOR ALL OF THE LATEST CONTENT, RECIPES AND UPDATES.