Fill your kitchen with the heavenly smell of fresh baked cornbread ready in half an hour.
A super moist, buttery homemade cornbread with a fluffy centre, crispy golden edges and the perfect crumb  — this is the recipe you've been searching for!
Made from scratch in a cast iron skillet with easy to find ingredients you have in your kitchen all ready. You will fall in love with cornbread all over again!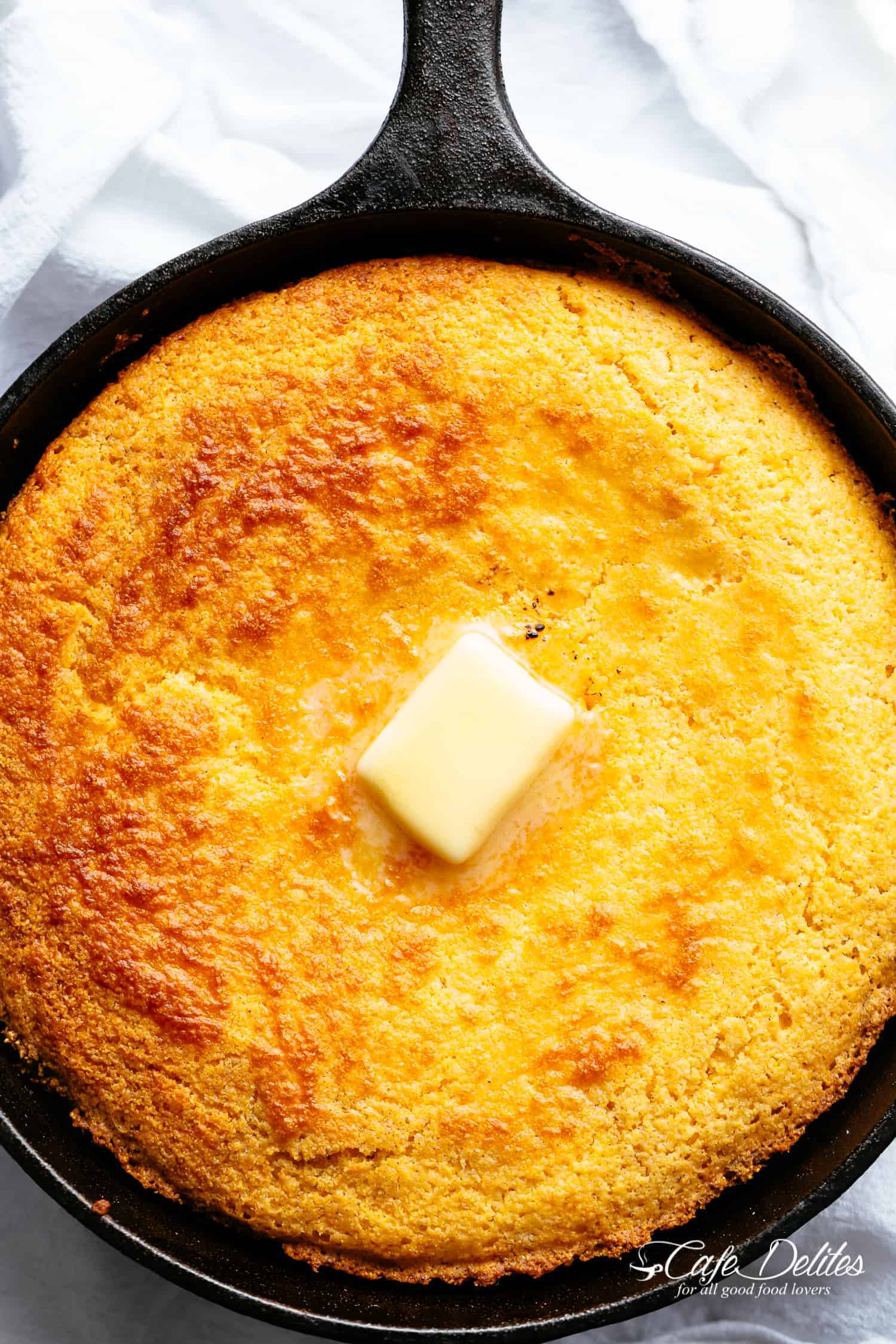 CORNBREAD
A great cornbread recipe is so hard to come by. They are either too dry, too dense, or bland without any flavour.  In my family, there are two kinds we can't live without — a sweet, buttermilk cornbread with honey — OR this one!
If you haven't tried homemade cornbread before, you are going to love this one. A buttery golden bread with the right balance of flavour and the perfect cornmeal to flour ratio, this recipe makes the perfect snack or side to go with chili's, soups or stews.
You can also use it as the base of my Easy Cornbread Dressing — another incredibly delicious Thanksgiving stuffing recipe. It's not Thanksgiving without it!
HOW DO YOU MAKE CORNBREAD
Cornbread gets its crunchy, buttery crust when the batter is poured into a sizzling, hot skillet. The cast iron retains heat while baking which is what gives you the dark, golden crust and crisp edges.
If you don't have a cast iron skillet, an ovenproof skillet, baking dish or even a pie dish will work. Just make sure you heat it up first in a hot oven before pouring on your batter.
Alternatively, if using a cast iron skillet, heat your skillet on the stove to melt your butter. Your skillet will be hot enough to add the batter. This method is quicker than using your oven.
The sizzle that comes out of your skillet is exactly what you want to hear!

WHAT DOES CORNBREAD TASTE LIKE?
Originally, corn bread or cornbread is a 'native' American dish. A wonderfully light, crumbly bread that can be sweet or plain, it has a distinct, almost grainy texture and flavour that makes it perfect to be served as a side.
WHAT GOES IN CORNBREAD
Fat: We use butter as our starting point, which is melted in the skillet in the hot oven. This is where the fried flavour comes in, adding richness to the bread while browning the crust and keeping it from sticking to the skillet.
You can also use bacon drippings or lard if you prefer for even MORE flavour.
Flour and Cornmeal: The perfect cornbread is made with the perfect ratio of flour and cornmeal. Some people like it with a lighter texture (almost cake like), while some prefer the cornmeal to shine through, creating a dense result. We have found the perfect balance, getting the best of both worlds out of our skillet.
Feel free to play around with the ratio. If you like more cornmeal, add more, just remember to add less flour, and vice versa.
Buttermilk: A moist cornbread almost always has a soured milk: either sour cream, yogurt or buttermilk. Through the years, we have found buttermilk creates the best texture.
You can always make your own and use regular milk mixed with 4 teaspoons of white vinegar. Allow it to sour for 5 minutes adding to the batter.
Eggs: Makes cornbread light and fluffy when compared with breads that leave them out completely.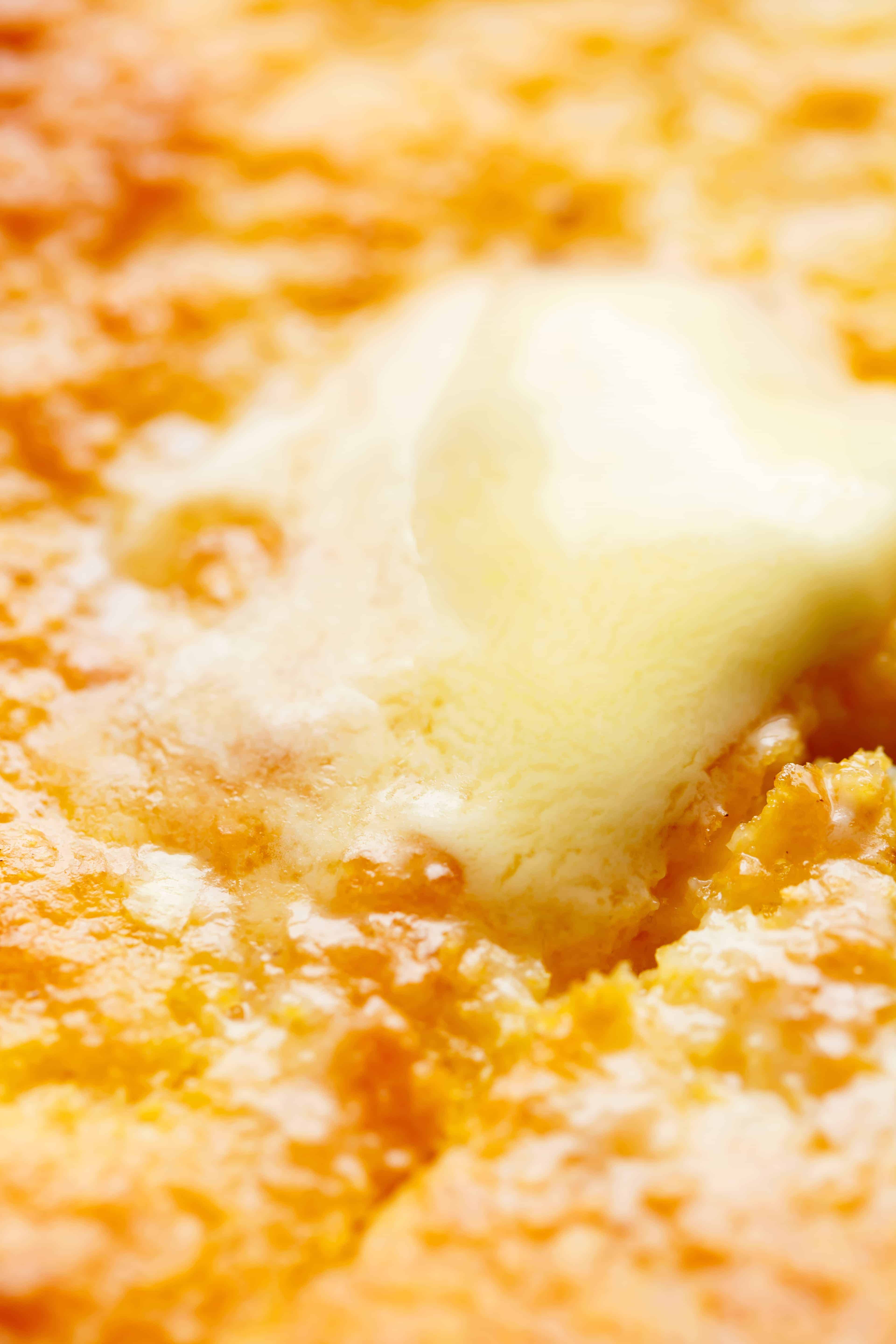 WHAT DO YOU EAT CORNBREAD WITH?
Chili
Soup
BBQ
Pork Roast With Crackle
Garlic Herb Butter Roast Chicken
Or eat it on its own with a good dollop of butter!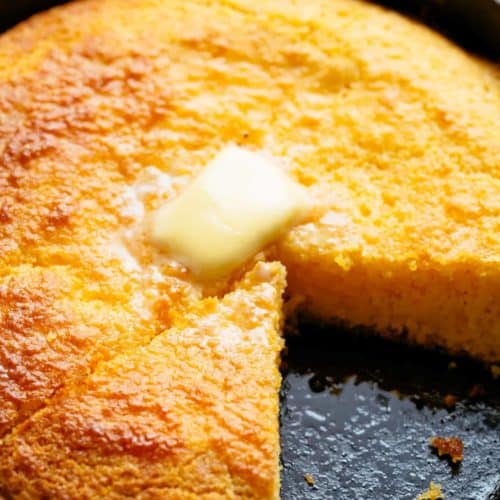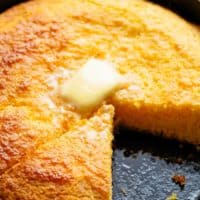 Cornbread Recipe
A super moist, buttery cornbread with a fluffy centre, crisp edges and the perfect crumb -- this is the cornbread recipe you've been searching for!
PRINT
SAVE
go to your favorites
Ingredients
1/2

cup

unsalted butter

melted (or bacon drippings)

1

cup

all-purpose flour

1

cup

yellow cornmeal

(or polenta)

1

tablespoon

sugar

(optional)

2

teaspoons

baking powder

(optional: yields a fluffier cornbread)

1/2

teaspoon

baking soda

1/2

teaspoon

salt

1 1/2

cup

buttermilk

shake before measuring

2

large eggs
Instructions
Preheat the oven to 200C | 400F and position a rack in the middle. Lightly grease a 9-inch cast iron skillet or 9-inch square baking dish with butter and place skillet/dish into the oven to heat up.

(Alternatively for cast iron skillets: heat 1/2 cup of unmelted butter in your cast iron over stove top on medium heat until melted, turn heat off then allow the butter to cool slightly before adding to the batter.)

In a large bowl, whisk together the flour, cornmeal, sugar, baking powder (If using), baking soda and salt.

Make a well in the centre and add the buttermilk and eggs. Mix together well to combine, then add in the slightly cooled melted butter. Mix again until 'just' combined (don't over mix).

Carefully remove your 'hot' pan or dish from the oven with oven mitts, and pour the batter into the hot skillet or dish. Listen to that sizzle! That's what you want.

Bake until the cornbread begins to brown on top and a toothpick inserted in the centre comes out clean (about 20-23 minutes). Allow to cool for about 10 minutes before slicing and serving.
Notes
If you don't have buttermilk, you can make your own! Add 1 tablespoon of white vinegar (or fresh squeezed lemon juice) to 1 cup of room temperature milk (full cream, 2% or skim can be use). Mix together and let sit for 5 minutes. Done! Prepare your 'buttermilk' as step one of this recipe to ensure it has soured enough before adding to your mixture.
Nutrition
Calories:
186
kcal
|
Carbohydrates:
20
g
|
Protein:
4
g
|
Fat:
10
g
|
Saturated Fat:
5
g
|
Cholesterol:
50
mg
|
Sodium:
186
mg
|
Potassium:
163
mg
|
Fiber:
1
g
|
Sugar:
2
g
|
Vitamin A:
325
IU
|
Calcium:
72
mg
|
Iron:
1.1
mg