Slow Cooker Barbacoa Short Rib Tacos full of barbacoa flavours! Meat so tender it falls off the bone, stuffed into Taco's and served with Avocado!
Slow Cooker Barbacoa Short Rib Tacos; what a perfect way to put a twist on an old classic recipe of regular tacos!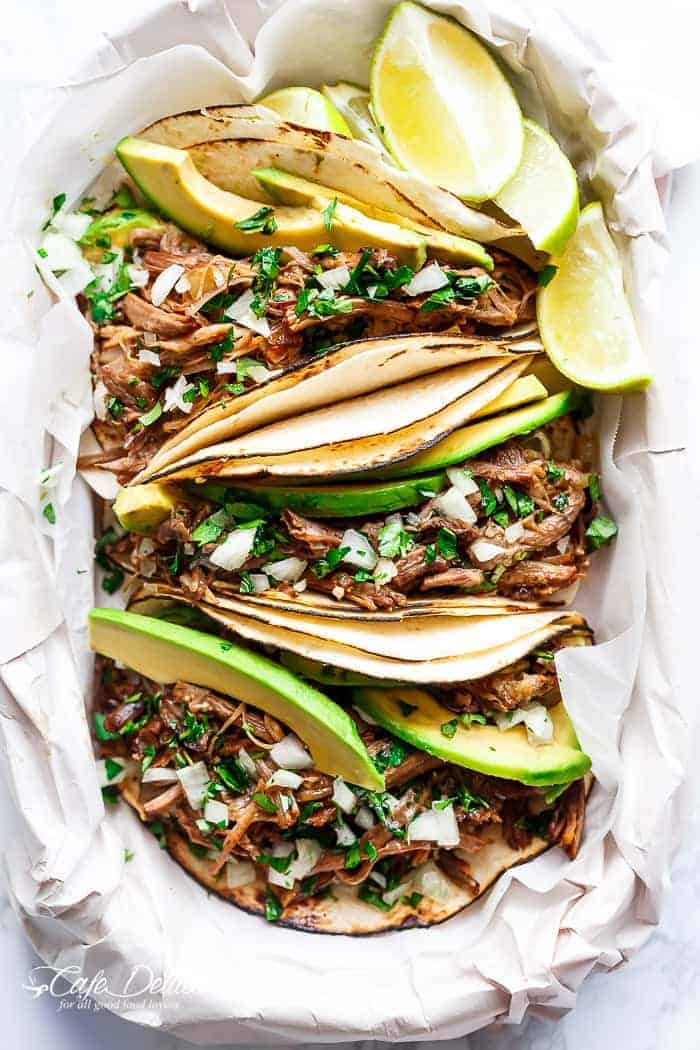 Slow Cooker Beef Short Ribs full of barbacoa flavours, with meat so tender it falls off the bone before being stuffed into Taco's and served with sliced Avocados. The recipe include slow cooker, pressure cooker AND oven cooking methods! And GOOD NEWS: Nutritional labels are now being included for recipes situated underneath the recipe box!
Let's talk Barbacoa. Even though barbacoa translates to barbecue, traditional Mexican barbacoa meat is steamed, smoked or slow-cooked over an open fire, or more traditionally, in a hole dug in the ground covered with Maguey (Agave) plant leaves, resulting in a moist and flavourful meat, often served with onions and cilantro (coriander to those of us on the other side of the world).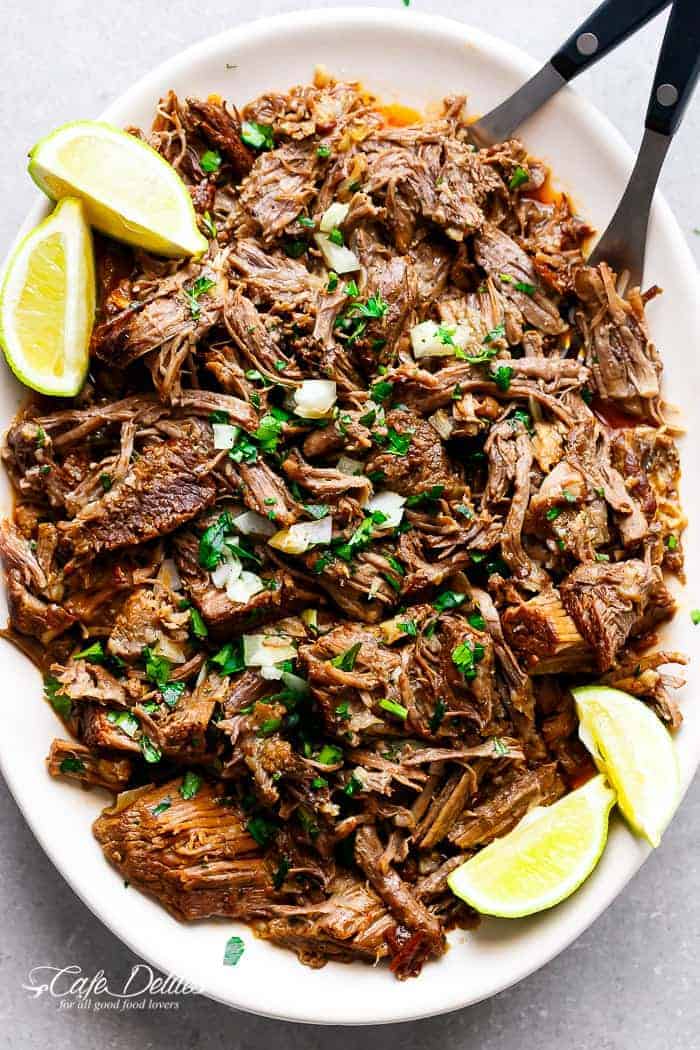 Barbacoa is usually cooked with beef cheeks, or parts from the head of beef, most traditionally the whole head of the cow, and usually served for breakfast after the head has smoked over-night in a pit dug in the ground. Well, I don't have a pit in my backyard, and I don't have access to maguey leaves……or a cow's head? Plus, I don't think my husband would appreciate me digging a hole for the sake of this recipe. Or seeing a cows head. So slow cooker and short ribs it is!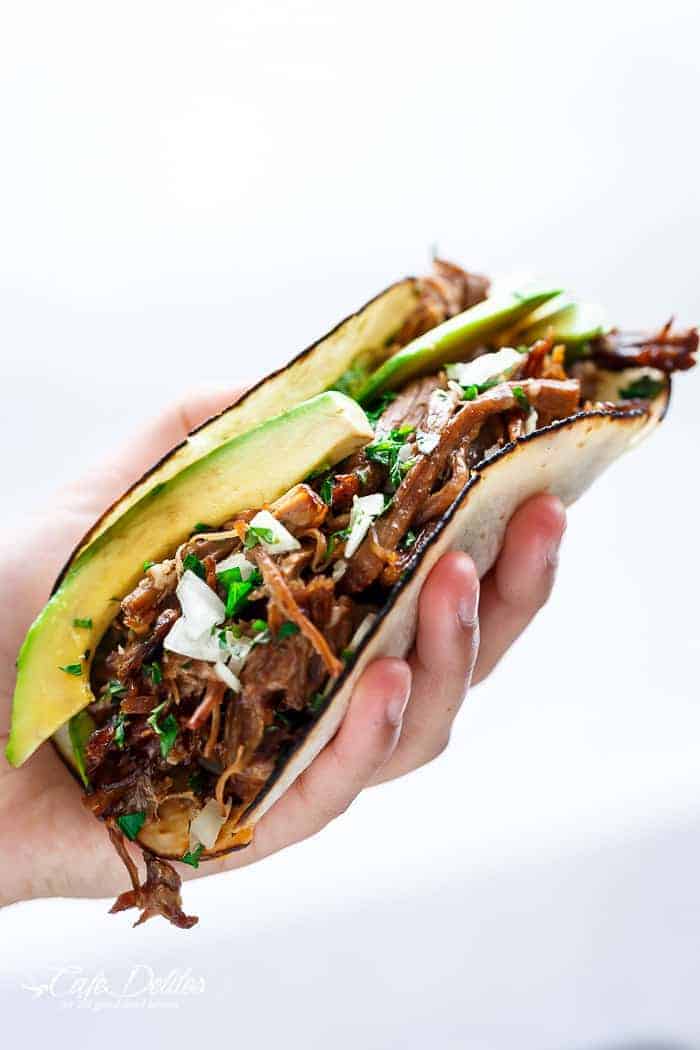 There is so much flavour going on in this pot! First, I used chipotle peppers in adobo, which provides smoke and heat to this recipe. If you're in Australia, I usually buy them on Amazon here, or online from USA FOODS (there is also a USA FOODS store in Moorabbin if you're in Melbourne). Fresh lime juice, cumin, garlic, and the addition of barbecue sauce makes these ribs amazing!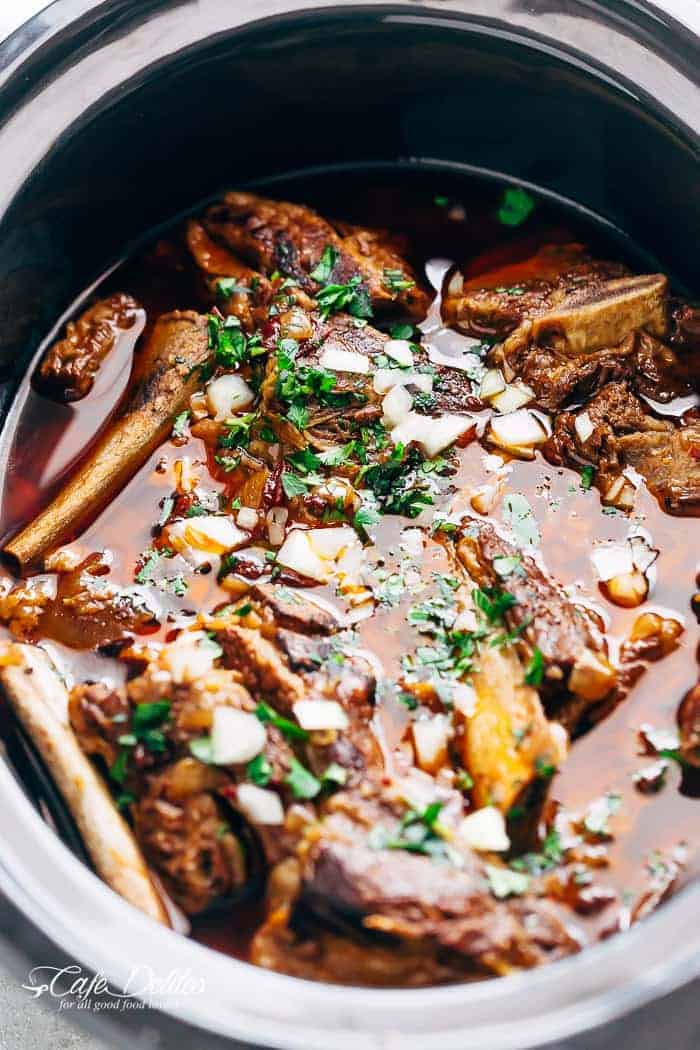 You can serve these with anything: sour cream, plain yoghurt, tomatoes, lettuce, or whatever your stomach wants. I chose the traditional cilantro and onion, with the addition of creamy avocado, which tastes incredible with the smokey spice of the peppers.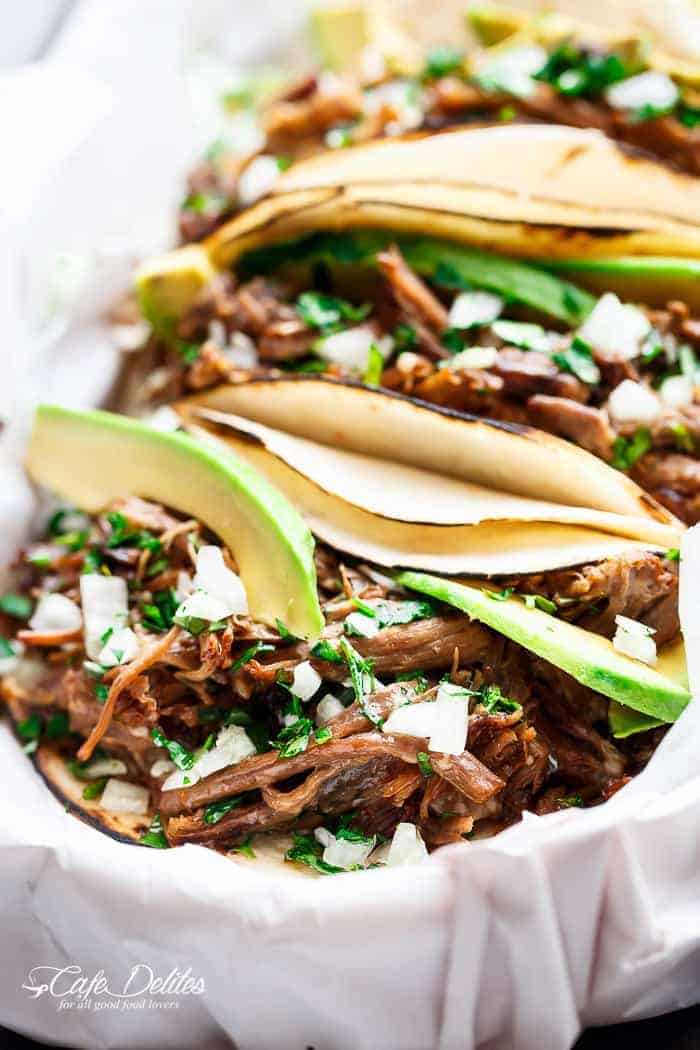 REMEMBER TO SUBSCRIBE TO CAFE DELITES NEWSLETTER FOR FREE AND RECEIVE FRESH RECIPE NOTIFICATIONS DELIVERED INTO YOUR INBOX!
If you try a recipe, please use the hashtag #cafedelites on INSTAGRAM for a chance to be featured!
FOLLOW CAFE DELITES ON FACEBOOK | INSTAGRAM | PINTEREST | TWITTER
FOR ALL OF THE LATEST CONTENT, RECIPES AND UPDATES.