Turkey, Sweet Potato and Kale Cannelloni
A healthy and filling cannelloni stuffed with beautifully flavoured turkey, so smooth with the sweet potato and good-for-you Kale, baked in a rich and rustic sauce, and topped with a home made creamy béchamel sauce; a perfect fall or winter recipe. Or even Thanksgiving. Because turkey…and sweet potato…all in one hit.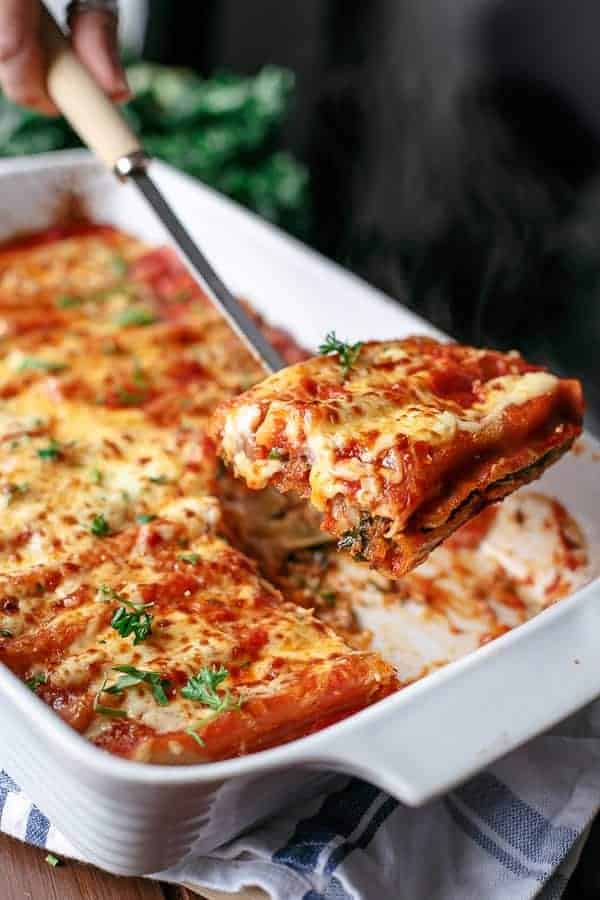 Oh haaaaayyy carbs.. It's nice to see you again. How you been?
It's so nice to be reunited with carbs. Carbs carbs carbs. And this cannelloni was so good, that even while we were all stuffed and so full of pasta and sweet sweet sweet potato, popping outta our jeans and loosening our pants, we just.couldn't.staaaahpp.
I'm so hungry looking at these. And all I have left over a memories…light the corners of my miiiiyyynd…. Misty water-coloured meeeemorieeees…of the way..we werrrrre…
It's been a while since I broke out into a song. This cannelloni made me sing. Like a canary having a bath on a stinking hot summers day, all content. Me. Content. Carbs.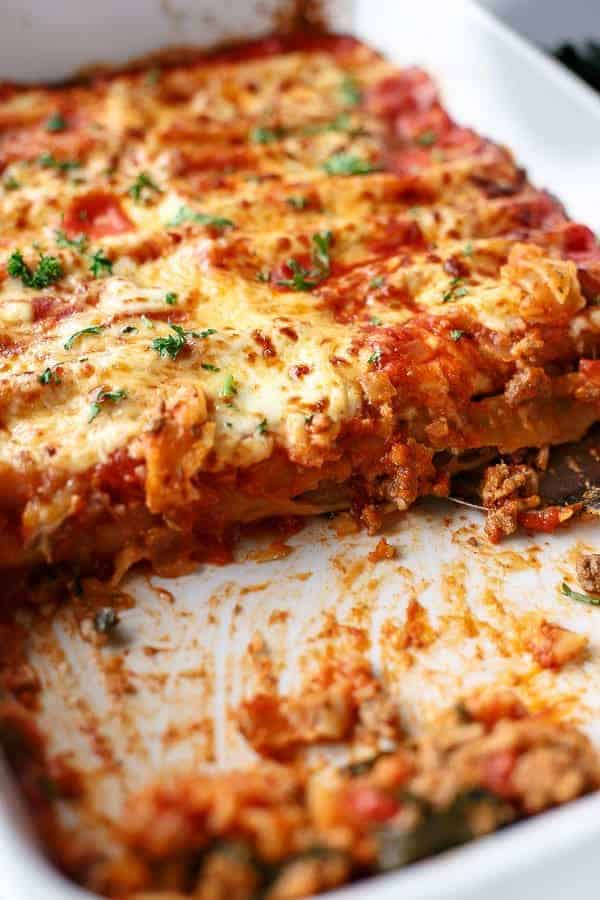 And I'm thinking this would be a perfect meal to accompany any roast Thanksgiving turkey. I think I'll create my own thanksgiving over here. Because I'm thankful. For turkey and sweet potatoes. And pasta. And instead of stuffing a turkey, I'll be stuffing pasta.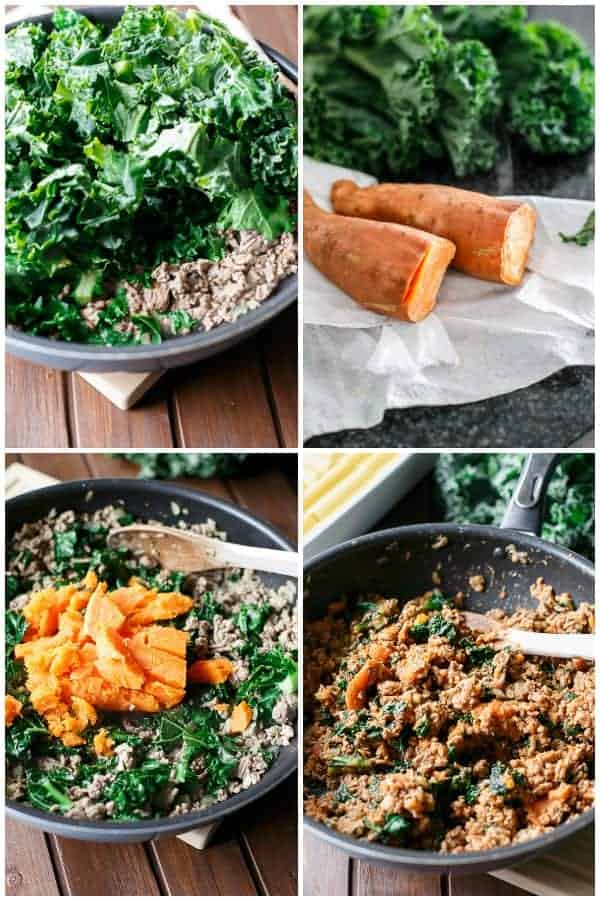 Please forgive my cannelloni stuffing skills…or non-skills. At least I get the job done, feed the family, and everyone is happy. The how's and how-nots don't apply here. Because, ummm, well because.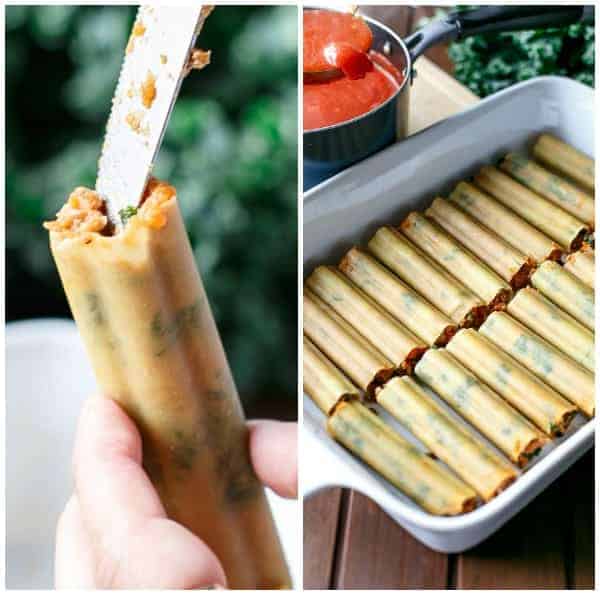 That steaming pot of tomato sauce, and the creamy bechamel at the back, had us all licking our fingers and any drips falling anywhere.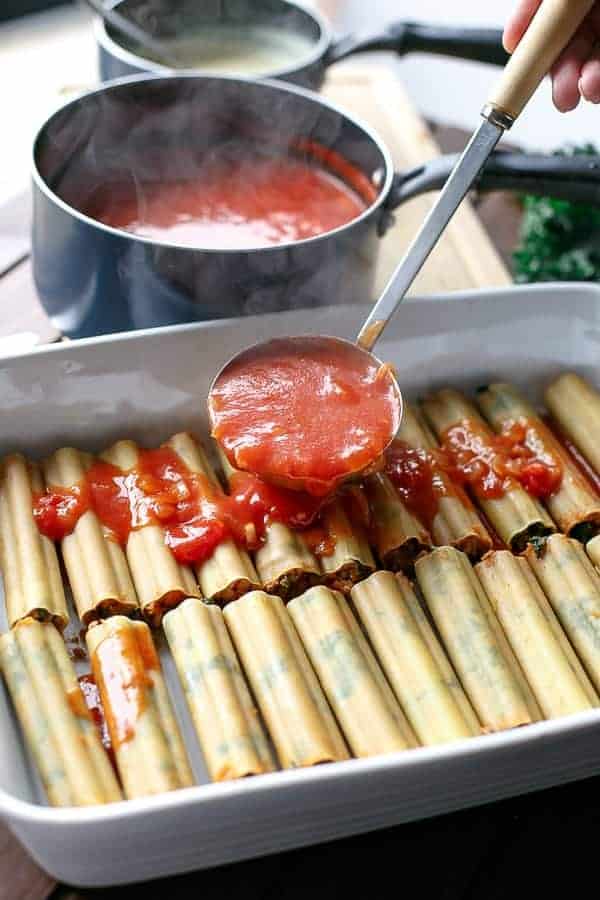 It might seem like a lot of work making cannelloni. Well, it kinda is. But the outcome is so worth it. A restaurant type of meal that will have everyone ooohing and aaahing over the perfect stuffing.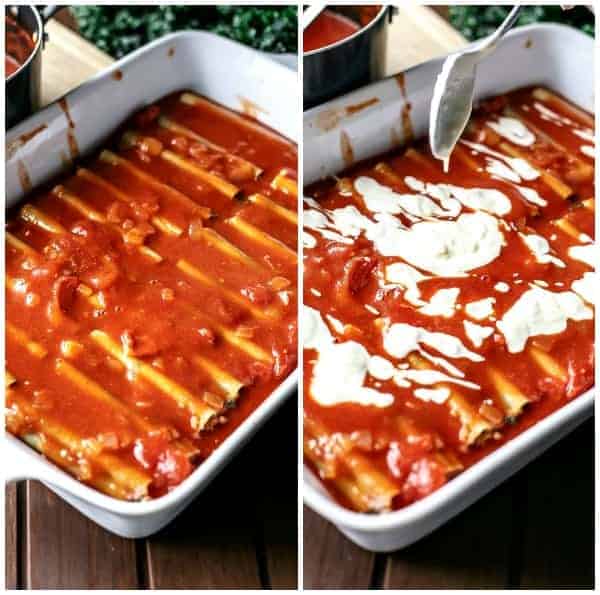 The béchamel is of course…optional, BUT the cheese? No way. That's the stuff right there that, unless you don't like cheese, you hafta put it on. In copious amounts. Because we only live once. And cheese brings happiness. Like Chocolate.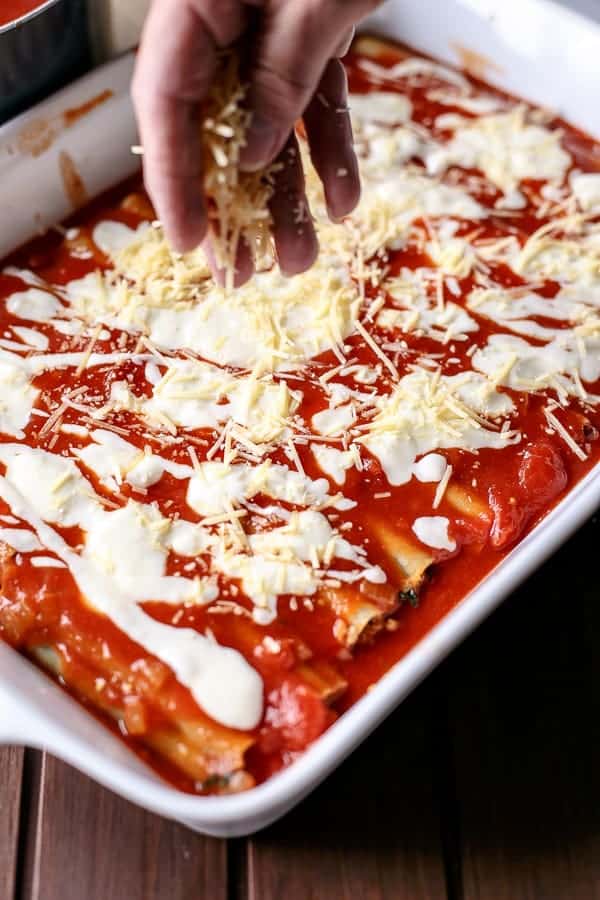 I know, I know. I've been making a lot of pasta lately, but I can't help myself. The Tortellini with Chunky Beef Sauce, the Creamy Chicken and Mushroom Macaroni Cheese Bake, and maybe that Chicken Bruschetta Pasta Salad had everyone going crazy for carbs in carb comas over on my Instagram page, but the Chicken Pumpkin and Ricotta Lasagna hit the spot — like this one. Baked. Tomato-y and cheesy.
And the warning label? Please wait until the temperature of this is at least slightly edible. You'll want to inhale the whole entire thing as soon as it comes out of the oven. But, try to refrain. Or maybe that's just me. But you get my point.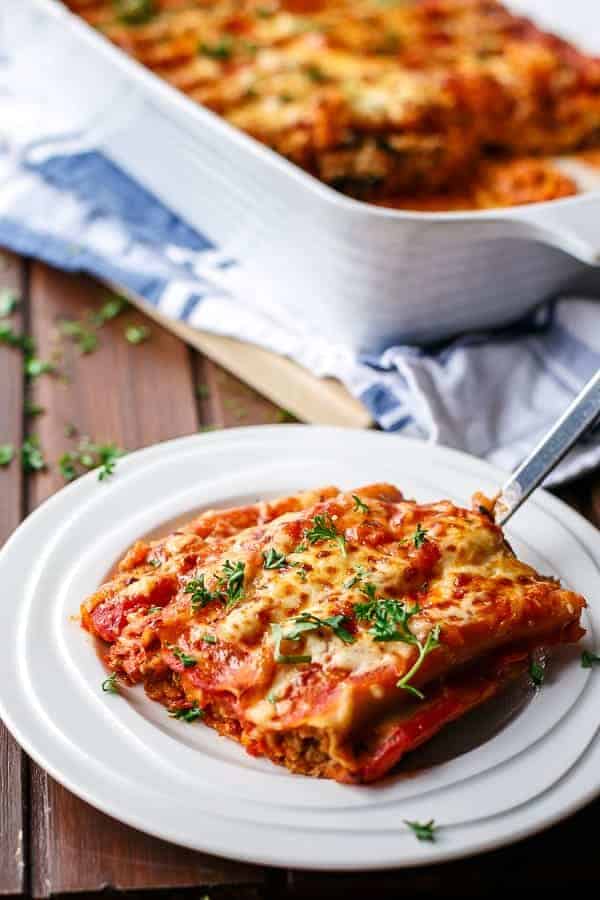 Serve this up, and your friends will wonder if you bought this as a take-away fake-away meal and just pretended to cook it up with all the dirty pots and pans lying around the kitchen.
Guaranteed.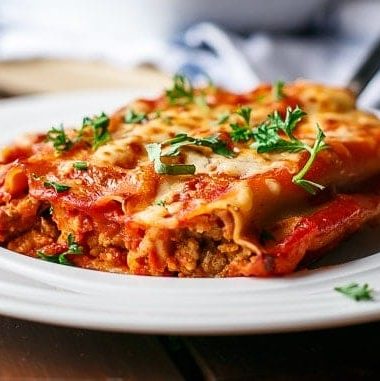 Turkey, Sweet Potato and Kale Cannelloni
A healthy, low GI and filling cannelloni stuffed with beautifully flavoured turkey, so smooth with the sweet potato and good-for-you Kale, baked in a rich and rustic sauce and topping with a creamy béchamel sauce; a perfect fall or winter recipe and just in time for Thanksgiving!

Weight Watchers: 3pp per cannelloni with tomato sauce (not including béchamel as it's optional)
PRINT
SAVE
go to your favorites
Ingredients
Filling:
1

onion

, chopped

500

g

extra lean ground turkey mince

1

medium sized sweet potato

(about 300g | 10oz) pre cooked/roasted or steamed and soft

2

teaspoon

minced garlic or 2 garlic cloves

, minced

1/2

bunch fresh kale

(about 4-5 cups), shredded

2

tablespoons

vegetable stock powder

2

tablespoons

freshly chopped parsley

2

tablespoons

freshly chopped basil leaves

(optional)

1

box dry cannelloni pasta tubes

(30 tubes)
Tomato Sauce:
1

onion

, chopped

2

teaspoons

minced garlic

½

red capsicum/bell pepper

2

cans condensed tomato soup

1

tablespoon

vegetable stock powder

Salt to season
(Optional) Bechamel Sauce:
2

tablespoons

butter

2

tablespoons

flour

salt to season

1

cup

milk

(low fat or skim are fine to use), at room temperature
Topping:
3/4

cup

grated parmesan cheese
Instructions
Preheat oven to 200C | 390F.
Filling:
Cook the onion in a pan sprayed with cooking oil until translucent. Add the ground turkey and garlic powder, breaking up the turkey with your wooden spoon and cook until browned. Add in the sweet potato and the kale, and stir until leaves begin to wilt. Add in the herbs and set aside to cool slightly.

Mash the sweet potato with a fork and mix through the turkey.

While that's cooking, make sauce:

Tomato Sauce:
In a separate pan, fry onion, garlic and capsicum/bell peppers until onion is translucent. Add the soup and stock powder and simmer on low heat. Once slightly thickened reduce heat until all flavours are combined and cooked through.Turn off heat.

Optional Bechamel Sauce:
To make sauce, melt butter in a medium sized saucepan on very low heat. Add the flour and cook stirring for about 1-2 minutes until smooth.

Take off heat and gradually add the milk stirring constantly until combined and completely smooth. Slowly add the rest of the milk while stirring continuously until the mixture is smooth. Return to the heat to cook while stirring with a wooden spoon until sauce begins to boil and thicken while coating the back of your wooden spoon (about 10 minutes). Remove from heat and stir through salt.

Cannelloni:
Stuff filling into each cannelloni tube until full. Repeat with all cannelloni and arrange into an oven-proof dish in a single layer. Pour the sauce evenly over the cannelloni, turning them slightly to coat in sauce. Sprinkle with Parmesan cheese.

Cover the tray with foil and bake the cannelloni for 20-30 minutes, or until pasta is soft. Remove foil and change oven settings to grill/broil for a further 10 minutes, or until cheese is golden.

Serve the cannelloni with extra tomato sauce from the baking tray and garnish with fresh herbs.
Notes
© 2014 Cafe Delites. All rights reserved. All images & content are copyright protected. Please do not use my images without prior permission. If you want to republish this recipe, please provide a link back to this post for the original recipe.
Nutrition
Calories:
156
kcal
|
Carbohydrates:
14
g
|
Protein:
12
g
|
Fat:
3
g
|
Fiber:
2
g