Smokey Mexican Beef Wedges
Make your Valentine's Day extra special. Share a skillet full of Mexican flavour…crispy-on-the-outside and soft-and-fluffy on the inside-wedges, with Mexican beef, tomatoes, avocado, sour cream and whatever else your heart desires, with your one true love.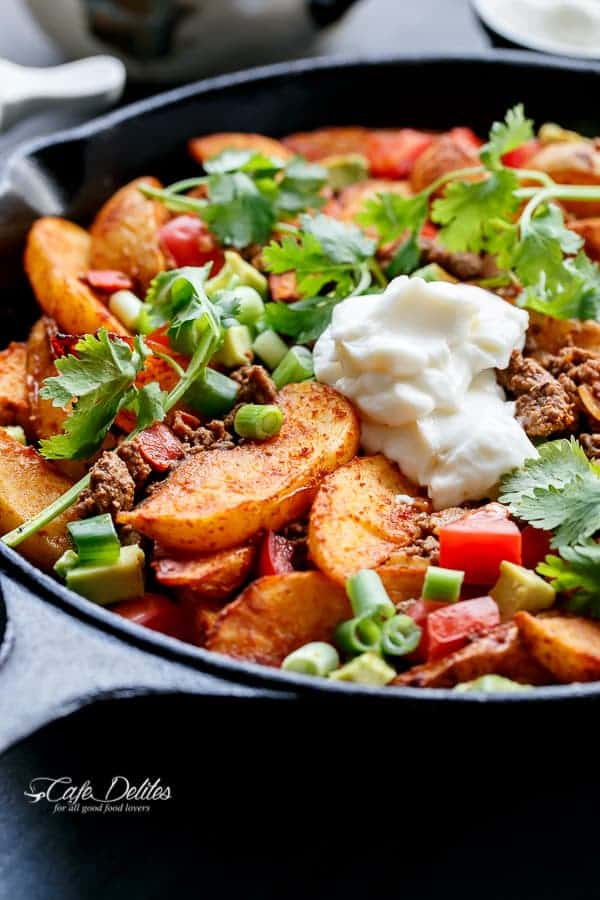 The way you see it is the way we served it. Skillet in the middle, vultures on the outside digging in until there was only seasoning left in the skillet.
We are a huge fan of Mexican anything over here. Remember the Chicken and Corn Enchilada Bake? Kinda like a Mexican Lasagna. Oh. Did I just say that? Or the Steak Fajita Grilled Cheese. Yeah. Good times. So, when my family started shouting at me that they wanted Tacos, I couldn't make up my mind whether to do one of those again, or make them the Loaded Taco Grilled Cheeses and maybe I'd just settle for the Taco Salad.
Make something different, my inner child whispered into my ears.
Wedges. Those Mexican wedges I make so many times and have never shared…until now.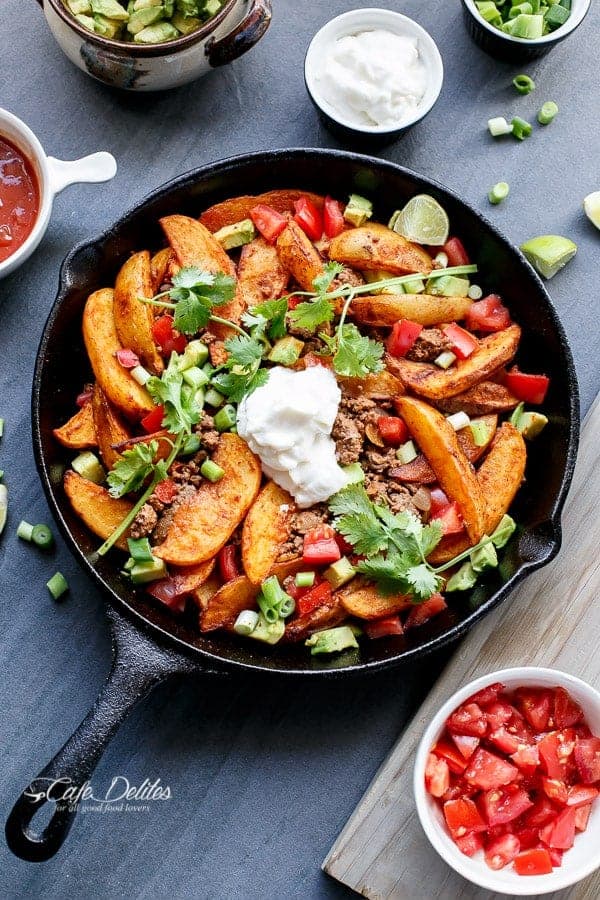 Can I just say, I love this Cast Iron Skillet so much. It just cooks meat in a better-than-a-bbq kinda way. Mexican bb'd beef. Wow.
Having said that, you don't need a skillet to make this. Any pan is fine. But if you have a skillet? Yes. Please, do yourselves a favour.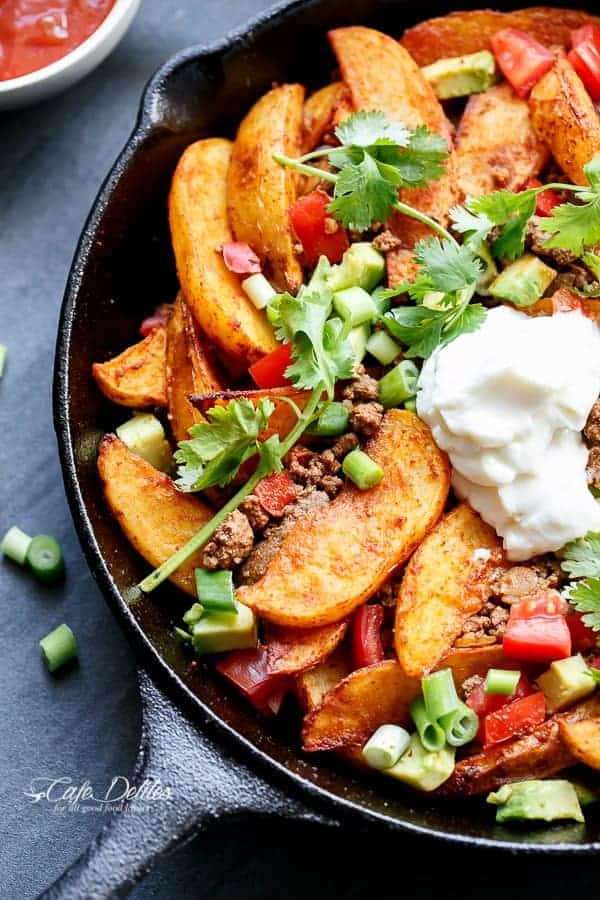 This is so easy to prepare, I surprised myself.
In this house, these wedges are always a hit. Always. Better than ordinary chips/fries. And I know that technically they are the same thang…but! The fatter and chunkier the potato, the better.
The seasoning will knock your socks right off, people. Smokey paprika, garlic and cumin. That's all. And that's all that was needed. So simple. So easy. And so tasty.
Cut 'em up. Whack 'em in the oven. Let the oven do the job, while your fry up the most delicious Mexican tasting beef ever.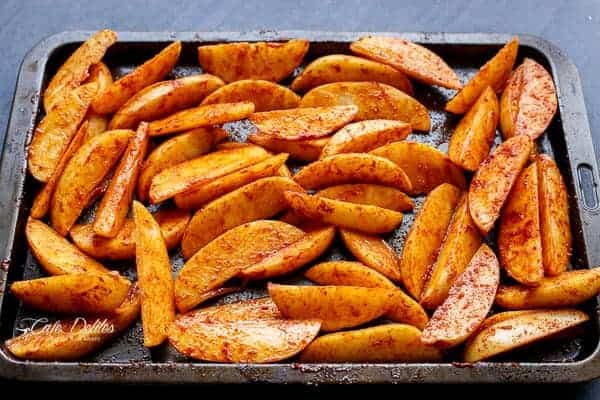 And when it's all done? Throw those wedges in the beef, top with whatever you want, and go for gold.
Salsa, avocado, sour cream, tomatoes and shallots/green onions. Oh, I miss this already.
You will be dancing a fierce Mexican Hat Dance after this.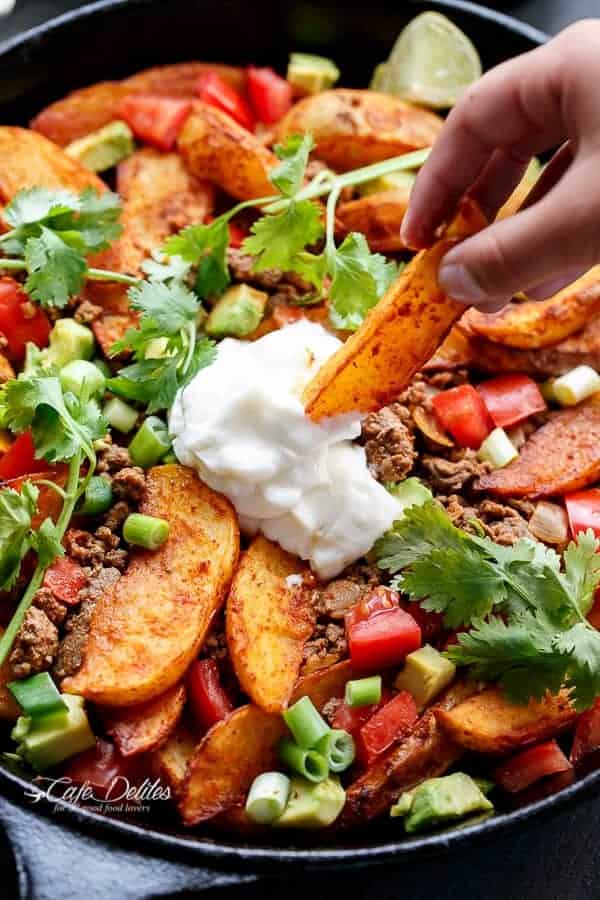 And if you don't like beef, I've also made these with ground Turkey and Chicken, or even Pork! Good any ways always.
The wedges on there own are also quite famous 'round these parts. Try 'em. With Sweet Chilli Sawwwce.