Chicken and Corn Enchilada Bake
A cheesy and warm dish full of comfort food. Full of flavour. Full of everything your heart desires.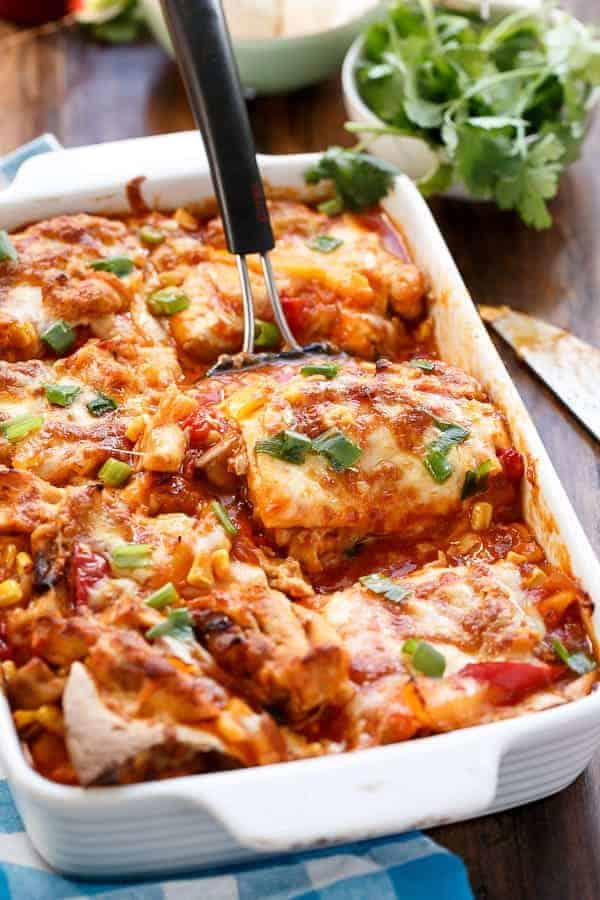 Well hello there you messy plate of messy-ness.
Chicken and corn are the perfect marriage. But. Chicken and corn and cheese and tortillas and cheese and red capsicums or peppers and cheese and some green onions and, well, cheese, are like the best food love affair that could ever exist besides lasagna, chocolate, brownies, cheesecake, and, ummm, food.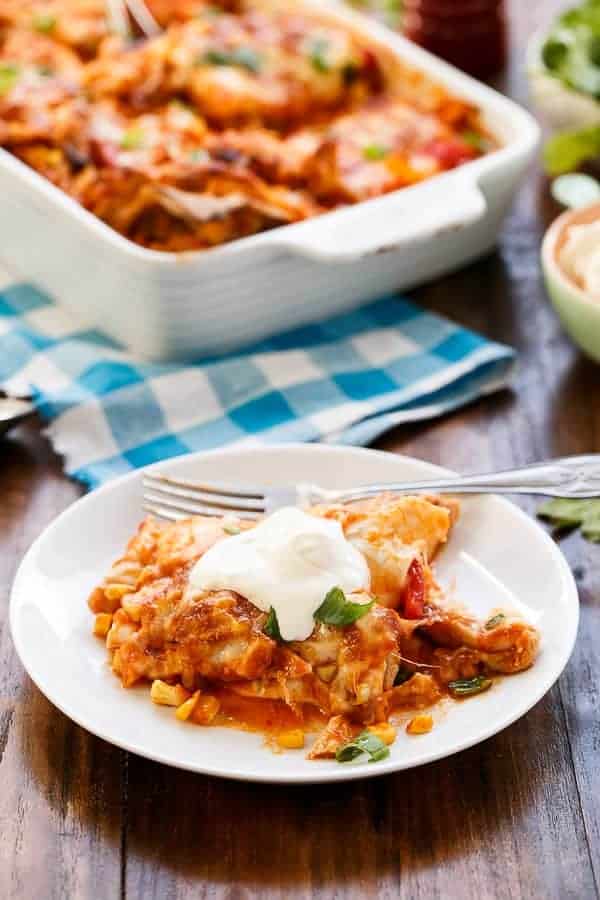 I must've been latina in a past life. Oh wait….I am latina. No wonder I love good food all the time. 
Truth be told now… the family was all divided and confused about the dinner menu. Like I'm a 5 star chef at a restaurant waiting on orders. Funny stuff.
Half wanted lasagna. The other half wanted fajitas; enchiladas…you get my drift.
So fusing both together to make something sooooo outta this galaxy, I settled on this. Half enchiladas, half lasagna. Happy family. Happy whammily.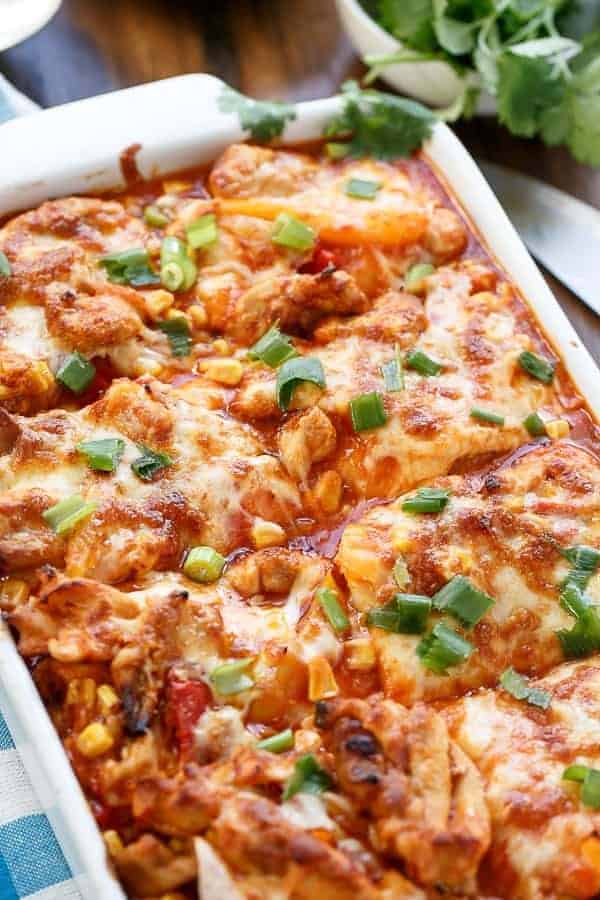 I have a story. Sit down and get your slippers. And a cafe. And a chocolate. We could be here awhiles.
Once upon a time, I went to South America in my full Aussie accent and my full Aussie transformed character. I had no idea what salsa was (well, the music, not the food of course) let alone Cumbia, Merengue, Mariachis. Nada. I was a dance/pop music dancer in love with Janet Jackson and her abs.
Anyway, walking on the street of somewhere in the middle of Argentina, three men started chasing me down the street, shouting stuff at me in Spanish I can't repeat on my innocent and pure blog, but that's not the worst part. My father was watching — and laughing. 'Welcome to latin america, Karina.' Oh hayyyyyy thanks for the heads-up DAD.
Yes my blood boiled. I didn't think it was funny at.all. Because I wasn't used to so much attention. Over here, men are a little more – well a lot more – reserved. Over there? Locos.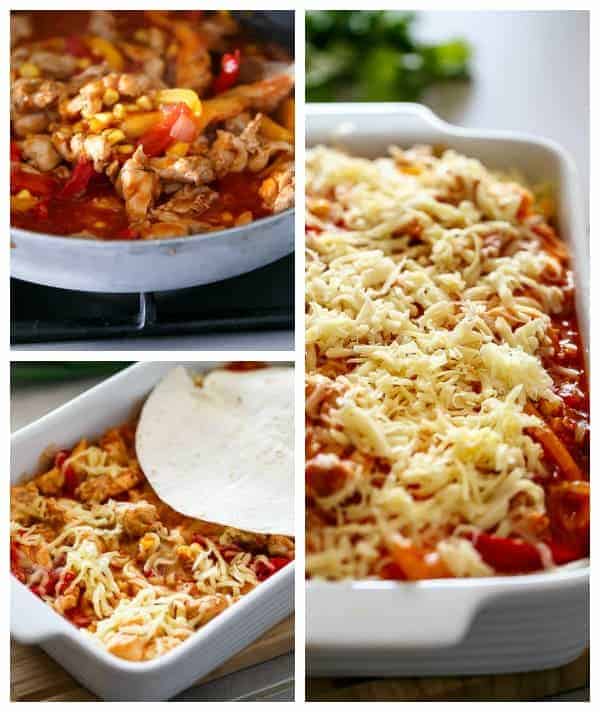 So, even though I never made it to Mexico, I can just imagine the loco-ness. The party atmosphere. The music. The people. And the food. As much as most of latinos hate to admit it — sometimes, all of us are exactly the same. Yeah some countries say we're better than others, (for example: don't ever tell a Chilean he/she looks like a Colombian, and vice-versa), but mostly when we hear a song shouting out for all latinos to jump and go more loco than we already are, you bet we all jump. Together. Unified.
And that's what I love about my latino people.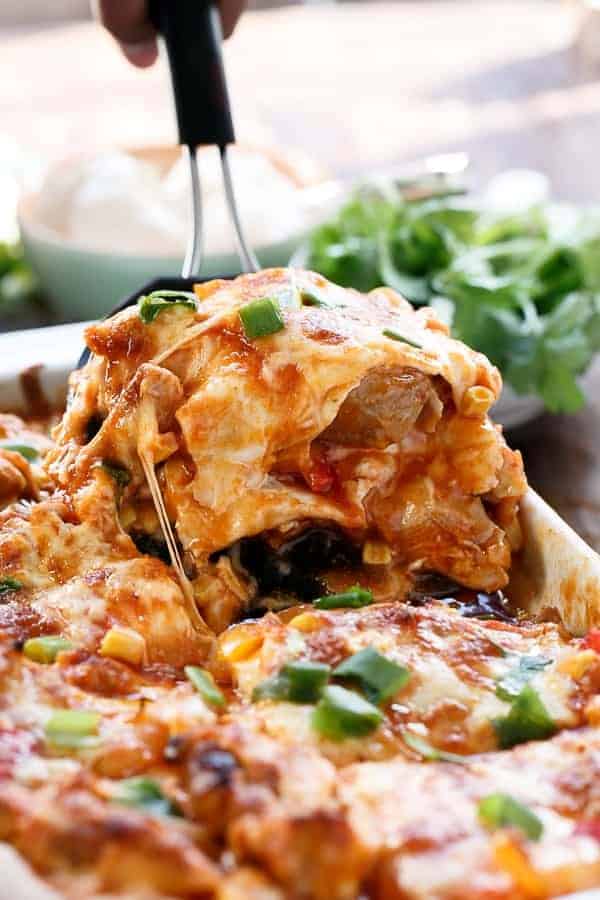 So what the hell is the moral of my story. One day, I want to go to Mexico. To eat real tacos. Real fajitas. And real enchiladas.
Th End.
But in the meantime, this'll do.
Thi's'll do me juuuuuust fiiiiyne.
Tender chicken and corn enveloped in a rich tomato sauce, layered with tortillas and melty cheese, and served with sour cream.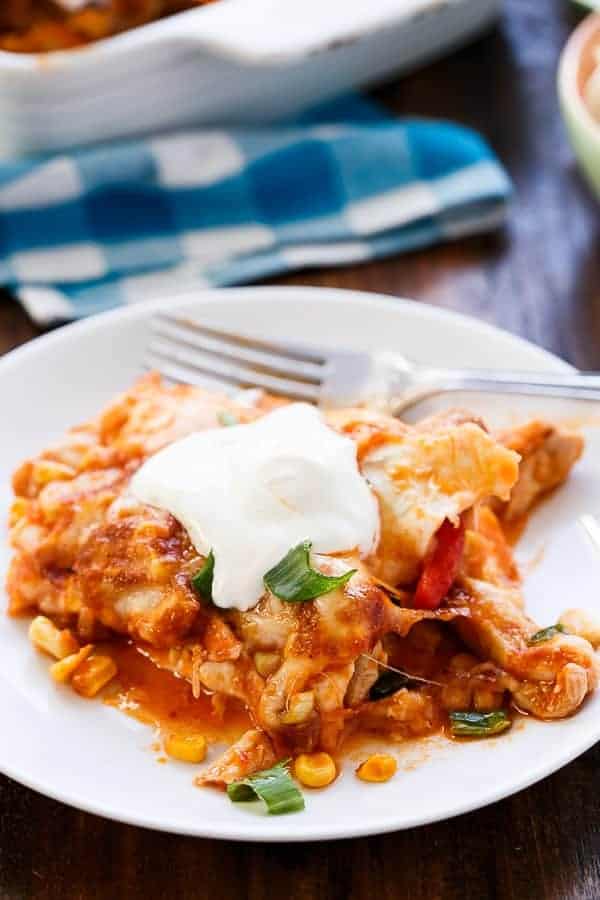 Is it bad that I'm eating a slice and typing at the same time? At 11:30 in the morning? No. I didn't think so.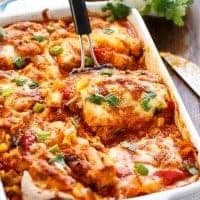 Chicken and Corn Enchilada Bake
A cheesy and warm casserole dish full of comfort food. Full of flavour. Full of everything your heart desires.

Weight Watchers: 7pp per slice.
PRINT
SAVE
go to your favorites
Ingredients
1

red onion

, chopped

1

red capsicum/bell pepper

, washed, deseeded and sliced

1

yellow/orange capsicum/bell pepper

, washed, deseeded and sliced

500

g

| 1lb boneless

, skinless chicken thigh fillets, cubed or sliced

1

x 310g | 10oz can corn kernels

, washed and drained

1

tablespoon

vegetable stock powder

1

teaspoon

ground cumin

1

teaspoon

minced garlic

1

teaspoon

sweet paprika

Salt to season

(only if needed to your tastes)

1

can condensed tomato soup or enchilada sauce

2

cups

grated light/low fat Mozzarella cheese

, divided

5

regular sized flour tortillas cut in half to make 10 pieces

1

stem finely chopped shallots/green onions

, chopped

a handful of fresh chopped cilantro/coriander

(optional), shredded
Instructions
Preheat oven to 200C | 390F.

Pan fry onion and capsicums/peppers in on a

nonstick pan/skillet

until onion becomes transparent. Add the chicken and fry until browned. Pour the tomato soup/sauce over the chicken, reduce heat, cover pan and allow to simmer until chicken begins to soften (about 20 minutes). Add corn, stock powder, cumin, garlic and paprika, and stir through mixture.

Once chicken is cooked, begin to layer your enchilada bake!
Layers:
Spoon 1/3 of the chicken enchilada sauce into the base of a

30cm x 19cm (12" x 7.5") oven proof baking/casserole dish

. Sprinkle 1/3 of the grated cheese over the chicken. Place 5 halves of the tortillas over the cheese, overlapping them to cover as much of the cheese as possible. Repeat layer with chicken/sauce, cheese, and tortillas; with the final layer of chicken/sauce topped with remaining cheese.

Change oven settings to grill/broil on medium heat and place dish into the oven. Bake until cheese has melted and browned!

Allow to cool slightly before serving. Serve with shallots/green onions, cilantro/coriander and a dollop of sour cream.
Notes
© 2014 Cafe Delites. All rights reserved. All images & content are copyright protected. Please do not use my images without prior permission. If you want to republish this recipe, please provide a link back to this post for the original recipe.
Nutrition
Serving:
1
g
|
Calories:
312
kcal
|
Carbohydrates:
21.3
g
|
Protein:
27
g
|
Fat:
10.2
g