Need appetizer, lunch, or some serious snack inspiration? Shrimp Avocado Garlic Bread are coming through. and would have to be the next BEST thing to garlic bread!
Originally posted in 2014 as these Garlic Shrimp And Avocado Crostini, these are EVEN BETTER! Crunch garlic bread meets a simple and easy to make shrimp and avocado topping, mixed with grape or cherry tomatoes and beautiful flavours! Shrimp Avocado Garlic Bread is a winner!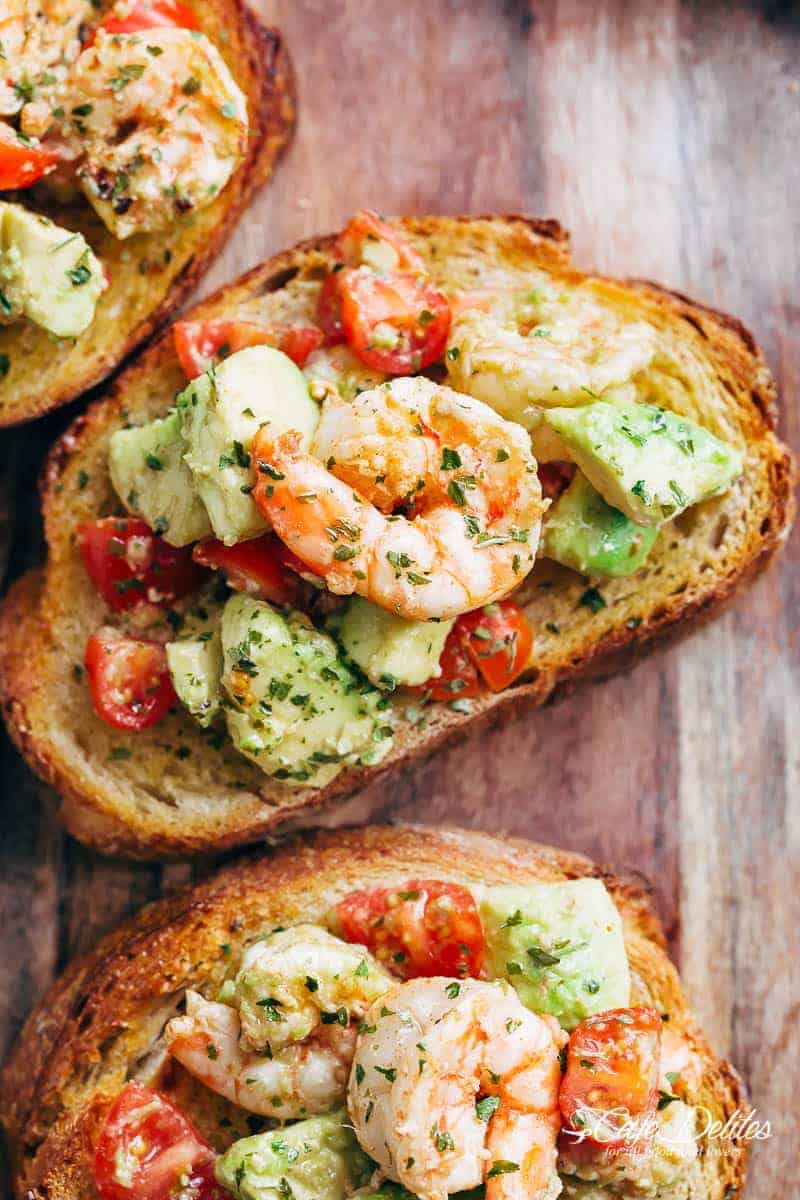 Shrimp Avocado Garlic Bread
With 4th of July celebrations coming up for most of my readers, what better time to post these than NOW! These toasts disappear faster than the kids when you ask them to do the dishes. Step aside Speedy Gonzalez.
The ONLY way I can best describe these little toasts of heaven is, well, heaven. No…. just kidding.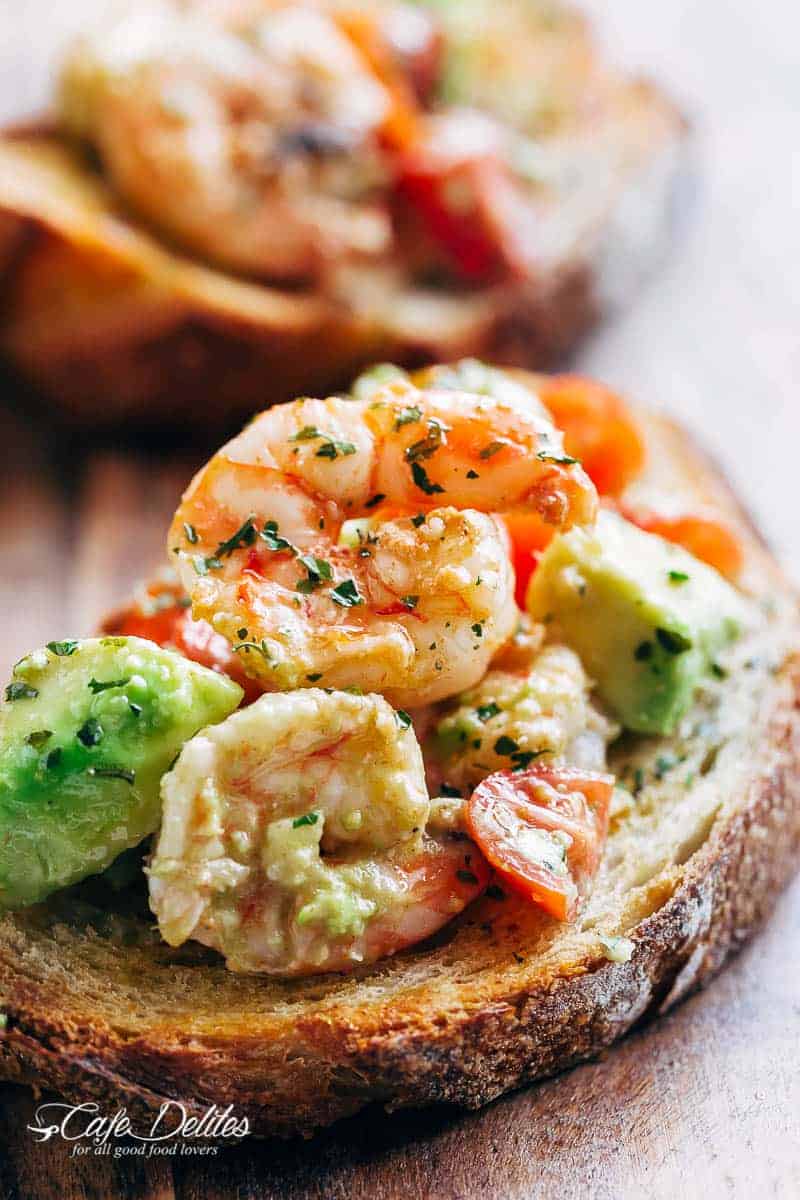 How To Make Garlic Bread with Shrimp and Avocado
Take a chunky avocado dip –> pimp said avocado dip with shrimp  –> and then take crispy and juicy-in-the-centre-garlic-bread, fresh out of the oven. Now mix all that together in your thought processes and try to imagine the flavour explosion. You can't, right? So that means you'll have to make them and try them out for yourselves.
When I originally posted these as crostini in the link mentioned above, I didn't add the garlic butter. BUT THEN, it just so happened we made them into a video and I accidentally on purpose spread garlic butter on my breads. Accidents happen ALL THE TIME in my kitchen. This time though, it was a GOOD ONE.

LOOKING FOR MORE APPETIZER IDEAS? TRY THESE!
Caprese Stuffed Avocado
Cheese Ball Antipasto
Sausage Cream Cheese Dip Stuffed Mushrooms
WATCH US MAKE Shrimp Avocado GARLIC BREAD RIGHT HERE!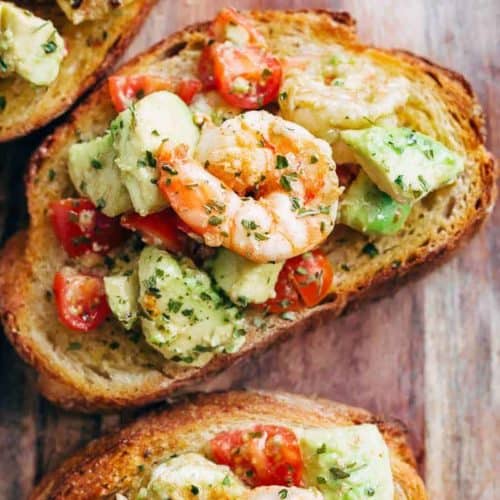 Shrimp Avocado Garlic Bread
Need appetizer, lunch, or some serious snack inspiration? Shrimp Avocado Garlic Bread would have to be the next BEST thing to garlic bread!
PRINT RECIPE
SAVE RECIPE
go to your favorites
Servings:
10
garlic breads
Ingredients
1

loaf ciabatta (or sourdough) bread,

cut into 1cm slices

1/3

cup

garlic butter
Garlic Shrimp:
2

teaspoons

garlic,

minced

1

teaspoon

sweet paprika

Juice of half a lemon

(about 1-2 tablespoons)

1

pound

(500g) shrimp,

no tail, peeled and deveined

1/4

cup

fresh parsley,

finely chopped
Avocado Salad:
Cooked shrimp

(see above)

1

avocado,

cubed

1

cup

grape (or cherry) tomatoes,

halved

Juice of half a lemon

(about 1-2 tablespoons)

Salt to season
Instructions
Preheat oven to grill/broil settings on medium - high heat. Place bread on a baking tray lightly greased with cooking oil spray or oil. Spread a thin layer of garlic butter on each slice (you should between 12-15 slices). Grill/broil until golden. Remove and set aside. (While garlic bread is baking, prepare the rest of your ingredients while keeping an eye on your bread.)
For The Garlic Shrimp:
Combine garlic, paprika, lemon juice and shrimp in a bowl and mix well to combine the ingredients. Add salt to season (to your tastes). Drizzle about a teaspoon of oil into a large frying pan or skillet. When pan is hot, and the shrimp and cook for about 3 minutes on each side, until no longer opaque in colour, and cooked through (being careful not to overcook them). Take off the heat and add the parsley. Set aside to cool slightly.
Salad:
Combine the avocado, tomato, lemon juice and salt in a bowl, mixing well to combine. Add the shrimp, and fold through gently. Spoon shrimp and avocado mixture onto toasted garlic bread. Serve warm or slightly cooled!
Nutrition
Nutrition Facts
Shrimp Avocado Garlic Bread
Amount Per Serving
Calories 222
Calories from Fat 78
% Daily Value*
Fat 8.7g13%
Cholesterol 108mg36%
Carbohydrates 23.5g8%
Protein 12.6g25%
Vitamin A 450IU9%
Vitamin C 6.6mg8%
Calcium 80mg8%
Iron 2.3mg13%
* Percent Daily Values are based on a 2000 calorie diet.