Authentic Pad Thai is ready in under 30 minutes! Wok stir-fried rice noodles combined with a mixture of juicy chicken and succulent shrimp in a delicious sweet and tangy Thai sauce!
If you haven't made homemade pad thai noodles, now is your chance! You'll be amazed how quick and easy it is to make this exotic and flavourful stir fry noodle recipe in your home kitchen.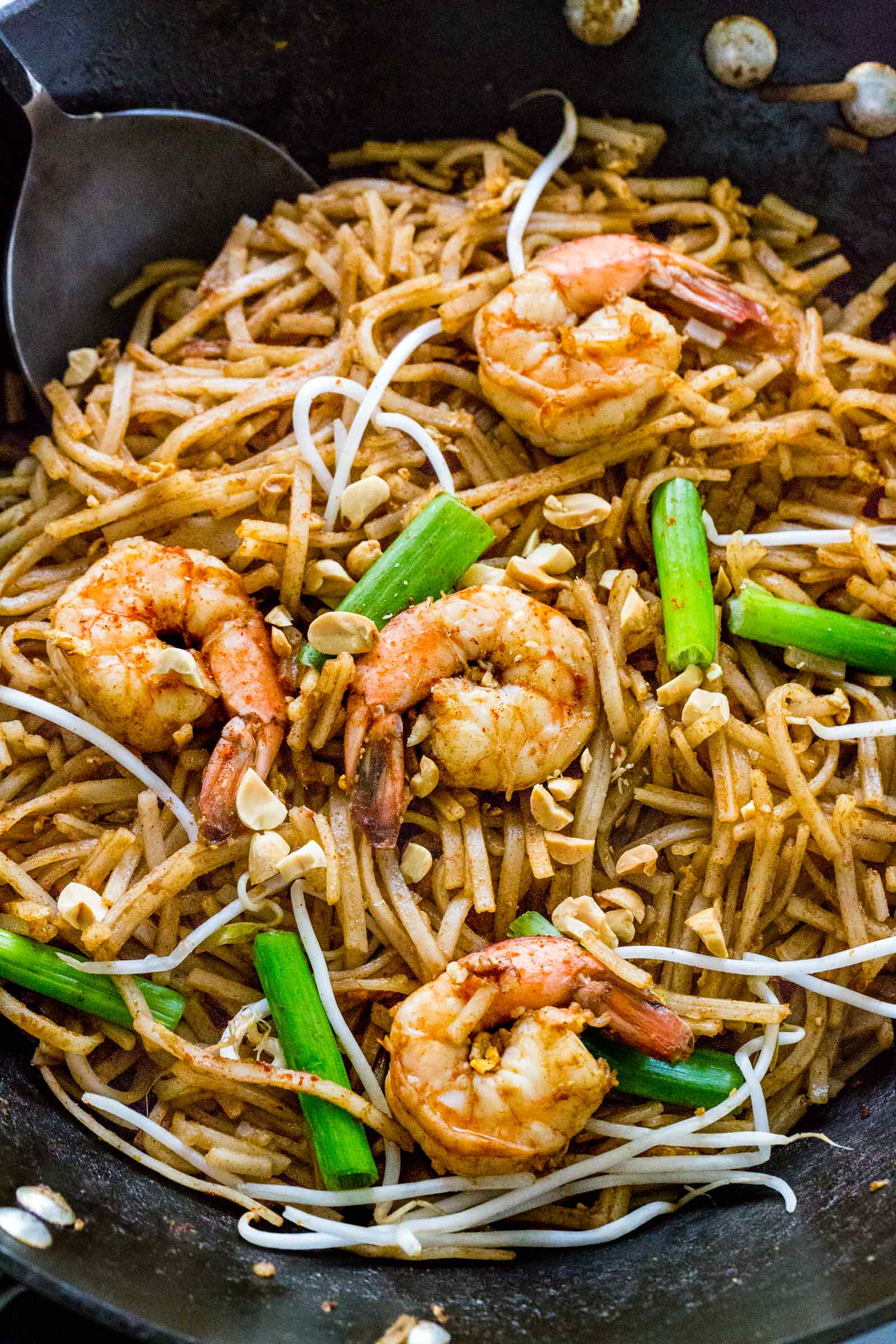 What is Pad Thai
Southeast Asian cuisine is known for bold, exotic flavors. One of the most popular dishes ordered at Thai restaurants is Pad Thai. Rice noodles are often used in Southeast Asian cuisine, which also acts as a gluten-free option.
Neutral flavors of the pasta noodles are perfect for tossing with a sweet, tangy, and savory sauce. To make this a more complete meal, tender pieces of stir-fried chicken, shrimp, and tofu are added. Bean sprouts, green onions, and peanuts add an addictive crunch to the meal.
Pad Thai Recipe
Hello! I'm Jessica Gavin, a Certified Culinary Scientist. It's my pleasure to teach you the science of cooking over on my website JessicaGavin.com. I'm excited to be able to share one of my favorite noodle dishes on Karina's food blog!
Whenever my family goes out to our local Thai restaurant, pad thai is a must order. In fact, we are so fond of the flavors of this cuisine that I've recreated our most beloved dishes like chicken satay and red curry. For this recipe, I've taken my classic pad thai dish and added chicken, shrimp, and tofu for a variety of protein.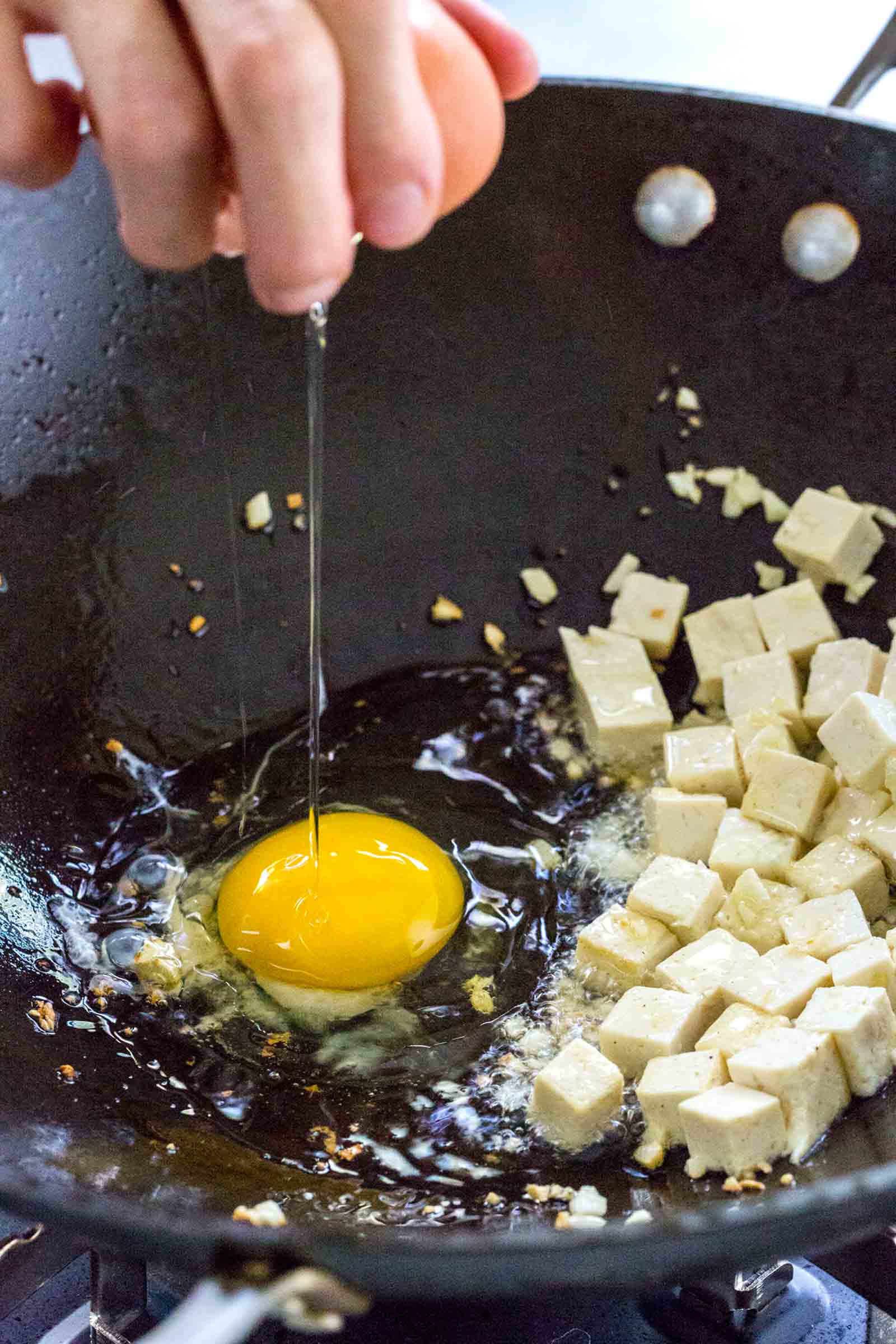 How to make pad thai noodles
The noodles need to be specially prepared to prevent it from becoming mushy once added to the wok. I use a standard technique for making a stir-fry to cook and combine the ingredients together. Here are my key tips for success:
Soak the rice noodles in lukewarm water until slightly hydrated and pliable yet still stiff.
Prep all ingredients and place on a tray so it's ready to add in when cooking.
Stir-fry the tofu, chicken, and shrimp before adding the noodles to encourage browning and flavor development.
Cook the noodles in the wok until tender, yet al dente.
Add in the pad thai sauce at the very end and toss to coat the noodles.
Add paprika to boost the reddish hue to the noodles.
Once the noodles have been soaked, ingredients chopped, and sauce mixed, you're ready to stir fry! This process happens quickly so it's best to have everything prepped and ready to go.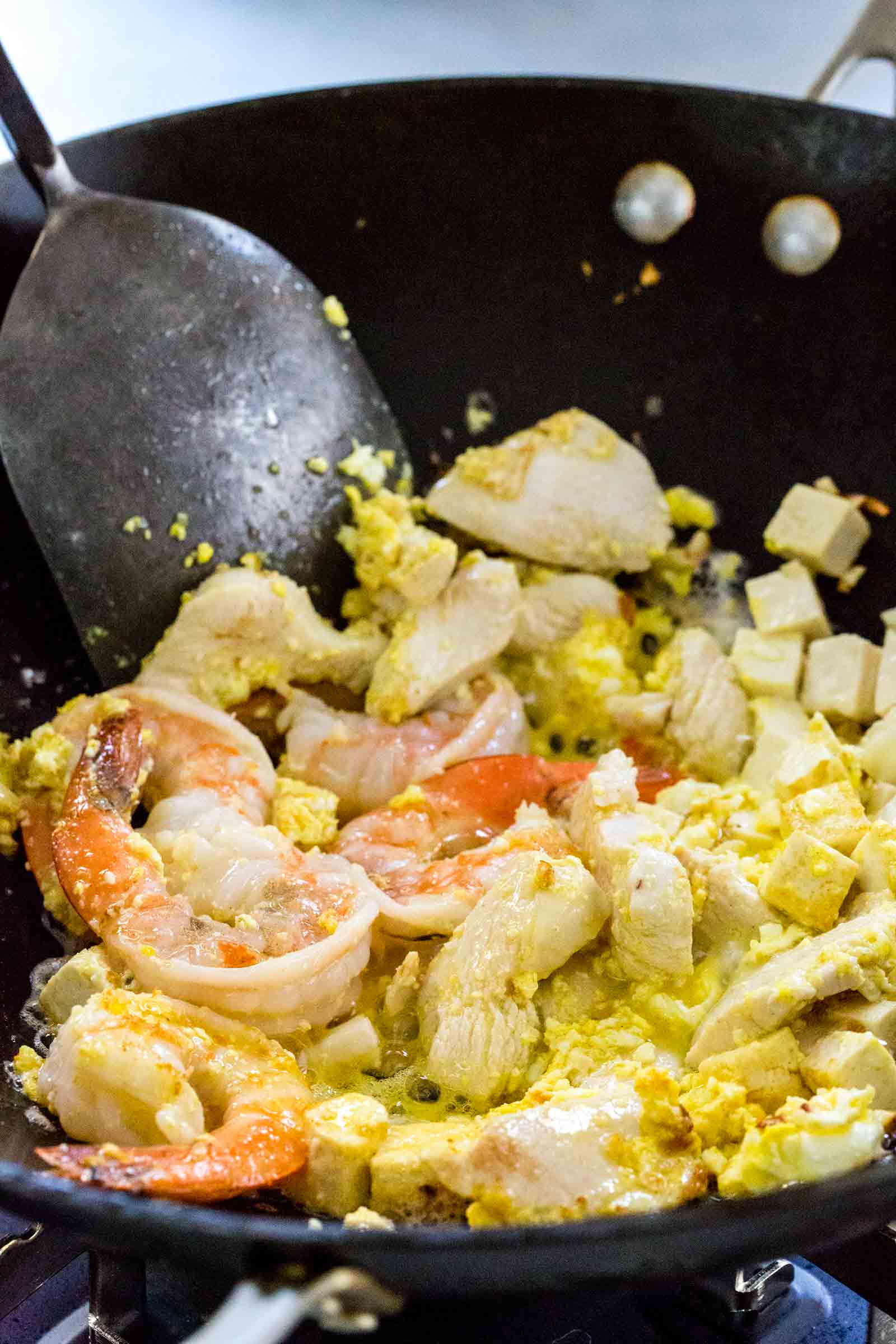 Pad thai sauce
What makes this dish really special is the sauce. I use a combination of:
Fish sauce
Brown sugar
Tamarind paste
Lime juice
Rice vinegar
This unique blend of umami, sweet and sour ingredients makes the flavor pop!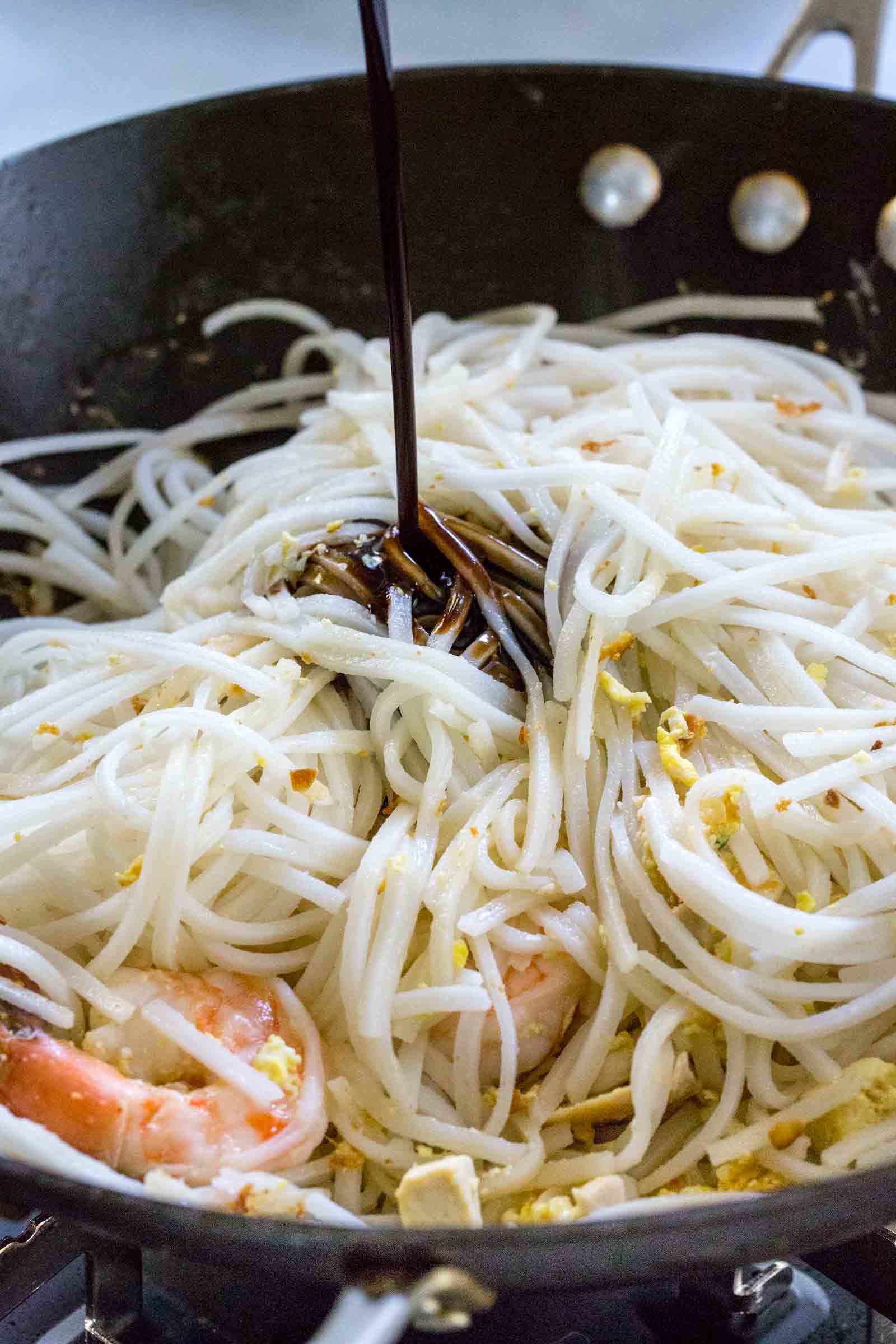 Tips for cooking
I use firm tofu so it's easy to cut in cubes and holds up to the rigorous motion in the pan. Allow the egg to just set, and then add in the chicken so that it clings and coats the meat as it cooks. The shrimp is added last and heated just for a minute because it cooks fast.
Pad Thai Noodles
The high heat from the pan will continue to soften the noodles, so keep sautéing until they become more flexible. It's important not to overcook the pasta.
Once the noodles are done cooking, garnish it with crisp bean sprouts, green onions, and peanuts. You can also serve some limes and chili sauce for those who like more tang or heat. That's it! Now that you've seen how simple it is to make, I hope you enjoy cooking up some Thai recipes in your own kitchen.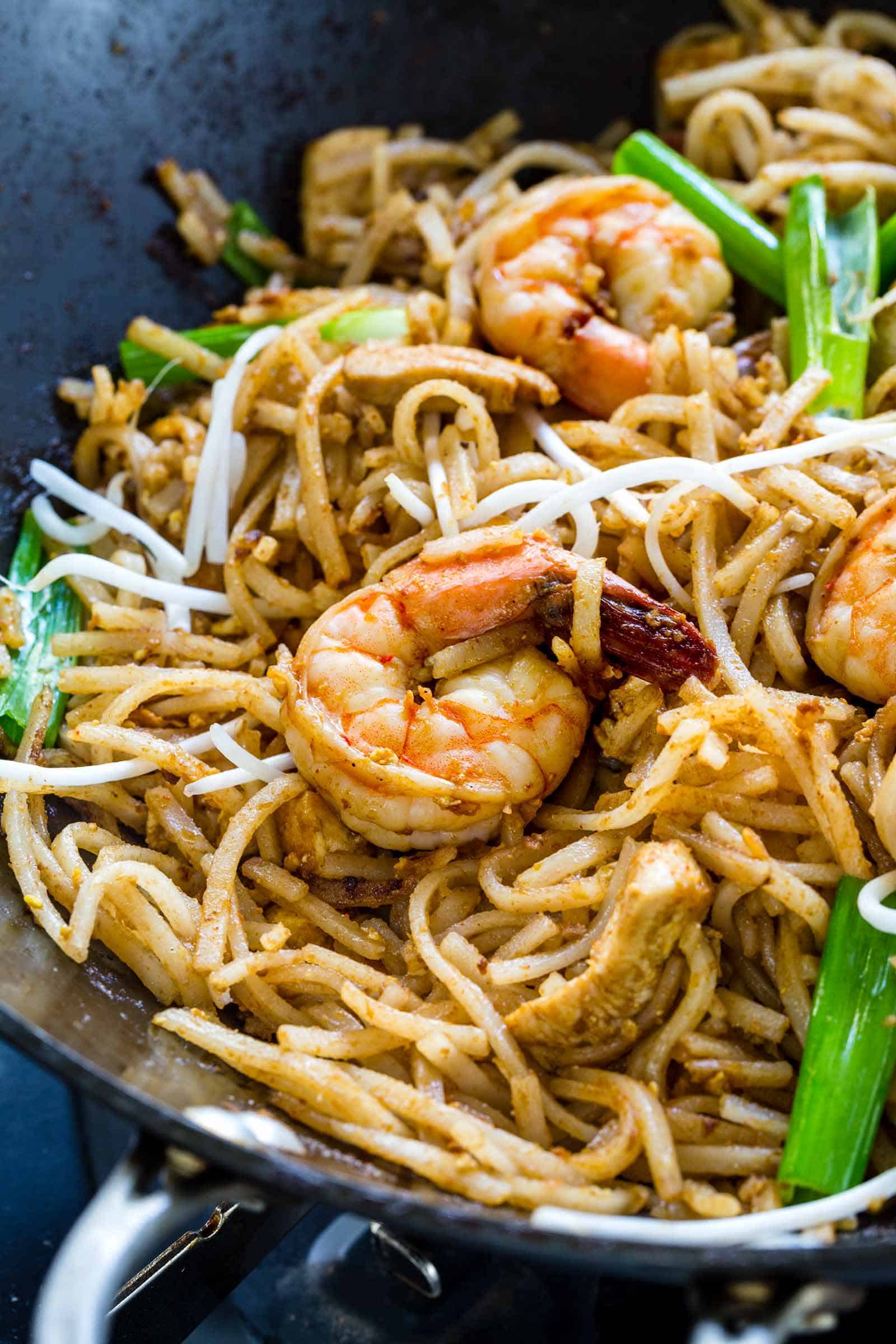 Looking for more Thai inspired dishes? Try these!
Easy Thai Satay Chicken
Sticky Thai Chicken Wings
Thai Sweet Chilli Garlic Shrimp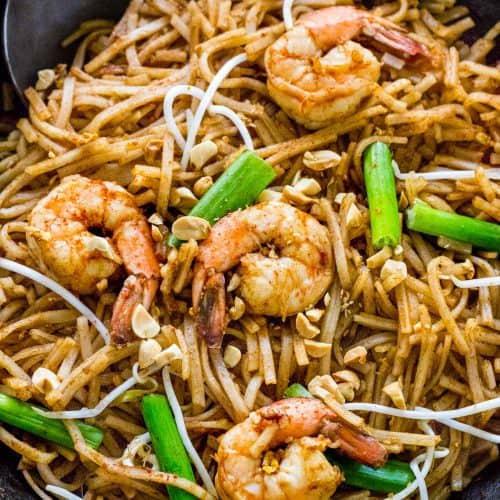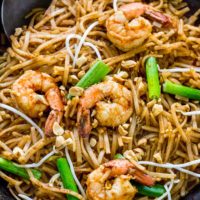 Pad Thai
This exotic and flavorful pad thai recipe is ready in under 30 minutes! Stir-fried rice noodles are combined with sweet and tangy sauce.
PRINT
SAVE
go to your favorites
Ingredients
14

ounces

dried rice noodles

2

tablespoons

fish sauce

2

tablespoons

brown sugar

4 ½

tablespoons

tamarind paste

1 ½

teaspoons

lime juice

1 ½

teaspoons

rice vinegar

2

tablespoons

vegetable oil

1

tablespoon

minced garlic

1/2

cup

diced firm tofu

1

large egg

1/2

cup

sliced boneless skinless chicken breasts

4

ounces

large shrimp

peeled and deveined, 16/20 count

1

teaspoon

paprika

1/3

cup

green onion pieces

2-inches long

2

tablespoons

unsalted roasted peanuts

chopped

1/2

cup

bean sprouts
Instructions
Heat a large pot of water until it becomes lukewarm (80 to 90°F/ 27 to 32°C), then turn off heat.

Add rice noodles and allow to soak until flexible and solid but not completely cooked about 5 to 10 minutes.

Drain noodles and rinse with cold water.

In a medium-sized bowl whisk together the sauce ingredients; fish sauce, brown sugar, tamarind paste, lime juice, and rice vinegar.

Heat a wok or large saute pan over medium-high heat. Add oil, once oil is hot add the garlic and stir for 15 seconds.

Stir-fry tofu for 1 minute. Push tofu to the side, add the egg to the pan and allow to set for a few seconds.

Add chicken and mix with the runny egg. Stir until they are just cooked through, about 2 minutes, then add the shrimp and cook until just turning pink, about 1 minute.

Add soaked noodles, stir to combine and cook for 2 minutes to soften, then pour the sauce onto the noodles, stirring to combine.

Turn off the heat, add the paprika and toss until noodles turn slightly red in color. Throw in the green onion and allow to wilt from the heat of the noodles.

Transfer noodles to a serving plate, top with bean sprouts, and chopped peanuts.
Nutrition
Calories:
611
kcal
|
Carbohydrates:
84
g
|
Protein:
17
g
|
Fat:
13
g
|
Saturated Fat:
6
g
|
Cholesterol:
116
mg
|
Sodium:
463
mg
|
Potassium:
337
mg
|
Fiber:
3
g
|
Sugar:
17
g
|
Vitamin A:
390
IU
|
Vitamin C:
6.8
mg
|
Calcium:
144
mg
|
Iron:
3
mg