Maple Glazed Ham adds a magic, juicy touch to your festive holiday table. The perfect baked ham with the most incredible sticky glaze!
Slathered with buttery maple flavours, a hint of pineapple juice and a kick of spices, this is THE Christmas ham recipe of your dreams! Maple Glazed Ham is the most INCREDIBLE centrepiece on the table…filling your home with mouthwatering smells while it bakes!
Take out all the guess work out and find out how to bake a juicy ham with charred crispy edges and a beautiful sticky maple glaze.
Love glazed ham? Try our Honey Baked Ham or Brown Sugar Glazed Ham.

MAPLE GLAZED HAM
There is no need to be intimidated by the thought of making a maple glazed ham this holiday season!
The best glaze for a baked ham contain either maple syrup, brown sugar or honey. The saltiness from the ham and the sweetness for the glaze complement each other so well, that either of those ingredients make for a pretty special glaze. This maple glazed ham recipe is TOO easy!
You can decorate your ham with whole cloves between each cut, or use ground cloves in your glaze instead as we do here.
The best part?
Make it ahead of time.
Feed an army — ham is very economical and serves so many people, leaving you with leftovers to make use of in other recipes (think soups and sandwiches).

HOW TO COOK A MAPLE GLAZED HAM
A handful of ingredients can turn into something so incredible! The sticky glaze combined with the charred, caramelized thin layer of fat and the natural saltiness of the ham is just magic.
Maple Syrup — gives this ham glaze a great base of flavour.
Brown Sugar — caramelizes those edges.
Dijon Mustard — adds a touch of tang to the glaze.
Cinnamon and Cloves — are optional, but provide festive flavours.
Pineapple Juice — adds more flavour into the pan juices while baking rather than using plain water.
The pan drippings transform into the best sauce to drizzle over the ham!

WHAT IS THE BEST HAM TO BUY?
For ultimate flavour and a juicy MAPLE GLAZED HAM, aim for a fully cooked bone-in ham. The best ham we baked during testing is the half leg pictured (shank end of the leg).
The other type of 'half leg' which is the butt end (shaped like a dome) contains part of the hip bone and is harder to carve. It has less meat, although it's very tender and flavourful.
If you want value for your money, go for the type I have pictured here.
HOW TO REMOVE HAM RIND
When you buy your ham, you'll notice right underneath the rind there is a gorgeous layer off fat. DON'T trim this away. This fat turns into a beautiful crispy and sticky coating for your glaze and is DIVINE.
Cut a line through the skin all around the shank end. Insert a sharp knife between the rind and fat and run it along to detach both layers. Using your fingers, gently separate the rind from the fat. You can insert your hand deeper into the ham to keep detaching it so it's easier to peel the rind off. Peel off and discard the rind. Run knife cutting into the fat layer about 1/4-inch deep to lightly score diamond pattern all over the surface.
Once your ham is in the oven, get started on your glaze.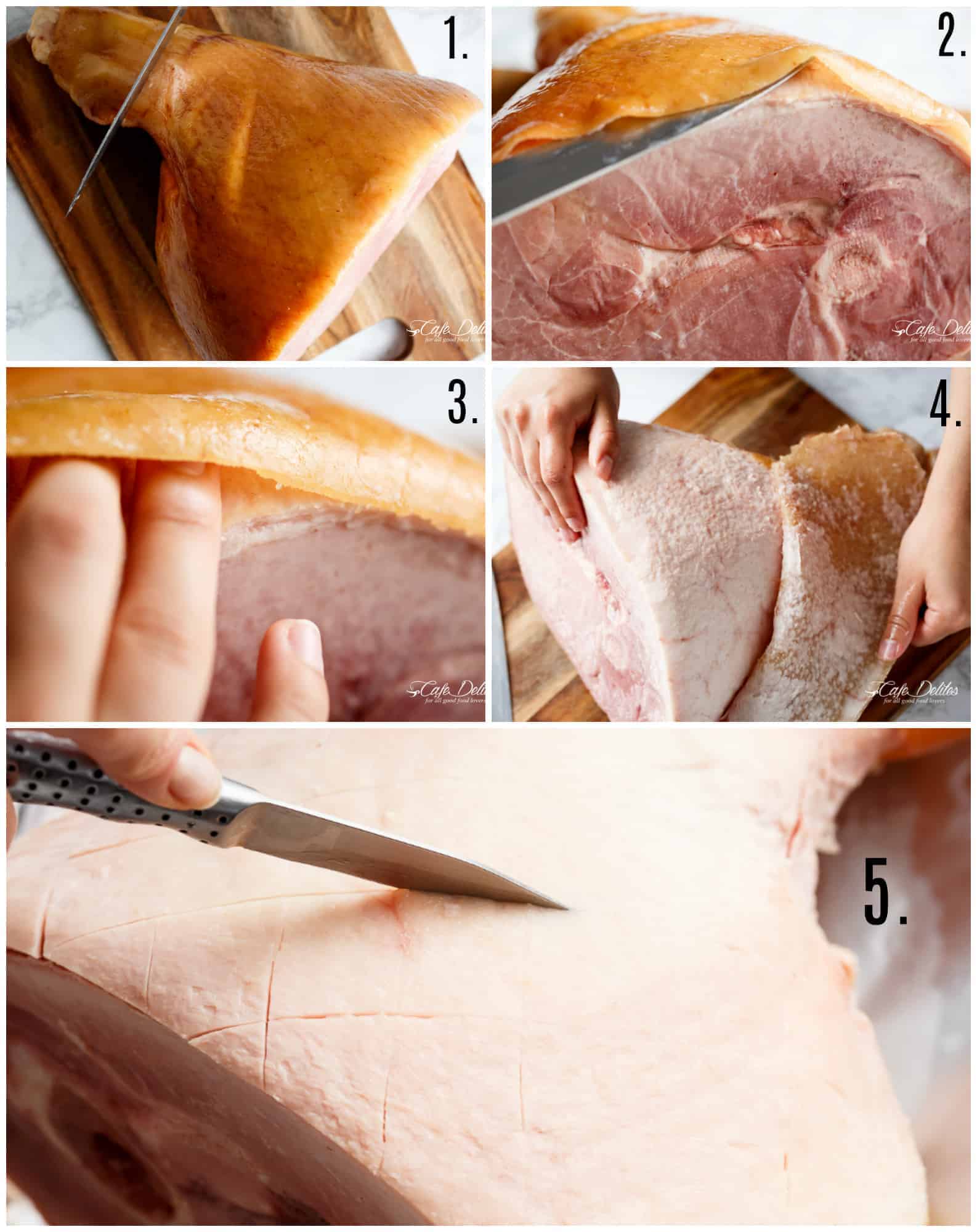 BASTE
Glaze and baste and baste and glaze and GO CRAZY with it! When the sticky sauce in the baking pan mixes through those pan drippings and begins to cool down, it starts to thicken slightly and transform into a beautiful deep brown colour. Use THAT to baste your baked ham before serving!
As you drizzle it over your ham, it creates the best shiny, golden glaze for your centrepiece!
Maple Glazed Ham smells just as good as it looks.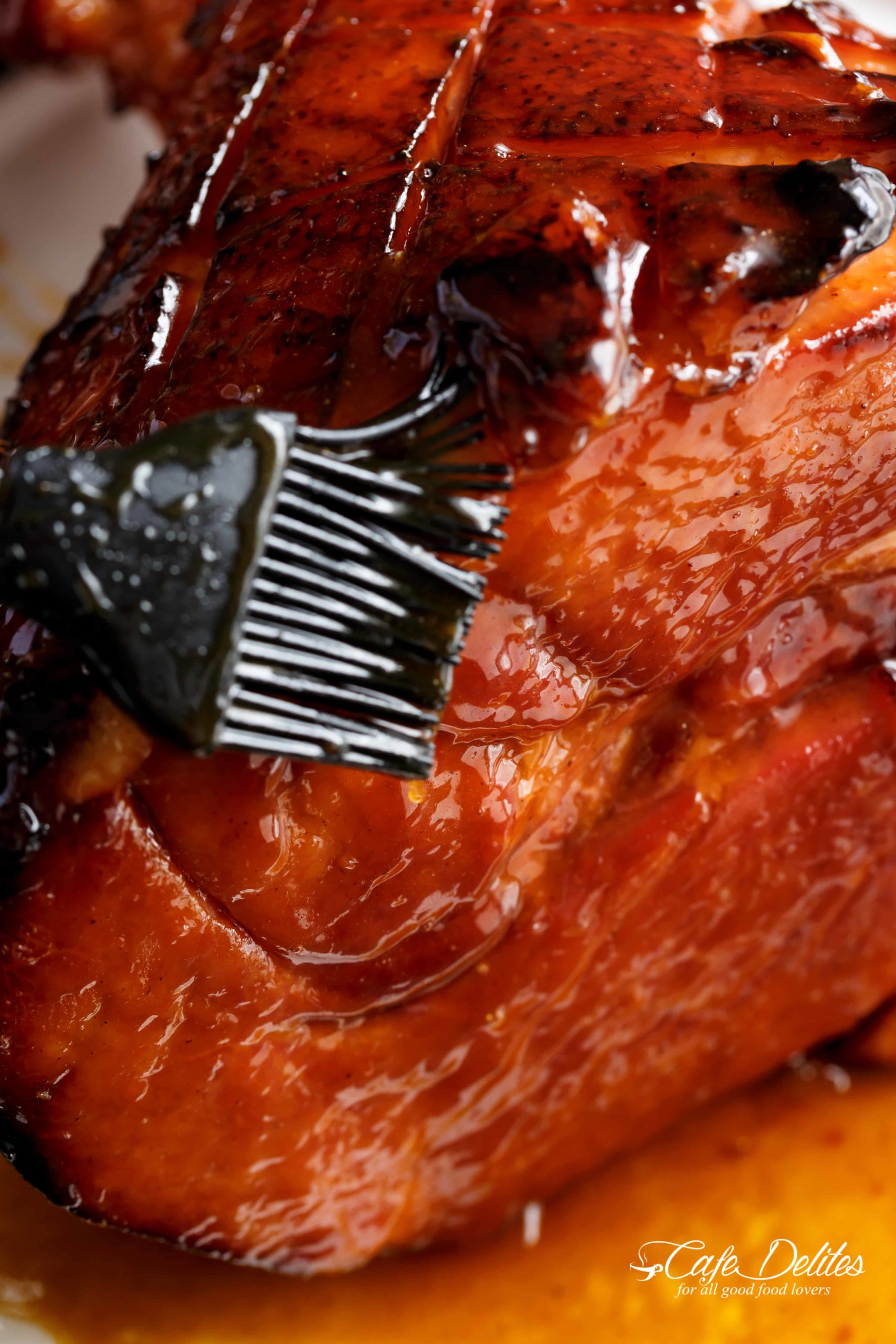 The BEST part is slicing through it like butter, and seeing the juices burst out and run down behind each slice. NO DRY HAM OVER HERE!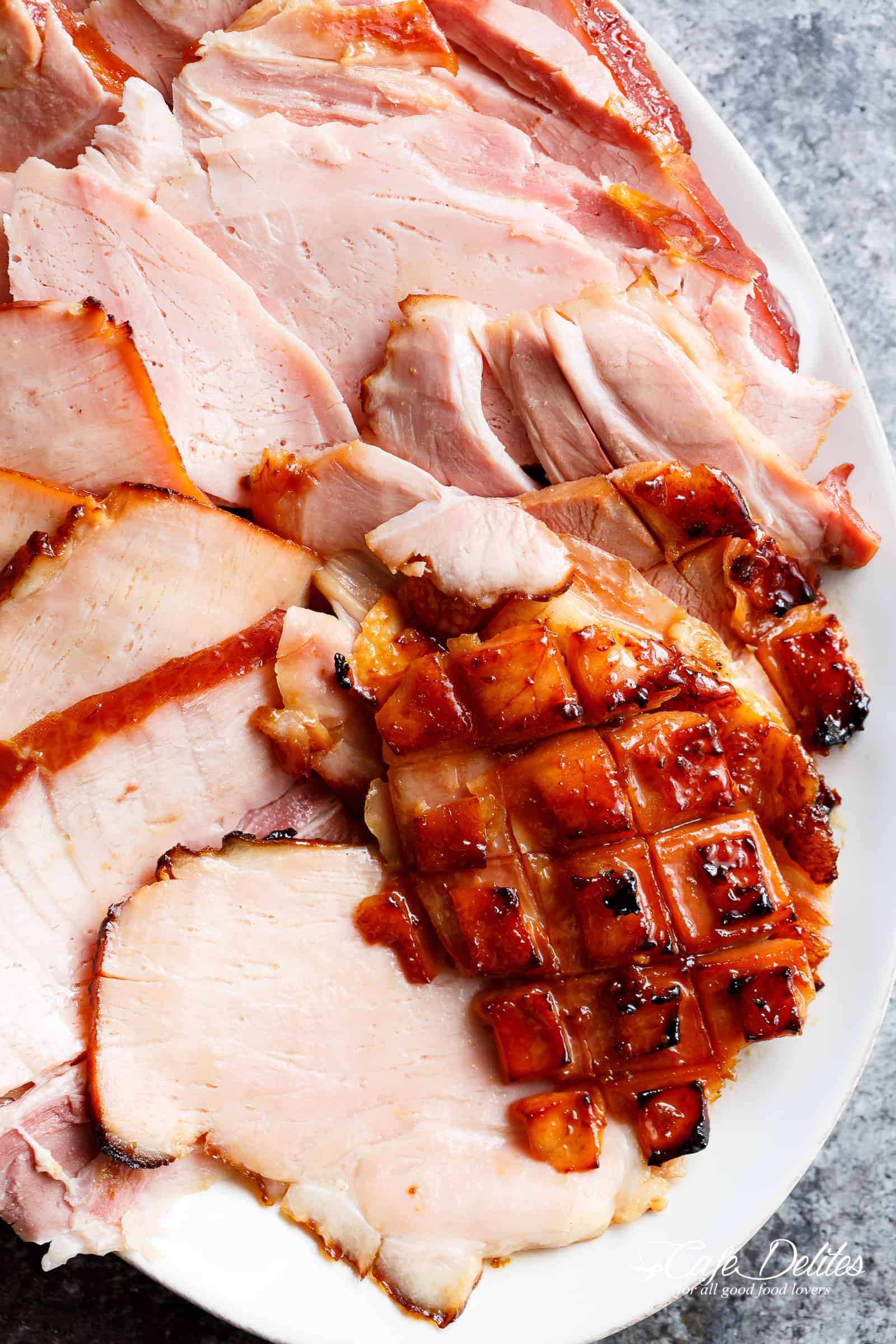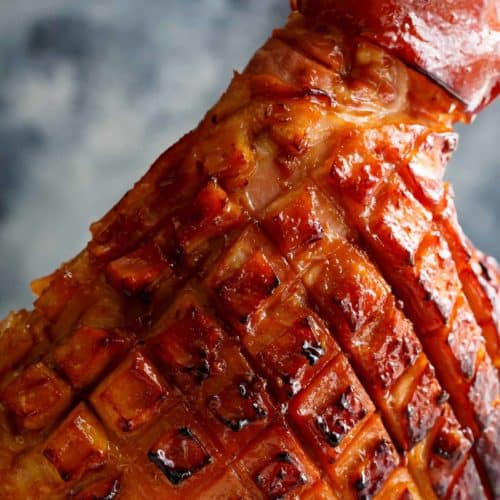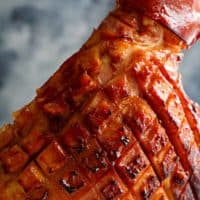 Maple Glazed Ham
Maple Glazed Ham adds a magic, juicy touch to your festive holiday table. The perfect baked ham with the most incredible sticky glaze!
PRINT
SAVE
go to your favorites
Ingredients
8-10

pound

(4-5 kg) bone-in fully cooked ham,

1/2

cup

pineapple juice

1/2

cup

water

1/2

cup

unsalted butter

3/4

cup

brown sugar

3/4

cup

maple syrup

2

tablespoons

Dijon mustard

1/2

teaspoon

ground cinnamon

1/4

teaspoon

ground cloves

4

cloves

smashed garlic cloves
Instructions
Preheat the oven to 300°F | 150°C and arrange a rack in the lower third. Remove any plastic packaging or netting from the ham. Trim away the rind and discard. Set the ham aside to rest at room temperature for 1-2 hours.

Line a baking tray or dish with several sheets of aluminium foil or parchment paper if you prefer (it will make cleanup a lot easier).

Remove the rind or skin of the ham (refer to steps in post), ensuring you leave the fat on. Using a sharp knife score a 1-inch-wide diamond pattern (don't cut more than 1/4 inch deep) over the entire ham. Place the ham in the baking tray; pour pineapple juice and water into the base of the pan and cover the ham with two pieces of foil or parchment paper and bake for 30 minutes.

Meanwhile, heat the butter in a small pot or saucepan over medium heat until golden browned. Add in the brown sugar, maple syrup, mustard, cinnamon and cloves, stirring to mix together well until the brown sugar has completely dissolved, (about 2 minutes). 

Reduce heat to low, add the garlic and bring to a simmer. Set it aside and let cool to lukewarm (the glaze should be the consistency of room-temperature honey).

After 30 minutes baking time, carefully remove the ham from the oven and increase the oven temperature to 425°F | 220°C. Discard the foil or parchment paper and pour 1/3 of the glaze all over the ham, brushing in between the cuts to evenly cover. Return to the oven and bake uncovered for 15 minutes.

Remove from the oven, brush with another third of the glaze and some of the pan juices, and repeat again after 15 minutes more minutes of baking until a dark golden-brown crust has formed, (about 30 minutes total). For added depth of flavour, mix some of the ham pan juices together with the glaze in the pot which will help keep it runny enough for brushing. If your crust is still pink after the suggested baking time, turn on your broiler (or oven grill), and allow it to broil for 2-5 minutes, while keeping an eye on it so it doesn't burn from the sugar. 

Let the ham rest 10-20 minutes before slicing.
Notes
Don't forget to take the ham out of your refrigerator 1 hour before cooking.
If your glaze has been over simmered and begins to thicken between each baste, add some of the pan juices to it and heat it up over low heat until it warms through and is the consistency of warmed honey.
Nutrition
Calories:
390
kcal
|
Carbohydrates:
15
g
|
Protein:
31
g
|
Fat:
18
g
|
Saturated Fat:
10
g
|
Cholesterol:
99
mg
|
Sodium:
1740
mg
|
Potassium:
433
mg
|
Sugar:
14
g
|
Vitamin A:
115
IU
|
Vitamin C:
0.2
mg
|
Calcium:
21
mg
|
Iron:
1.4
mg