Hasselback Herbed Garlic Butter Sweet Potatoes
Unbelievably versatile, hasselback sweet potatoes can be served with absolutely anything — as a side or as a main on their own. Crispy on the outside and fork-tender on the inside, this is one of the best ways to roast or bake a sweet potato, besides Crispy Wedges of course. Cut the usual baking time in half with a method I've been using for years; load them up with this Easy Garlic Butter, and prepare for your sweet potato life to be changed.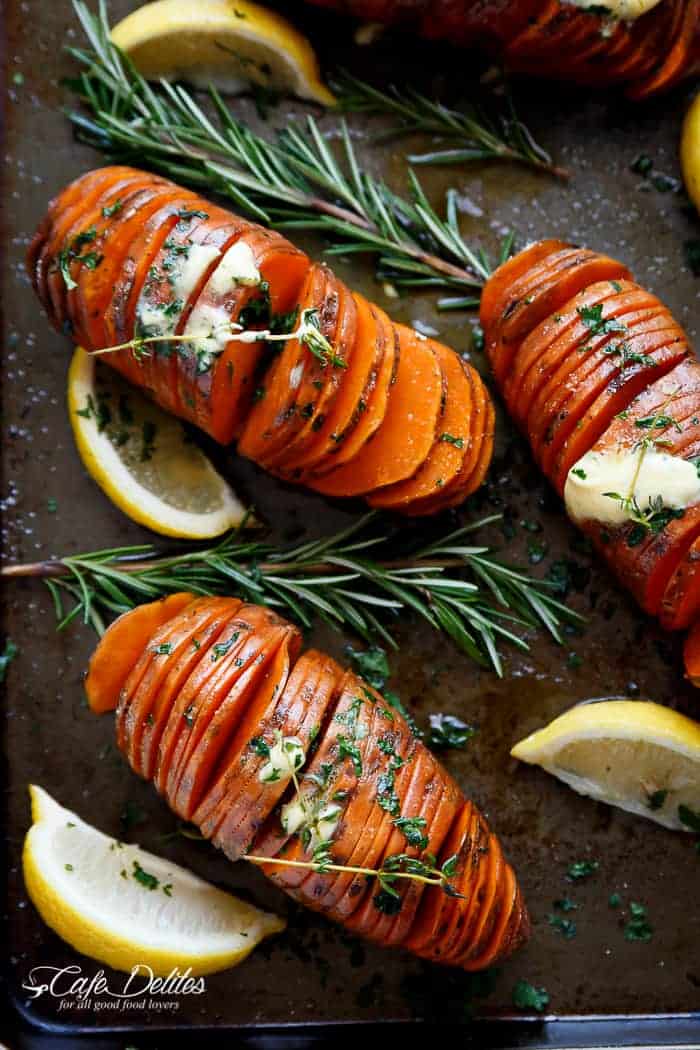 Altering this Garlic Butter recipe specifically for these sweet potatoes with some extra added herbs and a hint of lemon, they transformed from the usual into something incredible.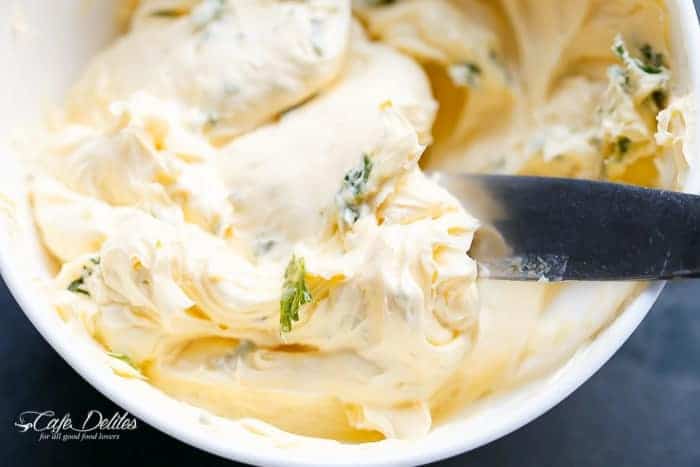 The only time consuming step with hasselback sweet potatoes is slicing them into evenly measured slices (or sort of) while trying not to cut straight through onto your chopping board. The rest is super easy.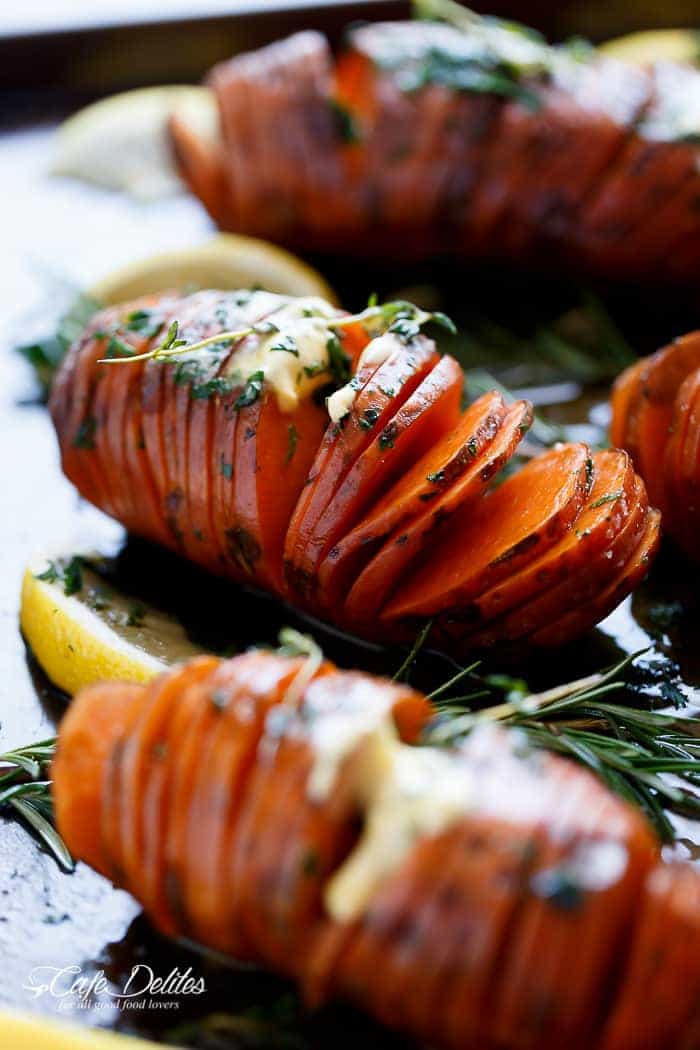 They look amazing on the plate, they taste better than they look, and they're so versatile they go with anything. Chicken, meat, seafood, in a salad, or as a meal on their own.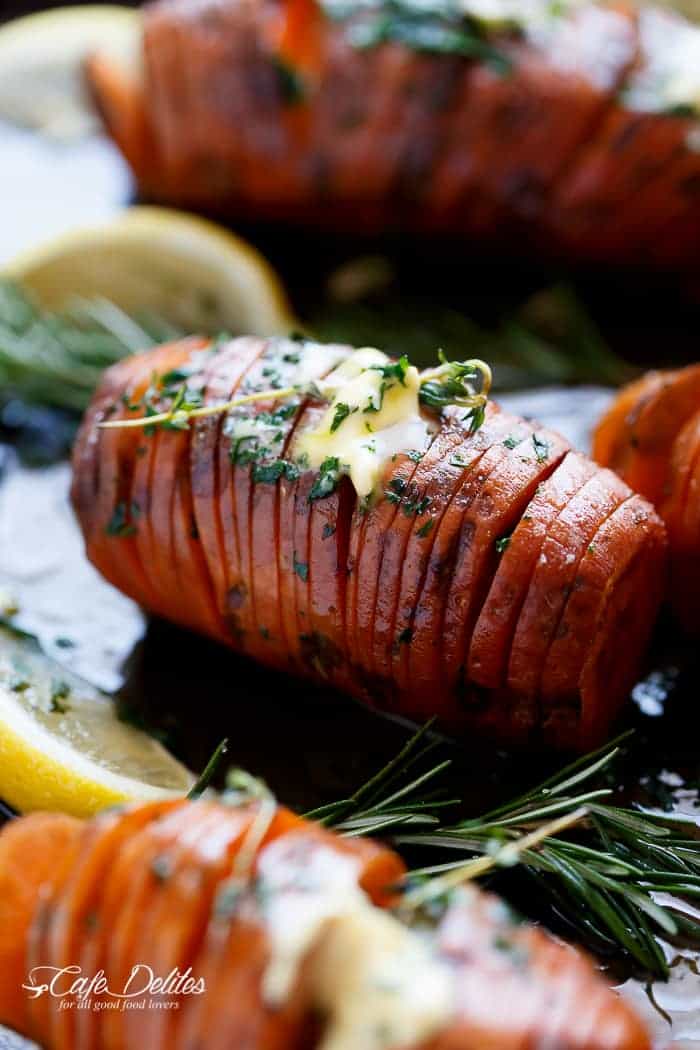 The usual baking time for hasselback sweet potatoes is an hour or just over an hour (depending on different ovens and temperatures), but I never seem to have enough room in my oven for the extra tray, or the time, so I zap them in the microwave wrapped in paper towel and reduce roasting time by half. Since I was roasting this Crispy Beer Roast Turkey already, I used my usual short cut for these potatoes and decided to share the short cut in time for Christmas recipe planning!
If you're against microwaving (understandably so), the recipe does include the full oven baked version. But. If you're short on time and you like your microwave, then you will have hasselback sweet potatoes on your table in less than half an hour. Either way, both versions are just as good as each other.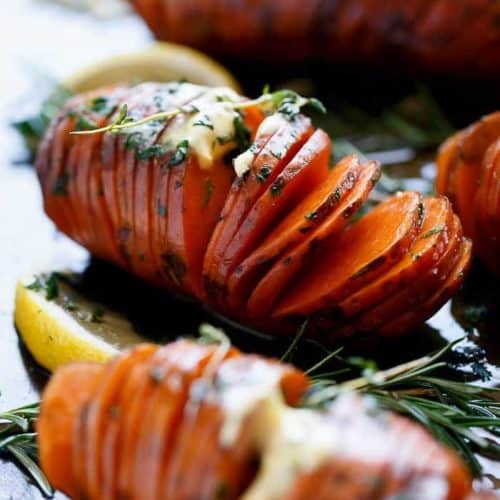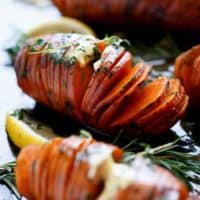 Ingredients
4

medium sweet potatoes

4

tablespoons

Garlic Butter

1

tablespoon

freshly squeezed lemon juice

1

teaspoon

finely chopped fresh thyme leaves

1

teaspoon

finely chopped rosemary

Kosher salt and freshly ground black pepper

Extra herbs to garnish
Instructions
Preheat the oven to 220°C | 425 degrees F. Line a baking tray/sheet with aluminum foil; set aside.

Wash and scrub the sweet potatoes; pat them dry with paper towel. Carefully slice each sweet potato 1/8-inch slits (or slices) along the tops, stopping 1/2-inch from the bottom (1-cm). Be careful not to apply too much pressure or you may cut straight through.

Prepare the

Garlic Butter using this recipe

. Melt the butter; mix the lemon juice, thyme, rosemary, salt and pepper (to taste) through the butter. Set aside.
The quicker version:
Wrap each sweet potato in one sheet of paper towel; place on a microwave safe dish and microwave on high setting for 8-10 minutes, or until semi-soft. Brush the butter all over the potatoes and in between the slices; transfer them onto the baking sheet and place in the oven for a further 10 minutes to allow them to continue roasting and crisp up.
The slow version:
Place potatoes onto the lined baking tray/sheet; brush with half of the butter and roast until the center of the potatoes are beginning to soften (30 minutes). Remove from oven, brush with the remaining butter and fan the wedges out lightly with a fork to open up the slices. Return to oven and continue baking for a further 30 minutes, or until soft and tender in the centre and crispy on the outside.